Three sequel duds SPIDER-MAN:NO WAY HOME, THE KING'S MAN and THE MATRIX RESURRECTIONS make their way through Christmas. The solid Danish entry MARGRETE QUEEN OF THE NORTH will likley be little seen while Maggie Gyllenhaal's THE LOST DAUGHTER with Olivia Coleman stans out as the best entry.
FILM REVIEWS:
FLEE (Denmark/Sweden/Norway/France/USA/UK 2020) ****
Directed by Jonas Poher Rasmussen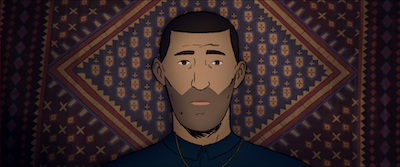 FLEE begins the song played on the soundtrack 'Take on Me'. 'Take on Me', a popular song that everyone should have heard of, is a Norwegian song by the group a-ha. appropriate for this Scandinavian film, co-produced by Norway, Sweden and Denmark and set in Denmark. FLEE is an ambitious animated feature executive produced by Pakistani/Brit star Riz Ahmed and GAMES OF THRONES Nikolaj Coster-Waldau, about a family in Kabul, Afghanistan fleeing for safety.
FLEE covers multiple issues, meticulously blended together. There is the coming-of-age story of Amin as he grows up gay, coming out of the closet, gay persecution in Afghanistan, refugee trafficking, settling in a foreign country and family loyalty. There is much information and insight for the audience to pick up, making the film quite a compelling watch.
The film begins with an (animated) interview between a filmmaker and the grown up Amin. It is clear that Amin has not told his story before to anyone, not even the man he is living with. Amin's life story is more than an interesting one. It is one that needs to be told, one that matters and one that needs to expel the demons residing in Amin's soul. The interview is taken in parts, as if the whole is too much for anyone to bear. It begins with Amin as a boy and ends with the present.
The film traces Amin's life from the time he was 4-years old, running around in his sister's dress and then growing up fantasizing on Jean-Claude Van Damme, getting into an abusive gay relationship before settling down with another and coming to terms with his homosexuality and now life in Denmark after fleeing to Russia and Sweden. It is a long and gruesome journey. The audience gets to experience what Amin and his family went through in order to flee the country which includes a track in the dead of winter, walking miles in the cold ice and snow in the forest without warm enough clothes and being confined in a cargo container, any of them huddled together while the ship rocked in the sea, causing many to get sick in the crate.
Not many know about the prosecution of the people in Afghanistan before 9/11. The Mujahideen had overthrown the monarchy and taken over the country. Dissidents deemed a threat, that included 3000 people as well as Amin's father were taken to prison and many killed. Young men were forced to join the army. Amin's brother ran to escape. The film includes archive non-animated footage of the Mujahideen in power igniting the people to fight.
FLEE premiered at Sundance in January this year and was screened at TIFF 2021 when I first saw the film. It was supposed to premiere at Cannes last year. Mixing archive footage, animation and interviews of Amin, the main character, animated style, FLEE, a heartbreaking film about a family's survival breaks ground in storytelling making the film an ideal candidate for Best Animated Feature of the year. FLEE opens December the 17th.
Trailer:
A JOURNAL FOR JORDAN (USA 2021) **
Directed by Denzel Washington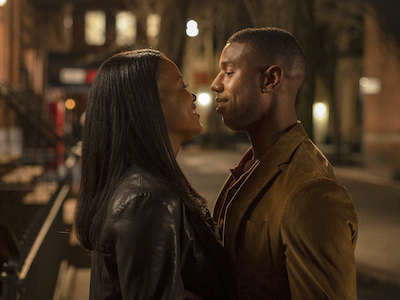 This Christmas season sees several stars directing their own movies. George Clooney, though he has directed many times before has THE TENDER BAR opening in January and Kenneth Branagh (he has directed several times as well) has his already acclaimed BELFAST out in theatres. Actor Denzel Washington directs for the first time a tender and sweet true story of a boy and his deceased father.
A JOURNAL FOR JORDAN is the American drama film directed by Denzel Washington and starring Michael B. Jordan and Chanté Adams, written by Virgil Williams, and is based on the memoir A Journal for Jordan: A Story of Love and Honor by Dana Canedy.
Based on a true story, the film centres not on Jordan or the son but on the senior New York Times editor, Dana Canedy. This is not surprising since the script is based on her novel. The story begins with her meeting Sergeant Charles Monroe King while at her father's. A romance develops as slow as director Washington's film. It is a reluctant romance. She is told and believes that: "Men are a luxury, not a necessity.". When Dana first converses with him, she finds that he is very quiet. "I only speak when I have something to say, " is his reality. The audience sees her son being bullied at school before she reads to him the journal that his father wrote to him. It is a simple story that Washington decides to tell in a hell of a confusing non-linear chronological order for no apparent reason but to keep the audience guessing at what is going on. It is revealed that while King is deployed in Iraq, he had kept a journal of love and advice for his infant son, Jordan (Jalon Christian) at the insistence of his wife, Dana (Chanté Adams). Sharing this journal with her son, his fiancée, Dana Canedy reflects on her unlikely yet powerful romantic relationship with King. The film's one best scene has the couple arguing fiercely over the telephone. Dana wants his present, as King had promised, to be by her side during childbirth, but he cannot as he is deployed in war, and he has already seen many of his men killed. The power of the scene lies in the fact that both Dana and King are correct and there is no avenue of change to the situation.
There is nothing exceptional in A JOURNAL FOR JORDAN - a rather 'blah' melodrama safe for the fact that it is directed by Denzel Washington.
Trailer:
THE KING'S MAN (USA/UK 2021) **
Directed by Vince Vaughn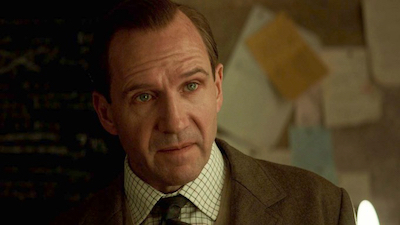 The period action spy film THE KING'S MAN directed by Matthew Vaughn from a screenplay by Vaughn and Karl Gajdusek and a story by Vaughn is definitely out of steam and a tiresome attempt at revitalizing the spirit and fun of the first two KINGSMEN films, which are based on the comic book The Secret Service by Mark Millar and Dave Gibbons. The film serves as a prequel to 2014's Kingsman: The Secret Service and 2017's Kingsman: The Golden Circle. The best of the lot is the 2017 sequel. Nothing can beat a film which featured a really hilarious Elton John trying to fight his way through the villains along with the Kingsmen. Elton made that movie and it is almost possible to top that!
It is not that this latest sequel runs short of stars. The film features an ensemble cast that includes Ralph Fiennes (who also serves as one of the film's executive producers), Gemma Arterton, Rhys Ifans, Matthew Goode, Tom Hollander, Harris Dickinson, Daniel Brühl, Djimon Hounsou, and Charles Dance. Dance has a cameo at the start as Kitchener while most of the others have extended roles. One can hardly understand the reasoning behind employing famous actors when they can be hardly recognizable onscreen. The good-looking Matthew Goode is hardly recognizable under his beard and Rhys Ifans hams it up too much as Rasputin again under facial hair, the mad, fighting monk.
The plot is a loose collection of stories concerning history's worst tyrants and criminal masterminds as they gather to plot a war to wipe out millions. One man, Orlando Oxford (Fiennes) and his son, Archie Reid (Aaron Taylor-Johnson) must race against time to stop them.
The part where Archie single handedly retraces a beret document amidst battle are from all sides is a ridiculous take of the WWI movie, 1917.
Because this prequel is a period piece, it is no wonder that this film has a different feel compared to the first two KINGSMEN films. In fact, one wonders what it has to do with the first two films anyway, until the revelation is made known right at the very end of the film. Much of the humour is gone, though the choreographed fight sequences are intact.
The film is nothing more that a collection of action sequences that do not blend at all well as a whole in a story that hardly makes sense. The fact is made worse when the central character of the sequence is often left for dead. For example, after an intended sequence when Archie retrieves the secret document and saves a fellow soldier in the process, he is unexpectedly and suddenly killed off. The same goes for a number of other characters - no more spoilers to be revealed. But credit must be given to the entertaining mountain goat segment.
There is a short surprise with a new villain introduced at the end of the film after a quarter of the closing credits, though it does not take a genius (I guessed correctly, anyway to guess the man's identity.
After Elton's John's sequel to THE KINGSMEN, one would have expected more from this entry especially after the disappointing James Bond feature NO TIME TO DIE. But no such luck.
Trailer:
LICORICE PIZZA (USA 2021) ***
Directed by Paul Thomas Anderson

This year sees two directors showcasing their eccentric films that have their stamp from start to finish. Whether these films make the 10 list of 2021 best films of the year is immaterial. THE FRENCH DISPATCH is Anderson's film where he does best just as LICORICE PIZZA is Paul Thomas Anderson doing what he does best. Those who know these directors will enjoy these films more than others.
The temperament of LICORICE PIZZA can best be summed up by one line uttered by Sean Penn to the girl. Out of the blue he says: "Don't ask me about Kuala Lumpur!" This line comes from nowhere, and there is no reference in any other part of the film about the capital of Malaysia. Anderson's film and dialogue can be so erratic that it can be all over the place, many with no significance to the plot or to any other part of the film. But this is Anderson. And much the the segment of raining frogs in his breakout film MAGNOLIA, one has to either love his eccentricities or hate them. Anderson, calms down occasionally, creating minor masterpieces like THERE WILL BE BLOOD, PHANTOM THREAD and PUNCH DRUNK LOVE. I have to confess that I am one of the few that did not like MAGNOLIA
LICORICE PIZZA is a period romantic comedy blended with the coming-of-age theme — Anderson style.
The film is set in the San Fernando Valley in 1973 when 15-year-old Gary Valentine prepares for his high school picture day as the film opens. This is Anderson's and one wonders how much transpiring in the film is biographical. Gary asks out 25-year-old Alana Kane, a photographer's assistant. She later meets with him for dinner. Later she chaperones him to New York, where Valentine attends auditions and appears in a variety show hosted with other cast members from a film he was in including Lucy Doolittle. The film takes off in many directions that involve incidents that allow Gary to grow up and eventually realize his affection for Alana.
There is an extended sub-plot involving the gas shortage and Jon Peters' (Bradley Cooper) waterbed.wards. Peters had a thing with Barbra Streisand. Anderson shows how crazy Peters is. Two other weird characters appear in the film. One is Jack Holden (obviously based on real life actor William Holden) played with gusto by Sean Penn and a crazed film director, Rex Blau played by singer Tom Waits. Why Anderson changed William's name to Jack but kept Jon Peters' name is characteristic of Anderson.
It is characteristic of its director, all over the place with segments that look stunning on the screen that make no sense in the narrative. As in many of his films, there is a (delightful) cameo of Maya Rudolph, Anderson's wife. But the film is based Andersons experiences and also stories told to him by friend, Gary Goetzman. Anderson claims that the films FAST TIMES AT RIDGEMONT HIGH and AMERICAN GRAFFITI influenced the making of this film.
LICORICE PIZZA was already released in the United States in select theatres on November 26, 2021, and will be released widely on December 25.
Trailer:
THE LOST DAUGHTER (USA 2021) ****
Directed by Maggie Gyllenhaal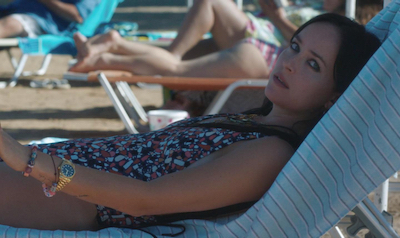 THE LOST DAUGHTER is very much a female film, written and directed by Maggie Gyllenhaal based on a novel by a female, Elena Ferrante, with three principal female directors and stunningly shot with a Greek backdrop by female d.p. Hélène Louvart. But this is not necessarily a bad thing. Writer/director Gyllenhaal and main lead, Academy Award Winner Olivia Coleman have done wonders with this film, providing intriguing insight on womanhood, dispensing many preconceived notions many (both male and female, but especially male) have etched in their brains.
If one wants to say that nothing much occurs in this 2 hour examination on womanhood, this is not true. There is more than meets the eye, to read between the images from the looks, nuances and bodily language of all the characters in the story.
The film opens with the lead character, Leda, played by Coleman arriving on a Greek holiday and met by a porter/caretaker (Ed Harris). Leda is British, from Yorkshire but working at Harvard in the United States. Leda is in Greece, beautifully shot, enjoying a much needed vacation, but her vacation is interrupted by memories of her past. These memories appear in flashbacks but in a different way, thanks to director Gyllenhaal's skill. The two time frames of the present and Leda's part occur with the same urgency, but it is not the past that has affected the present but the two that are progressing hand in hand, as if the past might be affected by the present.
One key scene in the film has the young Leda and her boyfriend meeting a local couple with a man who has left his family for another woman. The woman tells Leda that that is all that makes sense in her life, her love and living with the man.
The film contains many metaphors. One more impressionable one is Leda lifting from a bowl of fruit what is seemingly a good fruit but turning it around reveals a rotten part. A disgusting cockroach also appears on her bed when she is sleeping one night. When Leda is told that she did the right thing not to move her spot on the beach at the request of the obnoxious American family, she is told that the reason is that they are bad people. Leda soon learns the reason for the remark. When she refuses to move, one of the members of the American family calls her a cunt and another remarks that it takes her no effort to move. Leda also quietly steals the child's doll. But she befriends Nina, who apologizes to her later for her family's bad after the incident.
Coleman is in almost every scene in the film. Coleman proves to be an amazing screen presence and one cannot take one's eyes off her, whether she is floating in her swimming costume in the sea or lying politely to the American family.
THE LOST DAUGHTER is a Netflix original film with a limited theatrical run beginning December the 17th at the Bell Lightbox.
Trailer:
MARGRETE QUEEN OF THE NORTH
(Denmark/Sweden/Norway/Iceland/Poland/Czech 2021) ***1/2
Directed by Charlotte Sieling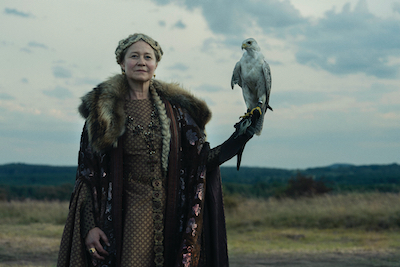 This new historical Scandinavian epic, co-written and directed by Charlotte Sieling, is set in the year 1402. Queen Margrete (Trine Dyrholm) has achieved what no man has managed before. She has gathered Denmark, Norway and Sweden into a peace-oriented union, which she single-handedly rules through her young, adopted son, Erik. The union is beset by enemies, however, and Margrete is therefore planning a marriage between Erik and an English princess. An alliance with England should secure the union's status as an emerging European power but a breathtaking conspiracy is under way that can tear Margrete and all she believes in apart.
Not many outside Scandinavia might be familiar with Queen Margaret. But she is one who should be known the world over. This new Danish entry sheds light on the queen and provides a history of 1940's Scandinavia.
Margaret I was ruler of Denmark, Norway, and Sweden (which included Finland) from the late 1380s until her death, and the founder of the Kalmar Union that joined the Scandinavian kingdoms together for over a century, as the film points out in the first 15 minutes. She is also deemed as dangerous. At a big celebration, she is brought news that her real son is alive. It is rumoured that she had killed her real son for fear of him rising to power. At this time, the audience is put to wonder the real character of the queen whether she is evil or good.
At the celebrations, a man claiming to be Margrete's son, the true heir to the throne and rightful King appears. If this is true, then Queen Margrete stands to lose it all. The question is whether the man is the true King.
The answer to that question thought to be revealed right after the hour and quarter mark of the film, the answer that will not be revealed in this review. But then what is perceived might not be true.Nevertheless, the queen is shaken and has to make rightful decisions fast.
The film is royal drama at its best. The film covers a number of issues.
One is the dilemma faced by the queen. If she executes the stranger claiming to be King, she faces questions of tyranny. If she does not, she faces losing all that she has worked and fought for. And the question is also whether he is really her son. The courtroom scene as the queen tries and questions the man is pure cinematic courtroom drama at its best.
Another issue is the royal dysfunctional family. The adopted son and then King have no power and he fights with Queen Margrete in making decisions.
The film shows the extreme trials that come with the possessing of royal power. Queen Margret faces a lot of torment. One wonders if it is all worth it. At the same time, one can respect the lady for all she has accomplished and her intelligent reserve.
MARGRETE, QUEEN OF THE NORTH opens on VOD and digital December the 21st.
Trailer:
THE MATRIX RESURRECTIONS (USA 2021) ***
Directed by Lana Wachowski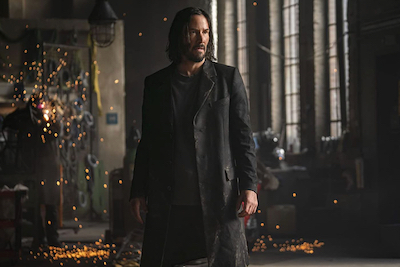 The first solo effort of Lana Wachowski who used to be part of the Washowski Sisters who were formerly the Washowski Brothers returns audiences to the Matrix success story with the latest sequel (the fourth) of the famous and most popular MATRIX franchise. The very popular notion of whether human beings are in actuality in a game designed by some video games programmer or whether human beings have total control of their free will is something that have fascinated fans of the franchise and again toyed with. This is not that much difference considering that many religions are controlled by believers that God's will controls all. Director Wachowski and and her co-writers David Mitchell and Aleksander Hemon keep the spirit of the MATRIX films intact, so fans should not be disappointed despite the fact that the film is overlong, messy, occasionally incoherent and unoriginal in delivery. In fact, this sequel should do better than any of the other sequels and remakes (THE KING'S MAN, SPIDER-MAN:NO WAY HOME, CYRANO, WEST SIDE STORY, THE TRAGEDY OF MACBETH) opening this Christmas season.
The hardly coherent plot involves once again, the hero of the story, Thomas Andersson (Keanu Reeves) a video game designer who has created the famous Matrix video game. He has survived a suicide attempt at jumping off a tall building and again appear to try to repeat the feat, though he will fly off like Superman. The villain of the piece turns out to be his therapist (Neil Patrick Harris). Thomas also meets a woman with two kids, the woman turning out to be Trinity (Carrie-Anne Moss) who he must rescue back to save the world. Morpheus returns in the story played by Laurence Fisburne and by Yahya Abdul-Mateen II as a younger version to offer quotable lines like "Nothing comforts anxiety like al little nostalgia".
The action scenes are well executed with the Martial-arts-like fights again carried out in slow motion/normal speed choreography that the original film popularized. There is again Reeves on a motorbike looking occasionally like John Wick. But his long leather coats would remind audiences that this is a MATRIX auctioneer.
The best thing about this movie is the elaborate and stunning promotion done at the multi cinema complex Scotiabank Theatre in Toronto on Canada's premier of the film. The entire Scotiabank was lit up with a brilliant green light show (as seen in the MATRIX films) with multiple auditoriums simultaneously screening the same film. This reviewer was fortunate to have viewed the film in IMAX. Keanu Reeves was present to introduce the film, saying how his career had changed after accepting the role in the first MATRIX franchise.
So the magic question again whether humans are in a video game or not is left unanswered. It does not really matter whether the question is answered so long as the notion continues to cast its spell on people to keep them coming to the future MATRIX films. THE MATRIX RESURRECTIONS is currently playing.
Trailer:
NIGHTMARE ALLEY (USA 2021) ***
Directed by Guillermo del Toro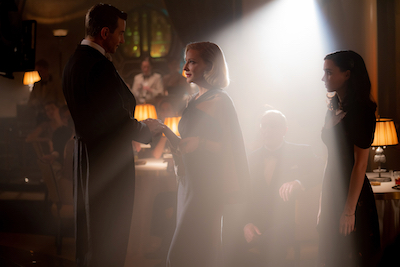 An ambitious carny, Stanton Carlyle (Bradley Cooper) with a talent for manipulating people with a few well-chosen words hooks up with a female psychiatrist (Cate Blanchett) who is even more dangerous than he is in this story of deceit and human cunning set in a circus/carnival setting.
It all begins with the broke Stanton boarding a bus to its end, looking for food and lodging. Hired by the circus, he does odd jobs before finding his true calling as a con-artist. He seduces two of the female circus folk before breaking away from the circus with the second, and meets his match in his third female fling, a femme fatale proving to be his downfall. If this sounds like film noir, it is with Stanton smoking half the time just like any detective in a private-eye film noir.
Del Toro clearly shows in his horror-noir that the greatest human monstrosities lie not in the circus freaks on display but in the inner capabilities of man (or woman). De Toro invests screen time and effort in revealing the evil that is hidden in almost every creature in the story including the last character, Stanton's new circus manager (played by Tim Blake Nelson) who outwardly shows a change of heart, but more for evil than for Stanton's good. Stanton himself is a lying son-of-a-bitch, justifying his cheating on Moly (Rooney Mara) by claiming that it is all part of his new scam.
NIGHTMARE ALLEY, a lengthy 2 and a half hours takes it time to unfold. But there is much to appreciate in terms of the creation of atmosphere and mood and performances in the meantime.
NIGHTMARE ALLEY is based on the novel by William Lindsay, a realistic horror story filled with grit and irony. Mexican Guillermo del Toro (he co-wrote the film with Kim Morgan) whose best film in his career PAN'S LABYRINTH hardly seems to be the director to delve into this horror noir as Del Toro's mark is often unexpected graphic violence like the slashing of the cheek of the villain and the smashing of a broken bottle on a poacher's face in that movie. But del Toro surprises in this new film adaptation aided immensely by his production designer (Tamara Deverell) and cinematographer (Dan Laustsen). The beginning hazy, bright sequence in the house is so well-shot that one can hardly tell through the haze what is happening - the mystery is supposed to enhance the anticipation of the audience.
Del Toro has assembled an impressive cast that includes an unrecognizable Richard Jenkins, with whom he worked within THE SHAPE OF WATER as Stanton's mean victim. With a respected high reputation, he has managed to draw heavyweights like Cate Blanchett, Bradley Cooper, Rooney Mara, Ron Perlman, Mary Steenburgen, Willem Dafore and the excellent Toni Collette and David Strathairn all delivering excellent performances.
The original NIGHTMARE ALLEY (which I have not seen, this senior film critic being not senior enough, for once) is reputed to be an excellent film with Tyrone Power directed by Edmund Goulding. I am looking out for it to appear on TCM (Turner Classic Movies Network).
Trailer:
THE PIT (Latvia 2020) ***** Top 10
Directed by Dace Pace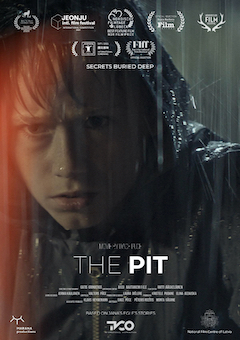 If THE PIT sounds like a perfect title involving trapped victims in a dark and deep hole, it is, and the title has been used various times in several horror films of the same name. The latest film to use the title THE PIT, however is a grim and terrifying coming-of-age boy who traps his pretty girl playmate into the pit and could very well result in the girl's death.
THE PIT co-written by the director herself with Monta Gāgane and Pēteris Rozītis, based on a series of true stories published by Jana Egle follows an apparently disturbed ten-year-old boy called Markuss (Damirs Onackis), who must adapt to starting a new life in the Latvian countryside with his strict grandmother (Dace Eversa). After Emīlija (Luize Birkenberga), a neighbour's daughter, makes some contemptuous remarks about Markuss's father, he decides to trick her and, after a long chase, manages to make her fall into a pit. The girl's dog sniffs her out, thus saving her life but not before the whole village learns about the boy. Markuss is looked down upon for the incident and beaten up by the girl's brother and other classmates. Rumours have a way of surfacing in a closely knit society and Markuss and his grandmother are looked upon with suspicion by everyone.
It does not help that Markuss lives with his grandmother's family consisting of his grandfather and his wife-beating son, who also bullies Markuss. Markuss has no peace at school or at home. The film looks at several world important issues through the life of the boy - like bullying, growing up, childhood romance and human cruelty. But amidst all the boy's troubles director Pace shows that there is a glimmer of hope, and it is this glimmer that brightens up her project into a dramatic and incredible moving film.
The cruel lesson of Markuss leaving the girl in the pit has severe repercussions throughout the village, and the only person who seems to understand the child and his fears is an old sailor who lives alone in a modest house. The lonely sailor suffers from diabetes and has a mysterious past.
The film shows that there are no bad people, even though bad acts may have been committed. They are just misunderstood people.
There is always one thing in a plot that will win an audience to the director's cause. It was used effectively in VA VIE ON COURGETTE (MY LIFE AS A ZUCCHINI). It concerns a plot point involving turning the enemy into a friend.
THE PIT is one of the best psychological horror coming-of-age films seen and not surprisingly is the country, Latvia's entry for this year's Academy Awards. Latvia is a small country with a little known film industry. Here is the film putting Latvia on the filmmaking map. And it is one of the Best International Features (next to France's TITANE) to emerge this year.
Trailer:
RED ROCKET (USA) ***1/2
Directed by Sean Baker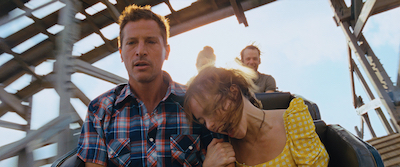 Christmas time comes with an awful aftertaste of a host of feel-good movies. RED ROCKET which gets close to a Christmas opening is the opposite. Director Sean Baker's (his last hit being the excellent THE FLORIDA PROJECT) new film is a feel-bad movie where bad things happen to its protagonist, a sad sack loser known as Mikey who despite his many failures in his past still has high hopes. It is observed that the misfortunes are mostly a result of his own doing. Director Baker achieves the near impossible, making a 'sort-of' charming feel bad movie about a loser.
RED ROCKET is a darkly funny yet poignant comedy starring Simon Rex as Mikey, an ex-porn, now totally washed up star delivering a magnetic performance who returns from celebrated L.A. to the Texas hometown that barely tolerates him. His claim to fame is winning the equivalent of the Academy Award in the porn industry. He has hardly any money in his pocket and shows up on the porch of his ex-wife and mother-in-law. Always the hustler, Mikey pours on the charm to move in with his estranged wife (Bree Elrod) and no-nonsense mother-in-law (Brenda Deiss, a Texan discovered by Baker outside a Porta Potty who delivers the film's singular best performance). Although promising to pay rent, Mikey soon finds out that his resume of 2,000 adult films will not land him a job with town employers. So he begins moving weed for a local queen pin (Judy Hill). But when Mikey meets 17-year-old Strawberry (Suzanna
Son) at a donut shop, he sees her as his ticket back to stardom.
The film centres on Mikey who is in almost every scene in the movie. He is at least comical. Baker uses the fact to make this basically despicable character likable. Mikey is also not too bright a person who cracks stale jokes and utters stale lines like "See you later, alligator". Relative newcomer Simon Rex delivers a remarkable performance, inciting both one's disgust and sympathy.
Director Bake paints a dismal picture of Mikey's hometown with run down houses and half empty shops. The most colourful thing about the donut shop is the display of the colourful donuts.
As the film progresses, one wishes Mikey the success he so desperately craves for despite his bad behaviour that constantly leads him to trouble. RED ROCKET might not be everyone's pick of a film to watch at Christmas (mine is to see THE SOUND OF MUSIC again on the big screen), but the film definitely deserves a watch!
RED ROCKET, an official selection at Cannes opens on December the 17th.
Trailer:
THE SCARY OF THE SIXTY-FIRST (USA 2021) ***
Directed by Dasha Nekrasova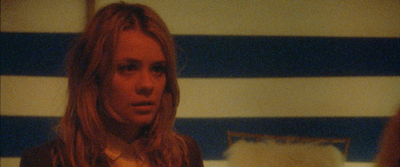 After two mismatched roommates discover that their new Upper East Side apartment once belonged to the late pedophile billionaire Jeffrey Epstein, the pair find themselves compelled to uncover—and relive—the murky secrets of their domicile.
The film has a simple premise of basically two young girls moving into a seemingly haunted apartment that used to be used by well-known sex offender Jeffrey Epstein.
The Epstein part for the story enhances an audience's fascination for the film. Jeffrey Edward Epstein who died in his jail cell in August 10, 2019 was an American financier and convicted sex offender. Epstein, who was born and raised in Brooklyn, New York City, began his professional life by teaching at the Dalton School in Manhattan, despite lacking a college degree. After his dismissal from the school, he entered the banking and finance sector, working at Bear Stearns in various roles; he eventually started his own firm. Epstein developed an elite social circle and procured many women and children; he and some of his associates then sexually abused them.
The film is directed and co-written by Dasha Nekrasova who stars in the film as 'the girl' with other writer Madeline Quinn who has the title role of Noelle in the film. Why Noelle? The film is set during the advent season, though not much of Christmas comes into the film, except the odd carol that can be heard. But the film uses the subject of Epstein to full use with overhead shots of his mansion on his private island.
The film hints, at several stages of erotic lesbian sex. At the film start, Addie (Betsy Brown) asks Noelle if she can sleep in the same bed with her on the first night at the apartment they just procured. (Noelle says no). When 'the girl' enters the apartment, their dialogue and looks between her and Noelle hints that a she sex kiss might just occur at any moment. The girl-on-girl sex begins at the half way mark and is quite intense. Be careful what you wish for, as they say.
A hint of the horror to come occurs the first night when one of them sleeps. She experiences someone else with her, and she cannot speak, feeling like her hands are tied and some kind of oil smeared over her.
There is one quite disgusting masturbation scene in which 'the girl' does the nasties with an image of Prince Andrew. Daring nonetheless, but this is royal nastiness that will put the film down several notches by audience tolerance standards.
Director Nekrasova makes no compromise in her depiction of the horror that comes. And she really knows how to dish the horror out.
A horror film during the festive season makes a nice break from the feel-good Christmas films. Films of this genre like THE SILENT PARTNER and BLACK CHRISTMAS ended up (Canadian) Christmas classics.
THE SCARY OF THE SIXTY-FIRST opens on VOD/digital on December the 17th. Worth a look!
Trailer:
SCHEMES IN ANTIQUES (China 2021) **
Directed by Derek Kwok (Chi-Kin Kwok)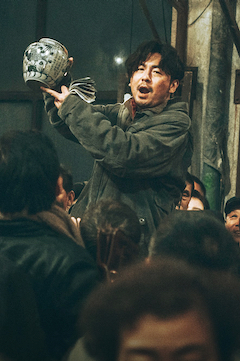 SCHEMES IN ANTIQUES is an action archeological adventure Kong Kong style about the search for an antique known as the Buddha's head that is worth a lot of money in the antiques market. There is a history involving Buddha's head and the whereabouts of it can only be guessed at best. As in the typical Hong Kong action movie, as director Kwok is from Hong Kong, SCHEMES IN ANTIQUES is all over the place, but this one has less fight action scenes but with more distractions such as how to tell a fake from a genuine antique. But this is the kind of action flicks Chinese are used to, so despite its flaws, the film already came up number one at China's weekend box-office when it opened. It is also the highest ranked in gross weekend revenue.
The film stars a number of very popular young actors and actresses unknown to North America but these youngsters contribute to the young target audience of the film.
Adapted from Ma Boyong's novel of the same name, the film tells the story of a series of adventures that occurred when the descendants of the five veins made a wish to find out the truth about the Buddha head of Wu Zetian Mingtang in the Tang Dynasty
There are two types of characters, the voiceover says at the start of the film regarding antiques, cheaters and fool victims. It then goes to say that there is yet another type, members of The Plum Blossom 5. The hero of this adventure on lost treasures happens to possess all three qualities.
Despite his (now-disgraced) family's famed expertise on ancient relics, Xu Yuan (Lei Jia Yun) makes a simple living as the owner of an electronics shop. But after stumbling upon a mystery surrounding an ancient stolen relic, he embarks on a dangerous journey to restore his family's tarnished reputation.
This hero is not the typical Harrison Ford Indiana Jones but a total drunk who appears to be always disheveled with no redeeming qualities. In real life, this actor looks more dashing. What were the filmmakers thinking of when they decided on such hero? A Jackie Chan type? It does not really work and the result is a confused hero who does not appear to be focussed in his goal.
Director Kwok places flashbacks in odd points in the film, implying that he must have done it to prevent loose ends from having no explanations. His film is all over the place. Kwok also switches focus from the protagonist to a supporting character for no reason, this disorientating his audience.
SCHEMES IN ANTIQUES, from Well Go USA Entertainment, opens in theatres in North America December the 17th. for Asian fans. The film has already grossed $25 million worldwide.
Trailer:
SING 2 (USA 2021) ***1/2
Directed by Garth Jennings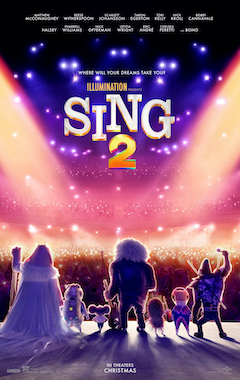 What is Christmas without an animated feature for the family? SING 2 (the sequel to the successful 2016 SING) delivers.
The grand opening of SING 2, says it all with regards to what to expect. And in a good way. An animated female elephant wanders through a forest and falls into a hole. The rabbit hole turns out to lead to an alternative universe of colourful song and dance with all kinds of creatures, an assortment of dancing and crooning animals, vegetation and what not. The 'camera' pulls back to reveal a spirited audience singing and dancing in their seats. It is a local production of ALICE IN WONDERLAND by Buster Moon (Matthew McConaughey). Mr. Moon watches a talent scout and when he sees her leaving after the first half, goes after her as she is leaving the theatre.
Cornering the scout for an honest answer, he is told by Suki, the scout: "You are not good enough. You will never make it in the big league." In order to realize and follow his dreams, he has to go all put in his effort, and that he does. The film is about his triumph over all odds with his troupe of actors who believe in him. Of course, he is up against insurmountable odds that includes the villain of the piece, voiced by Bobby Carnnivale as Mr. Crystal, who is the rich and famous guy who controls the future of contestants, whether they succeed rot, in "American's got Talent" style. The film's funniest moment is in the segment when he constantly presses the buzzer indicating a rejection for a performance audition pretty much parading "America's Got Talent". Those who never watch he series will still get the humour
The film does not contain many original songs but director Jennings has (probably calculated) picked up some many fine classics that include "Let's Go Crazy", "Higher Love" and "Goodbye Yellow Brick Road" that should send audiences into heavenly nostalgia. But U2 performed the film's original song "Your Song Saved My Life".
Director Jennings should be given credit as well as his casting director for assembling a most impressive list of musical stars like Bono who plays a recluse lion and Pharrell Williams as an elephant ice-cream truck vendor.
SING 2 has only got a 64% positive rating on Rotten Tomatoes at the time of writing the review, but it definitely deserves better. SING 2 is hilarious, thanks to the director's brilliant sense of humour and the feature that stresses that it requires hard work and perseverance in order to be successful in show business. The main lead Matthew McConaughey can attest to his fact as he gave his all to win the title role in the 1996 film A TIME TO KILL.
SING 2 is directed by Garth Jennings. For those unfamiliar with the name, he is a talented British actor, director and producer known for the hits SING, THE HITCHHIKER'S GUIDE TO THE GALAXY and SON OF RAMBO. One can always expect solid entertainment from Mr. Jennings.
Trailer:
SPIDER-MAN: NO WAY HOME (USA 2021) **
Directed by Jon Watts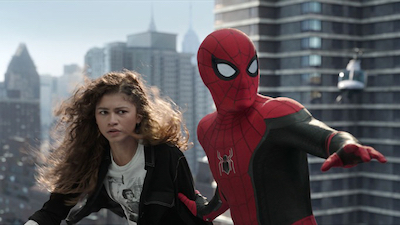 Marvel's super action hero SPIDER-MAN is arguably the most popular of all the Marvel superheroes. It is hardly possible to recall the total number of Spider-man remakes and sequels that also include an animated entry. There are no fewer than three actors who have played Spider-man and all three appear in this film, for the reason of the opening of a portal allowing the three to appear together, coming from alternative universes. If this sounds silly, it is. In fact the whole new sequel is total silliness. And the silliness is far from funny or amusing. This entry is an expensive and boring dud that lasts a lengthy 48 minutes.
SPIDER-MAN 2021 is the sequel to Spider-Man: Homecoming (2017) and Spider-Man: Far From Home (2019), and the 27th film in the Marvel Cinematic Universe (MCU). The film is directed by Jon Watts, written by Chris McKenna and Erik Sommers.
The film opens with Spider-man's secret identity revealed to everyone. Spider-man is branded 'spider-menace' as he has killed a person. It is as if the entire world is so stupid that they do not recall Spider-man doing all the hundreds of heroic deeds that will more than make up for the unfortunate accident. As a result, Peter Parker (Tom Holland) asks Dr. Stephen Strange (Benedict Cumberbatch) to help make his identity as Spider-Man a secret again with magic. This leads to the multiverse breaking open and allows supervillains from alternate realities to enter Parker's universe.
NO WAY HOME also explores the concept of the multiverse and ties the MCU to past Spider-Man film series, with numerous actors reprising their roles from the Sam Raimi and Marc Webb-directed Spider-Man films.
The cast at the start of the film and the publicist make a request prior to the film's press screening that no plot points be revealed in the film's review. It should be noted that it is incredibly difficult to review a film without mentioning a few plot points. One will be mentioned, as the film's credits mention two other stars, Tobey Maguire and Andrew Garfield playing alternate Spider-mans. Three Spider-mans appear together and they fight the villain monsters. It is neat to see the 3 Spider-mans working together, giving smart talk in the process.
Of all the monsters that appear, Otto Octavius aka Doctor Octopus (played by Alfred Molina) is the most entertaining to watch, he with his ridiculous looking tentacles, and him wearing dark super-cool shades looking a bit Korean in the process.
But this Spider-man entry is mostly super special effects that move along at such a breakneck speed that one can hardly distinguish what is going on, resulting in a complete mess of a blockbuster. The story also flies as fast as Spider-man swings from one building to another. One wonders the reason Spider-man swings this fast, as he never did in the earlier film. There is little human story in the process. The previous films had more of Aunt May (Marisa Tomei) and her boyfriend, "Happy" (Jon Favreau) but this one film has them do nothing much. Parker's best friend Ned (Jacob Batalon) is seen here, him being the most annoying character in the last and this Spider-man. SPIDER-MAN: NO WAY HOME is too long, running at 148 minutes. I have never been so bored in an action super hero film.
Trailer:
THE TENDER BAR (USA 2021) ***1/2
Directed by George Clooney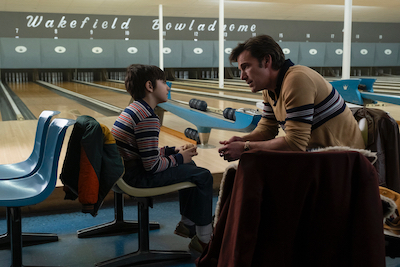 THE TENDER BAR is an adaptation of the 2005 memoir and best selling book of the same name by J. R. Moehringer, and recounts Moehringer's life growing up in Long Island.
When the film opens, the audience sees J.R. as a boy (Daniel Ranieri) with his mother (Lily Rabe) who has to move herself and her son to her grandfather's (Christopher Lloyd) as she is desperately short of funds. It is a full house at grandpa's with other family members living there as well. But full of hope, especially for J.R. - she hopes that he woud get a place at Harvard ideally graduating as a lawyer. J.R. succeeds in getting accepted at Harvard, though ending up in journalism. The film stresses that journalism is a profession just as noble if not more respected than being a lawyer.
It is bit disorienting at the start when the audience suddenly sees a young man(Tye Sheridan) on a train on his way to Harvard. Who is this man and what has he got to do with the story? It is soon revealed that this young man is J.R. as director Clooney intercuts segments of the past and the present, with his film moving along in non-chronological order. Directors have a fondness of this tactic, though the reason is never known. At one point in the film, there is a young J.R. as a boy arguing with the man J.R.
THE TENDER BAR refers to the bar, in actuality called 'the Dickens Bar' as it contains a library of books by Charles Dickens. It could also stand for the bar as in the law profession, though this is more unlikely. The bar where the young J.R. hangs out is owned by his Uncle Charlie (Affleck) who also support the boy through college both financially and mentally. Charles is the brother of J.R. 's father, who never keeps his promises to his son and is also a wife beater. As most sone pine over not having a father and J.R has an absent one, he has high hopes or his dad, despite all his faults. The last straw is drawn who J.R. sees his father beating up his latest win. And calls the cops. J.R. has also witnessed is father beating up Uncle Charlie.
In the midst of all the family troubles, J.R. finds romance with a fellow college mate.
Clooney, an actor himself expectedly elicits superior performances from his cast especially young Tye Sheridan whom plays the lead. Ben Affleck is excellent too, toning his performance down a little to let Sheridan shine in the title role. Christopher Lloyd, best known for BACK TO THE FUTURE, hams it up as the cussing grandfather. But Daniel Ranieri who plays the young J.R. is superb and steals the show.
Despite all of the family troubles, J.R. learns and grows up in this simple but effectively told coming-of-age story. Clooney believes in the strength of his material and never resorts to cheap dramatic theatrics, which is the main reason this understand drama works.
THE TENDER BAR has a limited theatrical release on December 17, 2021, by Amazon Studios, following to the wide expansion on December 22, 2021, prior to streaming on Prime Video on January 7, 2022.
Trailer:
THE TRAGEDY OF MACBETH (USA 2021) ****
Directed by Joel Cohen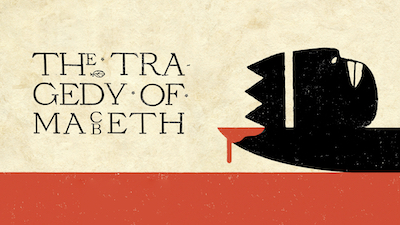 The first film written and directed by brother Joel Cohen going solo (it is reported that Ethan does not want to be making films any more), and starring his wife, 2-time Oscar Winner Frances McDormand, THE TRAGEDY OF MACBETH, which is the film title of the William Shakespearean play also known as MacBeth is a sprawling Shakespearean just short of Masterpiece, that should delight both Bard fans and cineastes. It is a back and white feat for the eyes, complete with solid acting from its two principal leads. Oscar Winners McDormand and Denzel Washington excel.
THE TRAGEDY OF MACBETH examines the damaging physical and psychological effects of political ambition on those who seek power for its own sake. A brave Scottish general named Macbeth (Washington, immediately recognizable from his voice despite his beard) receives a prophecy from a trio of witches that one day he will become King of Scotland. Consumed by ambition and spurred to action by his wife, Macbeth murders King Duncan (Brendan Gleeson) in a brutal and violently shot scene, and takes the Scottish throne for himself. He is then wracked with guilt and paranoia. Forced to commit more and more murders to protect himself from enmity and suspicion, he soon becomes a tyrannical ruler. The bloodbath and consequent civil war swiftly take Macbeth and Lady Macbeth into the realms of madness and death.
The best thing about the film is both its cinematography by d.p. Bruno Delbonnel (DARKEST HOUR and THE BALLAD OF BUSTER SCRUGGS) and production set design (set design by Stefan Dechant). The black and white cinematography together with the weird looking geometry of the sets give the film a German impressionist look. Shot almost entirely on sound sets, the exterior sets look claustrophobic reflecting the web of guilt that King MacBeth has trapped himself into - a sort of nightmare that the king cannot ever escape from. The frequent use of screeching crows also enhances the nightmarish effect. The effect is aided by the film's haunting score composed by Carter Burwell. Deserving of mentions is Mary Zophres' costume design in which the stitches of the garments can be seen clearly. Critics often complain when film adaptation is stage bound. The only exception appears to be Shakespearean plays where filmed one-man solo acts are also praised. In this film, the total stage effect works to the film 's advantage.
Over the course of many centuries, the play has attracted some of the most renowned actors to the roles of Macbeth and Lady Macbeth, the film thus attracting these two magnificent Oscar Winners. The two will be up for Oscar nominations again for acting, undoubtedly.
Roman Polanski's MACBETH is also one of the best adaptations of the Bard's tragedies and these two are highly ranked as the BEST Shakespearean films on screen.
THE TRAGEDY OF MACBETH is scheduled for a limited theatrical release on December 25, 2021 prior to streaming on Apple TV+ on January 14, 2022. Highly Recommended!
Trailer:
TRY HARDER! (USA 2021) ***
Directed by Debbie Lum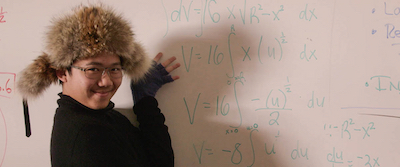 At Lowell High School, the top public high school in San Francisco, the seniors are stressed out. As they prepare for the emotionally draining college application process, students are keenly aware of the intense competition for the few open spots in their dream colleges. The elite colleges include M.I.T., Harvard, Berkeley, Stanford and a few other famous but lesser prestigious. It would be insightful, if one is not familiar with these colleges, where they are situated in the United States. They actually all cluster around the same location.
At Lowell - where cool kids are nerds, nearly everyone has an amazing talent, and most of the student body is Asian American - the things that usually make a person stand out can feel commonplace. The film follows selected seniors as they face the pressure of applying to elite colleges.
A personal note (slightly related to the film' subject): This reviewer is Asian and also faced tremendous pressure to enter a University. The pressure was on myself as my parents (who never went) hardly pressured me. But in Singapore, there is only one major University, so it is either get in or no degree education. I was smart enough to be accepted into the Engineering Program at the University of Singapore even though I never really knew what I was doing at the time, and later finding out I hated Engineering. Film is my passion but there was no film studies or film industry at the time. But I still managed to graduate with a Honours and ended up able to move to Canada as Canada needed Electrical Engineers. I worked two years in a tech job I hated before getting a post at a private college teaching. This reviewer loved teaching (as it is like performing in a play or film) and got really good in engineering. I still teach, but Business (as I got an MBA) but film is still my passion. Enough about me! So many people can relate to the doc in one way or another. If every Asian North American views this film, TRY HARDER! will be an instant hit.
With humour and heart, director Debbie Lum captures the reality of the American college application process and the intersection of class, race, and educational opportunity as young adults navigate a quintessential rite of passage. These students apply to as many as 20 different Universities, thus increasing their pressure on acceptance. This is the real world. In the recent Olivia Wilde's BOOKSMART, students that party all the time still got into their dream colleges. This might be true if one is white, as TRY HARDER! hints at, at the end of the film.
Though the film seems all over the place, jumping from one senior student to the other, director Lum also reveals the background of the seniors whose parents also push them so hard. A Taiwanese also attempts to sway the college admission reps with gifts.
TRY HARDER! won the grand jury prize for Best Documentary at Sundance and premiered in Toronto at the Reel Asian Film Festival. It is a timely topic, especially for Asians and has been selected for a prestigious Christmas opening.
WRITING WITH FIRE (India 2021) ***1/2
Directed by Sushmit Ghosh and Rintu Thomas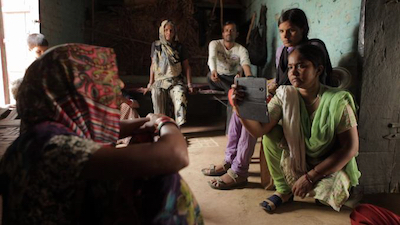 In a cluttered news landscape dominated by men, emerges India's only newspaper run by Dalit women. Chief Reporter Meera and her journalists break traditions, redefining what it means to be powerful.
Over 40 journalists have been killed since 2015 making India one of the deadliest countries to practice journalism in. WRITING WITH FIRE tells their story and from the feminine point of view. The female protagonist in this insightful documentary is Meera Devi, the bureau chief of Khabar Lahariya, one of the only all female journalist outlets in Uttar Pradesh. The film's main setting is the state of Uttar Predesh. Uttar Pradesh is the most populous state in northern India with over 200 million inhabitants, as well as the most populous country subdivision in the world.
I am not one fond of films about journalists, having seen too many films in this genre site THE YEAR OF LIVING DANGEROUSLY. However, WRITING WITH FIRE makes that rare documentary about journalists fêting for their rights. (One really hilarious satire on women journalists is the upcoming film by Bruno Dumont called FRANCE, which I admit, I loved desire many flaws). WRITING WITH FIRE follows journalist Meera Devi and the audience sees her at various stages of her work and daily family routines. She studies journalism ands a Master's. Unlike may women, she goes out and work. While her husband complains that she should stay at hoe, Devi accomplishes remarkable work in journalism. She digitalizes the company to be current with the future of journalism.
There is a certain heroism and respect that one can feel for the protagonist. She is at a grave disadvantage not only being a female but born the lowest caste of society the Davnits that are termed 'untouchables'. But she uses the disadvantage to her advantage, also helping other oppressed minorities in the process.
One discussion point in the film is the question asked what freedom means to women. One of the interviewed subjects claim the irony that the country is called 'Mother India'. 'Neither are we a democracy and neither are we free," she claims.
There is an unforgettable moment in a scene that shows he reported by a beach in Sri Lanka. Perhaps being the ocean for the first time, she marvels and speaks to the camera t how one can eel the waves. Sri Lanka has been considered by some to be the original Garden of Eden in the Bible.
One of the best segments has Meera travelling riding on the back by bike to interview the villagers working for the mafia that had illegally opened the mines, and abusing their workers. The mine has destroyed roads, ad the bike has to travel around muddy water puddles on dirt roads.
WRITING WITH FIRE ends on an upbeat note with Meera heading Khabar Lahariya a bureau chief and one of the other workers in the film headed with the task of expanding the journal throughout northern India. This proves that nothing is impossible even with much disadvantage to the goal at hand.
WRITING WITH FIRE is an inspirational documentary on journalism and low-caste women's right that shows an India that is ripe for change.
Trailer: https://www.imdb.com/video/vi2449130265?playlistId=tt13630174&ref_=tt_ov_vi