TOP 10 FILMS OF 2021
The end of the year arrives with the best 10 lists for everything. As for films, it is always the same each year. For the first 11 months of the year - nada. Almost nothing good is screened and come December, a host of excellent, inventive and entertaining films arrive. The movie industry has been more than resilient after the Pandemic and this year sees a better crop of films than recent years.
My best 10 films are listed below (in order).
TOP 10:
WEST SIDE STORY (USA 2021)
Directed by Steven Spielberg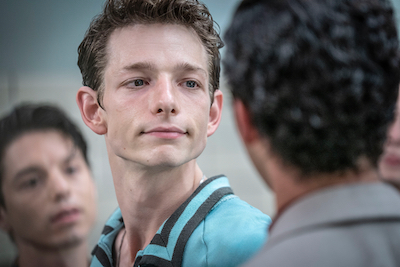 Steven Spielberg's remake of the 1961 Robert Wise classic proves that the director has all the chops to enter the original. All the Sondheim songs and Robbins choreography are intact and slightly modified but the fights are real and not dance fights thus giving he film a raw intensity and urgency lacked in the original. Rachel Zegler as the new Maria and Rita Moreno are fantastic!
THE TRAGEDY OF MACBETH (USA 2021
Directed by Joel Cohen
William Shakespeare's MACBETH is given the Joel Coen treatment. Shot in black and white with an elaborate stage with real items for props and geometric architectural shapes, this version has a German impressionist look complementing the stage fate of MacBet as foreseen by the three witches at the start of he film. Magnificent performances by Joel's wife Frances McDormand as any MacBeth and Denzel Washington as the guilty MacBeth add to the film's pleasure.
BELFAST (UK 2021)
Directed by Kenneth Branagh
Director Kenneth Branagh returns to his roots in Belfast, Northern Ireland in the awful times of riots when the protestants in his street are burning up the houses and building of the Catholics. Caught in the crossfire is a protestant family were the father wants to leave the city for a better ad safer place while the mum wants to stay. "Do Not Forsake Me Oh My Darlin' " is the dog of the day, taken form HIGH NOON, written by Dimitri Tiomkin. Branagh plays tribute to the oldies like CHITTY CHITTY BANG BANG, HIGH NOON, THE MAN WHO SHOT LIBERT VALANCE to add to the wonderful nostalgia.
TITANE (France 2021)
Directed by Julia Ducournau
TITANE, which means Titanium in English is a 2021 body horror film written and directed by Julia Ducournau. Agathe Rousselle in her amazing feature film debut stars as Alexia, a woman who, after being injured in a car accident as a child, has a titanium (TITANE) plate fitted into her head. The film follows Alexia's crazy life to the final reel where she finally finds self redemption and peace amidst all the f***ed-up s*** that is going on around the world.
TITANE can best be described as crazy f***ed-up s***, but yes, in a good way. It is not surprising that Ducournau became the second female director to win the Palme d'Or, the festival's top award.
ALICE (Australia/France/UK 2019)
Directed by Josephine Mackerras
ALICE is a man-hating film and with reason. ALICE is an Australian-French-British co-production. Australian writer/director Josephine Mackerras shoots her first feature in Paris, France and it is one wallop of a debut. Alice, a happy and perfect wife and mother has her life turned upside down when she discovers her husband is living a secret life. Alice is served with an eviction order and her husband disappears. Visiting the bank manager (Christophe Favre), she learns that her husband has stolen all her money and defaulted on the apartment payments. He is nowhere to be contacted and does not return Alice's calls. Alice finds out what happened. Francois had spent all her money (that she inherited from her father) on his addiction - escorts. Director Mackerras teaches that domestic abuse can take different forms. (The film cost less than $1 million to make. )
THE PIT (Latvia 2020)
Directed by Dace Pace
THE PIT co-written by the director herself with Monta Gāgane and Pēteris Rozītis, follows an apparently disturbed ten-year-old boy called Markuss (Damirs Onackis), who must adapt to starting a new life in the Latvian countryside with his strict grandmother (Dace Eversa). After Emīlija (Luize Birkenberga), a neighbour's daughter, makes some contemptuous remarks about Markuss's father, he decides to trick her and, after a long chase, manages to make her fall into a pit. The girl's dog sniffs her out, thus saving her life but not before the whole village learns about the boy. THE PIT is one of the best psychological horror coming-of-age films seen and not surprisingly is the country, Latvia's entry for this year's Academy Awards.

POWER OF THE DOG (Australia 2021)
Directed by Jane Campion
Jane Campion (THE PIANO, HOLY SMOKE) returns in the director's chair after a long absence with another masterwork, a period Aussie western with magnificent cinematography (the mountains having the image of a dog) and performances. The film examines the prejudice of man and the peculiarities of individuals. But it is mastery of director Campion's storytelling that gives this mesmerizing film her distinct mark, making it worth a second look for points and images that one might have missed,
THE LAST DUEL (UK/USA 2021)
Directed by Ridley Scott
Two enemy jousting played incredibly by Matt Damon and Adam Driver. The events leading to this battle fo two previous friend is told be several of the film's characters, each giving different details of the story. rather than having the feel of repetition, director Ridley more than piques the audience's curiosity as to what really happened. The film ends with a brutal last duel in which the villain gets his due. A brilliant period piece in every way.
HOUSE OF GUCCI (UK/USA 2021)
Direct day Ridley Scott
Ridley Scott again, this time with a totally different film setting. The film traces the downfall and assassination of Gucci (played by Adam Driver) as devise by his rejected wife played by Lady Gaga. This is the most outrageous of all of Scott's films with all the actors especially Al Pacino and Jared Leto hamming up their ridiculous Italian accents. Forget authenticity, just enjoy the fun!
Honourable mention:
THE SOUVENIR 2
RIDERS OF JUSTICE