27
Dec
2021
Details

Category: Movie Reviews
Written by Gilbert Seah
FILM REVIEWS:
BRAZEN (USA 2022) **
Directed by Monika Mitchell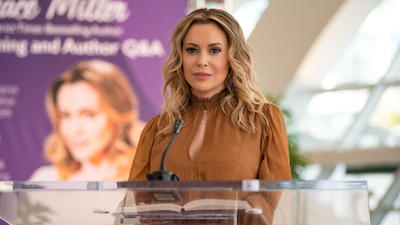 BRAZEN is clearly a female movie that has gone so over-the-top that silly is no longer a word that can accurately be used to describe it. It is entertaining in a way to watch how everything so serious in the film has gone brazenly haywire.
Trying to hard to be smart, BRAZEN the film opens with the main character, Grace (Alyssa Milano), a murder mystery writer reading from her latest book called 'Brazen Virtue' (whatever that might mean, but which becomes clear while watching the film) which is actually the title of the book written in real life by Nora Roberts from which the script and film is based on.
Grace gets a distress call from her sister, Kathleen and she visits her (Emilie Ullerup) only to find her not the sister that she thought her to be. Kathleen wants to win custody of her son, Kevin from her separated husband (David Lewis), who is a rich asshole lawyer. This lawyer has done bad things in the past which Kathleen intends to use in court to win custody of her son. But apparently Kathleen is no saint either, a drug user who has just come clean. If all this sounds pulp fiction cheesy, the script gets cheesier especially with Kathleen and others performing as various dominatrixes on sex fantasy website.
When her sister is killed and her double life as a webcam performer is revealed, Grace ignores the warnings of a cool-headed detective and gets involved in the case.
The number of coincidences in the story throws logic right out the window. The detective is a good looking Ed (Sam Page) who just happens to Iive next door to her sister. They go on a first date. Romance develops. As predictable as these stories go, Grace is so good a murder mystery writer, she is supposed to bring great insight and perspective (besides being female) to the murder case. Ed's boss, who also happens to be female, hires her as a consultant. As it goes, but no surprise here, Grace has all the correct answers to solve the case. More coincidences - asshole husband lawyer happens to also watch camcorder porn on the same site, which is called Fantasy Inc or some cheesy name like that.
The story includes a few well written supporting characters including Ed's funny detective partner, Ben (Malachi Weir). The camera loves to zoom in on his face whenever he gives an un-approving look, whenever Ed sleeps with Grace while on the case.
The story at least provides a large number of suspects, so that it becomes more difficult to guess who the killer is.
Yes, and to add to the top of the silliness, the heroine is saved at the end of the film by the last minute predictable appearance of the male charter that saves the female here - something that goes totally against the entire grain of the film's strong female theme. (Grace dons a dominatrix costume totally with latex and whip and faces the killer file on a webcam).
BRAZEN is not without entertainment value, though not in a good way.
Trailer:
THE CONTRAST (USA 2020) **
Directed by Sean Dude and Presley Parras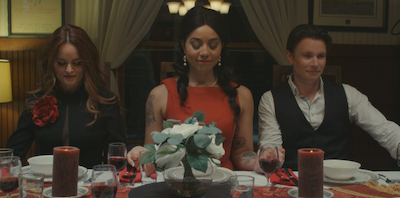 THE CONTRAST, the film originates from the play of the same name, The Contrast, written in 1787 by Royall Tyler. The Contrast is an American play in the tradition of the English Restoration comedies of the seventeenth century; it takes its cue from Sheridan's The School for Scandal, a British comedy of manners that had revived that tradition a decade before. Royall uses the form to satirize Americans who follow British fashions and indulge in 'British vices'. Thus, the play is often concerned with portraying the contrast between European and American culture, and hence its name.
The Contrast is reputed to be the first comedy written by an American citizen that was professionally produced. Modernized, there are no horse and carriages but motor vehicles, though no characters are seen with any cell phones. All the initial characters are kept intact.
At a quaint Bed & Breakfast, Maria (Joy Villa) is about to marry her longtime beau – the smooth talking, hipster Dimple (Lee Donaghue) , when her Maid-of-Honor's brother, Colonel Henry Manly (Jermaine Hollman), stops by to help set up. Fate introduces them, and they connect instantly, like old friends long separated. After a touching rehearsal dinner at which Dimple shows glimmers of his formerly caring self, Maria confesses her doubts to her father, (Lane E. Nichols) who manages to put her mind at ease. As the wedding hour approaches, truths are revealed, chaos ensues, and Maria must decide between the obligation to her family and the quickening desires of her heart.
Though basically a romantic comedy, one can see the strength of its material that overcomes the pitfalls of the typical romantic comedy. The characters are strong and well performed by the apt cast.
The bed and breakfast seen in the film's opening scene is a stunning lodge, proudly owned by and run by Mr. Wignell (Chip Carrriere). The car journey to the lodge is shown with all its countryside grandeur who makes America look confederate, historical and agricultural all at the same time. It also takes the stage bound play into the open so that audiences will forget the stage origins of the material. The arrival of a bridge and groom is met by a rude, lazy and carefree employee, Frank (Frank D'Alessandro) who is forced to work there by the owner's wife. He annoys the groom, Dimple, a cad and a dandy to no end. These two characters provide the needed humour and lifts the material over the glum romance and setting. Donaghue is a real blast playing the villainous clown, yet charming enough that one can see able to seduce and fool two women at the same time.
But the film's downfall is its rooting in Harlequin type romance and a love at first sight mentality. The audience is supposed to believe that Maria will give up everything, even on her wedding day to believe Henry that he has fallen in love with her, upon just meeting her. This fact really stretches credibility.
Trailer:
HOTEL TRANSYLVANIA: TRANSFORMANIA (USA 2022) ***
Directed by Derek Drymon and Jennifer Kluska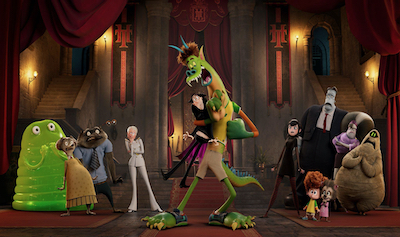 Sony Pictures appears to have the knack of making big bucks with their sequels, unlike Warner Brothers who have been reported to have lost $100 million for THE MATRIX: RESURRECTIONS. Sony has reworked SPIDER-MAN to death including animated versions and HOTEL TRANSYLVANIA: TRANSFORMANIA, the 4th installment is reported to be the last of the franchise. And with reason. The script is clearly not only short of fresh ideas but desperate in doing anything to provide for laughs. Even Adam Sandler has bowed out of voicing Dracula, the main character in the film, the honours now gone to Brian Hull.
Drac, as he is called, short for Dracula (Hull) and the Pack are back in this final installment, if one can remember the monster pack. Drac is in trouble with his most terrifying task yet. The series running joke, of a father (Drac) wanting the best including the best man (or monster) for his daughter is again used in the story. Now, the daughter Mavis (Selena Gomez) is married to a human, Johnny (Andy Samberg) who Drac clearly and outwardly dislikes. And with reason. Johnny is a human and a bumbling and annoying one. Though with good intentions of pleasing his father-in-law, his antics always end in disaster. This is witnessed at the start of the film during the hotel's 125th Anniversary when all Johnny's planned celebration acts turn haywire in catastrophe. Drac is supposed to make a huge announcement of retiring and hence leaving the hotel to Mavis and yes, Johnny. But Mavis, with her huge ears overhearing her father, tells Johnny who screws it up by confronting his father-in-law who now has second thoughts. He lies of a Monster Real Estate rule that prevents the hotel from being passed down to a human. So, Johnny in order to please Drac and Mavis uses Van Helsing's (Jim Gaffigan) mysterious invention, the 'Monsterification Ray'. The gadget goes haywire, Drac and his monster pals are all transformed into humans while Johnny (Andy Samberg) becomes a monster!
In their new mismatched bodies, Drac, stripped of his powers, and an exuberant Johnny, loving life as a monster, must team up and race across the globe to find a cure before it's too late, and before they drive each other crazy. So, with help from Mavis (Selena Gomez) and the not-so-funny this time around human Drac Pack, the heat is on to find a way to switch themselves back before their transformations become permanent.
The film at least features solid voice characterizations of Kathryn Hahn (Ericka), Steve Buscemi (Wayne), Molly Shannon (Wanda), David Spade (Griffin the Invisible Man), Keegan-Michael Key (Murray), Fran Drescher (Eunice), Brad Abrell (Frank), and Asher Blinkoff (Dennis).
The directors move their film at a fast pace so that one can hardly notice the many jokes that fall flat. The animation is ok and many of these contain humour derived from the earlier HOTEL TRANSYLVANIA films.
The film has been sold by Sony to Amazon Prime due to Covid and premieres exclusively on Prime Video globally January 14, 2022.
Trailer:
THE LAST THING MARY SAW (USA 2021)
Directed by Eoardo Vitaletti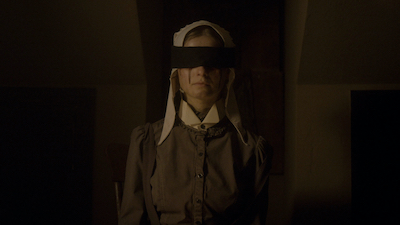 embargoed Jan 17th
PRESIDENT (USA/Zimbabwe/Norway/Denmark 2021)
Directed by Camilla Neilsson
Review embargoed Jan 7th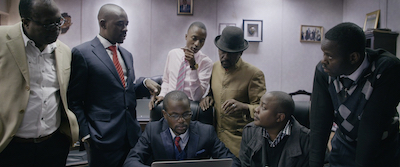 Trailer:
THE RUNNER (USA 2022)
Directed Boy Harsher
Review emabrgoed till Jan 15th. Review will be posted Saturday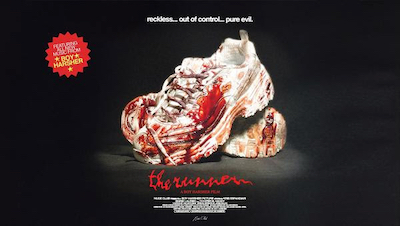 THE WHALER BOY (Poland/Belgium 2020) ***1/2
Directed by Philipp Yuryev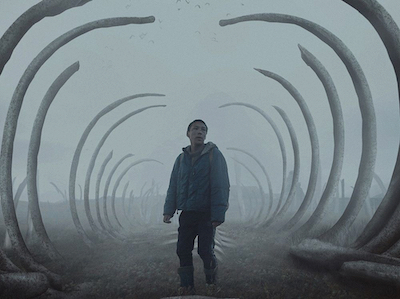 THE WHALER BOY tells the coming-of-age journey of 15-year-old Leshka (Vladimir Onokhov) who lives in an isolated village on the Bering Strait. The Bering Strait is the strait between the Pacific and Arctic oceans, separating the Chukchi Peninsula of the Russian Far East from the Seward Peninsula of Alaska. Like most men where he lives, he is a whale hunter. He lives with his blind and old grandfather who focuses on his dying days. When the internet arrives in the village, Leshka becomes infatuated with a webcam model from America - so far away and yet almost close enough to see across the waters of the Strait. Maturing sexually in the male-dominated whaling community, Leshka's encounter with this mysterious woman awakens in him a desire to find love outside of the confines of his tiny world. He becomes determined to meet her in real life, setting forth on a dangerous adventure in the second half of the movie after a fight with his best buddy and stealing a boat.
Upon consideration, Leshka can be seen as a kind of uneducated, uninformed loser who has nothing much to offer in life. He is not schooled, and falls in love with an internet porn star called Hollysweet who might not actually exist, as his friend tells him that she could be an image that thousands of others on the internet probably also jerk off to.
Two things make this coming-of-age film stand out. One is the isolated and unfamiliar yet fascinating setting of the village on the Bering strait, authentically shot by directors of photography Mikhail Khursevich and Yakov Mironichev. The second is the simplicity in which the effective story unfolds.
There is a segment with the whalers out harpooning whales - a sight that will ensure much disgust among environmentalists. I admit it was a difficult scene to watch.
The humour is both simple and effective. Leshka masturbates to the recurring sounds of his grandfather's cleaning of the cooking pots with the steel wool. He uses a translating talking pen in order to communicate with the webcam girl while on the internet as he speaks only Russian, only to have the pen break down and make repetitive phrases. The film is shot in Russian and English. The film's best and most effective moments depicting the lifestyle of Leshka has him riding on a motorbike with his pal or wrestling him in the water, while swimming. The happiness of such segments are interrupted with a slow villager's death. He was shot by border patrol by accident as he was crossing the Straight. The act prompts Leshka to follow suit.
Lehska now attempts to foresee his dream come true by crossing to America and finding Detroit City where he believes the girl lives. Director Yuryev shows that this comes with a price of hardship and perseverance.
THE WHALER BOY captured the Venice Days Director's Award at the 2020 Venice Film Festival and was nominated for a Golden Star Director's Award at El Gouna and Best New Film at the 2021 Beijing Film Festival.
The film premiers in select theatres where permitted, and via Virtual Cinemas VOD and Digital on January 14th, 2022.