FILM REVIEWS:
A COPS AND ROBBERS STORY (USA 2020) ***
Directed by Ilinca Calugareanu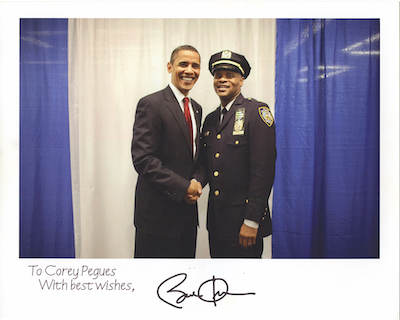 Non-Americans might not be familiar with the name, Corey Pegues, a Queens New York native, is a retired NYPD Executive as well as an Author, Motivational Speaker, Community Leader, and Expert on police related topics. His career spans over two decades and speaks for itself. A COPS AND ROBBERS STORY is a doc about Pegues.
A sufficient amount of material can be found on his website, which contains only good things about him, obviously. Immediately, after graduating high school, in Queens New York, Pegues enlisted in the United States Army where he served almost four years as a Medical Specialist, until the end of his enlistment in March 2001. After his honorable discharge from the Army, he enlisted in the New York State National Guard, where he spent the next 14 years of his military career. Subsequent to his discharge from the Army, Corey entered the New York City Police Academy in January 1992. Upon graduation from the academy, he was assigned to the 114th Precinct, located in Astoria, Queens. He was promoted to the rank of Sergeant five and a half years later. Corey rose quickly through the ranks. He is now retired.
Director Calugareanu appears to love making films on controversial subjects. Her previous doc in 2015, CHUCK NORRIS VS. COMMUNISM, ignore the playful title, traced the downfall of communism in Romania that began with viewing communist banned films. A COPS AND ROBBERS STORY contains the controversy of an ex-criminal serving on the police force in the NYPD. The film questions whether Corey, the main subject, is a good guy or a bad guy. The doc unfolds like a biopic, revealing Corey's childhood and teen hood from the 1980's to the present.
The interviewees are not made up of anyone famous. So what they say on screen should be taken with a grain of salt. Those interviewed include Corry's buddies like Mimi, Sean Due na Will, three and with him and his cousin Chrism who also call themselves the Five Amigos.
The film takes a look from a different perspective when the interviewees are outside Corey's circle of friends. His cop partner, Bob, who is white does not have good things to say about Corey. Corey's behaviour is also not too encouraging. Corey, while on car patrol, would have the music cracked out too loud that they would miss important calls. "He is too stupid, a nigger," says Bon about Corey to the camera.
The doc poses several questions. Who to believe and who is talking bullshit? Is Corey a good guy or a bad guy? One wishes director Calugareanu would be more forceful and make her stance. But director Calugareanu lets the subject tell his story and lets the audience make up their minds for themselves. Then, there is the question of the doc's message? With no clear direction, the only message that comes through in the film is that 'cops are stupid'. Corey's white cop partner says this, the NYPD never found out about Corey's past. The fact is made even more true as cops keep getting into trouble with their systematic racism.
A COPS AND ROBBERS STORY is available VOD/Digital on February the 8th.
A GRAND ROMANTIC GESTURE (Canada 2021) *
Directed by Joan Carr-Wiggin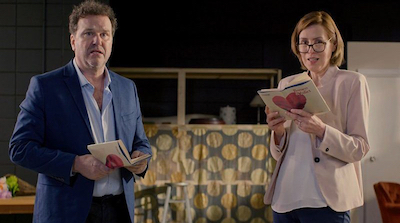 A GRAND ROMANTIC GESTURE is clearly a romantic comedy - a well worn-out genre that many, especially critics had seen enough off. Personally, it is my least liked genre and I have to grin and bear these films. A few romcoms surprise but A GRAND ROMANTIC GESTURE is not one of them. There must be something distinct about romantic comedies that make it stand out by being different. I'M NOT I LOVE, a recent romantic comedy is advertised as an anti-romantic comedy as it shows the break up of a couple - the opposite of a couple getting together. The difference is noted but this is the third of his trilogy of anti romcoms. But this director, Col Spector has a keen sense of humour and at least his film generates quite a few laughs. Netflix during Christmas released their first festive gay romantic comedy and that was also very funny.m A GRAND ROMANTIC GESTURE, in contrast to those two films is not funny and tries too hard for its laughs.
In A GRAND ROMANTIC GESTURE, the man, Simon (Douglas Hodge) and woman, Ava (Gina McKee) are both married to other spouses. Ava is encouraged by her husband, Matthew (Rob Stewart) and daughter to take up cooking after she loses her job; instead, she signs up for a drama class where she falls in love with Simon, her Romeo. They meet in drama class and as they are performing the lead roles of Romeo and Juliet in the Shakespearean play, the words take effect and they slowly form a romantic relationship. The premise is not that novel, the jokes are not that funny, in fact quite a few appear forced, and the two actors lack any romantic chemistry.
There is one scene where the expecting fighter believes her husband is having an affair, having seen him walking close to a mother girl with red hair and pigtails. She sits on the settee with her mother and him contemplating what it is to be a single mum if he leaves her. What if I get an abortion? The film takes a weird change in course at this point.
The film is punctuated by quotes from Romeo and Juliet. The script tries to be clever to use the sayings to put some insight to what the next scene will be. The tactic rarely works, but not for want of trying. It does not help much either when the director has his actors speak their minds to the camera.
The one almost saving grace of the film is Linda Kash, who plays Simon's fiesty spouse, Ros. She is blatantly loud and tries her best to out her husband. Her talk to the camera is fresh and funny.
To sit through A GRAND ROMANTIC GESTURE is a real chore - there is nothing new, nothing clever and nothing really funny at all in this supposedly comedy. There is also the meaningless cop-out ending.
IMMANENCE (USA 2020) **
Directed by Kerry Bellessa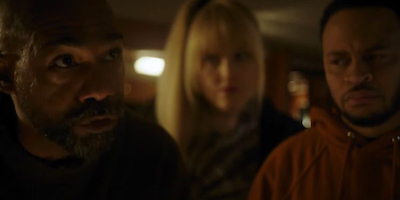 IMMANENCE is deity in man. Another meaning of immanence, as reproduced from Wikipedia, is the quality of being contained within, or remaining within the boundaries of a person, of the world, or of the mind. This meaning is more common within Christian and other monotheist theology, in which the one God is considered to transcend his creation. The new horror thriller uses IMMANENCE to its fullest in its premise in which the hero of the piece is a staunch believer of the fact. The film makes the rare effort of combining sci-fi and religion. Whether this tactic works, depends on the individual viewer of the film.
While investigating a meteor strike in the Bermuda Triangle, a team of radio astronomers discover a mysterious signal in the deep sea that could be the world's first contact with extraterrestrials. The team hire a boat to take them out to sea and one of the boat crew is a firm believer that God and the devil, rather than extraterrestrials are involved. After witnessing various impossible phenomena, the team becomes convinced that something is trying to communicate with them.
The film works as a mystery in the first half. The script co-written by the director Bellessa and Joshua Oram contains a crew of mis-matched characters. The main enmity occurs between scientist Roman (Anthony Ruivivar) and Jonah (Michael Beach). Roman is not shy to let his disbelief of the religious mumbo-jumbo while Roman spews out his theory about the devil and the sea, always in contact battle with God. Jonah claims that Jesus walked on water to show his dominance over the water and the devil. Quite a bit of this is bullshit but the actors sound convincing enough to believe each other.
The film throws away the credibility factor that proposes that God came down again as the man called Immanence played with wicked relish by Jamie MacShane. Immanence has words for each of the crew and they are not nice (but quite hilarious ones). Roman is criticized for being a non-believer and copped to the lowest of slaves (racism here?) where even they believed in the existence of God. Jonah's faith leads him to suggest that this communication may be a manifestation of divinity, a hypothesis which the scientists particularly Roman immediately reject.What would Immanence say to you?
IMMANENCE is not a perfect horror movie and does not even close. But there are several plusses going for it. Despite its outrageous premise, it appears that the filmmakers and the cast are totally on board with the concept's premise and they go all out to make the film believable. It should be noted that this film is over the top and whether it works depends on the individual. One flaw is the film's confusing and abrupt ending that leaves many an audience frustrated and unsatisfied. It requires quite a bit of concentration to figure out what is going on at the end.
IMMANENCE will be available on demand on several digital streamers, including iTunes, February 4.
Trailer:
THE LONG NIGHT (USA 2021) ***
Directed by Rich Ragsdale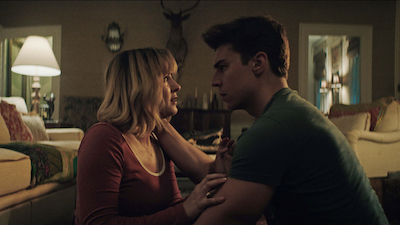 During A LONG NIGHT of the weekend, a devoted couple's quiet weekend takes a bizarre turn when a nightmarish cult and their maniacal leader come to fulfill an apocalyptic prophecy.
Grace (Scout Tylor-Compton) needs to see out her parents she never knew from the south. She gets hope from someone who tells her to meet him in a house and if he is not present, to find the keys under the doormat out front. Grace goes, accompanied by her Ivy-League boy friend, Jack (Nolan Gerard Funk). Arriving at the house, there is no one present so they let themselves in and settle in for what appears to be a very long night of horror. They discover a cult. The house has a few references to Hitchcock's PSYCHO. "Is the placer by Nrman Bates?" is Jack's initial remark on the house. The house comes complete with at the head of a moose having on the wall and a rocking chair, like the one Bates rocked on in PSYCHO.
Cult films have always been interesting, the most famous ones being the British 1973 cult classic THE WICKER MAN directed by Robin Hardy and the more recent MIDSOMMAR (2019) directed by Ari Aster. THE LONG NIGHT aims to be one. Told in six chapters, with titles like 'Seduction', Encounter' and 'Experience', THE LONG NIGHT is not bad even though it never reaches the heights of the two aforementioned films Most of the action takes place at night, with the exteriors lit often just from the fire of forces and the darkness adds to the creepiness of the film's subject and atmosphere. Director Ragsdale has built up a couple that the audience cares about, despite little arguments they have, being of different backgrounds. When the cult members appear. Jack remarks to Grace: "These are your people!" When she rebukes him for the outrageous remark he says, hilariously though in a dead serious tone: "They don't teach you this at Princeton". Still, he says to her early in the film: "Don't worry - everything is going to be fine." which in cinematic language means: "Watch out, something is going to go wrong."
The special effects regarding the snakes/serpents are scary and convincing and the totem pole prop is also impressive.
Director Ragsdale (a noted film score composer, EIGHT-LEGGED FREAKS) and writers Robert Sheppe and Mark Young reverse the roles of the male and female occasionally in the star. It is the male, Jack who does the shower scene. Jack is quite a looker, with a handsome face and well-built physique. Other than the female being the damsel in distress, Grace is seen to take control of the situation. In one scene he hacks an attacking cult member to each at the top of the stairs, much to the surprise of Jack. The Master of the cult is also female, played by Canadian actress Deborah Kara Unger (CRASH, SILENT HILL) though her performance is a bit laughable and over-the-top.
The cult horror chiller from Well Go Entertainment is viable in theatres and Digital on February the 4th.
THE OTHER ME (Georgia 2021) **
Directed by Giga Agladze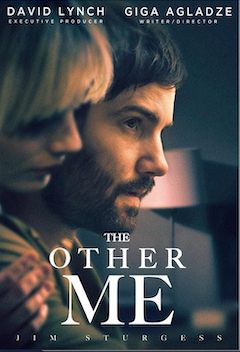 THE OTHER ME is that rare film from Georgia. Those unfamiliar with the region of Georgia, Europe, not Georgia in the United States would do well to see where the region lies. The director of the piece Giga Agladze is Georgian.
The new mystery suspense thriller arrives touted with the BLUE VELVET, MULHOLLAND DRIVE helmer David Lynch as the film's executive director. What likely attracted Lynch to the project is likely the story's surreal theme. There is a mystery woman of no name and a slowly going blind protagonist who is able to see certain truths. The two meet.
The film begins with an ominous warning at a doctor's office. Irakli (Jim Sturgess) is told by his doctor to take a medication that will only slow the deterioration of his eyesight as he will slowly go blind. This is a difficult situation," he is told:"Your eyes are not getting better." The aspiring architect is thrown into turmoil when diagnosed and his wife is not helping either. . As his condition worsens, a surreal visual world opens up to him causing him to question his life's choices, his career, and his marriage to an increasingly frustrated Nutsa (Antonia Campbell-Hughes) who struggles with her loyalties to her husband and the realities of daily survival. A big argument leaves the two apart and Irakli takes a bus to the last stop where he meets and falls for a mysterious nameless woman (Andreja Pejic), a beautiful artist who lives alone. She becomes his artistic muse and they form a deep connection that turns from fascination to infatuation to love. They learn to speak in poetic language and understand each other completely, which helps Irakli confront the truth about his own identity.
The film has an impressive start but the mystery slowly fizzles out as the audience has to bear with Irakli's self-wallowing pity and wife equally non-sympathy.
Lynch's films though trippy and surreal have a solid start to its middle. His MULHOLLAND DRIVE had a chance to take a route with an open or closed ending. Lynch chose the former. But Agladze's film is, in contrast, messy and all over the place. Irakli loses his sight because he does not take his medication and has no one to blame but himself. He sees his wife's body with no face on his bed in the countryside. Nothing makes much sense in the surrealism unlike Lynch's films, so THE OTHER ME loses the audiences interest during the half way mark. There should be surrealism with a reason - something this film does not have.
Sturgess' role here is similar to the ones he had played in ACROSS THE UNIVERSE and to a lesser extent, CLOUD ATLAS. One can hardly blame him for this mess of a movie.
Director Agladze intercuts flashbacks of Irakli as a boy, explaining the case of his adult bad behaviour, though it seems hardly necessary. There is a sudden appearance of the nameless woman's mother in the film in a segment that seems to come right out of nowhere.
THE OTHER ME could have been an intriguing film in the right hands. Something definitely has gone wrong and ironically what the filmmakers wish to envision in their film is not what comes across onscreen.
Trailer:
POLY STYRENE: I AM NOT A CLICHE (UK 2021) ***
Directed by Celeste Bell and Paul Sng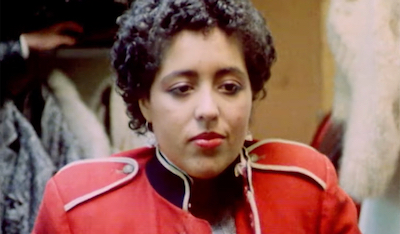 For many, the word polystyrene (one word) is a familiar often heard one. But many cannot define the term as it is a chemical term, the chemical name for plastic, which is widely used in almost everyday use. Polystyrene is a synthetic aromatic hydrocarbon polymer made from the monomer known as styrene. But the Poly Styrene referred to in the title of the film reviewed has nothing to do with plastics, except her attire. Poly Styrene, two separate words here is an English musician known by the stage name Poly Styrene. She is a singer-songwriter and front woman for the punk rock band X-Ray Spex.
The musician passed away in 2011 at the age of 53. The death of punk icon and X-Ray Spex frontwoman Poly Styrene sends her daughter, Celeste Bell, on a journey across the world and through her mother's archives to reconcile their fraught relationship in this new documentary, featuring Oscar nominee Ruth Negga as the voice of Poly Styrene.
It would not be surprising if one, especially if one is a non-Brit, would have not heard of her. In brief, it is a description of the doc's subject, The doc reveals Poly Styrene born Marianne Joan Elliott-Said in 1957 in Bromley, Kent, and brought up in Brixton, London. Her mother, who raised her alone, was a Scottish-Irish legal secretary. Her father was a Somali-born dock worker, although Poly Styrene used to tell the press that he was a dispossessed Somali aristocrat. As a teenager, Styrene was a hippie. When she was 15 she ran away from home with £3 in her pocket, and hitchhiked from one music festival to another, staying at hippie crash pads. Thinking of this as a challenge to survive, her adventure ended when she stepped on a rusty nail while bathing in a stream and had to be treated for sepsis. Having been 'an itinerant traveller, alternative fashion designer and a failed pop-reggae singer',she saw the Sex Pistols perform at the Pier Pavilion Hastings on her nineteenth birthday, 3 July 1976, and decided to form the punk band X-Ray Spex. Poly Styrene was the first woman of colour in the UK to front a successful rock band. She introduced the world to a new sound of rebellion, using her unconventional voice to sing about identity, consumerism, postmodernism, and everything she saw unfolding in late 1970s Britain, with a rare prescience.
The bio is told from the point of view of Poly Styrene's daughter, Celeste Bell from the film's start. Celeste who is seen going through her late mother's stuff, after 5 years, claims that she has to preserve her legacy. The audience discovers Poly Styrene just as Celeste discover's things about her mother. Celeste admits that good artists do not make good mums, Poly Styrene included. The doc benefits from both the daughter's insight as well as the amount of archive footage where the audience hears Poly's songs and her voice on the political climate. Besides being a biopic, the film also covers important issues like mixed race prejudice and women's liberation, making the doc an important one to watch.
POLY STYRENE: I AM A CLICHÉ will be available in theatres and on VOD across Canada on February 4th. The film played several Canadian festivals in 2021 receiving much acclaim, and also won 2 British Independent Film Awards.
Trailer:
SLAPFACE (USA 2020) **
Directed b Jeremiah Kipp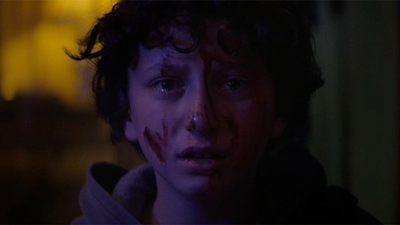 As the word slap is an action verb or noun, no face can look like a slap. Slapface is a game, one played mainly by males as kids. Myself, I played SLAPFACE with my little brother but once he slapped my face - which hurt - I stopped the game. Slapface is a game played by two persons each one taking his or her turn to slap the other. It does hurt.
What is the purpose of the game, one might ask. The same question is asked by Tom's girlfriend, Anna (Libe Barer) at one point in the film as Tom (Mike Manning) and his younger brother Lucas (August Maturo) play the game. "He gets to let his frustrations out," comes Tom's answer. When she then asks Tom to slap her, Tom replies he does not play that game with girls. So, you hit little boys instead, comes her answer. Whatever Tom's reason, it is a device that brings the two siblings together, regardless of the hurting game.
SLAPFACE is a horror movie that centres on the troubled little brother Lucas. As the pages of newspaper headlines fly past during the opening credits, the audience learns that the parents were killed in a car accident. Tom now looks after Lucas. There are newspaper headlines, too, of a witch in the town. The opening sequence is impressively done with the cuts done so that the audience focuses on the important points to be remembered - death in the car accident and existence of a witch. Tom and Lucas are orphans. Lucas is often in trouble and the sympathetic sheriff always gives them a 'get out of jail free' card. Lucas is also costly bullied by three girls, one of which secretly likes Lucas. As things go, not really credibly, Lucas befriends a monster in the woods. The monster wants Lucas' love and destroys anyone who hurts Lucas. Lucas does not know what to do when the monster kills off Anna and others.
The film has a valid message against bullying. But despite good intentions, director Kipp's film is all over the place not to mention the major flaw that the film lacks credibility. Why does the monster exist and why is the monster sympathetic towards Lucas? This point is never addressed or explained.
The film is touted as a horror movie. But it is more a family drama between two brothers with a monster brought in to help solve Lucas' problems. Unfortunately, the blend of horror and growing-up drama does not work at all, the result being an unsatisfactory mess of a movie.
It does not help that the film has a cop out ending, one that will not be mentioned in this review. The film ends with an anti-bullying message but that does not make the film any better. As they say, the road to heaven is paved with good intentions.
SLAPFACE is available on the horror streaming service Shudder on February the 3rd.
Trailer:
WHO WE ARE: A CHRONICLE ON RACISM IN AMERICA (USA 2021) ***1/2
Directed by Emily Kunstler and Sarah Kunstler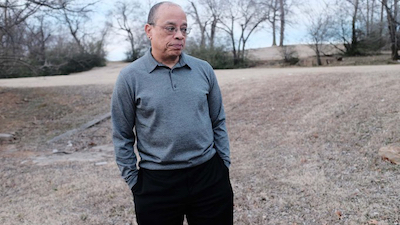 Jeffrey Robinson, a lawyer for some 40 years, the subject of this doc on racism is a very angry man. And there is a reason for him to be. The doc illustrates why, and hopefully by the end of the doc's viewing, many others will be angry enough to effect a change so that the past can progress the future that is ahead. Robinson also wrote and produced this film.
The film takes its focus from the captivating speech given by Robinson (former ACLU Deputy Legal Director) at New York's Town Hall on Juneteenth 2018. The speech is intercut with interviews and footage of the past from segregation to black lynching to the assassination of Martin Luther King to the present with Robinson challenging his audience to make a difference at the end of the talk. The doc occasionally feels like a history lesson, one that according to Robinson is not taught and should be taught in schools to reveal who Americans are.
A very important point brought up in the film is unconscious racism. A slight diversion to the review here…..Personally, I have encountered this twice, two incidents that have affected the way I think and know racism, and which I would like to share with readers. Being Asian Chinese, I once could not find and asked a white supermarket employee where the lamb chops were. He pointed me to the lamb chop which had a sign that I had missed hanging over them while saying: "You cannot read English?" Though he might have said this jokingly, it was racist and definitely offensive, and I should have lodged a complaint. The second case was at the airport customs when my buddy, Dino Hernandez was asked to throw his water he had just bought out. He looked at the two customs staff who made him do it and he said to me: "It is because of them that this is all happening." Dino was referring to the colour of the staff being dark, assuming them to be Muslims though it was clear that they were East Indian, as they looked so and spoke with an Indiana accent. In both cases, the two were unaware of the fact that they are 100% racist.
Robinson expands and defines racism as prejudice + social power + authority.
The film educates with new information with a re-look of familiar racist information. The former includes the meaning of the name of the famous bridge with the plaque Edmund Pettus on it. For the former, there is a clip of D.W. Griffith's infamous racist movie BIRTH OF A NATION. The clip showing a white girl who would rather jump to her death than escape from the sexual assault of a white man with his face painted black says it all.
The doc is centred towards Americans and addresses directly to Americans. For this reason, non-Americans like Canadians and Brits can sit back and say: 'That is not us'. The three main issues examined in the film include slavery, the taking down of monuments and police racism. Director Kunstlers or even Robinson could also have added their views on what should or how racism in other countries be addressed.
But the film is unmistakably a very powerful one. Everyone will attest that the film has made its mark in terms of information insight, angering the audience for injustices done and a desire for a nation of zero tolerance against racism.
The African American Critics Association has awarded WHO WE ARE the Best Independent Film and with reason.