BigBug (France 2022) **
Directed Jean-Pierre Jeunet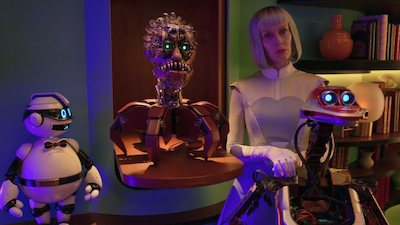 French director Jeunet, the director of weird comedic hits like DELICATESSEN, AMELIE and THE CITY OF LOST CHILDREN has got another latest inventive and odd comedy coming out on Netflix on February the 11th. According to him, he had trouble financing a comedy about robots, so he turned to Netflix. Even Pedro Almodovar who so vehemently wanted Netflix out of Cannes had his latest film PARALLEL MOTHERS fiancée by Netflix.
BigBug is Jean-Pierre Jeunet's vision of the future. The year is supposed to be 2050, according to the press notes, but never mentioned in the film. And it is not a very inviting one - a very high contrast, plastic and sort of terrifying dystopia. Jeunet shows that this dystopia is not in the natural order of things, and when things go wrong, humans cannot gain back control. In this future in which humans are 100 percent reliant on machines to get them through their day. When the machines suddenly glitch and turn against their humans the world is sent down a spiral of hilarity and terror, though more of terror.
The film comes with a warning of nudity and sexual content. There is nudity- robot nudity and humans leased like dogs, but no genitals are shown. The human that indulge in sex only have their bare tips seen, but still no bare breasts. There are lots of sexual content from mention of dildos to sexual acts.
In 2050, artificial intelligence is everywhere. In a quiet residential area, four domestic robots suddenly decide to take their masters hostage in their own home. Locked together, a not-quite-so-blended family, an intrusive neighbour and her enterprising sex-robot are now forced to put up with each other in an increasingly hysterical atmosphere! While, outside, the Yonyx, the latest generation of androids, are trying to take over.
Jeunet is more than capable of painting a miserable dystopian society. This is witnessed in his CITY OF LOST CHILDREN and again in BigBug. When the robots take over, it is not only the physical constraints but the emotional that are prominent. When a couple is about to engage in sex, the robots wold surely appear. The robots try to learn a human trait - the sense of humour. So, the robot attempts, to the best of their abilities, to tell jokes. This is what they (or perhaps Jeunet) can come up with: "What is your name?" asks the cow to the singing donkey?" The donkey replies: "Muledonna". Yes, pretty awful!
To Jeunet's credit, his film is very inventive, interns of robot technology and is also very colourful. The robotic dog, the way in which automation has revolutionized the kitchen and cooking all look marvellous on screen. The scene where a robot makes whipped eggs is magnificent. But one wishes that the film would be funnier rather than bleak.
BigBug is more eye candy, with lots of colour and inventive gadgets of the future on display than anything else. The all too familiar message, however, that robots have overcome humanity does not really come through.
BLACKLIGHT (USA 2021)
Directed by Mark Williams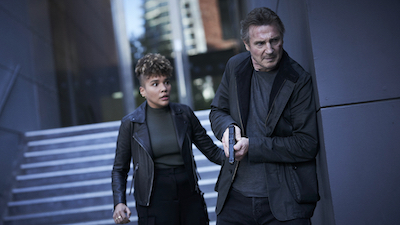 BLACKLIGHT is yet another Liam Neeson American action flick written by Nick May and directed by Mark Williams. Neeson portrays an FBI operative who gets involved in a government conspiracy. Though American, it has a studio from China involved in the production and a fair amount of the film is shot in Australia. The film started shooting in Melbourne and the car chase was shot in Australia's capital, Canberra.
Neeson is getting up there in age for title roles in action flicks. The film covers this up by having him called 'an ace in the hole' for his past experience. At the same time, his character has a grand-daughter, showing the actor and character's age.
A troubled off-the-books fixer for the FBI, Travis Bock (Liam Neeson) is tasked with pulling undercover agents out of dangerous situations. Suddenly, he finds himself in the middle of a deadly conspiracy when one such agent, Sunny, who had worked with him in the past starts questioning the very people he's working for. Travis must not only track down the agent, but also find out the truth – a truth that may strain even his questionable moral code. He finds out that his supervisor boss, Robinson (Aidan Quinn, who is also getting here in age - I could not recognize the actor at first) is somehow responsible and has no qualms about keeping the secret hidden, including the murder of innocent citizens.
BLACKLIGHT occasionally plays like the HOME ALONE and TAKEN franchises. When the baddies break into the home that Travis is in, he sets booby traps for them (just as Macaulay Culkin did to his victims) like turning up the music loud by remote or setting the place flooded with water in order to conduct electricity. The villain Robinson abducts Travis' wife and daughter just as in Neeson's TAKEN series.
For an action film with an FBI undercover plot, the filmmakers seem to think that the audience is unable to grasp the story, even though it is not that complicated. The film contains too many supporting characters, comparing the films in this genre. Everything has to be explained, after they happen in dialogue as if the film is 'The Dummy's Guide to Understanding the Plot in an Action Movie'.
The film claims that America is murdering her own citizens. In many ways, this statement is true. One of the film's most pleasant moments is a sneaked in criticism of former President Trump, referring to his underhanded activities.
The film contains two car chases, one in which the baddy kills off Drew, a pawn caught in the crossfire. In the recent Bruce Willis action film GASOLINE ALLEY, an attempt is also made on the hero's life in the form of a car chase. "This is not the smartest way to kill a guy," says the hero in the film. Apparently so, but so many films, BLACKLIGHT included trying to have someone bumped off with a car chase. The car chase here is nothing too special out of the ordinary with the continuity just credible.
BLACKLIGHT is a lacklustre below-par Liam Neeson action pic with too many explanations given to the plot coupled with just mediocre action set pieces.
COMPARTMENT NO. 6 (Finland/Germany/Russia/Estonia 2021) ***1/2
Directed by Juho Kuosmanen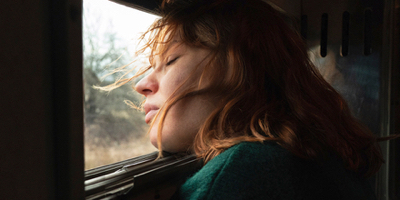 Though it can hardly be called a romance, this is a relationship comedy and a well done one as well.
Two passengers share a compartment, COMPARTMENT NO. 6 on a train to Murmansk. They are not friends, but strangers. They are divided by class, nationality, and language. Laura (Seidi Haarla), a Finnish grad student, has just said goodbye to her same-sex Russian lover, Irina and boards a train headed for Murmansk, a remote city in the Arctic circle, to see the rock drawings — supposedly a fitting, poetic conclusion to her time studying in Russia. It seems that Laura is running to escape. As heard in a voice at a party: "to escape you need to know where you are, not where you are running."
The loutish Ljoha (Yuriy Borisov), who polishes off a large bottle of vodka the first night of the trip, is reporting for work at the massive mine in the region. He makes rude sexual advances towards her and also insults her. He is the worst nightmare a train compartment companion could ever get. And the train conductor, a burly stout no-nonsense woman is no help either. "No spitting on the floor, no littering in the toilet". she instructs. Laura has to spend time finding her passport when she asks for it, she says: "Don't worry - I have all the time in the world." As the journey drags on, though, cracks appear in the facades they present and their vulnerabilities force them to recognize each other as far more complex than the fronts they present to the world — or what their own prejudices dictate. It make sense to show how true bonding can happen with no sex involved as Laura is revealed (at the beginning of the film) as gay. The film is a brilliant examination of how differences and similarities can affect two people.
Borisov and Haarla have excellent chemistry - or rather anti-chemistry that works for their very different characters. He annoys the hell out of her, but eventually wins her over - and convincingly. Director Kuosmanen (THE HAPPIEST DAY IN THE LIFE OF OLLI MAKI) knows how to get into his characters with dialogue, body movement and action. There is lots of humour too, subtle and quite funny. Ljoha initially suggests that Laura 'sells cunt'. Later when he asks her what she is doing, travelling to Murmansk, she replies 'selling cunt' after he says that she is too serious with no sense of humour.
Who says that filmmakers have to churn out ever so often romantic comedies? Comedy dramas like this one show how a relationship (not necessarily romantic) can also develop between two highly different personalities. And the film works wonders!
The film (in Finnish, Russian and English) that premiered in Toronto at the Toronto International Film Festival in 2021, has won praise wherever it has been shown. It finally opens in theatres on February the 11th. An amusing and excellent comic study of relationships of characters and is definitely a worthwhile watch!
Trailer:
COSMIC DAWN (Canada 2022)
Directed by Jefferson Moneo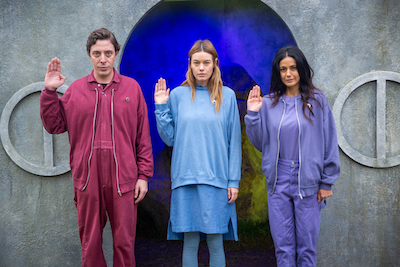 Director Moneo, believe it or not, comes from a weird background of wrestling and living in the plains in Canada. As one watches his feature, one cannot help but contemplate how his background might have influenced his film, a sci-fi thriller.
As all Canadians have camped at one time or another, the film begins with camping in a tent. Mother and young daughter are out in the beautiful country when a sighting occurs. The child, largely disinterested, just wants to go to sleep, but something happens - an alien encounter, with her mother disappearing.
After witnessing the alien abduction of her mother as a child, Aurora (Camille Rowe), now grown up, joins the UFO cult "The Cosmic Dawn". The film flashes forwards and back four years, unfortunately a bit confusingly. Now moved on from the cult, Aurora is forced to confront her past and pursue the ultimate truth about The Cosmic Dawn. The Cosmic Dawn is the title of a book Aurora buys written by Elyse (no last name) before being invited to join the cult. The sixth back and forth in time becomes even more confusing so that one cannot tell when Aurora is still in the cult or away from it.
As they say: the devil is in the details. Director Moneo's camera is fond of highlighting certain details in the various segments that spark up the angst of each situation. At the film's start when the mother is outdoors while camping, a can moves and hits the mother's foot. Another has the daughter, in another scene lock shut the front door by turning it stylishly counter clocks and yet another's a close-up of her turning on the tap of the bath.
Director Moneo uses the effective mesmerizing mood of colours (as can be seen on the film's poster) to enhance a segment's drippiness as in the club ascend the alien abduction scene. The music in the soundtrack is also haunting and trippy, enhancing the atmosphere of mystery.
On the negative side, the film's low production stretches the story's credibility. The UFO cult commune is small and depends entirely on its leader. The commune with its small number of members, a factor owing to the low production, undoubtedly, has the look of adults playing kids summer camp. The cult members are largely non-white - a mix of Asian, Mexica, East Indian and few whites.
The film's non-chronological order is a real bother, and does not help the film either. Director Moneo intersects the time lines too often leading to some confusion no matter how much the audience manages to concentrate on the story.
Despite a few strong points, the film does not live up to the mystery and climax that it strives for. Personally, I wanted so much for the film to succeed. COSMIC DAWN showed potential and perhaps director Moneo might get a bigger finance for his next film, or stick to wrestling.
FLEE (Denmark/Sweden/Norway/France/USA/UK 2020) ****
Directed by Jonas Poher Rasmussen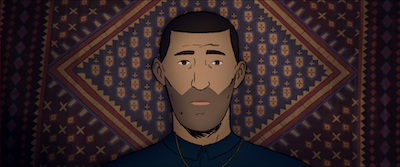 FLEE begins the song played on the soundtrack 'Take on Me'. 'Take on Me', a popular song that everyone should have heard of, is a Norwegian song by the group a-ha. appropriate for this Scandinavian film, co-produced by Norway, Sweden and Denmark and set in Denmark. FLEE is an ambitious animated feature executive produced by Pakistani/Brit star Riz Ahmed and GAMES OF THRONES Nikolaj Coster-Waldau, about a family in Kabul, Afghanistan fleeing for safety.
FLEE covers multiple issues, meticulously blended together. There is the coming-of-age story of Amin as he grows up gay, coming out of the closet, gay persecution in Afghanistan, refugee trafficking, settling in a foreign country and family loyalty. There is much information and insight for the audience to pick up, making the film quite a compelling watch.
The film begins with an (animated) interview between a filmmaker and the grown up Amin. It is clear that Amin has not told his story before to anyone, not even the man he is living with. Amin's life story is more than an interesting one. It is one that needs to be told, one that matters and one that needs to expel the demons residing in Amin's soul. The interview is taken in parts, as if the whole is too much for anyone to bear. It begins with Amin as a boy and ends with the present.
The film traces Amin's life from the time he was 4-years old, running around in his sister's dress and then growing up fantasizing on Jean-Claude Van Damme, getting into an abusive gay relationship before settling down with another and coming to terms with his homosexuality and now life in Denmark after fleeing to Russia and Sweden. It is a long and gruesome journey. The audience gets to experience what Amin and his family went through in order to flee the country which includes a track in the dead of winter, walking miles in the cold ice and snow in the forest without warm enough clothes and being confined in a cargo container, any of them huddled together while the ship rocked in the sea, causing many to get sick in the crate.
Not many know about the prosecution of the people in Afghanistan before 9/11. The Mujahideen had overthrown the monarchy and taken over the country. Dissidents deemed a threat, that included 3000 people as well as Amin's father were taken to prison and many killed. Young men were forced to join the army. Amin's brother ran to escape. The film includes archive non-animated footage of the Mujahideen in power igniting the people to fight.
FLEE premiered at Sundance in January this year and was screened at TIFF 2021 when I first saw the film. It was supposed to premiere at Cannes last year. Mixing archive footage, animation and interviews of Amin, the main character, pretence/animated style, FLEE, a heartbreaking film about a family's survival breaks ground in storytelling making the film an ideal candidate for Best Animated Feature of the year.
Trailer:
I WANT YOU BACK (USA 2021) *
Directed by Jason Orley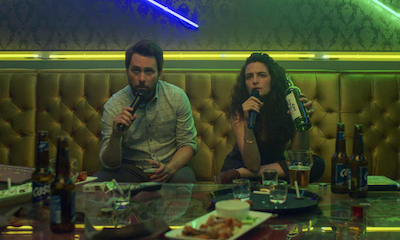 The trouble with Valentine's Day is that it comes with a slew of romantic comedies. Romantic comedy is this reviewer's least liked film genre as the sour is totally predictable, usually following the harlequin romance formula and there is hardly anything fresh about these kinds of films - unless perhaps they are really funny. Last week already saw the British entry, A GRAND ROMANTIC GESTURE, another predictable romance given a slight twist of Shakespeare that does not do anything much to the genre either. Then there is THE OTHER ME and I'M NOT IN LOVE. This week, I WANT YOU BACK is another flop of a romantic comedy'
Premiering on February 11 is the Amazon Original Movie I WANT YOU BACK. The title tells it all, and one can easily skip the movie. Peter (Charlie Day) and Emma (Jenny Slate) were total strangers, but when they met, one thing instantly bonded them: they were both unexpectedly dumped by their respective partners, Anne (Gina Rodriguez) and Noah (Scott Eastwood, son of Clint), on the same weekend. As the saying goes, "misery loves company," but their commiseration turns into a mission when they see on social media that their exes have happily moved on to new romances, Anne with Logan (Manny Jacinto) and Noah with Ginny (Clark Backo). Terrified that, in their 30s, they have lost their shot at happily ever after and horrified at the prospect of having to start over, Peter and Emma hatch a desperate plot to win the love of their lives back. Each will do whatever it takes to put an end to their exes' new relationships and send them running back to their arms.
The film begins with the intercutting of the breakup of the two couples. Peter is given the news at a birthday party and Emma likewise at a date. The sequence is actually quite funny. Once Peter and Emma meet, the film goes downhill right away and pretty fast. When they decide to help each other get their ex's back, it does not take a genius to figure out that Peter and Emma will fall for each other. If the audience is not bright enough to see the predictable storyline, hints regimen not once but twice in the dialogue. Emma tells Peter at one point: "You are the kind of guy I can see someone falling in love with." And then she tells him later again in the film: "You are a good catch." Whatever happens in between like trying to sabotage each other's ex's new dates is just a waste of time and one can see clearly where all this will lead to.
The film tries hard to be funny including a failed threesome sequence that turns out to be a dud, generating awkwardness rather than humour. The story contains a few distractions like the friendship between Emma and a kid with advice given like: Adults pretend that they know what they are doing. Apparently the filmmakers don't.
Worst of all, this romantic comedy runs close to two hours, the average one lasting around 90 minutes. Avoid! Avoid! Avoid this one!
PARALLEL MOTHERS (Spain 2021) ***1/2
Directed by Pedro Almodovar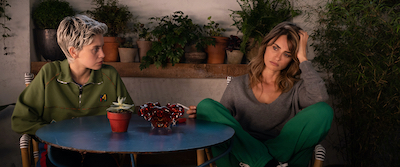 Pedro Almodóvar's new drama on motherhood and family PARALLEL MOTHERS (Madres paralelas), centres on two two single mothers, whose lives intertwine after they meet at a Madrid hospital, delivering their baby daughters. It is a story that takes unexpected twists and turns that would not be revealed in this review as the twists are an essential part of the film's entertainment.
Janis (Penelope Cruz) is a talented and in-demand fashion photographer. After a shoot with a forensic anthropologist, Arturo (Israel Elejalde), Janis asks if he can help open a mass grave containing the body of her great-grandfather, among the 100,000 citizens who went "missing" during the Spanish Civil War and the brutal Francoist dictatorship. The two begin an affair and – at almost 40 – Janis is delighted to find out she is pregnant. The other mother is a much younger Ana (Milena Smit) who is more of an adolescent, traumatized by her situation.
Ana brings up her baby daughter on her own without the support of her stage actress mother who abandons her in Madrid to tour with her theatre group. Ana and Janis become good friends and a relationship develops between the two women. But there is more at stake with their relationship. Janis breaks it up with Arturo, as he is married with a wife who is suffering from cancer. While all this is going on, the mass grave excavation is approved and the graves are dug up.
There are more politics in this film compared to other Almodovar films. After Franco's death, a new Spanish democracy saw writer/director Pedro Almodóvar begin to flourish with '80s films like Pepi, Luci, Bom, Law of Desire and Women on the Verge of a Nervous Breakdown. Gay Spanish auteur Pedro Almodovar has a superb body of respected works. While making a film every two years, Almodovar is still working at his prime without a sub-standard film in his dossier. PARALLEL MOTHERS is Almodovar's latest film, a film about motherhood, and one that proves the director is still in top form.
Almodovar makes his audience think throughout the movie. In one scene, Janis wears a red blouse and goes to open the door, visited by her man, the father of the baby. When the door opens, the scene shows her in a different outfit which prompts the audience to think what is actually going on. It is soon revealed that the scene is identical but taking place a year earlier when the man visited her before the baby arrived The scene is immediately shifted to the present wen she is again wearing the red blouse.
As in all of Almodovar films, there is plenty of colour - bright Spanish colours. In the scene where Janis hangs out her clothing to dry, one can see the multiple colours of the cloth pegs that she uses. She, of course, is dressed in bright red, bringing more colour to the scene.
One staring flaw of the film is the film's lack of connection between the two stories - the mass graves excavation and the tale of two mothers. The common thread of Janis' male lover is not convincing enough.
Still, PARALLEL MOTHERS is Almodovar at his best with Cruz delivering a top notch performance with his other regular actresses like my favourite, Rossy de Palma, looking gorgeous as ever, playing Janis' over-supportive best friend who comically will do anything for her, though Janis keeps refusing her help.
DA PRIVILEG (THE PRIVILEGE ) (Germany 2021) ***
Directed by Felix Fuchssteiner and Katharina Schöde
The popularity of Netflix has reached a whole new level in recent years and one of the biggest reasons for that is its amazing collection of international projects. This week sees two high calibre international features, one from France called BigBug by French director Jean-Pierre Jeuent (AMELIE) and THE PRIVILEG (DA PRIVILEG) a stylistic, sexy teen horror thriller from Germany. The super marketing strategy has allowed the company to make the best films of their like last year's Best Film from New Zealand, Jan Campion's POWER OF THE DOG, as well as to raise the subscription rate of its streaming service. Even Pedro Almodovar who complained about Netflix films being screened at Cannes had Netflix please his alter film PARALLEL MOTHERS in Latin America. Netflix is the world's number 1 and best streaming service and it is here to stay.
The Privilege (German: Das Privileg) is a 2022 German film directed by Felix Fuchssteiner and Katharina Schöde, written by Felix Fuchssteiner, Sebastian Niemann, Katharina Schöde and Eckhard Vollmar and starring Max Schimmelpfennig, Lise Risom Olsen and Caroline Hartig. It was released by Netflix on February 9, 2022
THE PRIVILEGE has the look of the American teen kitsch CRUEL INTENTIONS. In fact, the film is stylist German kitsch but it is so well put together, especially in its details, that the film emerges an absorbing watch, particularly among teens., despite its predictability and credibility flaws. But something is amiss, as Finn (Max Schimmelpfennig) is about to discover, with his lesbian best friend, Lena (Lea van Acken) and his girlfriend, Samira (Tijan Marej).
It all starts at the beginning of the film when Finn was a boy witnessing the death of his elder sister, Anna (Caroline Hartig) who was supposed to look after him, while their parents took Finn's sites for her night out, a school play or something. Before plunging to her death, Anna convinces Finn that there is something following them. This beginning sequence is extremely impressive from the details of the sets, props, music and set-up. The audience even sees the details of the video game Finn is playing, a topple of his plastic tour soldier, winds blowing in the wind, the security system unlocking the doors, the blood trickling from Anna's mouth and so on. Everything looks perfect. Even Finn the boy and the teen has a mole that can be on the right side of his face (on the left when looking at him).
The action pieces also include a teen party which is well filmed and solid trance music. The target teen audience should be more than satisfied, perhaps even older audiences, like me, watching it and reliving one's younger glory days.
The film is less a horror film than a suspense thriller. There are eerie scenes including one involving a ritual with a naked shrivelled old lady that Finn somehow discovers, though not very convincingly. Why would they do a ritual with their son still upstairs in the house? The credibility is a problem at other points in the film.
THE PRIVILEGE, as said, turns but in the end to a mix bag of tricks though still watchable and rather entertaining kitsch.
Trailer:
THOSE WHO WALK AWAY (USA 2020) **
Directed by Robert Rippberger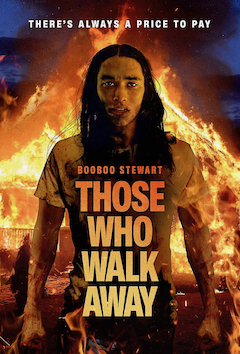 Written by Robert Rippberger and Spencer Moleda and directed by Rippberger, THOSE WHO WALK AWAY is based on his short film stretched to a full length feature. There is not that much material to be covered for a feature film and the strain shows. The film contains a lot of scenes that could be cut out, with the characters just talking rot.
THOSE WHO WALK AWAY could refer to many meanings, but the one in the film could mean transferring all of one's misery to a child and then walking away clean. The horror concept in the film is that a person is trapped until he is released by having another to take his place. While Max (Booboo Stewart from TWILIGHT, looking super buff here) is tricked into becoming the next victim, he sees this boy stuck in the house by some monster called Rotcreep. The monster is so creepy that one can hardly see its distinguished features - just a dark feature in a cloak.
The film begins with Max pining for a date. He tells his buddy that he has not been laid for a while and looking forward to his date he got from some dating app. The film then follows Max and Avery (Scarlett Sperduto) on their first date. After meeting, their evening takes a perilous turn when they end up at a local haunted house, the home of 'Rotcreep', a sinister creature that rots your body and soul with one touch. As the night turns into a deadly game of cat and mouse, Max and Avery begin to realize the trauma they share may either save them or erupt into an unforgettable nightmare.
Director Rippberger takes his time to let his story unfold before the horror begins. In fact, the film feels like a romantic comedy during the first half. It is only during the second half that director Rippberger changes the film's tone totally with the sudden appearance of a monster. As such, the first half is incredibly boring. The audience has to sit through teenage conversation about characters no one really cares for. They keep walking and talking from one place to another before settling to enter the haunted house where the monster resides. They first attempt to see THE EVIL DEAD at a local cinema but get turned away after the theatre is closed as a result of a bomb threat. Is this segment really necessary to add to the film's running time?
The only interesting feature about THOSE WHO WALK AWAY is director Rippberger's attempt at some fancy camera work. He favours long single takes as evident with the camera following ahead of Max and Avery as they walk ions before they enter the haunted house. When Max first talks to his buddy on the phone, Rippberger appears to be using a split screen, but the two are actually in the same screen as the divider between them is revealed to be a wall dividing the two and the two then walk away together - a nice little trick.
The film offers the occasional neat camera work in a horror setting but not much else in terms of material or scares. It will be released in select theatres and on VOD on February 11th, 2022.
Trailer:
THE WORST PERSON IN THE WORLD (VERDENS VERTSE MENNESKE)
(Norway/France/Sweden/Denmark 2021) ***1/2
Directed by Joachim Trier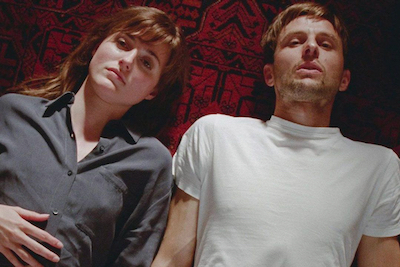 Finally arriving at the TIFF Bell Lightbox after Pandemic closing, this Nordic feature nominated by the Toronto Film Critics Association for BEST International Feature made me take a look as I had to vote for the award, having not yet seen it. I figured it must be worth a watch, having been nominated by my critic colleagues. (My choice was TITANE from France, but my colleagues did not agree with me.)
Director Joachim Tier's protagonists have always been loners, out of sync with society who are trying to survive their own idiosyncrasies. OSLO was Trier's breakout movie..In his latest drama THE WORST PERSON IN THE WORLD, Trier does a switch from a male to female flawed protagonist as the audience sees a complex Julie maneuver her life to her satisfaction.
Trier's film follows the youthful Julie, as she navigates her love/sex live through different men, dumping one for another. Julie is shown as a person who does not seem to know what she wants. As a result, she ends up hurting many of her lovers, and thus earns the title THE WORST PERSON IN THE WORLD. A sort of coming-of-age story, Julie slowly but surely matures as the film reaches its conclusion.
The film contains convincing performances from both the lead and the supporting cast. There are scenes of nudity, necessary for a film about the sexual exploits of its subject, but these are, though erotic, at least kept artistic.
The film contains one elaborate scene where time stands still and all the figures in the film frames remain still while Julie rushes across town to meet her new lover, after dumping her current lover. The scene looks like something right out of a sci-fi film and it is a neat and stunning stretched segment. The clear message is that nothing else matters and time stands still for Julie and her discovery of her new love interest.
The other impressive thing to note is the one stretch of absence in the film between Julie and Aksel. When they meet, the audience is shocked to find a different Aksel. He not only looks different - hagged and sickly but he informs her that he has terminal cancer. Immediately ooh she and the audience have a soft spot for him.
So is Julie THE WORST PERSON IN THE WORLD? Near the film, she is described as the opposite - the best person in the world. What she is, it is up to the audience to decide. Her flaw is her guiltless relationship with multiple lovers, dumping one for another, but she is still sympathetic, kind and just living for her emotions, in fact she is just being normal.
As Valentine's Day rolls by, the theatres are filled with romantic comedies, most of them just plain formulaic and awful. This anti-romantic drama would make a good alternative to a date night at the movies.
THE WORST PERSON IN THE WORLD opens February the 11th at the Bell Lightbox.
Trailer: