A BANQUET (UK 2021) ***
Directed by Ruth Paxton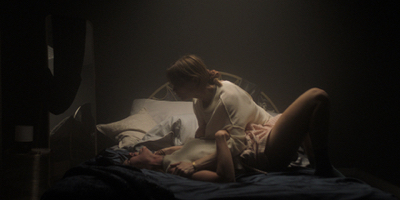 A BANQUET is a strong female picture with female mother and daughter as lead characters and a strong female director (Scottish) though written by a male, Justin Bull.
A widowed mother Holly (Sienna Guillory) grapples with eldest daughter Betsey's (Jessica Alexander) disturbing conviction that her body has become a vessel for an unknown higher power, one that has ominously robbed her of any appetite, and which Betsey believes heralds a cataclysmic upheaval and tat she is the chosen one. At first, her condition is suspected to be an act of adolescent rebellion or a psychological break. But despite her refusal to eat, Betsey loses no weight and gains a growing faith in her newfound and enigmatic sense of purpose. As her daughter's personality is further subsumed by this affliction, Holly finds herself confronting the boundaries of her own beliefs and the repressed traumas of her past. Director Paxton puts a lot of prep and planning into her film as can be witnessed by the meticulously laid out and executed scenes. Camera placement, lighting, props and acting all seem to be perfectly set up for each segment. Director Paxton builds up the mystery and suspense in her film as evident at the start of the film. Unfortunately the whole does not match up to the individual parts. The supposedly surprise ending turns out more unbelievable and tacked on.
Despite a few flaws, A BANQUET is still a worthy watch, an admirable psychological thriller. The film premiered at the Toronto International Film Festival in 2021 and opens in Select Theatres (wherever possible), on Digital Platforms and VOD on February 18th
CHARLI XCX: ALONE TOGETHER(UK/USA 2021) ***
Directed by Bell and Pablo
Seeking solace in music during the COVID-19 pandemic, global pop star Charli XCX asks her fans to help her make an album while quarantined at home. Charli embarks on a creative and emotional journey as she confronts mental health issues, rekindles her relationship with her boyfriend, connects with her fans, and ultimately produces the music for how I'm feeling now.
CHARLI XCX is an odd name for a documentary but the title comes from the subject of the doc known to her many fans as CHARLI XCX. Many might not have heard of her, though many might have heard of the pop hit, "Señorita" which she worked on. In addition to her solo work, Charli XCX has co-written songs for other artists, including Iggy Azalea's "Beg for It" (2014), Selena Gomez's "Same Old Love" (2015), Blondie's "Tonight" (2017), and the Shawn Mendes and Camila Cabello collaboration "Señorita".
Charlotte Emma Aitchison (she is 29), known professionally as Charli XCX, is an English singer and songwriter. Born in Cambridge and raised in Start Hill, Essex, she began posting songs on Myspace in 2008, which led to her discovery by a promoter who invited her to perform at warehouse raves. In 2010, she signed a recording contract with Asylum Records, releasing a series of singles and mixtapes throughout 2011 and 2012.In 2012, Charli XCX rose to prominence with the Icona Pop collaboration "I Love It", which became an international success, reaching top 10 in North America and Europe. Her debut studio album, True Romance (2013), was released that year to critical acclaim but failed to meet commercial expectations.
CHARLI XCX the doc is a short, sight over an hour doc that captures the spirit and energy of youth. It was also filmed during the Pandemic and also charts the work of the artist. The doc cannot be considered a biopic as it does not lay out the life of the artist or her influences. The doc concentrates on her present and her talent and energy.
Despite being a small doc, it is extremely efficient in capturing the highlights of the 'now' yourth. As Charli maximizes her music efforts during the Pandemic, the audience sees her looking at the screen, one with all her fans on ZOOM on live chat and others s she manoeuvres her way learning how to use the new equipment she has preached in order to make an album t home. For a young singer songwriter, though she admits she is pretty dumb at technology, she proves herself more resourceful and innovative than anything else. It is hard not to admire her. Though straight with a boyfriend, she is the darling of the LGBT community who look upon her as a mentor and guide and a creative process. The doc interviews a few of them. In Charli's won words: "I do naturally gravitate toward the queer community. The majority of my friends are in the community. I just feel that energy supporting me so much. I really wouldn't be where I am without that community. When we go out, it's often with the community at an LGBTQ+ club or night or something like that.``
The doc is also that rare doc that, though does not examine the Pandemic, shows more of how the pandemic has affected the youth, much more than any film made on it. It is also as positive thinking as Charli is.
Trailer:
THE CURSED (USA 2021) ***1/2
Directed by Sean Ellis
THE CURSED is that strange film that has the United States as the film's country of origin. In the film everyone seems to be speaking with a British accent though the film is set in France.. THE CURSED is an extremely violent horror fantasy with gory and graphic scenes that are just too terrible to watch.
The film oddly begins with the setting of 'The Somme' in 1917 looking something right out of the British war film 1917. The first world war trenches! There is mustard gas and the soundtrack is blended with the sound of artillery and gunfire, screams and sirens, apart with some faint music. The next scene shows the medical centre where limbs are amputated.
The story then shifts to France in the late nineteenth century. A brutal land baron Seamus Laurent (Alistair Petrie) slaughters a Roma clan - the Gypsies that claim that Seamus is occupying their land. Seamus deems it cheaper to hire mercenaries to kill them off than to fight the rights. The conclusion of Seamus' meeting to solve the problem can be summarized as so: "They want the land. We cannot let that happen. It is cheaper to hire mercenaries." The slaughter unleashes a curse on his family and village. In the days that follow, the townspeople are plagued by nightmares, Seamus's son Edward goes missing, and a boy is found murdered. The locals suspect a wild animal, but visiting pathologist (an expert in the study of disease and skin/blood) John McBride (Boyd Holbrook) warns of a more sinister presence lurking in the woods. The moral of the story seems to be: Do not fuck with the gypsies.
THE CURSED is a handsomely mounted period piece with excellent cinematography and stunning production values. It is likely the best looking horror film in ages and many of the scenes are artistically executed. The best of these is the massacre of the entire gypsy can. This is done in a style reminiscent of Tarkovsky's THE SACRIFICE. The camera is pulled right back and in one long and elaborate take, the audience sees the entire spectacle of men and women running from their attackers on horses getting shot, their tents burning down and women scurrying about carrying their children.
One of the most gruesome scenes - watch it if you dare or can - is the dismembering of the hands and feet of one of the gypsies. The stumps are then stuffed with straw and the body strung up like a scarecrow.
THE CURSED works its effect as a horror fantasy period piece primarily for its graphic scenes. Director Ellis is most fond of dismembering limbs, which occurs throughout his film. It is difficult to say, however, that a film of this sort is entertaining.
Trailer:
THE LONG WALK (Laos 2019) ***
Directed by Mattie Do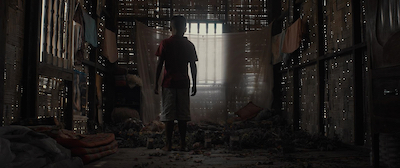 THE LONG WALK is intriguing in that it is a rare form from the country of Laos in Asia. In fact this is my first film review from that country. The film is interesting in that it displays the lifestyle of that third world country- a world mostly unknown to others in North America. It would not be surprising that many might not know that such country exists or where it is.
THE LONG WALK world premiered to great acclaim at the Venice Film Festival in the Giornate degli Autori section and was followed by praise out of the Toronto International Film Festival. It's the third feature of Lao based director Mattie Do (CHANTHALY, DEAREST SISTER), whose career has been recognized by the Oldenburg International Film Festival and Locarno International Film Festival for her breakthrough work as Laos' first and only woman filmmaker, and the only filmmaker of the country to work in the horror and fantastic genres. All three films are written with Do's collaborator, Christopher Larson.
The film follows an old scavenger living on the fringes of a near-future society exploits a ghostly companion's ability to traverse time, hoping to prevent his mother's suffering from a terminal illness. The film is a really slow burn for a ghost story. Though described as a horror film, it is less a horror film as there are only a few scares but more of ghostly appearances and time travel. The film will definitely bore the hell out of commercial horror fans familiar with films like FRIDAY THE 13TH or SCREAM but arthouse cineastes might find the film intriguing. Lots of patience are required in this snail paced 2 hour journey that does not really go anywhere.
Trailer:
PRESIDENT (USA/Zimbabwe/Norway/Denmark 2021) ***1/2
Directed by Camilla Neilsson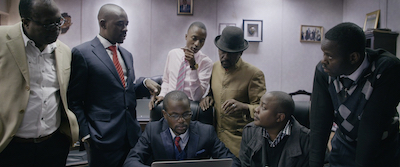 PRESIDENT is a little heard documentary but one that would make a huge impression on viewers.
An election campaign is very much like a marketing campaign. Often it is not what the political party represents but how it is perceived to represent. Often one party will court the gays and another will court the disabled. Trump's campaign slogan was: "Make America Great Again '' while Clinton's was on 'unity'. As the old adage goes: Marketing is war. And a political campaign is also war with a lot of fighting going on, literally and metaphorically.
PRESIDENT opens in 2018, Zimbabwe. The audience is quickly brought to understand the gravity of the political situation and where the country of Zimbabwe is going. The doc moves fast and furious and is a compelling watch from the start to finish making it both of the most exciting and insightful docs of the year. And there is much to learn about it. As the President's opponent emphasizes time and again, coming out in numbers to vote is the only way to win an election. Americans proved this in the last election when the disgraced former President Trump lost because the Americans came to vote in numbers and he had to instigate an unfair voting count resulting in democracy being tested.
The film begins with Robert Mugabe's resignation, being removed from power. At this time, the Vice President took over the power with Zimbabwe military leaders promising that they would not seize control for themselves but would ensure democracy in a national election. Against a backdrop of economic crisis, food shortages, and political violence, the stakes could not be higher. Working to defeat the ruling party, which has controlled Zimbabwe since independence, is the young and charismatic Nelson Chamisa, who draws comparisons to a young Nelson Mandela in expressing the country's utmost desire to be "led" and not "ruled". After decades of a corrupt group clinging to power using any tool available-legal or not-can a free, fair, and transparent election be truly possible? As the follow-up to her widely acclaimed Democrats, Camilla Nielsson brings viewers into the heart of the struggle for power with stunningly close access and unhesitating courage, in a nation closely monitored by the entire world. President is a riveting and epic reminder that, while individuals and their specific ideals may differ, the fight for democracy is never-ending and of profound significance everywhere.
Unforgettable scenes involve the opposing parties angrily arguing and accusing ZEC of not being transparent in the elections and not to be trusted. Chamisa is next seen in the following scene using questions and formulating his moves like in a marketing campaign. It is shown here a great man who is intelligent, charismatic, diligent and one who is willing to fight for the people.
The film succeeds admirably as director Nelson appears to be given unlimited access to shoot her doc as she pleases while she plays out her story like a political thriller.
Trailer:
STREAMLINE (Australia 2020)
Directed by Tyson Wade Johnston
Review embargoed till Feb 14th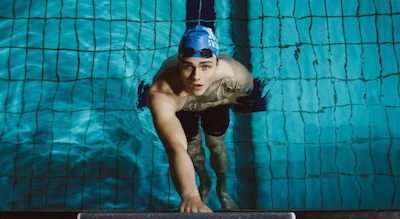 STREAMLINE has the background theme of a young 15-year old schoolboy, Benjamin Lane (Levi Miller) training for the Olympic swim team. He trains hard under a tough coach (Robert Morgan). But the film's main story is Ben's coming-of-age lesson.
Films about protagonists training like hell for their particular gifted sport under rigorous training are now a dime a dozen. The road to success is a rocky one. In the recent French film SLALOM, the girl skier had to overcome sexual abuse from her coach while dealing with puberty. In STREAMLINE, the family drama overturns the boy's goal at the Olympics. But like all the film in this genre, the protagonists make it to success. In STREAMLINE, the same goes, and the awful need for a happy Hollywood ending and a feel-good movie completely mars the film's success. SLALOM maintained it sombre mood.
When the film opens, no surprise here, the audience first sees the subject in training. All these films begin this way. Yes, then there is repetition of the sport and the tough coach is introduced. For the first third of the movie, director Tyson Wade Johnston struggles hard to keep his film interesting and a notch above the typical sports training film. He finally succeeds when Ben's father (Jason Isaacs) is released from prison. Ben lives with his single mother, Kim (Laura Gordon) who tireless serves the boy early in the morning for training while working hard supporting herself and her son. Be Benn's father had abused all his sons and is in prison as a result. The mother refuses to let Ben see his father, even getting a restraining order, while Ben's brothers who live away from their mother also despise the father. In the meantime Ben is also seeing Patti (Tasia Zalar), his childhood romance.
The film struggles in its first half but picks up in the second. Though predictable in its coming-of-age tale at where the events lead to, the film still contains some impressive moments.
One of these moments and the film's best sequence is the confrontation of Ben's brothers and Patti's family. They is a shouting match outside the house and Patti's brother, a small supporting character, suddenly appears, pushing the bigger Dave away, protecting his family, that in an earlier scene paid little attention to him. The segment shows the director's message of the strength of a solid family. Another intriguing character is Nick (a wonderful perfjoamcne here from Sam Parsonson), Ben's other brother who is caught between his loyalty for Dave and the right thing to do.
One flaw of the film is the irrationality of Ben's behaviour. His insistence to stay with his bigger brother David and not his loving mum, just because he is having more 'fun' and giving up his swimming are not convincing reasons. It is hard for the audience to root for a protagonist is is so irresponsible and always getting into trouble.
Everybody fucks up. When you lose everything, you learn who you are. This appears to be the film's message in the film. The film strives hard to install these truths to the audience, corny as they seem, but the film somehow works thanks to mainly to the strong performances that believe in the source material. Just ignore the tagged on Hollywood ending.
Trailer:
TED K (USA 2021) ***1/2
Directed by Tony Stone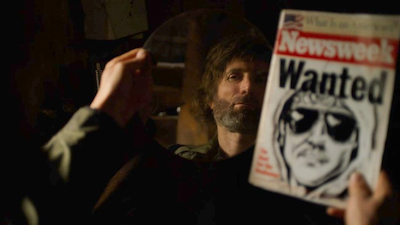 Ted K is an upcoming American historical crime drama film directed, co-produced and co-written by Tony Stone, starring Sharlto Copley as the titular character. The film depicts the true story of Ted Kaczynski, otherwise known as the Unabomber, and the events leading to his arrest.
TED K stars and has actor Sharlto Copley in almost every scene in the film. Those unfamiliar with this South African actor would be good to know that this actually quite famous talent is quite well known to cineastes of weird films. Copley rose to fame playing odd characters beginning with his most successful film directed by Neill Blomkamp DISTRICT 9, way back in 2009. Copley meets his match in the role of Ted K playing the Unabomber, and donning an American accent. Copley does wonders in the role, creating a complex character - the man Ted Kaczynski is.
After 1 year of professorship, Ted K who entered Harvard to study mathematics at the age of 16, and is a math whiz, as shown in one scene in the film, had turned his back on society and fled to the American wilderness where he purchased a small piece of land. During the summer of 1971, he and his brother David built a small cabin they would call home. David is never seen in the film, but Ted is only seen speaking to him on the phone asking for money, the conversation evening that David is a normal person with a family and kids.
The film is shot in the wilderness around Lincoln, Montana where the actual shack of Ted K was, The script, co-written by Stone, Gaddy Davis and John Rosenthal is based on the actual writings of TED K. Ted K typed daily with a mechanical typewriter during his days in isolation, taking notes of his thoughts, anger and activities. In his own words, he executed a planned revenge, like an eco-warrior, a movement he follows closely.
There will be some that will complain about the film humanizing a person who hs evolved into a mass murderer. But to be fair, the film and script is based on Ted's own writings, so there is obviously some sympathy written and portrayed in his character. But he is also shown his bad side, most important as a person unable to love, with the opposite sex or even his mother. He only calls her for money and admits he has no other use for her
The music by Blanck Mass is impressive and demands mention. The music completely captures the mood and complexity of the material. The Bobby Vinton song "I am So Lonely" is appropriately chosen for the soundtrack as well. Mr. Lonely Lyrics: Lonely, I'm Mr. Lonely / I have nobody for my own / I am so lonely, I'm Mr. Lonely / Wish I had someone to call on the phone / Now I'm a soldier, a lonely soldier / Away from home.
TED K is a biographical film about a despicable and strange person that might not be for everybody. So far, critics , myself included, have admired and praised the film but commercial audiences might take a damper view of the subject matter.
Trailer:
WHARF RATS (Canada 2020 ) **
Directed by Jason Arsenault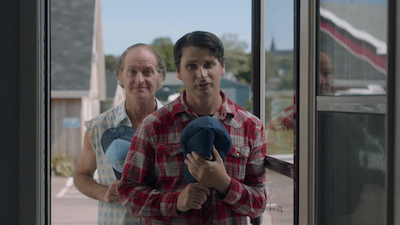 Embargoed till Fri 18th
WHARF RATS is a Canadian adult comedy set in the island province of Prince Edward Island where the setting is the lobster industry. The audience is educated at the start of the movie that lobster fishing is a dying industry, as the world is constantly overfishing.