AFTER YANG (USA 2021) ***
Directed by Kokonada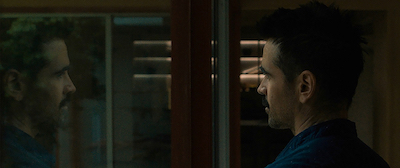 Colin Farrell has been carefully selecting his acting roles of late and he has been quite successful. After starring in two art films by Greek director Yilmos Lanthimos, THE LOBSTER and THE KILLING OF A SCARED DEER proving his acting chops as well as his most recent THE BATMAN as a practically unrecognizable Penguin, Farrell is never short of surprises. And his films have always been excellent as well. In his latest, he has a challenge of playing a more emotional part as a father torn apart from his family problems. In AFTER YANG, he has to re-evaluate his success as a father as his family begins to fall apart just as his family's android named Yang does.
The story is set in a futuristic family in an unmentioned time future. It is a future where androids, robots and A.I. are a normalcy. Jake's android, has become part of his family. But there is trouble in paradise when young daughter Mika's (Malea Emma Tjandrawidjaja) beloved companion - the android named Yang (Justin H. Min) - malfunctions, he searches for a way to repair him. In the process, Jake discovers the life that has been passing in front of him, reconnecting with his wife (Jodie Turner-Smith) and daughter across a distance he didn't know was there.
Very few sci-fi futuristic films deal with emotions for the particular reason that both have trouble mixing. Futuristic films tend to be emotionless and standoffish. Not the usual Sci-fi type of film, AFTER YANG deals with family problems and emotions from the father's point of view. AFTER YANG is a slight slow-burn of a sci-fi film but it is a far and strange one, one worthy of a look, thanks to the insight of its director and co-writer Kikonada based on the short story "Saying Goodbye to Yang" from the book Children of the New World.
One cannot argue the fact that the film is not politically correct. The main character is white, the wife is black and the android and their daughter is Asian. The reason the child is Asian is that she was adopted, and adopted just before the family bought Yang. The eclectic cast looks perfect and inspirational for other films trying to strive for political correctness.
The film contains one pretentious segment about feeling and drinking tea. It is an expanded sequence that is quite b.s. But what transpires on screen, I had heard of in a documentary on tea making decades back. (I cannot recall the doc's title). Another pretentious segment has a quotation from the anciencet Chinese sage Lao Tze about caterlillars.
The film's main flaw is its failure to engage the audience with the story and the subject of androids, particularly those caring for humans, termed techno-sapiens in the film. In one scene when Yang is sent for repair, the woman tells Jake: "I have devoted all my life to techno-sapiens." Unfortunately many watching this film will not feel the same way - myself included.
Many films deal with family breakdowns after the loss of a child. AFTER YANG deals with a family breakdown after the loss of an android. Credit goes to director Kokonada for taking on the more challenging premise.
Trauiler:
THE AUTOMAT (USA 2021) ***
Directed by Lina Hurwitz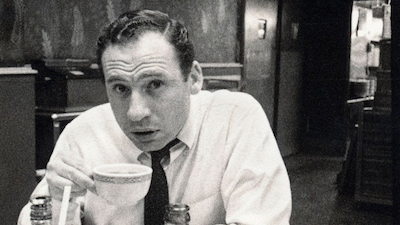 The automat, the film claims, is a staple for New York and demonstrates the democracy of the U.S. These are statements difficult to dispute, but are clearly used to convince possible audiences of this doc of the relevance of the automat. It will be an even harder sell for non-Americans.
The doc tries it's hardest to make its subject interesting and current. Mel Brooks lends his hand at making the doc. Brooks goes so far as to write an original song, which is heard during the closing sequence. Brooks can be remembered for writing and crooning the song he wrote for his hit comedy HIGH ANXIETY - not a great song, but hilarious in the way he performed it.
A few of the tactics work and some do not, the success depending on the individual watching the doc. The doc goes into the mechanical aspects of the automat. The material used was sometimes brass and sometimes other material. There is a pipe that goes behind the snot of the dolphin that dispenses the coffee and milk, with the dolphin spewing out coffee and milk. It is mentioned that the design came from the fountains in Italy. These are good points to note but they are hardly sufficient incentive for many to want to go to the theatre to see this documentary. Mel Brooks, who the filmmakers got to talk about the automat at different points in the film, admits this at the film's start. Who would want to see this? You've to make a doc at least an hour to be screened in the theatres. Brook hits the nail on the head with the problems of making this doc.
The doc devotes a fair amount of time on the history of its founders - the Horn and Hardarts. These moments form the least interesting aspects of the doc with their various relatives talking about the glories of the business. It goes down to a buyer of the machine parts once those retardants close down.
More interesting however, is the operation of the automat. The marketing skills used are still relevant today. The owners made sure that the public got what they wanted. The owners cared and respected the employees, who were in turn happy to work for the company. They had food tasters test the food on daily basis though the food was often mass produced in large quantities using machines. The automat would probably be a good case study (as McDonalds and Burger King are) in Marketing courses. (McDonalds and Burger King were case studies in my MBA Marketing course.
The film touts the importance of the automat in the history of New York City. It also claims that the automat is the idea behind coffee places like Starbuck.
The film does have a few charming moments, the most notable being the ones narrated by the late Ruth Ginsburg and comedian and actor/director Carl Reiner. There are clips of famous stars like Bob Hoe, Jack Benny, Audrey Hepburn, Doris Day among others at the automat. Other best parts will have one's saliva flowing for simple dishes like meat yes and mac and cheese shown in their full glory. Also informative was the pondered show called The Children's Hour where many stars like Gregory Nines, Bernadette Peters, Frankie Avalon and Rosemary Clooney first performed.
THE AUTOMAT could have turned out to be a tiresome documentary on a glorified vending machine, but director Hurwitz has steered it into a charming and insightful slice of nostalgic history, entertaining at the same time.
Trailer:
BATMAN AND ME (Australia 2019) **
Directed by Michael Wayne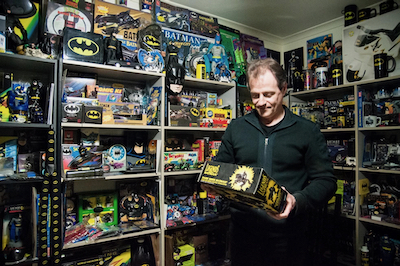 Perfectly timed for release this week with THE BATMAN just opening, BATMAN AND ME, though sounding like a kid's movie, is a documentary directed by Michael Wayne (coincidentally having the same last name as Batman's billionaire secret identity) about a collector of Batman paraphernalia. BATMAN AND ME was shot largely in Melbourne, the Australian city housing Master Batman merchandize collector, Darren Maxwell and his Batman collectibles.
The doc begins by touting the amount of money involved in the Atman merchandise. When the 1989 BATMAN opened, the film grossed over $400 million while the merchandising made Warner Bros. a whole billion. BATMAN became a brand that was available everywhere.
The film concentrates on just one collector - Darren Maxwell. Maxwell lives in Melbourne. He has a Bat Room. It is the room where all the Batman stuff is kept for display. Maxwell is quite articulate but listening to him going on and on about his life and his collectibles is just ok entertaining and not something many would sacrifice 90 minutes of one's life to listen to. In fact the novelty of collectors wears off fast and the film becomes quite the chore to sit through.
Maxwell talks about his obsession. He collects and collects and collects. His interest, as he confesses, started to diminish with Joel Schumacher's BATMAN AND ROBIN, which to him and many was just a terrible film. He then did not wish to contribute to a movie he did not like nor wanted to support. Does anyone really care about these things? Or care about Maxwell collecting other items Like Start Wars merchandise or Terminator merchandise? Or even his wife who collects soft teddy bears? These do seem to generate more interest or serve as a time waster for the documentary that hardly lasts 90 minutes.
BATMAN AND ME is a minor documentary on a minor subject that has turned out only marginally more interesting as a study of collectors and hoarders and their behaviour.
Trailer:
BENEATH THE BANYAN TREE (USA 2021) ***
Directed by Nani Li Yang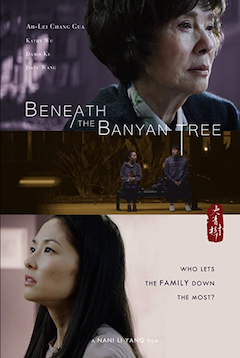 In the vein of American Chinese films like CRAZY RICH ASIANS, EAT DRINK MAN WOMAN and THE JOY LUCK CLUB, BENEATH THE BANYAN TREE is that rare indie film that caters to expatriate Chinese, particularly those from Hong Kong. The prized subject is Mrs. Woo the matriarch of the daily who is depicted in the film as the typical bossy and fussy Chinese mother who expects her family to be at her feet, 24/7. In the midst of all her fussiness, the story also focuses on the daughter, a grown up failed writer who is so eager to please her impossible mum that she has lied that she is a writer not working in a magazine. To make matters worse, the daughter is in love with Vance a Caucasian resident in Hollywood.
From acclaimed writer/director Nani Li Yang, Beneath The Banyan Tree stars Golden Horse Award (the Taiwanese "Oscar") winner Ah Leh Chang Gua, Kathy Wu, Demi Ke and Jiayu Wang. The drama - in both Chinese and English - is about a traditional Chinese family thrust into the fast lane of Hollywood. After her son is jailed, Mrs. Woo, a mother with high expectations, struggles to protect her family's remaining reputation by parenting her independent daughter, whom she must seek shelter with in the U.S. with her son's two unmanageable adolescents in tow. Of the two adolescents, the girl is a split brat who spends 24/7 looking at her cellular.
BENEATH THE BANYAN TREE stereotypes the American Chinese family, but truth be told, many families are like the one depicted in the film. As such, as they say it is always good to laugh at oneself, and being Canadian Chinese, the film not only hits close to home but is also funny and totally entertaining.
BENEATH THE BANYAN TREE is available on demand and streaming from Freestyle Digital Media on March 15.
Trailer:
THE BOMBARDMENT (THE SHADOW OF MY EYE) (Denmark 2021) ****
Directed by Ole Bornedal
A WWII action suspense thriller from Denmark. Not the first time as many will remember the excellent Danish WWII thriller LAND OF MINE back in 2005 directed by Martin Zandivet. LAND OF MINE and the new Netflix WWII film THE BOMBARDMENT emphasizes the horrors of war and bth tell stories that need to be told and are films that matter.
On March 21st, 1945, the British Royal Air Force set out on a mission to bomb Gestapo's headquarters in Copenhagen. The raid had fatal consequences as some of the bombers accidentally targeted a school and more than 120 people were killed, 86 of whom were children." The film tells the events that lead to this catastrophe.
Bornedal who has thrilled the world with past hits like DELIVER US FROM EVIL (2009) and I AM DINA (2002) proves his eye for the camera and his talent for arousing emotions. He replies that the look on the faces of the subjects are more effective in conveying horror than the display of the atrocities. The imagination works better. In one such scene, an innocent wedding party and the taxi driver are riddled with bullets, the massacre is seen only on the face of the boy who looks through the window of the taxi. Another scene where a resistant fighter is flogged, the wounds are not shown only the face of the screaming victim. Bornedal shows himself a master of his craft.
Director Bornedal keeps his film tense from start to end making THE BOMBARDMENT not only totally entertaining but getting his message across of the horrors of war. This cannot be more timely than now with the evil Putin bombing and killing innocent women and children. The U.S. should send fighter planes to bomb Putin's hoe and take down the devil once and for all.
Hooray for Netflix that has picked up the distribution rights to WWII movie The Bombardment or as it's otherwise known The Shadow In My Eye (Skyggen i mit øje in Danish) and is now available for streaming on Netflix. Highly recommended!
DEAR MR. BRODY (USA 2021) ***
Directed by Keith Maitland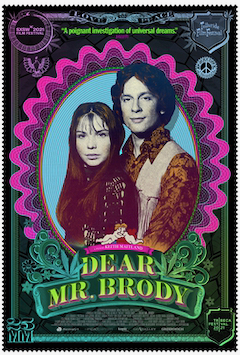 DEAR MR.BRODY is an entertaining documentary on a very interesting subject making it an interesting and entertaining watch, more than the typical documentary. The subject is not controversial or terribly important but it is personal. Who knows, the doc might just change one's personal life. The subject is Michael Brody, in his youth (he died at the early age of 24), taking the world by storm by offering free money. But the point is, who is able to get the free money? It is just impossible, like winning a lottery.
When 21-year-old hippie-millionaire Michael Brody Jr. decided to give away his $25-million fortune to anyone in need, he ignited a psychedelic spiral of events. Instant celebrities, Brody and his wife Renee, were mobbed by the public, scrutinized by the press, and overwhelmed by the crush of personal letters responding to his extraordinary offer. Fifty years later, an enormous cache of these letters are discovered—unopened. In this riveting follow-up to 2016's TOWER, award-winning director Keith Maitland reveals the incredible story of Michael Brody Jr. — and the countless struggling Americans who sought his help — to create a deeply moving meditation on desire, need, philanthropy, and love.
The film takes a turn during the second half revealing a much darker film. Mr. Brody confesses to consumption of drugs, not just pot but LSD and PCP. The film also goes into lengths against the use of PCP. When Brody was diagnosed with mental illness, he was prescribed and ended up taking the medication Thorazine which according to the film caused Brody major permanent damage to his health.
The main theme in the second half is the revelation of Mr.Brody's mental state. He would say one thing and another thing the next instant. He admits to hating the world and not having slept for days. Archive footage has him showing his finger to a crowd outside his building window. He also admits at one point that he has no money. Also amusing is the segment in which he tries to stop the Vietnam war by offering $1 billion dollars to the North Vietnamese and to Richard Nixon, then President of the United States, largely known to have been the root evil behind the war. The segment devoted to his flying in a helicopter trying to land on the lawn of the White House in order to seek an audience with Nixon shows how crazy Mr. Brody was. He goes on to claim that he had stopped the Vietnam War.
Other less interesting segments in the film involve reading a few letters sent to Mr. Brody asking him for money.
DEAR MR. BRODY is a documentary that every skinflint like myself has to see. Money should be in the hands of those more in need for it. Or like Woody Allen says, money isn't everything, but it sure helps.
The film has received positive reviews from critics and is currently holding a 96% approval rating on Rotten Tomatoes.
DONKEYHEAD (INDIANS IN COWTOWN) (Canada 2022) ***
Directed by Agam Darshi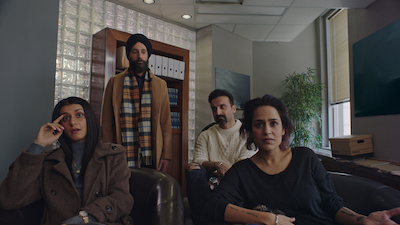 DONKEYHEAD was released in the US last January on Netflix, but has NOT yet been released in Canada, receiving a March theatrical release through levelFILM. Note that the film will not be released on Netflix in Canada.
The film is called DONKEYHEAD because it is a term Punjabi parents often affectionally call their children when they do something stupid. Well, the lead character Darshi has etched out her entire life as a DONKEYHEAD, making one wrong decision after another, until finally she has to face up to all her mistakes.
Darshi (Agam Darshi) decides to look after her cancer ill father at home. The father is given 6 months to live. The six months turn into several years and then her father has a stroke going into a coma. Mona is a failed writer who has never finished her first book. Things take a turn for the worse when Mona's more successful siblings descend on the traditional Sikh family home, determined to take the reins and manage the situation better than Mona has. Family dynamics quickly come into play as Mona reconnects with her siblings and comes to terms with the life choices she has made in the past.
The film explores family relationships in a South Asian setting. There is South Asian humour that plays on the future many North Americans are unfamiliar with. The pressures of being a second generation immigrant family are also examined.
The film has a distraction of one of Darshi's brothers coming out as gay. The script makes a big deal of the sub-plot even though it could have been omitted without much change in the storyline. At the halfway mark of the film, there is a feel that material is running out, which might be the reason the subplot had been added.
The film is supposed to be a comedy. It is amusing with a few funny laugh-out loud parts but nothing overtly hilarious.
According to the press notes, the film is inspired by elements of Noah Baumbach's quirky family dramedies. Director Darshi who also plays the lead role, and with such spirit also serves as the film's producer, aided by famous Canadian/Indian director Meetha Deepa. Darshi starred in Deepa's FUNNY BOY and Darshi must have demonstrated her filmmaking potential to her. DONKEYHEAD does come without flaws, but Darshi shows promise in certain segments of her film. Her best part illustrates the pains a caregiver has to go through when caring for a loved one. In that scene, her father has had an accident and has to be cleaned up. Darhsi tells her father: "It is all right," though her face reflects her frustrations while she is changing the sheets while the father can be seen stepping into the bathtub.
DONKEYHEAD is a worthy debut by Agam Darshi and one can be sure the new filmmaker will continue to entertain audiences in her future films.
Trailer: https://www.tribute.ca/trailers/donkeyhead-trailer/27822/
FEAR (Bulgaria 2020) ***** Top 10
Directed by Ivaylo Hristov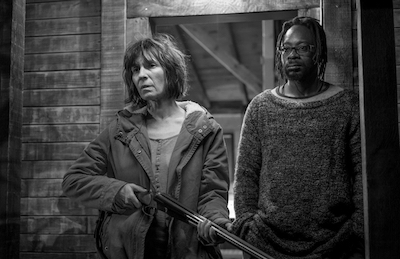 At the film's one hour mark, the female protagonist admits that she has always been afraid all her life - afraid when she first went to school, when she went to University, teaching at her job. She finally faces the greatest challenge of her fears when she takes in a black refugee with the whole town thinking that she is fucking him, attacking the both of them in the hime. The film is appropriately called FEAR.
Svetla (Svetlana Yancheva), a strong-willed widow, lives alone in a small Bulgarian village close to the Turkish border. When the film opens, the teacher had just lost her job, she tells her dead husband at his grave because there were not enough children. One day, while hunting hares in a forest, she encounters an African refugee, Bamba (Michael Fleming), who is trying to reach Germany, and will bring about a dramatic turn in her life. Reluctantly, she offers him hospitality, but day after day, a bond develops as Bamba learns the language and takes part in her daily life. Svetla will make life-changing choices that go against her traditional community creating a revolt among the villagers. Absurd, comic and tragic situations ensue as she breaks barriers of loneliness, close mindedness and fear of the outsider.
The film has the feel of the Coen Brothers' FARGO with the snow and ice wintry setting and the main actress looking so much like Frances McDormand, even wearing a similar cap. Yancheva does a marvellous job in her role, which would send audiences cheering. In the film, Svetla finally finds happiness when she falls in love with Bamba. But the whole village decides to rid Bamba from the village just as the townsfolk did in FRANKENSTEIN. They even arrive at her house with a molotov cocktail that one of them made from, he says, instructions from youtube. "We Bulgarians are hospitable people," the villagers claim, "but we do not want any black in the town.
FEAR is one of the best paced films I have seen this year, with the suspense built up right to the very end of the film's climax. FEAR is Bulgaria's try for the Academy Award Best International Feature. FEAR did not make the short list but very well should have. Shot in black and white, with drama involving current issues like the refugee crisis, racism and living life, this satirical fable, definitely one of the best films of the year, is also funny, moving and needless to say magnificently tense and entertaining even with a few action packed scenes.
FEAR won the Best Film award in Tallinn, the Golden Rose for Best Picture at Varna's Golden Rose Bulgarian Feature Film Festival and was nominated for Best Foreign Language Film at Santa Barbara International Film Festival. this black & white drama – director's fourth film following 2015's endearing Losers – is a tense and timely fable brought home with visual panache.
FEAR premieres via Virtual Cinema, VOD and Digital on March 11, 2022.
Trailer:
MOON MANOR (USA 2020) **
Directed by Machete Bang Bang and Erin Granat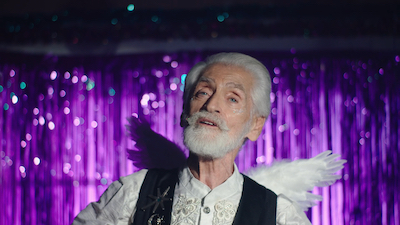 MOON MANOR is a drama comedy about a man planning his own euthanasia the very night. Jimmy is suffering from Alzheimer's and wishes to die with dignity and in control. Yes we all have heard that before - and so, Jimmy goes about staging his own funeral which he terms fun-eral as he thinks it quite amusing. Unfortunately all the film's other characters do not share the same view but go about with it, out of respect for Jimmy.
Jimmy goes around as if nothing is happening. He tells jokes about forgetting, thinking people find them funny since he has Alzheimer's and other unfunny subjects.
The film contains a slew of 'crazy' characters from Jimmy's caregiver Remy (Reshma Gajjar) to a death doula, Fritti (Debra Wilson, Star Trek: Prodigy), who plans to guide his spirit and assorted others. The sanest one is Andrew (Lou Taylor Pucci) a journalist who Jimmy has hired to write about the proceedings. Andrew is thrilled with the task as he had only been writing obituaries in the past. Just like the audience, Andrew is drawn into Jimmy's slightly crazy world of survival and death.
Among the guests attending the fun-real are two flamboyant gay queens. Geez…Can anyone be more annoying? One shows up with his collection of hats and outfits, again making unfunny jokes and prancing around. They trivialize the funereal rather than add something solid to the proceedings.
Jimmy's stories are based on the actor's own experiences in life. Jimmy comes out gay to the audience around a third into the film. A lot of films these days have gay characters come out unexpectedly ever since the tactic worked well in the Academy Award winning MOONLIGHT where the protagonist was revealed as gay only in the last reel. Jimmy and his partner of 18 years met at an audition of HAIR, in both real life and in the film. It is sad that his partner died as a result of contracting A.I.D.s.
Also interesting is the subplot evolving Jimmy's brother who is against Jimmy's euthanasia. He is first introduced as a religious fanatic protestor, and only later revealed as Jimmy's brother. This is the other side of euthanasia.
Watching MOON MANOR is like spending time with an old person. The old person is often a pleasant and nice enough person but he or she is just telling too many unfunny or mildly funny jokes with too many tried one has heard of before. We politely listen and perhaps stay but would rather spend the time somewhere else doing something more worthwhile. MOON MANOR opens one's eyes to the controversial subject. As the film instructs, at the end, that tough Alzheimer's is a terminal illness, it is not considered by many U.S. States as an acceptable reason for assisted suicide.
MOON MANOR tackles a controversial subject of Alzheimer's and euthanasia but the film unfortunately does not get the intended message across.
Trailer:
THE SEED (UK 2021) ***
Directed by Sam Walker
Embargoed till March 7th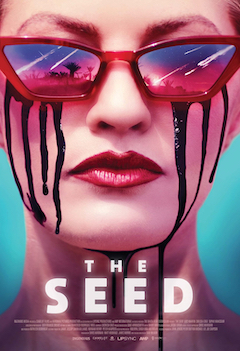 Why is this a British film that is set in the mojave desert in the USA and featuring 3 American girls? The answer to this strange question is as unanswerable as the armadillo looking alien that is dropped like God's shit (this term used by one of the girls in the film) into the swimming pool on night that terrorizes the girls through the second half of the movie.
In THE SEED, lifelong friends Deidre (Lucy Martin, VIKINGS), Heather (Sophie Vavasseur, RESIDENT EVIL: APOCALYPSE), and Charlotte (Chelsea Edge, I HATE SUZIE) are finally getting some time away together, using the upcoming meteor shower to gather more followers for their social media channels. But what starts out as a girls' getaway in the Mojave Desert descends into a battle for survival with the arrival of an invasive alien force whose air of mystery soon proves to be alluring and irresistible to them. Before long the situation devolves into a battle to the death, where the stakes have galaxy-wide implications.
One has to give director Walker for his keen sense of humour - even American humour. Walker does it right in THE SEED creating an intentionally hilarious teen horror comedy. Extremely cheesy, the film works as it is totally watchable as a time waster.
As expected, there are a few things that do not make sense. One would not expect everything to make sense anyway. This is no 2001: A SPACE ODYSSEY. For one, the girls are dressed to kill, even though it is only the three of them laying about with no visitors. The credibility of an alien ending in the pool during a meteor shower is again in one to a zillion, but who really cares? The characters of the 3 girls are not distinct enough and often, their personalities blend into each other's. Again, who cares? Deidre is absolutely mean to Charlotte and Charlotte takes offence, but in the next scene all are friends again.
The dialogue is again cheesy and silly but funny. "What is it? Smells like ass." is the typical dialogue heard on the soundtrack. At another point, Deidre who complains that there has been no signal for the past day or so says: "My followers will all think I am dead. They will then call my mother and tell her that I am dead and then she will commit suicide." Deidre then totally forgets her worry and then sexily prances about the pool. The soundtrack is made up of weird noises that go; tick tock, ting tong, click, click etc. All the girls want to do is to have fun. When confronted with disposing of the alien, Deidre asks; "Can we have some fun now? Deidre, who is the funniest character is given the most and most inane lines.
Shudder, AMC Networks' premium streaming service will debut the film exclusively on Thursday, March 10. The film marks the feature debut for British writer/director Sam Walker and is one of Shudder's better horror entries.
Trailer: https://www.ign.com/videos/the-seed-exclusive-official-trailer
THE WHITE FORTRESS (Tabija) (Canada/Bosnia and Herzegovina 2021) ***
Directed by Igor Drljaca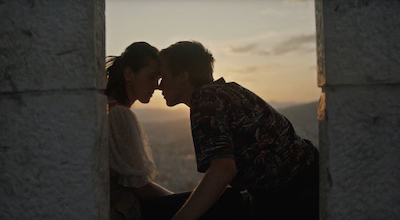 Themed as a Romeo and Juliet type romantic story of youth in love, THE WHTE FORTRESS is less a romance than a look at the political background of its Sarajevo setting.
THE WHITE FORTRESS is written and directed by Igor Drljaca, who owns his own production company in Canada and has affiliation with his post war torn country of Bosnia. He is also an assistant professor of Film and Theatre at the University of British Columbia. In this current time of unrest with Russia invading the Ukraine, the release of THE WHITE FORTRESS can never be more timely.
A chance encounter brings together two teens from opposite sides of life in post-war Sarajevo. But this blossoming romance conceals their desperate and disturbing motives.
"Love is a luxury," says the young Faruk to Mona. "What use is it? Though the two experience first love, their surroundings prevent them from the joy that love brings. For one, they are of completely different backgrounds, both casualties of the new political state. Mona comes from a rich and wealthy family while Faruk is poor and unemployed. He lives with his grandmother, after his mother, a talented pianist, had passed on. He gets paid for gathering scrap metal from his uncle, a meagre sum. The money from Faruk's grandmother's pension helps a little. When he steals metal from a wealthy and merciless tyrant, he is forced to make amends.
Director Drljaca shoots his film round the grey and poverty stricken neighbourhood that Faruk lives in. There is little in his surroundings that show modernity or comfort. Yet director Drljaca says, in the press notes, that he has a deep love from the place where he was born and grew up as a child. He and his character Faruk are trying to make sense of what is going on.
Faruk is bored, always smoking as if to pass away the time. He hangs around a few friends of his age, also listless youth that are generally unemployed and resort to petty theft for money and passing away the time. Worse still is Faruk's grandmother, being and frail. There is nothing that she can look forward to at her age, except to be with his grandson, Faruk.
The film is called THE WHITE FORTRESS because it is the setting of Mona's fairy tale land where the valley is gold and full of cows and crops, with the river not stinking any more. The couple sit on the ruins of a fortress on the top of a hill imagining themselves sitting on THE WHITE FORTRESS of the past when the glory days were. The setting reminds the people of the better times Sarajevo was in the past.
Director Drljaca directs his film without over-dramatizing situations or cheap theatrics. His film is a slow moving one, full of keen observations, both of his characters and the current situations. It is clear that the film is an earnest work reflecting his love for his birth country.
THE WHTE FORTRESS has a theatrical opening Wednesday March 16ht at the TIFF Bell Lightbox.
Trailer:
WILDHOOD (Canada 2021) ***
Directed by Bretten Hannam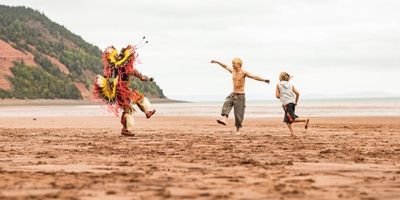 A gay indigenous themed Canadian film is almost 100% certain of getting made and selected at TIFF. WILDHOOD premiered at the Toronto International Film Festival in 2021 to general rave reviews.
Two-spirit Mi'kmaw teenager Link, short for Lincoln (Phillip Lewitski) is just discovering — and asserting — his sexuality when his already volatile home life goes off the rails. His abusive father Arvin explodes after the cops bust Link and his half-brother Travis (Avery Winters-Anthony) for stealing scrap metal. When Link finds out that his supposedly dead mother Sarah may be alive, Link angrily sets fire to Arvin's truck and flees with Travis. This is what one would call burning one's bridges. Link cannot return to his father's house ever again. All this happens within the first 20 minutes of the rather fast-paced film.
Sparks fly in a chance encounter at a convenience store with teen drifter Pasmay (Joshua Odjick), who shares Link's indigenous roots and offers to help find Sarah. Pasmay has a truck. But Link's (well-founded) mistrust of people might just ruin his potential new relationship and the group's mission?
WILDHOOD is combination of a coming-of-age gay sexual awakening story done in a road trip easy style. The two young actors are convincing enough with their sex scene tastefully yet erotically done in the night by a waterfall.
The film's climax hinges on the finding of Link's mother, Sarah. It does not take a genius to guess what happens at the end. The only flaw of WILDHOOD is its predictability with hardly any surprises in the story. Still WILDHOOD emerges as an earnest look at gay indigenous youth and an entertaining film.
Director Hannam is a Two-Spirit Mi'kmaw filmmaker. Bretten Hannam (who prefers gender-neutral pronouns) wrote and directed the film inspired by their own experiences and informed by speaking to others in their community. Hannam shot WILDHOOD in the Annapolis Valley along the Bay of Fundy in Mi'kma'ki, Nova Scotia, where the director was raised. The film garnered six 2022 Canadian Screen Award nominations – best film, direction, original screenplay, casting, lead actor Phillip Lewitski (also a TIFF 2021 Rising Star) and supporting actor Joshua Odjick.
Trailer:
THE WOLF AND THE LION (LE LOUP ET LE LION) (Canada/ France 2021) **
Directed by Gilles de Maistre
Toronto get the release of the English version of LE LOUP ET LE LION which translates to THE WOLF AND THE LION. The film is a children's film and children do not read subtitles nor see subtitled movies. I am assuming here that they filmed two versions. THE WOLF AND THE LION is a 2021 family film directed by Gilles de Maistre who also wrote the script with his wife Prune de Maistre. The film stars Molly Kunz, who returns to her late grandfather's cabin and finds herself taking care of a wolf cub and lion cub who grow up together as brothers. The film premiered on 25 September 2021 at the Zurich Film Festival where it won best children's film.
The story of the movie taken from Wikipedia goes like this: After losing her grandfather, Alma returns to her childhood home in the Canadian wilderness. In the forest, she comes across the wreckage of a plane that had been destined for a circus with a lion cub poached from its mother in Africa. The cub falls into her hands when a bald eagle knocks it out of the nest it fell into during the crash. So, she decides not to hand it over to the forest rangers because her grandfather campaigned against the mistreatment of animals in circuses. At the same time, a female wolf who had somewhat befriended Alma's grandfather comes to find refuge in Alma's house with her pup when she is pursued by two scientists. The lion cub and the wolf cub live like brothers; they play together and both are kept well-fed thanks to the she-wolf. But, the wolf mother disappears (after being hit with a tranquilizer dart by the two scientists, who wish to relocate her to a breeding facility for endangered wolf species) while Alma is off on a 2-day trip involving a classical music audition for the Los Angeles Philharmonic Orchestra. This leaves her the only one to raise and protect the cubs while the three of them live in peace for a year or two. During which time, she names the wolf pup Mozart and the lion cub "Dreamer" (in apparent reference to the Ozzy Osbourne song). After Alma has an accident, her Native Canadian godfather Joe must notify the authorities in order to save her, despite the fact that this separates the trio. The three of them then seek each other out to be together again. For adults, read this synopsis and skip the movie. If you have a kid who loves animals, then you are out of luck!
The only one plus thing about the film is that there are no computer generated animals. The cubs are real and they are ever so cute and adorable. Th film's best scene has th wolf and the lio play wrestling together. Kudos to director Maistre for capturing the endearing moment on film.
Veteran Indigenous actor Graham Greene lends his hand in a welcome supporting role of Alma's godfather.
It is clear from the film that director Gilles de Maistre and his wife who co-wrote the film are animal lovers, in real life animal activists who believe that animals should live in the wild (hence the ant-circus theme).
Children's films do not always translate to good adult films and this film is the best example. It is a real chore to sit through this one as the film is so 'blah', the best word to describe the otherwise well-intentioned family film.
Trailer:
WOMAN IN CAR (Canada 2021) ***
Directed by Vanya Rose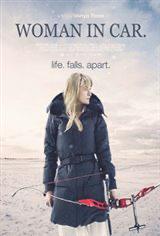 WOMAN IN CAR is so-called because the main protagonist, Anne spends quite a lot of time in a car. The film could as well be called a lot of other titles, but one might assume that the title is so chosen because the protagonist is in the midst of an emotional journey as well. THE WORST PERSON IN THE WORLD, the title of a recent Norwegian film could also be used as the title for the film.
WOMAN IN CAR is a woman's picture all the way from its writer/director, protagonist and story. The film even begins with a quote from Edith Wharton: "A frivolous society can acquire dramatic significance only through what its frivolity destroys." Wharton was an American novelist, short story writer, and designer, who drew upon her insider's knowledge of the upper class New York "aristocracy" to realistically portray the lives and morals of the Gilded Age. She is most known to moviegoers for her novel THE AGE OF INNOCENCE directed by Martin Scorsese. What the quotation means, is demonstrated in Rose's intricate film.
Since her husband was killed in an unsolved hit-and-run, Anne, a former archery champion, lives in a wealthy neighbourhood of Montreal with her seven-year-old daughter. While her fiancé is away on a business trip, Anne receives a visit from her stepson Owen, a musician in his twenties, whom she helped raise when he was a minor. Owen is accompanied by a woman of Turkish origin, whom he claims is his girlfriend, although he does not seem to be in love with her. Anne tries to hide her nervousness in front of this stranger, who exhibits odd behaviour. But also, Owen's presence after several years of absence reopens deep wounds from her past. To top it off, the widowed archer is under pressure from her late husband's twin sister, a rich sixty-something who has taken the family's destiny into her own hands.
WOMAN IN CAR starts off very slowly with a slow burn that will test many an audience's patience. The characters and story unfold in an oddly complex way, and it takes a while to fit all the pieces together. But after the first half, the film kicks into gear. With one key segment (the one bewtwwn Anne and her stepson), all the incidents start making sense. The best sequence is the confrontation between the late hisband's twin sister and Anne where Anne is old off and has to face the consequences of her actions. Director Rose does not skimp on the sex scenes, which are integral to the story. Another old dramatic segment has Anne's mother also telling her off.
Though set in Montreal, WOMAN IN CAR is filmed in English. One wishes that there would be more Fresh content owing to its Quebec setting.
WOMAN IN CAR appealed to the public for funds to support the film while it was in the making. WOMAN IN CAR turns out to be an effectively economical film with a look that feels more expensive than it costs - a worthwhile production of drama and emotions that looks often stunning, WOMAN IN CAR starts off slow but accelerates to a successful emotional finish.
Trailer: