FILM REVIEWS
DEEP WATER (USA 2022) ***
Directed by Adrian Lyne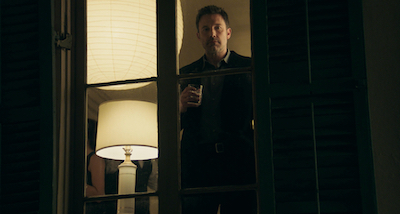 There are two good reasons to watch the new psychological thriller premiering this week on Amazon Prime. One is that the film is based on a novel by Patrica Highsmith, a master of suspense with works like THE TALENTED MR. RIPLEY that have been successfully translated to celluloid. The second is the film's director Adrian Lyne whose FATAL ATTRACTION still remains as one of the sexiest thrillers of all time. DEEP WATER which boasts the talent of Ben Affleck as a quiet sociopath adds another reason not to its this thriller.
Ben Affleck and Ana de Armas as Vic and Melinda Van Allen, an affluent New Orleans couple whose marriage is crumbling under the weight of resentment, jealousy and mistrust.
As their mutual provocations and mind games escalate, things quickly turn into a deadly game of cat and mouse as Melinda's extramarital dalliances start going missing. Director Lyne keeps his story always one step ahead of the audience, keeping the anticipation factor there all the time. The film works well as both a mystery and a thriller. Entertaining all the way, DEEP WATER flies through its running time proving director Lyne still has his directing chops.
Trailer:
GOLD (Australia 2021) ***1/2
Directed by Anthony Hayes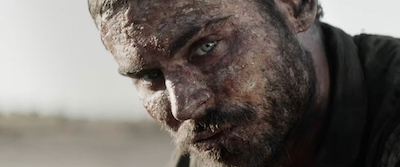 The lure for GOLD brings out the worst in human beings. Greed often results in murder and other nasties, as many films like this one and many of the past like the famous 1949 LUST FOR GOLD directed by S. Sylvan Simon have demonstrated. In the Australian thriller/drama GOLD, written by Polly Smyth and director Anthony Hayes), two 'friends' are pitted against each other when gold is found in the sparse wasteland of Eastern Australia. What transpires is an intense drama of waiting as witnessed in this tale of survival and greed.
The setting is a dystopian near-future, where a lone traveller named Virgil (Zac Efron) arrives at an outpost and pays local man Keith (director Anthony Hayes) to transport him to an area known as The Compound. The film has a MAD MAX look. Travelling through an inhospitable desert, the two eventually discover an enormous gold nugget in a remote area. After failing to extract it with their basic tools and truck, Virgil agrees to stay, after a much heated debate, with the gold whilst Keith leaves to try and find an excavator. Left alone in the desert with limited food, water, and radio contact, Virgil begins to deteriorate both physically and mentally as paranoia sets in. He makes himself a shelter from the sun using pieces from a crashed plane.
After several days awaiting Keith's return, Virgil encounters a lone woman (Susie Porter) scavenging nearby. After the woman becomes suspicious, Virgil kills her and buries her body. A day later, a sandstorm leaves Virgil wounded with a wood stump through the side of his body. He encounters another female scavenger who claims to be the earlier woman's sister. Virgil makes contact with Keith via radio, who informs Virgil he is close by. What happens then are with two plot twists, not revealed in the review.
Director Hayes ups the ante with audience anticipation. The compound is a place in the Eastern territories of Australia. As they enter the eastern territories, a sign reads: "Enter at your own risk". When asked why the compound, the reply comes.' Opportunity. Opportunity of a lifetime." He shows a picture of the opportunity. The response:"I would take what you are told with a grain of salt. I don't mean to rain on your parade. Where you come from might not be that pretty (judging from the scar) but where you are going ain't that pretty either."
Efron plays ugly in this film, discarding his pretty boy image. With stubble growth on his face, a scar on one side of his face and limping, he is not the good looking example of a human being, though one can still see his physical charm beneath the makeup and acting.
The impressive cinematography by Ross Giardina which includes stunning images of the Australian outback and the terrible sandstorm is to be commended. Though not an easy watch, director Hayes shows how much one needs to endure when isolated in the heat of the desert without food and water or the companionship of another human being. Wild dogs that appear, blistering boils emerging from the skin of the back of the neck, the cold of the night and the heat of the day are just a few of the horrors endured by Virgil.
GOLD, a cautious fable of greed and survival comes with authenticity and conviction making it a compelling watch and insightful though not always pleasant entertainment.
Trailer:
MEASURE OF REVENGE (USA 2022) **
Directed by Pefta
In case one is wondering why the rather Shakespearean sounding of the title, the reason is that the film's protagonist is a Broadway actress who has played many Shakespearean roles including Lady Macbeth.
Broadway actress Lillian Cooper (AcademyAward -winner Melissa Leo) is making her final on-stage appearance when her famous son, Curtis (Jake Weary), is found dead from what the cops believe is a drug overdose. When his death is ruled as an accidental overdose, a suspicious Lillian decides to take matters into her own hands. On a quest for answers, she strikes up an unlikely alliance with her son's drug dealer, Taz (Bella Thorne), setting in motion a bloody warpath to uncover the truth and punish those who killed her son. And of course, she takes revenge.
As the old adage goes: Revenge is Sweet. However, revenge is seldom sweet in movies.
Two excellent revenge films that come immediately to mind, One is Francois Truffaut's masterpiece tribute to Hitchcock THE BRIDE WORE BLACK with Jeanne Moreau in the title role whose childhood sweetheart is accidentally shot by a hunting rifle on the wedding day at the steps of the church. Moreau, who has no longer any purpose in life, spends the entire film hunting down the perpetrators and killing them one by one in revenge. The film worked wonders for the 5 men portrayed by France's then greater actors as well as Bernard Hermann's musical score and Truffaut's marvellously accurate Hitchcock styled film. The other is the Nordic action thriller IN ORDER OF DISAPPEARANCE remade not so well with Liam Neeson in COLD PURSUIT. In the film, the father hunts down the drug dealers and the Drug Lord responsible for his son's overdose. IN ORDER OF DISAPPEARANCE was very smart and funny with the drug lord portrayed as a kingpin in total control of his henchman but unable to control his ex-wife and his son who he feeds fruit loops.
MEASURE OF REVENGE, however, is a tedious and mostly boring exercise of revenge with too much emphasis put on the character of the mother Lillian Cooper. Lillian goes a bit mental and the film shows that she is not all there, often hallucinating while exacting her revenge. The audience already understands her grief and disorder, aided by the often jarring musical score. First -time director Pefta also uses the gimmick of using snippets from Lillian's previous portrayals of tragic roles as in Hester Prynne, Hamlet's Ghost and of course, Lady MacBeth once too often that it becomes tedious. Academy Award Winner Leo (THE FIGHTER) can only do so much with her material. The cliched subplot of the investigating detective telling Lillian that the case is closed and that she should not act as a detective is one used already once too often in other films.
Pefta's story unfolds with Lillian slowly discovering the facts behind her son's death, which takes too long. The film could have been more violent to create more excitement and emotion fr Lillian's revenge, instead of just plodding along with quotes from Lillian's previous Broadway roles. The rather open ending does not help either. What the film does show is that revenge is not necessarily sweet and comes with a hefty price.
Trailer:
THE OUTFIT (USA 2022) ****
Directed by Graham Moore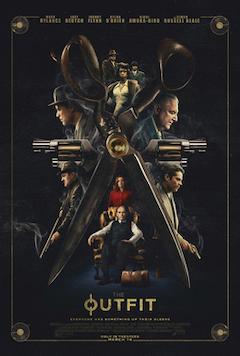 Just as one would think that films in the well-worn (pardon the pun) gangster genre would have exhausted all fresh possibilities, a refreshing thinking man's gangster film arrives THE OUTFIT. THE OUTFIT is an action packed film that proves that there are two kinds of action - physical and mental action. Except for one physical action sequence at the film's climax, most of the action takes place in the mind of the lead character, a Saville Row tailor now practising in Chicago, the city of gangsters. What is meant by the term 'Saville Row tailor' is explained to audiences in the film who are unfamiliar with the British term.
This 2022 American crime drama film is directed by Graham Moore who penned the multiple award winning THE IMITATION GAME, in his directorial debut from a screenplay he co-wrote with Johnathan McClain. It stars an ensemble cast including Oscar Winning Mark Rylance, Zoey Deutch, Johnny Flynn, Dylan O'Brien, Nikki Amuka-Bird, and Simon Russell Beale. Rylance, theatre trained and winner of 2 Olivier (British theatre) Awards as well as an Oscar for Steven Spielberg's BRIDGE OF SPIES is an actor so pleasurable to watch.
The plot centres around an English tailor, known simply as Leonard (Rylance) in Chicago whose primary customers are a family of vicious gangsters. In the film's initial scenes, it is revealed that he has worked closely and has a paternal affection for his secretary, Mable (Zoey Deutch) who has the desire to travel the world. She cannot understand her boss, Leonard who has been the world over and has decided to have a shop instead in Chicago. Both are not as innocent as they seem, as the story reveals. The script is full of secret twists and turns which makes the film a pleasure to watch. When gangsters enter the shop one night, Leonard must use his wits to postmark his predators. The film plays like an Agatha Christie whodunit, with Leonard thinking up lies and tricks in order to survive.
Besides the 'thinking action' of the film, there is much more to appreciate like the musical score of Oscar Winner Alexandre Desplat and the cinematography by Dick Pope (who did a lot of work with Mike Leigh). The gorgeous wardrobe, especially the meticulous suits and shirts worn by tailor Leonard stands out.
Despite the seriousness of the film's theme, THE OUTFIT is not without humour - including a few subtle bits like putting a body in a big trunk obviously playing with the gangster cliche here and a segment with the tailor having to sew up an open wound of an injured gangster. "When Leonard says he has been in the war, the gangster replies that he has been in a war too - the other kind.
The story flies fast and it is likely that details would fly past the heads of some audiences. But it is unimportant to understand every plot point in order to enjoy this gangster piece.
A solid supporting cast with Dylan O'Brien, Johnny Flynn and Simon Russell Beale as various menacing gangsters add to the polish of this gangster drama. Fortunately, the film does away with any longing romance, though there is a short one between Mable and Richie.
A thinking man's action movie, THE OUTFIT offers a fresh look, at the well-worn (again pardon the pun) gangster genre.
TRAILER:
THE SHEPHERDESS AND THE SEVEN SONGS (India 2020) ***
Directed by Pushpendra Singh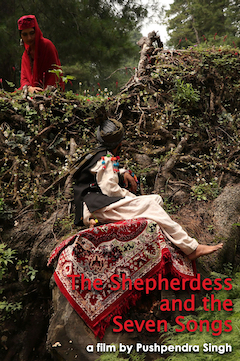 Director Pushpendra Singh might not be a familiar name to North American critics but this Indian arthouse female filmmaker already has three films under her belt - (The Honour Keeper, 2014; Ashwatthama, 2017 and Pearl of the Desert, 2019). Director Singh was the winner of the Best Director - International at both the Hong Kong International Film Festival and the NETPAC Award from the Jeonju Film Festival.
THE SHEPHERDESS AND THE SEVEN SONGS is the second of Singh's films to be based on the works of celebrated Rajasthani writer Vidaydan Detha, while also taking great inspiration from 14th-century Indian folklore. Vijaydan Detha had written a feminist story in the late 1960s that dealt with desire and exploitation and how a woman in a conservative feudal society asserts herself and makes her own choices. Director Singh clearly does her source material justice in the confident rendering of a timeless tale that hits close to home.
The film is divided into seven separate sections - entitled with the name of seven songs such as Song of Marriage, Song of Migration and so on…. each structured around a unique song that acts as insight into the protagonist's inner world.
The story follows a young bride, Laila (Navjot Randhawa) who marries into a tribe of nomadic Bakarwal herders. The film begins with the arranged marriage between Laila and Mushtag. She initially shuns him but marries him after he woos her, western style. Already harassed by local police as a minority, Laila finds herself targeted for her remarkable beauty by local officials. She is the prettiest thing in the film, for sure. Her implacable and ingenious manipulation of the men who want to possess her, and the patriarchy that wants to crush her, plays out in a series of seven chapters – the Song of Regret, the Song of Playfulness – each tied into the rapturously gorgeous score by Naren Chandavarkar and Benedict Taylor. Despite the slow burning in the unfolding of the story, the film contains magnificent and stunning cinematography, especially the segment where hundreds of goats are herded across a mountain. Director Singh also reveals Laila's cleverness in overcoming her adversites. Kaila kills two birds with one stone by both foiling Tanvir's sexual advances and her husband's cowardliness by having the husband accompany her to her night meeting with Tanvir. The husband is clueless and Tanvir keeps falling for Laila's repeated nightly meetings. It is comical example of how sexual desires can blind one's eyes.
The film succeeds because of actress Randhwa's controlled and yet powerful performance and the story but mostly because of the film's unforgettable and stunning visuals.
Following an impressive global film festival run that began with the 70th annual Berlinale (Berlin Film Festival) and included in MoMA's 2020 New Directors/New Films festival, THE SHEPHERDESS AND THE SEVEN SONGS (Laila aur satt geet) finally lands on digital and video-on-demand March 15th in North America from Deaf Crocodile Films and Gratitude Films, collaborating with digital partner Grasshopper Films.
Trailer:
A SMALL FORTUNE (Canada 2021) ***
Directed by Adam Perry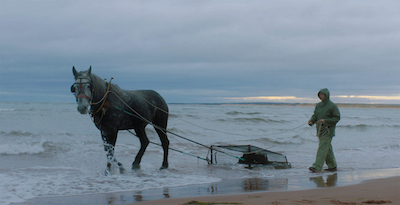 When a desperate man finds a bag of lost money off the shores of Prince Edward Island (P.E.I.), his decision to keep it secret turns his quaint fishing village into a growing crime scene. The question arises that if one finds dirty money and kept, is one complicated in the crime? This question also arose in the recent Japanese film, THE INFINITE TWO MINUTES in which two men discovers a wad of cash in an abandoned video cassette machine. As is expected in the cinema, the cash belongs to some crooks and they will come after the money with no good coming to the finder(s) of the cash.
Despite what is a predictable storyline, director Perry infuses some good old Canadian flavour in his film so that audiences can relate to his moral tale of manners. The film begins impressively with slow motion montage of the old days, with horses ridden in the sea and the workers working for a living by the sea. Fast forwarding to the present and the audience sees the protagonist Kevin dredging the sea with the help of his horse for moss to be sold - something seldom or never seen before. His wife appears to bring him his lunch before the audience finds out more about the couple. The couple have finanical problems but are still in a solid loving relationship.
Kevin Doucette (Stephen Oates) and the wife, Sam (Liane Balaban) are about to have a baby.They are broke. Most of their friends have moved to Alberta (the oil province) to make a better living but Kevin wants to stay, long his roots. The film is a handsome mounted piece (see photo inset) which makes any Canadian proud to be living in the east Atlantic provinces.
Director Perry ups the ante at the half way mark of his film, turning his film into taut thriller where one of the film's primary characters get killed. A SMALL FORTUNE reminds one of Daryl Duke's cult classic A SILENT PARTNER, a crime thriller set during Christmas in Toronto. The villain in the piece bears similarities to Christopher Plummer's sadistic bank robber in THE SILENT PARTNER. Excellent pacing, relatable character, superlative performances, several twists in the story all make SMALL FORTUNE the surprise thriller that it is.
The film contains a surprising impressive performance from the Asian newcomer who plays the rookier cop Constable Susan Crowe. The story shifts to her as she is suddenly fired to take control and assume responsibility for the crime scene. This is reminiscent of EASTERN BOYS where the black security guard, a minor character suddenly takes conrol of the narrative.
The film opens VOD/Digital on Friday March 18th.
TIN CAN (Canada 2021) **
Directed by Seth A. Smith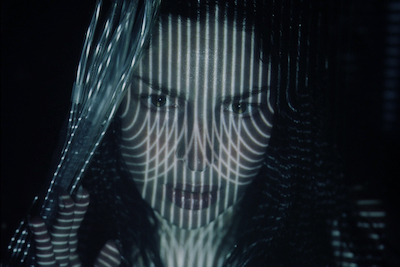 TIN CAN, the new Canadian horror sci-fi is so called because the film is set, a large part of it, in a TIN CAN. How did she get there? Who are her perpetrators? Who is in charge? How will she escape? These are the identical questions faced in CUBE, another Canadian mystery and many other sci-fi films in which characters wake up in a strange enclosed place with no memory.
TIN CAN deals with the subject of a virus. Writer/director claims that he wrote the film in 2017 and filmed it in 2019. This same claim was made by the writer/director of THE PINK CLOUD, a Brazilian movie that has been released. That director also claimed that she wrote it in 2017 and shot it in 2019. PINK CLOUD was released two weeks before TIN CAN. Coincidental? Perhaps. But it is obvious that both films deal with the Covid-19 Pandemic and while the Pandemic is not yet fully over, the exploitation of the Pandemic can be deemed to be done in poor taste.
Sometime in the near future, a viral fungus plagues Canada's eastern coast - the province of Nova Scotia, it is assumed, as the film is funded and made in that province.
The fungus is highly resilient and grows at a rapid pace. Its victims are destitute as a result. Scientists are shown when the film opens at a super modern laboratory facility called VAISE. They are shown to be desperate in finding a cure for the fungus, pretty much like finding a vaccine for Covid-19. The audience is tossed some scientific jargon, which actually sounds quite silly. Dialogue like: "Samples don't bond. Numbers are tight." are quite laughable. "We can control this," says one scientist. All the dialogue is heard with the scientists looking down microscopes and wearing white lab coats.
The lead scientist and protagonist of the movie is Fret (Anna Hopkins), who is close to a breakthrough but she is soon kidnapped by unknown forces. She awakens much later within a personal chamber (called a room without a door, in the film), which looks like a tin can, and hence the film title. This revelation comes around the film's half way mark, after a lot of time wasting. After unplugging herself from multiple IVs. Fret soon discovers that she is not alone, as there are others in their own personal chambers just outside her reach – including her colleague John (Simon Mutabazi), who has been there for a longer time. All this seems to be, again, time wasting in a rather slow burn of a horror mystery film, in which the audience can likely predict what is going to happen.
TIN CAN is to be commended for the impressively looking production sets, art direction, costumes and props. The result is a stylishly looking film despite its flaws, the main one being that it is not convincing as a mystery thriller.
TOLLBOOTH (UK 2021) ***1/2
Directed by Ryan Andrew Hooper
TOLLBOOTH, written by Matt Redd and directed by Ryan Andrew Hooper, is a Welsh darkly-comic thriller about a lone toll-booth operator with a past that is fast catching up with him. Shot in Pembrokeshire, Wales (the place where the English come to die, according to a scribble on the county sign), the Welsh and those who have visited Wales will be able to appreciate the wry humour in the film.
The toll-booth operator there is called Toll Booth (Michael Smiley) by the locals. All the locals appear to know Booth's past and his shady dealings What these dealings are, are never made clear as they need not have to be. For example, Hitchcock never explained a lot in his films when there was no need to. For example in his best film NORTH BY NORTHWEST, the organization that put Cary Grant in trouble was just an organization and no explanation was offered as to what it was actually involved in. All one can see is that Booth keeps receiving and disturbing wads of cash stuffed in envelopes with some spill about territory. The only person clueless of Roth's activities is the local cop Catrin (Annes Elwy) who is infuriated that nobody tells her anything. When she goes to the local pub, in one scene to ask the locals of Booth's past, the blind customer says: "Booth was involved in an affair that led to him murdering his wife and lover, resulting in him put into prison and an escape through a hole in the wall." Catrin realizes that this is the plot of THE SHAWSHANK REDEMPTION and when she asks others, is given the plot of other crime films. This is one of the few films where homage to classics is not made by showing clips of the films. This is rather brilliant and funny at the same time.
The script keeps the audience guessing at a few facts. Where and how did Booth regain the sandwich that was taken from him by the robbers? How were the robbers killed or who killed them? The questions are brilliantly answered by the end of the film - and rather comically.
The gangster mystery comedy is aided by Smiley in the lead role. Iwan Rheon as Dom makes his role as a hit-man one that audiences can care for while veteran Julian Glover lends his hand as the lead heavy.
The humour is rather brilliant. The best one is the running joke of Booth reading a book on a man leading a life in which nothing appears to be going on. "How is it?" asks Catlin after Booth describes the book on a subject very much like himself. "Brilliant!" comes the answer.
Director Hooper displays a unique style that blends the combination of violence, humour, drama and coincidences. The brilliant script and spirited performances from the cast help create fresh entertainment shot in the stunning landscapes of Wales. Those who have never visited should be tempted to plan a trip to Wales sometime.
Trailer:
WIN A TRIP TO BROWNSTOWN! (USA 2020) **1/2
Directed by George A. Tramountanas
WIN A TRIP TO BROWNTOWN! is written, directed, and produced by George A. Tramountanas. Why it is called that is seen only at the end of the picture. It is a quietly personal indie film but might not really be suited for a family.
The film is a family film in the sense that it stresses the importance of family values. It is not a family film as it deals with a lot of sexual material which equates to non-family friendly material. It involves entry through the rear end and there is a scene in which women discuss various sexual objects in a sex store that will satisfy their sexual needs. Even the youngest sibling has have to have his eyes and ears shut during the last part of the film because of the sexual content. To that effect, it is not a very consistent film and not that funny either given the not so original premise. Writer/producer/director Tramountanas seems to think that his script is pitch perfect, which clearly is not, though the film did get made. The director must have made a good pitch.
Frank Tsigas (George A. Tramountanas) plays a middle-aged family man and struggling novelist who can only see his life's shortcomings. On their 21st anniversary (or 20th as indicated in the film, as the couple had one difficult year during their marriage) , his soft-spoken wife Laura surprises him with an offer: if he can lose fifty pounds in three months, she will give him a "unique" sexual adventure. As he struggles to lose the weight, Frank learns that the paths chosen in life's journey are more important than its final destination.
For authenticity and credibility for the role, actor/director Trammountanas, who also plays Frank, lost fifty pounds over a three month shoot. This is noticeable in the film. He still looks chubby but not as heavy as at the start of the film. In addition, the film also stars Kendra McDermott as his wife and Tramountanas's real children as well. McDermott distorts her mouth once too often in order to act out a scene or make a point.
Trasmoutanas' film was made. His novel pitch in the film is similar to the story in the film - the pitch competition forming the climax of the film. In truth, the pitch is ok but nothing out of the ordinary but he seems to think that it is something exceptionally special. The story is basically a film about family values with some dirty stuff inserted. The film is funny in parts, not overtly hilarious despite the fact that the film has garnered quite a few comedy awards in festivals where the film was shown.
There are more jokes during the film's closing credits. Stay, if you are enjoying Tramountanas' humour.
Gravitas Ventures releases the film on digital platforms on March 22, 2022.
Trailer:
X (USA 2022) ***
Directed by Ti West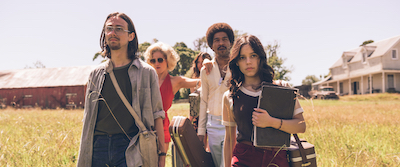 Writer/director Ti West is no stranger to horror films as he made the 2009 sequel CABIN FEVER 2: SPRING FEVER, IN A VALLEY OF VIOLENCE (2010) and an assorted series of horror TV films. In his latest venture, West infuses the subject of porn into the horror picture as a group of young filmmakers set out to make an adult film to be called THE FARMER'S DAUGHTER in rural Texas. But when their reclusive, elderly hosts ( as in a b-n-b type farmhouse) catch them in the act, the cast and crew find themselves fighting for their lives. The catchy tag line in the film poster humorously states that the filmmakers are dying to give you a good time. And so does West.
The horror does not start till way into the film. West spends his time introducing his audience to the characters or victims. The adult film crew consists of director RJ (Owen Campbell) and his assistant/girlfriend Lorraine (Jenna Ortega) with cameraman, super-cinematographer wannabe Wayne (Martin Henderson), his girlfriend Maxine (Mia Goth), burlesque dancer Bobby-Lynne (Brittany Snow), and Bobby-Lynne's boyfriend/co-star Jackson (Scott "Kid Cudi" Mescudi). The film's setting is 1973, only because this is the similar setting of Tobe Hooper's THE TEXAS CHAINSAW MASSACRE in which a hillbilly Texan family called the Sawyers chainsaw and kill tourists for no real rhyme or reason. There is a reason here, however, that the hosts Howard (Stephen Ure) and his wife, Pearl (uncredited) are doing away with their guests. They are disgusted with porn and want to do away with the porn-makers. But there are hints of horror as the film not only feels like one is put right into THE TEXAS CHAINSAW MASSACRE setting but there is also a discussion of Hitchcock's PSYCHO as the film is brought up in a discussion. When the killing starts, it gets really nasty with director West not skimping on the horror and gore.
Director West appears to know how to make a porn film. From the realistic sexual groans of the actors to the framing, the parts showing porn look like the real thing. In one scene, Wayne is told by Bobby-Lynne when another is pumping gas into the vehicle to film with the camera down pointing up just like having a cock's point-of-view.
A few other bits also provide some distraction and humour. Sheriff Dentler (Jmes Gaylyn) shrugs at the killings when asked what the hell happened. "Hell, if I know," is his reply as he struts around whenever he is investigating a crime. Quite clever too, is the intercutting of the preaching of a TV evangelist (Simon Prast) as the old couple do away with their guests.
Director West pokes fun at both the horror particularly the TEXAS CHAINSAW MASSACRE genre and the porn industry with gory fun and a bit of wit. Taking on horror and porn means aiming low, and at this level succeeds in providing audiences with guilty entertainment that one should really be disgusted with.
Trailer: