FILM REVIEWS:
FAMILY SQUARES (USA 2022) **
Directed by Stephanie Laing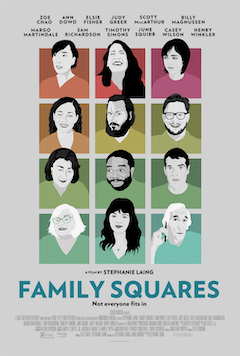 Directed and co-written by Stephanie Laing with Brad Morris, FAMILY SQUARES is a film made during the Pandemic and themed with Pandemic affected characters. The characters are a dysfunctional family forced to get-together for a funeral, Because of the Pandemic, they are forced meet via Zoom, which makes a diversion from the general dysfunctional family gathering.
Secrets in the closets will be revealed. Old wounds will be healed. This is the typical dysfunctional family drama or comedy that Thanksgiving or Christmas Hollywood mass produces, with a film appearing every season, most of the films tedious, predictable and cliched.
This drama/comedy was filmed during the pandemic and is back with a theme of vengeance with Family Squares — now with Zoom. The dysfunctional family has been somewhat estranged for a number of years, but they gather via Zoom after Grandma Mabel passes away. Naturally, chaos ensues. The family consists of characters played by Ann Dowd, Henry Winkler, Margo Martindale, Casey Wilson, Judy Greer, Timothy Simons, Scott McArthur, and Elsie Fisher. While gathered for a final goodbye to Mabel, the family descends into madness when long-buried family secrets are revealed. The moral of the story is that, while one cannot choose their family but one can choose friends, the script claims to be smart enough to brag that — one can choose family to be friends with them.
It is encouraging to see filmmakers adapt to current times with their films. This is one film made during the Pandemic that takes the situation of self-isolating into the story. The family members are unable to meet as it is assumed that they cannot fly and so meet through ZOOM. The funeral director also does a ZOOM consultation. The film tackles the problem of getting used to ZOOM, typical in a ZOOM meeting - such as constant beeps, accidentally muting and one member talking too much for too long a time. The only thing missing from the film is that no one is seen wearing a mask. There are, however, no scenes where there are people gatherings or not social distancing,
But just as there are problems with ZOOM meetings, the Pandemic and dysfunctional family films, the identical problems arise in the film. It is difficult to be motivated by people in a ZOOM chat compared to an in-person conference or meeting. Talking squares get even smaller as more people join the meeting and get less and less effective. Everyone is sick of the Pandemic and the havoc it has caused around the globe. Watching a film about the Pandemic when the world is so fed up with it is the opposite of a feel-good movie. Dysfunctional family films that always prop up during Thanksgiving and Christmas times are already a dime a dozen. Another one like this one just adds to the bunch of forgettable movies. There is nothing really standing out in this dysfunctional family except for the one big skeleton in the closet, not to be revealed in this review. Even stars like Ann Dowd, Henry Winkler and Margo Martinale try but can hardly make a difference.
FAMILY SQUARES is another uninspired dysfunctional family film forced to be watched ZOOM-style.
Trailer:
INTREGALDE (Australia/Serbia/UK 2021) ***
Directed by Radu Muntean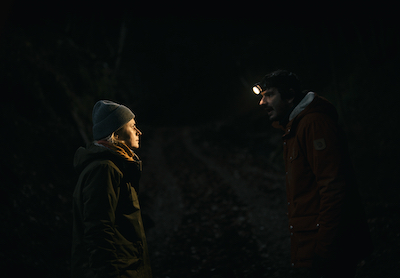 Mud, mud and more mud. A large portion of the film deals with a SUV stuck in the mud. Getting the vehicle out of the mud seems the goal, quite unlike goals in other films like saving the world or the universe in action hero films. INTREGALDE is a low budget film where nothing much happens in terms of incidents, but the film is just as watchable as say SPIDER-MAN,THE HOMECOMING, a film in the opposite extreme in which so much happens so fast that one cannot keep track of what is actually going on.
INTREGALDE is the name of the town or village humanitarian aid workers are travelling to bring supplies for. They never reach their destination, or even come close. The three workers travel there in their SUV but get stuck not once but a few times en route. It is all about mood and atmosphere and survival in the harsh and barren conditions.
INTREGALDE is directed by Radu Muntean, who co-wrote the film with Alexandru Baciu and Razvan Radulescu. Though dialogue is minimal, it shows that writing a script does not only mean dialogue but creating atmosphere, emotions, situations and mood.
The film begins with aid being distributed to the poor in what is assumed is a remote village in a poor country. The film then moves on to three humanitarian aid workers who travel in their SUV from Bucharest to INTEGALDE in order to deliver sacks of food. Trouble arises when they hit a dirt road. More trouble arises when they pick up an old hitchhiker, who goes by the name of Kente Aron (Luca Sabin). Aron is not all there in the head. He smells like shit for the obvious reason that he has shat in his pants. He wishes to go to a saw mill that is no longer there. Then the SUV gets stuck in the mud, he wanders away. One of the workers, Dan, goes off to seek help while the two women stay behind. A man and his son drive by and one of the girls goes with them for help. Director Muntean creates tension here as one cannot trust these rough hillbilly folk. Apparently the two are not man enough to rape her, funny enough but she is traumatized instead bye their dog.
When the film opens, the Australian symbols appear indicating that the film is from Australian screen. When no English is spoken, one assumes that the story is set in the Turkish Australian community as what is spoken sounds Turkish and there are a few references to Turks. The imdb movie database says that the language spoken is Macedonian. The film is shot entirely in Serbia. Though it is barren and muddy land, cinematographer Tudor Vladimir Panduru captures some great images on screen, often filming from inside the stranded vehicle with minimal and natural lighting.
The film is wholly serious with a few comical moments. Aron's washing himself with the aid of an old woman when at home is the funniest part, the woman nagging him as he cleans the shit off his bum.
An intriguing film that succeeds in its creation of mood and atmosphere rather than action, INTREGRADE ends up a compelling watch from start to finish.
Trailer:
LAST SURVIVORS (formerly: SHTF) (USA 2021) ***
Directed by Drew Mylrea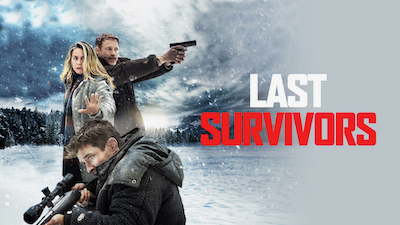 LAST SURVIVORS was to be released way back in 2021 but its release date has been postponed since then. A lot of things can happen during the time lapse and one is the decision to change the film's title from SHTF (an acronym for Shit Hits the Fan) to LAST SURVIVORS. The original title might seem more appropriate given the plot, in which shit does hit the fan midway, but having the 's' word in the title, even abbreviated, must have been looked down upon.
A father and son, who have been living off grid for 20 years, encounter an outsider who threatens to destroy the utopia they've built. The father has had the son believe that world war three had begun and that all people are evil and killing off each other. When the son meets a woman, she tells him the there is no WWIII and that the world has been going on as normal, and SHITF - shit hits the fan.
The actress from CLUELESS, Alicia Silverstone has been absent from the screen for a long time and it is good to see her once again, this time in a dramatic role as that woman. She has grown up, as in the one scene where her husband causes her after seeing her with Jake: "Is he even legal?" Relatively new newcomer Drew Van Acker plays the son, Jake, an almost perfect specimen of a human being, handsome and a chilled body to die for. Van Acker has worked before in Mylrea's previous film SALT, an action comedy. British theatre actor Stephen Moyer plays the father, Troy.
When the film begins, the audience sees two men living alone without all the modern amenities yet surviving from living completely with nature including the ability to make a fire during winter. Through flashbacks that tell little, director Mylrea hints at the reason the men are living off the grid. The two appear to be living in harmony in a respectable and loving father and son relationship. When Troy is wounded, Jake goes out to retrieve modern medicine to the wounds or the father will die. He encounters Henrietta. There are two well executed confrontational scenes one being Henrietta and her ex-husband, both offering their reasons and rightly ones for separation. The other is the one between Troy and Jake. Troy goes mental, locking up Jake in a shed and venturing out with his rifle to kill Henrietta believing that this needs to be done to remove the threat to the family.
LAST SURVIVORS plays as dystopian futuristic film in the first half before switching the family drama then finally to horror story. The transition is not really smooth and one wonders immediately the intention of the director in the making of the film if this was his purpose or was it accidental.
The script by Josh Janowicz contains an interesting debate on religion. "Hope for hope is all they believe in," says Troy to his son. Humans need to believe and there is a nod to the story of SWISS FAMILY ROBINSON.
Still, despite its flaws, LAST SURVIVORS is an entertaining time-waster with enough incidents for the story to move merrily along.
Trailer:
LEARN TO SWIM (Canada 2021) **
Directed by Thyrone Tommy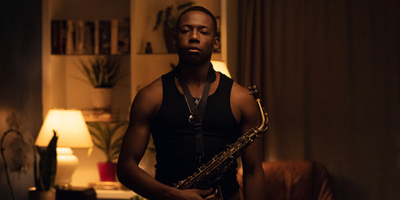 LEARN TO SWIM charts the stormy romance between two very different contemporary jazz musicians set in the contemporary jazz scene. Dezi (Thomas Antony Olajide), a doggedly private, very talented sax player, and Selma (Emma Ferreira), a vivacious but less experienced singer. meet, sparks fly, but their respective emotional baggage and their temperaments make the road to romance bumpy at best. The jazz score is awesome but the film offers very little else, looking much like a drama made for a cable pay service. It does not help that director Tommy loves to use closeups of his actors, mistaking closeups for drama. Olajiide delivers a horrid performance of a diva who believes he is God's gift to mankind. When the film was previewed at TIFF, the lighting was really dark, so unless the print is yet to be finalized, most of the actor's faces and expressions cannot be seen. Unless one likes jazz, the film will come off as even more boring.
Trailer:
THE LOST CITY (USA 2022) ***
Directed by Aaron and Adam Nee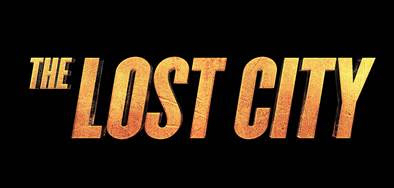 THE LOST CITY is a re-telling of Robert Zemeckis' thoroughly entertaining adventure romp ROMANCING THE STONE with Michale Douglas and Kathleen Turner. The LOST CITY acknowledges the fact with one scene where there is a huge poster that reads "Romancing the Page". This time around, it is novelist (Turner played a novelist as well) Sandra Bullock and her novel model Channing Tatum in the title role hunting down a LOST CITY and some supposedly red stones with a villain played by Daniel Radcliffe, a boy with a beard, as described by a minor character in the film, which is likely the film's funniest joke. THE LOST CITY is directed by Aaron and Adam Nee, both of whom co-wrote the screenplay with Oren Uziel and Dana Fox, from a story conceived by Seth Gordon.
Loretta Sage (Bullock) is a dissatisfied middle-aged author who writes romance-adventure novels centred around a fictional hero named Dash, who is portrayed by dimwitted cover model Alan Caprison (Tatum). While on tour with Alan to promote her new book, Loretta is kidnapped by Abigail Fairfax (Radcliffe), an eccentric billionaire who believes that the lost city in Loretta's new book is real and that she knows where it is. Alan, despite having no survival skills, goes off and hires Jack Trainer to rescue her.
Bullock is an Oscar winner and has always proven her acting chops in all her films. She is believable here but the chemistry between her and Tatum is just passable. The scene where they share a hammock to sleep in the night is proof that their chemistry is awkward. To solve the mystery of THE LOST CITY and to overcome the villains, Loretta uses her wits and brains while Alan his brawn. The theme of two different personalities to solve a mystery has been used in many films before, the most notable coming to mind being THE SEVEN PERCENT SOLUTION where Sherlock Holmes and Sigmund Freud together solve a murder, Holmes solving the clues while Freud unravelling the motives. The tactic is not used to its full potential in the film, with more screen time devoted to silly and clumsy antics by Alan as constantly trying to fend off the bad guys.
The film boasts a cameo by Academy Award Winner Brad Pitt who returns the favour to Bullock who herself had a cameo in one of Pitt's previous roles. Pitt has quite a few scenes playing Jack Trainer, the ex-military who helps Alan find Loretta when kidnapped by Abigail. Jack Trainer infiltrates Abigail's camp and kills off masterfully with speed and efficiency a slew of the bad guys with Alan behind in tow before being shot to death. Pitt shows his star quality and is as much fun to watch as he was in the Coen Brothers' BURN AFTER READING playing an aerobics instructor as he was in Tarantino's ONCE UPON A TIME IN HOLLYWOOD. When Pitt's character dies, so does THE LOST CITY film.
The film contains too many supporting characters, many of them underused. There is Loretta's social media expert, Beth, her publicist, Beth's love interest and others, thankfully edited out of the final film version. At least the film runs a trim 112 minutes, with better production sets and art direction than the silly overdone action sequences.
Trailer:
THE WHITE FORTRESS (Tabija) (Canada/Bosnia and Herzegovina 2021) ***
Directed by Igor Drljaca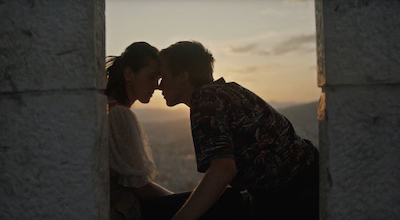 Themed as a Romeo and Juliet type romantic story of youth in love, THE WHTE FORTRESS is less a romance than a look at the political background of its Sarajevo setting.
THE WHITE FORTRESS is written and directed by Igor Drljaca, who owns his own production company in Canada and has affiliation with his post war torn country of Bosnia. He is also an assistant professor of Film and Theatre at the University of British Columbia. In this current time of unrest with Russia invading the Ukraine, the release of THE WHITE FORTRESS can never be more timely.
A chance encounter brings together two teens from opposite sides of life in post-war Sarajevo. But this blossoming romance conceals their desperate and disturbing motives.
"Love is a luxury," says the young Faruk to Mona. "What use is it? Though the two experience first love, their surroundings prevent them from the joy that love brings. For one, they are of completely different backgrounds, both casualties of the new political state. Mona comes from a rich and wealthy family while Faruk is poor and unemployed. He lives with his grandmother, after his mother, a talented pianist, had passed on. He gets paid for gathering scrap metal from his uncle, a meagre sum. The money from Faruk's grandmother's pension helps a little. When he steals metal from a wealthy and merciless tyrant, he is forced to make amends.
Director Drljaca shoots his film round the grey and poverty stricken neighbourhood that Faruk lives in. There is little in his surroundings that show modernity or comfort. Yet director Drljaca says, in the press notes, that he has a deep love from the place where he was born and grew up as a child. He and his character Faruk are trying to make sense of what is going on.
Faruk is bored, always smoking as if to pass away the time. He hangs around a few friends of his age, also listless youth that are generally unemployed and resort to petty theft for money and passing away the time. Worse still is Faruk's grandmother, being and frail. There is nothing that she can look forward to at her age, except to be with his grandson, Faruk.
The film is called THE WHITE FORTRESS because it is the setting of Mona's fairy tale land where the valley is gold and full of cows and crops, with the river not stinking any more. The couple sit on the ruins of a fortress on the top of a hill imagining themselves sitting on THE WHITE FORTRESS of the past when the glory days were. The setting reminds the people of the better times Sarajevo was in the past.
Director Drljaca directs his film without over-dramatizing situations or cheap theatrics. His film is a slow moving one, full of keen observations, both of his characters and the current situations. It is clear that the film is an earnest work reflecting his love for his birth country.
THE WHTE FORTRESS has a theatrical opening Wednesday March 16ht at the TIFF Bell Lightbox.
Trailer: