FILM REVIEWS:
AGENT GAME (USA 2022) **
Directed by Grant S. Johnson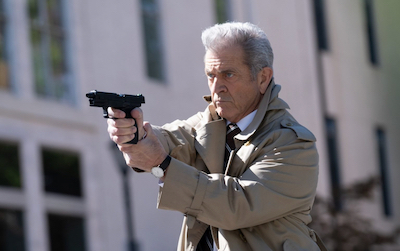 AGENT GAME, directed by Grant S. Johnson and written by Mike Langer and Tyler W. Konney, is a spy thriller action film with lots of gunfights and killings with little suspense or mystery.
CIA officer Harris (Dermot Mulroney) is involved in missions to detain and relocate foreign nationals for interrogation. When Harris' superior (Jason Isaacs) is murdered, he finds himself the scapegoat for the killing of a detainee (Barkhad Abdi) and must run from a team of operatives sent to bring him in (Adan Canto, Katie Cassidy, Rhys Coiro), led by a ruthless double agent (Annie Ilonzeh).
It is always good to see race diversity in films. The film delivers in this respect. IN AGENT GAME, a familiar face in a supporting role belongs to Barkhad Abdi (he hs amimportant line of dialogue inthe film, that should go remembered), immediately recognizable in the Tom Hanks 2003 film CAPTAIN PHILLIPS, Abdi playing Somalian pirate, which won him the BAFTA award for Best Supporting Actor and also an Oscar nomination for that category. Truth be told, Abdi is actually residing in the United States, initially residing in a small Somali community in the U.S before moving out of that community. Unfortunately his character is done away with, early in the film, but it is always good to watch Abdi and other actors like him, make it in the industry. The film boasts two veteran stars, Mel Gibson and Dermot Mulroney who play the lead villain and good guy respectively. They deliver strong performances showin their commitment to the film.
For an action film, there are too many characters - in fact an almost equal number of bad guys and good guys. It is an all out free-for -all fight at the film's end, making it a bit of a mess of a simple premise.It takes quite a while for the story to establish who is who and who the bad and good guys are, making the film a bit confusing to follow initially. As the title implies, it is like a big game that is played with the agents as pawns of the system. With too many characters to care for and many dispensable, there is little for the audience to care for.
AGENT GAME ends up a film as dispensable as its agents.
Trailer:
AMBULANCE (USA 2022) **
Directed by Michael Bay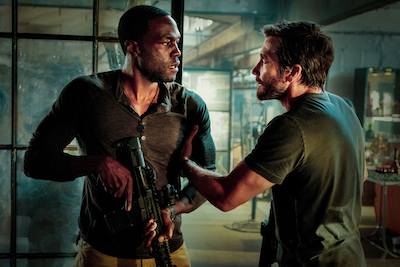 Michael Bay goes all out full throttle in his latest blockbuster action flick AMBULANCE that should please his action fans. Action-wise, AMBULANCE succeeds, never mind the poor chemistry of the actors, the overladen plot containing too many characters, the inane dialogue not to mention its running time of over two hours. AMBULANCE is based on the 2005 Danish film of the same name directed by Laurits Munch-Petersen and Lars Andreas Pedersen.
The plot involves a bank heist gone wrong. Two brothers take an injured cop and an EMT hostage in an ambulance pursued by the law across Los Angeles.
The film opens with a shot of a black and hispanic kid. Diversified casting and cast includes a black lead, a hispanic female protagonist and a gay FBI agent. William Sharp (Yahya Abdul-Mateen II), a war veteran who needs money for his wife's medical bills, approaches his adoptive brother Danny (Jake Gyllenhaal) to help him out. However, Danny is a bank thief on the verge of a big heist, following the footsteps of their father, a renowned bank robber that caused a rift between the two brothers. Danny unconvincingly convinces Will, reason being that he can drive, to help on the job, which will set them up for life. Will reluctantly agrees but gets more than he signed up for when the heist goes wrong after a beat cop gets shot. Surrounded by law enforcement officers, the brothers are forced to hijack an ambulance with an EMT, Cam Thompson (Eiza Gonzalez) and the severely injured cop. Besides trying to escape, the brothers now need to keep their hostages alive. These are not the only characters in the film. There is a gay FBI agent Anson Clark (Keir O'Donnell), Captain Monroe (Garret Dillahunt), a tough op with his dog, the two officers who first witness the heist (Jackosn White and Cedric Sanders), EMT Scott(Colin Woodell) and crazed hood nicknamed Mel Gibson (Devan Chandler Long). It is not difficult to guess who will or will not survive the big shoot outs and car crashes. The gay agent and black cop make it while the white know-it-all captain does not.
Bay films his action pieces with break-neck speed with lots of close-ups and hand held camera, enough to give many a headache. Bay's camera is fond of sweeping up and down, even with a rotating full circle vertically, for the simple reason to show his flair for fast moving action. There are dozens of cars smashed in the process and it is a wonder the film only cost $40million to make, considering all the action set-pieces, pyrotechnics and special effects.
Bay unashamedly references two of his other films he directed. One Sean Connery quote is taken and for those who cannot identify the quote or film. It is mentioned that the quote is taken out of THE ROCK. BAD BOYS is also referenced in another scene (We are not boys, just good guys trying to get home) the two BAD BOYS films also directed by Bay.
AMBULANCE could have been a shorter, smarter and more polished action blockbuster but Michael Bay is Michael Bay who is difficult to control given his success in past blockbusters.
Trailer:
ISLANDS (Canada 2021) ***1/2
Directed by Martin Edralin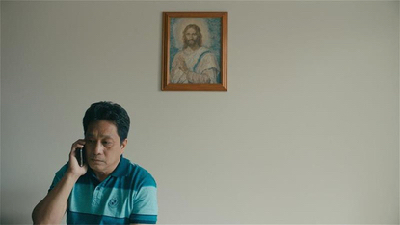 Everyone loves a movie with heart. ISLANDS has heart as is most noticeable from the details from each scene. This can be first observed in the 15 minutes of director Edralin's impressive study on Filipino immigrants living 'comfortably' in Canada.
The family loves Canada. The family of three consists of a middle -aged unmarried son, Joshua living with his parents, a still functioning and sometimes dominant yet caring mother and frail father. In the beginning scene, the father has to be bathed by the mother, though he seems agile enough to be able to get his own breakfast items in the kitchen. The father drinks from a mug with the Canadian maple leaf printed in red on it. In the son's car, there is a maple tree air freshener. Another scene has Asians singing the Canadian National anthem before dance classes start. The three form a somewhat happy family. It is hard to dislike a film like this, that pays tribute to the country where the film is from and one that shows the sincerity of a family. Yet, so far, the film is yet to go through its introduction and the main story at hand is yet to unfold.
ISLANDS turns out to be about Joshua. Joshua has formed an island of his own as many people do. ISLANDS is the obvious metaphor in the film. Writer/director Erdalin follows Joshua as his protagonist and he quits his University janitorial job in order to care for his frail father who suffers from dementia after his mother passes away without warning. Joshua is a kind soul who prays every night. He prays for his family and himself and is shown to be a caring person, now tested to the fullest with the responsibility of caring for his father. Into the picture, arrives from Kuwait, his cousin, who brings much needed life into the situation.
ISLANDS deals with the problem many families go through - the need to care for an ageing parent. For Asian families in particular, the care lies on the adult children who seldom put their parents into a nursing home.
ISLANDS can be looked upon as a companion piece to the much lauded American film MINARI. MIRANI shows the difficulties of starting up, from the point of view of an immigrant family. ISLANDS, on the other hand, shows an immigrant family (from the Philippines) who have settled in Canada, but facing a different set of problems. ISLANDS is more real than MINARY which had to go through extensive theatrics like the burning barn at the end in order to make a point. Like MINARI, most of the dialogue is not in English but in a Filipino dialect.
The film is a tribute to the many Joshua's around the world. They are good men, shy and perhaps like the one in the film, one who has never been loved. Joshua's whole life has been dedicated to his family, though his parents hardly ever praise him.
ISLANDS is a quietly charming indie film that delivers a message in a quaint and quiet way. And often, messages are best conveyed in this manner.
MINAMATA (USA 2020) ***1/2
Directed by Andrew Levitas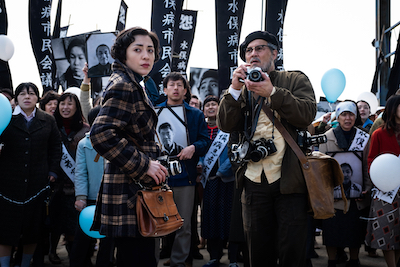 It is not only encouraging but exciting to see a film celebrity go all out on a mission to do some change in the world by exposing a big wrong. MINAMATA stars Johnny Depp (who also produced the film) as Eugene Smith, an American photographer who documented the effects of mercury poisoning on the citizens of Minamata, Kumamoto, Japan. The film is based on the book of the same name by Aileen Mioko Smith and Eugene Smith.
Many have heard of mercury poisoning. MINAMATA, the film tells the story of one such major incident. Audiences get to see first hand, through the story the harmful and disastrous effects of mercury the company Cisso discharged through an effluent containing methyl mercury from their plant in Minamata. Methyl mercury contaminated Minamata Bay and accumulated in fish, which were then consumed by the local population.
In 1971, the American photographer W. Eugene Smith (Depp) is famous for his numerous "photographic essays" published in Life, but he becomes a recluse. While on a separate assignment, a passionate Japanese translator, Aileen (Minami) , urges Smith to visit Minamata to photograph and document the disease. Smith is finally convinced to do his best to unmask the devastating effects of corporate greed, an accomplice of the local police and government.
Smith travels to Minamata in Japan. This disease is caused by industrial pollution linked to the activities of the chemical company Cisso. Armed with only his Minolta camera against a powerful company, Smith must win the trust of the broken community and find the images that will bring this story to the world. While there, Smith becomes the victim of severe reprisals. He is therefore urgently repatriated to the United States. However, this report makes him an icon of photojournalism.
Smith has been described by The Observer as "perhaps the single most important American photographer in the development of the editorial photo essay". Smith's boss, Robert Hayes (Bill Nighy) in the film's beginning describes him however, as the most impossible photographer in the world to work with. Depp plays him the difficult person he is, always a problem with his boss, Hayes and always drinking and with a cigarette in his mouth. Depp dons a beard and has make-up and hair that resembles Smith from photographs.
Director Levitas keeps the film's subject focussed on the Matamata contamination rather than the person of Eugene Smith. As such, most of Smith's background is omitted in the film, such as his early marriage to his wife Lee.
Films like MINAMATA just like films about activists exposing company evils fall into the trap of putting their activists up on a pedestal. This trap is thankfully avoided with emphasis observed in Smith's vices of drink and ego. He aids the permanent emphasis ill like giving his expensive camera to a young girl eager to learn about photography or taking care of an ill young girl who can hardly feed herself. However it is ultimately the images, as disturbing that they are, that move the audience. The images provided by Smith in the film via director Levitas, undoubtedly inspired by the real-life Smith's, are the most disturbing and effective.
The same question always arises with regards to crimes committed by large conglomerates against the environment or humanity. All they want is to show profits to the shareholders regardless of consequences. In the case of the company Cisso, even if they are shown proof of the damage their factories cause, what would make them correct their ways? A fellow photographer says: "Maybe if we make a voice loud enough, they won't have a choice.
MINAMATA achieves its goal of exposing Cisso's crime of mercury poisoning - a story that needs to be told. The film deserves to be seen for this reason.
Trailer:
MOTHERING SUNDAY (UK 2021) ****
Directed by Eva Husson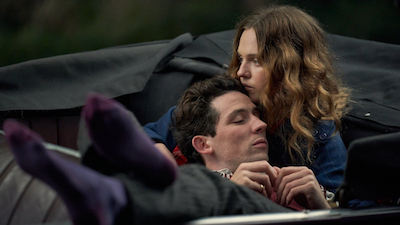 MOTHERING SUNDAY belongs to the genre of period English romance that is meticulously filmed, wonderfully performed with great pains put into its wardrobe, set decoration and production design. Though a little slow paced, MOTHERING SUNDAY more than makes up for it, allowing the audience to appreciate and not miss anything that transpires on screen. From the lush green English countryside to the magnificent country houses to the interior decorations, props (vintage cars, vintage telephones) and polished dialogue, there is much to observe and celebrate in being English despite the characters living in absolutely strict conditions, forced to adhere to the social mores of the times.
MOTHERING SUNDAY is based on the book of the same name by English author Graham Swift, which won the Hawthornden Prize. Some of Swift's books have been filmed, including Waterland (1992), Shuttlecock (1993) and Last Orders (1996). The film is more than a worthy adaptation and boasts heavyweights like Glenda Jackson, Olivia Coleman and Colin Firth. Glenda Jackson gets to play the older Jane Fairchild, though she is also seen briefly during the first part of the film, as director Husson plays with non-chronological clips. Watching Glenda Jackson again on the screen is just plain wonderful. Husson's frequent use of non-chronological segments can be a little disorienting though the tactic forces her audience to pay attention constantly during the film.
The story is set on March 30, 1924 — the date Mothering Sunday occurred that year. Mothering Sunday is also called Mid-Lent Sunday or Refreshment Sunday, a day of respite from fasting halfway through the penitential season of Lent. Its association with mothering originates in the texts read during the Mass in the Middle Ages, appearing in the lectionary in sources as old as the Murbach lectionary from the 8th century. The voiceover informs the audience that the Nivens, an upper class family, had lost both their children in World War I. In their employ is a young maid, Jane Fairchild (Odessa Young). When the family goes out that Sunday, Jane goes to meet her lover, Paul Sheringham (Josh O'Connor), who she has been having an illicit affair with for seven years and who is about to be married in a few weeks to a rich young woman in his social circle, Emma Hobday. Director Husson does not skimp on the sex or nude scenes, tastefully yet erotically filmed. which is totally necessary in the context in order to show the passion between Jane and Paul.
Great care and effort can be observed in the details. The English accents of the hired service and the higher society employers can be heard to be different. The way they dress (or undress) is another example of the great care seen in the film.
But there is trouble in Jane's paradise. For one, Paul is to be married to Emma, one in his same higher social circle. But worse, Jane soon learns that Paul has died from a car accident. This is a story about Jane and what happens to her - a timely story, though set in the past of a feminine left to her won devices, a term the Nivens are fond of using.
Director Husson proves herself worthy of her material and is definitely a talent to watch. She is a French scriptwriter and director who rated in features before making short films as well as her first feature BANG GANG and GIRLS IN THE SUN before MOTHERING SUNDAY.
MOTHERING SUNDAY is a thoroughly accomplished and meticulously crafted English period piece that one wishes there should be more of.
Trailer:
NIGHT BLOOMS (Canada 2020) ***1/2
Directed by Stephanie Joline

A small indie production from the Canadian province of Nova Scotia, NIGHT BLOOMS captures a certain spirit, reflected by the spirit of its two main teen school girl protagonists as they progress through puberty while forming ideas on the world and their ambitions in life.
"I cannot wait to get out of here." says one, which reflects how many in the small town feels. For many, family life does not matter much either. No money, not much love, single parenting all help little to elevate the woes of the youth.
The film is a coming-of-age story of 17-year old Carly (Jessica Clement). Like all 17-year olds in small towns, the world is a small and an enclosed one, bound by school, home and a little ambition. Carly lives with her single mother, and is frustrated that her absent father has never bothered to connect with her. Carly does drugs with her schoolmates and hangs out a lot with her best friend, Laura (Alexandra McDonald). Carly's ambition is to be in a band with Laura, which they agree to name 'Burnt Angel'. This world, small as it may seem to the audience but it is the only one Carly knows. But it soon comes crashing down as she is forced to face the consequence of her actions. Carly starts hitting on Laura's dad (Nick Stahl).
The film unfolds at a leisurely pace - not a slow-burn, but at a speed that allows the story's characters as well as the incidents to develop credibly. The small town mentality and claustrophobic surroundings can also be felt. The coming-of-age of the lead character is not forced, trivialized or dramatized unnecessarily - all good things. And the story builds effectively to an explosive climax.
Nick Stahl (IN THE BEDROOM) is the most famous actor in the cast who plays Laura's father, Wayne, who has an affair with her daughter's classmate, resulting in an explosive situation when she becomes infatuated with him and will not let him go. The news of the affair eventually comes to light with disastrous effect.
Responsibility is far from the minds of the school girls. When Carly gets arrested in school, as she is handcuffed and escorted down the school hall, the bell rings and everyone is in the hallway witnessing the arrest. All she can do is smile smugly, as if proud to be the source of attention of all her schoolmates.
The film contains a few confrontational scenes - Carly and Wayne and Cary and Laura's mother. The scenes are executed with restraint with little screaming or shouting but have greater effect, making the movie more credible and gut wrenching while lifting this coming-of-age story above the typical ones.
These are rebellious independent girls. Do their mothers care at all? In one scene, the mother of one of them suddenly discovers her daughter's ears had been pierced. "Did you use rubbing alcohol?" She asks. "Then they will get infected. Have fun!" comes the response.
NIGHT BLOOMS showcases a lot of fresh talent. Both writer/director Joline and her young star Clement shine and it will be an eager wait for their talent to bloom.
Trailer:
LES OLYMPIADES (PARIS, 13TH DISTRICT) (France 2021) ***
Directed by Jacques Audiard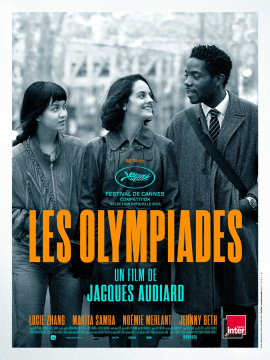 These two weeks sees the release of two French films by two French Masters, a rare treat for French film aficionados like myself. Last week saw the opening of Francois Ozon's excellent EVERYTHING WENT FINE and this week Jacques Audiard's PARIS, 13TH DISTRICT. Both are arresting films and worth a look. If only there would be more French films commercially released in Canada.
The film is based on the graphic novels of American cartoonist Adrian Tomine.
French writer/director Jacques Audiard is a talent to be reckoned with ever since he helmed one of the most outstanding French prison dramas UN PROPHET. He also made the recent THE SISTERS BROTHERS, a flop at the box-office though that was quite a good, as well as the Tamil film DHEEPAN. His latest film, PARIS, 13TH DISTRICT (the English title) is a film totally different from his other works, a film about sexually active youth living in the 13th arrondissement of Paris. The film reminds one of the free love practiced by the teens in the Eric Rohmer films wth one difference - Audiard's film is full of sex.
To examine the film on its own, one must give director Audiard credit for making a film completely different from his previous body of work. It shows an artist willing to experiment and try alternative art, a good thing for sure. His best work was UN PROPHET, a prison drama that demonstrated the rise of a petty criminal to master criminal, attaining his full criminal potential. Audiard managed to get the audience to root for the monstrous protagonist. In PARIS, 13th DISTRICT, it is more difficult to root for his 3 characters. They are less likeable, though there are segments in the film that make them more likeable. Despite Emilie's totally unethical sexual practices, she does care r her grandmother who suffers from Alzheimer's and living in a home. Then, Emilie gets someone else to visit her grandmother to pretend to be herself for a reason unexplained. It is also difficult to identify with her black roommate, Camille who is all over the place with regards to his career. The third character is Nora, mistaken for the cam prom star, Amber Sweet because she looks like her when she wears a blond wig. This is a lady who takes control of both the problem and her life. The best thing about the plot is the three characters coming together as a story.
This is a story of three people who are surrounded by many. Emilie is constantly surfing for dates on a dating app and full of family responsibility. Her black roommate, Camille, has plenty of student acquaintances from his teaching profession. He is always invited to parties. Nora frequents clubs. Yet, each is so alone without any emotional connection to any other.
One has to give director Audiard credit for making a compelling film about characters that his audience do not really care for. This is quite a feat. One cannot help but eagerly anticipate what will happen to each person.
The compelling PARIS, 13TH DISTRICT is not Audiard at his best, but not for want of trying.
Trailer:
POPPY FIELD (Romania 2020) ***1/2
Directed by Eugen Jebeleanu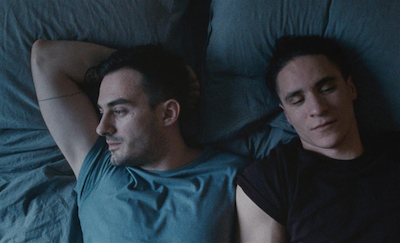 Planning to spend a romantic weekend with his long-distance boyfriend, Christi's tender reunion is cut short when he is called in to handle a crisis at work. Christi is a member of the Bucharest police force, and his unit is sent to quell a protest at a local movie theatre, where a far-right group has interrupted the screening of a queer film. As tensions between the homophobic protesters and the audience mount, Christi, closeted to his fellow officers, begins to spiral out of control when he spots a former fling in the crowd. A violent outburst threatens to expose Christi's secret and forces him to confront the contradictions between his personal and professional life.
Despite the serious nature of it subject, director Jebeleanu injects moment of humour and tenderness. One is Christi's boyfriend in a quieter meant telling him the story of his grandmother, what a great cook she is. She puts a stale loaf into a cup, adds milk and lots of sugar. Diabetes in a cup. Though not seemingly funny, the situation in which the story is told brings on the laughs. When accused and told that he is spoilt, Cristi asks what does it mean. It means: "You are something ok?'' "I guess I am something OK," comes the reply. The film contains another story of the old lady neighbour's sickly looking dog.
This gay film does not contain any sex scenes but neither can it be said that it is not sexy or erotic. The sight of the two men first seen kissing passionately in the elevator is followed by the two men nude in the shower, but with no genitals shown.
On the side, the film takes a look at the Bucharest police force, which is similar to those of many countries. The police look after each other, whether they are right or wrong, for better or for worse, as shown in the climatic segment, indicating other problems at hand in society. Christi comes out of the situation unscathed, as his stars are aligned as his colleague tells him. But Christi is still troubled, as he tells his colleague to drop him off so that he can take a quiet walk alone.
POPPY FIELD is deeply personal examination of the effects of what unacceptability can do to a society, but more important, to the individual. Director Jebeleanu and scriptwriter Ioana Moraru uses the two simple set ups of Christi's reunion with his Paris boyfriend at his flat and the gay protest at a local movie theatre to make his point. The matter is complicated by the nature of Christi's character, as his work experience in the place force cues him to be impatient, violent and controlling. What looks like an effortless film is in reality a disturbing, personal and effective study of society and the individual. POPPLY LAND is a remarkable piece of work, taking a smile premise and creating a complex topic with no answers in this worthy entry into the Romanian new Wave.
The film is shot in Romanian, with a little English and French, as Christi's boyfriend is from Paris. POPPY FIELD premiers via Virtual Cinema, VOD and Digital on April the 8th.
Trailer:
RIDE TILL I DIE (USA 2021) ***1/2
Directed by Tony Rammos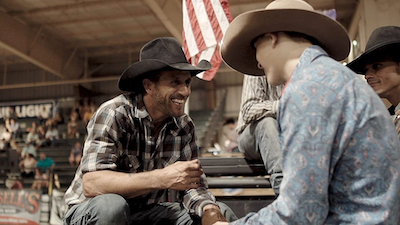 RIDE TILL I DIE is quite the ominous title for a film but this gut-wrenching documentary of a bull rider and his extreme dangerous sport deserves such a title. For 8 seconds at a time, a bull rider rides his bull at a rodeo competition, the most dangerous sport on the planet. The doc follows closely the life of one such bull rider, Ricky Ringer (him playing himself) as he navigates his troubled life in the sport.
The film opens with Ricky getting on a bull. Director Rammos shows how it is done. A rope goes around Ricky's body and his hand grips the circular opening of the rope. The gate is opened and Ricky rides the bull. Born and raised in Davie, Florida, Ricky Ringer comes from a troubled past. His father walked out on his family and Ricky was on his own at 15 years old, but he had already found solace in bull riding. The eight-second duel of man versus beast was his emancipation and Ricky was successful early and often. Prize money earned in the arena was adding up and a chance to make the pro circuit was in sight. Ricky survived not from pay check to paycheck but from prize money to prize money. But as the film informs, much of the money also goes to paying the hospital bills.
But despite all his success, Ricky could never win a championship and with the rigorous schedule came a heavy price. Ricky suffered many injuries, including a horrific incident where his face was crushed in 2010 which nearly ended his career. Now at age 39, Ricky realizes his time is running out. His body is constantly in pain as over two decades of bull riding has taken its toll. Despite all the broken bones and permanent scars - there is one scene where he proudly describes each one of them - Ricky keeps riding, and with his son, Lil' Ricky, and fellow rider Ernie Courson by his side, Ricky is determined to chase that elusive title or die trying. The doc also plays as a family drama. His son is as rebellious as his father and though each is an expert at bull riding, each often offering tips to the other, it is an estranged relationship. Lil' Ricky eventually leaves home to set out on his own.
Director Rammos repeats most of the riding scenes so that these are mostly shown twice. This is necessary as the action that takes place occurs so fast, once misses most of it the first time around. Director Rammos also makes Ricky's story a very personal one. His marriage to his wife, Mary, plays out like the perfect love story. Both met during a show and Mary always supports her husband. There are also interviews with Ricky's mother, who never supported him. She regrets this.
RIDE TILL I DIE is an exciting documentary that covers a subject many know little about. It is definitely an informative, exciting and entertaining film.
Trailer:
RISE OF THE FOOTSOLDIER: ORIGINS (UK 2021) ***
Directed by Nick Nevern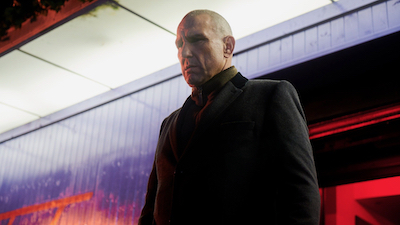 RISE OF THE FOOTSOLDIER is a British crime and gangster film franchise written and directed by Julian Gilbey, Will Gilbey, Ricci Harnett, Zackary Adler, Andrew Loveday and Nick Nevern. The franchise and its first two films are based on true events featured in the autobiography of Inter City Firm hooligan turned gangster Carlton Leach (Ricci Harnett) before later films focus on the lives of drug dealers Pat Tate (Craig Fairbrass) and Tony Tucker (Terry Stone) who were gunned down in the Rettendon murders in 1995.
RISE OF THE FOOTSOLDIER: ORIGINS showcases the story of how Tucker, Rolfie, and Pat Tate unite to form their own firm. Ultra violent but true events!
The film opens with the former British Prime Minister, Margaret Thatcher speaking to the Brits about taking the Falklands back. The audience then sees a plane load of soldiers returning with a soldier. Tony Tucker singled out. Tucker has no one to go back to. The story follows the down-on-his-luck Tony Tucker as he first lands a job as a nightclub doorman after saving the owner's grandson. Tucker then does whatever it takes to rise to the top of the game. Teaming up with Essex heavyweight Bernard O'Mahoney at the height of the 1980s rave scene, Tucker could do no wrong. Director Nevern has the audience rooting for Tucker, whose desire to better himself, financially and sexually, regardless of consequences sees him eventually joining forces with Pat Tate and Craig Rolfe to capitalize on the drug-boom.
RISE OF THE FOOTSOLDIER: ORIGINS tells the gangster story in an effective straight forward chronological order (which some critics, I am certain, might complain as uninspired), easy to follow, reminiscent of gangster/hooligan films like THE LONG GOOD FRIDAY, LOCK, STOCK AND TWO SMOKING BARRELS, SNATCH and THE FOOTBALL CLUB. The 1990 setting is accurately depicted, with the then new clubby songs that can be heard on the soundtrack. This is the time when drugs were just coming on to the scene and when DJ's were slowly but surely gaining in popularity. The clubbers in the film can still be seen carrying bottles of beer, something that is seldom seen in many after hours clubs these days where clubs make money by high entrance fees featuring evenings with world famous dj's instead of drink sales. One clear problem of the film is the age of the actors playing the roles of Tucker, Rolfie and Pat Tate. They are much older than their characters, though they do deliver spot-on performances. Terry Stone is 50, clearly not the age of a soldier returning from the Falklands War. Vinnie Jones, who starred in Guy Ritchie's gangster films plays a violent bouncer, Bernard in the film.
RISE OF THE FOOTSOLDIER: ORIGINS is available on VOD/Digital platforms on April 12.
Trailer: