THE BAD GUYS (USA 2022) ***1/2
Directed by Pierre Perifel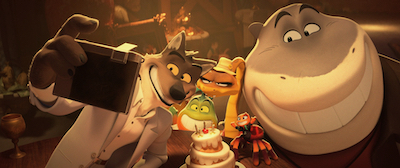 THE BAD GUYS is a 2022 American computer-animated crime comedy film produced by DreamWorks Animation and distributed by Universal Pictures. Animations from Dreamworks have always been exceptional, particularly in the 'funny' department, the SHREK franchise being the best and most successful of the lot. Dreamworks also helmed KUNG FU PANDA, MADAGASCAR, TROLLS and HOW TO TRAIN YOUR DRAGON. THE BAD GUYS is a crime comedy loosely based on the children's book series of the same name by Aaron Blabey, who served as an executive producer with Cohen and Patrick Hughes. This is French director (who had a passion for animation at a very young age) Pierre Perifel's animated directorial debut and more than a worthy one at that, making him a key talent to watch.
The film stars a gang of animal criminals led by Mr. Wolf (Academy Award Winner Sam Rockwell of THREE BILLBOARDS IN EBBING, MISSOURI). Other members include Mr. Snake (Marc Maron), Mr. Piranha (Anthony Ramos), Ms Tarantula (Awkwafina), and Mr. Shark (Craig Robinson). Rockwell is especially good, proving himself apt also at voice characterization but the prize for the best voice goes to Craig Robinson as Mr. Shark, also aided by his animated rotund figure and most hilarious lines. Villains in American crime pieces frequently don British accents. Actor/director Richard Ayoade is cast as the villain, only revealed near the end, the conniving Professor Rupert Marmalade IV. Mr. Wolf's romantic interest is Diane Foxington (Zazie Beetz).
Animation for families often includes either animals or funny looking monsters. THE BAD GUYS has a mix of animals and humans like the over-zealous Misty Luggins, a police officer (Emmy Winner Alex Borstein) with all the action taking place in California. The film pokes fun at charity award ceremonies indicating that often there is much more going on than meets the eye.
The Bad Guys, a gang of notorious, criminal animals known for their brazen thefts while eluding the authorities, attempt to steal the Golden Dolphin award from guinea pig philanthropist Professor Rupert Marmalade IV after being insulted by Governor Diane Foxington on-air. During the heist, things go wrong and not as planned. After the gang are exposed and arrested, Wolf then persuades Marmalade to instead attempt to reform them, planning to take advantage of the pretense to try to steal his award again. Marmalade invites the Bad Guys to his home, but his lessons prove a frustrating struggle with them seemingly unable to adapt to the concept of good behaviour. The story is nothing exceptional. In fact it is all predictable fare even the twists in the plot can be guessed. But it is the humour that saves the picture, as often humour and laughs cover a multiple of flaws. THE BAD GUYS is very funny, funnier than most animation features, the most laughs occurring at the imaginative failed heist of the Golden Dolphin. After being caught, the gang pretend to attempt to reform themselves as model citizens. However, their leader Mr. Wolf, unexpectedly finds himself genuinely drawn to changing his ways, even as a new villain has his own plans.
THE BAD GUYS has already been released in several international markets, starting on March 16, 2022 in Israel, and is scheduled to be released in the United States on April 22, in 2D and RealD 3D formats. It received generally positive reviews from critics and has already re-capped more than half of its modest $80 million budget. A solid animation bet for the family!
Trailer:
CHARLOTTE (Canada/France/Belgium 2021) ***1/2
Directed by Eric Warin and Tahir Rana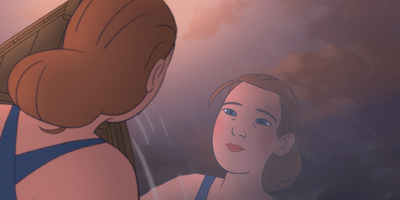 Done in glorious animation, CHARLOTTE is the remarkable true story of Charlotte Salomon, a German Jewish artist defying incredible odds to create a masterpiece during World War II. She died at the age of 26 in Auschwitz but left behind a legacy.
Charlotte Salomon is the enigmatic young German Jewish painter who created a sprawling masterpiece in the face of both private turmoil and sweeping global cataclysm. Born into a wealthy but troubled family in Berlin, Charlotte is preternaturally gifted, with a wild imagination and grand ambitions. In 1933, at age 16, she saw her dreams dashed. The antisemitic laws and violent mobs of the Nazis, who have seized power in Germany, force her out of school and later spur her to leave for the South of France, where, despite relative and temporary safety, life for Charlotte becomes increasingly difficult. Struggling to comprehend — and come to terms with — both a traumatic past and present, she sets out to paint her autobiography. Within 18 months, Charlotte completes nearly a thousand gouaches depicting the lives of everyone near and dear to her. The animation captures the period mood and despair of WWII persecution of the Jews. The animated rain, water and fire is also stunning as are the paintings seen in the film. A story that needs to be told, to remind the world of the horror of racism, non-tolerance and the danger of family pride. The film also incorporates the coming-of-age story of poor Charlotte - the doomed and gifted painter. The animation feature has a sombre tone from start to finish owing to its serious theme.
CHARLOTTE premiered last year at the Toronto International Film Festival.
Trailer: https://www.imdb.com/title/tt5806814/
HIT THE ROAD (Iran 2021) ***
Directed by Panah Panahi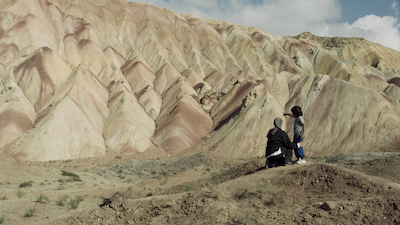 HIT THE ROAD is an Iranian film that arrives with accolades after winning Best Film at the London Film Festival. If the director's name Panahi sounds familiar, it is because Panah is the son of famed Iranian director Jafar Pnahi who was jailed in Iran and banned from making films for a period of 20 year. Yet Jafar made TAXI TEHRAN and THIS IS NOT A FILM, smuggling these films out of the country. Needless to say, Panah has gained lots of his experience from his father's filmmaking and HIT THE ROAD shows it. Like his father's films, HIT THE ROAD is simple, entertaining and full of meaning. But the film is not without flaws.
The film follows a family's road trip in a borrowed car. A chaotic, tender family is on a road trip across a rugged landscape, but to where? In the back seat, Dad (Hassan Madjooni) has a broken leg, but is it really broken? Mother (Pantea Panahiha) tries to laugh when she is not holding back tears. The kid (Rayan Sarlak) keeps exploding into choreographed car karaoke. All of them are fussing over the sick dog and getting on each others' nerves. Only the mysterious older brother (Amin Simiar) is quiet. There are no names given to the family members, indicating that what transpires could happen to any family. It is a sort of road trip from hell, in which no one seems to be having a good time. They argue about everything from the kid bringing his cell phone when told not to, to the mother confiscating it and hiding it under a rock. But all they have is each other and have to make the best of the situation.
Director Panahi keeps a lot of the film's story ambiguous. This can be quite frustrating. The audience learns through the family dialogue in the car, that the family has lost their house and borrowed this car. Borrowed the car from whom? And the reason for the family losing the house is never addressed. All that can be guessed, owing to the quiet nature of the driver and older son, is that he could have done soothing against the Iranian government - a government not known to be tolerant to criticism. Perhaps director Panahi is addressing his father's problems with the government being extra cautious so that he will not run into trouble himself.
It can be noticed that as the family in their vehicle comes closer to the border, the landscape becomes more inviting. There is more green and less desert, though director Panahi also celebrates the beauty of the desert at the film's beginning. This could be a sign that things are looking up for the family, but again Panahi keeps the film's ambiguity.
HIT THE ROAD, not a bad movie for a first time director, succeeds in demonstrating the family's odd dynamics. The actors portraying the family are convincing enough, and the actor playing the boy is annoyingly charming. If only the director would have made clearer what the family or film's aim is.
Trailer:
HOSTILE TERRITORY (The Orphan Train) (USA 2022) **
Directed by Brian Presley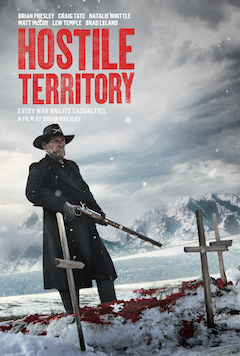 Written, directed and starring Brian Presley in the title role, HOSTILE COUNTRY is apache country. Inspired by true events, i.e. there was really in existence an orphan train though everything else about the story is likely concocted by Presley, HOSTILE TERRITORY tells the story of orphans taken by this train from one part of America to another while travelling through apache country. In this story, the train is accompanied by soldiers but the apache problem proves too much. This was the kind of cowboy and Indian western that film studios used to churn out in the past - the kind of racially prejudiced look and the American Indian. Presley's film aims at correcting this conception of the American Indian.
Presley plays a former P.O.W (of the civil war) Jack Calgrove. He is a respected hero and a great fighter. He leaves with his eldest son to fight in the war, leaving his wife, another son and two young daughters. The film is quick to inform by voiceover at the start that orphans were common as men would die in battle while the women succumb to disease. Just as the audience hears the voiceover, Calgrove is presumed dead while his wife dies of tuberculosis. The 3 children are orphaned and sent by the authorities to live with their brother, whois still in the army. They are sent in the orphan train where they meet other dingy looking orphans.
The film's action scenes are passable at best. The cinematography of the west with its snow and ice in presumably winter is nothing more than spectacular and is the best thing about the movie. Another scene worthy of mention is the horse round up segment. The route to heaven is paved with good intentions, but these good intentions mar Presley's movie. He resorts too often to the over-goodness of humans with the result that the film often feels sappy and unconvincing. On the orphan train, there are other orphans including a slightly challenged one and another who is given a doll by one of the Calgrove daughters for comfort. The brother takes in more orphans out of a good heart. He meets a salon girl just to talk to her which changes her heart (he is not wanting sex.) In her words, she seeks a higher purpose in human beings. Presley is also the perfect character taking in a black man and a black widow, the former who seems to have nothing else better to do than to help him find his children. The film also contains a segment in which Calgrove and his men slaughter a whole lot of Indians before he unbelievingly has a change of heart and makes peace with them. The film is also noticeably devoid of humour.
Everything turns out too perfect at the end. All prejudices are assumed solved including slavery and children united with their father. HOSTILE TERRITORY offers a skewed look at the west, trivialized by this fable of family reunion despite good intentions. The climatic scene where the black woman reunites and hugs her long lost daughter who also travelled the orphan train was the last straw.
Trailer:
INTERVENTION (UK 2021) **
Directed by Samesh Ramjattan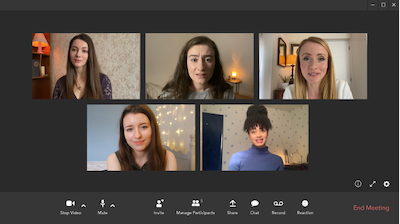 Written by Samesh Ramjattan & Tiffany Flynn and directed and produced by Ramjattan, INTERVENTION is a low budget economical budgeted psychological film that seems perfect to come out during the Pandemic where filming is extremely difficult when lockdowns, mask mandates and social distancing are enforced. INTERVENTION has two main sets - that in a small isolated room where the protagonist sleeps and the other is a Zoom meeting video screen.
When the film opens, the audience sees the protagonist Laura Green (Amber Doig-Thorne) speaking to the camera. She says; "I am you and goes on and on…" Though a bit puzzling at first as to what is happening the film soon makes clear that Laura is speaking to herself every morning to remind herself of who she is. After waking every morning, ssh has forgotten everything from the day before, including who she is. The sickness is described as a rare type of Amnesia (though doubtful that such a kind exists in reality but in the movie world) that causes her memories to be erased every night, once she goes to sleep. Each morning she must reacquaint herself with her own life, painstakingly piecing together fragments of her jagged past from cryptic clues on her computer.
The day in question is a special day. When her four friends video call her to celebrate her birthday, reminding her of a life she cannot recall, she becomes suspicious.
Credit to the writers, the premise is an interesting one and seems perfectly suited for a psychological horror flick. If Laura has amnesia and cannot remember, the grit question is whether the four are actually her friends or some conspirators. The next obvious question is whether it is actually a birthday or is it just a pretext for her conspirators to meet her. Laura is smart enough to realize the facts and question them. "How do I know that what you have been telling me are not all lies?" she questions them at one point. Laura even threatens to shit the Zoom video off. The corollary of all this is that the director is also playing with his audience as to what is happening on screen. Is Laura really having amnesia?. There is also the risk that an audience might be so frustrated with too many 'if's that he or she might shut down the movie and leave. Other questions arise as to the reason the friends cannot see her in person or to why she is confined in isolation. To the script and director's credit, the answer is kept to the very and with only few clues given during the film, such s Laura being attacked and raped. And again, it is Laura who is told this, which could be a lie.
There is little chemistry among the actors because they simply do not interact with each other. All the audience sees is their face on a Zoom screen. One big trouble with this Zoom centred film is that during this time of the film's release, the only world is fed up with the Pandemic and Zoom meetings at work or even socially. Watching a Zoom based film during these Pandemic times is just too trying and one needs a break from Zoom.
Trailer:
SEXUAL DRIVE (Japan 2021) ***
Directed by Kôta Yoshida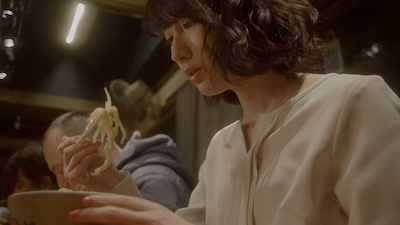 If one likes anthology films, SEXUAL DRIVE offers a first in three sexual vignettes about sex, sex, sex and food. Just like sex and eating that can get terribly messy, trying to sort out ones life, sexually can get equally complicated. Writer/director Yoshida attempts to tackle this difficult task of examination the lives of sexual deprived individuals and creates a somewhat intriguing film, if one can stomach his excesses.
The three vignettes not only share a common theme of food but the appearance of the same actor Tateto Serizawa playing an identical stranger who goes by the name of Kiru. This Kiru character suddenly appears in the lives of the main protagonist of the three stories to do a major upheaval.
SEXUAL DRIVE is an unconventional triptych - equal parts thriller, sex comedy, and gastronomy - following the seemingly unconnected lives of three people around Japan and their appetites, both culinary and carnal. Next, office worker Akane is recovering from driving-induced panic attacks. In the final third, elite advertising agent Ikeyama wants to end a relationship with his lover. Connecting all three is a shabby man who calls himself Kurita. He appears and presents each with a secret. Both suspicious and revolting, Kurita gradually reveals to each deep, mouth-watering truths regarding their sexual drive.
In the first story, designer Enatsu worries about his sexless marriage. Kiru in this story is a man suffering from a stroke who can barely walk. He suddenly appears at the door of a man whose wife has just gone to the hospital for an emergency work call. Kiru apologizes to the man for having an affair with his wife driving him crazy with a vivid description of his sexual encounters with his wife.
Next vignette has office worker Akane recovering from driving-induced panic attacks. She drives for the first time to buy 'mapu tofu' for her and her husband's dinner. She runs over Kiru who then confesses to her his desire for her ever since they have been in school. He insists she drive again to run him over once again.
In the third act and final third, elite advertising agent Ikeyama wants to end a relationship with his lover. She leaves her phone at a bar. The cell is found again by Kiru who talks to the agent describing vividly sex scenes involving the girl and himsef. This time the girl has left the bar and ordered ramen noodles with lots of back fat, which is the food of the day with regards to the third story.
Director Yoshida does not shoot any sexy scene or nudity but his film is no less erotic with him substituting closeups of the wife eating 'nattu' as a substitution for sex. He shows that eating can be just as erotic as the act of sex.
Of the three vignettes, it is difficult to say which one is best as they are all equally intriguing. Director Yoshida loves to keep an open ending of mystery to each of the stories, so it is left to the viewer to set the individual conclusion to the story.
SEXUAL DRIVE premiers vialVirtaul Cinema, VOD and Digital on April the 22nd.
Trailer:
UNPLUGGING (USA 2021) **
Directed by Debra Neil-Fisher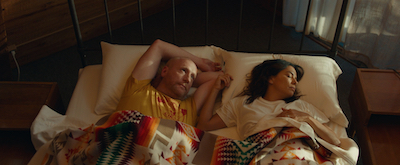 UNPLUGGING tells the story of a couple that needs to revive their marriage. The marriage is on the rocks for a variety of reasons, but not for infidelity. There are two main reasons. One is the wife's constant reliance on the internet during her cell phone, the need to text her work, her clients and her daughter. The other real reason is that she is now the breadwinner of the family, her husband now just making money from selling his delicious hot sauce on the internet. They decide to take a rustic getaway (but more of the hubby's idea) to perhaps revitalize their sex life. They leave their daughter with granny and take off for the country.
The film has a stronger feminine slant. The wife has a bigger role and say in the story and seems to make better decisions, not to mention that the film's director is female. It is encouraging to see more feminine films compared to the past.
UNPLUGGING refers to disconnection from the internet. In current times, this seems impossible. Just imagine not having one's cell phone or no computer for a day. Unimaginable? But humans survived without these means just twenty or so years ago. So, the couple is played by Eva Longoria who executively produced the film and Matt Walsh who co-wrote the script in an attempt to take a break from modern necessities. The film shows how difficult this task can be.
Dan and Jeanine Dewerson (Walsh and Longoria) thus embark on a rustic getaway with no cell service, Internet or social media in a romantic way to repair your marriage and sex life. It is mainly Dan's idea as he is not going to take it anymore and plans a quiet, relaxing weekend in a remote mountain town. The wife does not really know the extent at which her husband is up to. No kids, no phones, no social media, only clean fresh air and lots of romance. But what starts as the perfect weekend quickly becomes disastrous with unearthly encounters, strong edibles, cranky locals, and a pesky one-eyed dog. Without GPS to guide them or social media to stave off their boredom, Dan and Jeanine are forced to reconnect with each other.
The problem with this movie are the mixed messages sent to the audience as the film unfolds. Is this a horror film, a family drama or a romantic drama? At the one third mark, there are signs that UNPLUGGING could be a horror film. At a bar in the country, there are weird paintings and a sign that there could be supernatural forces that result in the loss of power and electricity. Drones are often seen in the sky prying, maybe a big brother observation. They meet a strange woman (Lea Thompson) who gives them a ride, a woman that seems totally out of it and a pure wacko. The couple could be in trouble with some TEXAS CHAINSAW MASSACRE locals. But the couple's arguments show that the film is moving from possible horror to a family drama. Amidst the trouble, quite a lot of humour is injected into the proceedings. Dan goes around with a tampon (that substitutes a bandage) on his head and the wacko woman has a raccoon pet named Lulu. The blend of humour and drama does not mix well.
The film finally tethers towards the predictable ending in which the couple come back together resolving their differences. The film could have been better but manages just to succeed as light drama instead of one about unplugging the internet that would make a stronger statement.