Two big films THE BLACK PHONE and ELVIS open this week.
FILM REVIEWS:
THE BLACK PHONE (USA 2021) ****
Directed by Scott Derrickson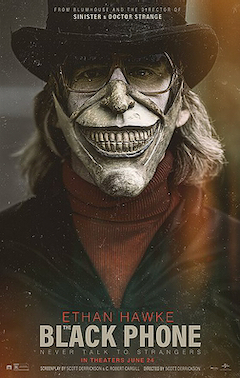 THE BLACK PHONE is the new 2021 American supernatural Blumhouse (GET OUT) horror film directed by Scott Derrickson (DELIVER US FROM EVIL, SINISTER, DOCTOR STRANGE) and written by Derrickson and C. Robert Cargill, who both produced with Jason Blum.
It is really tough to be a kid these days. The new horror film from Blumhouse dealing with kids more than illustrates the fact. The main protagonist, Finney is a gifted baseball player but he has toffee growing up issues like bullying, an abusive and alcoholic father, fitting in school, a lack of friends but mostly, if those problems are not enough, a child abductor into a neighbourhood known as 'the grabber'. The film is based on the short story of the same name by Joe Hill.
The film is set in Denver, CO, 1978. At a little league baseball game. Finney Blake (Mason Thames) is pitching, with his sister Gwen (Madeleine McGraw) cheering him on. Finney manages to throw two balls that get strikes, but on the third, another player, Bruce Yamada (Tristan Pravong), hits the ball and scores a home run. Bruce is abducted, followed by a local bully Moose (J Gavin Wilde) and a rare friend Robin (Miguel Cazarez Mora) who protect him from the bullies in school. Robin also encourages Finney to stand up for himself. There are two detectives (E Roger Mitchell and Troy Rudeseal) come to the school and speak to Gwen in the principal's office asGwen claims she has dreams relating to the missing children taken by The Grabber, but she cannot explain the meaning behind these dreams.
Finney is missing next. The Grabber (Ethan Hawke) brings Finney to his basement and keeps him prisoner. There is only one window but no way for anyone to hear him if he screams. The Grabber taunts Finney but assures him he's "special." On the wall is a black phone that is disconnected, which The Grabber claims to have heard ringing before. Later, the phone rings again, and Finney answers it. The callers on the phone are Bruce, Moose and Robin who advise Finney on various ways to possibly escape the grabber.
THE BLACK PHONE is a film about kids that are not for kids. The scares facing the kids are too frightening for those under 17. The kids swear and curse and they face adult issues like abuse and abduction Not only is THE BLACK PHONE not one's average horror movie, the film is full of surprises and shocks. There are also a few violent and ghastly scenes including one (to be revealed) that got the audience in the cinema all jumping out of their seats.
The only problem of the film is the credibility factor. The reason the back phone works and Finney can communicate with the dead boys and thither about his sister having those dreams cannot really be explained but just dumped into the story. These flaws can be blamed on the source material. But the film is well made enough that these flaws do not affect the hook factor of this horror film.
THE BLACK PHONE is a very scary, shocking horror film that should leave horror fans more than satisfied.
DUAL (USA/Finland 2021) ***
Directed by Riley Stearns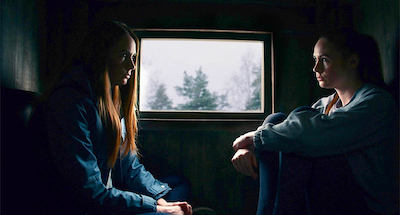 DUAL (French title: DUEL) contains a very fresh and intriguing premise and director Riley Stearns milks the story's mystery for all that it is worth.
The film opens in what appears to be a sort of gladiator show ( a duel) that is watched by a cheering crowd. A young man is deciding which one of a section of weapons he can use against an unseen foe. He eventually succumbs to the foe and kills him. The foe looks just like the winner (hence the film title of DUAL, and ironically a man fighting his dual self.). When the duel between the two look-alikes ends, the announcer is unable to tell whether it is the original or the double that had won the duel. It turns out it is the double.
Many films begin with themiddle of the story and then flashbacks to the incidents that have led to that state and then carries on. A few films carry this tactic a step further. An incident is shown at the beginning that makes little sense and it is after the film is done that the audience is able to figure out what that initial scene has to do with the movie. In the French Oscar Nominee for Best International Feature two years back, DEUX (THE TWO OF US), two girls play hide and seek and one ends up not able to find the other. It turns out that the one that is lost ends up having dementia and the two friends, later on in life, are lost from each other. DUAL falls in between these two films. DUAL deals with a protagonist called Sarah. Sarah suffers a terminal illness, decides to get a clone to take her place when she dies. The trouble is that she lives. She has to duel her double as the young man did at the beginning of the film. Director Stearns spends a lot of screen time on the creation of Sarah's double. He also goes through the process of the clone 's learning of the original's life and lifestyle. Sarah's clone thus learns learning about the kind of food Sarah like and dislike, even going into more personal stuff like sexual positions. One can see that the clone is made deliberately evil and unlikeable.
The law states that the only people that allow doubles are those that are dying. So, Sarah is not allowed to have a clone anymore.
The film, which is quite serious from start to finish, contains few humorous parts. One, strangely, is the scene when the doctor informs Sarah that she is in complete remission and that she will live. When questioned the doctor mentions the 2% margin of error of her original diagnosis.
On a more serious note, Sarah needs to get the double de-commissioned as a result of Sarah no longer dying. But the trouble is that the double has taken over. Sarah's lover, Peter, has fallen in love with Sarah's double instead of her.
Despite the cliched and predictable ending, DUAL works for the most part as a satisfactory and intriguing thriller.
Trailer:
ELVIS (USA/Australia 2022) ***
Directed by Baz Luhrmann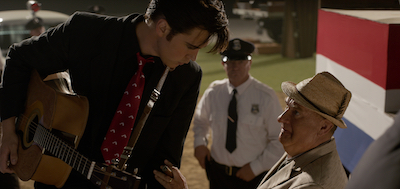 ELVIS is a musical biography of the most successful solo recording artist of all time - Elvis Presley. A word of caution in that the film is directed and co-written by Australian Baz Luhrmann, who rose to fame with his BALLROOM DANCING and got even more well known with ROMEO + JULIET and MOULIN ROUGE. Those who know Luhrmann, would know that ELVIS would not be the normal type of biography. And true to expectations, ELVIS is a super-lengthy 2 and three quarter hour long film with scenes that last no longer than 6 seconds without an edit, cut , fadeout or super-positioning. This is Luhrmann's style, so the result is a totally intense experience.
ELVIS opens with a kaleidoscope of colours which promises the audience a constantly changing landscape of colours, short takes, super positioning of images and dizzy movements. Director Luhrmann also tells multiple stories in his film. The film is not only the story of Elvis, his rise to fame from boy influenced by coloured music and dance to his pill-popping days in Las Vegas, but also the story of his crooked manager, Colonel Tom Parker played by Tom Hanks who delivers another Oscar worthy performance.
In ELVIS, there is only one 6-second sequence in which there is no cut, fade-out or edit. This is the scene when Elvis kisses his first girl, Priscilla for the first time- a segment that lasts more than 6 seconds. All other scenes are filled with edits. In fact, one can expect more than 2 dozen cuts or edits every second. For the youth of today where attention spans are short , this might be an ideal situation for this audience. Sitting through two and 3/4 hours of these edits is quite stressful. But this is Luhrmann - where a ferris wheel scene can morph into the middle of a spinning record.
The film's most entertaining moments are during the first half when Elvis rises to fame. His first performance on stage is nothing short of dazzling. His gyrating hips earned him the nickname Elvis the Pelvis. Another best film moment is B.B. King (Kelvin Harrison Jr.) doing his song and dance number. The film gets darker towards the end as Elvis descends into his drug use and whoring.
Director Luhrmann leaves his imprint on the biopic not only from the short takes and multiple edits but with his largely Australian cast in the majority of the film's supporting roles.
The film benefits from two superior performances from newcomer Austin Butler as Elvis and Tom Hanks, hardly recognizable from all the prosthetics done for his character of Elvis' manager Colonel Tom Parker, also suffering from ill-health.
Elvis premiered at several festivals, namely in France at the 2022 Cannes Film Festival on May 25, 2022, and is scheduled to be theatrically released by Warner Bros. Pictures in Australia on June 23, 2022, and in the United States on June 24, 2022. The film garners 3 stars for the sole reason that the film is absorbing from start to end.
Trailer:
FLUX GOURMET (UK/USA/Hungary 2022) ***
Directed by Peter Strickland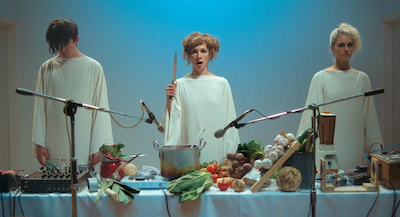 Peter Stickland's new feature delivers what is expected from this director, ell-known for weird horror movies. Peter Strickland is a British film director and screenwriter. He is best known for his films Berberian Sound Studio (2012), The Duke of Burgundy (2014) and In Fabric (2018).
His latest film combines food, horror in a supposedly idyllic community setting . A group of experimental performance artists, known for their process of "sonic catering" (where they extract disturbing sounds from various foods) take up residency at a remote artistic institution, run by an enigmatic director. There are lots of annoying strobing sounds - so beware and prepared to take in a lot of vocal abuse. An outsider is tasked with recording the day-to-day rituals of the group, only to discover that he is slowly becoming part of their collective himself.
A sonic collective who can't decide on a name takes up a residency at an institute devoted to culinary and alimentary performance. The members Elle di Elle, Billy Rubin and Lamina Propria are caught up in their own power struggles, only their dysfunctional dynamic is furthermore exacerbated when they have to answer to the institute's head, Jan Stevens. With the various rivalries unfolding, Stones, the Institute's 'dossierge' has to privately endure increasingly fraught stomach problems whilst documenting the collective's activities. Upon hearing of Stones's visits to the gastroenterologist, Dr Glock, Elle coerces him into her performances in a desperate bid for authenticity. The reluctant Stones puts up with the collective's plans to use his condition for their art whilst Jan Stevens goes to war with Elle over creative differences.
The film's story is rather muddled and does not really lead anywhere. This is a characteristic of a Strickland film. Strickland also wrote the script for the film.
One of the film's characters is a man with flatulence problems. He sees a doctor who quizzes him on his knowledge of Greek classics, (Director Strickland has Greek roots.) When the man reveals his ignorance on the matter, the doctor complains that worse than his ignorance is his job forcing him to look down the mouths of patients that just 'stink'. The humour is quite Kafka-ish. Kafka who has influenced Strickland's past works.
Strictly for Strickland fans and for those who can bear just plain odd films with a meandering narrative, FLUX GOURMET opens at the TIFF Bell Lightbox.
Trailer:
THE MAN FROM TORONTO (USA 2022) ***
Directed by Patrick Hughes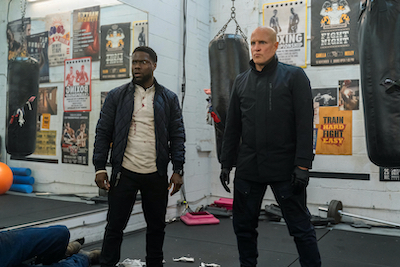 THE MAN FROM TORONTO, the new Netflix regional comedy shares the identical title as the 1933 American comedy directed by Sinclair Hill in which the rich widow Leila disguises herself as a maid and falls in love with her employer Fergus, a rich Canadian bachelor from Toronto. In this Netflix comedy, THE MAN FROM TORONTO is a world class assassin.
Odd enough, the film is set in cities like Miami and Puerto Rico with only a small part of it set in the city of Toronto. Despite the misleading title that the majority of the film might have been shot in in Toronto, but it is the lead killer that is known as THE MAN FROM TORONTO, he, often just referred to as Toronto. For the Toronto scene, the cities of Milton and Brampton stand in for Toronto. This is obvious from the shot of the familiar GO tarin stationing Brampton.
The plot for the new action-comedy flick follows Terry Jackson (played by Hart) who stumbles into the wrong Airbnb and is mistaken for a deadly assassin known as Randy aka "the man from Toronto" (played by Harrelson). The running joke of the film is that Terry did not change the toner of his printer so that the digit 6 and 8 could not be distinguished clearly from each other. Terry Jackson is trying to make money to pay his bills and credit card as well as to get on the good side of his wife. He is promoting his non-contact boxing. Audiences should note that non-contact boxing has already been used extensively in fitness clubs in cardio kick-box aerobics. (This reviewer used to lead these classes when younger.) With his life on the line and having to now pretend to be Randy, the two team up together for a wild ride which makes up for what might be termed low-brow comedy with overdone pyro-techniques, action set-prices and often infantile humour. What the bad guys are after and who is who in the story really does not matter. In fact, following the confusing plot might be a bit overwhelming. Just like the mistaken identity of Richard Thornhill (Cary Grant) in Hitchcock's masterpiece NORTH NY NORTHWEST, the details are not relevant to the film.
It is a rare combination having Woody Harrelson and Kevin Hart together in the same movie. But they make a good comic pair as evident in the many scenes they share together. I have two plans says Harrison to Hart at one point in the film: The first plan is to shut up and the second plant is to remember the first plan.
Hart is funny and he creates quiz many of the film's funniest parts. Hart hen mistaken to be the killer, often just pretends to be mean to scare his victims, though in rarity he is as scared as a mouse.
Nothing spectacular the film has to write home about, but still, it is an amusing non-thinking person's low brow comedy for all that it is worth.
Trailer:
OFFICIAL COMPETITION (COMPETENCIA OFICIAL) (Spain/Argentina 2021) ****
Directed by Mariano Cohn and Gaston Duprat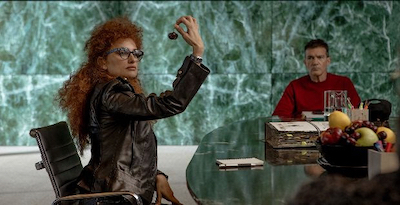 Making a movie about making movies can be tricky. But many directors have done their best work in this genre from Francois Truffaut (LA NUIT AMERICAINE; DAY FOR NIGHT) to Federico Fellini's (8 1/2) and even to the recent acclaimed THE SOUVENIR and THE SOUVENIR II by Joanna Hogg. This latest entry from Spain OFFICIAL COMPETITION does not reach the dizzy genius of those films, but the film is often hilarious while looking at the eccentricity and egos of a film's director and actors, wonderfully overplayed by Penelope Cruz, Antonio Banderas and Oscar Martinez. Throwing away subtlety and replacing the film with over-the-top set pieces that reflect the film industry, this satire undoubtedly has many brilliant moments.
The film opens with an extensive sequence with an elderly gentleman who has achieved financial status in life. Don Umberto Suarez (Jose Luis Gomez) is a wealthy pharmaceutical businessman, as he pursues the many gifts that have arrived for his 80th birthday. What he wishes to be remembered and the best way, according to his 'theory', is to make a prize winning film hiring the best film director and actors. In this way, he thinks he will be remembered forever. He decides to finance a ' great' movie with a great director and great actors. He knows nothing about filmmaking. The result is a great catastrophe.
Into the picture comes the most eccentric but prize winning film director Lola Cuevas (Cruz). Her character has already won the Cannes' Palme d'Or. Suarez has paid a small fortune for the rights of a novel to be made into film but Lola will obviously use her own adaptation, which means that she will use very little from the book. The best actors must be hired. Unfortunately these two actors hate each other. "Will the book be even recognizable?" Suarez asks her. Astro Felix Rivero (Banderas) has a completely different personality from his co-star Ivan Torres (Martinez). The two actors play feuding brothers Pedro and Manuel, one sending the other to serve years in jail for a drunken driving incident that killed their parents. What has been described offers plenty of opportunities for satire, which can be totally hilarious.
Director Lola has her own crazy ideas for rehearsals and getting her two actors connected. So maddening and ridiculous are the situations that she puts Ivan and Felix in, that Felix calls he a fucking bitch. During one crazy exercise, the two men are bound by tape teeth while they witness their wards destroyed, Cruz steals the show, donning huge fizz wigs while demonstrating her lesbian skills at making out.
Another great rehearsal scene has Lola forcing her two actors to say their lines while standing under a huge rock held up by a crane. When they finish, it is revealed that the rock is a light prop and the crane is just used to fool the actors. When Felix goes to play with he 'light' prop, Ivan comments that Felix is a fucking asshole.
How will these three get along? Well, they don't. OFFICIAL COMPETITION may very well be the most hilarious satire made on the making of a film.
REVEALER (USA 2021) ***
Directed by Luke Boyce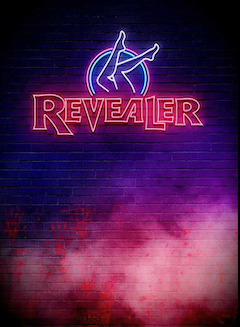 Horror films have almost exhausted all avenues for monsters and scary scenarios for damsels in distress. Coming up with something new seems almost an impossibility. In the new Shudder Streaming Service's REVEALER, an apocalyptic monster is pitted against two ladies who have issues with each other. Their different outlooks on life make for good comedy as well as drama which the two writers, Tim Seeley (Hack/Slash, Revival) and Michael Moreci (Barbaric, The Plot) famed for their comic material have utilized well. Despite a few cliches in the script, as well as the scares that happen in the dark, credit must be given to the two writers and director for trying. The setting is an apocalyptic planet as what would be expected during the second coming Christ as described and quoted from the Book of Revelations in the Bible.
What makes the film stand out is its production set of underground labyrinths. The lighting crew should be commended as well with scenes seen just barely sufficiently lit. The claustrophobic atmosphere indicating no way of escape is eminent throughout the film.
The film is called REVEALER because the protagonist is one who reveals, a stripper in a booth making just enough money to make ends meet. Cliched, yes, she is a stripper with a heart of gold. She looks after a boy David who called her auntie, who she had rescued. David is the only thing who gives her comfort that she is doing something good in the world. The stripper is called Angie Pittarelli (Caito Aase), a dancer at the Revealers Bookstore peep show booth, Things turns tragic when her annoying boss is suddenly killed in an uprising outside the store leaving her trapped in the booth, unable to escape. Soon she learns that hiding out in the booth next to hers is none other than Sally Mewbourne (Shaina Schrooten), an overzealous religious protester that seems to get a kick out of regularly harassing Angie. The harassment is particularly funny, thanks to the writers, including a part when Angie is so upset she hits Sally in the thwart. Sally, who has superior knowledge of the Bible, particularly Revelations, is in a panic mode, claiming that the rapture has occurred and the apocalypse has begun. With nowhere left to turn, Angie and Sally must separate their differences and come together to fight this unknown evil, navigating the treacherous bootlegger tunnels below the store to survive the unthinkable.
Warning: the script contains lots of blasphemy that will surely infuriate Christians. Religious protestors and preachers are also targets in the film.
The film ends with the two girls leaving the underground and up back to the streets of the city. Whether the Second Coming Apocalypse has occurred is the ultimate question. Not to be revealed but the answer is identical to many of such films on the Second Coming of Christ.
REVEALER is fresh in terms of putting different cinematic elements together to effect a horror flick. The two actresses make solid chemistry and despite a few flaws, REVEALER manages to maintain attention for horror fans from start to end with its blend of horror and low-brow humour.
REVEALER premiered at Kansas City's Panic Fest, won Caito Aase the fest's Audience Award for Best Actress . The film opens exclusively on Shudder in the US, Canada, the United Kingdom, Ireland, Australia and New Zealand on Thursday, June 23.
Trailer:
Trailer:
THE RIGHTEOUS (Canada 2021)
(To be posted)
SLASH/BACK (Canada 2022) ***1/2
Directed by Nyla Innuksuk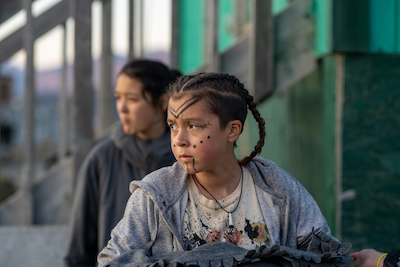 SLASH/BACK is an indigenous horror film set in the small village of Pangnirtung, Nunavut, Canada centred on a group of kids, mainly girls as they discover and deal with an alien invasion. The film occasionally has the feel of Joe Cornish's 2011 hit, ATTACK THE BLOCK in which a group of teens in the South London projects fight off an alien invasion. Though SLASH/BACK never reaches the heights of social commentary, horror and wicked comedy of Cornish's film, SLASH/BACK has its charm primarily being set in the indigenous Nunavut community that comes complete with stunning landscapes.
Pangnirtung (Pang, for short), Nunavut: Nestled among majestic mountains and sparkling fiords, the sleepy hamlet wakes up to a typical summer day. No school, no cool boys (well... except one), and 24-hour sunlight. But for Maika (Tasiana Shirley) and her ragtag friends (Alexis Vincent-Wolfe, Chelsea Pruksy and Nalajoss Ellsworth), the usual summer is suddenly not in the cards when they discover an alien invasion threatening their hometown.
Director Innuksuk knows how to play an audience. Everyone loves a film where a group has to put aside differences to band together to fight a major threat . In SLASH/BACK, two of the girls who are always arguing and fighting end up working together to fight the aliens.
Nothing much goes on in Pang till the aliens arrive. The kids are often bored. They are left to their own devices by their parents, thus creating a whole new world among themselves. Often when asked:' What's up?' The answer is "nothing". To them the population of Pang is "Who cares?' and a dream of one of them is to visit the city of Winnipeg.
The film is accurate in its treatment of the indigenous teenagers. Teenagers always want to be someone different, often processing shame in their indigenous roots and upbringing. Maika disses Inuit art, replies in English to her Inuktitut-speaking parents and questions her family's history as hunters. In one scene, she makes fun of a painting before finding out that it was painted by a local grandmother. Maika makes fun of her roots throughout the film but eventually the girls are forced to rely on their traditional survival skills to fight the aliens.
Director Innuksuk sneaks in social issues into the film as well. One interesting minor character introduced in the film is a joint smoking racist white cop. This cop proves that one can be racist even if one is a minority, in this case a white caucasian in an indigenous community. When he sees a bunch of kids, he goes up to them harassing and belittling them, achieving nothing except gaining disrespect till a native officer comes along and orders him to go away. She tells the boy to get his required motor vehicle helmet for safety reasons and the rest to go home for dinner. The scene shows police that care for the community will make the greatest community impact.
The film was beautifully shot by d.p. Guy Godfree (MAUDIE) on location in Pangnirtung which proves to be one of the most beautiful spots on the planet. The lighting is natural, with colours informed by the vibrant blue of the sky and ambers of the landscape. If one cannot get to Pangnirtung, watching the film is the next best thing and indeed, it is a rewarding and unforgettable experience captured on film.
There is a haunting score, typically horror movies and doused with indigenous fare. The original score is by The Hallucination and Michael Brook who worked with world renowned throat singer Tanya Tagaq.
SLASH/BACK is much better than the well known other 2019 indigenous horror film BLOOD QUANTUM. SLASH/BACK is entertaining, well made and fun to watch proving that the setting of a film does much more for a film than one featuring big stars.
Trailer: