ALONE TOGETHER (USA 2022) **
Directed by Katie Holmes
Review embargoed July 18th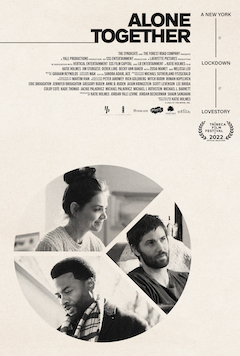 ALONE TOGETHER is a romantic drama about two individuals who are alone together as a direct result of the Covid-19 Pandemic. It is set in March of 2022 when the world was shutting down in lockdown state for the first time with unknowns of the disease and the spread at its height.
The trouble with films set during the Pandemic is that it was a really depressing time and no one wants to be reminded of the torture many went through in order to combat the spread of the disease, especially at the present when everything is beginning to open up for the very first time. Hopefully the Omicron virus in Asia will not result in lockdowns again in the west. ALONE TOGETHER will undoubtedly be a tough sell.
Going upstate for a short romantic getaway to escape the pandemic in New York City, food critic June's (Katie Holmes) plans go wrong from the start. Arriving at the AirBnb in advance of her boyfriend, John (Derek Luke), she is shocked to discover it has been double-booked by recently single Charlie (Jim Sturgess). When John decides to stay in the city to take care of his parents, June has to settle in for the long haul as she realizes that the initial two weeks of the pandemic might just drag on a little bit longer than expected. As spring begins to unfold around them, June and Charlie make the most of the sudden break in their routines and develop an unexpected intimacy as they bond over their goals, ambitions and, of course, relationships. Yes, they fall in love in what would be described as a very cliched and predictable storyline.
There are a few questions one might have about the script. In one scene, June describes herself as being vegan to protect the planet. A food critic going vegan does not make any sense at all as she would not be able to do her job any further. The dialogue written for both June and Charlie are also too similar, as they are written by the same scriptwriter. Both swear occasionally and their sentences they speak come as if they are from the same person.
The superb actress Melissa Leo known for her dramatic roles - she won the Oscar for THE FIGHTER and also starred in FROZEN RIVER delivers perhaps her most unchallenging role here.
There is nothing really exciting or fresh that occurs in the story. It is all mundane stuff. When John arrives unexpectedly at the cottage announcing his father's death from Covid, one knows actually the path the story will take and which of the two men she will eventually end up with. In the film, there is an attempt to liven the incidents up a notch by June's parents death explained as a shooting followed by a suicide.
ALONE TOGETHER opens in theatres July 22, 2022 and is available on Digital and On Demand July 29, 2022.
Trailer:
ANONYMOUS CLUB (Australia 2021) **
Directed by Danny Cohen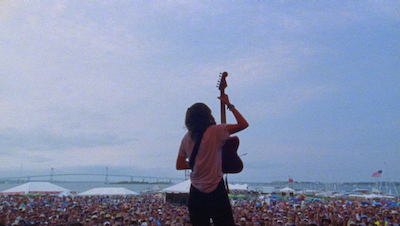 ANONYMOUS CLUB the documentary from down under premiered at the prestigious SxSW Film Festival, Austin, Texas. With unprecedented, intimate access to the private life of Courtney Barnett, this innovative and stylized 16mm feature documentary follows a paradoxically introverted performer and anti-influencer, who, at the height of success, is ready to walk away. The doc is a personal one as well in which human emotions and values are examined. ANONYMOUS CLUB is one of Barnett's songs, which oddly enough is not featured in the film.
Courtney Melba Barnett (age 34) is an Australian singer, songwriter and musician. Known for her deadpan singing style and witty, rambling lyrics, she attracted attention with the release of her debut EP I've Got a Friend Called Emily Ferris in 2012. International interest came with the release of her EP The Double EP: A Sea of Split Peas in 2013. At the 2015 ARIA Music Awards, she won four awards from eight nominations. She was nominated for Best New Artist at the 58th Annual Grammy Awards and International Female Solo Artist at the 2016 Brit Awards.
Shot on vivid 16mm film over a three-year period, ANONYMOUS CLUB chronicles notoriously shy, Melbourne-based musician Courtney Barnett's ups and Anonymous Club downs on the world tour for her album Tell Me How You Really Feel. Featuring Barnett's unguarded narration from her audio diary, recorded on a dictaphone provided by filmmaker Danny Cohen, the film delivers frank and unprecedented insight into Barnett's creative process, the sacrifices and inner conflicts set in motion by fame, and the sometimes dark backdrop to her whimsical and poetic compositions.
As the doc reveals, Barnett is often a very sad person. "Today I feel sad," she says after the first third of the film. Yes, the first part of the doc is entitled "I am having a happy time for sure." Director Cohen does not sensationalize the artist too much, often letting Barnett ramble on and on about her sadness, among other things. She confesses that she has cried on stage and that it is quite invigorating. As a result, the film might feel a bit tedious especially for one not too fond of Barnett's kind of music, which cannot be described as very commercial. But Courtney Barnett has her huge fan base as can be witnessed in the concert segments.
Among her musings is the line where she says though she has got everything, she is still unhappy. Then she goes on to say in a low and monotonous voice that she is writing but is becoming very boring. It is no surprise then that the film gets a bit boring and tedious at this point. And how about people who have not got everything and are in want, would they then be happy?
Strictly for Courtney Barnett fans, director Cohen's doc follows her during her tours with lots of musings but provides little background on the singer songwriter (note: this is not a biography) in an otherwise un-spirited documentary.
The film opens this week and the artist will also be performing September at Massey Hall in Toronto. The film opens at the TIFF Bell Lightbox.
FIRE OF LOVE (USA/Canada 2022) ***1/2
Directed by Sara Dosa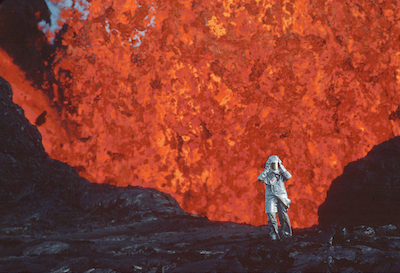 What are volcanologists and what do volcanologists do? Volcanologists collect data about volcanic activity and then study these findings. Typically they will travel to a location where a dormant or active volcano resides to collect samples. They then examine this data in a laboratory, usually for one of three purposes: to understand why volcanoes behave, to understand how volcanoes work, and to predict future eruptions for the safety of local populations. Some will also study the geological history of a particular volcano. The new documentary FIRE OF LOVE is quick to establish the importance of such a profession at the start. Husband and wife team, Maurice and Katia Krafft are volcanologists and Maurice says that there are only so few of them in the world. The doc follows them as they perform the duties of volcanologists.
FIRE OF LOVE, directed by Sara Dosa and filmed by Maurice and Katia Krafft and their friends tells the extraordinary story of Katia and Maurice Krafft who loved two things — each other and volcanoes. For two decades, these daring French volcanologists (the film is shot in both French and English) travelled around the world, documenting eruptions and capturing the
most spectacular imagery ever. Dedicated to their craft and exposing themselves to the dangers of getting too close to the volcanos, the couple died in a 1991 volcanic explosion, leaving a legacy
that forever enriched our knowledge of the natural world.
Early in the film, the couple smile on screen. Miranda July's voiceover says, "This is Katia and this is Maurice. It's 1991. June 2nd. Tomorrow will be their last day." The couple were heading off to Japan's Mount Unzen,
Though the film also focuses on the subjects, director Dosa centres her film mostly on their work, followed by their love relationship. This film is not a biography and stays away from the fact. Nothing is mentioned of the husband's or wife's early family background. There are images and notes, however, of how the couple met, and their work together. They met in a cafe in 1966 and married in 1970. Director Dosa also includes inter doc, the science of volcanoes, labelling for example the level of intensity of the volcanoes from red (safe) to grey (dangerous).
The film is narrated by Miranda July (American film director of films like 2020 KAJILLIONAIRE) , screenwriter, singer, actress and author, the film draws on rich archival material. The archive footage gives the doc a feel of the nostalgic French films of the 60's and 70s. The doc contains some of the most stunning images of volcanoes and volcanic activity ever captured on film, much, much worth the price of the admission ticket, taken from the Kraffts' 1,000s of photos and 100s of hours of footage. Included too, are also clips from their appearances on the lecture/TV circuit, where their humour and intrepid tales made them media darlings.
FIRE OF LOVE makes its debut at the TIFF All Lightbox.

Trailer:
MOLOCH (Netherlands 2021) ***
Directed by Nico van den Brink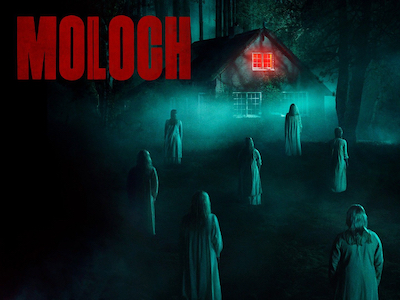 The cult of Moloch — who is also called Molech — is said to have children boiled alive in the bowels of a big, bronze statue with the body of a man and the head of a bull. Offerings, at least according to the Hebrew Bible, were to be reaped through either fire or war — and devotees can still be found today. The idol Moloch had seven chambers or chapels. It was believed these statues had seven chambers, one of which was reserved for child sacrifices. MOLOCH is also the title of the Shudder original Dutch horror film which premieres on the streaming service.
The story of the origin of Moloch is explained in the midst of the film. A land was ruled by a mean tyrant and his evil wife Helen. When Helen discovered that her husband had their servant girl impregnated, Helen imprisoned her in the dungeon where she prayed to God for a way to escape. Moloch answered her prayers instead and Helen was cursed. The spirit of Hen now roams the marsh and Betriek, the heroine of the film, discovers that her grandmother and now herself are involved with Mooch.
Betriek lives at the edge of a peat bog in the north of the Netherlands with her young daughter and her parents. Her mother suffers from occasional fits while her father is always angry most of the time. The father speaks little English and needs to be translated by Betriek when he screams at archaeological diggers near their property. When the family is attacked by a random stranger, who happens to be one of the diggers, something obviously is amiss as the attack is strange. Indeed, Betriek is being hunted by something ancient and evil. It is up to Beriek to save the day, and this she does during the second half of the film.
Though MOLOCH is a horror story, it stands one up from the average horror flick as director van den Brink invests quite an amount of screen time on Betriek's family. This way, the audience can get involved and connected with the family and become more concerned if any harm comes to any member of the family.
The film begins impressively in the year 1991 with a child (Betriek) feeding a mouse. She hears sounds from above and hides under a shelf. The sounds amplify and she sees blood dripping from the cracks of the walls and ceiling. Someone is being killed. The person is revealed to be her grandmother and the film moves forward in time 30 years to the present of 2021 when the little girl is now grown up at 38 (Sallie Harmsen) to a mature woman and living with her daughter.
The effectively scary horror film is aided by solid night cinematography with its setting of images of the setting of peat bog's murky waters. A bog is always an uninviting place, particularly in horror films, when humans can sink into the murky tick waters and get lost forever.
MOLOCH is filmed in both Dutch and English and is set in the modern day.
Trailer:
NOPE (USA 2022) **
Directed by Jordan Peele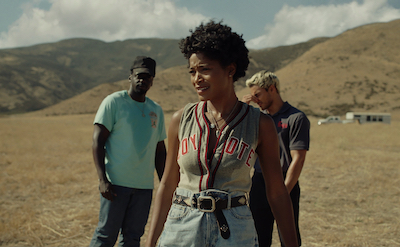 After mysterious random objects falling from the sky result in the death of their father, ranch-owning siblings OJ (Ortis Jr.) (Daniel Kayuua) and Emerald Haywood (Keke Palmer) attempt to capture video evidence of an unidentified flying object with the help of tech salesman Angel Torres and documentarian Antlers Holst.
NOPE is too stylized for its own good. One cannot blame Peele after his two major successes US and GET OUT, he would likely be given Carte Blanche to do whatever he likes, which is a bad sign in itself. From the way his actors Palmer and Kayuula speak, comprehension is sacrificed for style and in a bad and frustrating way. Palmer's character is a motor-mouthed Emerald matched by his quiet and mumbling brother O.J. played by Kayuula. For non-blacks and for non-Americans it is quite difficult to follow what they are saying. The film's otherwise simple story of the two saving the world while recording the UFO sighting ends up confusing.
NOPE comes as a rambling western horror. There is not much substance in terms of plot on show, while there actually is, on paper. What appears when watching NOPE is a brother and sister team trying to record sightings on camera and finally driving the aliens away. The script includes the background of the brother/sister Hollywood roots, a silly display of inflatable tube men and lots of soaring flying saucer scenes, the latter two lifting the film a notch or two in terms of cinematography by Hoyte van Hoytema. There is a quite horrific scene in which a berserk monkey that bloodily kills a family, before being shot to death. One cannot debt the fact that Peele is a talented and visionary filmmaker. He has one beautifully thought of scene with a black cowboy (OJ) on a galloping horse riding past these inflatables as they droop and fall from lack of power. But the idea does not really work as the scene turns out too low for effect but one can see where director Peele is headed.
Peele plays this horror movie also as a suspense piece. The audience anticipation factor can first be observed in the film's excellent trailer. In it, Kayuula and Palmer stare at the sky at an unseen object. In one scene in the trailer, Palmer is lifted and thrown to the ground. There is also an image of an Asian (Steven Yuen, immediately recognizable from MINARI) in a white cowboy suit that piques one's curiosity. The film also contains the anticipation factor. Like Hitchcock's THE BIRDS and Spielberg's JAWS, the birds and shark are not seen till after half the film has passed. The same can be said of the flying saucer in the sky.
NOPE coming from a black filmmaker with a truly black related story, Peele makes his point, though too forcefully, about the black cowboy in western history. In one scene, Emerald shows an image of a black cowboy riding a horse, claiming it to be the first image of a cowboy on film, going on to ask if the answer should be known who that black actor is. "He is my great, great grandfather," she replies, pushing the fact of the influence on black people in Hollywood and the western.
A film entitled NOPE is just asking for it if it turns out bad. NOPE is a confusing and tedious, often incomprehensible and irrational sprawling mess of a slow burn horror movie despite Peele's visionary ideas. Whether to see the new horror entertainer from Jordan Peel? NOPE! But the Peele brand is sufficient to drag many, myself included to see this piece.
Trailer:
THIS IS GWAR (USA 2022) ***
Directed by Scott Barber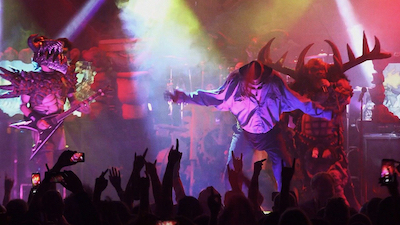 THIS IS GWAR (play on the phrase THIS IS WAR) powerful story of the most iconic heavy metal/art collective/monster band in the universe, as told by the humans who have fought to keep it alive.
For those who have not heard of GWAR, GWAR, is an American heavy metal band formed in Richmond, Virginia in 1984, composed of and operated by a frequently rotating line-up of musicians, artists and filmmakers collectively known as Slave Pit Inc. Despite the death of frontman and lead singer Dave Brockie in 2014, the group has continued, albeit without any of its founding members. Badness lives!
Easily identified by their distinctively grotesque costumes, Gwar's core thematic and visual concept revolves around an elaborate science fiction-themed mythology which portrays the band members as barbaric interplanetary warriors, a narrative which serves as the basis for all of the band's albums, videos, live shows and other media. Rife with over-the-top violent, sexual, and scatological humour typically incorporating social and political satire, Gwar has attracted both acclaim and controversy for its music and stage shows, the latter of which notoriously showcase enactments of graphic violence that result in the audience being sprayed with copious amounts of fake blood, urine, and semen. Such stagecraft regularly leads Gwar to be labeled a "shock rock" band by the media. One of the film's segments shows GWAR attending the Grammys ceremony in Hollywood after they are. surprisingly to everyone and to them that they got nominated fro one. They were told not to dress in costume, but the personalities that they are, they showed up in costume, causing a disruption and removed by security. The next scene shows them, quiet and obediently sitting in their seats in their tuxedos.
The band could have been more famous if Warner Bros released their record. When Gwar had a song BDF (Baby Dick Fuck), they were told by Warner to remove the song. If they did, all would be well and they would go ahead with the album. But Gwar refused, after much discussion among the members to do so, and so lost a great opportunity of becoming more famous and rich. They, of course, regretted the decision after.
Since its formation, Gwar has released thirteen studio albums, two live albums, and numerous singles among other recordings, and has sold over 820,000 records in the United States. Fueled largely by the controversies surrounding their concerts, Gwar experienced brief mainstream notoriety during the first half of the 1990s, receiving regular airplay on MTV as well as frequent in-character guest appearances on daytime talk shows, satirizing the topics of censorship and media violence. Though the band's mainstream popularity declined by the end of the 1990s, Gwar has retained a dedicated cult following.
Two members Dave Brockie and vocalist Hunter Jackson were always fighting, as the doc reveals. This led to Hunter leaving the band.
A doc is often as interesting as its subject. One cannot argue that Gwar is never interesting or controversial. The film's best moments are the archive footage of the band in performance on stage, screaming their songs, while battling on stage and at the same time spraying the spectators with simulation of body fluids. THIS IS GWAR is not the best doc of the year but could very much be the most interesting because of its subject and content.
Trailer: