Slow week for new releases. The bigone opening is BULLET TRAIN.
FILM REVIEWS:
BUBA (Germany 2021) **
Directed by Arne Feldhusen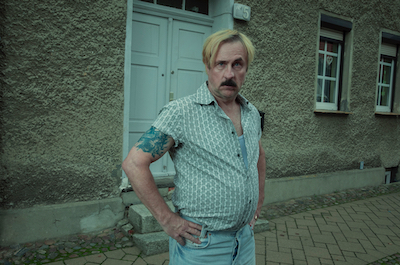 BUBA is the story of a small-time crook who goes by the name of BUBA. Buba is also an Albanian fairy tale character - a creature that feels no pain.
BUBA opens with a question to the audience on the reason fairy tales are told. Are we to learn from them or are they just to be enjoyed? The film is quick to point out that there are two types of fairytales - the happy-ever-after ones by Disney and the grim ones like the tales from the Grimm Brothers. Being a German film, BUBA is a grim Netflix original movie that aims to prove that fairy tales can both teach lessons in life as well as be entertaining.
The film begin with the scene with a small time crook who terrorizes a group of teens before accidentally killing himself. The crook is Buba (Bjarne Madel) and the film flashes back to Buba as a kid. He is a fat unpopular kid till he wins the number one prize for a kid's breakdancing contest. He gains instant popularity even getting a kiss from a local girl, Jule who he will meet again later on as a grown up.
Buba lives with his siblings, parents and a granny. Grandma has Buba believe that bad things will happen when life is in a good way and the reverse happens as well. The granny is a good fairy tale character reminding one of a wicked witch. She rules the kids and hits them when they misbehave. Worst still she brings Buba the bad news that his parents had died in a car accident and his brother is in a coma. This has happened, Buba believes because something good had happened to him i.e. the winning of the breakdance contest. So, Buba believes good things will happen if he is in a bad way and bad things will happen if he is in a good way. Buba takes a hammer and tries to use it on himself but grandma appears.
The film unfolds in chapters. The next Chapter 2 is humorously called "More Pain, More gain" with the Ottos (Buba and his brother, Dante played by Georg Fridrch) joining the mafia.
BUBA loses steam after the first 20 minutes or so. When BUBA is a kid and the film is rooted in a dark fairy tale mood, it works, especially since the kid is in his own 'conspiracy theory'. Once Buba is grown up and is mixed up in a quick make-money scheme including his fake accidents (as this scheme has been used in many other films), the character becomes less interesting. An adult Buba plays like a loser while as a kid, he plays like a hapless but funny character. Buba and his brother getting into the mafia is also neither interesting nor particularly funny. It does not help that these two are unalienable and not very good-looking losers. The film that leads nowhere, drags slowly towards its unwitting and welcome end.
BUBA is filmed in German and opens on Netflix this week.
BULLET TRAIN (USA 2022) ***1/2
Directed by David Leitch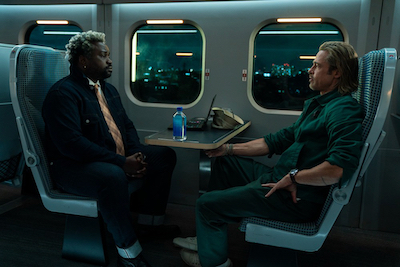 BULLET TRAIN the new action comedy directed by David Leitch (FAST AND FURIOUS, DEADPOOL 2, ATOMIC BLONDE) starring Brad Pitt moves along with such breakneck speed that one can hardly follow the script - not that it matters. The film is written by Zak Olkewicz, based on the Japanese novel Maria Beetle (published in English as Bullet Train) by Kōtarō Isaka
An action comedy it is, though the project began as just an action thriller. The film works for a variety of reasons. One is the presence of multiple characters - all the assassins in seemingly random interaction. The film has the feel of the many characters present in Stanley Kramer's IT'S A MAD MAD MAD MAD WORLD and also that of a Quentin Tarantino movie in its second half because of the similar brand of action humour that arrives fast and furious. The latter is also aided with the presence of Brad Pitt reprising a role similar to his stuntman role in ONCE UPON A TIME IN HOLLYWOOD. The many assassins aboard the bullet train includes:
Joey King as Prince, a British assassin posing as a schoolgirl.
Aaron Taylor-Johnson as Tangerine, a British assassin and Lemon's brother.
Brian Tyree Henry as Lemon, a British assassin and Tangerine's brother.
Andrew Koji as Yuichi Kimura, a Japanese assassin.
Hiroyuki Sanada as "The Elder", a Japanese assassin and Kimura's father.
Yoshi Sudarso as young Elder
Michael Shannon as "White Death", the leader of the largest criminal organization.
Benito A. Martínez Ocasio as The Wolf, a Mexican assassin.
Sandra Bullock as Maria Beetle, Ladybug's contact and handler.
Zazie Beetz as Hornet, an American assassin.
Brad Pitt is completely at home with comedy as proved in the Coen Brothers' BURN AFTER READING, where he plays a goofy aerobics instructor as well as the confident stuntman in Tarantino's ONCE UPON A TIME IN HOLLYWOOD. The parts where he muses about fate and his bad luck, however does not really work as humour but his humour works better when he goofs around physically. Pitt is still in superb physical shape and sexy as ever. There are cameos, too few and far between by Ryan Reynolds, Tatum Channing and Sandra Bullock that are more novel than funny.
BULLET TRAIN is well paced in terms of build up and acceleration towards its climax. Running at just over 2 hours, it has a slow start, taking some time to get its footing. The climax with crashing train cars with Pitt and other characters sailing through the wreck in slow motion is stunning action to experience. The reason d'être of everything is a bit too much to swallow, but who really cares?
BULLET TRAIN has been criticized for its 'whitening' of Japanese work. But the film still maintains its Japanese setting and many of the novel's Japanese characters. After all, this is a Hollywood flick and the whitening is completely expected and understandable. BULLET TRAIN which opens this week will face competition from THE GRAY MAN and the still running TOP GUN: MAVERICK but BULLET TRAIN still stands on its own. BULLET TRAIN cost $90 million but the special effects are stupendous, looking more like a $200 million production.
Trailer:
FAITH (Italy 2019) ***
Directed by Valentina Pedicini
Not an easy watch as audiences get a hard look at the life of followers and their leader in a monastery. The monastic sect is the Guerrieri della Luce (The Warriors of Light).
Founded over twenty years ago and composed of around twenty partly shaven-headed with their male leader, white-clad devotees -- most of whom are former martial arts champions -- the "Warrior Monks" and "Guardian Mothers" as they call themselves, live in near isolation in a monastery in Bolzano, Italy. The monks look like those found in the Martial-arts films - as in the Shaolin Temple, the only difference being that they are Italians, not Chinese. Adhering to a belief which is a curious blend of Kung Fu, Shaolin doctrine and devout Catholicism, tThe Warriors of Light follow the Master, a rigorous martial arts trainer with complete control over their daily rituals and environment. And, each day, the utterly devoted sect trains with a highly strenuous and exhausting routine so they will be ready to save humanity on the day of the Apocalypse. The film charts the practices of the sect.
Though a doc, the film follows the path of fictional films of sects such as Michael Bay's THE ISLAND (2005) and Ari Aster's MIDSOMMAR (2019) where the leaders abuse their power over their members. InnFAITH, the older leader has so much power that he can command his members to practically do whatever he asks. He has thrower to dispel followers from the sect and to punish and torture his followers physically and mentally. FAITH is not an easy film to watch.
The doc took 7 years in planning and labor by director Valentina Pedicini culminating in a three and a half month shoot. Following its world premier at IDFA, the doc premieres on the SVOD platform Film Movement Plus on August 5, 2022.
Trailer:
I LOVE MY DAD (USA 2022) **
Directed by James Morosini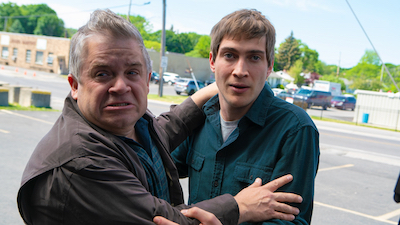 I LOVE MY DAD is a film is inspired by the true life experience of director/writer/star and his father, Chuck played by Patton Oswalt. Chuck is the kind of dad who makes promises, breaks them, apologizes and then repeats the same. But he desperately wants to reconnect with his troubled son Franklin (James Morosini). Blocked on social media and concerned for his son's life, Chuck impersonates a waitress online and starts checking in with Franklin. Things begin to spiral when Franklin falls for the imaginary girl, Becca (Claudia Sulewski) and wants nothing more than to meet her in person. It is, obviously a matter of time before Franklin will discover that his dad, Chuck is Becca. And when that happens. all hell breaks loose.
Director/writer and actor Morosini performs triple duty of actor, writer and director in his film. One can see him trying very hard, with his acting looking extremely credible. As the adage goes for filmmakers that one should make films on subjects one is familiar with, the credibility is likely derived from Morosini's personal experiences. As Franklin, he has a sweet sympathetic look that many will have sorry for. SNL (Saturday Night Live) celebrity - Rachel Dratch plays Chuck's always horny fling.
What seems to be an ordinary script turns out to be one with a few unexpected twists and surprises. The film turns to be a crowd-pleaser with a happy ending for very character in the film.
Whenever Franklin is communicating with his father posing as Becca online, director Morosini puts actress Sulewski in front of him. So, when Franklin says "I love you" to Becca, the audience sees him saying the words to the image of a real person.
Advertised as a dark comedy, I LOVE MY DAD works less than a dark comedy than a father/son relationship drama with a few funny moments. They are too few laughs and the 'uncomfortable' comedy borders on the point of disturbing. The perhaps only sure-fire laugh out loud moment and the film's most endearing moment is Chuck's reading of a surprise letter supposedly from his ex-wife, Diane. The example of an uncomfortable segment is the extended one of father Chuck passionately kissing his son Franklin on the lips with Franklin believing that he is kissing Becca. The film takes its audience on a rocky roller-coaster ride of changing emotions.
I LOVE MY DAD is a sweet well-meaning supposedly true story of its director's relationship with his father that does not really work though the film has won the two top prizes (Grand Jury Award and Audience Award) in the Narrative Feature Competition at SXSW 2022.
I LOVE MY DAD is the second film after Threesomething in 2018. Director Morosini proves himself an apt filmmaker of an otherwise entertaining crowd-pleasing and emotional film, despite certain flaws.
I LOVE MY DAD opens at the TIFF Bell Lightbox this week.
Trailer:
PREMAN: SILENT FURY (Indonesia 2021) ***1/2
Directed by Randolph Zaini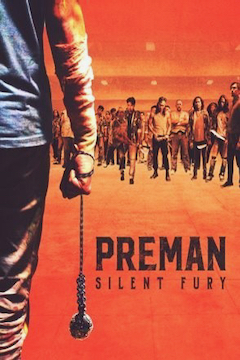 Premen, plural for PREMAN are gangsters who claim to be motivated by a deep sense of justice but despised by society for their bullying and violent behaviour. The film is called PREMAN: SILENT FURY as the action thriller follows a protagonist who is a member of the premen. He is also deaf. He unreleashes his anger when his family - son and wife are threatened. The familiar question of how far one would go to protect one's family is answered in the film.
A deaf gangster, Sandi with a traumatic past must fight his way out of his small Indonesian village after his young son witnesses a horrible murder, pitting the man against the mob outfit (the premen) that employed him in. He is thrust into the fight of his life when he takes on his dangerous former allies—including a sociopathic assassin—in order to protect his child. The action-packed martial arts thriller stars Khiva Iskak (Gundala), Kiki Narendra (Gundala, Ghost Writer 2), and Muzakki Ramhan (Gundala).
Before dismissing the film as yet another martial-arts forgettable actioner, one should note that this one which has already garnered many awards is quite a winner - able to draw in the emotions and sympathy of its audience. Director Zaini invests a lot of screen time on his characters. There is a reason for every behaviour - even for the bad guys. Though Paul is a minor character in the film, the fat gangster is given screen time when the audience learns of his desire to make a musical and to become famous. He is also bullied by a fellow gangster for his weight.
Flashbacks reveal the reason for Sandi's lost of hearing
A few flaws in the film include the fact that there is no reason given for Sandi's inability to speak. His dreams of attacking stuffed animals is a puzzle that is not explained. Another is how Sandi got involved with his bad crowd of the premen. One can assume that the premen was originally formed by another character named Haji before falling into bad leadership. The big fat (director Zaini seems to love to have really fat and also skinny actors in his film) villain who controls the land is never mentioned or seen when the film ends. This man is the true villain behind all the others whose comeuppance is ignored,
Still there is much to enjoy despite the film's flaws. Zaini's film is stylish, imaginative , often smart and funny and totally absorbing. The introduction of one character called 'the barber', a French speaking ("Je m'appelle Ramon", he says) psychopath hired to take out Sandi and his son is inspirational. The police chief when contacted to help Sandi comments that there is little difference between the Bremen and the police. "It is not doing the right thing but doing things right," he says.
PREMAN: SILENT FURY was nominated for eight awards at the 2021 Festival Film Indonesia, including Best Film, Best Actor (Khiva Iskak), Best Supporting Actor (Kiki Narendra & Muzakki Ramhan), and Best Director & Best Original Screenplay (Randolph Zaini). In addition, Randolph Zaini received "Special Recognition" from the 2022 Bali International Film Festival (aka BALINALE).
Writer/director Randolph Zaini's first feature film PREMAN: SILENT FURY, debuts August 5 exclusively on the martial arts streaming service Hi-YAH! before hitting Digital, Blu-ray™ and DVD September 27 from Well Go USA Entertainment.
Trailer:
WHAT JOSIAH SAW (USA 2020) ***1/2
Directed by Vincent Grashaw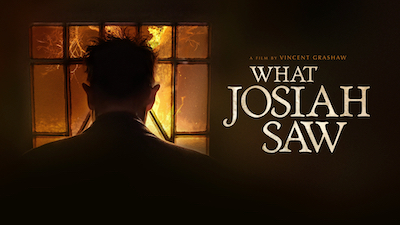 WHAT JOSIAH SAW is a slow burn, moody and atmospheric psychological horror thriller that one to work for one's entertainment. All the characters suffer trauma in one arm or another and the stories deal with how each copes with their individual problems, whether successfully or otherwise. There are four episodes in total, all quite different in nature and written by first-time feature writer Robert Alan Dilts. It is difficult to establish which is the best of the three, as the best would be defined by one's individual taste.
The first episode "The Ghost of Willow Road" implies the reason the title of the film is called WHAT JOSIAH SAW. The main character is Josiah (Robert Patrick) who looks as strange as his character is. Josiah sees something that changes his life and that of his son's as well. Josiah is a sorry excuse of a human being. He is a drunken train wreck, abusive to his not-so-bright son, Tom (Scott Haze). Apparently he thinks that he and Tom are going to hell as a result of his wife's suicide. But there is something that can be done in order to save himself and his son and the wife from going to hell. This is what this story is about. Amidst the family troubles, the land is about to be acquired by a company intending to drill oil on the property. This segment benefits from two stellar performances by Haze and Patrick. In this segment there is mention of Either children Eli, and his twin sister, the two making the two next episodes of the film.
The second story entitled ELI AND THE GYPSIES is less a horror film that a crime drama. Eli (Nick Stahl) is an ex-con who cannot stay out of trouble or out of debt when the story opens. Boone (Jake Weber) offers him a way out in return for him pulling off a robbery. involving stealing gold bars from Romani gypsies. Stahl is an excellent actor absent from the screen for a while. Sexy, he is first seen whoring around in a caravan. There is also an element of a missing kidnapped young girl in this story that does not really fit.
The third segment follows Eli's twin sister, Mary who wants to adopt a kid.
The stories are told one after the other and not intercut, a process that will definitely not work in a slow burn film. A sure benefit that the audience gets is non-interruption of one's emotions. The film could be considered an anthology. Anthologies were extremely popular in the 60's and 70's particularly in horror films.
The three segments blend together with Eli and his twin sister, Mary (Kelli Ganer) making a list to their father Josian and Tom in order to have them sign the rights of the farm to the oil company so that everyone can get the commission that would help each sibling start their lives over. But things do not go as planned .
The film's ending brings all the siblings and their stories together with an unexpected conflict. The films's non-Hollywood ending might disappoint some viewers in this otherwise well-crafted film with a solid buildup. But who says a horror film needs a happy ending?
Trailer: