FILM REVIEWS:
BEAST (USA 2022) ***
Directed by Baltasar Kormákur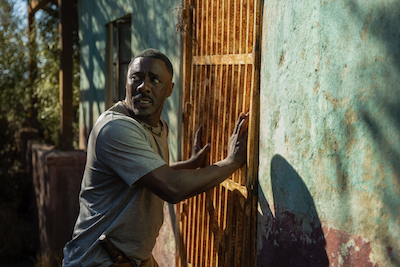 Icelandic director Baltasar Kormákur (101 REYKJAVIK) directs British star Idris Elba in an action thriller where an African lion predator sets his sights on a family consisting of a father and his two daughters.
Dr. Nate Daniels (Idris Elba) takes his two daughters for an African safari at a game reserve managed by his best friend, Martin Battles (Sharlto Copley). While on a tour of the reserve they discover mangled bodies including a deserted village with more mangled bodies. Martin figures it is a lion out for revenge. Poachers have killed off this lion's pride leaving this BEAST angry and out seeking revenge. Yet, the lion appears to be the villain of the piece, not the human beings. Think a horror film CLAWS like JAWS but this one set in Savannah.
The outlining story is as cliched and predictable as ever can be. Dr. Daniels is trying to bond with his daughters who have not forgiven him for the father who had never been there. His wife, who had divorced him, eventually died from cancer. Again, as cliches go, she appears in Dr. Nate's dreams even in a dream in the last scene. Dr. Nate promises the daughters that he will get them out of the lion situation but they do not believe in his empty promises of the past and of the present.
The film lasts an efficient 90 minutes which is just right and about to stretch a tad too long. The special effects and suspense scenes with the lion attacking the vehicle or mangling human victims are credible and horrific enough, likely too intense for little children. The filmmakers have intended the film for family despite the bit of violence as there is little swelling in the film. The tagline of the film even goes tat it is all about family.
The film is largely carried by Idris Elba who does a believable job as a doctor. Copley, the South African actor is a recognizable face, appearing in dozens of films set in South Africa.
The lion preys like a slasher killer right up to the end scene where the lion, presumably dead, is the killer that can never die and keeps appearing until it is destroyed by the hero. This involves a brutal and not really credible fight to the death between lion and man.
GLORIOUS (USA 2022) ***
Directed by Rebekah McKendry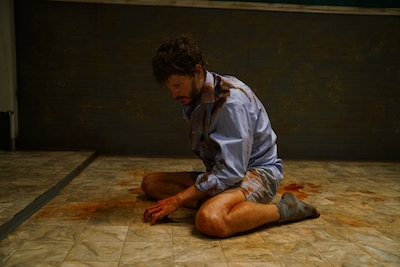 The new Shudder horror film GLORIOUS begins with an uppity glorious song 'Wait till the Sun Shines Nellie' by Mary Martin and Bing Crosby. The film is bookended with the song. This is perhaps the only feel-good point in the movie which is full of shit, both figuratively and literally which surprisingly is not all that and a thing. The main character (Ryan Kwanten), Wes is mostly covered in shit and blood and the action takes place in a shit house or toilet at a remote rest stop.
Why is the film called GLORIOUS? The reason is never made 100% clear but one reason could be the glory hole Wes finds in the toilet stall besides the one at the end where a voice torments him for no end. The voice belongs to some God named Ghatanothoa that requires Wes to do one thing in order to save mankind. For those unfamiliar with what a glory hole is, it is quite the disgusting thing. It is the common term given to a hole that is on the wall of a toilet or gay bathhouse where the male puts his tool into it in order to be given a blow job or enter the asshole of a random stranger. More surprising in that the film is directed by a female in what is considered a male world. The script is written by three males Joshua Hull, David Ian McKendry and Todd Rigney.
The film GLORIOUS is full of shit. The plot is totally ridiculous and makes no sense whatsoever. Moreover, The film is a one handler, the typical type of movie that has been very often seen and made during the Pandemic. But all things considered, the silly plot does have its horrific effect, aided by the mystery surrounding the glory hole and also in the past of its main character.
What is Wes doing at a remote stop? Wes' background is revealed to the audiences one step at a time. Wes has been dished out loads of shit in his life. Apart from being abused by a shitty father, his breakup with the love of his life has caused him to drive off in his car with things to burn. His drunken spree alone causes him to burn his trousers and wallet and after rushing to the remote toilet in order to throw up - another disgusting scene with Wes hugging the shit covered toilet bowl - gets accosted by the voice of God (J.K. Simmons, unseen in the next stall. Simmons does an excellent job as the voice). Has Academy Award Winner Simmons ever been in a bad film? Perhaps only in a shitty one. Actor Kwanten does a solid job as the main character, holding the audience's attention from start to finish.
The ultimate question is what Ghatanothoa is going to ask Wes to do in order to save the world? Wes assumes it is something to do with the glory hole but is all wrong. The task required, not to be revealed in the review is much worse.
GLORIOUS succeeds as a captivating horror movie, though one must be prepared to sit through close to 90 minutes of watching a lot of shit, as mentioned both literally and figuratively on display.
Trailer:
THE DROVER'S WIFE: THE LEGEND OF MOLLY JOHNSON (Australia 2020) ****
Directed by Lee Purcell

Lee Purcell does quadruple duty here as producer, writer, director and main actor, adapting her classic play into an excellent film that covers several female issues like wife beatings, pregnancy and indigenous racism. The film was originally entitled THE DROVER'S WIFE: THE LEGEND OF MOLLY JOHNSON. A drover is an expert herder.
THE DROVER'S WIFE: THE LEGEND OF MOLLY JOHNSON reimagines what a revenge film can be, and beautifully examines the role of identity, family and preconceived notions, with the backdrop of the Australian outback. Molly is heavily pregnant and left alone with her children while her whoring husband is droving sheep. Molly encounters an Aborigine Native who helps her deliver but a still born baby daughter. She is a sharpshooter and one not to be messed around with, says one character of Molly. But Molly has to put up with more than she can handle. Still, Percell's film makes her point and very convincingly.
A beautiful shot film that not only embodies the power of women but reflects on both the harshness and beauty of the Australian hardback as an added bonus. The best film I had seen when the film premiered at the 2021 SXSW film festival.
Trailer:
LIE HARD (USA 2022) **
Directed by Ian Niles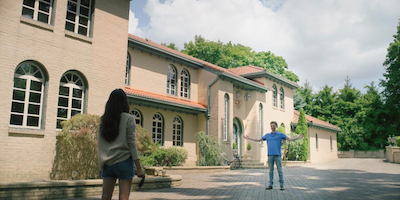 To get a girl in marriage, the man must often go to the parents and get permission to wed their daughter. Often this involves wooing them and charming them in a winning way so that they feel that the man would be a worthy husband to take care of their daughter. In the classic Elaine May 2007 comedy THE HEARTBREAK KID written by Neil Simon, Charles Grodin had just married Jeannie Berlin and on his wedding day, fallen in love with another girl played by Cybill Shepherd. He has to convince the extremely stern and wealthy father of the girl Eddie Albert that he is worthy. In the new comedy, written, directed and starring Ian Niles, Rob Smart is the character that has to lie his way to marry the daughter of wealthy Julius while pleasing him at the same time.
THE HEARTBREAK KID was totally hilarious despite the improbable premise of the plot, and became an instant classic that the Farrelly Brothers could not remake. LIE HARD follows a somewhat familiar premise, with the protagonist lying his way through work, his girlfriend and everything else to get his girl. LIE HARD is a bomb.
The film is predominantly white except for the girl, Katie (Melanie Chandra). Rob Smart, Katies's father (Patrick Kilpatrick), the mob boss, Big Sally (Catherine Crutin) and almost everyone else is white, which is now strange for a move these days.
The lying gets crazy and uncontrollable after Smart lies and borrows money from the mob. This plan succeeds initially with Rob then welcomed by Katie's family with open arms. Big Sally leverages Rob's job at a real estate development company to get him to sabotage contracts in her favour, her scheme all along. Unfortunately for Rob, these lies get him fired, rendering the scheme useless and putting Rob further into jeopardy.
This is an uncomfortable comedy that often has problems working because the audience roots for the hero. In this case, Smart is such a liar that he deserves no sympathy. The film is also unfunny for the most parts and predictable as well. Smart, the main character is silly, goofy, naive and just plain annoying. The film is likewise.
When Ron begins to act funny after his nonstop lying and things go uncontrollably wrong, Katie asks him; "What is wrong? Something is off." The same can be said for this sorry ego-trip of the Ian Miles movie, LIE HARD.
LIE HARD opens Tuesday the coming week.
Trailer:
ORPHAN: FIRST KILL (USA 2022) ***
Directed by William Brent Bell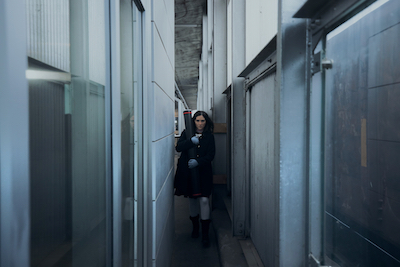 One might remember a quite outstanding horror slasher flick from Spanish director Jaume Collet-Serra entitled ORPHAN, made in 2009 a decade or so back, a solid but under-rated thriller that shot him to immediate fame. The thriller concerns an unsuspected couple (Vera Farmiga and Peter Sarsgaard) who adopt a Russian girl (Isabelle Fuhrman reprising her role inFIRST KILL), who turns out to be a sociopathic adult and, well, not an actual child.
ORPHAN: FITS KILL is a prequel which implies a few things. Esther must have survived or there would have not been the original ORPHAN movie. The only thing noted that makes the current film a prequel is the first family that adopted her and a few opening scenes of how Esther (Isabelle Fuhrman) escaped the mental institution she was in. A new character, a new doctor newly employed to the institution by the name of Anna makes her way to the new job in the dead of a winter night. On her first day after being informed that this orphan is the most dangerous of all the mental patients, Anna witnesses her escape and is slashed by her right after she tells the administrator that this is not the job for her.
The orphan now assumes the identity of Esther, a missing girl and enters her new home. The film takes a turn to a totally different scenario. After she escapes, she comes up with a plan to find safety in a wealthy family in the States, choosing to impersonate the missing child of the Albrights. Mother Tricia (Julia Stiles), father Allen (Rossif Sutherland, the brother of Kiefer and son of Donald sutehrland), and brother Gunnar (Matthew Finlan) are shocked to see their little girl return to the Albright family estate even if a few things about her story don't seem to add up. When it turns out that the Albrights have a secret (the spoiler will not be revealed in the review) that rivals Esther's, a showdown is inevitable, although making this a prequel drains a little bit of the tension because our anti-heroine has to survive to make the first film possible.
The story's twist midway in the film takes the film to another level. These three distinct parts jolt the audience out of their normalcy. This could be a bad or good thing. In the first case, the credibility of the story is put to the test while continuity is also put into question The other is that the film cannot be described as boring. Just as the incidents start to meander, a new angle is injected into the story. This makes the film a bit campy but nonetheless more compelling, flaws and all. The family relationship of the Albrights between mother and husband and other son is also put into perspective adding another dimension to the story.
Of course Ester has to survive in order for the original ORPHAN to be made and the entire family of Albrights perish. ORPHAN: FIRST KILL might sound awful in concept but it is quite an entertaining and camp time-waster.
Trailer:
SHARP STICK (USA 2021) ***
Directed by Lena Dunham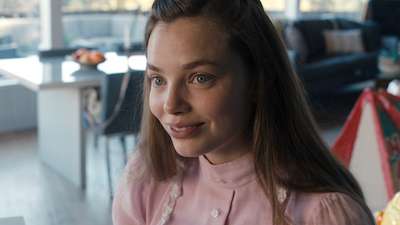 Sarah Jo (Kristine Froseth) is a sensitive and naive 26-year-old living on the fringes of Hollywood with her disillusioned mother (Jennifer Jason Leigh) and influencer sister (Taylour Paige). Working as a caregiver and just longing to be seen, she begins an exploratory affair with her older, married employer Josh (Jon Bernthal), and is thrust into a startling education on sexuality, loss and power. Josh's wife, Heather is played by none other than the director of the movie, Dunham who has the role of one complicated woman. The film is focussed on the survival of women in complicated and failed relationships. There is hope.
The film features Kristine Froseth, Jon Bernthal, Luka Sabbat, Scott Speedman, Lena Dunham, Ebon Moss-Bachrach, Taylour Paige and the always fabulous and undistinguishable Jennifer Jason Leigh, famous for her bad character roles.
It is reported in the imdb database that director Durham was let go from an acting audition for RIDING IN CARS WITH BOYS by director Penny Marshall when she did not smile on cue. Dunham continued, "She had asked all the young actors to say their names, heights, where they were from, and then smile". And I said, "I'm Lena, I'm from New York, and I don't smile on command." It would be argued that she is not smiling on command but smile acting on command which is not the same thing. One can see clearly Durham's strong stance when she was 12 auditioning for the part, but she has shown in the film both her more open in her subject matter and willingness total advice as in one of there interviews showing her taking advice from her various actors
From the film, it can be observed that each character is carefully molded. The family matriarch behaves the way she does from her past bad relationships. She has a distaste for bad men and passes cautious advice down to her two daughters that go unheeded. She has a foul mouthed but contains a strong willed personality and a basically good heart, magnificently portrayed by Jason Leigh who one might add is made to play the part. Sarah Jo is surprisingly on the brink of learning the joys or rather sorrows that come from sex. The villain of the piece appears to be the male species. Sarah Jo is initially taught how to enjoy sex from Josh and later from watching all the pornography from the sites introduced by him. She finds the ideal male porn star, Vance LeRoy in the form of a comical Scott Speedman and all hell begins to break loose.
It is a character driven story made interesting by interesting characters, though the film might feel forced in its concept. It is a female dominated film against the male species. This is not necessarily a bad thing as it is good to see female oriented winning films for a change. But are there so few good males around?
SHARP STICK plunges and never lets go.
Trailer:
SO VAM (Australia 2021) ***1/2
Directed by Alice Maio MacKay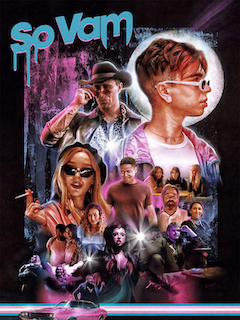 The new transgender and queer film by 17-year old trans director Alice Maio Mackay begins with three warnings of bullying, scenes of homophobic violence and gay slurring. In the first scene, the lead character, Kurt (Xai) is accosted by bullies, bloodily beaten up and called a faggot. So the warnings are right on effective. SO VAM is proudly gay and the stuff gay dreams are made of. Despite the horrific beginning, the film is a gay dream come true where the homophobes get punished and punished very severely for their crimes. And this is a vampire movie to boot, which is set in a small town, Australia. Kurt hates the place and dreams of going to the big city to become a famous drag queen, dragging (pardon the pun) his best friend Katie (Erin paterson) along.
The film is fast moving and fabulous. There are two fab drag shows, by Dolly (Vonni) and Chic (Alixxx), as well as Kurt's big finale piece. The drag shows put the recent Canadian 2021 JUMP, DARLING (Cloris Leachman's final film) also about an up and coming young drag queen to shame. What drag is, according to the film, is about dragging one out of their shitty life and it's a fabulous one.
It is not wrong to dream. Realty sucks, as the film's message implies. "The song of reality is where my mother is frail and my husband is in and out of jail and it is better to listen to the song of dreams." These are the words Kurt listens to every day on his headphones - words of repeated advice.
The song of nightmare is what Kurt encounters next rather than the song of dreams. He is accosted by an old vampire by the name of Landon (Chris Asimos): a predatory vampire whose bite makes their victims rot from the inside out. Kurt is bitten by him. Luckily, Kurt is saved by April (Grace Hyland) and Harley (Ethan McErlean) who are two members of a vigilante vampire group, killing the scum in the community that threaten their existence. Kurt joins the group. The rest of the film has Kurt and gang hunt down Landon, while becoming a drag queen at the same time.
The film is also not without humour, most of it provided by Harley who says the right things with a camp twist.
There is a play on the vampire myth. Kurt is taught the origin of Bram Stoker, whether true or not, that he is gay and fell in love with a stage actor. Unable to fulfil his gay fantasies, he wrote about him instead and turned his fantasy into a blood drinking vampire. The film also has good and bad vampires, who battle each other.
The film should be praised for being so trans and gay positive, aided by the fact that the director is only 17 and knows her material well.
SO VAM is an impressive feel-good transgender and gay movie made by a young 17-year old filmmaker that opens this weaken the Shudder Streaming service.
Trailer:
SQUEAL (Latvia 2021) ****
Directed by Aik Karapetian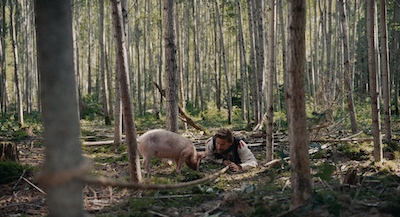 SQUEAL is advertised as a dark fairy tale. Though it looks like one being the woods and strange secluded human beings, the film feels like a cross between GUNDA the 2020 American-Norwegian documentary film directed, co-written and co-edited by Viktor Kossakovsky that follows the extremely cruel life of a mother pig or sow and believe it or not The Robert Bresson's 1996 classic AU HASARD BALTHASA about a donkey passed on among different owners as it experiences life.
SQUEAL centers on Samuel (Kevin Janssens), who is far from home, searching for his long last father leading him to Latvia. Lost in the remotest Eastern Europe, on the edges of a mythical forest, a minor road accident leads to a chance meeting with a pig-farmer's daughter Kirke (Laura Siliņa). The accident involves Sam running over a piglet that survives and thinks that Sam is his mother. This is shown in pig subtitles later on in the film. This is what makes this film so wonderfully strange and dark - the humour, impossibility and twist in the story. Sam soon learns that his priorities must change if he wants to survive. Her initial hospitality is a smoke screen of the family capturing him and to make him a forced labourer on the farm. Alone, unable to speak the language, and chained up 24/7 with the pigs, SAM learns to adapt. And true to the Stockholm Complex, the kidnapped man falls in love with his abductor, Kirke.
There are a few chances Sam gets to escape. But after being re-captured, Kirke falls for Sam, But it is fortunate that a seemingly magical piglet gains Sam's confidence and shows him the way to freedom and true love. The reason, as mentioned, is that the piglet thinks Sam is mummy. The three ways the pig saves Sam is quite impossible, but who cares, as the story propels along marvellously.
Besides being a horror and survival dark fairy tale, it plays more like a fable which is a fairy tale with some morals included such as opportunities that can be sought under the worst of human conditions. The story is also told from the pig's point of view. The pig is brought back to the farm when caught by Kirke's cruel farmer father who wants Sam to be a pig farmer - chained with a fixed length chain. The pig then experiences the cruelty of living in the pig farm from Sam's treatment.
Two unexpected stories, a dark fairytale told from a pig's point of view (this piggy should have stayed home) in this strange and marvellous film by relatively unknown but surprisingly talented filmmaker Aik Karapetian. Karapetian is a graduate of the Latvian Academy of Culture and has a master's degree in film direction from the Académie Internationale des Arts – ESEC (Paris). His first feature film, PEOPLE OUT THERE gained international acclaim after its premiere at the Karlovy Vary film festival in competition in 2012. After the successful horror feature THE MAN IN THE ORANGE JACKET (Fantastic Fest 2014, BFI London Film Festival), Aik released the thriller FIRSTBORN (Sitges, Fantastic Fest, Paris International Film Festival 2017). He is definitely a name to watch for.
Trailer: