(audio)(/audio)
FILM REVIEWS
ADIEU GODARD (India/France 2021) ***
Directed by Amartya Bhattacharyya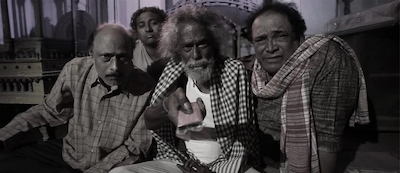 Jean-Luc Godard of the nouveau vague (New Wave) is the French director of classics like A BOUT DE SOUFFLE (BREATHLESS) who needs no introduction. Unless of course, one lives in a remote village in India who only gets to watch porn videos, banned by the way as the film informs, from the local village store. This is the premise of this rather charming but uneventful little black and white supposedly tribute to Godard.
There are actually two stores in the film - one involving an old man trying to put up a Godard film festival in his village and the romantic love story of his daughter. The two are not particularly related to each other except for the fact that the principals are father and daughter. One might say the connection could be the inability of the village to accept new ideas - 'thinking French films or freer mobility between the male and female sexes.
An old man, in a conservative Indian village, happens to be a pornography addict. He rents pornographic DVDs regularly from a local shop and watches them along with his friends, much to the chagrin of his wife and daughter. One day, he brings home a DVD and instead of pornography, it turns out to be one of the classics, A BOUT DE SOUFFLE, of the legendary French filmmaker Jean-Luc Godard. The audience, of course, gets to see clips from the film. The old man finds it interesting. Even without understanding, he gets attracted by the newness of the film. All his friends, clearly disappointed by the lack of excitement, leave him to find better avenues to spend time. "It is 10 minutes through the movie and no one has taken their clothes off." "There is no story." These are some of the humorous comments made by the villagers. The old man, fuelled by curiosity, rents more of Godard's films and starts gaining interest. After having watched many of Godard's films, the old man calls his friends and implores them to organize a film festival on Godard in their village. The idea seemed quite absurd to many. Hurdling through several dramatic obstacles, they finally manage to organize the festival. However, consequences hit them back, read hard.
The other story has the old man's daughter, who has now moved to a bigger city for her higher education, narrating her past and her father's tryst with Godard to her city-based friend, who has certain preconceived notions about intellect and economics. On a trip with her friend and after some intimate moments, she discovers her attachments with her own roots. She finds the city based friend stuck up after firing him some self awareness questions. These questions are quite hilarious and the answers she gets gives her conceived notions of what the man is like. So, she decides to head back to the boy from her school, who had promised to wait for her - forever.
The question in everyone's mind would be whether the legendary Godard will appear in this film.
An Official Selection at the Moscow International Film Festival and winner of Best Film at the 2022 Kolkata International Film Festival, ADIEU GODARD is a socio-cultural comic tribute to Godard. Is it any good? There is nothing wrong with this charming little tribute but do not expect anything miraculous. The best thing about the film is the depiction of the simple folk in the Indian village and how these people think and go about their lives. The film paints a very low intellectual picture of themselves (the Indians) while putting the French up on a pedestal.
Trialer:
AFTER BLUE (PARADIS SALLE) (France 2021) **
Directed by Bertrand Mandico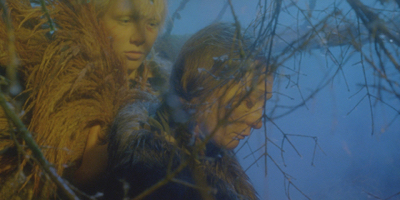 Described as a sci-fi acid western, whatever that means, in the press notes, director Mandico's sci-fi dystopian opus has the audience believe that humans have left the planet Waert and colonized another called After Blue. Males are irradiated but their sperm kept to the flames fertile and continue the human race. If here are no males around, all the females have left is to make love to each other, in what appears to be director Mandico's gay lesbian fantasy.
The story has Roxy (Paula Luna), the lonely teenage daughter of the colony's hairdresser Zora (Elina Löwensohn), impulsively unearthing a notorious criminal called Kate Bush, who promises to grant her three wishes. The ensuing violence exiles mother and kin from the settlement, so they may track down and bring this legendary killer to justice. Armed with designer Gucci rifles and Paul Smith pistols, the duo ventures into a hostile alien landscape rife with toxic gases, slime-encrusted crystalline entities, and promiscuous fashionistas. It all does not make much sense and trying to follow the convoluted plot can be quite frustrating. From there, things get pretty weird.
The film, premiered at Midnight Madness at last year's Toronto International Film Festival (TIFF) is not as good as it sounds and is likely for acquired tastes, not to mention that the film is too long, running just over 2 hours.
THE GOOD BOSS (El Buen Patron)(Spain 2022) ****
Directed by Fernando León de Aranoa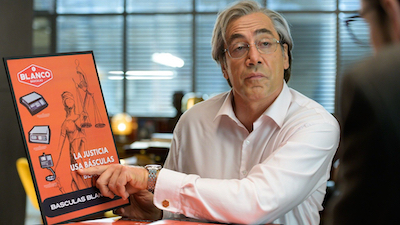 Javier Bardem stars in Fernando León de Aranoa's THE GOOD BOSS (El buen patrón), a workplace satire about the charismatic yet chilling owner of the company called Blanco Scales in a provincial Spanish town. The company is so called because it manufactures scales and the boss is Mr. Blanco (Javier Bardem).
Blanco and his wife (Sonia Almarcha) do not have children. He jokes in a company speech that he considers his employees to be family. But the smiles and handshakes hide sinister happenings. His company is in the running for a local Business Excellence award, with the judges expected to pop in any day unannounced. Everything should be but is not perfect. Working against the clock, Blanco pulls out all the stops to address any issues, crossing every imaginable line in the process.
The film is in a large part actor Javier Bardem's show. Bardem is an excellent actor known to play weird characters like the rapist killer in Alex de la Iglesia's PERDITA DURANGO (1997) or as Antonio in the Coen Brothers' NO COUNTRY FOR OLD MEN which won him the Academy Award for Best Supporting Actor. Bardem is in almost every scene but thankfully looks totally at ease working with director León de Aranoa. This is not surprising as Bardem has worked with León de Aranoa, in other films before, in LOVING PABLO (2017) and MONDAYS IN THE SUN (2002).
Bardem's Blanco is a very interesting character. As a boss, he is definitely charismatic and carries himself well with his well mannered speeches, fine attire and exterior concern for his employees. But as a human being, he is subject to sexual temptation. He starts an affair with a young intern (Almudena Amor) who turns out to be the daughter of a couple close to him and his wife. When he attempts to stop the affair, it appears a little late as she has fallen in love with him. From an earlier scene, it is obvious that this is not the first time, he has had a sexual affair with one of his employees. But Bardem is so suave that the audience still roots for his character, hoping that he will get away with it as well as win the prestigious award for his company.
This is not the only trouble in paradise. A disgruntled former employee (Óscar de la Fuente) has set up a protest camp nearby, not an encouraging sight when the award judges pay their unannounced visit. Blanco's right-hand man, Miralles (Manolo Solo) is suddenly making mistakes at work causing production stoppages. Blanco and Miralles are childhood friends and he goes out of his way to help him out, instead of just firing him.
Ironically the scales of justice are unbalanced in the company. The large scales at the company entrance that are not in balance serves as a metaphor for what is happening inside the company. The film works as a satire criticizing what must go on behind closed doors. Again, Blanco is an influential man and uses his power to get things to turn his way. But of course, not all things can turn in his favour. Not all things can be controlled. Is Blanco a good boss?
Since debuting at San Sebastian 2021, the film has won 30 awards. THE GOOD BOSS is an absorbing satire that draws the audience into the story and then shakes them up at the same time - as all good satires do.
Trailer:
LOVING ADULTS (Kærlighed for voksne) (Denmark 2022) ***1/2
Directed by Barbara Topsøe-Rothenborg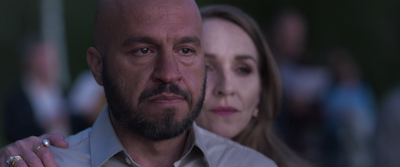 The film begins thus: Christian (Dar Salim) keeps parked in the woods so his wife Leonora (Sonja Richter) cannot see him. She runs out there on the road, his wife of twenty years. He has music in his ears, immersed in his race and in himself. She sees nothing, has no idea that in a little while hidden from the darkness and the rain he will catch up with her from behind, with the car's lights off. And brutally runs her over putting an end to their marriage. A tear rolls down Christian's eye.
As the beginning segments unfolds, words inform the audience that almost all of murders are above love and that in fact, half committed by a spouse and out of jealousy or passion. Love should come with a warning. Love kills.
LOVING ADULTS begin with the segment before going back to the night when Leonora hears Christian's cell phone going off in the night. She insists on looking at his phone which he refuses. Then, it is revealed that the call came from Christian's mistress at work who is delivering an ultimatum to him to ditch his wife. At this point, the film is at the crossroads. Would it be a horror film, a wicked satire on love, a psychological thriller, a relationship drama or a mixed genre bending film?
LOVING ADULTS begins well and is well paced and structured. The film should be seen for a number of reasons, one being the first Danish Netflix original movie. The film has a very strong female point of view, based on the novel of the same name by a female author, Anna Ekberg and directed by a female Barbara Topsøe-Rothenborg and boasting a strong performance from Sonja Richter as the wife. The script is adapted by two males, thus giving the film a two sided gender point of view. But the story leans on the female side, Leonora's and whether male or female. one would definitely take her side.
A major segment of the film is the confrontation between Christian and Leonora when the truth comes out. The story is complicated by the couple's relationship. Their son Johan had been critically ill and Christian had to pull off illegal activities in his company to pay the medical bills while the wife sacrificed her career to look after Johan. Now, Leonora threatens to expose Christian as he has not kept his end of the bargain. Great performances, particularly from Richter.
What happens next will not be revealed in the review as the events occurring pose some suspense and mystery adding to the entertainment of the movie.
LOVING ADULTS is a compelling watch - exciting, dramatic and well delivered in diction\t and performances - proving the fact that live should come with a warning. It debuts today the 26th on Netflix, complementing the opening of the American comedy ME TIME starring Kevin Hart and Mark Wahlberg
ME TIME (USA 2022) **
Directed by John Hamburg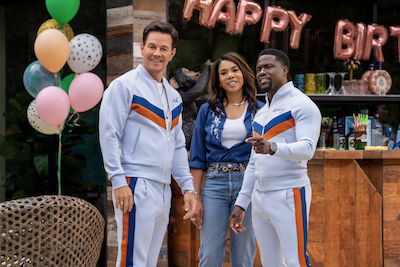 ME TIME is yet another Netflix original comedy starring Kevin Hart who has been flooding Netflix lately with his standup comedy, this film ME TIME directed by John Hamburg (ALONG CAME POLLY, I LOVE YOU, MAN) and his recent THE MAN FROM TOROTO. With him in the JUMANJI franchise, one wonders if he is saturating the medium.
Kevin Hart plays male housewife, Sonny while his wife, Maya (Regina Hall, also to be soon seen in HONK FOR JESUS: SAVE YOUR SOUL) is the corporate breadwinner of the family wth two kids, Dash and Ava. Maya decides she needs to send quality time with the kids so Sonny ends up with ME TIME, with crazy risking all buddy Sonny Huck played by Mark Wahlberg. They make ok chemistry that becomes tiresome after a hort while. There is nothing special in the story or plot but easy going uninspired entertainment and entertainment for the family, just beware of the few lewd jokes.
ME TIME follows the format of the typical brash adult male comedies such as THE HANGOVER and HOTTUB TIME MACHINE. (Only males would be enticed by a film with a title like HOT TUB TIME MACHINE)/ As expected there are a lewd jokes, one involving the huge size of a donkey's penis (quite funny) and another of a casual mention of an environmental friendly condo for India.
To the film's benefit, Kevin Hart is an expert comedian with precise comedic timing. But seeing him again and again in uninspired work is tiresome. Wahlberg proves good support in a supporting role.
ME TIME offers nothing unexpected, a funny enough time waster of a Kevin Hart movie.
Trailer:
SO VAM (Australia 2021) ***1/2
Directed by Alice Maio MacKay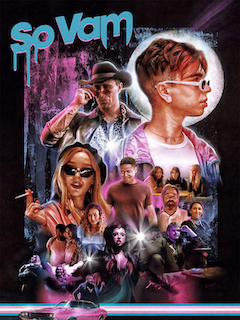 The new transgender and queer film by 17-year old trans director Alice Maio Mackay begins with three warnings of bullying, scenes of homophobic violence and gay slurring. In the first scene, the lead character, Kurt (Xai) is accosted by bullies, bloodily beaten up and called a faggot. So the warnings are right on effective. SO VAM is proudly gay and the stuff gay dreams are made of. Despite the horrific beginning, the film is a gay dream come true where the homophobes get punished and punished very severely for their crimes. And this is a vampire movie to boot, which is set in a small town, Australia. Kurt hates the place and dreams of going to the big city to become a famous drag queen, dragging (pardon the pun) his best friend Katie (Erin paterson) along.
The film is fast moving and fabulous. There are two fab drag shows, by Dolly (Vonni) and Chic (Alixxx), as well as Kurt's big finale piece. The drag shows put the recent Canadian 2021 JUMP, DARLING (Cloris Leachman's final film) also about an up and coming young drag queen to shame. What drag is, according to the film, is about dragging one out of their shitty life and it's a fabulous one.
It is not wrong to dream. Realty sucks, as the film's message implies. "The song of reality is where my mother is frail and my husband is in and out of jail and it is better to listen to the song of dreams." These are the words Kurt listens to every day on his headphones - words of repeated advice.
The song of nightmare is what Kurt encounters next rather than the song of dreams. He is accosted by an old vampire by the name of Landon (Chris Asimos): a predatory vampire whose bite makes their victims rot from the inside out. Kurt is bitten by him. Luckily, Kurt is saved by April (Grace Hyland) and Harley (Ethan McErlean) who are two members of a vigilante vampire group, killing the scum in the community that threaten their existence. Kurt joins the group. The rest of the film has Kurt and gang hunt down Landon, while becoming a drag queen at the same time.
The film is also not without humour, most of it provided by Harley who says the right things with a camp twist.
There is a play on the vampire myth. Kurt is taught the origin of Bram Stoker, whether true or not, that he is gay and fell in love with a stage actor. Unable to fulfil his gay fantasies, he wrote about him instead and turned his fantasy into a blood drinking vampire. The film also has good and bad vampires, who battle each other.
The film should be praised for being so trans and gay positive, aided by the fact that the director is only 17 and knows her material well.
SO VAM is an impressive feel-good transgender and gay movie made by a young 17-year old filmmaker that opens this weaken the Shudder Streaming service.
Trailer: