FILM REVIEWS:
ACID TEST (USA 2021) ***
Directed by Jenny Waldo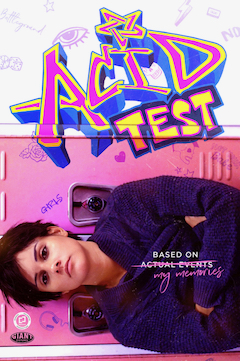 In one scene in the film set during a Chemistry class, Jenny (Juliana Destefano) learns that in order to test whether a liquid is acidic, is to put a drop of the liquid on litmus paper. If the paper turns to red, then the liquid is an acid. (Conversely, if the litmus paper turns blue, it is an alkaline.) Everyone that has gone through Grade Science should know the fact, and in the scene, the students wear goggles when handling the acid. Acid also refers to LSD, which Jenny experiments with. Jenny also experiments with a few other drugs, the 1992 setting of the story being an era when drug use was common. But the film does not make it clear what its title ACID TEST refers to, perhaps to both is the best guess. At the same time, Jenny is writing a test essay in her application to enter Harvard, the Ivy-league university that her father (Brian Thornton) is encouraging her to do
Set in 1992, against the backdrop of the presidential election between Bush, Clinton, and Perot, a Latina teen (her mother is from Mexico; her father white American) enters her senior year with life-long plans to attend Harvard. On a night out with her best friend, she discovers Riot Grrrl, an aggressive feminist punk music, and impulsively drops acid. As she drifts farther and farther from "the plan," she dives into new experiences, exploring her Mexican heritage, defining herself on her own terms, and rebelling against her father's control.
Director Waldo's film works for the most part because her film is sincere and never feels forced or pretentious. Every character has its flaws and also strengths. Jenny is seen as a head strong teen who is so pleased at reaching the age of 18. She says that it is so strange that after one day, her whole life is changed and she can do whatever she could not do just the day before. The father character is best written and wonderfully portrayed by Thornton. Bullying his wife and daughter, it is shown that he still loves them despite his faults. In a few scenes, it is shown that he is really trying - the tender and sensitive scenes working well in the family drama. Every family has its problems. As Jenny's teacher tells her: "(For the family) it is not the perfect choice, but you have only one choice."
ACID TEST is director Jenny Waldo's debut feature film, which is based on her semi-autobiographical award-winning short film with the same name. The film celebrates over 70% women and/or BIPOC in its cast and crew including a female writer/director, cinematographer and sound designer and has received the REFRAME Stamp for being a gender-balanced production. But most important is the fact that the protagonist is female, the story is female oriented with a strong female voice, with the male voice not put aside (her father's words make sense), a common trap that many female slanted films fall into.
ACID TEST opens on digital Platforms on October the 4th.
Trailer:
BROS (USA 2022) ***
Directed by Nicholas Stoller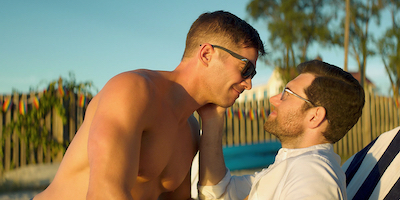 Are straight men that different from Gay men? Are straight romantic comedies that different from Gay romantic comedies? BROS, a party satirical (the issues on display like the opening of the first LGBT+ museum in NYC) gay romantic comedy that attempts to answer the question.
The romaine is between a witty, cynical podcaster (Billy Eichner) navigating romance and an earnest, buffed handsome lawyer (Luke Macfarlane) is a pitch-perfect portrait of queer New York in all its variety. Bros is outrageous, insightful, and celebratory. He can spit out a thousand words a minute, making complete sense at times while contradicting himself occasionally. Perhaps only Eichnr could have played this part, which he, a gay actor co-wrote the script with college pay and straight director Nicholas Stoller (his funniest NEIGHBOURS, FORGETTING SARAH MARSHALL and GET HIM TO THE GREEK). The cast boasts to be all gay, with Macfarlane hailing from Canada's own small town London, Ontario.
Born and bred in New York City, Bobby Leiber (Eichner) is a beloved podcast host, a self-appointed authority on contemporary queer culture with a merciless, irresistible wit. He is heading the prestigious position of the chair of the board for the LGBT Museum and needs to raise $5 million in order for the museum to open. His board meetings are laugh-out loud moments when each member champions their own case, fighting half the time. When speaking about his romantic life, Bobby prides himself on being unsentimental, emotionally unavailable, and interested exclusively in uncomplicated hookups. "Love is not love," Bobby declares. "Gay men are different." Enter Aaron (Luke Macfarlane). With his boy-next-door good looks, small-town origins, and dreary profession — he's a lawyer specializing in wills and estates — Aaron is frequently written off as mere man-candy. But when Bobby and Aaron meet, despite their myriad differences, each senses a spark beyond lust. They tentatively tiptoe into something like coupledom, an enterprise that generates big emotions and deep insecurities in both.
The film stereotypes gay men but pokes fun at it if the gay audiences is able to laugh at themselves. In one foursomes fourth man, Steve is involved who is able to get in with he action in the bedroom as he is not as hunky as the other three. The main subplot were Aaron asked Bobby to then down his 'gayness' to his visiting parents and he does not, inciting the fact that he has to be himself is not that convincing. One has to respect the other party as well as not impose one's gay (or any, for that matter) belief on any others.
BROS is a gay romantic comedy made for a gay LGBT audience from the more graphic sex scenes (not private parts shown though) and its culture constantly on display, though straight audiences would enjoy the film too. But the film unfortunately falls into the trappings of a Harlequin styled romance, complete with obligatory obstacles and a totally predictable reconciliation, destroying all of the freshness and originality of the first two thirds of the film. The question that should be asked is whether all romantic comedies must end with a happy ending.
Trailer:
FROM THE HOOD TO THE HOLLER (USA 2022) ***
Directed by Pat McGee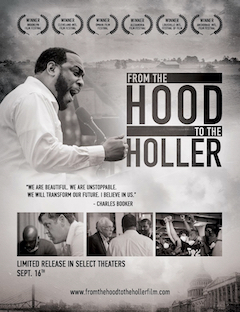 FROM THE HOOD TO HOLLER is an American political documentary. Igniting a movement known as FROM THE HOOD TO THE HOLLER, political activist Charles Booker works to unite people of all socioeconomic backgrounds in the U.S. state of Kentucky while fighting against big money in politics, voter suppression, and systemic corruption.
Before one (especially non-Americans) is quick to dismiss the doc as a film irrelevant, it should be noted that there is much to be learnt from director McGee's crowd rousing doc. For one, many might not know much about Kentucky, its demographics, geography and history. The doc is quick to point out that Kentucky is one of the poorest states in the U.S. Despite the large black population, the political platform is white. Brooks rallies his political agenda but without much funds loses the democratic race to fellow Democrat, Amy McGrath a female fighter pilot who had secured much more funds than Booker. She will then run for the U.S. Senate seat held by Mitch McConnell.
For Kentucky, 2020 was an especially difficult year. The Covid-19 crisis compounded with the aftermath of Breonna Taylor's murder highlighted systemic issues in a state that has suffered from stark inequality for decades. As one of the poorest states in the nation, Kentucky has some of the worst access in the U.S. to education, healthcare, and clean drinking water. It's ironic that a state with some of the most disenfranchised people is represented by one of the most powerful politicians in the country; Mitch McConnell.
Running in the Democratic primary for the U.S. Senate seat held by Mitch McConnell, Charles Booker attempted one of the biggest upsets in political history by challenging establishment-backed candidate Amy McGrath. FROM THE HOOD TO THE HOLLER follows Booker's campaign across Kentucky, from the most urban to the most rural settings, with Booker and his team rewriting the campaign playbook. Instead of exploiting divisions, they lean into the idea that average Kentuckians have common bonds, united by their shared day-to-day fight to survive. Booker works to represent Kentuckians, both Black and White, who feel entirely left out of the political process. His message is simple: Whether you are from the city "hood" — like Booker — or the Appalachian "holler," you are not invisible.
As director McGee follows Booker on his campaign trail, the audience sees the good and fight that is in this man. He is a one that is motivated by his people and one who will fight for his people. His rally speeches are indeed moving. In a way, FROM THE HOOD TO THE HOLLER is a feel good film. It is not surprising that the film had won 7 awards including Audience Choice at 2022 Cleveland International Film Festival and Best Documentary at 2022 Brooklyn Film Festival. Double Exposure Distribution will release the film in LA, NY and additional select markets on September 16. Pat McGee Pictures will release the film on digital platforms on September 23.
Trailer:
THE GREATEST BEER RUN EVER (USA 2022) ***
Directed by Peter Farrelly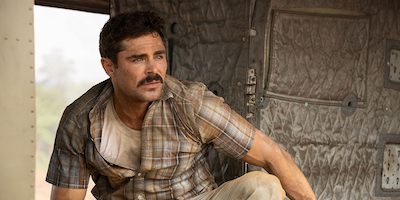 Following the success of Green Book — which received the TIFF People's Choice Award in 2018 before winning three Oscars, including Best Picture — director Peter Farrelly returns to the Festival with this amazing true story of solidarity in wartime, political awakening, and beer. THE GREATEST BEER RUN EVER follows a US veteran on an audacious escapade to bring liquid support to the troops in Vietnam. The film has tough shoes to fill. At TIFF. the film has not got rave reviews for one reason that every critic is comparing Farrelly's film with GREEN BOOK. But as they say, a film is only as good as its material. GREEN BOOK has more substance and history, tackling all important issues like race. Though THE GREATEST BEER RUN EVER tackles less pressing issues, the film does hold its own.
The year is 1967 and the US war in Vietnam is escalating. One drunken night in a New York bar, surrounded by the friends and family members of American soldiers killed in action, Marine Corps veteran and merchant seaman John "Chickie" Donohue (Zac Efron) is posed a magnificently preposterous challenge: what if he were to sneak into Vietnam, locate all his friends in combat, and provide them with messages of love and encouragement — and a whole bunch of brewskis? Chickie hatches a half-baked plan and is on his way. What he doesn't anticipate is a crash course in the intricacies of war, truth, and honour, courtesy of Coates (Russell Crowe), a Look photographer with first-hand experience of this ongoing disaster that the American public is only gradually becoming aware of.
Lasting over 2 hours, the film stretches its material and could have been shorter and sharper. There are important messages delivered to the audience, especially to American Trumpers who never give anything a thought but blindly follow their leaders no matter what lies they tell. In the film, Chickie wants to bring beer to his neighbours which he thinks is supporting the friends of his who are doing their duty to the country. His sister, however, is ant-establishment, participating in anti-Vietnam protests. The siblings have a huge argument. In the film, the film does not take sides and the audience would be divided on pro-Vietnam or against war. Of course, Chickie eventually learns the truth, that Bush and his cabinet have lie to the American people. This is the same for current Americans that pro-trumpets will believe anything the ex-President says, no matter what it tells. The one complaint about the film is that it could have been stronger in its message in the lies Americans are too about the Vietnam War.
The film is Efron's film, the actor being in almost every scene. Efron, the sexist actor today, ] has proven his talent in films ranging from HIGH SCHOOL MUSICAL to comedies like NEIGHBOURS and dramas like THE GREATEST BEER RUN EVER and MUD. Bill Mirray and Russell Crowe add a notch up.
Despite its flaws, THE GREATEST BEER RUN EVER still passes as an entertaining watch even though it falls short of expectations.
THE GOOD HOUSE (USA 2022) ***
Directed by Maya Forbes and Wallace Wolodarsky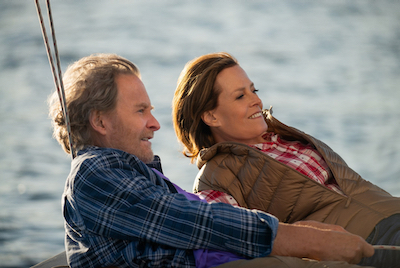 Veteran screenwriters Maya Forbes (THE INFINITELY POLAR BEAR) and Wallace Wolodarsky adapt and direct Ann Leary's novel, THE GOOD HOUSE as a piercing observation of a woman capable of great charm, but always ready to sabotage her own success when the mood descends. Hildy Good (Sigourney Weaver) is a successful real estate agent in Wendover, New England, whose family has been established here for more than 300 years. She is amicably known as a Salem witch which she plays along with, reading minds during dinner soirees.
Hildy is an alcoholic but works proficiently enough during her non-drinking hour. Her family pose a bit of a challenge. She rekindles an old romance with one of the richest residents of Wendover , Frank (Kevin Kline) who works in the trash business. ``Does he smell of garbage?" asks her daughter about their affair. "No, he smells like a man," comes the retort.
The film projects the New England town of Wendover as a sheltered comfortable place for the white and wealthy, but not that inviting to those that do not fit in.
Hildy speaks quite a bit to the camera and to her dogs, an easy way for the audience to learn about the other characters in the story as well as how Hildy feels, instead of the directors having to create events for the purpose. With one week of faces during a get-together, Hildy introduces all the main characters in the story. The audience learns that Hildy is in self-detail when she speaks to her two dogs saying a bit of merlot is what's necessary to calm her nerves and that she never touches a drink before 5 pm, also mentioning that wine does not really count as drink. But she drinks herself to a stupor, passing out once in the basement and often forgetting what she had done while drinking the evening before.
But as the story progresses, we start to see another side to Hildy Good, and to her life's greatest passion - the lies and self-deceptions needed to support her drinking, and the damage she causes to those she loves. When a cluster of secrets become dangerously entwined, the reckless behaviour of one threatens to expose the other, with devastating consequences.
THE GOOD HOUSE is Sigourney's film, all the way with her in every scene and her making her character so watchable and entertaining. Hildy is funny and knows exactly what to say, whether to her characters or to the audience. Kline plays her romance and makes perfect chemistry, they acted together before in Ang Lee's THE ICE STORM.
The film transitions from mild comedy to serious drama not too smoothly when Hildy starts getting into trouble for her drinking, with a few too many subplots that lead nowhere, but are there just for a bit of humour. One of Hildy's past husbands had left her for another man, the incident just serving as comical banter.
THE GOOD HOUSE premiered last year as a Gala Presentation at the Toronto International Film Festival and opens this week in theatres.
Trailer:
GOD'S CREATURES (UK/Ireland 2022) ***
Directed by Saela Davis and Anna Rose Holmer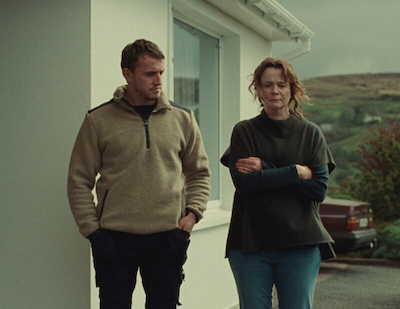 GOD'S CREATURES is directed by the female duo Saela Davis and Anna Rose Holmer, who worked together on the award-winning feature THE FITS (2015) which played at the Venice and Sundance film festivals. This new psychological drama which premiered at Cannes this year at the Director's Fortnight, set in an Irish rural fishing village, sinks the audience in the tense atmosphere held by the powerful performances of lead actors Emily Watson and Paul Mescal. They play mother and son Aileen and Brian O'Hara.
In GOD'S CREATURES, directors Saela Davis and Anna Rose Holmer prove themselves apt at the creation of atmosphere and mood. The dread and depressing no-way-out scenario is more than effectively created. The best thing seems to be a night out at the pub for all the characters in the village.
The story begins, ominous as it is, with a drowned fisherman. At the funeral, a prodigal son, Brian O'Hara (Paul Mescal) returns out of nowhere to his family, greeted by his mother. Aileen (Emily Watson). Brian had taken off to Australia, breaking off ties with his family till now. A girl is raped and abused, the girl is Mary (Marion O'Dwyer), Brian's ex. It is deemed obvious that Brian did it, but his mum vouches his presence at home for the alibi. This information would not be deemed as a film spoiler as the fact has been made known to the audience by the middle of the film..What the film is about are the emotions of the O'Hara family and how they cope or try to cope with the events.
It has been a while since audiences have seen Emily Watson on screen. She has proved herself an awesome actress (THE PROPOSITION; ANGELA'S ASHES and the HARRY POTTER franchise) and one now in a worthy role, as a grandmother of sorts, aging with grace and without plastic surgery. Mescal is relatively new who holds his own while appearing with Watson.
Distributed in Canada by Sphère Films, GOD'S CREATURES will be released in theatres and VOD on September 30th, 2022.
Trailer:
HOCUS POCUS 2 (USA 2022) **
Directed by Anne Fletcher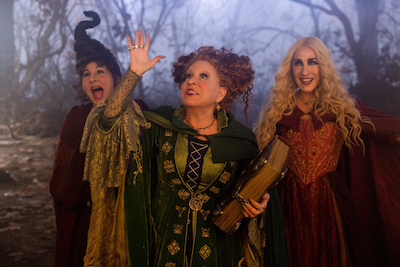 Back in 1993 came a successful comedy featuring 3 witches, the Sanderson sisters played by Bette Midler as Winnie, Kathy Najimy as Mary and Sarah Jessica Parker as Seah. The three witches were child hunting in their hometown of Salem before being banished. In the late almost 30 year after sequels the sisters are once again conjured up and have to be banished once again. HOCUS POCUS 2 is the American supernatural comedy film directed by Anne Fletcher, written by Jen D'Angelo and produced by Walt Disney Pictures.
Also written by Jen D'Angelo and directed by Anne Fletcher, HOCUS POCUS 2 delivers very much of the same with little or no surprises in story or plot twists. Bette Midler reprises her role as Winifred "Winnie" Sanderson, the oldest of the three Sanderson Sisters. Her signature magical ability is electrokinesis, but she has extensive knowledge of dark magic thanks to her prized sentient spell book. As the leader of the trio, Winifred is often frustrated by her younger sisters' incompetence. Midler is the one who steals the show despite everyone else in the past being no match for her. She is still unable to save this otherwise bland comedy which pity has quite outstanding production sets and design. Parker and Najimy do not appear too inspired with their performances, not helped by the fact that nothing funny is written or given for them to do. As a comedy, the film is mildly funny with too few laugh-out-loud scenes too far in between.
To be politically correct, Whitney Peak is Becca, a black high-school student and aspiring witch who accidentally conjures the Sanderson Sisters
HOCUS POCUS 2 opens on Disney+ on September the 30th. Strictly for HOCUS POCUS and Bette Midler fans.
Trailer:
MONA LISA AND THE BLOOD MOON (USA 2002) ***1/2
Directed by Ana Lily Amirpour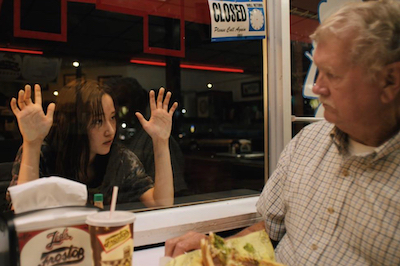 Ana Lily Amirpour, the director of MONA LISA AND THE BLOOD MOON is a British-born American film director, screenwriter, producer and actress. She is best known for her feature film debut A GIRL WALKS ALONE AT NIGHT'', self-described as "the first Iranian vampire spaghetti western'. It made a statement about women and the film proved her a talent to watch. She returns with another supernatural thriller, a sort of easy-going but fresh and unpredictable, well mostly anyway, of an escaped Korean mental patient who has mind control capabilities. The girl is called Mona Lisa Lee and hence the film title.
The film begins with Lisa (Ju Jong See) straight jacketed in her room when a smart mouthed white trash woman comes in to cut her toe nails. Lisa gets slapped around and verbally abused before she uses her mid control or hypnotic powers to escape. Lisa comes across different characters while escaping. One is a rapper skinhead (Ed Skrein) who treats her kindly, buying her food and only asking for a simple kiss in return. Those that don't get what's coming to them, which is pretty nasty. The kind ones do not get harmed. Lisa is eventually brought home by a stripper and single mother (Kate Hudson) and she takes to looking after her son. But when they draw the attention of a detective (Craig Robinson), their luck starts to run out as the cops close in on their crime-spree.
Director Amirpour is what one might call a 'kind' director. Like the well known and famous 'kind 'director Francois Truffaut, nothing bad ever happens to the innocent and good intentioned characters in his films. In his classic THE BRIDE WORE BLACK, the teacher of the boy whose father is murdered by Jeanne Moreau who she had impersonated is set free by the police. The same occurs in Amirpour's film. The rapper, the people Mona Lisa encounters who show her sympathy are not harmed. But those that do get a nasty surprise. The film is occasionally violent with repeated stabbings on a leg by a knife and also with the stripper badly beaten up at one point.
But MONA LISA AND THE BLOOD MOON is an extremely watchable film Director Amirpour invests time and attention to her characters so that the audience cares for them. Her film flows along smoothly but not without direction. One can see her characters grow in terms of maturity and personality.
Hudson and Ju are both excellent in their roles while the supporting cast which is composed of Skrein and comedian Craig Robinson fare quite well too. Director Amirpour is proficient at eliciting fine performances from her actors.
The cinematography is excellent with most of the shots occurring at night and in the strip club with the glowing lights. MONA LISA AND THE BLOOD MOON can be described as a sci-fi horror fantasy. The film is available On Digital and On Demand and is definitely worth a look.
RED RIVER ROAD (USA 2022) ***
Directed by Paul Schuyler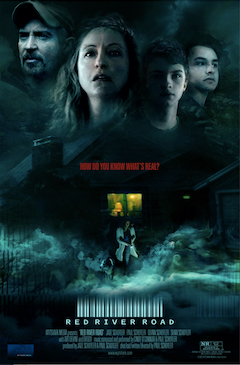 RED RIVER ROAD is a low budget little film that succeeds in delivering the chills and psychological terror that isolation brings to a typical family. It is perhaps one of the better Pandemic related films made during the Pandemic and about the Pandemic that is entertaining enough to make its point.
The film opens with what seems to be the perfect family. The family- husband and wife and two sons play Monopoly. They have an adorable dog. In the morning, all appears fine but the wife reveals to her husband a nightmare she had of her husband- perhaps an omen of something evil that might happen. Director Schuyler plays marvellously with the audience anticipation, another example being the regent where the elder son cuts his finger with a sharp knife, the scene intercut with the father's automatic circular saw running through a plank of wood. Who would get injured? The after or the son?
A family of four isolating against a pandemic virus that spreads through the internet and robs you of your ability to perceive reality--often violently--begins to unravel when they suspect one or all of them might be infected. Nothing more should be revealed regarding plot or story, except to say that the film feels current and real.
If one is wondering the reason the two sons in the family - the brothers, really look like brothers, because they are. Shot during COVID-19 quarantine lockdown with the writer/director's family serving as the sole cast and crew.
Gravitas Ventures will release the film on digital platforms on October 4, 2022.
Trailer:
SISSY (Australia 2022) ***
Directed by Hannah Barlow and Kane Senes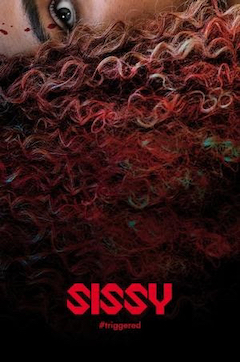 Written and directed by Hannah Barlow and Kane Senes, the new Shudder horror flick SISSY stars Aisha Dee and Barlow as Cecilia (SISSYS for short) and Emma, who had been tween-age Best Friends Forever (BFFs) who were never going to let anything come between them — until Alex (Emily De Margheriti) arrived on the scene. They have performed rituals like burying a box of their love things to mark their commitment towards each other. All these were done as kids but will these childhood commitments hold up the test of time? And are there consequences? There are a lot of potential scenarios that can develop from the premise. There are a lot of skeletons in the closet that are kept secret as well until revealed when the two are grown up.
The film then takes the audience twelve years later, Cecilia is a successful social media influencer living the dream of an independent, modern millennial woman, until she runs into Emma for the first time in over a decade. After reconnecting, Emmy invites Cecilia on her bachelorette weekend at a remote cabin in the mountains, where Alex proceeds to make Cecilia's weekend a living hell.
Cecilia has thousands of followers as a feel good influencer and she uses her methods to keep herself cool in the face of extreme adversity. The film targets influencers, but this film works better as a horror feature than a shallow satire that it turns out to be.
If the above written storyline sounds mundane, a bit of spice can always add flavour to the movie. One is the Australian setting. Another is the inclusion of social media platforms into the story. As mentioned, Sissy is an influencer and the audience sees her at her work, corny and superficial as it seems , the film attempts at creating, though not very well, a bit of a social satire as well. The bachelorette party is a gay one, adding a spin and difference to the expected normal.
The film is well paced. Cecelia should never have agreed to attend the celebrations at the cabin. From discomfort to horror, the tension mounts. She is ignored and insulted by the other guests and has to sleep on the couch being a last-minute invitee Anyone who knows a few guests at any big party will be able to share Cecelia's discomfort. Worst of all, the host.Alex, the one who had come between the two BFFs in the past hates Cecelia and does her best to make her uncomfortable. This is equivalent to extreme bullying both mentally and physically. What Cecelia must do to survive makes this story intriguing.
The horror segments are quite gruelling. The directors seem to favour head smashing. Head smashing occurs quite a few times in the film - the worst one being a car running over the head of a victim, crushing out the eyeballs and other organs.
SISSY premiered at the SXSW festival and will debut on Shudder, the horror streaming service that bought the rights before its premiers at SXSW as an exclusive horror movie.
Trailer: