The 2022 Toronto International Film Festival runs from the 8th to the 18th of September and returns with in person screenings as well as digial screenings for the public. Below are capsule reviews of selected films. Please check this page daily for daily updates right up to the end of the festival. In this way, you will not miss any hidden gems.
Bon Fete!
Please note that THIS YEAR TIFF embargoes all reviews till the first public screening. The ones below are those that I have already seen.
Capsule Reviews:
752 IS NOT A NUMBER (Canada 2022)
Directed by Barak Payami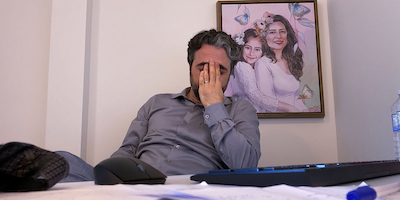 752 is the number of the Ukrainian Flight that was shot down on January 8, 2020, killing all 176 on board. The film documents an Iranian Canadian dentist's search for truth and justice as he (Hamed) had lost his beloved wife and 9-year old daughter. As the spokesperson for the Association of the Families of Flight PS752 Victims, Hamed holds the microphone. Iran has been seen before in previous documentaries flaunting human rights and this film enforces the country's unacceptable behaviour. But Hamed finds himself caught in a web of geopolitical intrigue, international politics, legal complexities, detractors and informants. The built in conflict of Iranian investigation by the Civil Aviation body of the disaster is once again known and highlighted in the film. This is equivalent to having the murderers do the investigation of a murder they are responsible for. Most of what transpires in the doc have already been relayed in the news. The mis-handling of the after disaster like bulldozing the crash site, the lack of security and the resulting looting have all been seen on the news. Still, Payami's doc is a gut-wrenching difficult film to watch. But Payami ties all the facts together while bringing on a personal perspective and grief at the same time.
EL AGUA (THE WATER)(Spain/France/Swirtzerland 2022) ***
Directed by Elena Lopez Riera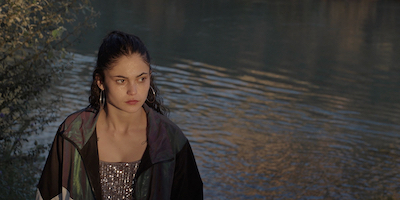 Directed by Elena Lopez Riera
Water is a force of nature that is often impossible to control. The Segura River floods regularly, destroying local crops and residences. But water also has the devastating effect on a family of three single women, the townsfolk believing, thanks also the the grandmother spreading tales that water will consume them. The youngest teenager is looked down upon for this reason for not being a candidate for dating. The headstrong and mature-beyond-her teenage-years Ana (a magnetic Luna Pamies, lives with her mother (Bárbara Lennie) and grandmother (Nieve De Medina) in a sun-dappled southern Spanish town near the Segura river, where local legend dictates that women are destined to disappear every few decades when the river floods. Its overflow is fuelled, the legend follows, by the river's desire to claim for itself a woman who has recently fallen in love. Director Riera's film concentrates the story on Ana, making her film a part coming-of-age story in which she has to decide her own destiny. Strong drama but hampered by a weak ending.
Trailer: https://www.sensacine.com/peliculas/pelicula-285786/
ASHKAL (Frane/Tunisia/Qatar 2022) **
Directed by Youssef Chebbi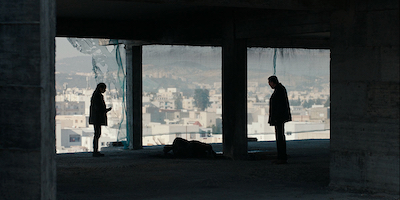 The film begins with a series of mysterious deaths in an abandoned development north of Tunis that sends two detectives down an all-consuming rabbit hole. In the Gardens of Carthage, a district in the north of Tunis, sits a row of abandoned concrete buildings once intended to house government dignitaries of the old regime. Developments in the district stopped in 2011, when the self-immolation of a Tunisian street vendor initiated an historic revolution that would spread and be seen across the world. Police detectives Fatma (Fatma Oussaifi) and Batal (Mohamed Houcine Grayaa) investigate. Director Chebbi poses more questions and provides a few hints with no solutions. The ending scene which poses as the answer turns out more confusing than anything else. ASHKAL is a cat and mouse game and the mouse that is finally caught and eaten is the audience.
AUTOBIOGRAPHY (Indonesia/Singapore/Philippines/France/Qatar/Germany/Poland 2022) ***1/2
Directed by Makbul Mubarak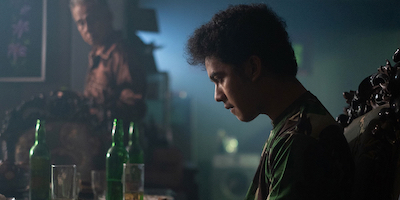 Eighteen-year-old housekeeper Rakib (Kevin Ardilova) has been living idly in a gloomy rural mansion when Purna, the lord of the house, unexpectedly returns. A retired general, Purna aims at winning the local mayoral election, running a campaign focused on modernization and development which involves evicting poor farmers in order to build a power plant. With his father in prison and his brother working abroad, there is a void in Rakib's life that Purna suddenly promises to fill. The film is basically a two-handler, one innocent hero and the other guilty villain, with a solid confrontation at the very end. Director Mubabrak proves himself an excellent director in his debut feature, his camera both doggedly tagging his characters while accomplishing some magnificent night shots as well. Through the capsule examinations of these two, one can see the problem balloon into the political and social problems of the country Indonesia, which I have noted as I have close relatives living in Jakarta. AUTOBIOGRAPHY is a must-see at TIFF as this is the kind of excellent work that would unlikely receive a commercial release in North America. A powerfully undestated examination of of political power and greed brought down by a moral man following his instincts if doing what is right.
THE BLACKENING USA 2022) ***
Directed by Tony Story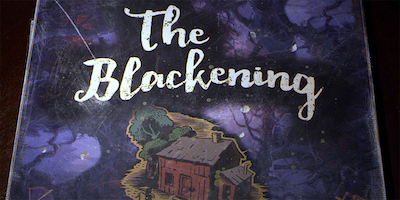 In the typical slasher horror flick, the token minority member like the single black in an almost all white group is the first one to be killed off. This premise cannot happen in the horror flick THE BLACKENING because the entire group that is invited to the cabin in the woods is all black. Who is the first one to go then? The only black guest with the white father? THE BLACKENING refers to the board game (complete with the head of "Sambo" with the big black lips) in the cabin's game room that forces the guests to play a deadly game to answer questions correctly or die. This horror comedy knows all the horror cliches and parodies them hilariously and to great effect. Running just around 90 minutes before it runs out of steam, THE BLACKENING is more fun than horror though a few of the guests do get brutally done in.
BONES OF CROWS (Canada 2022) **
Directed by Marie Clements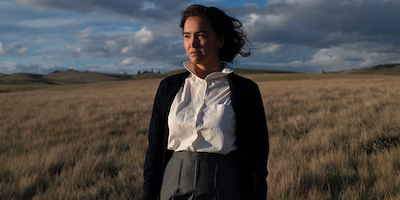 Inspired by true events, the words are splashed on the screen at the start of the film. This obviously does not imply that the story about to be told is true. BONES OF CROWS is a too ambitious historical epic told through the eyes of Cree Matriarch Aline Spears (Grace Dove), as she survives Canada's residential school system to continue her family's generational fight in the face of systemic starvation, racism, and sexual abuse. The epic unfolds over one hundred years with a cumulative force that propels us into the future. The film switches time and places at least a dozen times during the film. The audience first sees Aline as a child then as an adult at various stages, at courtship, after marriage, at the end when she is old with grandchildren. It is disorienting for a film to be screened in non-chronological order and here not once or twice but too many times. The story is overdone in order to get a message across. There are too many coincidences. The whites are easy targets but at least writer/director Clements show a few good points in the characters. The film's production is to be commended as well as the film's effort to get its message across. .
BROKER (South Korea 2022)
Directed by Hirokazy Kore-eda
Review emabrgoed Sept 13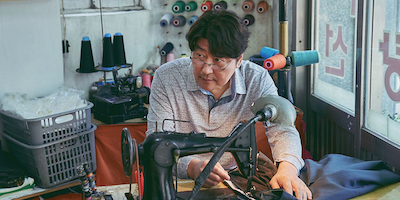 THE COLOUR OF INK (Canada 2022) ***1/2
Directed by Brian D. Johnson
(Review Embargoed till Sep15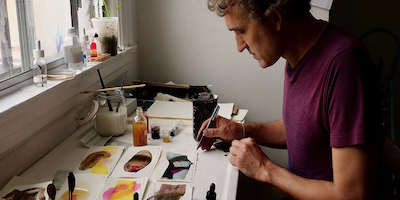 Toronto-based artist and ink-maker Jason Logan, the main subject of the doc, traces the history of ink and its impact on the world in Brian D. Johnson's lush and visually striking film shot by celebrated cinematographer Nicholas de Pencier.
CORSAGE (Austria/France/Germany 2022) ****
Directed by Marie Kreutzer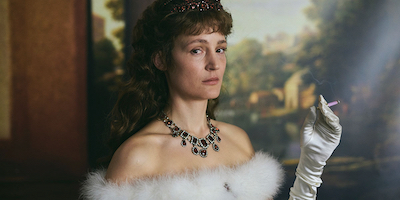 A beautifully crafted period piece shot in German and a little French with exceptional costumes and cinematography by Judith Kaufmann telling the life and demise of Empress Elisabeth of Austria (Vicky Krieps), whose beauty and corsetry was famed in lands far and wide.
The setting is Christmastime, 1877, in the Austro-Hungarian capital of Vienna, and Empress Elisabeth of Austria is celebrating her 40th birthday alongside her husband, Emperor Franz Joseph (Florian Teichtmeister), and their hoity-toity royal guests. Whispers murmur that it's all downhill from there, and her image — including her infamously ever-cinched corset — is under increasing scrutiny. After the festivities, with her roles increasingly reduced to that of ceremonial appearances such as visiting injured soldiers and waving to her hardscrabble and often uncongenial subjects, Elisabeth blanches at the thought of wasting away (as, unbeknownst to her, the empire is doing). The period piece is not as dull as it sees but as director Kreutzer injects lots of humour spaced with gorgeous interior and external settings. She does not judge the controversial Empress who does whatever she wants, leaving her to annoy all her family and servants while entertaining us.
LE COYOTE (COYOTE)(Canada 2022) ***
Directed by Katherine Jerkovic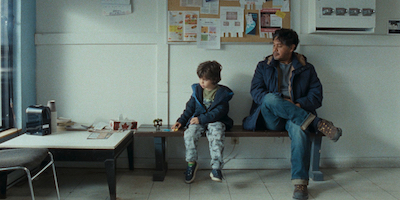 Reserved and reticent Mexican immigrant, Camilo, a fiftysomething widower, works for a cleaning company in Montreal. Back in the day, he ran a successful restaurant called Le Coyote that, for reason his substance abuse daughter, went under. Since then, he has doggedly pursued culinary jobs, to no avail. But an old friend and fan of Le Coyote has just asked him to work as a chef in the suburbs. But daughter Tania enters the picture with the shocking news that Camilo has a grandson, Zachary begging him to care for Zachary while she is in rehab. But Camilo reluctantly acquiesces, despite his misgivings and Zachary's apparent distrust of him. This is a depressing film all the way about a depressed past middle age man who when finally given a second chance might lose it alliance agin. The daughter continues the substance abuse, her son is difficult and he has to work hard at his own job as well. Director Katherine Jerkovic has her audience rooting for poor Camilo from the very first frame and her film is a difficult. watch.
DOCUMENTARY NOW! (USA 2022) ***
Directed by Alex Buono, Rhys Thomas and Micah Gardner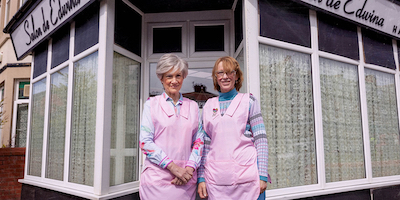 TIFF presents three new episodes from season four of the mockumentary series Documentary Now! ― created by SNL alumni Bill Hader, Seth Meyers, Fred Armisen, and Rhys Thomas ― receiving their World Premiere and introduced by Oscar Winner Helen Mirren. The first up is a take on My Octopus Teacher, only this version stars English comedian Jamie Demetriou (Fleabag) as an animal-obsessed filmmaker in the episode titled "My Monkey Grifter." This is the funniest of the three and one need not have seen MY OCTOPUS TEACHER to laugh at his one. I did not. The conclusion is: "Don't trust a fucking monkey!"The second and best of the lot in terms of parody, atmosphere and cinematography is a warm-hearted homage to both the late Agnès Varda and also the recently passed away Jean-Luc Godard starring French actor Liliane Rovère portraying an aging director trying to recapture the thrills of her youth in "Trouver Frisson." The weakest third is a pet project of Cate Blanchett, which is likely the reason it is the last one) called "Two Hairdressers at Bagglyport," about a beauty parlour full of secrets.
DRIVING MADELEINE (UNE BELLE COURSE )(France 2022) ***
Directed by Christan Carion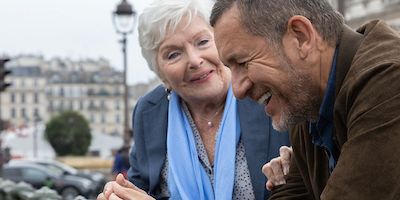 Charles (comedian Dany Boon in a more serious mood) is a taxi driver in Paris, and he is having a very bad day, which is everyday for a Parisienne cab driver. Some pressing personal debts are due, he's in danger of losing his driver's licence to numerous traffic infractions, and his marriage, like Charles himself, is strained to the point of snapping. He takes a quick but long fare in the suburbs that turns out to be Madeleine (Line Renaud), an immaculately groomed 92-year-old woman, who informs Madeleine reveals her true life story to the reluctant listener, Charles. This is a sentimental feel-good movie with director Crion attempting to push too many right buttons. It does not take a genius to guess the film's happy ending which is supposed to be a twist in fate but turns out to be a predictable fable. The audience at least get a good tour of the in and outs of Paris.
DRY GROUND BURNING (Mato Seco Em Chamas)(Brazil/Portugal 2002) ***1/2
Directed by Joana Pimenta and Adirley Queiros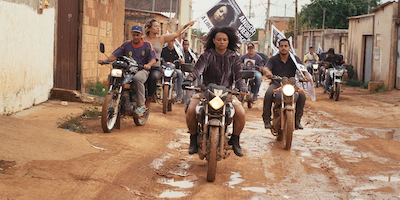 A woman's film all the way ad a strong one at that, except that the co-directors are male and female, with two female protagonists, fema;e strength amidst a male dominated society and a story that celebrates feminism. Two sisters Lea and Chitara. make history in Sol Nascente., a hellish place in Brazil in 2019. Chitara got a hold of a map of underground oil pipes.that ran right under her land. Her, Andreia, China and others made a lot of money. When Lea came out of prison, she started working with them. A deal was set up with the motoboys, they would buy gasoline Chitara … She refined the gasoline there, and they bought it off her. The handsomely mounted film plays part sister drama, MAD MAX environment in an epic two and a half hours with some impressive tunes including rap punctuating the soundtrack.
EO (Poland/UK 2022) ***1/2
Directed by Jerzy Skolimowski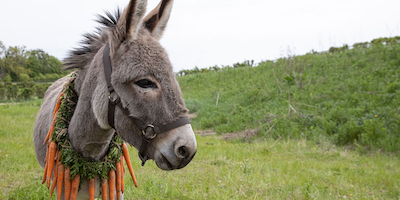 ' Following the story of life from the point of view of a donkey, as in Robert Bresson's 1966 classic Au Hasard Balthazar, Jerzy Skolimowski's EO (which shared the Jury Prize in this year's Cannes competition) is the latest work from the 84-year-old Polish master (DEEP END, MOONLIGHTING). It has been more than 50 years since Bresson's film, so what transpired in EO could be considered material hardly seen. In EO, the audience sees the donkey from birth to its ultimate death. His name is EO and he undergoes several owners from the circus to a farm to just straying away with no owner. The most difficult to watch scenes are the ones where EO is mistreated or beaten up for no reason. Why is the animal chosen the donkey? Probably because it is the most abused and misunderstood animal on the planet. Not as moving as Bresson's film, but just as riveting!
Trailer:
EVER DEADLY (Canada 2022) **
Directed by Tanya Tagaq and Chelsea McMullan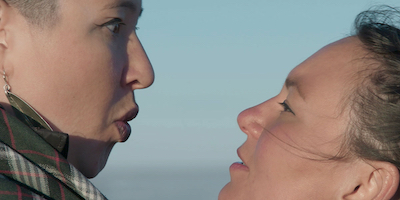 The film follows the life and sounds of Polaris Music Prize– and Juno Award–winning artist Tanya Tagaq, who co-directs the documentary with filmmaker Chelsea McMullan. The film begins with a first extended shot lasting 7 and a half gruesome minutes, a close-up of throat singing performed by Tagaq and performance artist Laakkuluk Williamson Bathory on location in Nunavut. The Nunavut landscape is stunning and as amazing as the lifestyle of the people. But the film and music is an acquired taste. Following the initial 7 minutes, if that has not already convinced you to leave the film, the film continues with her performance in which she introduces herself saying that the performance is in a small room and that the audience is free to leave at any time. The same goes for this film that is so slow moving and experimental that it is close to impossible to have enough patience to sit through despite the filmmakers good intentions. The film also examines indigenous Women and Girls, in particular the death of an Inuk girl named Loretta Saunders, while invoking the names of other women and girls as her music turns into a painful wail. The images of wildlife and narration of the relocation of Tagaq's people by the Government are at least intriguing.
Trailer:
FALCON LAKE (Canada 2022) ***1/2
Directed by Charlotte Le Bon
Review emabrgoed Sep 13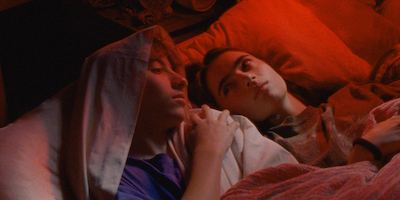 FIXATION (Canada/USA 2022) ***
Directed by Mercedes Bryce Morgan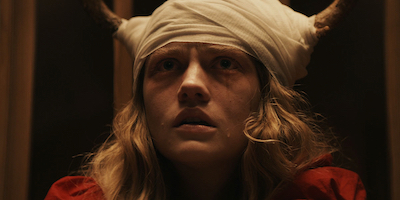 FIXATION opens with Dora, played by Maddie Hasson, a young woman committed to an unorthodox institution by a pair of enigmatic doctors (Genesis Rodriguez and Stephen McHattie). One odd thing is that Dora does not notice any other patients and that she remembers nothing. The film unravels in Steps from Step 1 (Submission) to Step 6 (Realty) which are the steps Dora has to achieve in order to be discharged. The film benefits from director Morgan's fluid camerawork and style as well as the set design of the claustrophobic and emotionless ward. The trouble with this film is the plain storyline that is predictable and does not really lead anywhere. Canadian veteran McHattie once agin plays the role of an odd character while Maddie Hasson holds her own as the troubled protagonist. The film should be seen for the good performances, production and direction.
FREE MONEY (USA/Kenya 2022) ***
Directed by Lauren DeFilippo and Sam Soko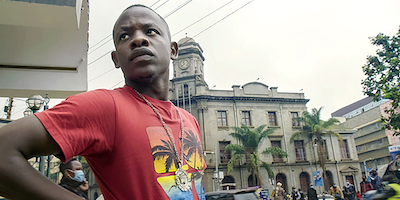 When universal basic income (UBI) comes to the Kenyan village of Kogutu, lives are forever changed. FREE MONEY is the doc about money given to the poor of the world's poorest countries. GiveDirectly is the leading global NGO specialized in delivering digital cash transfers. The film documents the challenging work across 11 countries, from Houston after Harvey to the most remote parts of Uganda, and launched 19 experimental evaluations (RCTs) with independent researchers documenting the impacts on recipients and on the local economy. The directors have well meaning CEO, Michale Faye talk about the problems (who gets the money and who does not; the difficulty of collecting data in the experiment, which is supposed to conclude in 2031) to the camera while a reporter bluntly accuses him of using human beings in experiments. The doc also goes down to ground level to see how the recipients and rejects feel about the money. An insightful look at a little known charity that has adverse effects as well as good, but the doc just skims the surface and could have done with more research.
THE HAPPIEST MAN IN THE WORLD (Macedonia/Bosnia/Serbia 2022) ***
Directed by Teona Strugar Mitevska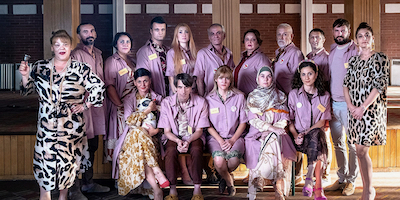 A middle-aged couple matched at a blind-dating event in Sarajevo discover that although the battles besieging their city are over, the war continues in many other forms. Asja (Jelena Kordić Kuret) is a 45-year-old legal advisor looking for romantic love. Encouraged by her mother, she reluctantly attends a blind-dating event in her hometown, where she is matched with a 46-year-old banker named Zoran (Adnan Omerović) who, despite his intense stare, comes off as shy. They are paired together and nasty skeletons come out of the closet. The two try to deal with the problem but there is no simple solution. The film is intense, dramatic and not an easy watch, with the actors screaming and shouting half the time. The film is based on true events.
HOLY SPIDER (Fr/Ger/Swe/Den 2022) ***** Top 10
Directed by Ali Abbasi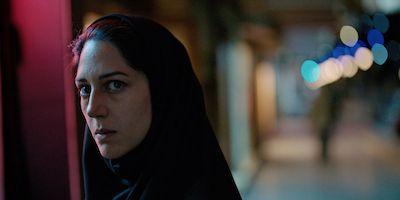 Like Jack the Ripper, someone is brutally killing the street prostitutes in the holy Iranian city of Mashhad. The serial killings are nicknamed spider killings. As the serial killer, the identity revealed to the audience very early in the film as a devout jihad, the film is thus called referring to the killer, HOLY SPIDER. Saeed (Mehdi Bajestani) is a worker, doting family man, veteran of the Iran–Iraq War, and a devout Shia Muslim. He appears to live simply with his wife Fatima (Forouzan Jamshidnejad) and two children. Director Abbasi shows the brutal stranglings in detail, just as Hitchcock did in FRENZY. The victims are struggling to breathe, their faces distorted while badly beaten by Saeed. With no end in sight to the slayings, a Tehran-based journalist, Rahimi (played by Zar Amir Ebrahimi, who won Best Actress at Cannes 2022, where the film screened in competition), arrives on the scene, determined to uncover the killer's identity. Soon, a dangerous cat-and-mouse-game is underway, where each player's and onlooker's own interpretation of justice casts a unique prism of doubt. Like a Hitchcock film, HOLY SPIDER is an engrossing watch from start to end.
Trailer:
HOW TO BLOW UP A PIPELINE (USA 2022) **
Directed by Daniel Goldhaber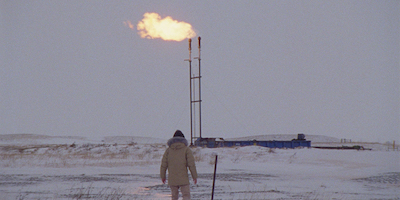 HOW TO BLOW UP YOUR PIPELINE is a well-intentioned but unfortunately poorly executed environmentally forward thriller drama that is all over the place trying especially hard to be a thriller like Henri-Georges Clouzot's LA SALAIRE DU PEUR but failing miserably. Director Goldhaber ends many segments with an exciting part, like an explosion and then interrupts it with the background story of one (or two) of the activists. It is confusing at first as it goes back in the time-line not to say that it makes little purpose to employ this technique, unless one is making a series in which the end intrigues the viewer to watch the next episode. The virus young subjects leave much for the audience to care for. They just do what they think is right. The film gives mixed messages on what to do with the environment. Should everyone be as destructive by blowing up other pipelines and destroying property? The film also opts out for a cop-out happy ending. One might lay part of the blame to the film's source material, Andreas Malm's controversial 2021 non-fiction treatise of the same name.
LA JAURIA (Columbia/France 2022) ***1/2
Directed by Andrés Ramírez Pulido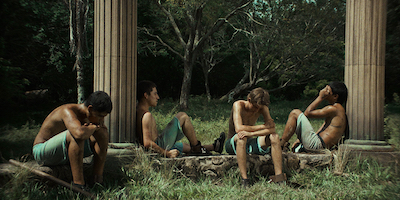 Troubled teenagers are forced to fend for themselves after they are locked away in an experimental tropical-forest prison, LA JAURIA. The story focuses on Eliú (Jhojan Stiven Jiménez) and his friend El Mono (Maicol Andrés Jiménez), who begin the film in the midst of a frenzied night — one that ends in murder. They meet again as prisoners in the centre, where they're heavily medicated and forced to do intense labour. Álvaro (Miguel Viera), the good cop to bad cop Godoy (Diego Rincón), leads dubious therapy sessions and seems genuinely intent on helping the kids. But when he starts crumbling under the pressure, the boys are left to fend for themselves. Everyone from guard to the boys undergo a gruesome life with hardly a way out. The result is expectedly disastrous. Almost the entire film is used to depict the harsh conditions of the boys. Working 4-5 days without food, they are too tired to sleep and one they do, they have to lay down on planks and be bitten by bugs. A twist of fate occurs at the end where a ray of hope appears for Eliu. An impressive piece of filmmaking full of cruelty and despair.
JOYLAND (Pakistan 2022) **
Directed by Saim Sadiq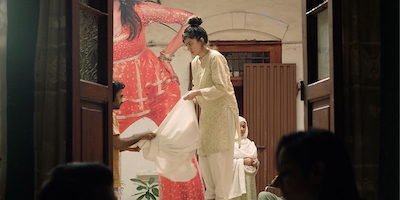 Pakistani family confronts emotional intimacy and social expectations when their son begins performing with a trans dancer, in Saim Sadiq's staggering debut feature — winner of the Un Certain Regard Jury Prize and the Queer Palm at the Cannes Film Festival. Haider Rana (Ali Junejo), a quiet, unemployed husband to a vociferous, employed wife, Mumtaz (Rasti Farooq), has a seemingly happy arranged marriage and ordered family life, living under the same roof as the rest of the Rana clan. Amidst pressure and ridicule from his father, Haider finds work as a backup dancer for the trans performer Biba (Alina Khan), opening his eyes to another way to love — and another way of life. Mumtaz, meanwhile, is frustrated with the expectations of patriarchal society. Soon their desires collide, forcing them and their family to reckon with what has been buried for so long. The film plays as a comedy in its first half, poking fun at the Pakistani culture and norms before getting serious in its second half. The second half gets a bit confusing and a few plot points that do not make sense. Still, from Pakistan, JOYLAND is quite an achievement in progress for gay rights.
THE KINGDOM EXODUS (Denmark 2022) ***1/2
Directed by LarsVon Trier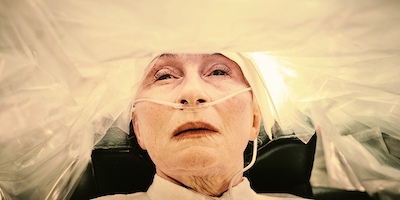 KINGDOM and KINGDOM (RIGET and RIGET II) wowed audiences for their eccentricity, deadpan and killing Hilary and social satire. They are part of the
groundbreaking Danish series and director Von Trier returns for one last season, in which the Kingdom Hospital is once again the site of strange, supernatural occurrences. Little Brother/Lillebror (Udo Kier), the malevolent spectre who plagued the hospital in the previous installments, is unhappy again — intermittently possessing former patient Karen (Bodil Jørgenson). On the HR side, things aren't looking too good either. Stig Helmer Jr. (Mikael Persbrandt), the son of the imperious Dane-hating Swede from the previous installments, has been hired as the co-head for the neurosurgery wing, working with Pontopidan (Lars Mikkelsen), who's obsessed with naps and frozen peas. The rest of the staff is as eccentric as ever, including surgeon Filip Naver (Nikolaj Lie Kaas), who constantly delivers the most convoluted, weirdest ultimatums in television history; the confounding temptress, neuropsychologist, and fellow Swede Anna (Tuva Novotny); and helpful orderly Balder (Nicolas Bro), whom Karen enlists to help her track down the ghosts haunting the Kingdom. The Kingdom Exodus, the third installment of Lars von Trier's sepia-toned television series, and shows episodes 9 and 10. The first two were 4 hours in length.. Von Trier is exceptionally funny and offensive, with quite a number walking out during the screening at TIFF. Still Von Trier proves he has what it takes to make the series such an important work in cinema.
KACCHEY LIMBU (India 2022) **
Directed by Shubham Yogi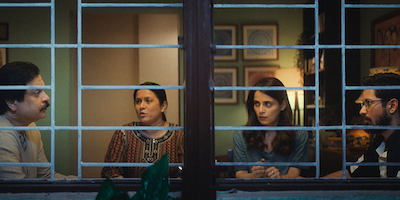 According to the film, Cricket is the second most popular sport in the world, played or followed by 2.5 billion people. But it's often a man's game. And it is not that popular outside India or the U.K. For those unfamiliar with cricket, like myself, director Yogi never bothers to explain the game or at least a bit of the rules, just a few comments here and there so that the film is difficult to follow unless one knows the game. Set in Mumbai, director Shubham Yogi's feature debut follows a pair of siblings who find themselves on competing cricket teams as they struggle to balance familial loyalty with the pursuit of their passions. The film feels a bit like BEND IT LIKE BECKHAM where a female, this time Pakistani, shows her female strength through football. Aditi (Madan) dreams about being a fashion designer, though her father insists she study medicine. Her big brother Akash drags himself to corporate job interviews though his first and only love is cricket. When he is accepted into a new league, Aditi decides to throw her hat in the ring and start her own team, assembling a motley crew of players who might not look like cricket stars but just may have what it takes. Family drama is included in the sports saga. The final and semi-final matches are shot just like sports films like the ROCKY series with camera alternating among the faces of players, spectators and announcer providing the expected amount of excitement.
LEONOR WILL NEVER DIE (Philippines 2022) **
Directed by Martika Ramrirz Escobar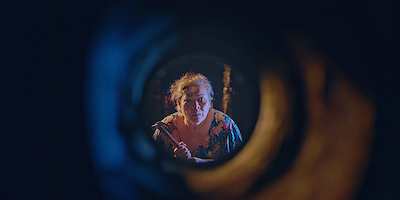 Director Martika Ramirez Escobar's surreal, award-winning first feature transports a retired screenwriter of Filipino action films into the story of one of her own unfinished scripts. The off-beat action comedy marks the closing night of Midnight Madness at TIFF. When a television set is thrown out of a window of a building and lands on the head of one Leonor Reyes (Sheila Francisco), a retired screenwriter of Filipino action films, the accident leaves her body comatose, but her mind is transported into one of her own unfinished movies. While her family, which includes at least one semi-transparent kin(!), rallies around her bedside in the hospital, Leonor finds herself magically interacting with her script's valiant heroes and nefarious villains, confronting the all-too-real traumas that inspired them, and striving to bring this blood-soaked melodrama to a bulletproof ending. The film is not as fresh as it looks on paper and not helped by the cheesy fight sequences and crappy music usually found in cheap action flicks from third world countries. The almost only saving grace is stage actress Francisco who plays Leonor.
A LONG BREAK (Georgia 2022) **
Directed by Davit Pirtskhalava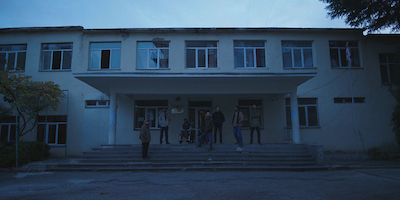 At one point in the film, one of six characters looks at a past injury of his classmate and refers to a Quentin Tarantino movie in which blood cannot stop but keeps splurging out. The reference here is from Tarantino's RESERVOIR DOGS where crooks plan a heist, one of Tarantino's first and famous movies. The similarities stop here.
On the outskirts of Tbilisi, 31-year-old Lasha, a.k.a. Tsitsi (Shako Mirianashvili), whose cagey character is best described as odd, is fixated on a mission to reunite his former classmates, whom he hasn't seen in well over a decade. Under the guise of reminiscing about the good old days, his true objectives are submerged below polite niceties. By the cover of night, the old gang — the remaining men who have not immigrated to America, Germany, or Turkey — reunite inside their former classroom. While they've graduated past boyhood, most seem to have retained their old characteristics, except for Guga (Giorgi Sharvashidze) whose now prim demeanour and success makes him stand out in the crowd. Unattended hurt feelings tend to linger and while roaming the halls of their memories, it's not long before glasses are raised and the past bubbles to the surface, breaking the ice, and revealing unhealed wounds. There is no real reason these classmates (leaving out the females in the class) are meeting except to taut each other. The result is a totally boring and lifeless affair as not living in Georgia would likely miss all the references.
THE LOST KING (UK 2022) ****
Directed by Stephen Frears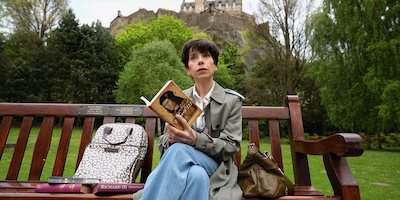 Several reasons to see THE LOST KING, the top two being that it is a Stephen Frears film and that it stars one of the best actresses working today, Oscar nominated Sally Hawkins who plays the protagonist an underdog amateur historian. Based on a true story, this is the account of the almost impossible task Philippa Langley (Hawkins) undertakes - to find the remains of King Richard III and to give him a proper burial. It is said that history is written by the victors. This was never more true than in the case of King Richard III, maligned from the moment of his defeat by Henry Tudor, the truth of his life contorted by subsequent generations (Shakespeare among them and arguably the guiltiest). Over the course of 500 years, "alternative facts" became conventional wisdom. That is, until Philippa Langley took up Richard's cause. Steve Coogan who co-write the script, rich with metaphors with Jeff Pope, plays her supportive husband. A feel good, underdog makes a success story that is both enlightening and entertaining especially for Shakespeare fans.
Trailer:
LOVE AND MATHEMATICS (Amor y matemáticas) (México 2022) ***
Directed by Claudia Sainte-Luce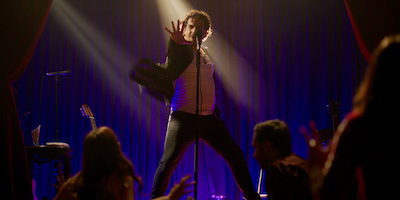 LOVE AND MATHEMATICS has to do with love but nothing much with the discipline of Mathematics. But it is the title of the song sung by the protagonist, a sweet little song that he wrote and sings at the film's climax. A former boy-band pop star, Billy (Roberto Quijano), a former boy-band quasi–pop star, is now a dutiful stay-at-home dad, frustrated by the lack of fulfillment in his comfortable life. He's someone who's out of touch — even with himself. Mónica (Diana Bovio), a mild-mannered new neighbour, is a former devoted fan. She stops dead in her tracks the minute she recognizes her teen obsession living across the street.and an erstwhile fan struggles with social norms and expectations, in Claudia Sainte-Luce's nuanced comedy about longing and disconnection. This is a comedy more than a love story with a few fresh vignettes like Billy accidentally killing the family's annoying barking dog and his and his brother's scheme of selling breathing stuffed puppies. It is a film about not growing up and how staying young can have its benefits.
THE MAIDEN (Canada 2022) **
Directed by Graham Foy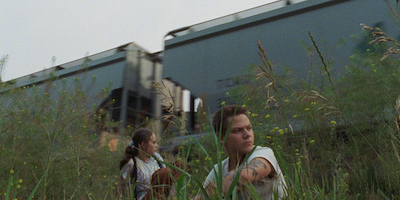 Colton (Marcel T. Jiménez) and Kyle (Jackson Sluiter) are best friends. They happily roam their small town (film is shot in Alberta) and its environs, killing time doing ordinary, stupid, teenager stuff: destroying an old TV, spraypainting graffiti under a train bridge, skateboarding down a bumpy dirt slope. But their goofing also reveals glimmers of tenderness, such as in the scene where they find a dead cat, place it on a tiny raft with a bouquet of wildflowers, and set it adrift downriver. The story also follows Whitney (Hayley Ness) who experiences her own deeply internalized emotional crisis, prompting her to set out into the woods in search of some kind of peace. The film is a slow burn with director Foy examining grief, loss, loneliness and the need for companionship. The film unveils its story non-linearly in time. Foy's film feels like the small budget early works of Gus Van Sant who has done much better that Foy.
A MAN OF REASON (South Korea 2022) **
Directed by Jubng Woo-sung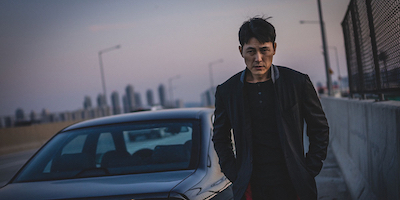 A MAN OF REASON is the directorial debut of Korean superstar Jung Woo-sung (The Good, The Bad, The Weird) , which might not be a good enough reason to see the movie - as many actors do not cross the line successfully from actor to be a director. To Jung's credit, he does what he knows best - the action thriller. The film begins after 10 years of incarceration on behalf of his employer, all the film's protagonist Su-hyuk (Jung) wants is a normal life — one he hopes will include his former girlfriend, Min-seo, and their daughter, In-bi. But once you've penetrated the upper echelons of the underworld, normal can prove hard to come by. Sometime in the past decade, meanwhile, Su-hyuk's employer has adopted an air of legitimacy. Nothing really new or fresh in the story. One can see Jung attempting some stylish segments, like the initial fighting where Jung shows up in a club with a flashlight and fighting with all the lights off or the car driven in the shadows of crossed lights. Pity though that everything else is a dull affair.
MOONAGE DAYDREAM (USA 2022) ***
Directed by Brett Morgan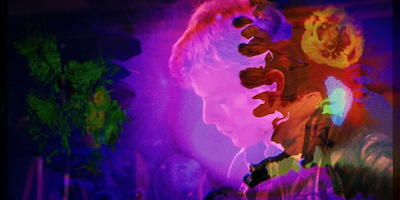 MOONAGE DAYDREAM is a colourful collection of the late David Bowie performances and candid interviews that define the artist from his early to later years. The start of the film establishes what Bowie's philosophy is. Humans have taken over God but are unable to fill in the void created. The doc which could arguably be considered as a musical biography as it does inform the audience of his background, his isolated mother and his lack of any love relationship. There is footage of his performances, most of them shown in increased amplitude and strobe lights. Bowie is an entertainer at heart and he never fails to astound, whether you think him right or wrong, clever or silly. From his outlandish costumes to his confession of being bi-sexual ("I have male friends"), Bowie can be understandably annoying, brash or entertaining. His performances and songs punctuate the film and many of his numbers are immediately recognizable from their popularity such as LET'S DANCE from the 80's. There are also lots of footage of classic films from METROPOLIS to A TRIP TO THE MOON including the ones Bowie has starred in, MERRY CHRISTMAS MR.LAWRENCE and THE MAN WHO FELL TO EARTH. For non-Bowie fans stay away. For Bowie-fans, this is the ultimate Bowie movie and in between, the doc will make up your mind. The film runs a lengthy over two hours, always in your face and unable to decide when to end.
MURU (New Zealand 2022) ***
Directed byTearepa Kahi'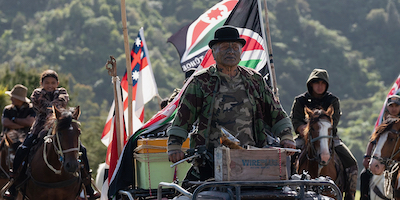 The film, based on true events, begins rather clumsily trying its bst to introduce and establish the motive behind the making of the film. A few tribal Maori heads speak in their language, subtitled speaking out against ijustive and their need to stand up against their foes. The film then shifts into ation mode in which the audince sees a Māori police officer torn between his obligation to his community and his duty to his badge, when New Zealand police raid an Indigenous community accused of harbouring a domestic terrorist cell. The lead played by Cliff Curtis bears an complete uncanny resemblance to Cliff Owen and watching him is just like watching the Brit actor. The colonial polcie foce and the P.M. are the bad guys showing no sympathy for the ingenious people while thinking only of heir own motives. The film is clear to state that the film is not a reenactment. It is a response. And an effective one, as witness in the film, at that!
MY SAILOR, MY LOVE (Ireland/Finland 2022) ****
Directed by Klaus Härö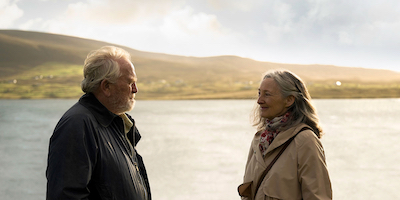 A senior romance film is something to avoid, judging from recent Hollywood failures, too many to list down, the culprits also being past stars like Jane Fonda and Diane Keaton. MY SAILOR MY LOVE proves that a senior romance can still give a big kick, if done right and blended in with human values like human dignity, decency and the need to do what is right hole eating humble pie. The film begins with a middle aged woman Grace (Catherine Walk r)attending a support group meeting for attendees with low self-worth Grace is attending on her husband's wishes though she feels the group useless. A retired sea captain, Heard (James Cosmo) and his daughter, Grace must reassess their strained relationship after he begins a new romance with a widowed housekeeper, Annie (Brid Brennan)in Klaus Härö's honest and affecting personal drama. What looks like a simple premise turns out to be a complex and riveting film that will tear your heartstrings even after leaving the cinema. A few solid perfect scenes like the one where Grace storms out of her support group meeting yelling that this is all useless. MY SAILOR, MY LOVE might just be the best movie about seniors to come out in a decade.
NORTH OF NORMAL (Canada 2022) ***1/2
Directed by Carly Stone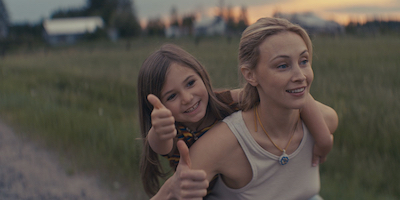 Based on Cea Sunrise Person's 2014 memoir, Carly Stone's accomplished North of Normal recounts the author's tumultuous, unconventional childhood. In the 1970s, Cea's hippie grandparents, Grandpa Dick (Robert Carlyle) and Grandma Jeanne (Janet Porter), flee the repressive climes of the United States for the untrammelled wilds of Alberta and British Columbia with Cea and her teenage mother, Michelle (Sarah Gadon), in tow. Surrounded by perma-stoned adults acting with little regard for any conventions (especially sexual ones), Cea lives a blissfully ignorant, near idyllic life. This is the coming-of-age passage and story of Cea and unlike many other films of this genre, the passage takes a decade or more to journey through, not one summer or year. The film is stunningly shot, one assumes in northern Ontario and not in B.C. or Alberta since this film is a project of Ontario Creates. River Price-Maenpaa and Amanda Fix who play Cea as child and teenager, deliver exuberant and credible performances in an otherwise charming and realistic film of the bond of family.
I LIKE MOVIES (Canada 2022)
Directed by Chandler Levack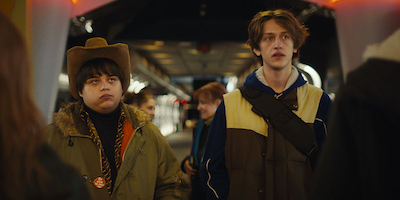 I LIKE MOVIES is Toronto filmmaker Chandler Levack's feature film debut about a 15-old cinephile who gets a job at the Sequels video store in Burlington, Ontario. Anxious about his future (and desire to attend NYU's Tisch School of Arts), Lawrence begins alienating the most important people in his life – his best friend, Matt (Percy Hynes White) and his single mother (Krista Bridges) – all the while developing a complicated friendship with his older female manager (Romina D'Ugo). Director Levack reveals the truth that many cinephiles are unaware of. The film industry is not that inviting and often not a nice place. Lawrence is adamant at giving up a $10,000 Bursary he had won for Carlton University in Ottawa in order to wait for his admission result at NYU. His mother cannot afford to send him to NYU. Lawrence is delusional in a way. It is at this point in the film that the story matures into growing-up story. Lawrence's words at the end of the movie: "The year-end movie moved me." The year-end filmmaker's response: "That is the highest compliment that can be given to a filmmaker." I LIKE MOVIES is occasionally moving.
MY POLICEMAN (UK/USA 2022) ****
Directed by Michael Grandage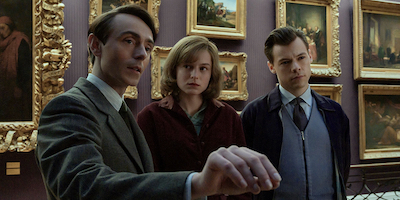 MY POLICEMAN is a tale of forbidden romance set in 1957 when Homosexuality is outlawed. Set in Brighton, this tale of forbidden romance and changing social conventions follows three people — policeman Tom (Harry Styles/Linus Roache), teacher Marion (Emma Corrin/Gina McKee), and museum curator Patrick (David Dawson/Rupert Everett) — and their emotional journey spanning decades.
Tom (Harry Styles) is a young police officer who conforms to everything expected of him in 1950s Britain — but he instinctively feels a desire for more. When earnest schoolteacher Marion (Emma Corrin) meets him on a summer beach, she's immediately beguiled and they begin a sparkling relationship. It is not long, though, before the two encounter Patrick (David Dawson), a sophisticated museum curator. Actually, it is revealed later in the film that David and Patrick knew each other before. They become fast friends but, quietly in the background, Patrick invites Tom to explore his sexual identity and a love triangle is formed that's as tender as it is tenuous. Tom is torn between his passion for Patrick and the love he holds for Marion, and the youthful abandon of the trio gives way to more serious confrontations. Adapted by Ron Nyswaner (the Oscar winning PHILADELPHIA) from the Bethan Roberts novel, and directed by Michael Grandage with restraint and understated elegance, MY POLICEMAN shows both the quiet power of a love the fortunate times gay people now live in.
Trailer:
NORTH OF NORMAL (Canada 2022) ***1/2
Directed by Carly Stone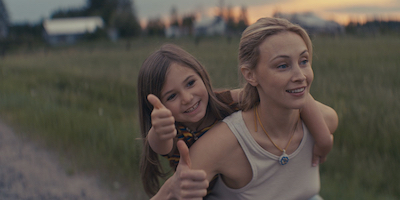 Based on Cea Sunrise Person's 2014 memoir, Carly Stone's accomplished North of Normal recounts the author's tumultuous, unconventional childhood. In the 1970s, Cea's hippie grandparents, Grandpa Dick (Robert Carlyle) and Grandma Jeanne (Janet Porter), flee the repressive climes of the United States for the untrammelled wilds of Alberta and British Columbia with Cea and her teenage mother, Michelle (Sarah Gadon), in tow. Surrounded by perma-stoned adults acting with little regard for any conventions (especially sexual ones), Cea lives a blissfully ignorant, near idyllic life. This is the coming-of-age passage and story of Cea and unlike many other films of this genre, the passage takes a decade or more to journey through, not one summer or year. The film is stunningly shot, one assumes in northern Ontario and not in B.C. or Alberta since this film is a project of Ontario Creates. River Price-Maenpaa and Amanda Fix who play Cea as child and teenager, deliver exuberant and credible performances in an otherwise charming and realistic film of the bond of family.
L'ORIGINE DE MAL (The Origin of Evil)(France/Canada 2022) ****
Directed by Sébastien Marnier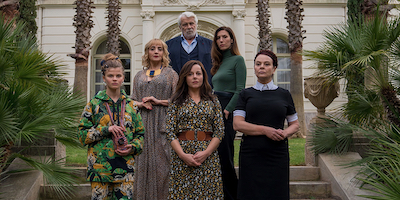 Murder among the bourgeoisie is the setting of the superb mystery thriller THE ORIGIN OF EVIL that feels like a Claude Chabrol classic. A young lady who steals the identity of Stephane (Laure Calamy) shows up at the family door of patriach Serge (Jacques Weber) claining to be his long lost daughter. His wife and daughter treats her like shit believing her to be an imposter and demands her i.d.. The plot thickens in this deliciously wicked fable which contains more servings than expected. The daughter, George (Doria Tiller) and wife (Dominique Blanc) wants Serge committed to get his wealth. Serge wants Stephane to testify that he is still mentally apt. Just as one thinks writer/director Marnier has exhausted all possibilities in plot twist, he surprises. Serge is aware that the girl is an imposter. The girl gets Stephane's id. as she is sleeping (as she is a lesbian) with the real Stephane in prison who is serving a 5 -year sentence. The film comes with a complete abrupt but excellent surprise ending worth of Chabrol's LE CRI DE HIBOU.
PEARL (USA 2022) ***1/2
Directed by Ti West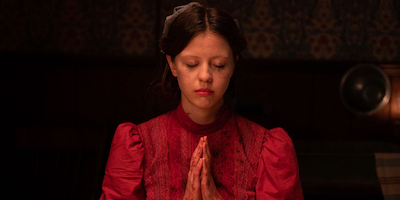 PEARL is the prequel set decades before the grisly events of Ti West's hit slasher X, where Mia Goth returns as the future psycho-biddy Pearl, here a starry-eyed farm girl with a short fuse and a deadly ambition. It does not matter whether one has seen X or not. Rest assured though that PEARL is a better film, a vast improvement showcasing the style and talent of both actress Mia Goth and director Ti West. The script is written by both the director and Mia Goth, she essentially writes a script for her own performance.
PEARL is a slasher movie where PEARL is the slasher.
The film opens with barn doors opening wide to reveal the outside of the farm just as curtains open the stage for a play. Shrewdly the film is set in 1918, when war was raging in Europe (the first world war) and a deadly pandemic was stoking both prejudice and paranoia throughout the United States. The people wear masks, a reminder of the current Pandemic. The masks are of the older variety all made of cloth and probably home made and more stylish. PEARL sees director Ti West return to the Texas ranch from his hit slasher X to tell the twisted origin story of Mia Goth's memorable murderess. Pearl's husband has gone off to war leaving her alone in the farmhouse with her super strict mother and her informed father. Mother is super strict, telling Pearl what to do all the time including when to feed and clean up father's mess.
But Pearl has other plans, She wants to leave the depressing farm and become a chorus girl. An audition is arriving at the local church and she plans to win the part at all costs regardless of consequences.
PEARL is a rather slow burn but director Ti focuses on Pearl's character and the development of evil so well that the film is a compelling watch. There are sufficient nods from Hitchcock's PSYCHO which are immediately recognizable from certain scenes. One is the brushing of mother's hair, the loose strands seen on the comb, the sinking of the car with the victim inside in the nearby pond and the corpse of the mother on the rocking chair. But it is West's style that makes the movie. The film he and Goth have created is creepy, terrifying, bloody and graphic. He has also a deadpan style made apparent from the over use of Technicolour and the period soundtrack that reminds one of a Hitchcock Edward Hermann's score the way it is edited into the soundtrack.
Hardly anyone can escape the wrath of Pearl with Pearl getting nastier and nastier by the second. There are a few other horrifying bits like the roasted pig served complete with live maggots.
PEARL is an excellent horror film that deserves its premiere at TIFF Midnight Madness slot on the 12th. The film opens theatrically on Friday the 16th before the festival ends. So, no need to rush to see this film at TIFF unless one likes to see a horror flick in a full house.
Trailer:
PROJECT WOLF HUNTING (South Korea 2022) ***1/2
Directed by Kim Hongsun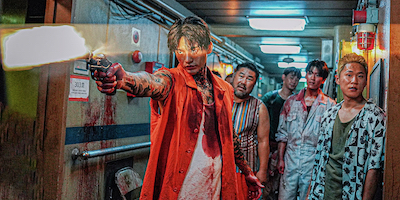 Kim Hongsun's PROJECT WOLF HUNTING is a bloodiest aboard a ship that is a cross between several genres and all very well consolidated. There is at the cyborg unkillable monster, the escape prison action thriller and cops vs, crooks and war horror movie. All the action takes place aboard a ship called the Frontier. When efforts to extradite notorious convicts from the Philippines to South Korea are stymied by a deadly airport bombing, the Korean authorities commandeer the cargo freighter Frontier Wolf for their next transfer. As a rogues' gallery of lowlifes, including a callous heir to a criminal empire (Seo In-guk), board the titanic vessel, they are escorted by two dozen hardened detectives, and the vigilant oversight of a hot-headed Coast Guard captain (Sung Dong-il). Despite the heavy security, a plot to seize control of the ship percolates among the prisoners and soon boils over, but what neither cop nor crook appear to be privy to is that they are not the freighter's only cargo. This is where the story turns around a hunter and eighty degrees and the aduicne can never exect what will happen net. or will they are able to guess who will die or live as anyone in thsi film can die in an instant. A super blood fest of a gory film from start to end. And the bad guys, the convicts are just really gorgeous hunks to gawk at.
RAYMOND & RAY (USA 2022) **
Directed by Rodrigo Garcia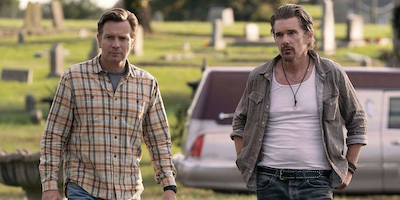 The latest from writer-director Rodrigo García (ALBERT NOBBS which garnered Glenn Close an Oscar nomination) stars Ewan McGregor and Ethan Hawke as long-estranged half-brothers who reunite to bury their father. AS expected, Garcia elicits almost faultless performances from the two stars. Hawke of course as expected playing the older brother and McGregor the one with latent anger. Much to their annoyance, everyone the brothers meet attests to their father's charisma, from his ex-lover Lucía (Maribel Verdú), to his nurse Kiera (Sophie Okonedo), to the priest officiating the funeral (Vondie Curtis Hall). Ray Sr. left his sons a pittance and, to add insult to injury, an aggravating and exhausting final request. Director Garcia attempts to layer his characters with personalities changing when skeletons are revealed for the closet. Unfortunately, the entire exercise feels too contrived and overdone- what one might call the cinema's equivalent of 'cheap theatrics'.
ROOST (USA 2022)****
Directed by Amy Redford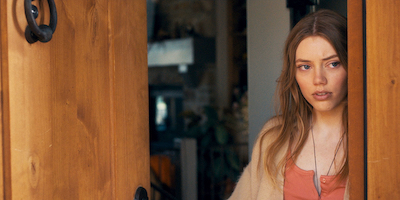 A superbly calculated thriller combined with the elements of family drama and coming-of-age, ROOST is an impressive debut from the daughter of Robert Redford, Amy. A teenager and her cellphone. It's a worrying combination for many parents, and when Anna (Grace Van Dien) tells her mother, Beth (Summer Phoenix), that she's met a boy online, Beth goes on full alert. It turns out Anna's new crush is not a boy but a man — 28 years old, and saying all the right things to a girl on the verge of 17 as she cradles her phone in her bedroom. Then, without invitation, there he is, on the family's doorstep. Nothing is what it seems. Neither is Redford's film, which makes her film so much more intriguing and compelling. Her films artist off really annoying with teens on their cellphones and in their own world, but then revolve into something completely different. Her thriller succeeds in the creation of an atmosphere of fear and dread without any graphic violence aided by terrace performances from the entire cast.
ROSIE (Canada 2022)
Directed by Gail Maurice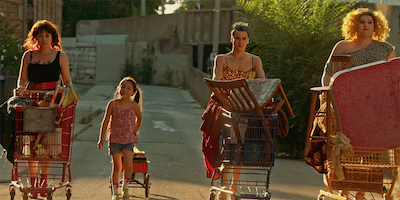 ROSIE follows the trail of an orphaned Indigenous girl by the name of Rosie (Keris Hope Hill). Her mother's sister, Frederique (Melanie Bray) is forced by social services to look after her. Fred has her own plate full, being evicted and out of a job. She can hardly care for herself less than one else. The story does not sound fresh or like anything new. In fact the story is rather predictable. But first time Metis director Maurice shoots her film as if it is totally fresh material injecting humour and spirit in a 80's Montreal setting, with English, French and a little Metis spoken. This is also a seondary story of poor people surviving on the fringe. Two of Fred's friends are drag queens Flo (Constant Bernard) and Mo (Aex Trahan) who spice up the proceedings. Director Maurice also adds a bright note to a homeless Cree (Brandon Oakes) who shows kindness to the child. ROSIE is an entertaining and insightful debut from Gail Maurice.
SAINT OMER (France 2022) ****
Directed by Alice Diop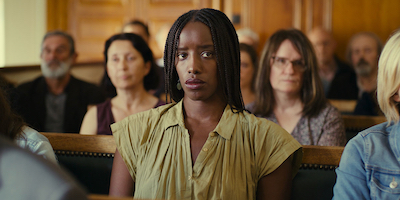 Fresh from winning a top prize and the Venice Film Festival, this is one extraordinary narrative debut by acclaimed documentarian Alice Diop. Her doc roots are evident in the film as there are lots of actors speaking to the camera just as interviewees do, especially in the long takes of the court scenes. The incidents are never shown on screen but unfolds in the words of the actors, and more effectively so. A young novelist, Rama (Kayije Kagame), is working on a contemporary retelling of the ancient Medea myth. In the Greek mythology, Mdea is a mother who murdered her children. Pregnant herself and increasingly uneasy, Rama's own family history, doubts, and fears about motherhood are steadily dislodged as the life story of the accused woman, Laurence Coly (Guslagie Malanda), is gradually revealed. From a stern upbringing in Senegal to gradual isolation from family and society on her arrival in Europe, Coly's experiences expose the traumas of racism and emotional manipulation that can remain unspoken while insidiously and irrevocably corroding a person's well-being. Never has a film with so much dialogue been so exciting and compelling. The courtroom drama played out by director Diop looks so much like a true crime drama. SAINT OMER where the baby was drowned is west-northwest of Lille on the railway to Calais, and is located in the Artois province. The town is named after Saint Audomar, who brought Christianity to the area.
Trailer:
SISU (Finland 2022) ***1/2
Directed by Jalmari Helander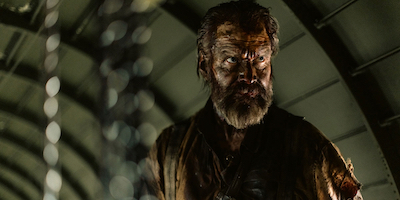 The word SISU as the film informs the audience not once but twice during the film is a word depicting a white-collared energy, of a spirit that never gives up - a word with no English equivalent. In cinematic terms, it means a hero or protagonist that refuses to die. In the twilight of World War II, a solitary prospector (Jorma Tommila) strikes a rich vein of gold in the wilderness of Lapland in Northern Finland. Making tracks with his new-found bounty for the nearest town, the man runs afoul of a retreating detachment of Nazi soldiers led by an odious SS Obersturmführer (Aksel Hennie), who set their sights on claiming the gold for themselves. Unfortunately for these stormtroopers, this is no ordinary miner, but rather a mythic one-man army who epitomizes the quintessential Finnish concept of SISU. In hero's refusal to die, he undergoes a whole lot of graphic beating that might be too intense for even the most seasoned horror fan to watch. The film has been appropriately selected to open the Midnight Madness of TIFF. Watch out for the hanging scene where a nail from the wooden post get nudged into his wounded leg. Total maniac mayhem but also extremely entertaining.
SNOW AND THE BEAR (Kar Ve Ayi)(Turkey/Germany/Serbia 2022) ***1/2
Directed by Selcen Ergun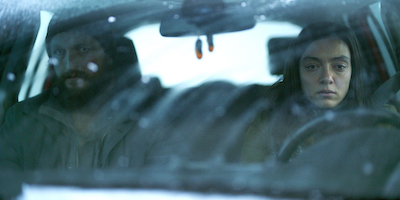 It is not surprising the word snow is in the title of the film as the villages in a remote part of Northern Turkey cannot help but keep complaining about how much snow they get and how they wish to leave their horrid town. Bears are close by and the villagers are worried about an attack, even in winter. In writer-director Selcen Ergun's debut feature, a young nurse working in a remote Turkish village must reach within herself to uncover if she has what it takes to survive harsh conditions — a metaphor for a setting that has become increasingly hostile. The film follows a new nurse assigned to the snow covered region, the reason she took the post being (hinted as) to get away from her parents. She is a girl all alone, doing her duties sometimes at night, giving the film an atmosphere of a slasher horror flick in which the good nurse is a victim. The atmosphere and claustrophobic of the setting is well captured in what is an engrossing film that one wonders where it will all lead to.
SO MUCH TENDERNESS (Canada 2022)
Directed by Lina Rodriguez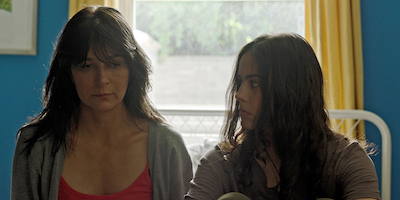 It is 7 and a half minutes into the film before the first line of dialogue "Does the smoke bother you?" is heard on the soundtrack as a female speaks to another seated on the passenger side of the car, the question as she waves the cigarette smoke away with her hand. The answer would hardly matter. There are long shots of the back of a neck and of blank faces. Having fled Colombia after her husband was murdered, an environmental lawyer rebuilds her life in Toronto with her tempestuous daughter, only to risk losing everything when her traumatic past re-surfaces. All of Rodriguez's films including SO MUCH TENDERNESS are slow burns and much patience is required to sit through any of her movies. It is apparent that she is a perfectionist in the creation of every vignette in the film. Rodriguez has made her style imprint in her filmmaking and it does not involve compelling viewing. SO MUCH TENDERNESS gets really frustrating as it seems to be going nowhere and it is difficult to fathom what is the goal of Rodriguez's film. Rodriguez attempts to inject a bit of suspense in this story as in the segment where the mother faintly recognizes a stranger and follows him for a while and into a subway station.
STELLAR (Canada 2022) **
Directed by Darlene Naponse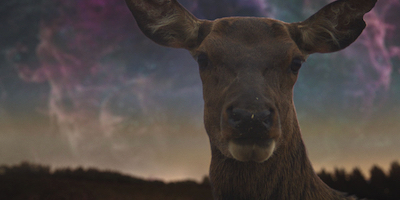 The titles on the screen inform the audience at the film's start of a meteorite that had hit the earth resulting in nature chaos. There are three segments interspersed in this experimental film. One is set in a bar where she (Elle-Máijá Tailfeathers) and he (Braeden Clarke) meet and have a minor romantic encounter listening to songs on the jukebox. Another is the chaos that goes on outside and the third of events like protests and nature's wonders like the waterfalls and forests. All these do not make sense though the images are great to look at. The film has the feeling that the segments are hastily put together without much thought, meaning or continuity. So there are peaceful, disturbing and human images that the audience are supposed to piece together. Rosif Sutherland has a small role as the bartender who is physically disturbed by the catastrophe. STELLAR, an experimental film, is the fourth feature from Anishinaabe director and producer Darlene Naponse, based on her short story of the same name.
STONEWALLING (Japan 2022) **
Directed by Ryuji Otsuka and Huang Ji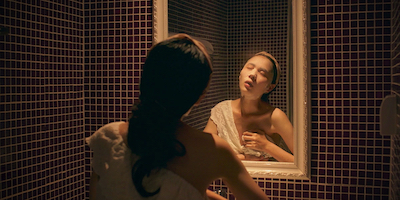 STONEWALLING examines the new norms of the gig economy, grey markets, and hustle in modern-day metropolitan China through the lens of one woman's experience from the husband-and-wife filmmaking team of Ryuji Otsuka and Huang Ji. The film follows the vicissitudes of Lynn, a 20-year-old college student dealing with an unwanted pregnancy. For Lynn — who is constantly drawn into precarious, odd jobs — the steps from indecision to the realization that she was involved in a meaningless relationship to passive acceptance of her condition are short. The film is a slowburn somewhat insightful drama that shows the struggles of Lynn and her parents who she intends to help out illegally. The directors love to film with their camera set up with their characters at a distance instead of closeups that would favour a more dramatic approach.
THE SWEARING JAR (Canada 2022) **
Directed by Lindsay MacKay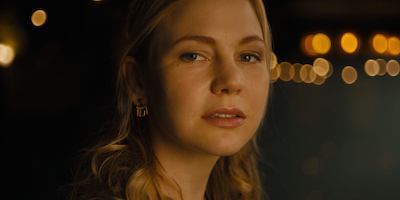 Director MacKay's follow up to WET BUM is an ambitious but bad film about love, forgiveness, and self-recrimination. The film Lindsay follows would-be singer-songwriter Carey (Adelaide Clemens), who is reluctantly falling for Owen (Douglas Smith), a clerk at the local bookstore. The film is so called for the reason that if any of Carey or her husband swears, the one has to put $5 int the jar. When the film opens, Cary sins a foul-mouth son with lots of swearing. There is no real reason for all the searing in the film except that it feels that director MacKay just wants to make her film different regardless of all costs. The film intercuts the two love affairs, Carrey with her husband and the other with Owen. It is only revealed half way through the film that the timelines of the two affairs are 3 years apart. It is disorienting at first and still quite confusing after the fact is known. The truly heated arguments between Carrey and her husband occur for no real reason, but it is hinted that they could be due to the husband's sickness. Director MacKay has the goal of making a film about a couple in a very uncomfortable relationship. This discomfort is how the film often feels.
SWEET AS (Australia 2022)
Directed by Job Clerc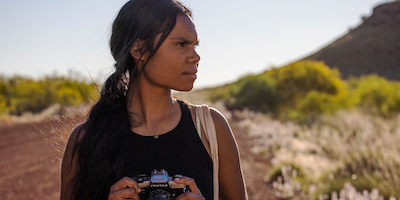 A huge argument with her partying mother leaves 15-year old Murra in the care of her uncle, a policeman. To put Murra on the right track, Murra's uncle signs her up for a week-long excursion in the sparsely populated countryside of Western Australia with other so-called "troubled youth." It is an eclectic group of same age youngsters each with inner demons that threaten to derail a healthy path to adulthood. The 2 leaders have quite a handful with these 4, escaping at night to drink and flirt around. There is actually nothing really new in this feature that one has not seen before in one form or other in similar films. And coming-of-age stories are now a dime a dozen. As expected Murra gets into fights with the other members and then makes up. She has the hots for the male leader who puts her right. Everyone bonds at the end to a happy ending, Murra even making up with her mother. But at least director Clerc is sincere in a supposedly story inspired by her own life. Every photo Murra takes on the camera tells a story. Also heard this one before. But the film's cinematography of the stunning outback landscape and honest performances make up for the few flaws.
TO KILL A TIGER (Canada 2022) ***
Directed by Nisha Piahuja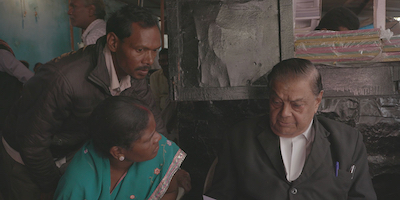 TO KILL A TIGER deals with a highly sensitive subject matter. The filmmaker recommends that "Ranjit's daughter" or the pseudonym "J" be used as alternatives. Documentarian Nisha Pahuja (THE WORLD BEFORE HER) tells the story of a family struggling to find justice in the wake of a heinous violation. The setting is Jharkland in India and the film is shot in Hindi. A 13-year old girl, the daughter of Ranjit is gang raped by three youths her way home from a wedding celebration. The rapists are arrested by the police. PAHUJA takes her camera up close to the rice fields of the family. The audience sees Ranjit and his wife with their faces up close to the camera as the spec to the camera. The camera also shows Ranjit working in the large fields, showing the man as a hardworking and decent man, and one that the audience is connecting with. The issue examined in the film is rape culture and the silencing of women. Many people in the village insist that the perpetrators' "naughty" behaviour must have been provoked by Ranjit's daughter. When it comes to rape, shame is wielded like a blunt instrument. But the story of Ranjit and his fearless daughter, enduring so many voices clamouring for them to stand down, is one of remarkable strength and defiance
TRIANGLE OF SADNESS (Sweden/UK/USA/France/Greece 2022) ***** Top 10
Directed by Ruben Ostlund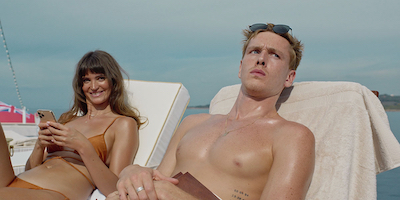 Swede filmmaker Ruben Östlund might be a difficult name to remember but one that should be remembered for his groundbreaking film FORCE MAJEURE and the Palme d'or Winner THE SQUARE. This year Ruben Östlund returns with another grand Cannes Palme d'or Winner, a wicked and delicious satire on the rich and wealthy as they grapple with their power and 'lack of' in order to survive a shipwreck or rather a luxury yacht wreck. TRIANGLE OF SADNESS is flawed but improves from the first to the third chapter and still makes it one of the top 10 films of the year.
TRIANGLE OF SADNESS is publicized as a film best seen with a full house. This is true if everyone in the audience laughs together but in this case, the laughs, especially in the first and second chapters are derived from other films, so not laughing and finding everyone else doing the opposite might be extremely irritating. I previewed the film at a quarter full pre-TIFF screening, a perfect compromise of a full and not so full house.
The film is so called as in the first segment, Carl, a model is asked to rid himself of that triangle of sadness that appears above his eyebrows in order to win the male model audition. It is apparent that this look is more deeply rooted in his character as he tries in the whole film to rid himself of the inherent sadness within himself, but without success but not for want of trying.
TRIANGLE OF SADNESS unfolds in three chapters. The first is entitled Carl and Yaya, the perfect human specimen of male and female played by Harris Dickinson (last seen in WHERE THE CRAWDADS SING) and the recently passed on (on the day of my screening) and beautifully talented Charlbi Dean. The first chapter introduces the audience to the troubled couple, always arguing. The argument at the restaurant is similar to the one in Östlund's THE SQUARE where the couple just after sex, have a lengthy argument of who is going to throw away the used condom. This time Carl and Yaya fight over who is paying the bill, Carl insisting that she always gets away with not paying (it) and when she insists, he says no, only to find that her credit cards have been refused. The second chapter entitled THE YACHT has this couple win a cruise on a luxury yacht where they meet a bunch of wealthy people above their station. In a key scene during the Captain's (Woody Harrelson) dinner, the guests spew out their dinner, each getting sick from the rocking ship. The segment is over played especially when the vomiting dinner scenes were already used in MONTY PYTHON'S MEANING OF LIFE, though in a different context. The film improves tremendously in the last segment called THE ISLAND where a grenade explosion leaves the surviving guests shipwrecked on an island where LORD OF THE FLIES style, the balance of power changes into the hands of a Filipino worker, Abigail (Dolly De Lion) on a ship, previously the toilet manager now self promoted to Captain as she is the only one who knows how to fish and start a fire. Everyone depends on her. The scene where she hands out cooked octopus to her followers is genuinely hilarious.
The yacht's passengers is comprised of a eclectic bunch of wealthy misfits including a British couple involved with weaponry, a German lady with a stroke who can only utter the words "In Den Wolken", which she repeats no fewer than a dozen time in the film, and still being funny, a Russian oligarch, Dimitry (Zlatko Burić, from the PUSHER trilogy) who loses his wife among others.
Though the vomiting and shit toilet-overflowing humour and the bill paying segments might not have been that funny, the film contains two of the best jokes seen at TIFF films this year. When asked by Carl what he does for a living, Dimitry the oligarch answers: "I sell shit!". When the passengers are throwing up, the captain and Dimitry debate social/political issues exchanging famous quotes. Dimitry argues with this quote: "Socialism only works until it runs out of other people's money - Margaret Thatcher."
TRIANGLE OF SADNESS is a film everyone would delight in viewing. There is the 99% of the less wealthy audience who would cheer to see the undeserving rich and wealthy get their comeuppance and also hopefully the other 1% of the audience as represented by the yacht's passengers who are able to laugh at themselves.
The film opens in theatres October 7th.
Trailer:
THE UMBRELLA MEN (South Africa 2022) ****
Directed by John Barker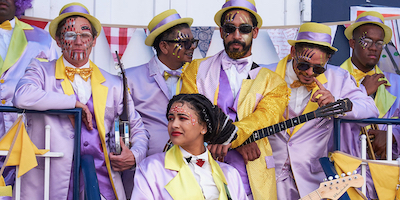 A ragtag bunch of musicians are forced to rob a bank during the Cape Town Minstrel Carnival in an effort to save their nightclub. In this robin hoodesque caper, will the 'prodigal son' be able to pull off the heist of the year and save his family?
THE UMBRELLA MEN boasts to be an incredible cinematic ride, embracing the best of caper heist comedy set in the colourful and culture-rich Bo-Kaap area of Cape Town, South Africa. It follows a troupe of musicians who are forced to rob a bank during the city's Carnival celebrations in an effort to save their beloved nightclub – spiritual home to their whole community. It all begins with the prodigal son, Jerome Adam's (Jaques Da Silva) return for his father's funeral, and re-uniting with his bru (brother) just released from a 10-year prison sentence. The independent foreign film is just the kind of film best to see during TIFF. It is an entertaining feature to watch, embroiling both comedy and excitement and a bit of suspense , just like the old 60's and 70's (think THE ITALIAN JOB, THE INSIDE MAN) popular heist films do. The film also includes the music written by South African Jazz pianist extraordinaire, Kyle Shepard. Director Barker who directs with style and finesse, lifts his film above the average heist caper while capturing a seldom seen and realistic a marginalized and often misrepresented culture. A prized gem!
Trailer:
UNRULY (Denmark 2022) ***1/2
Directed by Malou Reymann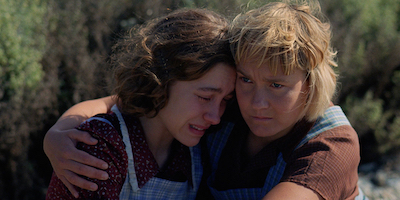 Malou Reymann's UNRULY has protagonist Marlen committed to an institution for her UNRULY behaviour. Based on true events in the past when women mentally challenged were sterilized. The eldest daughter in an impoverished family, teenaged Maren (Emilie Kroyer Koppel) is exhilarated by the changes to Danish society in the early 1930s. She's powerfully fond of jazz, dancing, and the looser sexual mores — and isn't going to let poverty or piety stop her. But when she becomes the talk of the neighbourhood, the era's version of children's services intervenes. Angered by her surly attitude, the imperious and malevolent Doctor Wildenskov (Anders Heinrichsen) diagnoses her as "slightly mentally deficient and antisocial." She's whisked off to the island asylum on Sprogø, run by the authoritarian Miss Nielsen (Lene Maria Christensen). Maren is shocked to find that this won't be a short stay. Most of the other girls have been there for several years — or longer. And things only get worse when the government passes a law mandating that the "mentally deficient" be sterilized, a law championed by Wildenskov. The film shifts protagonist a few times from Marlen to Miss Neilson, the nurse and finally to Sørine (Jessica Dinnage). Running at over two hours, UNRULY is a totally compelling and riveting film, clearly getting its message across. Best performance goes to Dinnage as Sorrine who displays many changes of behaviour.
UNTIL BRANCHES BEND (Canada 2022) **
Directed by Sophie Jarvis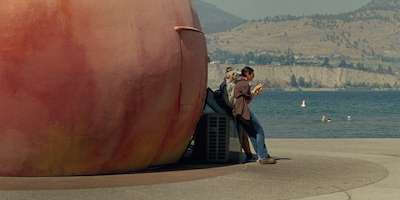 UNTIL BRANCHES BEND is writer-director Sophie Jarvis' drama debut is set in the seemingly peaceful Okanagan of British Columbia, Canada that looks very much like Switzerland in the opening scene. The subject is Robin (Grace Glowicki) a distraught peach cannery worker with both personal and work problems, contrasting the idyllic surroundings. She discovers an invasive beetle in a peach that could threaten the livelihood of her entire town. At the same time, she discovers an unwanted pregnancy and she is indecisive as to what to do with the situation. Her boss ignores the beetle threat. Robin brings the beetle to the authorities that attempt to shut down operations thus engaging the earth of the town, whose livelihood depends on each industry. Robin is shunned and her sister leaves town. These are lively stories but director Jarvis never satisfactorily concludes any of the three stories. Her camera work is excellent though, painting a beautiful landscape that anyone would love to reside there.
VENUS (Spain 2022)
Directed by Jaume Balagueró
Embargo lifted Sep 14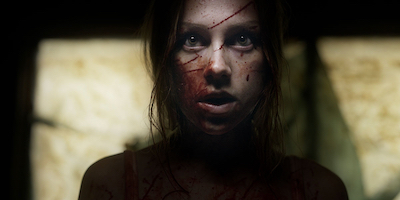 Midnight Madness alumni Jaume Balagueró (REC 2) and my fav Spanish horror helmet Álex de la Iglesia (Perdita Durango) team up to conjure cosmic horror within the concrete corridors of a cursed apartment complex on the outskirts of Madrid
Trailer:
VICTIM (OBET) (Slovakia, Czechia, Germany, 2022) ****
Directed by Michal Blasko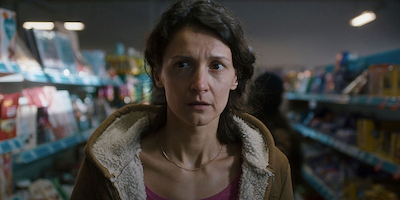 An engrossing well constructed drama that works occasionally like a thriller finds one questioning one's conscience as to what is the right thing to do. The protagonist is a single mother Ukrainian immigrant, Irina who is forced to continue a lie that would grant her privileges that might include her citizenship. The 13-year-old son of a Ukrainian immigrant to the Czech Republic is laid up in the hospital with horrible injuries. He accuses local Roma of the assault, but holes in his story — which has already circulated through town — begin to emerge. The mother learns from her son that his story is not true but he had fallen off a railing in a silly accident. The question is whether she and her son is the victim but as it turns out, the victim is the Roma gypsies that the population are racist against. As the truth begins to surface, Irina is torn between telling the truth or continuing the lie. If she is found out, there will be severe repercussions but if not she would have her son and her conscience to deal with. VICTIM plays like an emotional roller-coaster - excellent work from director Blasko.
V/H/S/99 (USA 2022) ***
Various Directors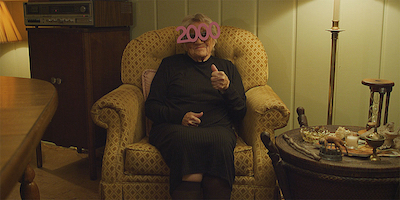 Since 2012, the horror anthology series V/H/S has transmitted its fair share of visceral "found-footage" thrills from both emerging and established scaremeisters across four memorable installments. The latest continues the tradition with a few new twists and a new crop of filmmakers, each hitting record on a string of supernatural incidents that occured at the end of the last millenium, 1999. In a break from its traditional wraparound structure, this edition's cursed recordings are instead layered over each other on a single videotape, with the earliest recording running beneath the others, occasionally breaking through in bursts of static and analogue tracking errors. 6 stories in all. Each episode in the anthology will not be described - bets to unveil the surprises on one's own. The last two are the best of the lot, the second last being the funniest and the last with the best and scariest monsters.
WALK UP (South Korea 2022) **
Directed by Hong Sangsoo
Korean auteur Hong Sangsoo repeats more of the same in his latest WALK UP, a toal bore of a movie with nothing fresh to his body of work. His best is the innovative HILL OFREEDOM but of late, the auteur has run out of ideas. The setting is a renovated four-storey building, where Byung-soo (Kwon Haehyo) a well-known middle-aged director and his daughter, whom he has not seen in years, are greeted by Ms. Kim (Lee Hyeyoung), an elegant lady and a longtime friend who owns the place. Ms. Kim is a designer and Byung-soo wants to introduce her to his daughter who intends to study interior design. After several drinks and much philosophizing typical in Hong's films., Ms. Kim takes her guests to tour the building, floor by floor, to show them the renovations she has done. The three explore the apartments on each level, as if they were awkwardly intruding on the lives of the tenants. The TIFF WALK UP screening was accompanied by lots of WALK OUTS.
WAR SAILOR (Krigsseileren)(Norway et al 2022) ***1/2
Directed by Gunnar Vikene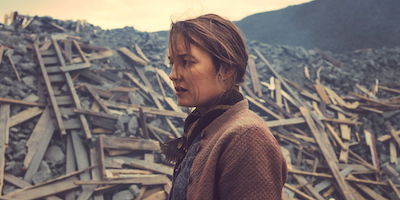 The film covers many stories (in fact too many) with the main one being Germany's invasion of Norway during World War II that turns two lifelong friends into refugees at sea. When Germany invades Norway in April 1940, life-long best friends Freddy (Kristoffer Joner) and Sigbjørn (Pål Sverre Hagen), are at sea. They're crestfallen to discover they've basically been conscripted to sail for the Allied effort, delivering supplies all around the world in unarmed cargo ships. Effectively refugees, they are unable to return home. For Freddy, the news is especially crushing since his wife, Cecilia (Ine Marie Wilmann), is home alone, caring for their two small children under occupation. Though meant to be a stirring and affecting study of courage, dedication, and male friendship, the subplots and side stories distract. Still, the film is packed with intense action sequences, sans CGI, thankfully, usually shot to emphasize the chaos and uncertainty of the dire situations thrust on Freddy and Kvalen. The sea scenes were shot at sea and not in a big water tank. The goal of the futility of war comes clearly across in Vikene's epic. This one should be seen on the large screen.
Trailer:
WENDELL & WILD (USA 2022) ****
Directed by Henry Selick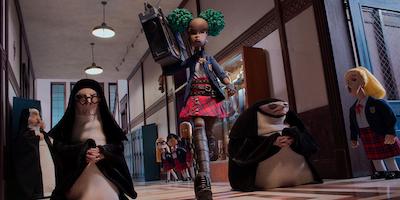 Featuring the voices of Jordan Peele, Keegan-Michael Key, Angela Bassett, and Lyric Ross, this animated comedy-adventure from BAFTA winner Henry Selick (CORALINE) follows a pair of demon brothers who ally with a goth teenager to defeat their archnemesis. The animation, so reminiscent of CORALINE is what makes the movie, from the apparent vertical movement of the camera outwards from the animated crane booths to the Burton-like nightmarish creature.
At first summoned to the depressed town of Rust Bank in order to resurrect the parents of young Kat Elliot, a troubled goth teenager (Lyric Ross) with latent supernatural abilities, the impressionable siblings instead inadvertently fall in with the town's corrupt socialites who are conspiring to transform the community into a private prison for profit and perpetual exploitation. This animated feature is more suited to the child in adults as the plot is too confusing for the younger ones not to mention that the scenes are quite frightening. Old-fashioned stop-animation at its very best!
WHEN MORNING COMES (Jamaica/Canada 2022) ***
Directed by Kelly Fyffe-Marshall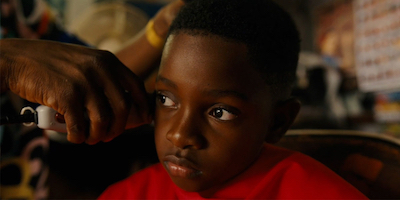 A celebration of culture, especially of new immigrants to Canada, WHEN MORNING COMES is the time little Jamal (Djamari Roberts) leaves for Toronto, Canada. The film is a simple but effective and emotional one, a journey taken and told from Jama's point of view. Jamal (Djamari Roberts), a young boy in Jamaica, has just been suspended from elementary school following an altercation. His widowed mother, Neesha (Shaquana Wilson) is so incensed she can't hear Jamal's protestations of innocence. She's afraid this may become a habit. Convinced that her mother, who lives in Canada, may be able to provide more opportunities for a rambunctious, strong-willed kid like Jamal, she hatches a life-changing plan. Terrified by this, Jamal runs off, spending the next few days living with his best friend, Deshane (Jarden Crooks), the girl he's crushing on, and substitute father figures, while also visiting the grave of his beloved father. The film showcases Jamaica, the beauty of the country as well as its dangers.
WILL-O'-THE WISP (Portugall/France 2022) ***1/2
Directed by Joao Pedro Rodriguez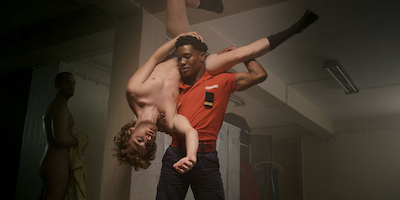 \
Categorized in the Wavelengths Section of TIFF implying the film to be experimental or cinema-verity in nature. Rodriguez's mesmerizing and meticulously constricted musical fantasy is as impossible to describe as it is to explain. But running only at 67 minutes, this homo-erotic fantasy is as pleasurable to watch as it is to comprehend. The film follows a royal prince though different time periods as he volunteers and trains in the local fire brigade in order to protect the royal woods in danger of destruction by fire due to climate change. The film begins from his deathbed in the auspiciously erotic year of 2069 when King Alfredo is transported back to our present day, when a walk through a scorched, phallic forest prompts the sensitive and cherubic prince (Mauro Costa) — not yet beset by the responsibilities of ruling — to pursue firefighter training in service of an increasingly overheated planet. At the academy, young Alfredo meets and falls in love with instructor Afonso (André Cabral). The fiery passion of the interracial couple is inextricable from the spectres of class, race, and colonialism swirling around them, including the threat of Alfredo's impending and unavoidable monarchical duties. A remarkable work if one is to throw caution to the wind.
WINTER BOY (Le Lyceen) (France 2022) ****
Directed by Christophe Honoré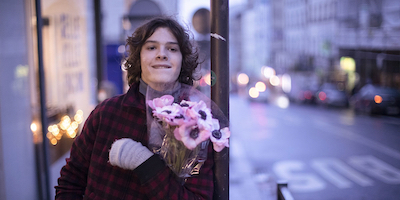 WINTER BOY is Christophe Honoré's most autobiographical film to date starring Paul Kircher as a young man who is sent reeling by an unexpected tragedy of his father played by Christophe Honoré himself. Young and uncontrollable, Lucas looks for comfort in all the wrong places. He drifts blithely through his last year of boarding school and looking forward to life as an attractive, out young man in Paris. His older brother, Quentin (Vincent Lacoste), already lives there; his parents will take care of everything. It'll be nice. And then, one day, a sudden tragedy strips away everything Lucas took for granted, leaving him filled with anger and despair, his future in shambles. Quentin is lost in his own pain. Their mother, Isabelle (Juliette Binoche), tries her best often without success to reach out to the young man Lucas is becoming. Sweet and charming and occasionally brutal in life's outlook, Honoré's film works as his sincere and honest storytelling carries across he screen. One can immediately recognize his traits in his film like using scenes with amplified sounds of traffic with imminent danger possible when driving or with cars nearby.
THE WOMAN KING (USA 2022) **
Directed by Gina Prince-Bythewood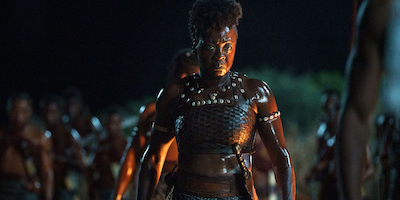 Beware the wrath of Viola Davis (See image inset). You do not want to mess with her. Oscar Winner Davis the star of this rather ridiculous epic, based on true events as the audience is led to believe follows a woman warrior as she leads a whole bunch of fighting African amazons to conquer their enemies while fighting for human rights like demolishing slavery in a film so overdone that it is unintentionally hilarious from the costumes, African chanting and choreography. Though Viola Davis as THE WOMAN KING is the main draw, the story actually centres on a young girl training to become a warrior. She eventually succeeds to become the best one in the group. THE WOMAN KING contains some great fight scenes though enhanced a bit too much with CGI. At least the audience can see the faces of the warriors unlike films like LORD OF THE RINGS, which look like thousands of animated cartoon characters fighting each other on a large scale. One might expect that the actors needed to perform some fancy gymnastics or at least nimble movements to get the fight scenes done. The film includes an awkward romance between Nawi and a Portuguese trader that just does not cut it. THE WOMAN KING, directed by a female displays in her film the glories and independence of women - even with an evil queen has her say. The film is the exact opposite of the typical Hollywood film that stars a white male hero fighting and conquering all.
Trailer:
WOMEN TALKING (USA 2022) ****
Directed by Sarah Polley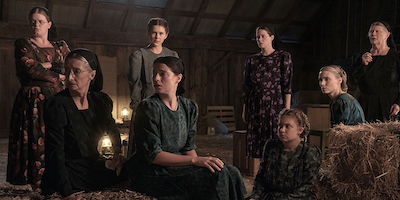 Probably the most talked about film at TIFF this year, writer/director Sarah Polly tackles the ardent task of adapting Miriam Toews' acclaimed novel about a cloistered world of a religious commune where women struggle with an epidemic of abuse. Many have been put under the influence of cow tranquilizer and sexually attacked by men. The women hold a meeting to decide one of three options which are to do nothing, stay and fight or leave the men and fight. Regardless of the outcome of the vote, there will be dire consequences. They debate and argue all the points and hence we have WOMEN TALKING. Shot in back and white, this is a powerful film in these times of sexual abuse with a fine cast of actors including Rooney Mara, Claire Foy, Jessie Buckley, and Judith Ivey, with Ben Wishaw and Frances McDormand all delivering unforgettable performances.
THE WONDER (Ireland 2022) ****
Directed by Sebastián Lelio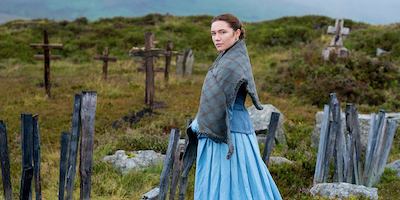 Based on the novel by Emma Donoghue and directed by Sebastián Lelio (GLORIA, A FANTASTIC WOMAN), The Wonder stars Florence Pugh as a nurse in 19th-century Ireland hired to investigate the case of a child who has not eaten for four months. Lib Wright (Florence Pugh), a veteran of Florence Nightingale's Crimean campaign, arrives in the Irish Midlands hired for an unusual task: to observe an 11-year-old girl named Anna O'Donnell (Kíla Lord Cassidy), who has reportedly not eaten a morsel for four months. As religious tourists descend on the village, the town council wants answers and so hires Lib, a medical professional, along with a nun, to watch the child and determine the root cause of the phenomenon. Disturbed by the pious fervour hampering her investigation, and pestered for inside information by William Byrne (Tom Burke), an ambitious journalist for a London paper, Lib realizes that extraordinary measures must be taken to save Anna from an increasingly volatile situation. She realizes the truth, as no one can survive without eating and she tries her best to save Anna or she will die. She is torn as to what to do - duty or what is morally right. Another film that condemns religion and the Catholic church in particular.
THE WORST ONES (Les Pires) (France 2022) **
Directed by Romane Gueret and Lise Akoka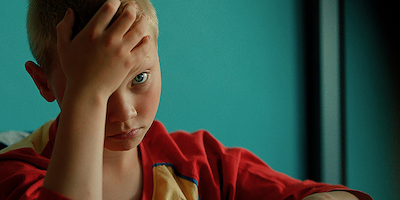 In the film within a film THE WORST ONES, Flemish director Gabriel (Johan Heldenbergh) is 54 and making his first film at the age, a gritty portrait of troubled kids called Pissing in The North Wind. He conducts a casting call in Cité Pablo Picasso, a poverty-stricken housing project in the suburbs of Boulogne-Sur-Mer, France, picking out the worst ones to make his film more interesting. Unfortunately picking troubled kids only means more trouble in controlling them during the shoot. Garbiel himself is a troubled human being and so what happens is a toxic environment filled with destruction. The film goes nowhere and one wonders the aim of the film, except to show the real poverty of the people, which is already known. The kid actors are the best thing in this depressing film.
THE YOUNG ARSONISTS (Canada 2022) ***
Directed by Sheila Bye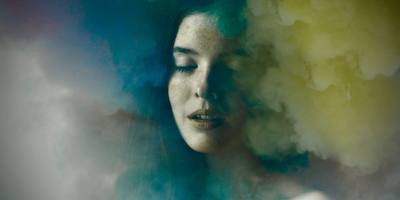 Centring on two young female friends Nicole and Veronica, the setting is in the small town of Blackpool (assuming it is the Blackpool in British Columbia and not the one of the same name in Quebec), Canada. Veronica is the wild one while Nicole the tamer one. They reside in Nicole's abandoned family farmhouse in the summer in their own distorted world of adventure. At least they think that they can do what they want before realizing that they are not in control of the fate that will occur affecting their lives. The film is exquisitely shot with shady hues, beginning with a fire, appropriate for a film with the word arsonist in it, the fumes eventually covering the face of Nicole. The girls and a few others at the farmhouse escape mainly the problem of family. Nicole is trying to come to terms with the death of her older brother while Veronica is with her alcoholic and lazy father. One of the better films on youth at TIFF.