Two Hollywood blockbusters open today. BLACK ADAM is plain awful while TICKET TO PARADISE is barely wathable. Then there is the ok black drama TILL abut a mother's fight for justice for her son's lynching in Mississippi. The best bet is teh gay period drama MY POLICEMAN with heart throb Harry Stiles.
FILM REVIEWS:
AMERICAN MURDERER (USA 2021) ***
Directed by Matthew Gentile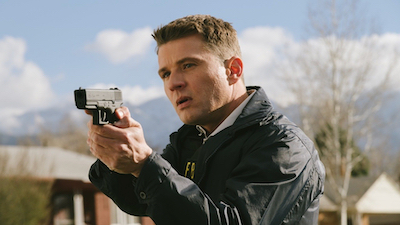 AMERICAN MURDERER is a compelling crime thriller that follows the cat-and-mouse chase of the FBI and one of the the biggest con artists in the United States, Jason Derek Brown (Tom Pelphrey).
AMERICAN MURDERER feels in part like a biopic as it does follow the life of Brown from childhood with his overpowering dad to grown adult. The reasons behind his adult actions can be attributed to his childhood experiences, including the tight bonding between himself and Jamie, his sister.
The success of the film lies largely on the performance of its lead actor Tom Pelphrey who plays the real life anti-hero AMERICAN MURDERER, Jason Derek Brown. With his blonde spiked hair and chiseled body, one can understand his charm among the women, but thelook also has sleazy side. Pelphrey's performance can be extremely bad at times, especially at the start when he pretends to cry with his sob-stories, but what he succeeds in, is creating a personality the audience totally despises. One would obviously wish Jason would get caught and pay for his crimes, especially after he has even conned all his family members. He finally lives to the film's title when he shoots, point black at an innocent 24-year old guard in order to steal $56,000. This is an act even a mother would hate. "Jason is poison," she says at one point to her daughter and Jason's sister, Jamie.
The film's best scene is the confrontation scene where Jason arrives at his mother 's (Jacki Weaver) house after a couple of years absence and unannounced. Jason tells her that he has a successful business going that will yield profits and seeks $20,000 investment from her. The audience immediately winces at the thought of her falling for her son's con. But the script turns things the other way, with the mother telling the son off and also asking him to get out of the house. "No. Stop it!" These are the script's and film's most effective words.
AMERICAN MURDERER is based on a true story and likely has a few parts made up for (dramatic ) artistic reasons. It is quite watchable with the time flying past.
Besides Jacki Weaver, the other most well known star is Ryan Phillippe, looking all dashing and proper in an FBI suit and tie. He doggedly trails and follows the clues of his prey Brown from the start to the end of the film. He says to his superior: "We will get him. Time is on our side."
The ultimate question is whether Jason Derek Brown eventually gets caught. The answer is provided right at the end of the film after it announces that the FBI has got the most tips on Brown and also the fact that Brown is the FBI's third most wanted fugitive after Bin Laden.
Trailer:
DESCENDANT (USA 2022) ***1/2
Directed by Margaret Brown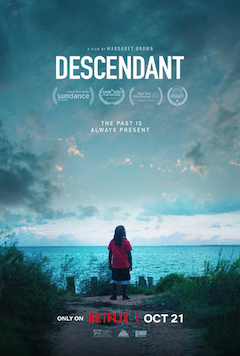 "Everyone wants to know their ancestry." ssys one black woman in the middle of documentary maker Margaret Brown THE ORDER OF MYTHS, THE GREAT INVISIBLE).
IN DESCENDANTS, ancestry is examined by descendants of the slaves in the 19th century as filmmaker Margaret Brown returns to her hometown of Mobile, Alabama to document the search for and historic discovery of The Clotilda, the last known ship to arrive in the United States, illegally carrying enslaved Africans. After a century of secrecy and speculation, the 2019 discovery of the ship (not revealed in the doc till midway of the film) turns attention toward the descendant community of Africatown and presents a moving portrait of a community actively grappling with and fighting to preserve their heritage while examining what justice looks like today.
The Africans eventually settled, free on a piece of land bought from the Meahers who burnt the ship to destroy evidence as bringing slaves to the United States at the time was a deal crime punishable by death. The residents lived in what was then called Africatown but the surroundings were leased by the Meahers to chemical compANies like paper mills that polluted the air and oil resulting, as the residents claim, cancer that struck their families.
Though one might claim that this doc might be more appreciated by the descendants of the the captured slaves, DESCENDANT is a a story that still needs to be told, one that involved massive injustice and the guilty brought to light if not punishment. For viewers of the doc, the material will both astonish and anger that such cruelty and injustice have occurred and is still going on.
DESCENDANT won special jury prize winner at the 2022 Sundance Film Festival, Descendant is a Higher Ground and Night Tide production, in association with Two One Five Entertainment. The film is currently streaming on Netflix.
For more information on the film or to view it, check:
Trailer:
DUALITY (USA 2022) ***
Directed by Ryan Dowling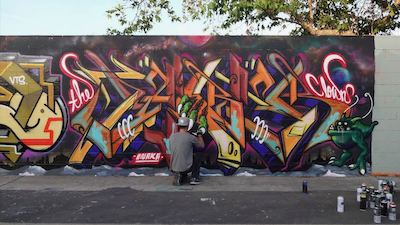 DUALITY - a graffiti story follows graffiti art around a few major cities in the United States. Once brushed aside – even deemed criminal (police are the graft artists main enemy) - graffiti has since paved the way for many successful, credible artists today. With Duality, these street artists – some for the first time, some maintaining a strict code of anonymity – discuss their journeys from "tagging" to becoming respected icons in the cities they serve with pieces that are awe-inspiring in scope, size and complexity. Cities focus include New York City, Houston and L.A. They have collectively proven that their genre of art is something that can influence culture, evoke emotion, inspire, and cultivate community. Their rise has not been without challenges and criticism but today they are admired by throngs of fans and oftentimes the art they produce brings in revenue for household brands and worldwide corporations. No longer relegated to back alleys, their works can be found on main streets, on the faces of landmark buildings and in fine art galleries.
The film is also quick to differentiate between Graffiti and street artists. The former use only spray cans and use tags with bubbled letters while the latter are more recognized and often paid artists by the city to do murals and walls. The later also use stencils and are considered different and somewhat enemies of the graffiti artists who work much, much harder to earn their name.
The doc begins with general talks by the artists to the camera as to the reason they do their work. Then common trait is to find an outlet for stress and the other is the need to express oneself. Many talk of the art as a drug, an addiction that cannot be halted. They often put a name to their graffiti so that their work will be known. After the introduction, director Dowling narrow in each of several of the artists one at a time.
With DUALITY, Director Ryan Dowling was granted unprecedented access to an all-star roster of graffiti and street artists including "Dual Streets," "Sloke," "Meres," "Jaber/White Ninja," and "Never."
The doc is a perspective on how graffiti has paved the way for many successful artists today. The story is told by the artists themselves on their journey from tagging graffiti on city walls to becoming respected icons in the cities they serve. They have proven that art is something that can influence, create emotion, inspire, and bring culture to an area. As the film progresses, director Dowland shows the difficulties they have endured and public criticism of their work. Today the murals they produce bring in big advertising dollars from some of the biggest companies. These artists are hired to paint murals and design various forms of art for commercial campaigns. The murals they produce are nothing short of awe-inspiring from their sheer size to the complexity of the piece. Their portfolios extend from massive spray painted murals to fine art gallery showings. The street art scene at one point was an underground subculture that has transformed into a legitimate profession.
This film also offers insights into the struggles and successes of four artists from different cities as they tell how they overcame adversity and legality to where they are today. They include"Dual Streets," "Sloke," "Meres," and "Jaber/White Ninja," .
One of the doc's highlights is the obliteration at 5 points of the graffiti work of 21 artists by the owner of the property. This is the point in the film where the audience feel the anger and frustration of the artists on show.
Dowling's film is undoubtedly educational and informative of the city graffiti art scene, especially for audience who are unfamiliar with the culture. On the other hand, Dowling does not stop to convert anyone to the art and as a result the doc might not appeal to many of the general audience.
DUALITY will be available on Friday, October 21 on Amazon Video, AppleTV and iTunes, YouTube, Google Play and Vudu.
BLACK ADAM (USA 2022) *
Directed by Jaume Collet-Serra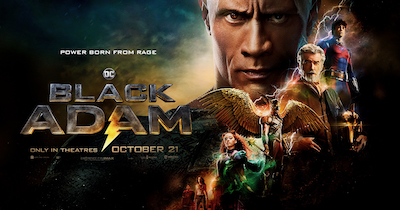 Warner Bros has always had trouble with and produced bad action super DC comic hero events like their huge and awful but commercially successful BATMAN V SUPERMAN. BLACK ADAM starring a really cardboard Dwayne Johnson at a cost of $200 million ( and running an overlong 2 hours and 4 minutes) is a pretty awful and silly action movie. No super hero can save this movie - perhaps only lots and lots of luck might help the film recoup its cost.
The film begins, at 50000 B.C. before Rome, before Babylon and before the pyramids, the audience is told, where the film dishes out a lengthy introduction that takes place in the fictional city of Kahndaq, the name sounding like a Middle Eastern name with slaves working similar to the salve workers in Egypt under a nasty Pharoah. Apparently the slaves under the evil King is mining some mineral called Eternium, that is only found in Kahndaq. It, yes, believe it or not, can grant super powers before you can say Khazam, and it is used to make a blue glossy crown that must be kept away from evil humans. That said, a young slave sacrificed himself to free his people and was therefore granted super powers by the ancient wizard from "Shazam!" He becomes Teth-Adam, Kahndaq's champion (Johnson).
The film moves to the present day with the same setting of Kahndaq. The crown is dug up and has to be kept away from some evil villain, Ishmael who is descendent of the old King. Enter BLACK ADAM who is the upper hero of the film who cannot decide to be a hero or not, not that it matters. Before he can start uttering one-liners he is hunted down by the Justice League of America led by MAMMA MIA singer aka James Bond Pierce Brosnan in a role that supposedly taunts his dashing white haired good looks. He is fitted with some cool attire though.
BLACK ADAM can be described as a hodgepodge of senseless but expensive special effects with lots of uninspired one-liners thrown in that do not work for the most part. Dwayne Johnson, who can normally carry an action film, is totally powerless in this one. The bit of the fictional Kahndaq rising over their oppressors that include fictional demons from hell is the silliest thing seen on the screen this year. The story also centres on the boy, Amon (Bodhi Sabongui) kidnapped by Ishmael and the supporting Justice League instead of the main character, BLACK ADAM.
BLACK ADAM is typically an action hero movie. It is what it is. Comic action fans who have a high tolerance of intelligence abuse will let this film get away with a pass.
To top it all, but not to reveal the surprise ending which is equally stupid but aimed at getting a last cheer from comic book is a visit by an uncredited action hero (not to be revealed in this review) that only shows how desperate depths the filmmakers are willing to go.
Trailer:
HERE FOR BLOOD (Canada 2022) ***
Directed by Daniel Turres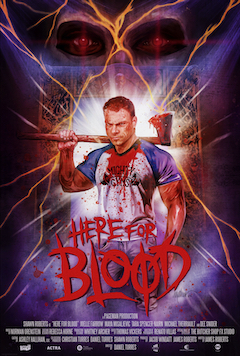 Horror comedy feature film HERE FOR BLOOD has been announced as the Closing Gala film for the 16th annual Toronto After Dark Film Festival. The film will premiere on Sunday, October 23 at the Scotiabank Theatre in Toronto. Word has it that the film has sold out not long after tickets were put on sale. Not to fear, this Canadian film should have a Toronto opening soon.
Here For Blood follows Tom O'Bannon (Shawn Roberts), a rowdy pro-wrestler struggling to make ends meet. He earns a miserly $20 for a wrestling gig and yes, the baby-sitting job of his girlfriend pays better. And there are free pizza and cookies to boot. He agrees to fill in as a last-minute replacement for his college girlfriend's well-paying babysitting job. Tom arrives at an isolated family home where he meets the precocious 10-year-old Grace. What starts off as a quiet night of pizza and video games quickly spirals into bloody, violent chaos as Tom and Grace find themselves fighting for their lives when an otherworldly cult of masked intruders descend on the home from the attic of the house.
The blend of comedy and horror genres does not normally mix well, but HERE FOR BLOOD is the welcome exception. The jokes are hilarious enough and would have many laughing in the aisles, if not gasping at the graphic horror on screen. One might wonder about the little girl Grace who is being baby-sat in the film. How would the little girl take all the blood, gore and swearing? The precocious little child does her fair share of swearing and also saves the babysitter's life by placing a jaw snapping skull at the neck of the babysitter's attacker. As a bonus, the wrestler adopts quite a few professional wrestling moves on the attackers. Tom initially thinks the attackers are a gang of sex perverts as they are after Grace the child, butt soon realizes them to be zombies. (Tom accesses the situation aloud: They are not human: They are not vampires.) Tom, a lovable lout, takes all this, tongue-in-cheek, which is particularly funny.
One of the supporting actors in the film, playing the father Gill, deserves mention. Michael Therriault has acted in more than a dozen films winning acclaim from his portrayal as the lead character in PRARIE GIANT: THE TOMMY DOUGLAS STORY. But Therrualt, though known by many from the CHUCKY TV series, has been typecast into horror movies like this one and the upcoming GUILLERMO DEL TORO'S CABINET OF CURIOSITIES. The main lead of the movie, Canadian actor Shawn Roberts is also good, blending in his brand of humour into the horror comedy.
Directed by Daniel Turres, and co-produced by Jacob Windatt and writer James Roberts, Here For Blood stars Canadian actors Shawn Roberts (Heartland, X-Men), Joelle Farrow (Under The Banner Of Heaven), Maya Misaljevic (The Boys), Tara Spencer-Nairn (Corner Gas), Michael Therriault (Chucky - Television Series) and also features American film & music personality Dee Snider. Horrific fun!
Trailer:
MY POLICEMAN (UK/USA 2022) ****
Directed by Michael Grandage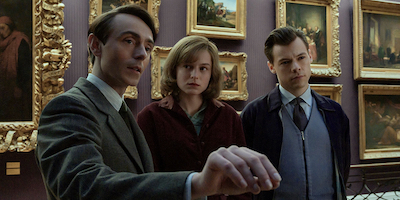 MY POLICEMAN is a tale of forbidden romance set in 1957. Homosexuality is outlawed at the time and those caught in the act face not only imprisonment but beatings by fellow prisoners while serving their terms. Thank God, all this is over at present times. The law worldwide has been changed. This riveting tale that follows three people that suffer and make good whatever they can from the hatred of society is told with conviction by director Michale Grandage who as well as fellow supporting actors Rupert Everett and Linus Roach ( and myself included) lived during those times. Younger gay males and females in the audience will be able to get a good feel of what gay life was like back then.
This tale of forbidden romance and changing social conventions follows three people — policeman Tom (Harry Styles/Linus Roache), teacher Marion (Emma Corrin/Gina McKee), and museum curator Patrick (David Dawson/Rupert Everett) — and their emotional journey spanning decades.
Tom (Harry Styles) is a young police officer who conforms to everything expected of him in 1950s Britain — but he instinctively feels a desire for more. When earnest schoolteacher Marion (Emma Corrin) meets him on a summer beach, she's immediately beguiled and they begin a sparkling relationship. It is not long, though, before the two encounter Patrick (David Dawson), a sophisticated museum curator. Actually, it is revealed later in the film that David and Patrick knew each other before. They become fast friends but, quietly in the background, Patrick invites Tom to explore his sexual identity and a love triangle is formed that's as tender as it is tenuous. Tom is torn between his passion for Patrick and the love he holds for Marion, and the youthful abandon of the trio gives way to more serious confrontations. As this unfolds, we cut to their older selves (Linus Roache, Gina McKee, and Rupert Everett), decades later, living under the weight of having changed each other irrevocably. As the puzzle pieces of their fallout are slowly revealed, we're reminded of the existence of many intimate stories like these, lost to queer history.
What is Marion to do when she discovers that her husband is going on a trip to Venice with Patrick in the guise of work? The film's best and most powerful scene occurs when Marion confides in a friend at work. "I will convert him", she tells her friend who replies that Marion has to accept the fact that Tom is such and cannot be changed, then revealing that she herself is seeing another female. When Marion is shocked and gives her friend that look, the friend says: "You now treat me as a different person now that you know. I am one and the same person."
The filmmakers could have got Stiles and Dawson to put on prosthetics to portray their characters in their later years but did not and instead got Everett and Roach to play them instead. The transition is smooth and one is comfortable to see Everett and Roach once again in a gay film - Everett well known in MY BEST FRIEND'S WEDDING and Roach in PRIEST.
Adapted by Ron Nyswaner (the Oscar winning PHILADELPHIA) from the Bethan Roberts novel, and directed by Michael Grandage with restraint and understated elegance, MY POLICEMAN shows both the quiet power of a love the fortunate times gay people now live in.
Trailer:
RAYMOND & RAY (USA 2022) **
Directed by Rodrigo Garcia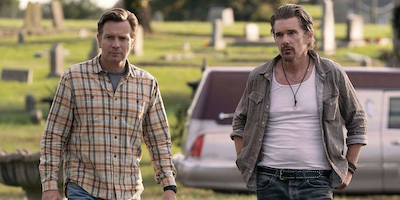 The latest from writer-director Rodrigo García (ALBERT NOBBS which garnered Glenn Close an Oscar nomination) stars Ewan McGregor and Ethan Hawke as long-estranged half-brothers who reunite to bury their father. As expected, Garcia elicits almost faultless performances from the two stars. Hawke of course as expected playing the older brother with uncontrolled emotions and McGregor the one with latent anger. Much to their annoyance, everyone the brothers meet attest to their father's charisma, from his ex-lover Lucía (Maribel Verdú), to his nurse Kiera (Sophie Okonedo), to the priest officiating the funeral (Vondie Curtis Hall). Ray Sr. left his sons a pittance and, to add insult to injury, an aggravating and exhausting final request. Director Gaci attempts to layer his characters with personalities changing when skeletons are revealed for the closet. Unfortunately, the entire exercise feels too contrived and overdone (drama for the sake of drama) - what one might call the cinema's equivalent of 'cheap theatrics'.
Eleven-time Goya Award nominee and two-time winner Maribel Verdú and Academy Award nominee and Tony Award-winner Sophie Okonedo also star. The film is produced by Academy Award winner Alfonso Cuarón as well as Bonnie Curtis ("Saving Private Ryan," "Albert Nobbs") and Julie Lynn ("Albert Nobbs," "To The Bone").
RAYMOND & RAY premiered at the Toronto International Film Festival this year and opens this week on Apple TV+.
Trailer:
SHADY GROVE (USA 2022) ***
Directed by Dale Resteghini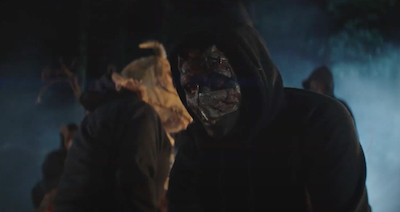 SHADY GROVE the new low budget horror film begins with what looks like a satanic cult as worshippers steal a baby putting it in a wooden crate amidst cries from the pregnant mother. The film then shifts to the story of a young African-American couple, Shaina (Niki McElroy) and Mark (Todd Anthony), as they leave behind their party lifestyle to find tranquility in an isolated rental cabin with their friend, Elijah (Juhahn Jones). The area they go to is the area called SHADY GROVE by Turtle Lake, beautifully captured on film.
If one wonders the connection between the initial cult scene and the story, it becomes clear when Shaina reveals that she is pregnant. Her baby will most likely be the next victim of the cultists. Weird things begin to happen around the cabin such as a teen who is making out in the woods nearby being killed by an arrow.
Director Resteghini's film is seldom boring as his characters are often lively and funny - always up to some mischief. If Shaina and Mark are not groaning while making love in the shower, Eli is picking up the local white girl at the grocery store. The party begins as the horror starts when the white girl shows up at the cabin to party.
"There is something really fucked up in this place, and I am the only one who knows it." says Shaina. Mark sees a severed hand in the lake but when he brings the sheriff to show her, the hand (as expected in suspense films) is no longer there.
"There is nothing much to do in SHADY GROVE," cries Taylor at one point in the film. But surely, there is more going on than meets the eye.
The relationship between Shaina and Mark provides a slight diversion to the horror in terms of a subplot. Shaina has had a girl-to-girl incident in the past and Mark gets jealous when the pretty Taylor shows up at the cabin.
It is healthy to see a horror film which has a majority black cast and crew with whites being the minority. The female presence is stronger than the males as well. The story also incorporates the role of women in Greek mythology. Shaina is the one who takes control of the situation when the cultists attack.
The killings are sufficiently gory (the slashing of a victim's throat in the bedroom) to satisfy horror fans and the suspense (the killer shown already in the cabin when Mark asks Shaina to lock all the doors and windows) is sufficient to create the audience anticipation (the faint and smell of death coming from the locked room that the pregnant Shaina can smell) required in such movies. Though there is nothing relatively fresh in the film, SHADY GROVE succeeds as an entertaining horror time-waster.
Gravitas Ventures will release the film on digital platforms on October 25, 2022, just in time for Halloween. The film has a running time of 94 minutes and will not be rated by the MPAA.
Trailer:
TICKET TO PARADISE (USA 2022) **
Directed by Ol Parker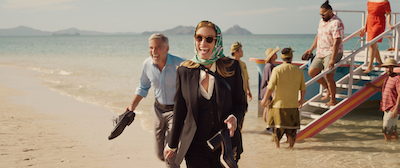 TICKET TO PARADISE, directed by Ol Parker of MAMMA MIA! HERE WE GO AGAIN and THE BEST EXOTIC MARIGOLD HOTEL films falls into the same trap as those films. The film is glossy artificial and touts tourist travel without an inkling for reality. The paradise in the film is Bali in Indonesia where everything looks as if it is God's Garden of Eden. Never mind the political unrest that is always present and the main Muslim religion. (Myself, I also planned a vacation to Bali but had to switch to Phuket at the last minute due to political unrest at the time). It is of no surprise, therefore, that the film was shot in Queensland, Australia on an Australian government grant of US$5 million. So what stunning landscape is seen belongs to Australia and not Indonesia. The film almost gets away with it with many of the non-white, the groom's relatives all speaking Indonesian Malay. It sounds real and accurate as myself, I do understand the language as my mother's relatives live in Jakarta. The film also features rich, privileged, good looking, perfectly sculptured human specimens (Julia Roberts and George Clooney) including some gorgeous Indonesians.
Two divorced parents, David (George Clooney) and Georgia Cotton (Julia Roberts), travel to Bali after learning that their daughter, Lily (Kaitlyn Dever), is planning to marry a man named Gede (Maxime Bouttier), whom she had just met. After attending Lily's graduation, they are horrified to learn that Lily is throwing all her education away to go live and marry her 'love at first side' Indonesian boyfriend. Gede farms seaweed for a living and the family is also privileged and extremely wealthy, They decide to work together to sabotage the wedding to prevent Lily from making the same mistake they made twenty-five years ago. The ultimate question is asked: "What can go wrong?"
The film can be divided into three parts. The first emphasizes the couple's bickering and arguments to no end. Some of the lines are funny. "See you never!" "Hopefully not that soon!" The second portion is the execution of the scheme to sabotage the wedding and the third is the couple falling into love again. Thankfully, the third part is relatively believable. One can only admire how the classic stars like Irene Dunn and Cary Grant pulled those classic romantic comedies off.
A few distractions on the way, like Georgina's latest fling, Paul (Lucas Bravo, providing more eye candy than humour) and a fellow flight passenger who suddenly both show up on the island. There are also a few questionable moments such as where Paul is during the wedding.
Cloony and Roberts try their best to keep the comedy flowing. The best surprise performance belongs to the young actress Kaitlyn Dever who plays Lily. Dever was last seen playing the lesbian schoolgirl in Olivia Wilde's BOOKSMART. Dever is definitely a talent to watch!
Despite the film's faults, this sophisticated Romantic comedy is totally watchable thanks to its breeze characters, lead performance and that of Kaitlyn Dever and funny comic lines dotted throughout the film.
Trailer:
TILL (USA 2022) ***1/2
Directed by Chinonye Chukwu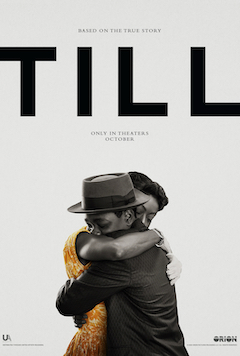 TILL is the story of the lynching of 14-year old Emmett Till in Mississippi and his mother, Mamie Till Mobley's unfaltering activism in order to bring justice to the crime committed. It is a story that needs to be told, perhaps also in history lessons in American schools, so that what has happened will never ever happen again. And one of the many things the civil rights movement demanded to see enacted was a federal anti-lynching law which was finally passed, believe it or not, this year in 2022, such a law named after Emmett Till.
Director Chukwu tells her story in unhurried chronological order, first showing 14-year old Emmett in Chicago of 1955 happily dancing with his mother Mamie in the bedroom, and also having dinner with extended members of his family. He is warned by his mother to be extra careful when visiting his cousins in Mississippi as white folk are different there and to be 'small' when over there. Emmett whistles at a white store clerk and ends up being taken away at night from his cousins. When his body is found in the river, his mother demands justice and the body be brought back to Chicago where she allows photographers to take picture of the corpse in the open casket to show the world the crime that had been committed
Danielle Deadwyler delivers a remarkable Academy Award Winning performance and it is quite the possibility that she will win, given the climate when the film industry is giving more light to coloured talent. Her acting skills are more prevalent during the film's second half, especially in the courtroom scene where she gives testimony of how she recognizes the body as that of her son. Director Chukwu's camerawork aids her performance, the camera showing her quivering lips, grimaces and often tears flowing from her eyes as she clearly speaks her mind.
The film contains other fine performances such as notables like Whoopi Goldberg as Emmett's grandmother who delivers a funny line or two like the one she says to Mamie: "That's the 'Mama, mind your business and go home' face,".
The film arouses even more anger as the closing credits reveal that Till's murderers confessed to Look Magazine for $4,000 after being acquitted, and Carolyn Bryant is still alive and unpunished. Haley Bennett plays 21-year-old Carolyn Bryant, the store clerk who is the source of all the trouble, the white lying girl the audience would love to hate. When she gives false testimony in court of how Emmett forced himself on her. Mamie walks out of the courtroom and says; "I am going home." When then asked that she should stay for the verdict, she answers in the film's most powerful line: "I already know what the verdict is." (Chukwu's filming of the earlier incident shows otherwise, which implies the clerk is lying.)
There is no graphic violence shown on screen on the blacks by white folk, but the fact does not lessen the emotions of the injustice done. If any graphic violence be shown, these might do the opposite and distract from the main matter at hand.
The film suffers from the director's overdoing of the material and her stereotyped portrayal and every single white folk is a bad one, with not one single sympathizer.
Emotional yet powerful, TILL opens October 14th and as it contains a story that needs to be told, it is also a film that needs to be seen.
Trailer:
"
V/H/S/99 (USA 2022) ***1/2
Directed by Maggie Levin, Johannes Roberts, Flying Lotus,Tyler MacIntyre, and Vanessa and Joseph Winter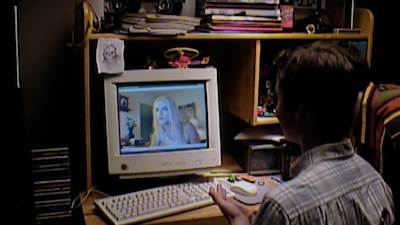 Since 2012, the horror anthology series V/H/S has transmitted its fair share of visceral "found-footage" thrills from both emerging and established scaremeisters across four memorable instalments.
The latest continues the tradition with a few new twists and a new crop of filmmakers, each hitting record on a string of supernatural incidents that occurred at the end of the last millenium, 1999. In a break from its traditional wraparound structure, this edition's cursed recordings are instead layered over each other on a single videotape, with the earliest recording running beneath the others, occasionally breaking through in bursts of static and analogue tracking errors. 6 stories in all.
Each episode in the anthology will not be described - best to unveil the surprises on one's own. The last two are the best of the lot, the second last being the funniest and the last with the best and scariest monsters.
For lovers of horror anthologies in the tradition of CREEPSHOW, V/H/S/99 is the best there is for a while. The film premiered at the Toronto International Film Festival Midnight Madness Section and is now streaming on Shudder, the horror streaming service.
Trailer: