FILM REVIEWS:
ALL JACKED UP AND FULL OF WORMS (USA 2022) ***
Directed by Alex Phillips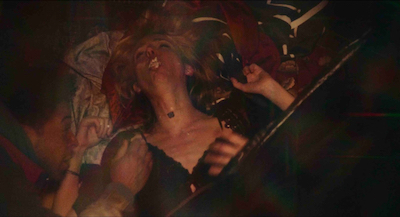 ALL AJCKED UP AND FULL OF WORMS may be described as a gay love story between two men who wish to adopt a baby. This would be he most innocent and deceiving description of the film, though true to an extent. The film as it turns out, is the weirdest most disgusting film that can be seen theatres or VOD this year. This is not necessarily a good thing. Undoubtedly a curiosity piece, but ALL JACKED UP AND FULL OF WORMS is a film one would find hard to get out of one's mind.
Roscoe, a janitor for a scuzzy love motel, whose girlfriend has brought another man home for strange rituals, drifts through life until he discovers a hidden stash of powerful hallucinogenic worms. Guided by visions of a giant floating Worm, he encounters Benny, a moped enthusiast trying to manifest a baby from an inanimate sex doll. "Can lousy daddy? Can you say da-da?" Bennys cuddles his inanimate doll. "You have no mama yet? Will find you one and raise you like a man?" Benny convinces a call girl to mother his baby since he admits that no decent woman would want his or have a kid with him as he is 40, on pills and totally fucked up. Benny and Roscoe fall in love while doing worms together on a downward spiral into the primordial ooze. Thank God there is no gay sex scenes that might even turn up more disgusting than the worm consuming segments.
The first disgusting scene has Roscoe saying: Do you want to eat worms? Snort it or chew it> A scan follows with a worn half snorted and its other half dangling from the nostril. The men who take the hallucinogenic worms get high, and make animalistic sounds while occasionally throwing up lots of coloured bodily fluids. There is also a different typeof disgusting scene with Benny feedings doll 2% milk, the milk overflowing from its mouth.
There are occasionally bouts of humour but from scenes incredibly silly, like the one with Benny shouting after his baby when the inanimate doll is floating away in the sea.
All the actors playing the assorted range of misfits are not the best looking human specimens either.
This widely-celebrated, festival-sensation avant-gutter psychedelic freakout All Jacked Up and Full of Worms, from writer/director Alex Phillips, embarks on a limited theatrical roadshow run across select North American cities spanning October and November ahead of the film's November 8th premiere date on the Bloody Disgusting-powered streaming service SCREAMBOX and VOD platforms in the US and Canada. An Official Selection of the 2022 Fantasia International Film Festival, where it took home a special jury mention from the festival's New Flesh competition, and Austin's legendary genre event Fantastic Fest, the film will next celebrate its homecoming premiere at the Chicago International Film Festival on October 21st.
See ALL JACKED UP AND FULL OF WORMS at one's own risk and with extreme caution as it is to difficult to get sick watching this
Trailer:
ARMAGEDDON TIME (USA 2022) ***1/2
Directed by James Gray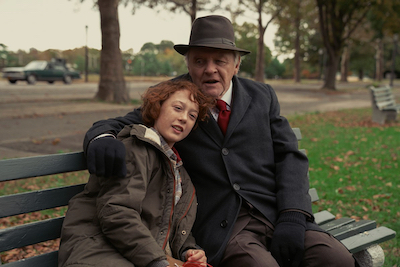 Armageddōn from Hebrew, is the prophesied location of a gathering of armies for a battle during the end times, which is variously interpreted as either a literal or a symbolic location. The term is also used in a generic sense to refer to any end of the world scenario. The title ARMAGEDDON TIME refers to the time of reckoning in this coming-of-age story of Jewish American kid, Paul Graff.
ARMAGEDDON TIME is a 2022 American period drama film written, directed, and produced by James Gray, inspired by his childhood upbringing in Queens, New York, during the 1980s. Gary returns to what he does best - family drama, his best film being the 2000 THE YARDS. The film stars Anne Hathaway (looking similar to and playing basically Anne Bancroft), Jeremy Strong, Banks Repeta, Jaylin Webb, and Oscar Winner Anthony Hopkins. It was shot in New Jersey with cinematographer Darius Khondji creating a solid period atmosphere.
The protagonist of the story is 6th grader, Jewish American Paul Graff (Banks Repeta). He gets into trouble occasionally but not as often as his new buddy, Johnny (Webb) who happens to be coloured. While Paul is somewhat mild and speaks up against authority only occasionally, Johnny is trouble on legs, rude, often using swear words to his teachers. After Paul and his friend Johnny are caught smoking weed, Paul is sent to his older brother's private school, run by Donald Trump's sister Maryanne. Despite facing prejudice he receives, Paul's family do their best to try and support him.
The power force of the family is Paul's grandfather played by Oscar Winner Anthony Hopkins. Hopkins speaks with a faint British accent, the reason being that he came from Liverpool, where the Beatles also came from, their songs admired by Paul. Paul and the family trade the grandfather's words as the Gospel truth including all the advice he gives. When Paul talks about the abuse given to Johnny and he says nothing, his grandfather makes him promise to stand up for the coloured people.
The best thing about Gary's film are the excellent performances he elicits from his actors, from Hopkins to Hathaway toy Banks but mostly from Jeremy Strong playing Paul's father. Whether he is thrashing Paul with a belt or giving a heart to heart talk to him, he wins the audience's sympathy and respect. He is the one who deals with the main message of Gray's film that life is unfair but you make what you can get and move along.
One flaw of the otherwise excellent period personal coming-of-age drama the film is that it seems too much like a fable, feeling totally fiction because everything works out at the end for Paul Graff. Paul can do all the wrong things and the result eventually comes out all right. Still Gray's film is entertaining and perhaps a lesson that can be learnt, though for younger audiences.
ARMAGEDDON TIME had its world premiere at the 2022 Cannes Film Festival on May 19, 2022, and opens this week in theatres.
Trailer:
ENOLA HOLMES 2 (USA/UK 2022) ***
Directed by Harry Bradbeer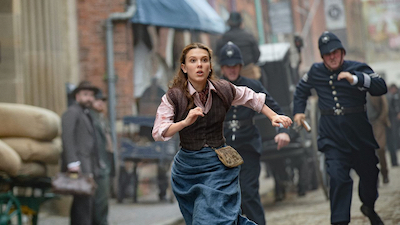 Everyone has heard of the most famous sleuth of al times - Sherlock Holmes. Enola Holmes, however, not so much. Enola is Sherlock's sister and a series of young adult books have been written about her by an American author, Mary Spronger. Enola Holmes is the 14-year-old sister of an already-famous Sherlock Holmes, twenty years her senior. There are seven books in the series, all written by Springer from 2006–2021. The second film ENOLA HOLMES 2 makes its debut Friday November the 4th on Netflix.
The film opens with the teasing titles: Some of what follows is true. The audience sees Enola (Millie Bobby Brown) chased by two bobbies before she explains the story that led to the chase. Enola has opened her first detective agency but has not got any case, the reason being her age and gender while her brother (SUPERMAN Henry Cavill), Sherlock is overloaded with cases. His most baffling case collides with hers and the two join arcs to solve the mystery.
Sir Arthur Conan Doyle's Sherlock Holmes has its fans and it is best not to mess with them. The best Sherlock Holmes movies are Billy Wilder's THE PRIVATE LIFE OF SHERLOCK HOLMES, THE SEVEN PERCENT SOLUTION (with Holmes teaming with Sigmund Freud) while the worst is the butchered 2009 SHERLOCK HOLMES directed by Guy Rictchie in which the riddle solving detective is turned into an fighting action hero. In ENOLA HOLMES 2, there is a bit too much action, Enola claiming to know Jiu Jitsu for Holmes fans, but at least there is a bit more balance that can be acceptable. Holmes fans love the wits and brains and not the brawn and action in the solving of the cases. The film runs rather long over 2 hours but makes an entertaining romp.
ON THE LINE (USA 2022) **
Directed by Romuald Boulanger
Gorgeous hunk, when he was much younger anyway, Mel Gibson was Australia's gift to the film industry. With hits like GALLIPOLI, the LETHAL WEAPON franchise and the Oscar winning BRAVEHEART, Mel Gibson has had his trouble with his anti-semitic rants and now stuck in a series of mediocre action films.
His latest foray into the action thriller ON THE LINE, Gibson plays a sorry overnight radio host. Provocative and edgy, he is more an embarrassment than anything else. Then on his show when callers ring in questions for advice, he gets a call from a mystery man who has kidnapped his family and is threatening to kill them and blow up the whole station on the air.
The story is not what it seems as there are many twists in the plot - in fact too many for its own good, a case of too many cooks spoiling the broth. This is a DEATHTRAP or SLEUTH wannabe but it fails miserably as the story is too unbelievable and improbable.
Trailer:
THE RETURN OF TANYA TUCKER –FEATURING BRANDI CARLILE (USA 2022) ***
Directed by Kathlyn Horan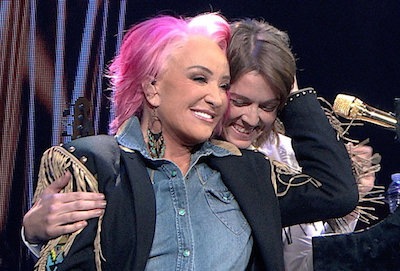 The film's opening scene has an aging singer, soon to be revealed as western and country icon Tanya Tucker, putting on makeup as she sings a tune before her 'return' performance, and a sold-out one at that. Tanya Tucker has been singing and performing since the age of 13 and this performance, according to the film, is her first one in 17 years.Tanya now has a raspy voice but one can tell that this voice is still a powerful one that millions still want to listen to. This is the documentary THE RETURN OF TANYA TUCKER – FEATURING BRANDI CARLILE. Both fan-girl and producer six-time Grammy winner, Brandi Carlile sits in the recording booth with Tucker, while fellow producer Shooter Jennings mans the control room. Many songs are mined from conversations between the two women, like the now iconic "Bring My Flowers Now," which Carlile fleshes out from Tanya's idea.
The doc has footage of Tanya doing a talent show at 9, singing the famous song "Delta Dawn" (also popularized by Helen Reddy) at age 13 and again later in the film at her current age. She also appeared on the cover of Rolling Stone Magazine while earning a Grammy nomination at the age of 15. She was a country and western great by the age of 19.
One need not have to be a country and western fan to enjoy Tanya Tucker. She has a good voice, is charismatic and is entertaining to watch. Music and songs, no matter grouped in which category, have universal appeal as the doc demonstrates.
The doc is not a biopic on Tanya Tucker though there is some mention of her background and life. Her success is due largely to her devoted and caring parents. Her father was her manager and Tanya has only good things to say about him - in one of the doc's more intimate moments. Director Horan briefly touches on her missteps in life - that include her drug use and going out with, as the film says, more men than having hot meals. Tanya admits to drug use, particularly cocaine but maintains that she never did the stuff before meeting Glen Campbell, to whom she dated for about a year. He was 44 when Tanya was 22, and the age difference of the couple made headlines at the time.
The doc praises Tanya to no end, so fans of Tanya should be more than pleased. Brandi is her most ardent fan and her admiration is seen throughout the film. Both Brandi and Tanya are quite the independent women and they both are not shy in using swear words in public. Brandi is openly gay and her wife is mentioned briefly in the doc.
The doc includes an important butbrief mention of Tanya as she ditches country and western for a frowned upon foray into rock and roll.
The Return of Tanya Tucker – Featuring Brandi Carlile won the Audience Award in the 24 Beats Per Second program at SXSW 2022. The documentary is right there when trail-
blazing country singer (and now sexagenarian) Tanya Tucker records "While I'm Livin'," her first album of original music in 17 years.
Trailer:
SATAN'S SLAVES: COMMUNION (Indonesia 2022) ***1/2
Directed by Joko Anwar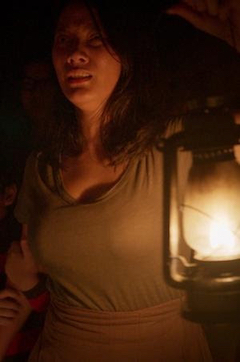 Like IMPETIGORE (2019), director Anwar once again proves his competence in creating scary and eerie scenes. One is in the poverty stricken apartment building of Rini's family. After Rini has thrown the garbage down the garbage chute at the end of the corridor, the audience sees a whole lot of men pearing from their apartment doors at her. As she walks back to her own apartment, she passes several open doors as she, and the audience sees word and silent people watching television or just doing plain nothing as she passes each for. The haunting music aids in the creation of the frightening atmosphere.
Audience anticipation is also heightened. There is news of the mysterious sniper killings that are unexplained and have been going on for two years, the target being criminals with tattoos. also an impending storm is about to hit Jakarta, as heard on the radio.
Director Anwar's film also demonstrates the lifestyle of the native Indonesians. There is talk about rich development in the film but the audiences do see any. The family live in a poverty stricken run-down apartment building, filled with teens that have nothing better to do but to tease girls. This is the real Indonesia and not like the one seen in the recent TICKET TO PARADISE where wealth rules. The three siblings sleep in the hall of the apartment while the father sleeps in the one bedroom. The family's dwelling is humble and sparse, the dining room only contains a simple table and 4 chairs.
Director Anwar creates many excellent horror action pieces set in the dark of a power outage, scenes lit only by candle or flashlight. Anwar's scariest segment is when Rini's little brother brings out the garbage bags to dump them in the garbage chute at the end of the corridor. There is a sign on the wall advising not to dump big bags less they get stuck in the chute. The boy does. The boy puts his top half of his body through the chute using a prod to push the bags down. He almost falls in, in one of the film's most exciting scenes, not to mention demon voices being heard.
There are extended scenes shot in the dark, only lit by a flashlight or matches. The reason for the darkness is the power failure owing to the flooding by the storm of the group floor. Tony and Umatz are checking floor by floor of the building in the dark while corpses lie in many apartments. Another scenario is added when Tony's friend asks him to climb through a hole to the neighbouring apartment to retrieve a fork he dropped into the hole. The reason for this is comically explained to Tony, hoping that director Anwar has a keen sense of humour as well.
Amist all the goings-on the audience's is remind that the film is Indonesian from the language and the constant Praise to Allah phrase uttered, as Indonesia is proudly Muslim.
Indonesia has a firm industry not well known to North America. Lately a few horror films have reached here through festivals and Shudder. They are not bad with the director Anyway leaving his stamp on horror movies. SATAN'S SLAVES debuts on Shudder and is definitely yet another scary horror film with an Indonesian flavour.
SOMETHING IN THE DIRT (USA 2022) ***
Directed by Benson and Moorhead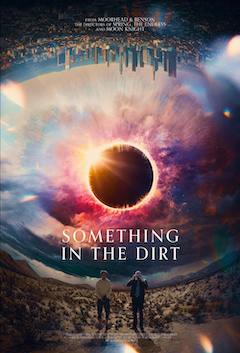 Justin Benson and Aaron Moorhead are the film's actors, directors and writers in what they called a friends-made movie, celebrating this what might-be-called new created genre of filmmaking. The two of them are in almost every scene and the film is basically a two-handler in the very sense of the term. Unfortunately, it is a strange and weird exercise, and safe to say, not for everyone, less the average commercial filmgoer, but this is what makes SOMETHING IN THE DIRT different, inventive and occasionally wonderful.
Why is the film called SOMETHING IN THE DIRT? Alternative titles for the film include SOMETHING IN THE LIGHT or THIS DOOR DOES NOT CLOSE as proposed by Benson and Moorhead's two oddball characters in one of the film's scenes.
The film begins oddly with a 10-minute sequence which can be described by the following words: What the hell is going on? A man wakes up in a bare apartment, looks out the window and leaves the apartment to see a helicopter and a strange man outside.
Levi has snagged a no-lease apartment sight unseen in the Hollywood Hills to crash at while he ties up loose ends for his exodus from Los Angeles. He quickly strikes up a rapport with his new neighbour John, swapping stories like old friends under the glowing, smoke-filled skies of the city. The two smoke all throughout the film. Soon after meeting, Levi and John witness something impossible in one of their apartments - multicoloured light moving their crystal-looking ashtray. Terrified at first, they soon realize this could change their lives and give them a purpose. With dollar signs in their eyes, these two eccentric strangers will attempt to prove the supernatural.
SOMETHING IN THE DIRT can be described as twisted, sci-fi talkie, because there is a lot of talk. One has to be a bit patient as the two do mumble half the time, and when they do as scientific or mathematical theories are introduced to explain the phenomena, it does not always make sense. The two do share an odd-ball chemistry but they also do fight and insult each other terribly. They are also not ideal specimens of society nor are they grounded in reality. Levi is poor, has a criminal record while Levi is a member of some church cult.
The film is often all over the place. This is where the film is flawed as it appears lacking direction. Besides including flashbacks of Levi and John as children, the two also talk to the camera, as well as a few other assorted characters. One so-called phenomena expert even speaks Italian to the camera. The film also includes some special effects like the levitating ashtray that is never explained. None of the so-called light phenomena is explained, or when attempted to, never makes much sense anyway, not that it matters.
SOMETHING IN THE DIRT opens in theatres November 4 via XYZ.
THE WILLOWBROOK (USA 2021) **
Directed by Zack Koepp
A renowned wellness influencer, Lacey Willowbrook invites one of her recently overdosed followers to seek recovery at her small-town manor. Once the follower arrives, she realizes the dark world existing within the manor is not what she–nor millions of others–perceived from the internet. Director Koepp attempts a gripping and fast paced tone, which thankfully results in a slim film of an hour and 17 minutes that explores one again the duplicitous side of social media.
The film opens with a white girl in heavy goth makeup driving in a car with a black man headed for a retreat called THE WILLOWBROOK. The film turns to an influencer, Lacey Willowbrook, dressed and looking like white trash, so the audience takes an instant distrust and dislike to her. It is slowly revealed that the couple in the car is brother and sister, and the girl is recovering from the pain of an overdose. The girl is one of the many followers Lacey has, and has been invited to her place, The Willowbrook for special help in her recovery.
When the brother and sister are greeted at the mansion, they seem uneasy. Director Koepp ensures that the audience is given a bit of a disorientation as to what is happening. They are greeted by two brothers, odd as any two brothers can be. The house is huge, formerly an inn, the couple is told. Afterwards, they meet Lacey who keeps telling them the hurt is the beginning of something good, like a wound being an opening where light can shine in, and other bullshit.
Director Koepp's social media horror film is watchable, not because it is very good but it is at times quite bad. The odd things like the operated farm and other weird goings-on are difficult to explain and also quite unbelievable that all the evil can be managed by just one woman - Lacey Willowbrook. She should also offer management courses online. The film gets increasingly weird rather than scary, but a lot of explanations are given through flashbacks.
THE WILLOWBROOK was written and directed by first-time director Zach Koepp and stars Jessica Bishop, Erin Day, and Lawrence J. Hughes. The film has its fans as it won the Audience Award for Best Feature Film at Silicon Beach Film Festival.
Gravitas Ventures releases the film on digital platforms on November 8, 2022.
Trailer:
THE WONDER (Ireland 2022) ****
Directed by Sebastián Lelio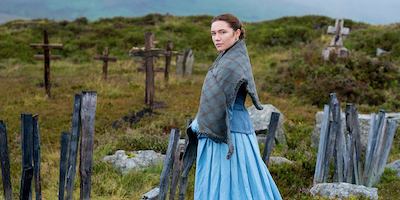 Based on the novel by Emma Donoghue and directed by Sebastián Lelio (GLORIA, A FANTASTIC WOMAN), The Wonder stars Florence Pugh as a nurse in 19th-century Ireland hired to investigate the case of a child who has not eaten for four months. Lib Wright (Florence Pugh), a veteran of Florence Nightingale's Crimean campaign, arrives in the Irish Midlands hired for an unusual task: to observe an 11-year-old girl named Anna O'Donnell (Kíla Lord Cassidy), who has reportedly not eaten a morsel for four months. As religious tourists descend on the village, the town council wants answers and so hires Lib, a medical professional, along with a nun, to watch the child and determine the root cause of the phenomenon. Disturbed by the pious fervour hampering her investigation, and pestered for inside information by William Byrne (Tom Burke), an ambitious journalist for a London paper, Lib realizes that extraordinary measures must be taken to save Anna from an increasingly volatile situation. She realizes the truth, as no one can survive without eating and she tries her best to save Anna or she will die. She is torn as to what to do - duty or what is morally right. A compelling and disturbing film that joins the list of many films condemning religion and the Catholic church in particular.