CINEFRANCO 2022
2022 marks CINEFRANCO'S 25TH anniversaire. The Toronto French Film Festival returns to Toronto theatres at the Royal, Ted Rogers Cinema and the Scotiabank Theatre. Cinefranco celebrates French commercial films. It is only chance to watch French commercial cinema on the big screen and this year brings a big treat with many heavyweghts including Claude Lelouch (a doc on the legendary director of UN HOMME ET UNE FEMME), Patrice Leconte, Gerard Depardieu, Robert LePage and Josiane Balasko.
I had a chance to chat with Marcelle Lean, the directrice of Cinefranco during this year's TIFF. She expressed great pleaasure at obtaining the opening and closing night films, a doc about Claude Lelouch (she regrets it too costly for the festival to fly Lelouch over from France for the opening) and a Robert LePage tribute respectively.
"It's hard to believe 'my baby' is 25 yr. old, said Cinéfranco founder and artistic director Marcelle Lean. As a famous mother said 'it takes a village' and I have so many dedicated colleagues, funders and sponsors to thank for their contribution to the growth of Cinéfranco and so much gratitude to our audiences who have stuck with us through thick and thin."
Marcelle adds, "Cinéfranco 2022 is a particularly bittersweet anniversary as we celebrate without my dear colleague and friend Bernard Lecerf who passed away this summer. For 6 years, Bernard was the glue of Cinéfranco tirelessly and gracefully working behind the scene to make us look good. His Cinéfranco family misses him terribly as do I. Here's to you mon cher ami, Bernard".
Opening Night Film – Tourner pour vivre / Shoot to Live
A true celebration of French cinema through the eyes, words and work of acclaimed French director Claude Lelouch who's still directing films at age 84 yr. His 60 features over a 60+ year career includes such classics as "A Man and A Woman"; "Far from Vietnam"; "Les Misérables"; "Live for Life" Philippe Azoulay's documentary captured Lelouch working over 7 years and features Anouk Aimée, Sandrine Bonnaire, Johnny Hallyday, Karl Lagerfeld, Christopher Lambert, Quentin Tarantino and Jean-Louis Trintignant
Closing Night Film – Les 12 Travaux d'Imelda
Adapted from Quebec director Martin Villeneuve's shorts trilogy and inspired by his grandmother's life story, Robert LePage, Ginette Reno and Villeneuve star in this feature film opening in Quebec Oct 28 2022. Imelda is not at peace and wants to settle things with family before her 100th birthday.
Below are capsule reviews of selected films. For the full program, please check the Cinefranco website at https://2022.cinefranco.com/index.php/en/
CAPSULE REVIEWS OF SELECT FILMS:
CONFESSIONS (Canada 2022) ***1/2
Directed by Luc Picard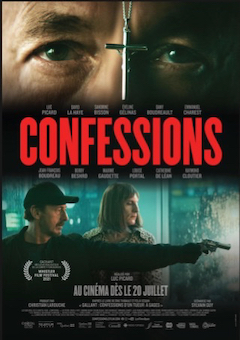 Starring and directed by Luc Picard, CONFESSION, based on the novel, is the no-nonsense story of Quebec's most notorious hit man Gérald Gallant. It plays like a biopic but the titles at the film's start are quick to emphasize that this is a fiction film based on true characters. Gallant was brought up by a tough and severe mother (there is no other person I hate more in the world, Gallant says of her) who did not hesitate to belittle him in the eyes of everyone. The stuttering man in fragile health suffering from heart disease, now leads a peaceful existence in a quiet neighbourhood with his wife, Pauline. Gallant loves her but carries on a passionate affair with another woman, Yet this uneventful facade hides serious sins. Gallant's roadmap includes no less than twenty-eight murders and fifteen attacks, mostly bikers and high-ranking mafiosos. Gallant also works in conjunction with the police and doesn't hesitate to sell out those around him. Picard portrays Gallant as a despicable personality with no oils lying about his guilt and everything else. CONFESSIONS has the feel of a real gangster movie.
Trailer:
For continuation of this article, click: https://toronto-franco.com/article/21-cinema-movies/365-cinefranco-2022-capsule-reviews