BAD AXE (USA 2022) ***
Directed byDavid Siev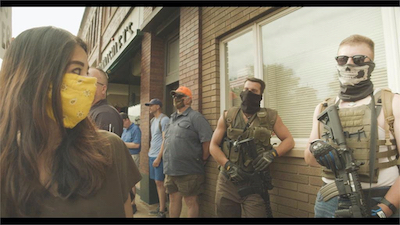 BAD AXE is a city in the U.S. state of Michigan and the county seat of Huron County in the Thumb region of the Lower Peninsula. The population was 3,129 at the 2010 census, making it the largest community in Huron County and second largest in the Upper Thumb, after Caro. It is also the title of a very moving family documentary set in the city and how they survived as a family running a family restaurant, especially during the recent Pandemic.
Directed by David Siev,himself a filmmaker and member of the Siev family which is what the doc focuses on, BAD AXE follows a Cambodian family after they had left the Killing. Fields of Cambodia under a hateful and cruel regime. The late mother left with 6 children looking a refuge in the United States,
How do you love a place that doesn't seem to love you back? Director David Sievapproaches that question in Bad Axe, a complicated love letter to his hometown. Siev's dad, a survivor of the Cambodian Killing Fields, has spent decades building a new life in Bad Axe, but the city is not always hospitable to immigrants. Siev's sister's outspoken support for Black Lives Matter puts her at odds with her family restaurant's most loyal, Trump-supporting customers. The film is clearly anti-Trump especially focusing on the anti-Asian rants promoted by Trump, when he blames the Asians for the Pandemic, the ignoramus never realizing the full consequence of his actions. Unfolding across the turbulent year of 2020, this personal documentary follows Siev's family as they struggle to keep their restaurant afloat amid family tensions, neo-Nazis, and the COVID-19 pandemic.
The film tackles two key issues - the importance of family and how each member has to put differences aside and come to a conclusive and united agreement as well as the devastating effects of racism. At times, the film is an unsettling portrait of racism's existence in our everyday lives, but it equally insists on being about family and community. In his feature-documentary debut, Siev gives us an intimate account of a family in troubled times, fraught with uncertainty, yet held by a bond as deep as roots go. There is a disturbing segment where daughter and father go head to head in an explosive argument in which foul words are exchanged and things said that cannot be taken back. Daughter has her points and father does as well, illustrating the fact that a compromise is essential at all costs, for the sake of family. This is where the issues get close and personal and where the doc makes its most felt impact.
The film includes a segment in which the family watches television on the 4 days of election watching, where finally Trump loses to Biden.
BAD AXE premiered at the SXSW 2022 film festival where it was Audience Award Winner, Documentary Feature with a special Jury Recognition, Exceptional Intimacy in Storytelling. The film screens at Reel Asian and opens November 18th in theatres and on demand.
Trailer:
BARDO, FALSE CHRONICLE OF A HANDFUL OF TRUTHS (Bardo, falsa crónica de unas cuantas verdades) (Mexico 2022) Top 10 *****
Directed by Alejandro G. Iñárritu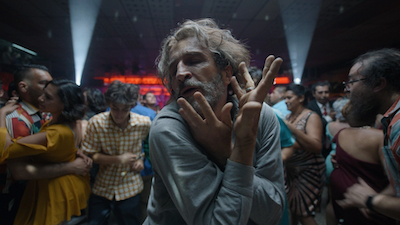 Used without qualification, BARDO is the state of existence intermediate between two lives on earth. According to Tibetan tradition, after death and before one's next birth, when one's consciousness is not connected with a physical body, one experiences a variety of phenomena. These usually follow a particular sequence of degeneration from, just after death, the clearest experiences of reality of which one is spiritually capable, and then proceeding to terrifying hallucinations that arise from the impulses of one's previous unskillful actions. The film BARDO covers what happens right after the protagonist's death, that could be real or imagined, perhaps occurring in his mental state, with experiences of his past failures and successes. The images that initially appear on screen can hardly be deciphered giving the audience a sense of the protagonist's uncertain state of mind.
BARDO the film follows a journalist/documentarian, Silverio (Daniel Giménez Cacho) who returns to his native country of Mexico for a celebration of fellow journalists ahead of his acceptance of a prestigious American journalism award and begins having an existential crisis in the form of dreamlike visions. The dreamlike vision begins with the birth of his baby as he visits his wife in the maternity ward. The baby is apparently pushed back into the mother's womb as the doctor informs that the baby wants to go back inside and does not want to exist in the fucked up world. In reality, the couple has a stillborn. The film goes on to show how fucked up the world is - primarily in terms of the American/Mexican relationships in terms of wars where the United States just came and took the Mexican states.
Silverio is a renowned Mexican journalist and documentary filmmaker living in Los Angeles, who, after being named the recipient of a prestigious international award, is compelled to return to his native country, unaware that this simple trip will push him to an existential limit.
The folly of his memories and fears have decided to pierce through the present, filling his everyday life with a sense of bewilderment and wonder. With both emotion and abundant laughter, Silverio grapples with universal yet intimate questions about identity, success, mortality, the history of Mexico and the deeply emotional familial bonds he shares with his wife and children. Indeed, what it means to be human in these very peculiar times.
The film is 2 hours and 60 minutes long, and meanders a few times away from its story, which can be forgiven as the director takes his audiences through a great and unforgettable cinematic ride. One is the dance scene during Silverios's tribute celebrations, a segment that takes some 15 minutes or so to-play out, which if taken out, will make little difference to the story. But the dance sequence, camerawork and cinematography is so stunning, that the audience can just sit back and enjoy the director's work and talent, regardless. The soundtrack is David Bowies' "Let's Dance", with all the surrounding noise muted with the whirling camera that focuses on the coordinated floor dancing of the dancers, while focusing on Silverio. Another very impressive scene, among others, is at the U.S. customs with the long queues entering the United States, the entire crowd moving step by step in unison.
Director Iñárritu returns to Mexico, just as the protagonist does to make his latest film BARDO. Iñárritu rose to fame with his trilogy of death films - AMORES PERROS, 21 GRAMS and BABEL. He has won 4 Academy awards, and is best known to make black psychological dramas. Director Alejandro G. Iñárritu's latest film BARDO, FALSE CHRONICLE OF A HANDFUL OF TRUTHS, a mesmerizing compelling tale, whether true or false is immaterial, so cinematic and visually astounding that it clearly marks one of this year's top 10 films and the director's best since his 2000 AMORES PERROS. The film opens in theatres this week before moving to Netflix in December 16th.
Trailer:
GLASS ONION: A KNIVES OUT MYSTERY (USA 2022) ****
Directed by Rian Johnson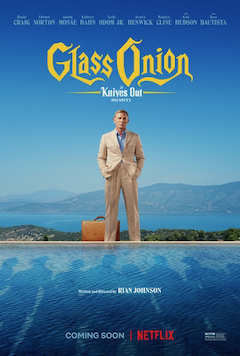 Writer/director Rian Johnson (LOOPER, KNIVES OUT) has found his niche in helming exceptional Agatha Christie murder mystery type movies. This film was dedicated to the late MURDER, SHE WRTE's Angela Lansbury (and Stephen Sondheim). His first foray into the murder mystery genre was the much enjoyed KNIVES OUT boasting a stellar cast including James Bond's Daniel Craig as a Belgium name sounding detective Benoit Blanc (a fond nod to Hercule Poirot), who for reasons unexplained speaks with a southern drawl - perhaps the biggest mystery yet to be figured out. His second KNIVES OUT mystery is a better film than the first with lots of clues and mystery and hidden skeletons in the closet. Though over 2 hours, GLASS ONION moves fast and one can hardly feel the time passing a one enjoys a solid murder mystery.
The only thing missing is Jamie Lee Curtis but there are other stars playing deliciously wicked characters in the story.
A few of the actors are showing their age. Edward Norton (FIGHT CLUB) and Daniel Craig (James Bond) can be seen showing their age, both donning white hair, but they are still fit, showing off their chiseled bodies. The make-up artists in the film do quite a good job in certain scenes hiding the age of these two actors.
Famed Southern detective Benoit Blanc (Daniel Craig) travels to Greece for his latest case. But how and why he comes to be there is only the first of many mysteries. Blanc soon encounters a distinctly disparate group of characters, played by notable actors such as Edward Norton as Bron (Fight Club, The Italian Job), Leslie Odom Jr. (Hamilton, One Night in Miami...), Dave Bautista (Guardians of the Galaxy, Dune), Janelle Monáe (Moonlight, Hidden Figures), Kate Hudson (Almost Famous), Kathryn Hahn (Bad Moms, Transparent), Madelyn Cline (Boy Erased), and Jessica Henwick (The Gray Man), among others. Bron is the ultra rich host of the guests who are invited annually. Blanc receives an invite but not from Bron. Apparently one of the guests invited Blanc. A murder game devised by Bron tuns up becoming the real thing with a real murder.
Director Johnson accomplishes a somewhat brilliant script. It is impossible to guess the motives of the real killer or the real killer as Johnson only provides the information and the clues just before answers are revealed. There are a few solid jokes in the script the funniest one being the influencer screaming out whether everything is real when a murdered victim suddenly shows up alive.
The special effects of the GLASS ONION are impressive as are the film's props particularly the big cardboard box invite that works like an old Chinese puzzle box.
Deliciously wicked, with a little satire on the rich and wealthy thrown in - they seem to be a favourite target in recent films like TRIANGLE OF SADNESS and THE MENU.
GLASS ONION premiered at this year's TORONTO INTERNATIONAL FILM FESTIVAL and has a limited theatrical run before streaming on Netflix.
Trailer:
HOLY SPIDER (France/Germany/Sweden/Denmark 2022) ***** Top 10
Directed by Ali Abbasi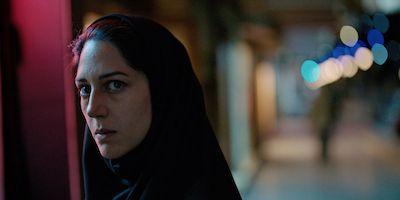 Like Jack the Ripper, someone is brutally killing the street prostitutes in the holy Iranian city of Mashhad. The serial killings are nicknamed spider killings. As the serial killer, the identity revealed to the audience very early in the film as a devout jihad, the film is thus called referring to the killer, HOLY SPIDER. Hitchcock has said that revealing a killer early in a film brings more suspense that revelation at the end, as every time the killer appears, the audience would be in suspense wondering if the killer would strike again.
Saeed (Mehdi Bajestani) is a worker, doting family man, veteran of the Iran–Iraq War, and a devout Shia Muslim. He appears to live simply with his wife Fatima (Forouzan Jamshidnejad) and two children. Director Abbasi shows the brutal stranglings in detail, just as Hitchcock did in FRENZY. The victims are struggling to breathe, their faces distorted while badly beaten by Saeed.
With no end in sight to the slayings, the character focus shifts to a Tehran-based journalist, Rahimi (played by Zar Amir Ebrahimi, who won Best Actress at Cannes 2022, where the film screened in competition), arrives on the scene, determined to uncover the killer's identity. Soon, a dangerous cat-and-mouse-game is underway, where each player's and onlooker's own interpretation of justice casts a unique prism of doubt. With shades of a Hitchcock film, HOLY SPIDER is an engrossing watch from start to end.
THE MENU (USA 2022) Top 10 *****
Directed by Mark MyLod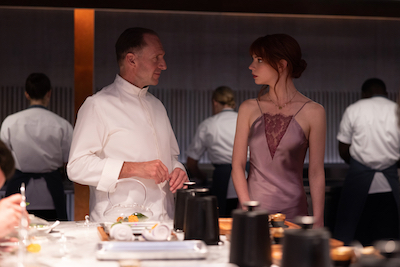 Two excellent films this year have successfully assaulted the wealthy and privileged 1% of the world's population by turning their world upside down, relieving them of the power that wealth gives them. The films are the currently playing - Ruben Ostlund's TRIANGLE OF SADNESS and the reviewed film THE MENU directed by Mark MyLod (who impressed audiences with ALI G INDAHOUSE, Sasha Baron Cohen's first movie in 2002, that was never released in North America) and written by Seth Reiss and Will Tracy. Both films use different ingredients to tell their story - the story of TRIANGLE OF SADNESS unfolding unplanned and due to fate while in THE MENU, chef Slowik (Ralph Fiennes) unfolds his crafted almost perfect plan to destroy his wealthy and privileged enemies. The film has similarities - both films have a setting on a remote island; involve food; the guests are a widely assorted and intriguing bunch; fate does come into play in both; both stories come with a neat plot twist at the end and most important of all, both films make my top 10 list of 2022.
The culture of haute cuisine also gets thoroughly roasted with words like "Yes, chef" heard in programs like TV's 'Master Chef'. A 12-acre self-contained farm-to-table paradise, Hawthorne Island represents the pinnacle of exclusive eats, serving celebrities and billionaires who think nothing of forking out $1,250 a head. The outliers in this evening's clientele are Tyler (Nicholas Hoult), a devout foodie pilgrim, and his date, Margot (Taylor-Joy), a layperson along for the free meal. Once seated before Hawthorne's open-concept kitchen, they are welcomed by Chef Slowik, referred to as just 'chef' for short, who precedes each course with a loud interrupting clap followed by a monologue. He instructs them to taste, rather than eat. "Do not eat!" he instructs. And absolutely no photos: the true beauty of food, Chef explains, lies in its ephemerality. Among the guests are the chef's mother, a washed-up movie star (John Leguizamo), a tastemaking restaurant critic (Janet McTeer), and a trio of tech bros who own the chef's restaurant and in fact own the chef himself. What they all have in common are meaty secrets that each new dish hints at exposing. Only Margot seems immune to Hawthorne's menu of manipulation — and only she seems able to spot the vulnerability concealed beneath Chef's cultivated air of superiority.
Fiennes is nothing short of excellent in the role of the pompous chef. His uttering of the three consecutive words: Cook, Cook, Cook, would itself prove him deserving of an acting award. Another actress that deserves mention is Hong Chau who plays the chef's right hand lady. Oscar nominated Hong was last seen in DOWNSIZING, putting Louise Fletcher's Nurse Ratched wicked lady up for stiff competition.
There are two distinctly different films currently playing. One is the crowd pleasing money making BLACK PANTHER: WAKANDA FOREVER, a hodge podge of expensive special effects which is a total bore of dull filmmaking and the other, an efficiently well written, played, acted and directed piece of evening theatrics similar to an Agatha Christie murder mystery and one that would delight more critics than the commercial audience. THE MENU falls into the second category. Very highly recommended!
Trailer:
POPPY (New Zealand 2021) ***1/2
Directed by Linda Niccol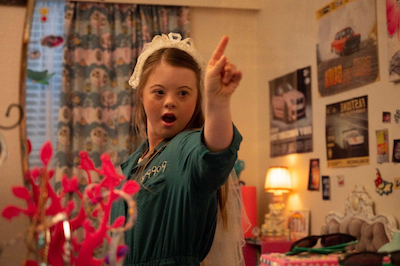 POPPY is a young girl with Down's Syndrome. It is good to know a bit about Down Syndrome in order to better appreciate the story. Down syndrome or Down's syndrome, also known as trisomy 21, is a genetic disorder caused by the presence of all or part of a third copy of chromosome 21. It is usually associated with physical growth delays, mild to moderate intellectual disability, and characteristic facial features. The average IQ of a young adult with Down syndrome is 50, equivalent to the mental ability of an eight- or nine-year-old child, but this can vary widely. Not impossible, but the story of the protagonist with the Syndrome for the film pushes past the average limit. The audience sees Poppy learning to drive and be efficient as an auto-mechanic which is way past the mental ability of a 9-year old. But truth be told, the actress who plays Poppy, Libby Hunsdale must be quite intelligent as she is totally winning in the title role, delivering an exceptional performance. Hunsdale is bubbly, spirited, smiling and caring all the time, a real joy to watch.
The story follows an irrepressible young woman with Down Syndrome who refuses to be defined by her disability on her way to achieve her dream - to both find romance and to become an auto-mechanic. POPPY is her name. This is a feel-good award winning film from down under, New Zealand that took a while to get its release and is worth a look.
Nineteen-year-old Poppy Simpson (Libby Hunsdale) is an irrepressible young woman with Down Syndrome and an assumption she should get to do what everyone else does – have a job, drive a car, get married. Holding her back is Dave (Ari Boyland), her older brother and only family since the death of their parents. Poppy and Dave work together in their inherited car repair business, and it is clear Poppy has mechanical smarts. Poppy visits her parents' graves and speaks to them frequently. But her super-protective brother does not think she is up to getting her driver's license or the apprenticeship she was promised by their late father. This is understandable as he does not want to let her get hurt. Quietly rebellious, Poppy secretly begins to teach herself to drive. And it's not until she teams up with an old school friend, Like (Seb Hunter) who needs his car fixed in time to enter the local burnout competition that her plans progress. Seb Hunter composed the songs he sings in the film.
Director Niccol has a keen eye for humour and her comic timing is often immaculate, as can be witnessed by the charm her scenes often deliver. She has her audience routing for POPPY, praying that no harm will come to her, thus offering a nuanced and hopeful future for those diagnosed with Down Syndrome. But as all stories go, there will be obstacles to overcome and some hurt involved. And as the poster of POPPY says: She will get your motor running.
As an additional bonus, the film contains a bit about racing and auto mechanics, including McLaren's.
POPPY finally makes its North American debut, premiering exclusively on Streaming Service INDIEPIX UNLIMITED beginning November the 18th, 2022).
SALVATORE: SHOEMAKER OF DREAMS (Italy 2022) ****
Directed by Luca Guadagnino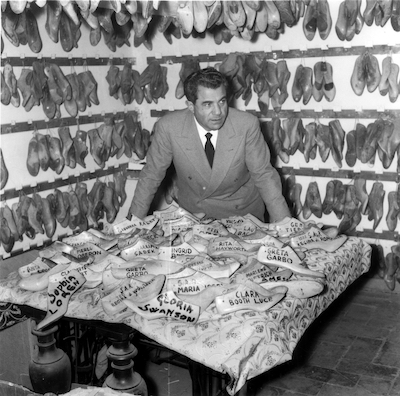 Ferragamo is the famous Italian brand that specializes in shoes and other assorted leatherwear including handbags, belts and even coats. But it all began with shoes - handmade shoes as examined in Luca Guadagnino's SALVATORE: SHOEMAKER OF DREAMS, a fascinating documentary about famed Italian shoemaker Salvatore Ferragamo, whose clientele included the who's who of Hollywood. Narrated by Michael Stuhlbarg (A SERIOUS MAN, THE SHAPE OF WATER) from Ferragamo's 1955 memoir, the film tracks his life from humble beginnings in California to a storied studio in Florence, Italy. Stuhlbarg narrates in the first person.
There is much to enjoy in the doc that feels very personal, is gorgeous to look at and given a fairy tale look. The fairy tale look comes from the basic rags to riches story that includes a clip of the animated famous children's fairy tale THE SHOEMAKER AND THE ELVES, a fairy tale that I personally was read to and loved as a child. The clips from the animated SHOEMAKER AND THE ELVES will bring back memories to many the 'child' in the adult.
Growing up poor in remote Bonito, Italy, Ferragamo was only a boy when he began his trade at the village cobbler shop. After learning everything he could about shoemaking, he immigrated to America at the age of 16. The story of his experiences at this point in life is the most interesting part of the film as it demonstrates the struggles and determination of Salvatore. The film claims that it is not ambition but determination that contributed to the man's success. He travelled with 100 lira in a third class cabin on a ship to America, where conditions were so bad that he was forced to use some of the needed money for entry into the U.S. for better sleeping quarters. They did not check the bundle of money but allowed him in the States, thankfully.
From there, director Guadagnino ups the ante with lots of clips from old films such as THE THIEF OF BAGDAD and those featuring the shoes of the Hollywood stars include big names like Lillian Gish and Mary Pickford. The curved pointed shoe worn proudly by Douglas Fairbanks in THE THIEF OF BAGDAD made the mark of both talent and craftsmanship. Other designs include the 'invisible' shoe, the corked heel and metal stilettos.
The film includes a trove of 100-year-old archival footage, as well as commentary from filmmaker Martin Scorsese, shoe designer Manolo Blahnik, Vogue creative director Grace Coddington, Deadline film critic Todd McCarthy, the now late Wanda, and the couple's children and grandchildren. Of the interviewed, Scorsese is the funniest, even sneaking in a comment and poking fun at Trump's America at one point in the film.
The excellent end sequence of a Busby Berkeley styled choreography of Salvatore designed shoes is something to be seen to be believed.
Luca Guadagnino appears the ideal director for the doc on the celebrated shoemaker. His wealth of films that includes the most successful CALL ME BY YOUR NAME and others like CALL ME, SUSPIRIA, his arguably best A BIGGER SPLASH and I AM LOVE with Tilda Swinton all share the common thread of celebrating style and beauty to its fullest.
For those mesmerized with Guadagnino's documentary, there is also a companion documentary, a 10-minute short entitled Salvatore Ferragamo - Campaign Spring Summer 2021 made this year that has already been released.
Trailer:
SHE SAID (USA 2022) ***1/2
Directed by Maria Schrader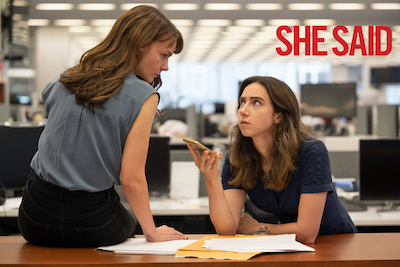 It all started to roll on October 5, 2017, when Jodi Kantor and Megan Twohey from The New York Times revealed substantial allegations of sexual misconduct by Hollywood producer Harvey Weinstein, accusing him of three decades of sexually harassing actresses, female production assistants, temps and other employees at Miramax and The Weinstein Company. The allegations acted as a catalyst for the burgeoning and famous #MeToo movement and eventually resulted in Weinstein being sentenced to 23 years of imprisonment.
Those who read the news are aware that Weinstein is 70 and walks in prison with the help of a cane though many still believe him to be feigning ill health. Such is the evil in man.
SHE SAID is the story of what happened before the crucial October 5, when the world did not yet know about Harvey Weinstein and when females all over the world were still living with systematic sexual abuse. SHE SAID is a stay that needs to be told, and is expectedly extremely emotional and heart-wrenching. But there is much to be celebrated -the heroes. The film reveals who these heroes are.
SHE SAID is a tad long at over 2 hours and director Schrader appears eager not to leave out any details. Though the material is sensitive and engrossing, the long running length can still be felt.
There are uniform excellent performances here especially from the three female leads Carey Mulligan, Joe Kazan as the two lead reporters Megan Twohey and Jodi Kantor and Patricia Clarkson as their supervisor Rebecca Corbett, who was always behind them. Andre Braugher is also excellent as Dean Baquet. Harvey Weinstein is never shown, except from the back of his body when he is sitting in the boardroom, but his voice by Mike Houston is, as is former President Donald Trump's voice by James Austin Johnson, very convincing. Kelly McQuail is the voice of Rose McGowan who spoke up against Weinstein. Actress Ashly Judd, too, spoke up against Weinstein and she has a brief and extremely moving appearance in the film, making a difference to both the film and the #MeToo movement.
But besides being film about sexual abuse, SHE SAID is also a film that lauds the work of journalism and journalists, a dying breed. At times SHE SAID feels like ALL THE PRESIDENT'S MEN with the Washington Post's investigative reporters . Oddly the Washington Post plays the rival of the hero of the piece which is their rival the New York Times.
What is also most interesting in films about whistleblowing are the risks taken by those who come out. The New York Times have to be prepared to be sued by Weinstein who is heard over the telephone, in Houston's voice threatening them and still having the gall to plead innocence and deny the accusations. Twohey herself is threatened by anonymous callers threatening to rape and kill her, as Weinstein himself would threaten and destroy the careers of the actresses who have refused his sexual advances. The other villains are those that enable systematic sexual abuse.
SHE SAID is a harrowing film that occasionally feels like a documentary but it is also informative of the great emotional and psychological struggle all those who have sacrificed their all to bring sexual predatory to an end.
Trailer:
SOMETHING IN THE DIRT (USA 2022) ***
Directed by Benson and Moorhead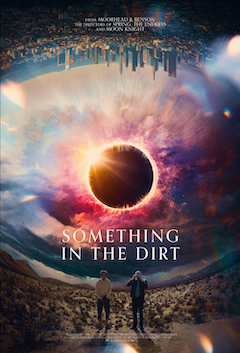 Justin Benson and Aaron Moorhead are the film's actors, directors and writers in what they called a friends-made movie, celebrating this what might-be-called new created genre of filmmaking. The two of them are in almost every scene and the film is basically a two-handler in the very sense of the term. Unfortunately, it is a strange and weird exercise, and safe to say, not for everyone, less the average commercial filmgoer, but this is what makes SOMETHING IN THE DIRT different, inventive and occasionally wonderful.
Why is the film called SOMETHING IN THE DIRT? Alternative titles for the film include SOMETHING IN THE LIGHT or THIS DOOR DOES NOT CLOSE as proposed by Benson and Moorhead's two oddball characters in one of the film's scenes.
The film begins oddly with a 10-minute sequence which can be described by the following words: What the hell is going on? A man wakes up in a bare apartment, looks out the window and leaves the apartment to see a helicopter and a strange man outside.
Levi has snagged a no-lease apartment sight unseen in the Hollywood Hills to crash at while he ties up loose ends for his exodus from Los Angeles. He quickly strikes up a rapport with his new neighbour John, swapping stories like old friends under the glowing, smoke-filled skies of the city. The two smoke all throughout the film. Soon after meeting, Levi and John witness something impossible in one of their apartments - multicoloured light moving their crystal-looking ashtray. Terrified at first, they soon realize this could change their lives and give them a purpose. With dollar signs in their eyes, these two eccentric strangers will attempt to prove the supernatural.
SOMETHING IN THE DIRT can be described as twisted, sci-fi talkie, because there is a lot of talk. One has to be a bit patient as the two do mumble half the time, and when they do as scientific or mathematical theories are introduced to explain the phenomena, it does not always make sense. The two do share an odd-ball chemistry but they also do fight and insult each other terribly. They are also not ideal specimens of society nor are they grounded in reality. Levi is poor, has a criminal record while Levi is a member of some church cult.
The film is often all over the place. This is where the film is flawed as it appears lacking direction. Besides including flashbacks of Levi and John as children, the two also talk to the camera, as well as a few other assorted characters. One so-called phenomena expert even speaks Italian to the camera. The film also includes some special effects like the levitating ashtray that is never explained. None of the so-called light phenomena is explained, or when attempted to, never makes much sense anyway, not that it matters.
SOMETHING IN THE DIRT is available on demand Nov 22.
Trailer:
STAY THE NIGHT (Canada 2022) ***
Directed by Renuka Jeyapalan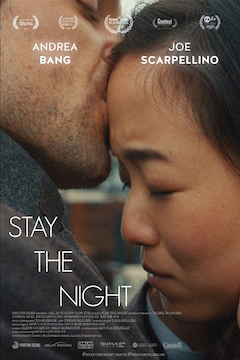 STAY THE NIGHT begins with a girl, Grace, denied a promotion at her job, the reason given being that she is not outgoing enough. The following scene shows Carter Stone, a NHL player demoted. Both end up at the same bar in downtown Toronto. It does not take a genius to guess that what follows is a romantic comedy between these two very different persons.
Romantic comedies are critics (and mine) least like film genres for the reason that it is commercial Harlequin predictable fare and often than not, unoriginal or different enough, not to mention that there are already too many of them. If one wants a good romantic comedy, it is best to check the oldies like the Rock Hudson/Doris Day or Katherine Hepburn/Spencer Tracy oldies. Or even more recent classics like WHEN HARRY MET SALLY or variations like MY BEST FRIEND'S WEDDING.
When reserved, late-bloomer Grace (played by KIM'S CONVENIENCE's Andrea Bang) gets passed up for a major promotion at work, she tries to break out of her shell by pursuing a one-night stand at the club. Her choice in partner, Carter Stone (Joe Scarpellino), an NHL player at a crossroads, is having an equally rough night. After an initial meet-cute and disastrous attempt at a hookup, the two walk Toronto's wintry streets, wandering from bar to skating rink to office, slowly but surely finding common ground as the night progresses.
STAY THE NIGHT bares some welcome differences from the typical romantic comedy. There is no silly obstacle that is revealed, like a secret not told, that has to be resolved so the couple gets back together. The familiar Toronto locations are immediately recognizable though filmmakers appear keen on changing the names of bars or banks in the downtown area. Another variation is that the couple is different racially, as Grace is Asian. Grace is 27 and has never had sex, but the word virgin is never used as it puts stigma over her character. The two do deliver workable chemistry.
STAY THE NIGHT is the feature debut of veteran Canadian TV writer and director Renuka Jeyapalan. She should now try something different from the romantic comedy genre.
The film opens in theatres in Toronto, Vancouver and Ottawa on Friday, Nov 18th and then will be available across Canada on VOD on Dec 2nd
SUGAR (Mexico/Canada 2022) **
Directed by Vic Sarin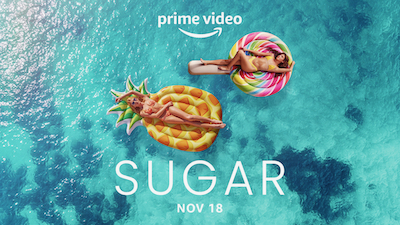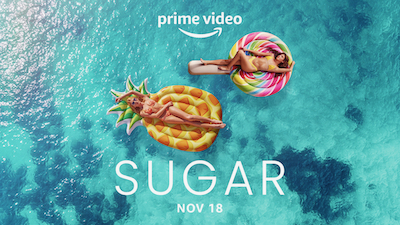 SUGAR is a fictional drama that navigates events inspired by the dramatic real-life story of two Quebec influencers, known as the Cocaine Cowgirls. The two influencers are seduced into joining a luxury vacation aboard a cruise ship bound for Australia. The dream trip quickly becomes a nightmare when the women find themselves ensnared in a deadly drug-smuggling operation and only have each other to trust as they try to plot a way out.
The two girls, the audience is led to believe, are the good 'guys.' Melanie (Jasmine Sky Sarin ) is the innocent one, tempted to go on the luxury cruise with her new best friend, Chloe (Katherine McNamara) who has a different agenda, which is to pay off a massive debt she owes. They get caught in a huge drug deal that does not really make any sense. The males are mostly bad either drug dealers or female abusers.
SUGAR, which is a really tacky Mexican/Canadian co-production (the film is shot in both Canada and Mexico) that has filming locations in Montreal, is a film that tries really hard but ultimately fails for many reasons. The depiction of the rich and wealthy lifestyle of the drug dealers and the rich are lively enough and the film requires the audience to feel sympathetic for the two female leads. But it is hard to feel sympathetic for two partying girls, even though Melanie is shown to be a faithful and loving daughter to her father mechanic. Melanie can hot wire a car in one scene in which she escapes from a drug dealer's hide-out.
The film gets really bad when it attempts to inject some morality into the story. Melanie says to her friends: "I know you. I like the real you." as she is snorting cocaine. "You made me. You showed me who I am. "Can the dialogue be more corny or unbelievable?
For all that it's worth, the club scenes up the otherwise monotonous film. The attraction of luxury cruise with all its amenities are quite seductive and make, at least the film quite an interesting watch.
One thing the film does achieve is depicting the desperation girls need to get accepted and succeed in life. Often the desperation takes total control with logic and reasoning falling aside. The film attempts to cover other issues like girl friendship, the importance of family and of course the evils of drug usage.
But SUGAR really drags on, is all over the place and though watchable, also for all the good almost perfect human specimens - good hot bodies of both male and females, finally bores with repetitive scenes that have also been seen in other similar better films with a stronger narrative. In the hands of a more experienced filmmaker, SUGAR could have been the classic that director Vic Sarin aims his film to be.
SUGAR is set to debut on November 18 in Canada, Australia, and New Zealand exclusively on Prime Video.
Trailer: