BOY SCOUT'S HONOUR (USA 2022)
Directed by Ash Patiño
(Embargo December the 7th)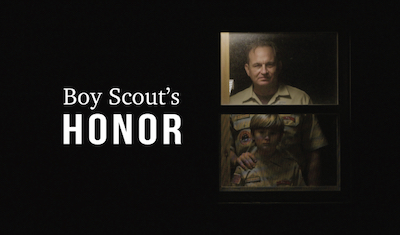 Trailer:
FREE PUPPIES! (USA 2022) ***
Directed by Samantha Wishman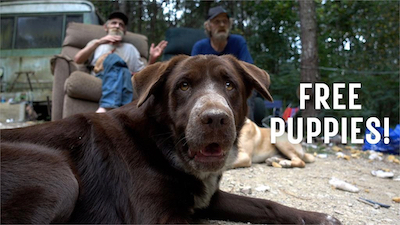 Who can dislike a documentary on dog rescue and absolutely adorable puppies and dogs? FREE PUPPIES! is an easy going, light documentary about rescue workers and the problems they face in their work. Clearly dog rescue is a labor of love for them. FREE PUPPIES, the doc is difficult to dislike especially when there are lots of scenes with playful puppies, jumping around and licking the faces of little children, showing their unconditional love for human beings. And also difficult to displace for its portrayal of dog lovers rescuers as a different kind of hero.
The doc is a film made by dog lovers. The director Samantha Wishman is a filmmaker from New York City. After graduating from Columbia Law School, she moved to LA to make a short film about pitching a script for a feminist softball comedy in Hollywood, which went on to play at a number of festivals. She adopted a rescue dog named Billie Hollydale before returning home to make FREE PUPPIES!. Producer Christina Thomas enjoys giving equal attention to her dogs Harvey and Ruphus.
A lot of rescue dogs, the audience learns at the start of the film, are transported from the south to the north of the United States. The reason is explained. When Hurricane Katrina left more than 250,000 pets stranded, the infrastructure of a nation-wide dog rescue effort was born. Since then, millions of Southern rescue dogs have been transported to new homes thanks to the tireless efforts of a grassroots network of dog rescuers. And while the media has popularized the image of dogs climbing out of transport trucks into the arms of eager adopters, little attention has been paid to the other side of the story. FREE PUPPIES! reveals the hard work and dedication of the cue worker. As one of them confesses at the end of the film: "Thee is always one more to be rescued. And that she does everything in her power to help these puppies.
FREE PUPPIES! travels across the country's political divide to explore one of the many areas where no public animal services exist, and volunteers -- many of them women -- step in. The story follows rescuers Monda Wooten, Ann Brown, and Ruth Smith, and the network of independent "rescue ladies" who patrol vast rural counties in the Tennessee Valley caring for stray and surrendered dogs. Their grassroots efforts to start up a much cheaper and affordable spay-and-neuter program, rescue countless dogs from euthanasia and neglect, and place them in loving "forever homes" will pluck at the heartstrings of any dog person.
FREE PUPPIES! is not a ground-breaking documentary but an effective enough light documentary that gets its message across that will change the world - canine-wise. A true story about the heartbreak and heroism of dog rescue in America
FREE PUPPIES ! is releasing on VOD on major platforms and DVD in the US and Canada on December 13.
US VOD Platforms: iTunes/Apple, Amazon and key major platforms.
Canada VOD Platforms: iTunes/Apple
Trailer: