Pandemic finally close to over with re-openings in North American theatres see the return of the masses to the cinema. TOP GUN: MAVERICK brought back millions to the theatres and the new AVATAR film: AVATAR: THE WAY OF WATER should do the same. Indeed this is a goo one that made my list of top 10 of 2022. 2022 saw a number year in solid good films, as witnessed by Cannes and the Toronto International Film Festivals. Netflix has its share of critical successes this year with WHITE NOISE and BARDO opening.
Here is my personal list of the TOP 10 Films of 2022, in order. For reviews of any of these films, type the film title in the 'SEARCH' box and the search engine will take you to the film review of the searched film.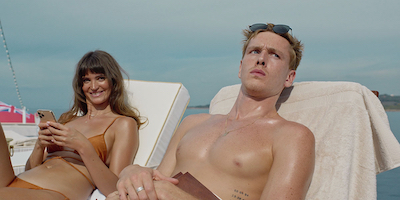 1. Triangle of Sadness: Satire rules in Ostlund's totally entertaining takedown on the rich and privileged.
2. Bardo: Cinematically and visually arresting; who cares about the director's indulgence?
3. White Noise: Baumbach's indulgence as well, though following his source material.
4. Avatar: The Way of Water: Blockbuster commercial special effects movie making at its best as only James Cameron knows how.
5. The Son: In the follow up to the excellent 'The Father' French playwright Florian Zellerrules in drama
6. The Eternal Daughter: Brit Joanna Hogg (Souvenir 1 and 2) proves herself once again with a mysterious ghost story
7. Holy Spider: Captivating Iranian cat-and-ouse murder mystery with Hitchcockian touches
8. The Innocents: Scandinavian captivating horror tale of children with supernatural powers
9. The Menu: Another delicious satire in Agatha Christie format again attacking the rich and privileged
10. Fear: Little seen wickedly delicious little Bulgarian film that has a widowgs sheltering and finally falling in love with a coloured refuge that enrages her racist village. She is not letting fear take hold of her life any longer and wins in the end.