FILM REVIEWS:
BABYLON (USA 2022) **
Directed by Damien Chazelle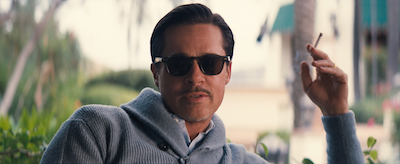 BABYLON is a tale of outsized ambition and outrageous excess. It traces the rise and fall of multiple characters during an era of unbridled decadence and depravity in early Hollywood. One of the characters is Jack Conrad (supposedly created after the actor John Gilbert), played by Brad Pitt, who should attract people to see this film, who is killed off, quite early before the film ends, not that his character makes any difference to the film's plot.
Director Chazelle's film contains some very well crafted scenes, like the one the Toby Maguire character James McKay is on, where he takes the protagonist, Manny and his buddy to an underground fight club type venue that is supposed to house the most awesome human ever. The venue is situated out in nowhere, is dark, uninviting and scary. One can hardly decipher what is happening in the blackness of night. But from the images, there is graphic sex, wrestling and other nasties going on, including a chained up alligator that later breaks loose from its chains. Then they get to meet the awesome human, a muscled hunk wearing an animal mask who is seen being paid money to eat a live rat. One wonders the purpose of director Chazelle including such an awful segment/experience for his audience. Does such a place actually exist, as it seems quite far-fetched? Does the director despise Hollywood and everything it stands for that much?
BABYLON runs over 3 hours-3 hours and 10 minutes and is a difficult watch in terms of strobe lights, loud noises, obnoxious characters and with the sound volume turned up several notches. It appears director Chazelle has an ingrown hatred for Hollywood as there seems that nothing really good is demonstrated of the Hollywood of old. As the movies transcend from silent to sound, everyone in Hollywood is shown suffering - from the actors to the directors to the producers and studio heads.
From all the messy segments occurring from start to finish, the main issue on display appears to be the trying romance between Manny (Digo Calva) and actress and upcoming star Nellie LaRoy (Robbie Margot). Nellie is drug addicted, has immense a huge gambling debt, and yet the audience is to believe that Manny would do everything to hold on to her, in terms of paying off her debts and marrying her in the end. The chemistry is just not there, not to mention the credibility.
What ever happened to Chazellee who directed and won the Best Picture of the year LaLa Land? BABYLON is quite the opposite, a collage of often unwatchable and disgusting scenes that include racism, homophobia and other unaccepted social issues. Not to mention that the film is 3 hours long, BABYLON requires a lot of patience to sit through or a lot of stupidity to sit through. It is Chazelles' self indulgence in a bad way, in a film that is just plain horrid from start to end.
BABYLON opens in theatres on December the 23rd, and has so far received mixed reviews.
Trailer:
BROKER (South Korea 2022) ****
Directed by Hirokazu Kore-eda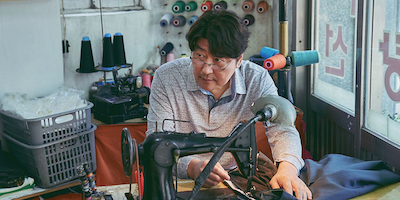 The film begins on a dark and rainy night, when a young woman, So-young (Lee Ji-eun), leaves her little Woo-sung there, abandoning him in complete anonymity at a Busan church, with the faint promise of coming back for him someday. Detective Ji-Sun (Bae Doona) and her colleague (Lee Joo-young) are in a car nearby, monitoring the baby box hoping to find some leads to crack down on illegal child trafficking. Another story involves the two men, Sang-hyun (Song Kang-ho) and Dong-soo (Gang Dong-won), an employee in the facility, who steal the baby. They are brokers, ready to put the baby up for sale to their network of wealthy wannabe parents. When the mother returns to take back her child, the stories take a different turn. Issues effectively tackled in the film include forsaken childhood, adoption, and broken families. Director Hirokazu Kore-eda (AFTER LIFE) moves his film effortlessly (definitely not an easy task) among his different stories and many characters. Despite the rather sensitive and controversial topic, Hirokazu Kore-eda's film is often playful and humorous without sacrificing the drama that is at hand. His film also comes to a satisfactory happy ending, but one that is not reached without some pain and sacrifice. The film also paints an insightful picture of child trafficking in South Korea, which many are likely
BURIAL (UK 2022) ***
Directed by Ben Parker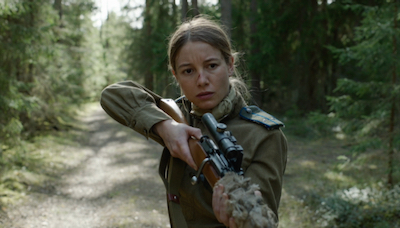 BURIAL, Ben Parker's second directed film after his 2016 THE CHAMBER, sees the director back in chiller horror territory. Director Parker is an expert on the creation of atmosphere as can be witnessed by the cloud of menace that exists in BURIAL from start to end.
In the last days of WWII, a band of Allied soldiers trafficking Hitler's remains out of Germany are ambushed by Nazi Wehrwolf fighters. The film is directed by Ben Park and stars Charlotte Vega, Tom Felton (the HARRY POTTER films), Harriet Walter, Barry Ward, Dan Renton Skinner and Bill Milner.
The film opens in the year 1991, with a home invasion of an old woman (Harriet Walter) by a young man. "Are you going to rob me? Are you going to inflict violence on another Jew?" She questions her home invader. Apparently the reason is neither. The intruder wishes to find out the truth regarding the woman's past. The older woman is shocked but tells him the story, which is the tale of BURIAL, with the time moved back to 1945, the end of World War II.
The film is called BURIAL because the coffin containing the remains, as the soldiers are ordered, are to be tried each night of the journey. The reason is not given to the soldiers, and the soldiers, and the audience is left guessing the reason. Is it to prevent night robbers from seeing the coffin being transported or is there another reason such as to prevent the remains turning up as a night creature like Dracula from escaping the coffin?
Most of the action takes place in the night, often in the dark woods or dark interiors, which makes the film occasionally difficult to watch because everything is so dark.
All the soldiers or rather the actors playing the soldiers speak with a British accent. They are actually Russians transporting the corpse to Stalin in Moscow. Apparently Stalin wants to be 100% that the corpse is the Fuhrer himself. Apparently others like the Germans are also interested in getting their hands on the corpse. The older woman is present here as a younger female soldier who has to deal with female abuse and male brutality.
BURIAL ends up an intriguing different kind of horror film, that despite having a rather slow mid-section has enough surprises to keep horror fans entertained.
BURIAL is an IFC film and a Shudder exclusive film that opens on the horror streaming service on December 29th.
Trailer:
NO BEARS (Iran 2022) ***
Directed by Jafar Panahi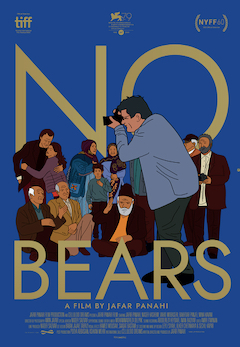 NO BEARS is the most complicated of all the Panahi films, credit to him for attempting something more challenging. Think his first film, the simple yet marvellous THE WHITE BALLOON that won major prizes during festivals around the world including the Cannes Camera d'Or. His last films TAXI TEHRAN and THIS IS NOT A FILM are simple low budget movies.
A bit of history on director Panahi is required in order to better appreciate NO BEARS. Jafar Panahi has been banned by his home country Iran from making films, not to mention him being arrested and jailed. After several years of conflict with the Iranian government over the content of his films (including several short-term arrests), Panahi was arrested in March 2010 along with his wife, daughter, and 15 friends and later charged with propaganda against the Iranian government. Despite support from filmmakers, film organizations, and human rights organizations from around the world, in December 2010 Panahi was sentenced to a six-year jail sentence and a 20-year ban on directing any movies, writing screenplays, giving any form of interview with Iranian or foreign media, or from leaving the country except for medical treatment or making the Hajj pilgrimage. While awaiting the result of an appeal he made This Is Not a Film (2011), a documentary feature in the form of a video diary in spite of the legal ramifications of his arrest. It was smuggled out of Iran in a flash drive hidden inside a cake and shown at the 2011 Cannes Film Festival.
In NO BEARS, Panahi plays himself who is prohibited from leaving Iran. He is making a film in an Iranian border town close to Turkey. With the help of his obliging host and landlord, Ghanbar (Vahid Mobaseri), though, he tries to make the best of it. Initially, it is a friendly village but when they think he has taken a photograph of a young couple, he finds himself drawn into an increasingly acrid stand-off between two young men, and their families, to whom a girl may have been betrothed when her umbilical cord was cut. His film is about a couple who are trying to flee Iran , which also poses problems for him.
NO BEARS is not as satisfying as his simpler works. Panahi has taken a bit too much on his plate, more than he can handle. One can see his attempt at portraying the frustrations of a filmmaker, from the film's delving in and but of reality and fiction resulting in a bit of confusion unless one has read the synopsis of the film before seeing the film. But when his attempt works, it is marvellous and one can see the problems of Iran from a filmmaker's point of view - the need of the elders to keep their respect at all costs, which often cost the freedom of those under them. Tradition also rules, which hampers progress and also which can be manipulated to one's own purpose.
NO BEARS is so called because the authorities scare the residents of the border town of bears though there are none to prevent them from roaming the countryside and crossing the border. NO BEARS though not without flaws, would definitely satisfy Panahi fans.
Trailer:
SCARE PACKAGE II: RAD CHAD'S REVENGE (USA 2022) ***
Directed by: Various Directors (outlined in the review below)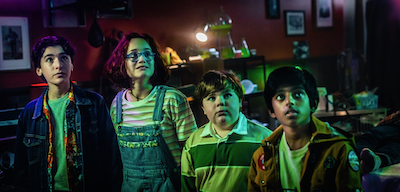 Ever since the classic British horror anthology, DEAD OF NIGHT and the more recent horror anthologies like THE TWILIGHT ZONE and CREEPSHOW graced the screens, horror anthologies continue to fascinate horror genre moviegoers for various reasons. More short features, more stories. If one does not live up to expectations, there is always another one around the corner. The various directors compete for the best segment. The stories are more varied with the best one usually left for the last.
The film begins with the death of Rad Chad. Rad Chad dies or rather, is killed off, in the original movie, this one being the sequel. A various assortment of people are attending the man's funeral including the funeral parlour's employee. Attending his funeral Jessie Kapowski (Zoe Graham) with her girlfriend, Kimmie (Shakira Ja'nai Paye) and Chad's cousin Bo Buckley (King), Rick (Rich Sommer), Jessie's mother Ms. Kapowski (Kelli Maroney), Dwight (Graham Skipper) and Sam (Byron Brown). There is also Moira (Maria Olsen) who is leading the funeral and the reading of the will.
Moira puts on a video of the late Rad Chad who speaks to his friend and family. Before one can scream "Help Me!", the room is shut off and all attendees are trapped, as in an Escape Room. They are about to be killed by Rad Chad unless they discover a means of escape. The horror guru Rad Chad Buckley's funeral has turned into an elaborate series of death traps. These traps are centred around Chad's favourite films (which will be shown to them and the audience), the guests must band together and use the rules of horror to survive the bloody game.
It is quite an ingenious plot reminiscent of the SCARE franchise where one has to learn the common thread of horror movies. A few problems with the movie arise. One is the personality of Rad Chad. Chad could have been made a more serious or scarier person instead of being depicted as a Dufus Think Will Farrell, only sillier looking). The anthology succeeds more as comedy horror than scary horror.
The anthology pays homage to classic horror films like the FRIDAY THE 13th franchise in which the killer always keeps coming back and others that can be immediately recognizable like the NIGHTMARE ON ELM STREET franchise and other slasher movies. A whole lot of fun, needless to say.
The various segments are: Rad Chad's Revenge, the core story tying all the others together with the common theme, directed by Aaron B. Koontz. Segments: Welcome to the 90's directed by Alexandra Barreto, The Night He Came Back Again Part VI - The Night She Came Back directed by Anthony Cousins, Special Edition directed by Jed Shepherd, and We're So Dead directed by Rachele Wiggins.
SCARE PACKAGE II: RAD CHAD'S REVENGE, a Shudder (the premier horror streaming service) original film, premieres Thursday, December 22 on its streaming network.
Trailer:
THE WHALE (USA 2022) ****
Directed by Darren Aronofsky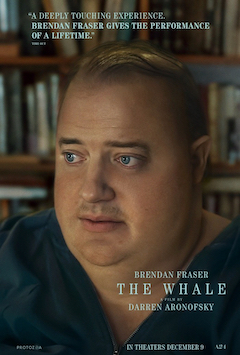 Director Darren Aronofsky has a penchant for making dramatic films about troubled souls. THE WHALE, which is once again such a tale, makes both Aronofsky's career best film and lead actor Brandon Fraser's career best performance as obese Charlie. Oscars are up for the taking.
THE WHALE is adapted from Samuel D. Hunter's play of the same name. He wrote the script for the film which explains the theatrical look of the film, often with Fraser and one or more actors in a set. The fact might bother some filmgoers but stage bound films can also be successes as proven by the old classics like SLEUTH and DEATH TRAP.
The whale in the film title could refer to Moby Dick, the whale in the classic book about one man's quest for vengeance against a whale, and how much that desire for vengeance ruins him and everyone around him or to obese Charlie himself for reason of his size.
The film centres on and opens with an obese Charlie (Fraser, donning a fat suit and prosthetics) trying to move about in his living room. Aronofsky shows how difficult it is for a fat person to move around. Simple tasks like picking up a dropped key or just standing up from the sitting position is a big chore, if it can be performed. Into Charlie's life enter several persons. First there is a door-to-door missionary who has the good intention of saving Charlie's soul. In a film by Aronofsky, he sure is in for it! Also to help Charlie is his nurse and very good friend, Liz (the always excellent Hong Chau from DOWNSIZING and THE MENU). Charlies wants to make amends for a big mistake in the past, which is his abandonment of his daughter (Sadie Sink) who has quite the feisty personality and one that the audience will find difficult to like, which is a bit of a problem in the film.
This is one dysfunctional family with one huge dysfunctional person. Charlie wants to make good with his daughter and this is the gist of the story and also the message of the film. It is honesty that counts, and everything else is shit, put plainly.
Fraser shows how difficult it is to live as an obese man. He is wheezing all the time and hardly mobile. Fraser is totally believable in the role, the immobility of his fat suit also aiding him in portraying how a fat man feels. Hong Chau is also excellent in her supporting role as the caring nurse and best friend, the reason explained later on in the film.
The story contains quite a few surprises (not to be revealed in the review) that make the film more interesting than just a plain drama.
Director Aronofsky and Fraser take the audience on a wild roller coaster ride of tears, pity and disgust.
THE WHALE is an excellent drama of redemption and the difficulty of earning it, the message coming across marvellously, courtesy of all departments.
The movie had its world premiere at the 79th Venice International Film Festival and its North American premiere at the 2022 Toronto International Film Festival. Brendan Fraser received the Tribute Award for Performance (with a three-minute standing ovation) for his leading role in the film.
Trailer:
WOMEN TALKING (USA 2022) ****
Directed by Sarah Polley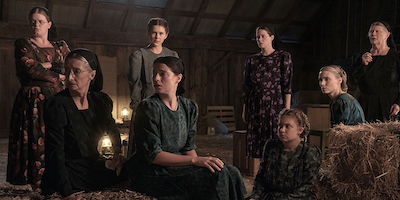 Probably the most talked about film at TIFF this year, writer/director Sarah Polly tackles the ardent task of adapting Miriam Toews' acclaimed novel about a cloistered world of a religious commune where women struggle with an epidemic of abuse. Many have been put under the influence of cow tranquilizer and sexually attacked by men. The women hold a meeting to decide one of three options which are to do nothing, stay and fight or leave the men and fight. Regardless of the outcome of the vote, there will be dire consequences. They debate and argue all the points and hence we have WOMEN TALKING. Shot in back and white, this is a powerful film in these times of sexual abuse with a fine cast of actors including Rooney Mara, Claire Foy, Jessie Buckley, and Judith Ivey, with Ben Wishaw and Frances McDormand all delivering unforgettable performances.