FILM REVIEW:
A MAN CALLED OTTO (USA 2022) ***
Directed by Marc Forster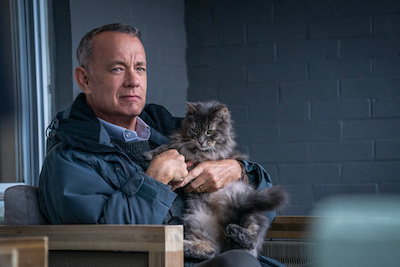 A MAN CALLED OTTO is a 2022 comedy-drama (more drama than comedy) film directed by Marc Forster from a screenplay by David Magee. It is the second film adaptation of the 2012 novel A Man Called Ove by Fredrik Backman, following the 2015 Swedish film A MAN CALLED OVE written and directed by Hannes Holm. The film is graced by Academy Award Winner Tom Hanks, in the titular role, with Mariana Treviño, Rachel Keller, and Manuel Garcia-Rulfo co-starring.
7 years is a long time for a remake as myself, I cannot remember much about the Swedish film that was quite the hit in 2015. The Swedish version had no Hollywood famous stars but it was fresh, original and different, being set outside the United States. A MAN CALLED OTTO, played by Tom Hanks, who always clinches any role close to perfection, is always a pleasure to watch. And fortunately few can recall the stair of A MAN CALLED OVE. Yet watching the Marc Forster film, one feels somehow that the film has been remade and lacks originality, primarily for the fact that the opening tiles appear proud to mention that the film is a remake of the regional Swedish film.
The film follows a man called Otto (Hanks) , a 60-year old recluse forced to retire after 40 years in his job. He has lost his will to live. Through flashbacks, the audience learns that another reason is losing the love of his life, his wife to cancer. Otto became a bitter refuge after that, as he was before meeting his wife. Otto attempts to commit suicide starting by hanging himself to gas poisoning himself with carbon monoxide in his garage. His attempts fail, thanks to his nosy new neighbours particularly Marisol (Mariana Treviño), a Mexican with her goofy husband and kids. As predictability goes, he learns that there can be more to be done in his life before being taken to the grave. Fortunately for both films - the original and this one, the film stays away from sentimentality.
Scriptwriter David Magee has written similar scripts about lonely people who discover a bright light in life, as he wrote MISS PEDIGREW LIVES FOR A DAY and MARY POPPINS RETURNS. Director Forster has a more serious list of films including A MONSTER'S BALL and arguably the most serious James Bond of them all, the rather awful QUANTUM OF SOLACE. Together, however, they create an acceptable blend of comedy and drama.
A MAN CALLED OTTO is an acceptable remake of A MAN CALLED OVE aided primarily by the performances of both Tom Hanks and Mariana Treviño who can be funny in one moment and turn dead serious the next, in the supporting role of the Mexican neighbour.
A MAN CALLED OTTO is scheduled for a limited theatrical release in the United States on December 30, 2022 in New York and Los Angeles to qualify for the Academy Awards, before a larger release on January 6, 2023, and then a wide release on January 13, 2023, by Sony Pictures Releasing.
TRAILER:
NOISE (Japan 2022) ***1/2
Directed by Ryūichi Hiroki
This marks the Canadian Premiere of NOISE, a reflective and compelling drama, playing like a whodunit mystery set on a Japanese island community which is based on a manga by Tsutsui Tetsuya.
The central family is the Kieto family who owns a fig plantation that employs most of the island's aging community. The female mayor is all out to obtain funds to open a new hospital that will attract more residents while making her more famous. The mayor is a loud mouth lady who abuses those under her. When an accident takes place and a rehabilitating criminal is killed, Kieto and other islanders attempt a cover up. The coverup gets more and more complicated with more and more people involved as two mainland policemen uncover the real truth about what happened. The film occasionally feels like a satire on the Japanese community.
The mystery is interesting enough to keep the film going though it fizzles out at the end with the twist in the plot occurring a little too early.
NOISE premiered during Reel Asian 2022 in Toronto last on Nov 10 at 8:30 PM and will be available for streaming on Netflix beginning this week. Definitely worth a look!
THE OLD WAY (USA 2022) ***1/2
Directed by Brett Donowho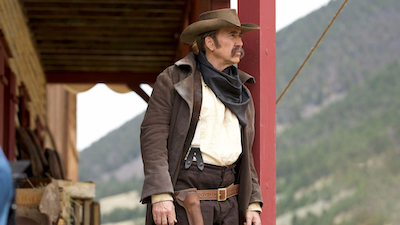 Nicholas Case is an Academy Award Winner for his dramatic role in LEAVING LAS VEGAS who has been playing crazier and crazier characters in films like PIG and WILLY'S WONDERLAND ever since. THE OLD WAY is a traditional revenge western and returns the actor in the role of a more rational human being. More rational his character is, but as the story unfolds it is revealed that his character is a very odd one, a man who cannot cry, being dead to any emotion. His character has to pretend to cry and react emotionally so as to pretend to be normal like others so that he is not singled out.
Cage plays a character called Colton Briggs. In the film's opening scene, there is a big shoot out in a hanging and Briggs ends up shooting the man about to be hanged in front of his young son, a boy. The boy is now grown up. So is Colton. Colton has put his gunslinging ways away and settled down with his wife and daughter. Colton and his daughter must face the consequences of his past, when the son of a man he murdered years ago arrives to take his revenge.
Director Donowho, can be seen, trying to attain a high level of prestige for his western. This can be observed in the scene where the Marshall advises Colton not to go after the gang that has killed his wife. The little daughter comes first, he is told. Colton has to weigh the urge for vengeance against looking after his daughter. Also quaint is director Donowho's inclusion for a dialogue between the Marshall and the daughter on what is a good man. Is a good man one that does not kill?
THE OLD WAY is a well plotted classic and traditional western, where an innocent family with a ranch or farm lives in constant fear of intruders. The women folk are particularly vulnerable. Director Donowho infuses many elements not seen in revenge films. One is the dealing of the awkward father and daughter relationship as they leave their homestead to seek out the mother's killers. Father Colton is a planner and teaches his daughter the harsh things in life - 'We track down the killers, do what we have to do and then start and return to our old life." he tells her. "Not without Mama'" is the daughter's reply. Other elements shown are the sacrifice and dangers one has to make and take in order to exact a revenge. Director Donowho shows the common denominator of the obsession of revenge that is shared between the two. But the daughter is a tough cookie. She is also unable to cry even in front of the body of her dead mother.
Though a serious revenge film, director Donowho injects quite a bit of humour into his story - with quite the few laugh-out moments.
THE OLD WAY is one of the best revenge westerns in a long while with Nicholas Cage in fine and restrained form, making super entertainment in the traditional sense of a traditional western.
Trailer:
PLANE (USA 2022) ***
Directed by Jean-Francois Richet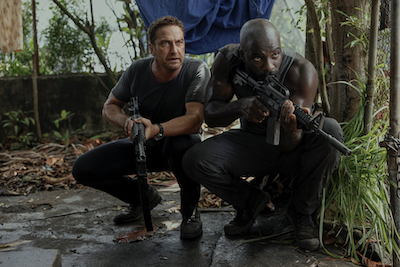 PLANE is a truly Gerard Butler movie, the action actor producing the film as well as starring in it. One can see from the first to the final frame of the film that Butler is quite serious and tries very hard in a no-nonsense film to ensure everything works well. To his credit, the film is an entertaining watch, though predictable in its second half. Nevertheless, PLANE succeeds on many levels. It also helps that the film's director is an established action film director (French born) with a host of action films in his resume including MESRINE 1: KILLER INSTINCT and MESRINE II: PUBLIC ENEMY NUMBER 1 and the remake of ASSAULT ON PRECINCT 13.
In the white-knuckle action movie PLANE, pilot Brodie Torrance (Gerard Butler) saves his passengers (total of 4 of them) from a lightning strike in a storm by making a risky landing on a war-torn island ninth Philippines - only to find that surviving the landing was just the beginning. When most of the passengers are taken hostage by dangerous rebels, the only person Torrance can count on for help is Louis Gaspare (Mike Colter), an accused murderer who was being transported by the FBI. In order to rescue the passengers, Torrance will need Gaspare's help, and will learn that there's more to Gaspare than meets the eye.
The film can be divided into two 'action' parts. The first and more interesting of the two is the plane struck down as a result of an immense storm. The second and less interesting, as has been seen in many other action films, is the survival of the passengers at the mercy of dangerous Filipino rebels.From the closing credits, it is revealed that the film was shot in Costa Rica, which makes sense in terms of cost and fewer problems. Filming it in the Philippines where the plane is supposed to crash would paint a negative picture of the Philippines, thus the filmmakers would face difficulty in getting approval for filming.
As the film is appropriately entitled PLANE, the first half of the film that shows the technical details in maneuvering a plane in a storm is totally engrossing. Everyone who has flown in a flight before has experienced turbulence at one time or another, and the film really clearly shows what could happen in a plane undergoing a terrible storm. The technical details are also effectively examined, which makes the film's first half totally engrossing. But it is only after the plane crash lands (this segment unfortunately a bit far-fetched in terms of credibility) that it falls into cliched territory where rebels intimidate their victims.
The plane's 14 passengers are a combination of types including an American asshole who clearly makes the most outrageous demands, only because the script calls for it.
Overall, PLANE is a passable entertaining actioner, aided by some well executed special effects, making it a plus to watch the film in theatres. PLANE opens in theatres across Canada starting on January the 13th, 2023.
Trailer:
THE STALKING FIELDS (USA 2022) **
Directed by Ric Maddox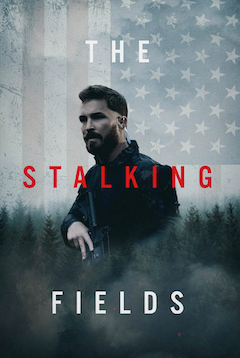 Written by Sean Crampton and Jordan Wiseley and directed by first-time filmmaker and Army veteran Ric Maddox, THE STALKING FIELDS is a thriller action pic with a hard-tried performance from Crampton as well as from Taylor Kalupa, Adam J. Harrington, Rachael Markarian, Jordan Wiseley, and Richard O. Ryan.
A group of civilians run for their freedom when they find themselves caught in the middle of a Black Ops program designed to cure PTSD.
Drawing from personal experience, both Crampton and Wisely grew up in military families and felt it was important to make a film about the ramifications of PTSD.
But this does not mean that Crampton and Wisely can make a good movie less write a good script. The film is a mess from the very start and gets terribly confusing despite the relatively simple plot. A lot of characters or incidents do not contribute much to the story nor make any sense. To the filmmakers' credit, they do try very hard, including some unexpected plot twists at the two third mark of the film.
The film begins with a woman in distress. It soon becomes apparent that she is hunted down by someone who then appears to do the job and put her out of her misery. The film then progresses to a series of incidents - all involving harsh arguments involving a partner, including a gay couple. Again, the audience is left guessing what is happening and what each incident has to do with the story. Some of the men or women in the arguments are elected as the civilian victims caught in the middle of the Black Ops experiment.
Though the writers have the good intentions of bringing their audience to awareness of PTSD, other films have done a better job. This jumbled effort of predator vs. prey does not sink the message in.
Gravitas Ventures will release THE STALKING FIELDS on digital platforms on January 17, 2023. The film has a running time of 90:27 minutes and will not be rated by the MPAA.
Trailer:
THE TOMORROW JOB (USA 2022) ***
Directed by Bruce Temple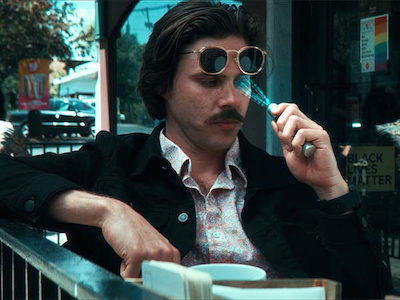 It is said that human beings are the only species that understands the concept of time: so the film proposes as its opening line. It then goes on to say that there are many paths in time that can lead from Point A to Point B, however one cannot change Point A or B in the process. So the characters zig-zag among several points in order to benefit themselves.
Time transportation has always been a favourite but little used genre in films. From the adaptations of H.G. Wells' THE TIME MACHINE, films like TIME AFTER TIME and LOOPER have continually fascinated moviegoers. THE TOMORROW JOB, which marries the genre with the heist genre aims to do the same, and with some comedy also thrown in for good measure.
What is time except that it is a concept of reality interpreted by human beings. This teaser is posed to the audiences at the start of the film when a victim is injected with a microchip by a band of robbers in his home. His eyeballs shine like gems. Also, with the taking of Z-pills, a person can move back a day in time to alter changes in the present.
THE TOMORROW JOB, written and directed by Bruce Temple follows a team of thieves who use a time-travel drug to trade places with their future selves to execute the ultimate heist. When interrupted on a job the team must fix their past mistakes to prevent disastrous consequences. A dynamic mix of genres, THE TOMORROW JOB is a high-stakes sci-fi action-adventure epic with heart, humour, and fun, and an ode to beloved heist comedies of the past.
The main problem of THE TOMORROW JOB is that it is hell of a confusing concept with a series of time swaps that is difficult to follow. Even one of the characters in the film utters the line: "This is really confusing." And he is not kidding. Another character replies: "You are telling me." With a person undergoing two many time warps, the character cannot remember which is reality and which is not, leading to conflicting memories and total disarray. The film also considers the butterfly effect. If one sees something happening like the hiding of the Z-pills, then the person cannot go back in time to change the event. But if he thinks that the Z-pills are hidden behind the radiator and does not check it, then the pills may not have been hidden there. As the film progresses, it gets more complicated and confusing.
Apart from the confusing fact, THE TOMORROW JOB still manages to fascinate as a sci-fi time travel action flick, with a little bit of humour added for good measure.
THE TOMORROW JOB world premiered at Austin's Other Worlds Film Festival as the Opening Night Film and will be opening in select theatres January 13 and landing on-demand everywhere Tuesday, January 17, 2023.