FILM REVIEWS:
BLOOD (Canada 2022) **
Directed by Brad Anderson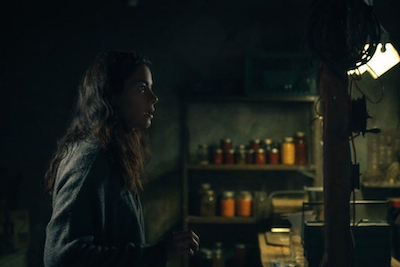 Jess (Michelle Monaghan), a nurse and mother recently separated from her husband (Skeet Ulrich), moves her daughter Tyler (Skylar Morgan Jones) and young son Owen (Finlay Wojtak-Hissong) back into her family farmhouse. Shortly after settling in, Owen's dog escapes into the woods and returns days later, blood-soaked and rabid. When the dog attacks and bites him, the resulting infection grows more shocking as Owen's behaviour becomes frightening and deadly. As he spirals deeper into the depths of the illness, Jess discovers a disturbing cure - Owen needs to consume human blood, which makes her question how far she is willing to go to keep her child alive. That is the question the film poses to the audience with Jess kidnapping a discharged patient with no family ties, to keep her locked up in the basement in order to extract blood to feed Owen.
Written by Will Honley and directed by Brad Anderson, BLOOD is advertised as a thriller/horror. There is not that much horror in the film except for the few scenes showing Owen drinking blood. Any scene that involves drinking blood used to earn a film released in the U.K. an X rating (ages 18 and under not admitted) - the rating used in the U.K. in the past. The kidnapping of the patient makes for the thrilling portions. The older lady is gagged and tied up. There is one scene where Jess is answering the front door and speaking to two cops while the lady in the basement is trying to get loose to scream in order to alert the cops. This scene, of course, has been used many times in other films, with the gagged person finally getting those after the cops have left, again the scene used many times in other films.
There is no real reason given to Owen's need to drink blood. The appearance of an odd looking dead tree that appears at the beginning and end of the film, offers a clue but gives no answers. And what has the rabid dog got to do with it and how did the dog get the rabies in the first place?
The film adds in some human emotions into the film by adding the element of the separated Jess from her husband played by Ulrich. Jess is also revealed to be a drug user who has turned clean, a plot ploy to have the audience become more sympathetic to a determined mother facing problems. With Owen getting sick, her abilities to look after her son comes into question - again a plot device used already in many other films.
BLOOD ends up an uninspired and bland thriller/horror that fails to incite any scares or thrills.
TRAILER:
BLOOD is a Canadian made horror film that tries to pass as an American horror film to up its box-office returns. The closing credits reveal the collaboration of several Canadian provinces including Manitoba, British Columbia and Ontario. The film does not pass as an American horror film or even a horror film for that matter. BLOOD opens in Theatres January 27, 2023 and is Available On Demand January 31, 2023.
CONDOR'S NEST (USA 2022) **
Directed by Phil Blattenberger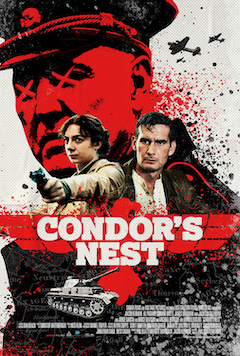 The title CONDOR'S NEST refers to the nest of German spies- or rather the surviving members of the German Third Reich Officers including Heinrich Himmler himself (his survival is explained later in the film) that exists in Argentina. Other war criminal survivors supposedly reside in the neighbouring South American countries of Brazil and Uruguay.
American war veteran Will Spalding (Jacob Keohane) has tracked the sadistic Nazi Colonel who executed his bomber crew during WWII to a remote location in South America. But he is in for more than he bargained for when he uncovers a secret Nazi headquarters known as the Condor's Nest.
The synopsis for the film sounds like serious subject matter. However, CONDOR'S NEST is a film that cannot decide to take its subject seriously or poke fun and make a mockery of it. Many segments depict the conflict as do the performances of the actors. The start shows the downing of a bomber American fighter plane with all the seriousness, despair and realism of a war mission gone wrong. The plane is downed and a large troop of German soldiers show up. The Americans are shot one by one by one evil Colonel Martin Bach (Arnold Vosloo, South African stage actor) for not revealing any war information. A shooter looks on, having sheltered in a shack close by, frozen by the horror and unable to fire his rifle. In contrast there is a scene set in the Condor's nest of ex-high ranking Third Reich officers including Himmler that plays for parody that includes the line "Hail Himmler". (Himmler is supposedly alive and well and planning a Third Reich comeback.)
Actor Jacob Keohane in the main leading role does not expose his lean good looks till his character recovers in hospital His face is first only partly shown, giving him the look of a young Liam Neeson. Keohane plays his role seriously compared to some of his fellow acting colleagues in supporting roles, especially those hamming it out as the Germans. Veteran actors Bruce Davison and Michael Ironside provide solid supporting performances.
To director Blattenberger's (POINT MAN, 2018), his suspense scenes are extremely well executed. This can be observed particularly at the film's start. The first is the downing of the bomber fighter jet. The second is the execution of the bomber crew, one by one by Colonel Bach. But the script that calls for the destruction of the entire CONDOR'S NEST by one sole war veteran with the help of a Jewish Mossad fighter (Corinne Britti) is very far-fetched. This could account for the director's injection of a bit of camp humour. The blend of seriousness and humour does not really work, but credit for trying and the film would be a failure if it took itself too seriously.
Despite the messiness of the story, the film is still intriguing enough in its preposterousness that it makes entertaining viewing. Whenever the film begins to lag, it gets hilariously campy.
CONDOR'S NEST opens in Theatres, on Digital, and On Demand January 27, 2023
Trailer:
EXCEPTIONAL BEINGS (USA 2022) **
Directed by Njedeh Anthony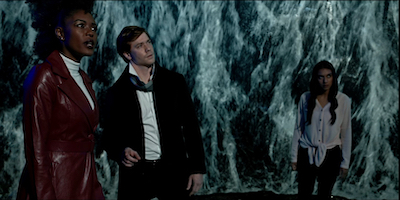 The press notes for the sci-fi fantasy EXCEPTIONAL BEINGS touts the film's incredible talent of the black filmmaker team but little of it shows on screen in what looks like a cheap and cheesy camp fantasy with low production values. This is not to say that co-writer and director Njedeh Anthony is not ambitious, but the director and crew were likely too confident with their work for their own good.
The film opens with a monologue that makes little sense about light and with that light comes darkness and then the Gods followed by human beings that need to be alive followed the the existence of beings between the Gods and human beings. It is these in-between beings that the film is about, and how they strive to survive, hence the title of the film EXCEPTIONAL BEINGS. The film tracks the existential crisis of two supernatural beings, as they begin to question their Godhood, when they encounter a woman with an uncanny essence that doesn't conform with their 4,000 years of knowledge. The two supernatural beings are supposedly brother and sister though one is black and the other white. They are the handsome Hermes (Dane Oliver) and the pretty Athena (Ciarra Carter). Throughout the film they are after a woman called Mina Bihary (Radeh Thunat). She is being chased by the supernatural beings and wherever she runs, they are right behind her, catching up with her. They want answers but she keeps claiming that she is not the one they are looking for and that they are mistaken. She humorously says: "I am Mina Bihari and I am a music teacher from Jackson Middle School." She utters the line more than half a dozen times, making the line laugh-out loud funny. They journey through her existence, as it relates to their desperate need to understand answers to questions they never believed existed. The movie is a prequel to the book Godhood.
The film looks tacky from the pan shots often used, instead of edits. The cheap special effects and saturated colours give the film the look of the 50s and 60s low budget sci-fi films. Quite a few segments are also shot with handheld camera, with no bother of keeping the camera still. The dialogue often makes no sense, if one tries to decipher what is said. There is an action fight scene at the end between Hermes and his sister Apollo (Victoria Antonelli) that looks really bad, as does the other fight sequence that takes place in the police station.
The only thing going for the film is its humour and campiness, that is occasionally funny, but quite often unintentionally so. The best sequence occurs in the police station where Mina Bihari, yes that music teacher from Jackson Middle School pleads with a female police officer, Detective Shelly (Helena-Alexia Seymour) to protect her, followed by her promise, only to be soon broken, that she will do so with her weapon.
EXCEPTIONAL BEINGS will be available to rent and own across all North American TVOD/Digital platforms & on DVD beginning on January 31st, 2023 through Freestyle Digital Media.
Trailer:
INFINITY POOL (Canada/Hungary/Bosnia 2022) ***
Directed by Brandon Cronenberg
From the twisted filmmaking mind of Brandon Cronenberg, son of David Cronenberg and falling in his father's esteemed footsteps arrives his latest foray in the horror genre. His first film 2012 ANTIVIRAL concerns viruses and other pathogens taken from celebrities who fall ill, in order to inject them into clients who desire a connection with celebrities. His second film is the 2020 POSSESSOR with an assassin as its protagonist who takes control of others' bodies to carry out her hits. Brandon Cronenberg's latest horror film INFINITY POOL also involves a form of transplant, the common thread in his work and has the strongest narrative of all his films, arguably the best of the lot - a good thing as the first two lacked some direction. INFINITY POOL is Cronenberg's most ambitious work with a strong narrative that boasts two stars - the queen of camp horror recently seen in the excellent PEARL Mia Goth and Alexander Skarsgård.
The film is so-called INFINITY POOL though no such pool is seen for the reason that it is the construction of such a pool where all the trouble started. An accident in its construction has killed two local workers. The country (the citizens are described by Goth's character as savages) where this occurs has a weird policy in which there is a choice of two options. One is to let the family of the deceased kill the one responsible and the other is to pay a large sum of money followed by the cloning of the one responsible. Of course, the second option is the one always chosen.
While staying at an isolated island resort, writer James (Alexander Skarsgård) and Em (Cleopatra Coleman) are enjoying a perfect vacation of pristine beaches, exceptional staff, and soaking up the sun. Em is extremely rich while her husband, James is suffering writer's block but has no qualms in enjoying her wealth. An accident in which James kills a local in a hit and run in the middle of the night results in James having to make the choice. Guided by a seductive and mysterious woman (Mia Goth), James and Em find themselves in a culture filled with violence, hedonism and untold horror. A tragic accident soon leaves them facing a zero tolerance policy for crime: either you'll be executed, or, if you're rich enough to afford it, you can watch yourself die instead.
Croneberg's films always have a look of a 70's film and INFINITY POOL is no exception. The stylish architecture and white buildings often remind one of those spy movies as in Joseph Losey's MODESTY BLAISE. Cronenberg also loves to fill his film with lots of colour, and also, lots of blood. There is no skimping of graphic horror shown in the film that involve nasties like the slitting of throats.
Though the film has a strong narrative and is incident driven, the logic and rationality of the story is messy. Though the climax of the story does not follow the normal path of the typical commercial film think Lynch's MULHOLLAND DRIVE, Cronenberg's climax is less satisfactory though no less shocking.
INFINITY POOL opens in theatres January the 27th.
Trailer:
THE LAIR (USA/UK/Hungary 2022) **
Directed by Neil Marshall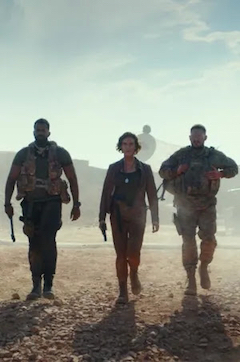 When Royal (which explains her British accent in an otherwise American movie) Air Force pilot Lt. Kate Sinclair is shot down over Afghanistan, she finds refuge in an abandoned underground bunker where deadly man-made biological weapons - half human, half alien - are awakened.
Lt. Sinclair is played with gusto by Charlotte Kirk who also serves as a producer together with the film's director New Marshall, forming an alliance for perhaps other films after this one. LAIR plays like the RESIDENT EVIL franchise with a female protagonist taking on evil creatures.
Throw credibility to the wind as Lt. Sinclair is seen, single handedly killing off all the dozens of Afghan insurgents at the beginning of the film after her fighter jetis downed in enemy country. The trouble begins when she gets into the bunker and discovers a different more ferocious enemy, zombie-like creatures that are able to rip faces off with their claws. After this, there is fight after fight and multiple gore and killings. There is rarely a dull moment as director Marshall keeps the violence and action maintained throughout the movie though there is nothing really new that has not been seen or heard (i.e. the foul language) in similar horror films.
THE LAIR streams on Shudder beginning Thursday 26th of January 2023.
MAYBE I DO (USA 2023) **
Directed by Michael Jacobs
Valentine's Day usually sees a larger number of romance films - comedies or dramas making their way into theatres for what is sometimes nicknamed 'the date movie'. Hot on the heels of these arrives the Jennifer Lopez romantic comedy about a bride and groom who discover love as tragedy strikes in a really unfunny dud SHOTGUN WEDDING. MAYBE I DO is a romantic drama that has higher aspirations as it tackles the impossible question of what love actually is. Based on the play by Michael Jacobs who also wrote and directed the film, one hopes for the film's success as witnessed by French playwright Florian Zeller's recent successful adaptations of his stage plays THE FATHER and THE SON, both excellent films. No such luck, as MAYBE I Do is a boring and rather lame film though it boasts an all star ensemble cast that just cannot save the film. Jacobs' play ran for only a week on Broadway when the playwright was in his early 20's at the time. Think MAYBE I DO as an unfunny Neil Simon flop.
The premise is decent and actually not half bad. The film begins with two couples having arguments. The first Howard (Richard Gere) and Monica (Susan Sarandon) are in a hotel room and it is obvious that they had not had sex though one assumes that sex is the purpose for them being there in the first place. The second couple is Sam (William H. Macy) and Grace (Diane Keaton) who meet at a bar. They say that they deserve to have one good time in their lives but all they do is talk. So much for the film's credibility so far, as these couples have sex drives that are never fulfilled because they are too good a spouse to their spouses. It turns out soon that Howard is married to Grace and Sam to Monica and each of the 4 is cheating.
At the halfway mark, a turn of events occurs. A young couple Michelle (Emma Roberts) and Allen (Luke Bracey) decide to take their troubled relationship one step further to make a family affair over a dinner where the truth about the cheating couples (the two aforementioned) will eventually come out. The dinner takes place roughly at the halfway mark of the film after half of the movie - really boring, has passed. The second half does not get any better with the bickering couples and with the audiences really not caring about any of them. This is a case of a 'la-di-da' (Diane Keaton's famous and favourite phrase in Woody Allen's ANNIE HALL) story no one really cares for. Trapped in this precarious situation, the two couples try to hide their dalliances from their children while confronting their spouses' lovers head on. All this sounds intriguing but there is hardly any laughs as director/writer Jacobs attempts at higher drama.
MAYBE I DO opens in theatres January the 27th
Trailer:
SAINT OMER (France 2022) ****
Directed by Alice Diop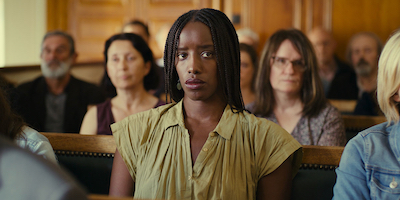 Fresh from winning a top prize and the Venice Film Festival, this is one extraordinary narrative debut by acclaimed documentarian Alice Diop. Her doc roots are evident in the film as there are lots of actors speaking to the camera just as interviewees do, especially in the long takes of the court sessions. The incidents are never shown on screen but unfolds in the words of the actors, and more effectively so. A young novelist, Rama (Kayije Kagame), is working on a contemporary retelling of the ancient Medea myth. In Greek mythology, Madea is a mother who murdered her children. Pregnant herself and increasingly uneasy, Rama's own family history, doubts, and fears about motherhood are steadily dislodged as the life story of the accused woman, Laurence Coly (Guslagie Malanda), is gradually revealed. From a stern upbringing in Senegal to gradual isolation from family and society on her arrival in Europe, Coly's experiences expose the traumas of racism and emotional manipulation that can remain unspoken while insidiously and irrevocably corroding a person's well-being.
Never has a film with so much dialogue been so exciting and compelling. The courtroom drama played out by director Diop looks so much like a true crime drama. SAINT OMER where the baby was drowned is west-northwest of Lille on the railway to Calais, and is located in the Artois province. The town is named after Saint Audomar, who brought Christianity to the area.
SAINT OMER has been awarded the Best International Feature by the Toronto Film Critics Association.
SHOTGUN WDDING (USA 2022) **
Directed by Jason Moore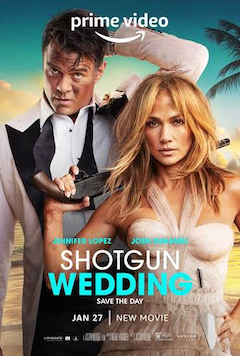 A couple's extravagant destination wedding is hijacked by criminals. In the process of saving their families, they rediscover why they fell in love in the first place. If there is any opportunity for comedy, it is surely lost as a result of a horrid script that does not seem to understand humour and an actress, Jennifer Lopez who wants nothing more than to show herself off at the expense of the film and everything else.
SHOTGUN WEDDING tells of shotguns appearing at a wedding (rather than the other unintended naughtier connotation) when bandits (assumed to be Filipino pirates) hijack a wedding. Nothing is what it initially seems, though the facts eventually come out and it is up to the bride played by Jennifer Lopez to humorously save the day. SHOTGUN WEDDING is more interested in showing off Jennifer Lopez's vital statistics (her dress is torn revealing her legs and other exposed parts; she gets to wear army boots) and she gets to show off her body rather than her talent at comedy. It is tiresome to see a celebrity so unashamedly display herself. Does she have no shame or humility? It does not help that the script is largely unfunny with a huge hit and miss laughter ratio not to mention lots and lots of loopholes in the story accompanied by lacklustre direction. SHOTGUN WEDDING is the first awful film of 2023.
The audience gets to see the large loopholes in the plot. The most outstanding of these lies in the climatic scene where a helicopter with no pilot, the villain's girlfriend having stabbed him and tossed him out of the chopper. Yet the chopper can manoeuvre around the boat with the girl shooting off a machine gun. Another has two hiding Filipino staff in the basement suddenly appearing outside out of hiding for no reason.
The film's plot involves a supposedly pirate hijack in the Philippines. As in the George Clooney and Julia Robert's vehicle, the recent and much better TICKET TO PARADISE that involved Filipino rebels, filming was not done, understandably in the Philippines as the government would likely now allow permission, for the reason that a bad reputation would be given to the country. TICKET TO PARADISE was filmed in Costa Rica while SHOTGUN WEDDING was shot in the gorgeous Dominican Republic.
Duhamel and Lopez make relatively ok romantic chemistry but the main complaint is that they are not funny. This romantic comedy follows the cliched plot of a quarrelling bride and groom during a wedding that only a catastrophe would bring the couple together. The film cannot be less original with the couple doing their typical arguments and fights throughout. All this gets pretty boring fast. The story also involves a whole list of wedding guests that one hopes can generate some laughs when put in a dangerous situation such as a life threatening situation. No such luck. The wedding party is neither funny and most of the jokes are plain lame and unfunny. Only Jennifer Coolidge is able to generate a few smiles.
The only saving grace might be Jennifer Coolidge who manages to get a lauh=gh r two in this sordid exercise. Cheech Marin who looks really frail in the film, plays a more serious role.
Avoid SHOTGUN WEDDING at all costs. A terrible exercise of unfunny comedy displaying the worse Hollywood has to offer.
Trailer:
WHEN YOU FINISH SAVING THE WORLD (USA 2022) ***
Directed by Jesse Eisenberg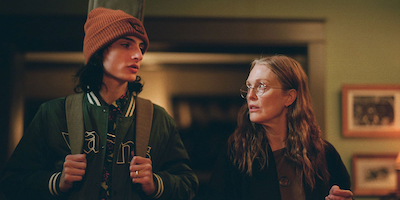 WHEN YOU FINISH SAVING THE WORLD is the writing and directing debut of actor Jesse Eisenberg best known for the lead role as the motor-mouthed protagonist in THE SOCIAL NETWORK. As is evident from his debut, quite a lot of Eisenberg's personality comes thorough
in the film. His teen character has a crush on a girl that is very well spoken on political issues and tremendously articulate and his film contains more dialogue (with the words shit and fuck) than the average film.
A mother (Julianne Moore) who has devoted herself to helping people in hard times (trying to save the world) struggles to connect with her son (Finn Wolfhard), an aspiring internet star oblivious to the problems of the world, in this feature debut from writer-director Jesse Eisenberg.
Eisenberg's film is ambitious in tacking not one but two protagonists, each given around the same screen time, both undergoing personal problems that include getting along with each other. They both cheat on each other, the mother finding another teen to dote upon, replacing her inadequate connection with her son while the son pines after a girl to look for the love missing in his mother/son relationship. Evelyn Katz (Julianne Moore) is a lifelong activist who spends her days helping families at a domestic violence shelter. Her son Ziggy (Finn Wolfhard, immediately recognizable as the British Columbia rising star from STRANGER THINGS) locks himself in his room, making music and trying to expand his social media following. The question of whether he is any good is humorously left to the audience to decide. Both are driven — if in comically opposite ways — to touch other peoples' lives, but find it difficult to connect to each other. Ziggy fumbles his romantic pursuit of a politically conscious girl at his school. The girl is non-white again proving in this film and other films in which romance is involved that a mixed romance is the current norm.
A film with this storyline of the two lost souls can only end in either of these two ways. One is to have an unhappy ending where the two do not reconcile and the other where they do. If they do, the film bears the danger of having a cop-out ending. Director Eiseneberg aims for the second and with swift diversion, enables the film to be credible and a little charming while distracting one from the cop out happy ending. One wonders throughout the film on the purpose of the Eisenberg movie, whether he is trying his best at parody or satire, or whether he is trying to make a dramatic film about family dysfunctionality and reconciliation. It becomes clear near the film's end of his purpose.
WHEN YOU FINISH SAVING THE WORLD is an ambitious, confident and satisfactory debut feature from actor Jesse Eisenberg which is co-produced by actress Emma Stone's husband and wife production company. The film opens this week at the TIFF Bell Lightbox.
Trailer: