Good crop of films opening this week.  The Illusionist and Incendies are two French films that hit the mark.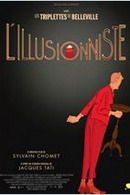 THE COMPANY MEN (USA 2010) ****
Directed by John Wells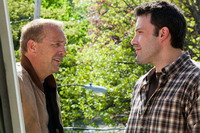 THJE COMPANY MEN centers on a year in the life of three men trying to survive a round of corporate downsizing at a major company - and how that affects them, their families, and their communities.
The film is actually much better than it sounds.  For one, the film is very personal.  The three men are played by Ben Affleck as Bobby Walker, the main character laid off, followed Chris Cooper playing Bobby's boss and Tommy Lee Jones playing the company owner's number one man (Tommy Lee Jones), two older employees who eventually get the axe.
For a film that deals with hopelessness and despair and that takes a somewhat predictable route, Wells' film is extremely compelling.  (John Wells has directed TV episodes of ER and SHAMELESS).  For one, his script is filled with zingers, whether at the board room or at the 'up' meetings that help discouraged ex-employees raise their spirits.  The one scene where Bobby and a friend cheer enthusiastically: "I have faith, I have enthusiasm, I will succeed", is both laugh-out loud hilarious because of both its over-the-top irony and sarcasm.
The film's production values are impressive from the corporate staircase where an assistant trots down to announce to Bobby that he had arrived the wrong day for the interview to the immaculate outfitting of the high executives of GTX, the company that the three work for.
Just like family and friends are all that are left when one loses all, Wells makes sure the message is ingrained in the film.  The best scene has Bobby comfort his son who is unaware that his father had lost his job and just mad because of his fear of the parents breaking up.
THE COMPNAY OF MEN is a serious drama with a script full of uplifting zingers that the film does not have a gloomy feel.  The actors are more than superb especially Kevin Costner as Bobby's smart-talking but well meaning brother-in-law.
I have to admit I enjoyed Well's THE COMPANY MEN more than I ought to, particularly as I had work at a private college for 21 years before being laid off.  And hired back occasionally to teach the odd course and paid adjunct salary with zero benefits.  The frustration, anger and hopelessness are all captured in the movie – even though the type of job is different.  When Bush comes to shove, it is always the individual and the loved ones that count the most.
Wells' film takes the familiar course and one can tell that the film will eventually have a happy ending with the protagonist getting another job, though a slightly lower level one.  The script contains sufficient diversions, plot twists and clichés but one cannot help but feel for human beings who haven given up everything for their companies but who get nothing when companies lay them off.  Many have been there and if you have not – thank your lucky stars!
INCENDIES (Canada /France 2010) ****
Directed by Denis Villeneuve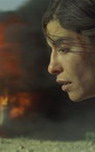 As proved in his visually stunning MAELSTROM and UN 32 AOUT SUR TERRE, director Villeneuve has outdone himself by adapting the acclaimed play by Wajdi  Mouawad to the big screen.
The sands and barren hills in Middle East as well as the reflection from the dirty pools of the city's buildings never looked so inviting.  The story here concerns siblings Jeanne (Melissa Desormeaux-Polulin) and Simon (Maxim Gaudette) searching for their father and brother whom they had never met, as requested by their deceased mother.  They discover more than a hidden can of worms.  It turns out that mother was an activist, who was raped and tortured in prison.
Villeneuve makes an incredible tale believable and humanistic holding back sentiment and clichés.  Though based on a ply, the film never looks it as Villeneuve has taken his film out into the open.
Compelling, entertaining and beautiful all at the same time.  This film was voted the Best Canadian feature at TIFF and by the Toronto Film Critics Association.
L'ILLUSIONNISTE (UK 2010) ***** Top 10
Directed by Sylvain Chomet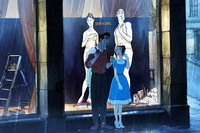 In animator Sylvain Chomet's previous feature LES TRIPLETTES DE BELLEVILLE, he made several references to Jacques Tati's films.  His homage is complete in L'ILLUSIONNISTE, which he shot, based on an original script by the late Tati.
The lead character is an out-of-date magician, Tatischeff (Tati's real name) who travels anywhere he can find work.  This leads him to Edinburgh, where he meets a young Alice who tags along, believing the magic to be real.  Alice loses her innocence and comes of age as Tatischeff finally reveals to her that the magic is fake.
Chomet's animation is amazing, from the film's muted colours, atmosphere and look, down to the mannerisms of the animated Tatischeff, so similar to the real Tati.  The film's final moments when Tatischeff happens into a theatre screening MON ONCLE, one of Tati's films is genius and Chomet brings reality and fantasy together in this timeless tale.
Just as in the Tati films, L'ILLUSIONNISTE is in French and English but requires no subtitles to understand.  And Chomet's comedy (the biting ferocious rabbit, the drunk Scotsman) is just as funny.  The best animated film of the year – hands down!
NO STRINGS ATTACHED (USA 2011) *
Directed by Ivan Reitman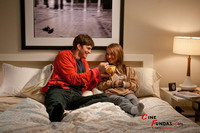 Hot on the heels of the 2011 worst films (COUNTRY STRONG, SEASON OF THE WITCH and THE DILEMMA) to avoid comes the Ashton Kutcher and Natalie Portman (what was she thinking?  She must have been f***ed up from THE BLACK SWAN).  At least one expects this one to be bad.  And director Ivan Reitman (hits I LOVE YOU, MAN and DAVE with flops FATHER'S DAY, EVOLUTION) delivers what is expected!
Has Hollywood run out of ideas for romantic comedies.  Well, I would not exactly call the premise of this film an idea.  In this comedy, Emma (Natalie Portman) and Adam (Ashton Kutcher) are life-long friends who almost ruin everything by having sex one morning. In order... In this so-called comedy, Emma (Natalie Portman) and Adam (Ashton Kutcher) are life-long friends who almost ruin everything by having sex one morning. In order to protect their friendship, they make a pact to keep their relationship strictly "no strings attached." "No strings" means no jealousy, no expectations, no fighting, no flowers, no baby voices. It means they can do whatever they want, whenever they want, in whatever public place they want, as long as they don''t fall in love. Needless to say, they fall in love by the end of the movie.  By the way, the movie does go on and on and on to almost a full 2 hours – as if the audience is expecting a twist or surprise ending.  No such luck!
The film begins with the Emma and Adam meeting at a party and becoming friends. The flashback is 15 years before the present.  The film then moves 5 years before and then a year before.  There are no real connections of the three time periods except for the fact that the two met.  As can be observed, the film is all over the place, even chronologically.  It seems Reitman is reaching for floating straws to prevent his comedy from drowning.
The film's sub plots and comedic setups (father and son birthday dinner) are barely connected and least of all funny.  Emma's little sister steals her mother's boyfriend as Adam's father (an embarrassing Kevin Kline) steals his ex-girlfriend.  At least the film should be original enough not to repeat unfunny parts that do not work.
One small plus for the movie though.  The first sex scene between Kutcher and Portman is quite hot. Everything else is the pits!  At one point during an argument, Adam retorts: "I don't know what to say?"  The audience can only echo those same words about NO STRINGS ATTACHED.
THE WAY BACK (USA 2010) ***
Directed by Peter Weir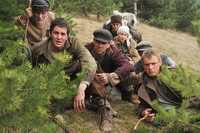 THE WAY BACK is an escape drama about a group of prisoners who escape the Gulag during World War II and walked across Siberia and the Himalayas to freedom in India.  Indeed, it is a long walk home based in the memoir by Slawomir Rawicz.  Director Weir's admirable film is a long trek at 133 minutes and moves on endlessly with the escape at times.
For a film with this theme, one expects more emotional involvement but the film leaves one rather empty.  The cinematography, particularly of the harsh natural barren lands of both snow and desert is more than impressive.  For the human characters, the 7 escapees are roughly sketched and their interaction minimal at most.
Weir (who has made better films likes his early Australian films GALLIPOLI, THE LAST WAVE, PICNIC AT HANGNG ROCK and THE TRUMAN SHOW, WITNESS for Hollywood) appears to be going through the motion at times for this film.  At the start, Polish inmate Janusz (Jim Sturgess) is interrogated by Russian authorities involving his spying in a clichéd segment in which he declares himself innocent and that his wife had been tortured to testify against him.  What follows are typical prison scenes where he meets an assortment of other prisoners, 6 of them who will eventually escape with him during a snowstorm.
Of the supporting case, Ed Harris is not half bad as the grumbling American Mr. Smith.  Colin Farrell, playing a violent Russian gangster is more entertaining than credible so one should not complain.  Sturgess carries the lead role well though the script leaves his character rather unsympathetic.
Weir's film goes on endlessly, particularly for the fact that the escape does take forever.  The escapees after making it across Siberia then have to make another long journey across the Himalayas.  All the walking, complaining and sore feet and bodies are hard to take.  Of course, a few characters die on the way, and given respectable burials.  The best thing about the film is the cinematography both of the hot desert and the cold icelands.
Weir claims the story to be one of fiction.  It has been revealed that writer Rawicz was actually a free man during the escape and the story based on another Polish prisoner's escape.  The sight of the green hillsides of India where the escapees finally see is as welcome for the audience in the film finally coming to an end.  Though not a bad film, THE WAY BACK is a difficult film to watch.
BEST BETS OF THE WEEK
Best Film Opening This Week: The Illusionist
Best Films Playing: The Social Network/The Illusionist/True Grit/Another Year
Best Family: Tangled
Best Documentary: Inside Job
Best Foreign: Incendies
Avoid: The Dilemma