01
Feb
2011
Details

Category: Movie Reviews
Written by Meres J. Weche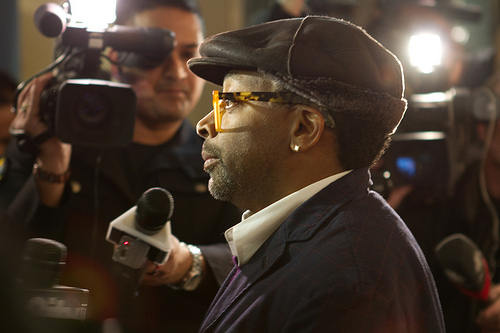 Last week, as part of the TD-sponsored Then and Now: A celebration of Black History Month series of cultural events, Toronto welcomed acclaimed filmmaker Spike Lee. This conversation, moderated by Canadian filmmaker Clement Virgo and presented by the Canadian Film Centre (CFC) examined Spike Lee's body of work and his masterful use of music to evoke emotions in his films. The packed event held at Cineplex Odeon's Varsity Theatre was a fitting launch to our city's Black History Month celebrations.
There perhaps is no better example of Lee's powerful repeated use of music as a central character than Public Enemy's epic anthem "Fight The Power" from his defining 1989 film, Do the Right Thing.
The Anthem
As part if the evening format's combination of conversation and short film clips, Clement Virgo played Do The Right Thing's title credits intro sequence featuring Rosie Perez dancing to "Fight the Power".
http://www.youtube.com/watch?v=dyDWNT0TnZE
One of the most powerful things about music is that it can carry with it emotions and slices of life in a time capsule. Particular songs have the ability to transport us years in the past -- right back into the smells, textures and aura of defining times gone by.
On a personal level, I was taken back to 1989 Bronx, New York. To Fordham Road, in particular, where I spent all my summers growing up in an eclectic Black and Hispanic neighbourhood so reminiscent of a classic Spike Lee joint.
That summer, this song played everywhere. It was unmistakably present in any of the $10 audio cassette mixtapes my cousins and I bought at the corner of Fordham Road and Webster Avenue -- along with classic tracks from Biz Markie, Boogie Down Productions, EU and Eric B. & Rakim.
As Spike Lee rightly pointed out: "Every summer in New York there's one song that''s an anthem, that you can hear come out of people's houses, cars. … We shot the film in the summer of '88 and (the movie) was coming out the summer of '89 so we wanted this song to be the anthem of 1989. And we wanted the song to reflect what the film was about. So right away it had to be Public Enemy."
In what proved to be just one of a few interesting little-known facts about his musical collaborations, Spike Lee revealed that Public Enemy's Chuck D had originally come to him with a different song but Lee felt it wasn't the one.
"I said, 'You've got to come back and give me something better'," Lee said to laughs from the audience. His instinct was definitely right. 'Do the Right Thing without ''Fight the Power'' is a different movie" added Spike Lee.
Music as a separate character and a family affair
Spike Lee has often discussed how music had always been a part of his home growing up. His father, Bill Lee, wrote the scores of many of his films including She''s Gotta Have It, School Daze, Do the Right Thing and Mo' Better Blues. A renowned musician, his father collaborated with many of music's luminaries such as Cat Stevens, Bob Dylan, Gordon Lightfoot, Aretha Franklin and Peter Paul & Mary. "That's him on 'Puff the Magic Dragon,'' Lee said laughing.
The Lee family having moved to New York from Georgia when Spike was a small child, the influence of southern jazz musicians was strong in the Lee household. Spike recounts how the great names of New Orleans jazz such as the Marsalis clan were fixtures around their neighbourhood in New York.
One of those New Orleans musicians who moved to New York to make a name in jazz and became acquainted with Spike Lee was Terrance Blanchard. As Blanchard told NPR:
"I'd been hired in several of Spike's earlier projects, Skool Days and Do the Right Thing. Just as a session player and when we were doing Mo' Better Blues Spike heard me play something on the piano and asked if he could use it. And we recorded it just as a solo trumpet piece and then he asked if I could write a string arrangement for him and I did. And Spike came over and said you have a talent for this and you have a future in the film business. … And he called me to do Jungle Fever and we've been working together ever since."
Spike Lee recounted that same story with Terrence Blanchard from the set of Mo' Better Blues at the event last week. In particular, he spoke of how Blanchard's music was instrumental to the score of his film Malcolm X.
"Spike always views his music as a separate character – a whole other piece to the puzzle. And he's always paid a lot of respect to the music; not only mine but the incidental music as well" Blanchard also said to NPR.
Other musicians Spike Lee has worked with include the likes of Prince, Stevie Wonder and Michael Jackson. Lee shared with the amazed crowd the interesting story behind how he got to work with Michael Jackson on his "They Don't Care About Us" video for the late King of Pop's History album. He told the same story to Time Magazine:
"Can I tell you a quick story? Michael Jackson called me up and said, 'Spike, I want to meet you, I'm coming to New York.' I said, 'Well where you want to meet?' He says, 'I want to come to your house.' I live in Brooklyn! He wants to come to my house! So, Michael Jackson came to my house in Brooklyn, New York — this was when I was living in Fort Greene. And he said, I want you to direct a video for me. My new album''s coming out, pick a song. So we listened to all the songs and I picked 'Stranger in Moscow.' And he said, I don't want you to do that one. And I said, 'Michael, just tell me which one you want me to do! Why ask me to pick one?' And he laughed and he said he wanted me to do 'They Don't Care About Us.' That's how it happened."
The controversies
Of course, no conversation evening with Spike Lee would be complete without touching on some of the controversies which have followed his work throughout his career. Spike's films have touched many hot buttons such as Black-on-Black skin colour prejudice, interracial relationships, race relations and religion.
Long before Chris Rock talked about Black women's conflicting relationship with their hair, Spike Lee exposed the good hair/bad hair and light skin/dark skin existential crisis in his 1988 film Skool Days.
His 1991 film Jung Fever blew the lid open on the sexual stereotypes and cross/inter-community prejudice surrounding interracial relationships.
It's indeed an undeniable fact that Spike Lee's films have redefined the role and reach of cinema to foster contemporary social debate and foster political change through popular culture.