11
Feb
2011
Details

Category: Movie Reviews
Written by Gilbert Seah
The Spanish/Mexican BIUTIFUL finally gets its opening in Toronto this week.  Also opening are JUST GO WITH IT by Adam Sandler and the action flick THE EAGLE.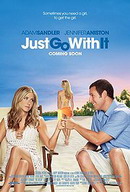 BIUTIFUL (Spain/Mexico 2010) ***
Directed by Alejandro González Iñárritu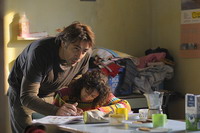 Director Alejandro González Iñárritu has never failed to intrigue audiences with his films.  His best film AMORES PERROS was an over energetic, cinematic display of razzle dazzle bringing tying in different stories with the simple theme of bitches (perros).  His 21 GRAMS and BABEL played with narrative as does his latest BIUTIFUL but alas BIUTIFUL is nothing more than a masked melodrama. Alejandro González Iñárritu does Almodovar but not as well!
BIUTIFUL is no easy watch.  Watching a man dying of cancer who is spending the remaining days of his life trying to get sorted while killing a group of Chinese workers accidentally and f***ing his family up even more would hardly be classified as popular Hollywood-type entertainment.  But the dreamy snow white segments at the start and end of the film is the only scenes offering hope at the film's hero, Uxbal (Javier Bardem from NO COUNTRY FOR OLD MEN and JABON JAMBON).
This is a story of a relatively good man, Uxbal in free fall of destruction. On the road to redemption, darkness lights his way. Connected with the afterlife, Uxbal is a tragic hero and father of two who''s sensing the danger of death. He struggles with a tainted reality and a fate that works against him in order to forgive, for love.
Uxbal deals with his whoring and drinking abusive wife and unworkable work conditions.  Tensions flair, But one feels that all these difficulties are just added for a little spice in the story.  There are too many scenes of Uxbal feeling sorry for himself and feeling sad and hopeless.  And why?  Because the script pours down one misfortune after another upon this character.  The only way out is love, love that Uxbal has to show towards his children, others and even his abusive wife.  Yes, the audience gets the picture already.
Most of the action takes place in a crowded Spanish town.  BIUTIFUL is the way the people there pronounce the word beautiful.
But with flaws and all, BIUTILFUL made it to the short list for this year's Best Foreign Film Oscar.  See it for its haunting and electronic music and sounds, Bardem's muted yet intense performance compared to Maricel Alvarez's over-the-top acting and the impressive dark gloomy cinematography.
THE EAGLE (USA/UK 2011) **
Directed by Kevin Macdonald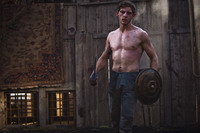 THE EAGLE, an overly serious actioner insistent of playing it straight, sees one Roman centurian by the name of Marcus Aquila (the hunky Channing Tatum) travelling to the north of Britain in the 140 AD. for the dual propose of retrieving 'the eagle' a victory Roman artifact and finding out the truth of his father apparently killed there.
Based on the 1954 novel "The Eagle of the Ninth" and directed by Brit Kevin Macdonald who has come up with a few really good films in the past like THE LAST KING OF SCOTLAND and TOUCHING THE VOID, THE EAGLE despite having great and super stunning cinematography fails to engage as an action adventure.  The Ninth is the name of the father's legion that disappeared.  Partly due to wrong emphasis on the script by Jeremy Brock, lack of focus and bad acting on the part of Tatum and lackluster action sequences, THE EAGLE is a forgettable adventure that could have worked better as a journey or road trip.
The best thing about THE EAGLE is the bleak but crisp cinematography by Anthony Dod Mantle of the Scottish highlands.  Hadrian's Wall which was built in the past to separate Scotland (then called Caledonia) is seen here in all its past 'glory'.  When the two, Marcus and his slave, Esca (BILLY ELLIOT's Jamie Bell) travel past the wall, the film soars with the vast picturesque glens and mountains while the two ride their wild horses. The mist, fog and rain aid in creating atmosphere of fear and menace.
But when the film settles into the story, it encounters major problems.  It is hardly credible that the slave Esca would sacrifice his tribe (given that he is also one of the tribe's princes) and family to protect Marcus, his master.  No doubt Marcus did save his life in the early part of the film, but the Romans did also slay Esca's immediate family.  And Esca is risking his life in the process.  But Bell is a much better actor than Tatum, and it shows whenever the two share a scene together.
For the other party of the movie, with Marcus and Esca's tribe fighting for the eagle, it looks as if two teams of boys are playing a game of capturing a prize.  The artifact is just a symbol and it looks as if it is time for the two teams to grow up.
When THE EAGLE ends, Esca is set free as salve and it then shows that the film could have worked as an adventure centering on the master and slave as primary characters in a different kind of movie.  THE EAGLE ends up as a forgettable mediocre period actioner that is as dramatic as it is exciting.
FROM PRADA TO NADA (USA 2011) *
Directed by Angel Garcia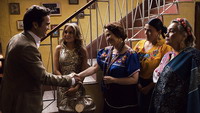 Midway during the movie, I was wondering why a Latino remake of the Jane Austen English classic "Sense and Sensibility"?  A character on the bus in one scene gives the answer as she questions, Nora the lead character: "You live in L.A. and you cannot speak Spanish?  The assumption that the large Latino demographic will go watch this film that has already done horrendous box-office returns since its opening on January the 28th is a grave mistake.
Two spoiled sisters who have been left penniless after their father''s sudden death are forced to move in with their estranged aunt in East Los Angeles.  The trouble with Nora (Camilla Bella) And Mary (Alexa Vega) is that director Garcia portrays them as so spoiled with no redeeming qualities that the audience would rather the two remain broke learning life lessons than marrying back rich into high society.  Enter the over nice looking grooms that fall in love with these two for no apparent reason but their outward appearance.  Is all Hollywood this way?  Needless to say, Nora the one who wishes to remain single gets hooked up first!  Not that anyone cares.
The second half of the film gets incredibly boring and the film teeters towards the known ending.  The film is not funny either.  Even if you had not read the Jane Austen book, any one could guess the film's ending on a story of nonsense and insensibilities.
JUST GO WITH IT (USA 2011) **
Directed by Dennis Dugan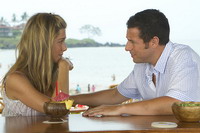 In the new Adam Sandler comedy,In Just Go With It, a plastic surgeon, romancing a much younger schoolteacher, enlists his loyal assistant to pretend to be his soon to be ex-wife, in...  a plastic surgeon, Danny (Sandler) romancing a much younger schoolteacher, Palmer (Brooklyn Decker) enlists his loyal assistant Katherine (Jennifer Aniston) to pretend to be his soon to be ex-wife, in order to cover up a careless lie. When more lies backfire, the assistant''s kids become involved, and everyone heads off for a weekend in Hawaii that will change all their lives.
If this plot sounds familiar, the story is based on the script by I.A.L. Diamond of the 1969 film CACTUS FLOWER where a dentist has his nurse pretend to be his wife in order for him to marry the much younger Toni.  Toni has believed all the time along that he would not marry her as he was married with kids.  As far as JUST GO WITH IT goes, it is not the best Sandler comedy.  In fact, it is often short on laughs and many of the laughs or comedic setups fall flat.  Worst still, if you want to compare Ingrid Bergman to Jennifer Aniston and even worse that Brooklyn Decker be compared to the bubbly Goldie Hawn who won the Oscar for her role in CACTUS FLOWER.
JUST GO WITH IT is clearly short on ideas and originality.  The only time it picks up is when Katherine meets her college nemesis played over-the-top by Nicole Kidman as the bitchiest friend you want to get rid off.  Other than that, the romantic comedy, the bonding with the kids, the sexual innuendo and the shit jokes (Guy sleeping in the bathroom sticks his hand in the toilet bowl while the boy comes in to take a crap) are more boring and unimaginative than ever before.  A few jokes do generate laugh out loud laughs (most uttered by Sandler under his breath) but these are few and far between.  No new songs are written for the film and old hits are lazily copied into the soundtrack for different parts of the film.
Sandler appears to be going through the motions with the romance and though Decker is a clear #10 in looks and beauty, her acting and character are close to the zero mark. The kids are annoying, but not nearly as annoying as Danny's brother, Eddie played by Nick Swardson.  Aniston sleep walks through another romantic comedy role.
The biggest flaw in the movie is the lazy script that does not bother to answer the important question why Danny does not tell Palmer the truth in the beginning.  CACTUS FLOWER had a good reason but JUST GO WITH IT has none.  But all would be forgiven if his Dugan/Sandler film (their 6th pairing) was hilarious but JUST GO WITH IT is just also not funny enough.  Sandler fans might just have to let it go with this one.
MODRA (Canada 2010) ***
Directed Ingrid Veninger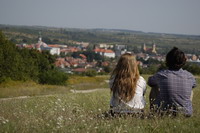 Writer/director/film producer Ingrid Veninger (born in Slovakia and raised in Canada) made a name for herself by directing her son in the minimalist budget ONLY a few years back.
In the more ambitious MODRA, Veninger takes her daughter as a subject as she examines adolescent love while travelling to visit relatives in the small town of MODRA, in Slovakia.  Lina (Hallie Switzer) has just been dumped by her boyfriend and reluctantly takes Leca (Alexander Gammal) instead on a week's trip to Modra.  Leca falls for Lina but standoffish Lina only invited Leca as a replacement.  Worse is that all the relatives assume the two to be a couple.
MODRA is an extremely moving, honest and heartfelt film about self discovery and youth set in the quaint yet incredibly beautiful Modra.  The two learn from experience as well as from the words of Lina's experienced grandmother who only speaks Czech.  Both Switzer and Gammal bring a certain innocence and refreshness to their roles.  But the film is more about life than a romantic comedy!
What this simple well-made film has is oodles and oodles of charm!  Almost impossible to dislike!  Voted as one of the top 10 Canadian films this year!
Best Bets of the Week!
Best Film Opening This Week: Biutiful
Best Films Playing: The Social Network/The Illusionist/True Grit/Another Year
Best Family: Tangled
Best Documentary: Inside Job
Best Foreign: Incendies
Avoid: From Prada to Nada
Ousmane Sembène
February 5 – 13
Often referred to as "the father of African cinema," Senegalese filmmaker and novelist Ousmane Sembène was an outspoken opponent of both the former colonial powers and the corrupt, cruel and archaic aspects of his own people's culture – a complex double critique that made his work vital and controversial for more than four decades.
For complete schedule, ticket pricing and venue, chek the cinematheque ontario website at:
http://www.cinemathequeontario.ca
Recommended are CAMP DE THIAROYE (*****) and MOOLADE(*****).
Below find capsule reviews of three films to be screened:
Moolade (Senegal/France 2004) ***** Top 10
Directed by Ousmane Sembene


MOOLADE (set in a remote Burkina Faso village in Africa) is the word uttered by a strong willed woman, Colle (Fatouma Coulibaly) that calls for the magical protection of 4 girls about to be purified by genital cutting.  Colle has lost 2 daughters from the ritual and is intent on protecting the 4 girls.  Her only surviving daughter whom she had protected as well is angry as she is not allowed to be married without purification by the elders.  The daughter has her eye on the son of an elder returning from studies in France.  Sembene tells his story like a colourful fairy tale (indeed the African village is colourful with green, yellow, red buildings with the habitants donning bright apparel) with an evil ruler and an evil practice that must be stopped so that everyone can live happily ever after.  But tradition, pride and stupidity need by overcome.  Colle is the female knight in shining armour to do the task and what a knight she is.  She would have you cheering (WASA! WASA!) by the end of the film if not in tears admiring her courage.  This is a film about the triumph of the human spirit and director Sembene has crafted one of the best films ever to come out of the African continent.
La Noire de (Black Woman) (France/Senegal 1966) ****
Directed by Ousmane Sembene


The first film by an African director to receive attention and acclaim worldwide, Ousmane Sembène's debut feature focuses on Diouana (Mbissine Thérèse Diop), a young Senegalese woman who is invited to move to France to work as a nanny for a wealthy couple. She work initially for the couple in Dakkar where she is comfortable looking after their three children.  But when she moves to France with the prospect of a better life, Diouna's excitement soon gives way to disillusionment as the couple begins to take advantage of her, forcing her to work as a common servant. As it becomes increasingly clear that their mistreatment is linked to her race, Diouana falls into despair. A thought-provoking exploration of racism and the legacy of colonialism, La Noire de. . . opened the door to the West for such acclaimed African filmmakers as Souleymane Cissé, Djibril Diop Mambety and Haile Gerima.
Thus husband is more sympathetic towards her but does little while the mistress shouts at Diouana constantly while complaining how lazy she is..Diouana finally refuses to eat, work and completely breaks down.  Director Sembene captures the depressing plight of a human being caught by loneliness and desperation.  If only Diouana could communicate in French to her employers or be stronger to take control of things!  This simple yet unorgettable
Xala (Senegal/France 1974) ***
Directed by Ousmane Sembene


The film opens with a voiceover over-praising Senegal's independence from France with scenes of the White ousted from the parliament building while the sons of the land now rule their own people.  But such words are only an indication that the takeover is not going to be as smooth as expected and something is going to go dreadfully wrong.  Written and directed by Sembene, the story of XALA turns to one official, Aboucader Beye, known by the title "El Hadji," who takes advantage of some of that money to marry his third wife, to the sorrow and chagrin of his first two wives and the resentment of his nationalist daughter. But he discovers on his wedding night that he has been struck with a XALA a curse of impotence. El Hadji goes to comic lengths to find the cause and remove the xala, resulting in a scathing satirical ending.  Sembene's film is dead serious in the sense that all the characters are serious about their status quo, so much so that everything seems hilarious from an outside observer.  The music, atmosphere and mood of the city are all captured and displayed with all the exoticism of a tourist visiting Senegal for the first time.  The film is even funnier when one sits back and contemplates the events that have occurred.