25
Feb
2011
Details

Category: Movie Reviews
Written by Gilbert Seah
Opening this week are HALL PASS and DRIVE ANGRY 3D and the French film OF GODS AND MEN.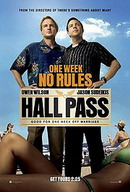 The Human Rights Watch Film Festival is currently on at TIFF Lightbox.
ALAMAR (Mexico 2009) ***

Directed by Pedro Gonzalez-Rubio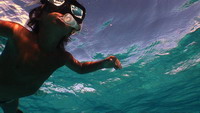 Pedro Gonzalez-Rubio's ALAMAR has been described as a soulful feature that
blurs the line between documentary and fiction.  That it is, and the film is full of soul though what happens on screen is just the daily routines of Jorge Machado (playing himself) as he bonds with his young son Natan.
The film begins really fast informing the audience of the intense love of a couple and how fate gave them a beautiful boy.  Before you can say WOW! The couple decide that they are so different that they cannot live together.  For one, Roberta is a city girl, an Italian while Jorge is a man of nature, and a Mexican.  So the film documents  through nature – during a "farewell" trip of father and son  to the Mexican Caribbean Sea
The film also works as a tourist piece.  Just as the boy Natan is shown his Mayan origins by his father taking him to a fishing village in Banco Chinchorro, famous for its coral reef, the audience gets to see a slice of a different world of life.   The village is a pristine place, as yet untouched by tourism.  Fishermen live in shacks on stilts, a few metres off the shoreline, atop sparkling turquoise water.  Jorge shares a shack with an older fisherman named Matraca (Nestor Marin).
The film marks the first feature by Mexico's Pedro Gonzalez-Rubio, who is also
writer, producer, editor and cameraman.  It was shot mainly with a crew of two,
Rubio and a soundman.  Although there was a storyline, Rubio rewrote the plot
as events happened – like the unexpected visit from a white African Ibis that befriends
Natan.
The film is full of charm. The play wrestling segment between father and son is moving.  Nothing bad occurs on screen and the quarrel between the couple is never displayed.  This immensely likeable and simple film has already won many 2010 festival awards including the Grand Jury Prize at Miami and the Tiger Award at Rotterdam.
The film ends with the boy handed over to the mother.  The two sit together gazing at the city skyline, the boy blowing soap bubbles.  One wonders if maybe director Gonzalez-Rubio will film and document the bonding between mother and son.  The film will be different but no less interesting.
FOUR LIONS (UK 2010) **
Directed by Chris Morris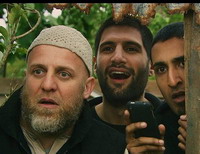 The film follows a group of 4 Muslim men living in Sheffield aspiring to become suicide bombers.  They go on a training camp in Pakistan and finally get to show their worth while targeting the London marathon.
The four include the leader, Omar (Riz Ahmed), dimwitted Waj (Kayvan Novak), loud mouth white converted to Islam Barry (Nigel Lindsay who steals the show) and Faisal, who trains crows to carry the bombs.
All this is good comedic premise and co-writer and director Morris works the stereotyped Muslim fanatic to its fullest extent from looks, actions and expectations.  The film's best scene has a debate going on in a community centre where Barry argues the stereotyping of Muslims only to have him proved right for apparent reasons.
The film is sometimes shot to give a documentary feel.  The climatic London marathon segment turns out less spectacular than expected with the four donning silly costumes running around the various areas rather than having a mass pair or exodus of the runners.
Director Morris uncomfortably blends in death into his story with one by one of the FOPUR LIONS eventually done away with by their bombs but with such casuality that all seems a bit incredible.  Morris does not champion any Muslim cause and vice versa.  All the action is treated as comedy material.  The film should not majorly offend anyone.  Most of the humour occurs during the arguments among the four rather than from the actions of the four.
Sporadically funny or to be fair, sporadically very funny, FOUR LIONS often delves into Monty Python (overthrowing the Romans in LIFE OF BRIAN) territory.  Though thankfully without a message, one feels after leaving the film that there is something missing in all the shenanigans of the four lions.  That is a strong narrative to keep the whole film feeling like a solid whole instead of a series of skits.
The film did relatively week in the U.K. where it opened last year, which finally resulted in a U.S. distribution.  TIME magazine listed FOUR LIONS as its top 10 films of 2010.
DES HOMMES ET DES DIEUX (OF GODS AND MEN) (France 2010) **
Directed by Xavier Beauvois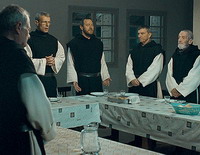 The beginning titles state that men are gods, but fall like princes and die like men.  The true story concerns monks in Algeria kidnapped by terrorists.  Yet they withhold their faith, intending to radiate love as an example to those around them.
Though the topic is an emotional one, it is strange that Beauvois' film is largely emotionless and dull except when the monks engage in verbal debate.  The actions and incidents portrayed in the film include daily chores and hardly substantiate what the monks believe in.  When the Christian (Lambert Wilson) argues with a terrorist, a Muslim and both quote accurately the scriptures, the audience can hardly help but stare at disbelief.  But the film's atmosphere of fear and also religious beauty are effectually captured on film
OF GODS AND MEN has been a hit with critics since opening around the world for its emotional subject.  But the film has not moved me.
HALL PASS (USA 2011) **
Directed by Bobby and Peter Farrelly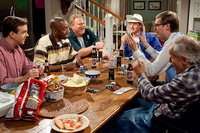 Out of frustration at their husbands, two wives grant their husbands a HALL PASS – a week free from marriage commitments for them to do whatever they want, cheating included.
This silly premise makes up the whole silly new movie written and directed by the Farrelly Brothers known for greater works like THERE'S SOMETHING ABOUT MARY and SUMB AND DUMBER.  More like a married couples' romantic comedy, it does not take a genius to guess that the couples come together after the husbands (who do not end up having sex) discover (really?) that loving their wives is what it is all about.  The result is a very lazy film with hit and miss jokes (more misses than hits) with a desperate attempt at grossness to elevate the humour.
The husbands are Rick and Fred (Owen Wilson and Jason Sudeilkis) who are granted hall passes by wives Maggie and Grace (Jenna Fischer and Christina Applegate) respectively.  The film is divided from Day 1 to Day 7 when nothing really happens since the guys have lost their old touch of getting the girls.  Just as the Brothers have apparently lost their touch at comedy!
The grossest joke involves a sneeze wet poo on the mirror, which judging from the laughs from the audience did not work that well.  Expected too are masturbation jokes but worse still is the blatant display if dicks and balls in screen to generate laughs.  The comedic set pieces which basically involve the husbands meeting a variety of different women, mostly sex-starved bimbos with big breasts are less imaginative than those found in the other Farrelly films.  The film's trailer is not that funny either.
The Farrelly Brothers try very hard for a good reason.  The material sucks!        The film's desperation for laughs is highlighted in the end credits skit involving a supporting character, the Brit Stephen Merchant accidentally killing witnesses and he buries his evidence.  The unfunny skit goes on and on, as dull as it is till a half dozen people bite the dust.  Like the rest of the film, there is no sense in all of this.
Best Film Opening This Week: Alamar
Best Films Playing: The Social Network/The Illusionist/True Grit/Another Year
Best Family: Tangled
Best Documentary: Inside Job
Best Foreign: Incendies

Avoid: From Prada to Nada, The Dilemma, The Rite
HUMAN RIGHS WATCH AT TIFF
This year the annual Human Rights Watch Film Festival presents ten feature films that inspire hope, confront oppression, seek truth and demonstrate humanity's will to defend their own rights and those of others.
From Peru to Iran, Kenya to Belgium, these documentary and fiction films—many centred around the theme of family—reach beyond the headlines to reveal the core issues underlying many of the human rights abuses occurring worldwide.These powerful depictions of the struggles necessary to preserve one's basic freedoms speaks eloquently to the universality of human rights in an evermore interdependent world, inspiring people to raise their voices in defense of those whocannot. —Alex Rogalski
Human Rights Watch is one of the world's leading independent organizations dedicated to defending and protecting human rights. By focusing international attention where human rights are violated, Human Rights Watch gives voice to the oppressed and holds oppressors accountable for their crimes. Rigorous, objective investigations and strategic, targeted advocacy build intense pressure for action and raise the cost of human rights abuse. For thirty years, Human Rights Watch has worked tenaciously to lay the legal and moral groundwork for deep-rooted change and has fought to bring greater justice and security to people around the world.
The Human Rights Watch Canada Committee was formed in 2002 and is part of a network of committees across eighteen cities in Europe, Asia and North America. The committees include more than 550 people from a variety of backgrounds. The committees are an informed and engaged constituency that is a key part of Human Rights Watch's defense of human rights. Committees seek to increase awareness of local and global human rights issues and enlist the public and governments to support basic freedoms for all. Committee members meet regularly to learn about human rights abuses, sponsor policy debates, and generate support for Human Rights Watch and its mission through fundraising, outreach, and advocacy.
The Canadian premiere of Ali Samadi's documentary, The Green Wave, about the tumultuous Iranian presidential elections in 2009, will open the 8th annual Human Rights Watch Film Festival, co-presented with TIFF, on February 22, 2011 at TIFF Bell Lightbox. The festival will run until March 4.
The Toronto Human Rights Watch Film Festival is a project of the Human Rights Watch Canada Committee. The festival brings to life human rights abuses through storytelling in a way that challenges individuals to empathize and demand justice for all people.
Tickets to the Opening Night Reception, which includes the premiere screening of The Green Wave, are now on sale from the Human Rights Watch office. Please call 416-322-8448 to purchase your tickets.
Four films are reviewed below.  Please note that full reviews are only allowed ifnthe film has already had a release.  If not, only capsule reviews are provided.
THE GREEN WAVE (Germany 2010) ***
Directed by Ali Samada Ahadi
Appropriately chosen as the gala opening for this year's Human Rights Watch Festival for its sheer riveting subject matter, THE GREEN WAVE is a mixed live action documentary animation that depicts the horrors of human injustice.  At one point in the middle of the film, one is bound to wonder how one human being could do so much harm to another.  And to the same race (Iranian and Muslim) and religion too!  It all starts with the fixed so-called democratic elections in Tehran that led to countless protestors in the streets the day after.  This leads to the police and militia beatings of the people.  The connection becomes increasingly blurry as more and more innocent people get kidnapped and beaten, now often for no apparent reason.  The green wave of the film's title refers to symbol that reflects the hope and change of a country that led to chaos.  The film is constructed mainly from internet blogs followed by interviews and news footage.  The missing gaps are provided by animation which also serves to depict the horrors of the current situation.  The Iranians talking heads complain that other developed countries should also aid them fight their cause on human rights.  This makes total sense and perhaps this film will initiate that action.
FIRST GRADER (UK 2010) ***
Directed by Justin Chadwick


When the government of Kenya announces it will offer free primary education for the first time, an eighty-four-year-old man, Kimani N'gan'ga Maruge (Oliver Litondo), shows up on the doorstep of a rural school, ready for class.  After a few rejections, the teacher makes an executive decision to let him study.  It turns out that Maruge's family were slaughtered by the British.  When he incites the children to cry freedom and hits a bully and it is revealed on radio that an old man is studying in a promary school, the authorities give him the boot.  The teacher takes it upon herself to fight for Maruge to stay in school.  Chadwick's film is not overdramatic and the story unfolds as a tale of oppression and a fight for doing what is right.  Appropriate counter arguments are offered both wys on why and why not Maruge should stay in school.  Most of the violence is miniized and showed in flashbacks in this effective tale of human rights.
WHEN WE LEAVE (Turkey/German 2010) **
Directed by Feo Adalag


Based on a highly publicized honour killing in Berlin in 2005, WHEN WE LEAVE stars Sibel Kekilli as Umay, a young Turkish Muslim woman who courageously decides to leave her abusive husband in Istanbul and join her family in Germany with her young son. Her re with her parents and siblings soon reveals that cultural ties are strong and her family's love is not unconditional. Umay's struggle for independence in a patriarchal society bound by tradition and pride makes for a passionately dramatic film that provocatively explores issues of family, community values and personal freedom.  But director Adalag shows only the husband pushing Umay and locking the son up in a room and being nice to her (though wanting) sex after, not depicting strong enough reason to the audience for Umay's move.  Also the killing at the end seems contrived and hardly follows the logic of the segments before when the father asks Umay for forgiveness.  Rather uneven, which is a disappointment given the film's important theme!
YOU DON'T LIKE THE TRUTH: 4 DAYS INSIDE GUANTANAMO
(Canada 2009) ****
Directed by Luc Cote and Patricio Henrique


The truth is often awful!  This one that is revealed 4 days inside Guantanamo is so awful, it would not only infuriate one to disbelief but also move one to tears at the horrors of what human beings are capable of doing, under the curtain of redemption.
The documentary is divided into 4 parts or a documentation of the 4 days at detention centre when the Canadian Security Intelligence Service (CSIS) interrogated Omar Khadr, suspect of killing a U.S. soldier.  Omar has been detained with no human rights and tortured both physically and mentally.
What transpires on film is the cat-and-mouse dialogue occurring between CSIS interrogator and Omar.  The dialogue is interpreted by experts that include Omar's lawyer, Omar's military counsel, a Toronto Star reporter and a psychiatrist.  Though no torture is depicted on screen in this film, what is imagined by the audience and the mental anguish of Omar portrayed onscreen are much more disturbing.
To add fuel fire, there is one scene where Omar cries for a full 10 minute after breaking down, with his cries translating to … "My mother".  Omar's mother is brought in to say her two cents worth in how helpless she is to aid her son.
Besides the personnel already described above, director Cote and Henrique have assembled a terrific cast of interviewees that also include Omar's sister and a monster torturer at Guantanamo Bay by the name of Damien Corsetti.  In Wikipedia, Corsetti is described as a soldier in the U.S. army.  As part of the Army's investigation into prisoner abuse at Bagram, (where Omar was first detained) Corsetti was charged with dereliction of duty, maltreatment, assault and performing an indecent act with another person. PFC Corsetti was later found not guilty of all charge though he is well known as the Monster or King of Torture.
The most fascinating thing about this film is Corsetti's admission that he thought Omar had undergone more than he could handle.  This King of Torture pitied Omar.  And with reason, as he says that Omar was only 16 and still a boy!
Luc Cote and Patricio Henrique have made one of the most harrowing documentaries about Guantanamo Bat without showing a drop of blood!