17
Mar
2011
Details

Category: Movie Reviews
Written by Meres J. Weche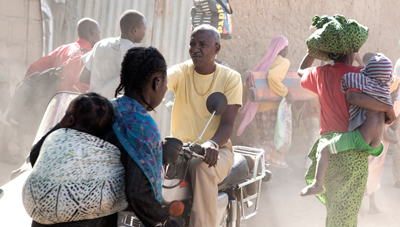 "Screaming Man," an award-winning film by Chadian writer-director Mahamat-Saleh Haroun currently screening at the TIFF Bell Lightbox until March 23rd, poses an important question: "Where is God when humans suffer?
With the recent natural tragedies in Haiti and now Japan, there perhaps is no better time to put God on trial. Of course, this is not a new concept. God, the divine entity or the omnipotent one has been cross-examined by humanity since pre-biblical times. During the Second World War, Jewish prisoners in one of Hitler's most notorious concentration camps convened a Beit Din (a Jewish court of law). They put God on trial and they found God guilty.
While the verdict in Mahamat-Saleh Haroun's film is less clear, it is nonetheless evident that this God, who has seemingly gone silent in the face of civil war and poverty in Chad, hasn't escaped severe scrutiny. The name of the film itself was inspired by celebrated Martinique-born poet Aime Cesaire's collection of poetry entitled Return to My Native Land. Contemplating the role of God in front of human suffering, Cesaire wrote "A screaming man is not a dancing bear".
A very telling quote from the film, spoken by a hardworking, generous and kind-hearted cook who had just lost his job, encapsulates it all: "Our problem is that we put our destiny in God's hands."
http://www.youtube.com/watch?v=8_rvfk5psbU
What is humanity to do then if God is silent? What happens when life's circumstances take over and our screams towards the heavens suddenly turn inaudible even to those surrounding us? Perhaps then we decide to become God ourselves and, with all our human failings, try to set the course straight.
The screaming man in Mahamat-Saleh Haroun's film is Adam (played by Youssouf Djaoro), a former swimming champion who, with his son Abdel (played by Diouc Koma), supervises a pool in an upscale hotel frequented exclusively by foreigners. This job is his whole life. He takes pride in his responsibilities and enjoys being a role model for his son.
One day, his world come crashing down when the hotel's owners announce to him that he will be relegated to the role of hotel gatekeeper and that his son Abdel would now supervise the pool. What follows is a complex escalation of emotions which leads to the patriarch's ultimate betrayal of his son.
The pace of the film may sometimes appear painfully slow and we are often left to guess what Adam is really thinking. But we soon realize that Mahamat-Saleh Haroun offers interesting metaphors and important parallels between the destiny of one man and that of his family and country.