18
Mar
2011
Details

Category: Movie Reviews
Written by Gilbert Seah
LIMITLESS, PAUL and THE LINCOLN LAWYER make their debuts this week as does the smaller fare like A SCREAMING MAN at TIFF Lightbox in Toronto.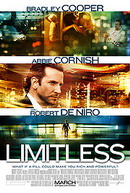 THE BUTCHER, THE CHEF AND THE SWORDSMAN (HK, China, USA 2010) **1/2
Directed by Wuershan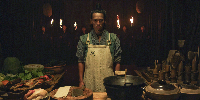 If you can sit through this definitely stupidest film of last year's Toronto International Film Festival without having your intelligence insulted, you might get a few laugh-out loud moments from it.
The plot concerns a butcher with a cleaver crafted from the metals of invincible swords.  The butcher's aim is to woo with Madame Mei, the most beautiful courtesan of the local brothel.  Worst still is that she already has a handsome lover.
Does the plot matter?  Wuershan's film is all over the place with hardly any cohesive narrative but who really cares?  One unrelated segment has an obese eunuch meet his death by falling into a cesspool while taking a crap.  The special effects are impressive and pace is constantly fast, but nonsense is nonsense no matter how one looks at it!
LIMITLESS (USA 2011) ***1/2
Directed by Neil Burger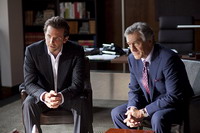 When Eddie Morra (Bradley Cooper) takes the magic transparent pill, he is able to organize and use 100% of the brain thus resulting in LIMITLESS opportunities.  This is the theme of an action, suspense thriller that is smart, entertaining while making the audience think a bit.
LIMITLESS begins with the lead character about to jump off the building.  The events leading to this sorry state of affairs is re-counted and then the film goes further to show how Eddie redeems his fallen self to come back on top.  It is a success to almost failure to success story with lots of action in between.
Eddie is a writer whose girlfriend Lindy (Abbie Cornish) breaks up with him. Eddie believes he has no future, but when a friend introduces him to the experimental drug NZT, Eddie becomes highly focused and highly confident. He is able to recall everything he has read, heard, or seen, and he uses the knowledge to become successful in the financial world. Business mogul Carl Van Loon (De Niro) sees Eddie as a potential tool to make money, but Eddie''s success also attracts hit-men who pursue him for the NZT. Eddie''s stash dwindles, causing him side effects, as he tries to escape being killed.
Cooper is convincing as both the slacker writer and the suave corporate executive.  But it is Robert De Niro that steals the scenes (twice at both confrontations) from under Cooper's nose.  Actress Anna Friel does well too as the dishevelled ex-user of NZT.
Director Burger chooses to use multiple images of Cooper to signify his brain in full throttle mode.  One would question why despite that it all looks quite good on screen.
The film forces the audience to think quite a bit – a good thing considering quite a few Hollywood films these days are no brainers.  (Think the video game and car chase movies.)  When Eddie loses his package of pills, the audience is force to rethink back how Eddie lost his stash.  When Eddie comes up on top of Carl Von Loon, the audience is also forced to recall how and when Eddie improved on the product.
LIMITLESS, upon careful examination is in reality a film about a druggie who makes good.  Like drink, and arguably, cocaine and many other drugs, once under controlled use, the user can benefit from its usage.  Despite its flaws, LIMITLESS still emerges as an entertaining psychological thriller.  Who would not root for a down and out guy who makes it good against all odds?
PAUL (USA/UK/Fr/Sp 2011) **
Directed by Greg Mottola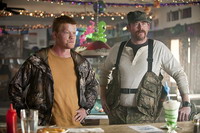 At the film's start, a dog named PAUL is zapped dead by a ray from a flying saucer and the alien landing then caught on with the nickname Paul.
Yes, the above incident is not that funny and neither is the movie PAUL which boasts the director of the really hilarious SUPERBAD.  As PAUL is written by Simon Pegg and Nick Frost, PAUL resembles in comedy with SHAUN OF THE DEAD an HOT FUZZ that the Seth Rogen movies.
The story concerns two nerdy touring Brits Graeme and Clive (Simon Pegg and Nick Frist respectively) whose pilgrimage takes them to America''s UFO heartland. They are there to attend the Comic Con in San Diego.  While there, they accidentally meet an alien who brings them on an insane road trip that alters their universe forever. For the past 60 years, an alien named Paul (voiced by Seth Rogen) has been hanging out at a top-secret military base. When he discovers he''s been taken prisoner, the space-traveling smart ass decides to escape the compound and hop on the first vehicle out of town-a rented RV containing Earthlings Graeme Willy and Clive. Chased by federal agents led by Agent Zoil (Jason Bateman) and the fanatical father of a young woman that they accidentally kidnap, Graeme and Clive hatch a fumbling escape plan to return Paul to his mother ship. And as two nerds struggle to help, one little green man might just take his fellow outcasts from misfits to intergalactic heroes.
All this sound funnier than in execution.  Mottola's film is an undisciplined mess with jokes and plot all over the place.  The feeling is that the jokes are made up as the film rolls along as a lot of them have nothing to do with the main plot.  There are a lot of jokes on Comic Con, on road travelling Nevada and on alien paraphernalia.  The film also contains more swearing than necessary and an alarming number of weed related jokes.
Near the end of the film, oddly enough the film does away violently with quite a number of the key characters.  The climatic parts involving the return of Paul to the spaceship and the appearance of the Big Guy (Signourney Weaver) are more show than fun.  The romantic bit involving Clive is unnecessary and out of place.
PAUL ends up at the end as a major comedic disappointment.  One expects better from the collaboration of Simon Pegg and the Seth Rogen gang.
A SCREAMING MAN (UN HOMME QUI CRI) (France/Chad/Belgium 2010) ***
Directed by Mahamat Saleh Haroun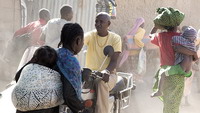 Set in the background of a generation long civil war, A SCREAMING MAN is a drama that centres on a family and the effects the war has on the father as a result of personal decisions.
The father (Youssouf Djaoro) loses his esteemed position of the second pool attendant and demoted.  As the pool is all his life – he as a champion swimmer and the first pool attendant in Chad, he regains his position but has to send his son (Diouc Koma).  But dire consequences force him to re-evaluate his decision.
Things have not been going well for the father in his later years.  On the personal level, he is losing his swimming touch, as indicated at the film's start in a test of strength with his son, as the two compete who can stay underwater for the longest time.  He still enjoys good times with his wife and family – and a good relationship (especially with his son), but his pride gets the better of him, especially in his work.  The unrestful background makes an impression on the man's life.  Haroun's quiet tale is a moving and important one concerning pride and what is most important to ones life.  The message is effectively delivered in his film by the last reel which fades to total darkness.  Haroun's film is impressively shot.
The film''s title is a quotation from the poetry collection Return to My Native Land by Aime Cesaire.  The full sentence is "A screaming man is not a dancing bear". Haroun says that the main character Adam is "screaming against the silence of God, it''s not a scream against adversity"
The film which was screened at 2010 Cannes went away with the Jury Prize.
WHEN WE LEAVE (Turkey/Germany 2010) **
Directed by Feo Adalag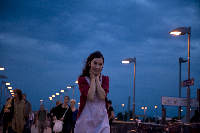 Based on a highly publicized honour killing in Berlin in 2005, WHENWE LEAVE stars Sibel Kekilli as Umay, a young Turkish Muslim woman who courageously decides to leave her abusive husband in Istanbul and join her family in Germany with her young son.
Her re with her parents and siblings soon reveals that cultural ties are strong and her family's love is not unconditional. Umay's struggle for independence in a patriarchal society bound by tradition and pride makes for a passionately dramatic film that provocatively explores issues of family, community values and personal freedom.
But director Adalag shows only the husband pushing Umay and locking the son up in a room and being nice to her (though wanting) sex after, not depicting strong enough reason to the audience for Umay's move.  Also the killing at the end seems contrived and hardly follows the logic of the segments before when the father asks Umay for forgiveness.  Rather uneven, which is a disappointment given the film's important theme!
This film was nominated for this year's Academy Award for Best Foreign Film.
THE YEAR DOLLY PARTON WAS MY MOM (Canada 2010) ***
Directed by Tara Johns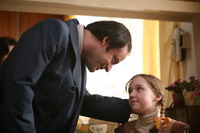 Tara Johns' pleasant enough family drama THE YEAR DOLLY PARTON WAS MY MOM is a coming-of-age drama that's sprinkled with humor and fuelled by Dolly Parton songs.  It tells the story of a young girl who discovers that her whole life has been a lie.
A 1976 period piece shot beautifully in the Canadian prairies, Elizabeth (newcomer Julia Stone) is just your average suburban 11-year-old, praying for adolescence to arrive.  Although women's lib is afoot, her parents Marion (Macha Grenon ) and Phil (Gil Bellows) are typical of the time, a stay-at-home mom and a working dad.  Marion in particular hates change, even the digital clocks that Phil brings home.  But the family's status quo is shattered when Elizabeth realises she was adopted.
With only her imagination to guide her, Elizabeth gets all dolled up like her
idol Dolly Parton and runs away to find her real mom who she thinks is Dolly.  And with sound enough reason. When Marion pursues her, what ensues is a cross-country trek by a mother searching for a daughter who is searching for a mother – both of them really searching for themselves.
The suspense takes the form of the two trying to get tickets in time for the Dolly Parton concert.  Tara's film is a little too pleasant.  When the mother and daughter have their big fight, the only big thing that happens is the bicycle thrown down the cliff.  Even the mother appears smiling too much during the arguments.
Dolly Parton not only granted permission to use her name, image and music,
but also agreed to do the voiceover (very effective and makes the movie) for the film's ending.   The soundtrack includes original recordings by Dolly Parton, as well as five Parton songs re-recorded by Canadian artists Martha Wainwright, The Wailin' Jennys, Coral Egan, Nelly Furtado and Franco-Manitoban singer-songwriter Geneviève Toupin.
BEST BETS OF THE WEEK:
Best Film Opening This Week: Limitless
Best Films Playing: The Social Network/The Illusionist/True Grit/Another Year
Best Family: Rango
Best Documentary:Inside Job
Best Foreign: Incendies
Avoid: The Dilemma