06
Apr
2011
Details

Category: Movie Reviews
Written by Meres J. Weche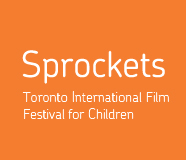 Sprockets, the annual Toronto International Film Festival for Children and Youth launched this week. Running from April 5-17, the 14th annual Sprockets festival, the biggest programme yet, will screen more than 100 films, from 28 countries and in 20 languages. A combination of screenings and on-site activities at TIFF Bell Lightbox, Sprockets seeks to engage, educate and entertain youth of all ages through the magic of cinema. Particularly focusing on children aged 3 through 18, the festival is an interactive and hands-on experience which establishes concrete interactions between youth, educators, filmmakers and the craft of cinema.
Throughout its existence, Sprockets has featured films addressing a variety of contemporary social issues confronting youth from around the world. "We're very pleased to be able to offer our programming over two weekends this year. Themes range from bullying and childhood obesity to dreams of car racing, circus performing and making it big," says Elizabeth Muskala, Director of Festivals and Events, TIFF.
Two films AfroToronto.com wishes to highlight amid this year's impressive programme are: Louder Than a Bomb (99 minutes, USA, 2010) and Soul Boy (60 minutes, Kenya/Germany, 2010).
The power of spoken word
Selected by Oprah Winfrey's "OWN Documentary Club", Louder Than a Bomb is a critically-acclaimed documentary film about the world's largest youth poetry slam event held annually in Chicago. Founded in 2001, the Louder Than a Bomb competition attracts in excess of six hundred teenagers from over sixty Chicago area schools. It's the only festival of its kind and scope in the United-States. From its inception, the slam event has been focused around team performances.
http://www.youtube.com/watch?v=81hXGdFF6TQ
The film makes an important statement about the transforming nature of a cohesive team spirit. We follow a group of very inspiring young people who face various odds. The filmmakers take us into the everyday lives of several students. We find out about their family and personal struggles and delve into how slam poetry helps them to navigate through treacherous waters and make it to the other side.
Be ready to have established conceptions and stereotypes about spoken word poetry taken to task. Louder Than a Bomb crosses racial, gender, religious and class lines to teach us about the universality of creative expression through spoken word.
The boy with a manly soul
Another film we recommend that you catch at the 14th annual Sprockets Festival is Soul Boy. Set in Kenya's impoverished slum of Kibera, Soul Boy is the story of a 14-year-old boy, Abila, who is tasked with the daunting task of saving his father's soul.
Abila was surprised to find his father dazed, confused and bed-ridden with a mysterious illness. His mother brushes it off as a simple hangover but Abila takes his father's seemingly incoherent blabbering seriously. He finds out that his father's soul had been stolen by a Nyawawa, a female spirit.
http://www.youtube.com/watch?v=C1HjUKDzuYM
Abila sets out to find the spiritual woman his father was with on the drunken night when he gambled his soul away. When Abila finds the woman, she tells him that he is just a boy and so can't do anything to save his father's soul. But Abila shows tremendous strength of character and insists on taking on the challenges to redeem his father's flawed soul.
Admiring the young boy's courage, the spiritual woman gives him a series of seven tasks to accomplish. If he is successful in completing all of them by a set time, he will ensure the return of his father's soul.
Remarkably complete in just six weeks, Soul Boy was written by local Kenyan writer Billy Kahora and co-directed by Kenyan-Ghanaian Hawa Essuman and German director Tom Tykwer (of Run Lola Run, fame). The pace of film is indeed reminiscent of Run Lola Run as the young Abila moves from one challenge to the other. It is considered by many critics as one of the best films to come out of Kenya.
All screenings and on-site activities take place at TIFF Bell Lightbox, Reitman Square, 350 King St. West, Toronto.
Visit tiff.net/sprockets, call 416-599-TIFF (toll free 1-888-599-TIFF) or visit the Box Office at TIFF Bell Lightbox, 350 King Street West, Toronto.Tickets are priced at Adult $12.00, Student/Senior $9.50 and Children (12 and under) $8.50. Family packets of 10 tickets are available for $75.00. Visa is the only credit card accepted by TIFF.