This week sees the opening of a number of excellent 4star an above films.  These include HANNA by ATONEMENT's Joe Wright and Greg Araki's KABOOM which opens a retrospective of his films at the TIFF Lightbox.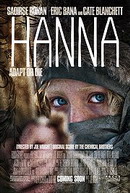 TIFF Sprockets opens this week in Toronto.
Film Reviews:
THE BEND (Canada 2010) **
Directed by Jennifer Kierans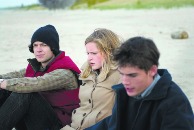 THE BEND is where teen bipolar Mike Campbell (Ryan Kennedy) drowned himself after his prom.  THE BEND is a family drama dealing with the reason(s) for the suicide.  A year after, the family hold a memorandum service ending with the Mike's ashes scattered at THE BEND.
Brother Jason (Adam Butcher) recruits his best pal, Scott (Tommy Lioutas) and brother's girlfriend, Kelly (Sophie Traub) to re-enact that night with the hope of understanding why the death occurred.  Director Kierans' film is a long, tedious journey and provides all the answers at the end (rather too conveniently) but her film plods on without piquing the audience's interest.  The audience is dished a plate full of confrontations between father and mother, the 3 friends and everyone else for that matter.
For a film about bipolar disease and for a director who had a sibling with a mental illness, it is surprising that Kierans does not provide more light into the illness.  One would also expect the family to be more versed with it, as it obvious that it had something to do with Mike's death.  The film hints at medication, behaviour (irritation and slumber) and likely hereditary roots – but that's about it.
Kieran's film looks good but the flashbacks are clumsy and expected just before they appear.  It is very noticeable that the music soundtrack always comes on when the actors start speaking and stops right away when the dialogue continues.  The same occurs right before the end credits come up.
Though the film moves at the pace of an art film, the youngsters are fairly believable in their roles.  One could do more with the father character as Peter Keleghan portrays him as a disturbed man who could harbour a secret or two.  Leah Pinsent who plays the mother appears to be doing Dianne Wiest impressions.
All goes back to normal after that enactment night.  Would things have been any different if no questions were answered?
HANNA (UK/USA/Germany 2011) Top 10 *****
Directed by Joe Wright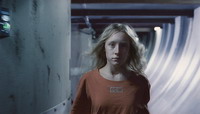 The title character HANNA (Saoirse Ronan) is a teenage girl with the strength, stamina, and smarts of a soldier; these come from being raised by her father (Eric Bana), an ex-CIA agent, in the wilds of Finland.  The film was actually shot in sub-zero temperatures there.
Her upbringing and training have been one and the same, all geared to making her the perfect assassin.  The film traces her escape back into human society while being hunted down by a most ruthless intelligence operative, Marissa (Cate Blancett). As she nears her ultimate target, Hanna faces even more startling revelations about her existence and unexpected questions about her humanity.
With a story as simple and bare as this one, most directors would fail to hold an audience's attention throughout the film.  But director Joe Wright is no such failure as evident in one of the best films in the last decade ATONEMENT which also starred Ronan.  In ATONEMENT, Ronan played an innocent who destroyed the lives of two lovers by a lie.  In HANNA, she also plays an innocent but one whose life has been destroyed by the lies of others.  Ironically, she has to adapt or die.
The film takes its time to establish a sure footing.  This occurs once Ronan meets up with a family and makes her first human best friend.  From then on, it is her journey of discovery meeting up again with her father and then killing off her predators.  Story is that simple.  But Wright's film is a power punch from images, cinematic poetry, emotions, characterizations down to the awesome stringy music and sounds by the Chemical Brothers.  At one point in the film, Hanna questions: "What is music?"  The answer is realized in the music form of the Brothers!
Wright demonstrated his cinematic poetry in one key segment in ATONEMENT. In one single long take of the British soldiers waiting aimlessly in Dunkirk, France to go home, Wright's camera swept through a chorus of singing soldiers, flogging of a horse, drinking soldiers in a pub to a merry-go-round.  In HANNA, Wright contrasts the emptiness of the human soul to that of a deserted amusement (Grimm's fairy tale) park with broken animal fixtures and with a gaping mouth through which a roller coaster would exit.  Another unforgettable scene has Hanna enter a house to have the image all turn red as she discovers the horror of a corpse hanging in front of her.  Wright claims loving David Lynch films like BLUE VELVET and THE ELEPHANT MAN and the influences are clear here (sample: the flickering fluorescent lights in a Moroccan house.)
Ronan plays her role straight as does Bana while most of the other cast appear to having a fine time hamming it up.  Blanchett goes over the top in her wicked witch role (she enjoys drawing blood from cleaning hr teeth) and Brit Tom Hollander does a really scary turn as a sadistic hired killer with the creepiest smile (and a haunting nursery rhyme tune to match whenever his character appears) to be seen on screen for a while.
HANNA should be seen for what talent can still achieve with a minimal story.  The result is pure cinematic bliss!
KABOOM (USA 2011) ****
Directed by Gregg Araki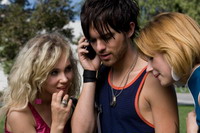 Awarded at Cannes for the first time for its contribution to gay, lesbian, bisexual and transgender issues, KABOOM (the sound of an explosion) is likely the coolest film one would see this year.  Sample the first 15 minutes of the unforgettable mind blowing opening dream and fantasy sequence in the film, and one would know what I mean.
KABOOM is a science fiction film that will keep you totally glued to the screen for its inventiveness - never mind its occasional silliness in plot or ending.  The film's set-ups, characters and dialogue are so spot-on and insightful that no one could come up with anything cooler.  The story centres on Smith (Thomas Dekker), an 18-year-old film student who identifies sexually as "undeclared"with a strong sexual appetite, swinging both ways, though mainly gay.  Though a girl is slaughtered on campus by figures wearing animal heads, Smith still finds time to watch porn, fantasize over his roommate, internet date and have sex with an assorted group of newcomers.  Araki's film is very funny, fresh and full of highs.
His best friend Stella (Haley Bennett), a lesbian, is every bit as eager to obtain new partners, always has the right thing to say and knows 100% what is happening around her.  Except for her relationship, which is totally f**cked up.  What was initially a 5 hour sexual orgasm turns into a nightmare as her lover with supernatural powers will not let her go.  Smith begins having recurring dreams featuring two beautiful women, one dark and one with red hair. The women from his dreams begin appearing in his waking life, leading Smith to wonder whether he has discovered a potentially world altering conspiracy, or is just dealing with the consequences of hallucinogenic cookies he ate at a party.
Araki's actors are all gorgeous to look at from Dekker as Smith to Chris Zylka as Thor, who looks like the God Thor, only more beautiful.  His hunks are hunks, girls and boys all poster pinups.  His staple actor James Duval, from his previous films has a small role as the Messiah
A blend between his last serious MYSTERIOUS SKIN and his absurdist less disciplined earlier works (THE DOOM GENERATION and TOTALLY F***ED UP), KABOOM shows Araki at his playful best while continuing to show off his talent as an excellent filmmaker.
RUBBER (France 2010) *
Directed by Quentin Dupieux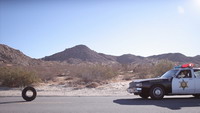 A sort of road movie about a killer tire, perhaps director Dupieiux thought his film might begin his film career like DUEL did for Steven Speilberg. He pays a nod to Spielberg at the start of his film – perhaps for good luck!
The film begins with a patrolman delivering a 5 minute spill to the audience.  Why is E.T. brown?  Why are the two leads madly in love with each other in LOVE STORY?  The answer – no reason!  The audience learns at the end of the too-lengthy monologue is that the film is a homage to 'No Reason'.
RUBBER is a quirky thriller comedy about a killer tire.  The story is set in the California desert.  A group of people have been recruited to watch a film out here.  But is it really a film?  Or is it actually a real event?   Armed with binoculars, the onlookers spot an old rubber tire that's half-buried in the sand.  The tire (which is credited as "Robert") manages to free itself and, after a few wobbles, gets rolling along.  It turns out that the tire possesses psycho-kinetic powers that allow it to blow up anything that gets in its way – including a beer bottle, a rabbit, a crow and, before long, human heads.  When it becomes attracted to a pretty young woman (Roxanne Mesquida), the tire follows her to
a motel, where it holes up in a room, watching TV and taking a shower – that
is, until the maid discovers it.  The tire has just begun its path of destruction.  All this might sound really cool on paper, but the film is so slow and badly edited, he film comes out as downright boring with poor looking production values.
Mostly eschewing CGI effects, Dupieux apparently achieved the tire's actions
by two methods.  In many scenes, the tire is a puppet that's manipulated much
like a regular hand puppet.  In the rolling scenes, it's a remote-controlled tire.
Is the tire destroyed at the end?  Well, Dupieux sets the audience for (Heaven help us) sequel!  Worst of all, he does not know when to end his film and the film just goes rolling on and on and on.  One of his characters says at the end of the film, that the tire should be quickly blown up with no silly delays and plots.  If only Dupieux heeded this piece of advice.
RUBBER 'wears' its novelty premise out very early.  Neither funny, scary or the last bit entertaining, one wonders how this film got made in the first place.  No reason!
SOUL SURFER (USA 2011) ***
Directed by Sean McNamara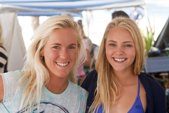 SOULD SURFER is a sports injury drama which documents the comeback to fame and winning after teen surfer Bethany Hamilton (AnnaSophia Robb) loses an arm in a shark attack.  The phrase 'based on a true story' flashes on the screen implying that the filmmakers have taken certain liberties (which we can only guess) with the story.
This is the kind of film many would avoid – I definitely being one of them.  Predictable, clichéd, over melodramatic and manipulative, films of this genre are the most brutal for a reviewer to sit through.  For SOUL SURFER, writer/director McNamara has surprisingly done quite a good job with the material aided by very enthusiastic performances by stars as Dennis Quaid and Helen Hunt playing Bethany's surfing parents, who besides donning hard bodies perform surfing stunts as well.
SOUL SURFER only suffers during its ending one third when the audience knows that Bethany has to make her comeback with the film documenting her comeback, complete with the typical lines, as "Your family is behind you", "You cannot give up" and the like.  The first half of the film when McNamara is given free reign of the material is the most interesting with him charting the daily routine of the surfer family.  Who can complain of a film containing great surfing segments filled with sexy hard bodies of both sexes?  The logic of Beth insisting of surfing with one arm, coming from such a lifestyle is totally convincing.  The 15 minute sequence following the shark attack is executed film text book style with blurred images, jittery camera, a combination of slow and fast motion and odd disturbing music.  The surfing and underwater sequences are impressive and exciting enough even for the seasoned surfer.
The film contains sequences of the Hamilton family attending church services, saying grace during dinner and Bethany attending a mission training session.  One can see the strength of Christianity playing a great part in Bethany's comeback but this part is played down (example: there are no scenes o the family or Bethany praying to the Lord) considerable, possibly for the film to reach a larger audience.
As expected in films of this sort, the end credits show the real life Bethany Hamilton with the real Hamilton family.  Unsurprisingly, the real family looks quite similar to the actors in the film.  SOUL SURFER is a credible enough film that shows how a family can bond and help a member in dire distress.  And with the help of Christianity too!
YOUR HIGHNESS (USA 2011) **
Directed by David Gordon Green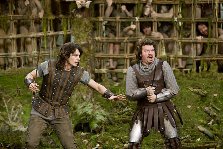 As the film YOUR HIGHNESS begins, the voiceover announces: "Throughout history, tales of chivalry have burnished the legends of brave, handsome knights who rescue fair damsels, slay dragons and conquer evil…. and all that sh**".  It becomes clear with that opening and a few bad unfunny jokes as starters (involving animated credits); director Green is desperate and drawing at anything (even Monty Pythonesque) for a laugh or two.
YOUR HIGHNESS (unimaginative title hints at film being bad) is a medieval comedy fantasy centering on Thadeous (Danny McBride) an arrogant prince who, with his brother Fabious (James Franco), must go on an epic quest in order to save their father''s kingdom.  They are saved at one point by Isabel (Natalie Portman), a warrior princess who becomes the lazy prince''s love interest.  In fact any female walking on two legs is the lazy prince's love interest.  Leezar (Justin Theroux), an evil wizard who kidnaps Belladonna (Zooey Deschanel), Fabious' virginal bride.
The best thing about the film is the action set pieces.  The fights, especially with monsters are impressive well executed complete with pyrotechnic special effects.  On the characterizations and comedy departments, the film does not do that well.  The jokes are more miss than hits (there were only 2 laugh out loud moments for this reviewer) and the lazy humour always bordering on Thadeous' laziness gets more annoying.  Also, it is hard to root for a character with so few redeeming qualities.  James Franco does much better outshining McBride, just as he did outdo his co-star Seth Rogen in PINEAPPLE EXPRESS, a much, much funnier film also directed by Green.  The romance between Portman and McBride is more embarrassing that Thadeous' rubber Minotaur dick worn around his neck.
YOUR HIGHNESS is not really bad as an action fantasy film.  The story is good and the plot solid with sufficient novel ideas (like the monster dragon hand puppet).  But as a comedy which is what YOUR HIGHNESS is supposed to be, the film fails miserably with infantile (the Yoda pervert) and gross (the minotaur's penis) stoner (Thaddeus is seen smoking up about half dozen times) jokes.
BEST BETS OF THE WEEK: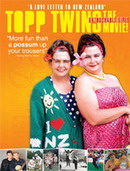 Best Film Opening This Week: Hanna
Best Film Playing: Hanna
Best Horror: Insidious
Best Family: Hop
Best Documentary: Topp Twins: Untouchable Girls
Best Foreign: Winter in Wartime
Avoid: The Dilemma