The only big Hollywood film opening this week is AFRICAN CATS.
The Bell Lightbox in Toronto is having a limited run of Wong Kar-wei's classic CHUNGKING EXPRESS.  Cinematographer Chris Doyle will be present.  A don't-miss event!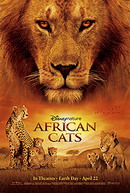 AFRICAN CATS (USA 2011) ***
Directed by Keith Scholey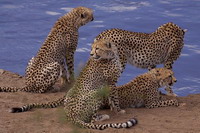 Another Disney wildlife adventure opens April 22 to coincide with Earth Day 2011.  AFRICAN CATS is more entertaining and gripping than the other water Disney films (OCEANS and EARTH) as AFRCIAN CATS has a stronger narrative with a plot involving a mother keeping a family together.
'Mother and child' appears to be the theme in AFRICAN CATS. The stories intertwine between two cat families in Africa.  One is Mara and her aging lion mother as they strive to be accepted in their pride of lions while the other is a single mother cheetah, Sita priming her cubs for survival.  The dedication of the mothers is extremely moving.
As in all wild life films, the killing of another animal (predator versus prey) comes into question.  In AFRICAN CATS, the impact is lessened with the reason that food is needed for the cubs or the cubs will starve.  Scholey also keeps the blood mainly off screen.  One killing of a gazelle occurs behind a mound, and if any blood need be shown, it is only around the mouths of the lions.
Most of the scary parts appear off screen as well. When the voiceover informs that mother Sita has lost three cubs to the hyenas (not shown at all) or that Kali, the fierce lion will return for another fight, the audience can only sit back in fear.
Scholey's film contains a few scenes with birds dancing.  But generally, there are fewer detached distractions that in the other Disneynature films EARTH and OCEANS.
Oscar nominee Samuel L. Jackson narrates with a full resonating voice, carefully pronouncing all his syllables, sometimes too obviously.
AFRICAN CATS is entirely shot in the reserved national park of Kenya where they live and breed.  Scholey's film is pretty serious stuff.  The only humour occurs at the end with a few childish mock end credits.
BILL CUNNINGHAM: NEW YORK (USA 2010) ***
Directed by Richard Press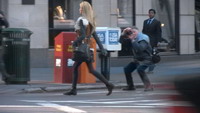 The beginning of Richard Press' documentary sees an 80+ year-old man photographing beautiful women at random on the streets of New York.  To the unfamiliar, he might appear to be a dirty old man, but he is in reality Bill Cunningham, famous New York Times photographer and fashion writer.
For decades, Schwinn-riding cultural anthropologist Bill Cunningham has been obsessively and inventively chronicling fashion trends and high society charity soirées for the Times Style section in his columns "On the Street" and "Evening Hours." Director Press paints an informative homage to this man and shows too, his true qualities as a human being dedicated to his work.  Press reveals Bill as a vocal yet very private man.  One can likely guess that Bill did not want too much of his background (like family, love life) on display.  That works too for the film as the film's intent to illustrate the man's work and genius with as few distractions as possible.
Interviewees chosen to speak their love for Bill include Vogue editor-in-chief Anna Wintour, author Tom Wolfe, actress Brooke Astor and David Rockefeller.  But the most fascinating part of Bill is his principles.  He takes no money as he believes that being paid takes away his freedom to do what he wants with his work.  When evicted, he says that as long as his new place does not interfere with his work, he is satisfied.  The dozens of rows of filing cabinets storing all his photographs and negatives in his one room apartment attest to both the man's dedication and eccentricity.
Many documentaries are as fascinating as its subject.  Fortunately, Press' subject is a lively, charismatic, totally likeable and humble genius.  Press allows the material to flow freely and the film works as both entertainment and education.
CHUNGKING EXPRESS (Hong Kong 1994) *****
Directed by Wong Kar-wei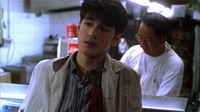 CHUNGKING EXPRESS is the film that inspired filmmakers like Quentin Tarantino and it is not difficult to see why.  Director Wong breaks all the rules to deliver this giddy colourful palette of cinematic mastery combined with a mesmerizing soundtrack of old hits and a crazy story (in fact two stories).
The two stories are told in complete sequence, once after another, with little connection, except that if one is attentive enough, one will see three characters in the second story appear briefly in the first.  Both stories are of cops falling out of love.
The first is cop, He Qiwu, also known as Cop 223 (Takeshi Kaneshiro) Qiwu''s girlfriend May (never shown on screen) broke up with him on April 1.  He chooses to wait for May for a month before moving on. Every day he buys a tin of pineapple with an expiration date of May 1. By the end of this time, he feels that he will either be rejoined with his love or that it will have expired forever.  If all this does not make any sense, it gives Wong an excuse to film him roaming around the streets.  But best is the unrelated story of a woman in a blonde wig (Brigitte Lin) surviving in the drug underworld after a cocaine smuggling operation goes sour. Again this story makes no sense but it gives way to one of the most enormously satisfying chase on screen.  At first using hand held camera, then stop motion, the images on screen are nothing less than stunning.  The colour of the woman's bright yellow dress as she outruns her predators intermingled with the neon lights and signs of the underground is also pure cinematic delight.
The second story involving an unnamed Cop 633 (Tony Leung) similarly deals with a breakup, this time with a flight attendant (shown on screen this time as Valerie Chow). He meets Faye, the new girl at the snack bar (Faye Wong) who secretly falls for him. Here, Wong uses the song California Dreaming to enhance the story of the two new lovers.  The second story has a stronger narrative but lacks the cinematic energy of the first.
CHUNGKING EXPRESS, has been said to require multiple viewings and this is correct.  Cinematographer Chris Doyle who has worked with Wong in many of his films will be present for a Q and A for a special presentation of this film at the TIFF Lightbox.  Needless to say, this event is not to be missed!
THE HIGH COST OF LIVING (Canada 2010) **
Directed by Deborah Chow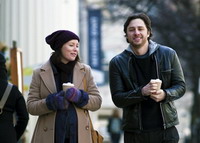 Drug dealer hit and runs pregnant woman causing her to lose her child.  Torn with guilt, he meets up with her and consoles her over the loss of her child and breakup of her marriage.  She finally finds out and he declares his love for her though she cannot forgive him.
That simply is the story for Deborah Chow's debut feature THE HIGH COST OF LIVING.  Not that the whole story is given away in the review, but one can guess exactly where the movie is heading after the very first 10 minutes.
As the film title implies, there is a high cost (emotionally) involved in living.  Each character has his or won demons to exorcise and to director Chow's credit, she allows each character to have their say before letting the audience take sides.
Chow's film is eclectically shot in French and English with Zach Braff from GARDEN STATE playing Henry opposite Quebecois actors Isabelle Blais and Patrick Lubbe.  Production values are impressive from the cinematography (especially the night shots), music and sets.
But the trouble of the film, besides its predictability is its depressing theme.  It doesn't help that Chow's script is devoid of humour.  The characters smile a bit, but that does not really count.  No one wants to spend money or an evening out watching a depressing film.  The fact that the film won the Best Canadian First Feature Prize at the Toronto International Film Festival last year and that the film was voted top 10 Canadian films might help bring in more box-office revenue.
LOST JOURNEY (Canada 2010) **
Directed by Ant Horasanli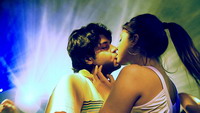 Arriving in Toronto from Iran, 19-year-old Pedram Abasi embarks on a journey shared by millions of people every year, adapting to a new language and culture. His aunt and uncle take him in and are delighted by his progress, until he meets Nima and Chrissy, who introduce him to a world of all night raves, promiscuous sex, and taking Ecstasy till sunrise.
As the title implies, it is a lost journey for Pedram, unless he can recover and put his life back in track.  His spirit is willing but his flash is also weak leaving the film with a sad rather than a predictable happy ending.  It is a dilemma for director/writer Horsasanli which ending would have been worse.
But it is not the ending of the film that is the problem.  The film is disjointed in parts.  The film's start set in Iran where Pedram is saved from drowning has little to do with what takes place in Toronto.  The film also stereotypes clubbing, but at least it points out the fact that Pedram has made the choice to do pills and quite his career goals.  However, the clubbing that Pedram attends at the Warehouse where world famous D.J. Tiesto spins (in fact, he just spun at the place Thursday Apr 21) is a world completely different from any that Iranians have seen.  To say that all 10,000 or so attendees at this trance party are bad does not make any sense.
The club segment and music are well shot as well as the family confrontations.
It is clear the message that Horasanli wishes to deliver – the evil of drugs, drinking and clubbing and the failure of human beings. But he forgets too, that the human spirit is often stronger and more resilient and will more often than not, prevail.  If only he and his film had more faith.
LE RAFLE (THE ROUND UP (France/Germ/Hun 2009) ***
Directed by Roselyne Bosch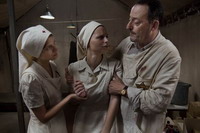 LE RAFLE is the true story of the round up of Jews at the Winter Veldrome before being shipped to various concentration camps.  Of the children taken in, only a handful survived.
Director Roselyne Bosch read the letters thrown onto the tracks by children being sent to Auschwitz and watched Eva Braun''s "home movies". The events and anecdotes recounted in the film are all true, whether they are directly linked to the round-up and deportation of Jews or not. For example, Michel Muller''s brother Jean really did leave him waiting outside his primary school, just as Nono has to wait for his brother Simon in the film. Similarly, their sister, Annette Muller, received permission to go buy a comb and remembers seeing her mother on her knees begging policemen not to take her
children. Thus blending these certain incidents and fiction together, Bosch creates a documentary like feel to her account of the roundup.
The story is told from the point of view of young Jo (Hugo Leverdez) who cheated death by escaping the transition camp before the train arrived to ship all the children to be gassed.  But the main characters are the protestant nurse (Melanie Laurent) working under a Jewish doctor (Jean Reno).
The creation of this piece of history is still disturbing.  The faces of the children separated from their mothers have an astounding effect though most are put on by actors in the film.  Bosch goes a bit overboard with the separation segment as in the end segment with the war over and the nurse looking for lost ones.  The sets and atmosphere of the camps, Velodrome are impressive aided by the costumes and music.
But LE RAFLE offers no new insight of the proceedings except mere hints at who the responsible were.  Still LE RAFLE is a harrowing piece of history well captured on screen.
REPEATERS (Canada 2010) **
Directed By Carl Bessai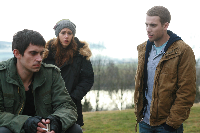 Director Carl Bessai's (EMILE, NORMAL) story concerns three residents in a rehab centre in Mission, B.C. They are granted a rare one-day-pass on a Wednesday to venture back into the world and make amends with those they have wronged.
Kyle (Dustin Milligan) reaches out to his kid sister, who refuses to speak to him. Sonia (Amanda Crew) decides not to confront her ailing, abusive father in the hospital, only to learn later in the day that he has died. Meanwhile, Weeks (Richard de Klerk) is left feeling powerless and quietly enraged after visiting his violent father in prison.  But on the Wednesday, the three get electrocuted during a storm which results in them waking up the next day, repeating the Wednesday they had just gone through – a sort of GROUNDHOG DAY.
The three discover that no matter what they do, they will wake up again on the Wednesday.  So, Kyle and Sonia try to mend their lives while Weeks does the reverse.  Does this film work?  Sadly no!  The film's premise sounds more interesting on paper.  Would you go see a film about a dysfunctional family set in a futuristic society?  There is no point, just as drama does not work in a GROUNDHOG DAY situation.  It is a pity as the three main lead actors are pretty good!  One would imagine the three waking up everyday wishing a good film will come their way.


THE WARRING STATES (China 2010) *
Directed by Jin Chen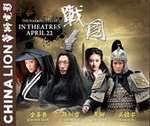 THE WARRING STATES, set during China's Warring States Period, will center on the rivalry between military strategists Sun Bin (Honglei Sun) and Pang Juan (Francis Ng), historical figures that shared an infamous rivalry that involved bitter jealousy, accusations of treason against the state and severe criminal repercussions.
Helmed by former Xi'an Film Studio director Jin Chen, whose credits include Love in the Internet Generation andCrossing Over, The Warring States is a grand historical epic shot in the northern Henan province of China with a cast of pan-Asian stars.
All of the above sounds grand on paper.  But in execution of Jin Cheng's film is a complete narrative mess.  The message of his film is clear at least, that the states should be at peace.  The result is that the military strategist Sun Bin's book is totally destroyed or banned.  (As if that would solve wars!)
The film is also an example of CGI gone mad.  In once scene, tens of thousands of soldiers stand face to face in CGI mastery.  But later in the film when attacks are made to the gate of the state of Qui, it looks like the walls can only hold a thousand people at most.  Other ridiculous segments exist, such as an earthquake scene occurring just so that Sun Bin is saved from his suicide drowning in a pool.  One could hear the audience commenting in the theatre in the equivalent of a Cantonese: "Really?"  The chase scene is even more unbelievable for its sheer silliness.
The costumes, sets are art decoration at least are impressive, especially the make-up of the main lead actresses , though it should make one wonder if such make up existed 200 years b.c.
Running at over 2 hours, the filmmakers must have thought they must have come up with a real winner.  THE WARRING STATES comes a close second to the worst film this year, which also hails from China, Zhang Yimou's A WOMAN, A GUN AND A NOODLE SHOP.
Best Bets of the Week:-
Best Film Opening This Week: Chungking Express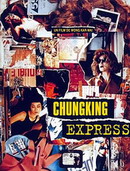 Best Film Playing: Hanna
Best Horror: Insidious
Best Family: Hop
Best Documentary: The Topp Twins: Untouchable Girls
Best Foreign: Winter in Wartime
Avoid: The Warring States