28
May
2011
Details

Category: Movie Reviews
Written by Gilbert Seah
2 sequels KUNG FU PANDA 2 and HANGOVER 2 make their rounds this weekend.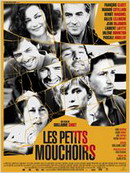 Two French films LES LETITS MOUCHOIRS and L'AMOUR FOU also open.
L'AMOUR FOU (France 2011) ***
Directed by Pierre Thoretton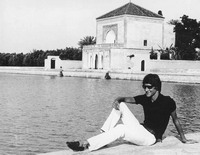 The documentary on French fashion designer Yves Saint Laurent begins at the end of his career and funeral where he is admired by the whole of France for his contribution to haute couture and then backtracks to his life and work.
Director Pierre Thoretton who pieced the film together is an artist and photographer who understands the fashion world.  Though the hard times of Laurent are also depicted, it is mainly his success that is highlighted.  Especially shown is the immense multi-million dollar collection of art objects including paintings by Picasso and Matisse.  Most of these are on show on screen, and observing them is well worth the price of the ticket.
Narrated mainly by Saint Laurent's long time lover and partner, Pierre Bergé, the relationship of some 50 years is recorded.  These are put together primarily from photo stills.  One wishes there would be more film footage of Laurent.  But the film is well put together by Thoretton, chronologically when Saint Laurent was fired by House of Dior in 1960.  Bergé and Saint Laurent founded their own house, where Saint Laurent rocked the
fashion world not only by creating such designs as Mondrian shifts, but also by becoming the first haute couturier to introduce a prêt-à-porter line.
The climax and highlight of Saint Laurent's career is the huge fashion show displayed at the end of the movie featuring 300 world wide models.  The cheesy parts include a performance of the song YMCA by the Village People.
L'AMOUR FOU is a worthy tribute to Yves Saint Laurent, his genius and his collection of objets d'arts.  The bad stuff is kept to a minimum, but one wishes more would be known of the man's character than just the drugs and alcohol he indulged in.
BOBBY FISCHER GAINST THE WORLD (USA 2011) ****
Directed by Liz Garbus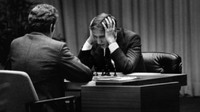 BOBBY FSICHER AGAINST THE WORLD is a documentary of the troubled life of the most famous and notorious chess champion of the world.  If the most interesting subjects make the most interesting films, it is no doubt that Liz Garbus has created one such film.
The height of Bobby Fischer's fame is his world championship match with Russian Boris Spassky.  Reasonably, director Garbus devotes a fair portion of the film's running time to the match, as seen in archival footage.  She recaptures the tension, excitement and madness of the match.
Interviewees include those involved with Fischer in the world competition, his mother and friends.  Fischer though camera shy, appears in the majority of the footage, thus giving the film the feel of a complete whole.
Though Fischer missed a few matches, Garbus makes a point that Spassky did the same.  Though more collected, she hints that Spassky suffers for his genius as well.  Spassky thinks that the Americans are radiating bad vibes at him during the competition.
But Garbus has great respect for Fischer, her subject.  She never judges him, and always allows him to offer an excuse for his behaviour.
Garbus' film is well researched, thorough in execution and well laid out.  Yet something seems amiss and her film comes across as a brilliant account with little insight into the man's illness.  She hints that all geniuses suffer from some form of madness and his loneliness stemming from his mother's lack of devotion.  No messages or lessons to be learnt are provided either, except that a strong family unit is essential to sanity and a meaning in life.
KUNG FU PANDA 2 (USA 2011) ***1/2
Directed by Jennifer Yuh Nelson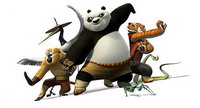 KUNG FU PANDA 2 is the sequel to the computer animated 2008 hit KUNG FU PANDA and it retains most of the original voice characterizations as well as being delivered in the 3D format.
Not that KUNG FU PANDA 2 requires 3D.  The first 10 minutes of the film looks absolutely stunning and unique, because of the Chinese drawings of palaces, costumes and sets.  It helps too that the main character then is a gorgeous looking peacock (Gary Oldman).  The first scenes resemble the antique Indonesian puppetry seldom seen anymore.
Po, the kung fu panda (Jack Black) is now enjoying his statues as a dragon warrior.  With his fellow kung fu masters, the Furious Five – Tigress (Angelina Jolie), Crane, Mantis, Viper and Monkey, they save villages from plunderers.  But  Master Villain, Lord Shen develops a weapon and aims at capturing China and end Kung Fu once and for all.  So, Po and his Furious Five have to save the day, but not without him finding out where his roots are as well as discovering inner peace.
As far as sequels go, KUNG FU PANDA 2 delivers with lots of action, high hilarity and even more amazing animation.
Jack Black, one of the most annoying actors around (see GULLIVER'S TRAVELS and THE PICK OF DESTINY as prime examples) succeeds as Po, as the animation of the cutesy panda hides his irritating behaviour.  As for the other voice characterizations, Jackie Chan and Michelle Yeoh will likely be recognized by Asians, but others like Seth Rogen, Lucy Lui, David Cross and Jean-Claude Van Damme hardly make a dent with their work.
First time director Nelson, who worked on the first film, does a good job the sequel.  It is good to see Hollywood Studios take a chance with new talent.
THE HANGOVER PART II (USA 2011) **
Directed by Todd Phillips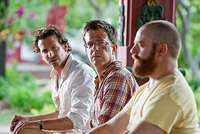 Following the formula of the highly successful 2009 comedy THE HANGOVER, PART 2 follows the misadventures of a wedding party as they wake up (again) after a good drunk to decide what had happened and to make good to attend the wedding ceremony.
This time around, the action takes place in Thailand.  Phil (Bradley Cooper), Alan (Zach Galifianakis) and Doug  (Justin Bartha) travel to Thailand for their friend, Stu's (Ed Helms) wedding.  After the last trouble in Las Vegas, Stu opts for a safe, subdued pre-wedding brunch. However, things do not go as planned after they lose the 16-year-old brother, Teddy (Mason Lee, actual son of director Ang Lee) of the bride's fiancé and somehow wake up in Bangkok.  They have to find Teddy and make it back in time for the wedding.  Which of course they do!
Phillips' film is not that funny.  Drunken escapades are only funny for those who can relate.  The misadventures include babysitting a drug dealing/smoking monkey, aiding a high profile undercover agent (Paul Giamatti), encounters with the Thai underworld like a tattoo artist (Nick Cassavettes) and prostitutes, female and lady boys.  The antics are inventive enough but it would help if they were milked for humour.  The best analogy can be made to the speedboat segment where the three drive the expensive boat aground right in front of the wedding ceremony.  The segment is well planned and executed but hardly generated any laughter.
Ken Jeong as Leslie Chow is the funniest of the characters.  Cooper is the straight lead and Galifianakis the troublemaker is downright annoying.
Like BRIDESMAIDS, HANGOVE 2 lacks a climatic ending.  Both opt for a similar ending with an upbeat musical number.  In BRIDESMAIDS, the Wilson Phillips Band sung live at the wedding and in HANGOVER 2, Mike Tyson sings the Murray Head song "One Night in Bangkok".
But unlike BRIDESMAIDS which was totally hilarious, spontaneous and entertaining. HANGOBER 2 is muddled, all over the place, also crass but generally unfunny.  The ladies have proven that they can do better than the guys in an all out gross wedding comedy.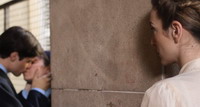 THE INVISIBLE EYE is an extremely tense, allegorical drama set against the backdrop of Argentina's military regime in the early 1980s.
The focus is on Maria (Julieta Zylberberg), a lonely and repressed (both sexually and socially) assistant teacher at an elite Buenos Aires private school.  Her troubles at home include an ailing mother who constantly annoys her with her drinking, smoking and lack of table manners.  Her need for control extends to her school where eager to please the head professor, a patriotic disciplinarian who utters ominous warnings about the "cancer of subversion" she agrees to start spying on her students.   She hides in the boys' washroom to find out who's been smoking.   As her supervisor who has a crush for her says, "She has to stand among shit and piss to do the job".
However, when her surveillance (the invisible eye) starts feeding an unhealthy obsession with one of her students, discipline begins to break down and the rumblings of popular rebellion from the streets start to enter the classroom.
THE INVISIBLE EYE is Lerman's third film and he exercises full control of his movie from the start when the pupils March in line with fixed distance apart.  He builds the film to a terrifying climax in which Maria has to defend herself the best way she can, to the audience's shock.  Maria's personal life is effectively contrasted with the political unrest that is going on in the background.  The end credits reinforce the facts.
Based on Martin Kohan's award-winning novel Moral Sciencesis, an incisive, politically astute portrait of how dictatorship affects even the most intimate aspects of life, THE INVISIBLE EYE clearly hits its mark.
LES PETITS MOUCHOIRS (LITTLE WHITE LIES) (France/Belg 2010) ***
Directed by Guillaume Canet
LITTLE WHITE LIES is an ensemble piece, both sad and funny, of a group of friends gathering on their annual summer holiday by the beach at Cap Ferret, on the south west coast of France.
The title derives from the little white lies each has for each other.  Every one is hiding something from the other, even from a wife or husband.  It is not that they are sleeping around with each other, but the lack of honesty rears its ugly head at the end, as an old friend, the oyster farmer Jean Louis (Joel Dupuch) screams out loud during the last meeting.
The ensemble cast consists of around 10 or so French actors, the most notable ones outside of France being Francois Cluzet and Oscar winner Marion Cotillard.  Running at 2 over two and a half hours, the time flies as the characters, when not arguing, are having a good time, which rubs off on the audience.  The boat trips, water-skiing and great holiday beach scenery helps as well.
The serious bits involve one married male, Vincent (Benoit Magimel) declaring his love for Max (Cluzet), who owns the holiday house though he insists it is not a gay thing.  Two other guests Antoine (Laurent Lafitte) and Eric (Gilles Lellouche) have girl problems and the girls are not showing up at the house.  But it is Max that is totally under stress.  All this is made worse with their best friend and sort of father figure (though never shown on screen why), Ludo (Jean  Dujardin) being in critical condition at the hospital due to a moped accident, while everyone is else is having a good time.
As the melodrama unfolds one incident after another, one wonders how writer/director Canet would end his movie.  He pulls a good climatic surprise with the sudden death of Ludo at the hospital.  In fact Canet is expert at pulling little surprises like Vincent's confession and Ludo's accident at the film's start.  But the overwrought and overlong eulogy diminishes the film's effect to the point that the audience wonders when it will all end.
Still, LITTLE WHITE LIES is an entirely watchable ensemble romantic comedy/drama piece.  This is the type of film Hollywood has attempted to do ever so often and have never been successful.
BEST BETS OF THE WEEK: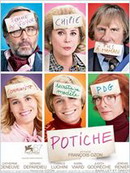 Best Film Opening This Week: Les Petits Mouchoirs (Little White Lies)
Best Film Playing: Hanna
Best Horror: Insidious
Best Family: Hop
Best Documentary: Bobby Fischer Against the World
Best Foreign: Potiche
Avoid: Last Night