Opening this week is the prequel of prequels X MEN: FIRST CLASS.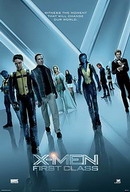 Also in Toronto at the TIFF Bell Lightbox is the screening of Terrence Malick 4 films.
GOOD NEIGHBOURS (Canada 2010) ***
Directed by Jacob Tierney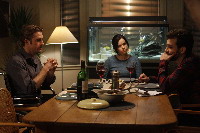 Set in 1995 in Notre-Dame-de-Grâce, a decidedly rundown Montreal neighbourhood with some very unusual inhabitants, GOOD NEIGHBOURS is writer/director Jacob Tierney's follow-up to his last TROTSKY, also starring Jay Burachel.
Again, Jay Burachel plays a man trying desperately hard to blend into his social surroundings.  Victor (Jay Baruchel) is an overly friendly elementary school teacher who's desperate for human contact when moving into his new apartment building.  His neighbours include Louise (Emily Hampshire), a waitress in an otherwise empty Chinese restaurant, has a rather unhealthy attachment to her cats and wheelchair bound Spencer (Scott Speedman), a caustic widower distraught after losing his wife in a car accident.  In the mean time, a serial killer is making his rounds raping and killing innocent women in the village.
But GOOD NEIGHBOURS is less a thriller than a drama.  The tension of Victor the new intruder who disturbs the status quo of the building tenants causes havoc.  Spencer takes a dislike to Victor while he falls for Louise.  Her cats really annoy a grouchy cursing tenant who poisons them.  As the serial killings escalate, Louise takes vengeance in her own hands.
If all the incidents sound really twisted, writer/director ups the angst be creating an even more morbid atmosphere.  The colours, lighting and sets always look grim.  The characters are all down right nasty.  Even the nurse who tends to Spencer is a nosy busybody who is despised by her patient.  The landlady is a gossip; Louise is always irritated and Victor is too annoying friendly.  Even the cats are mean spirited, with one finishing off the fish in an aquarium.
Tierney keeps his humour in tow.  The rare funny bit has Louise complain that the serial killer could have a silly name like Roland, only to have the detective later handing her his calling card that bears the first name of Roland.
Tierney could have sped up the pace of the film's climax which included a fight scene.  His film is too monotonously paced.  Though set in Montreal, the film would be more conveniently set in an English speaking Canadian city.  The film is largely in English except for a very few French lines.  One would wonder that the curse word 'tabernacle' is so commonly used!
There is nothing really wrong with GOOD NEIGHBOURS.  The film is well made and Tierney achieves what he wishes his film to accomplish.  However, GOOD NEIGHBOURS, or what would be more appropriately called BAD NEIGHBOURS would be recommended to those who like their entertainment really bleak, like with a dash of cyanide!
MIDNIGHT IN PARIS (USA/Spain 2011) ****
Directed by Woody Allen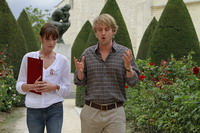 In the words of Woody Allen himself, his films (his last two films VICKY CRISTINA BARCELONA and YOU WILL MEET A TALL DARK STRANGER, for example) are almost always about unfaithful men who cheat and the poor ladies that have to cope.
In MIDNIGHT IN PARIS, the protagonist, Gil (Owen Wilson) cancels his engagement at the end of the film, but Allen is more sympathetic this time.  Gil is perfectly justified in it.  His fiancée Inez (Rachel McAdams) scoffs at his ambitions, ignores his thoughts and even cheats first with an old friend, Paul (Michael Sheen). MIDNIGHT IS PARIS is different Allen. It is a fantasy film for the inner Allen.  Gil, the writer like Allen, is successful at film scripts but his first novel lacks the insight and forcefulness of a strong character.
MIDNIGHT is a romantic comedy about an engaged couple, Gil and Inez in Paris.  They accompany Inez's parents on business to Paris.  Gil is struggling to write his first novel while Inez wants to party with her friends.  Gil ends up taking a walk after midnight on his own, when he is transported into the fantasy land of the roaring twenties.  He meets and is enchanted by Adriana (Marion Cotillard).
Allen must really adore Paris.  The first ten minutes of the film are devoted to the familiar sights around Paris that include the Seine, the Sorbonne, the arc de triomphe, the Eiffle Tower (naturally), the Pigalle area, the parks and other arrondissements.  The titles say that daytime in Paris is enchanting and charming but after midnight, Paris is magic.
It is indeed magical in the movie.  Most of the action takes place after midnight when Gil enters into the new fantasy world of the roaring twenties meeting famous literary icons as Hemingway (Corey Stoll), Dali (Adrien Brody in fine comedic form), Fitzgerald (Tom Hiddleston) and Gertrude Stein (Kathy Bates).
But it is Gil's discovery of himself that makes the film most interesting.
In recent interviews with Sight and Sound and Film Comment, Allen said that his present films are more matured and better than his early ones.  This can be seen clearly with MIDNIGHT.  In MANHATTAN, for example Mariel Hemmingway leaves Allen to fly to London for her studies.  Insecure, he wonders to her if she would find someone else.  Her reply: "Have a little faith in people!"  In MIDNIGHT, Allen takes his insecure lead character to a whole journey of new experiences thus discovering himself and his shortcomings.  MIDNIGHT can also be looked at as the antithesis of THE PURPLE ROSE OF CAIRO. The characters in the film come out from the screen to affect the life of the Mia Farrow character.  In MIDNIGHT, the opposite occurs as Gil enters the new world instead.
Allen is in more disciplined mode with MIDNIGHT.  There is less useless banter and less humour.  The jokes are more controlled.  This allows Allen to focus more clearly on Gil's character.  The result is a more overall satisfying and focussed film.  Though MIDNIGHT may appear trivial, the film is almost faultlessly crafted and is one of Allen's best films.
LA PRINCESSE DE MONTPENSIER (France 2011) ****
Directed by Bertrand Tavernier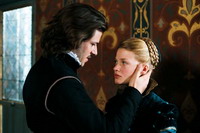 It must be great to have three handsome men at your feet courting you - especially more so if they were royalty.
Marie de Mézières (Mélanie Thierry), a beautiful young aristocrat is in such a 'predicament', and the rakish Henri de Guise (Gaspard Ulliel), fall in love, but Marie''s father has promised her hand in to Philippe de Montpensier (Gregoire Leprince-Ringuet) who she eventually marries.
The story is based on the 17th century novella by Madame de La Fayette.  The story centres on Marie (Melanie Thierry), the teenage daughter of one of the country's wealthiest nobleman.  She is in love with warrior Henri de Guise (Gaspard Ulliel).  A forced marriage to ensure the family's wealth and fights during the 17th century religious wars leaves her with a 2 year absence of sex and want.  When the wars are over, she finds herself the target of several lovers despite her marriage.
Set in France, 1562, against a background of the savage Catholic/Protestant wars and directed by veteran French director Betrand Tavernier (COUP DE TORCHON and L'HORLOGER DE SAINT PAUL), this is French romantic swashbuckling adventure at its best, complete with dialogue (not lost in translation) as polished as in Patrice Leconte's RIDICULE.
All the actors and actresses playing the leads are young, beautiful and handsome.  Their passions are tender and fierce.  The jealousy fight between the Guise (Ulliel), the love interest from A VERY LONG ENGAGEMENT) and Philippe is savage and true and matches nothing seen in Hollywood romantic conflicts.  The battle scenes are excitingly choreographed with sufficient and not too much violence.  Costumes, setting and art direction are close to perfect.
Running a bit long at over 2 hours, Tavernier's film flies and is pure delight, establishing himself once again as France's most respected directors.  The film was originally screened at last year's Cannes film festival.

The film is specially screened at the TIFF Bell Lightbox this week.
LE QUATTRO VOLTE (THE FOUR TIMES) (Italy 2010) ***
Directed by Michelangelo Frammartino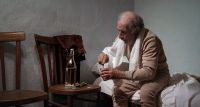 THE FOUR TIMES is an Italian film set in the southern region of Calabria where the director lives.  Simple looking yet complex in theme, the film traces the revolving cycles of existence through the daily rituals of life.
Frammartino's film centres on an old goatherd (Giuseppe Fuda).  He is sick and finds his medication in the dust on the church floor.  When he dies, he is reincarnated in several forms from a baby goat, a fir tree and a lump of coal.  If all this does not make sense, it does not matter as Frammartino's spiritual film is a pensive, spiritual journey unique in its execution and pleasure.
The film consists of many long takes giving it an artistic look.  The humour though slight is present Frammartino style, as in the goatherd's dog who steals the limelight.
LE QUATTRO VOLTE won the Cannes director's fortnight prize for Best European film.
X MEN: FIRST CLASS (USA 2011) ***1/2
Directed by Matthew Vaughn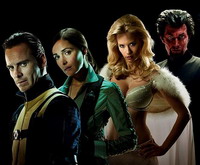 The fifth of the X MEN films and the prequel, X MEN: FIRST CLASS is brave enough to tell the story of the origins of the mutant heroes.
The film begins with two highly charged scenes set in 1944. A young Eric (Bill Milner) witnesses his mother shot by a Nazi officer which unleashes his power for the first time.  This is followed by a scene of a very young Charles Xavier (Lawrence Belcher) meeting reading the thoughts of another mutant stealing food from his fridge.  Eric and Charles are the older Magento (Michael Fassbender) and Professor X (James McAvoy) of the future.  They become good friends and save the world before having their differences that will be magnified in the future X MEN films.
Set in the 60's, the script by Ashley Edward Miller, Zack Stentz and Jane Goldman ties in the current events of the 60's.  The Soviets and U.S. are having their missile war and the villain of the piece, mutant Sebastian Shaw (Kevin Bacon) intends to bring both to annihilate each other so that the human race can be exterminated and mutants grow stronger.  Most of the action is left to the last part of the film.  But the super powers of the mutants are on display and they learn to harness their powers and train to defeat Shaw.
This X Men is pretty tame in terms of sex and language.  The only scene with the 'f' word is the cameo one with Hugh Jackman as Wolverine.
Whether die hard fans will be disappointed or pleased, one cannot complain that this film does not have a good solid story and strong human emotional elements.  And it is these elements that often make a good film like this one.
Best Film Opening This Week: Midnight in Paris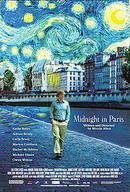 Best Film Playing: Hanna
Best Horror: Insidious
Best Family: Hop
Best Documentary: Bobby Fischer Against the World
Best Foreign: Potiche
Avoid: Last Night