Federico Fellini Films:

For the film programme component of Fellini: Spectacular Obsessions, TIFF Bell Lightbox invited nine luminaries from the film world along with our own TIFF programmers to create a series of double bills that pair a Fellini film with another film that is inspired by, rhymes or contrasts with the Maestro's unique vision.
At the same time, restaurants and other merchants have tied in thir products to the films of Fellini during this season.
For complete list of showtimes, ticket pricing and venue, check the website of TFF at:
Here are capsule reviews of a few of the films:
8 ½ (Italy 1963) *****
Directed by Federico Fellini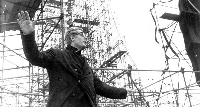 Italian Master Federico Fellini's best film for sure and one that demands repeat viewings for its sheer perfection in every department.  Marcello Mastroianni plays film director Guido (Fellini's alter ego) suffering from director's block.  As his producer, actresses, wife and mistresses pester Guido, Guido fades in and out of reality.  The film's brilliant opening scene (compare this one to LA DOLCE VITA) has Guido floating away in fantasy only to be pulled back into reality by a piece of rope.  The title of the film refers to this being Fellini's eight and a halved film – a short film counting as a half film.
I first viewed 8 ½ when I was much younger and found the film confusing yet fascinating.  This third viewing allows me to finally appreciate one of the greatest works of the cinema.  A MUST for all film cineastes!  Stunning cinematography by Gianni Di Venanzo, gorgeous costume design, sets (especially the rocket launching pad) and an absolute captivating score by Nino Rota.
( Screening at Bell Lightbox, Thu June 30th 630 pm)
BEWARE OF A HOLY WHORE (Germany 1971) **
Directed by Rainer Werner Fassbinder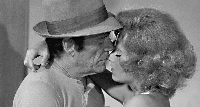 Most established directors have made a film within a film in which a director makes a movie.  BEWARE OF A HOLY WHORE is Fassbinder's as 8 ½ is Fellini's and DAY FOR NIGHT (LA NUIT AMERICAINE) is Truffaut's.  Based on his own bad experiences on the making of a previous film, the story involves a film crew stuck in a villa waiting for its director, script and filming to start.  When the director, a screaming arrogant Jeff (Lou Castel) arrives, everyone wishes he hadn't.  Fassbinder plays Sacha, the producer, always decked out in elegant suits, stylishly smoking cigarettes.  While the crew is not getting on each other's nerves, they abuse the local Spanish staff, get stoned get loud and abusive.  If all this is evening of entertainment for you, then BEWARE OF A HOLY WHORE is your cup of tea.  Though the film gets its point across, and Fassbinder's film has its moments, these are far in between and the film grows tedious and pretentious very early.                                                                                                    ( Screening at Bell Lightbox, Thu June 30th 630 pm; paired with 8 1/2)
LA DOLCE VITA (Italy/France 1960) ****
Directed by Federico Fellini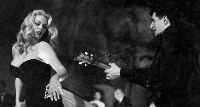 Federico Fellini's sprawling almost 3-hour epic, LA DOLCE VITA of the good life is at times hard to take but one cannot argue that his film of decadent Rome contains images and memories that cannot be forgotten.  Starting with a prolonged segment of a statue of Christ taken out of Rome by helicopter, the scene symbolizes the spirituality and morality taken away to be replaced by a Goddess in the form of an American star played by Anita Ekberg who, in the film's most famous scene, takes a dive into the famous Trevi fountain.  The protagonist, Paparazzi Marcello Mastroianni is puzzled and cannot decide whether to abandon his suicidal fiance for his newly found wild abandon.  Fellini captures the best parties and dancing ever on screen with the film taking away the Oscar for best black and white costume design.  Fellini is in top form here with his wild observations, wry humour and wicked comments.  LA DOLCE VITA is as its title suggests, full of life and much, much more.  This is one film that demands a repeat viewing every decade.                                                                                          (Screenings: Jul 27 Wed 630pm; Aug 13 Sat 730pm; Aug 28 Sun 345pm)
FELLINI SATYRICON (Italy 1969) ****
Directed by Federico Fellini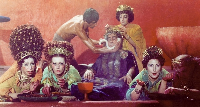 FELLINI SARYRICON, set in 1st Century Rome and based on the written work of Petronius during the reign of Emperor Nero is more Fellini's imagination than anything else.  Fascinated by the gaps in Petronius' lost work, Fellini conjures up an ancient adult piece that is more shocking than anything else.  The film follows the adventures of Encolpio (Martin Potter) hunting and losing and finding the love of his life, a sweet boy who can deliver the sweetest of nights.  Encolpio's best friend Ascilto (Hiram Keller) has stolen Gitone (Max Born) from him. A wrestling match ensues and Encolpio learns that Gitone has been sold to actor Verbacchio (Fanfulla).  A series of adventures occur which takes the audience trough the decadence, excesses and ugliness of the times.  Though difficult to take in, in parts SATYRICON is nevertheless breathtaking, never boring and a feast (though not always nice) to the eyes.  And SATYRICON is most homoerotic film I have ever seen even to this day!
(Screening at Bell Lightbox Aug 26th Fri 6pm)
I VITELLONI (Italy/France 1953) *****
Directed by Federico Fellini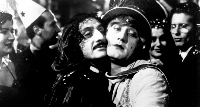 First time seeing Fellini's I VITELLONI, I have not seen a better film this year yet.  The title Vitelloni is translated as idle young men of the provinces.  Fellini's early film traces the lives of 5 young men in the small seaside town in Italy of Rimini.  The film begins with the last summer party of the town where Miss Mermaid 1953 is about to be crowned.  The audience learns that she is expecting with child from Alberto (Alberto Sordi), a perpetual womanizer.  They are forced to marry but Alberto keeps on his horrid ways.  Fellini captures the true atmosphere of the little town and the camaraderie of the five while showing off his genius in filmmaking through his insight, details, humour and sensitivity.  Many taboo issues like homosexuality and religion are also covered with depth and sensitivity.  Each character (except perhaps the tenor) is carefully crafted.  The best part of the film are the carnival and party scenes and many of the camera shots and angles are re-used in Fellini's later masterpieces like 8 ½ and LA DOLCE VITA.  I somehow missed I VITELLONI but am glad I finally got to see this utterly amazing and entertaining film.
(Screening at Bell Lightbox Aug 8th 6.30 pm Monday)
LA STRADA (THE ROAD) (Italy 1954) ****
Directed by Federico Fellini
Leading Lady: Guilletta Masina (Mrs. Fellini)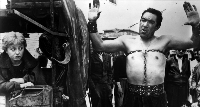 Made in 1954 but released two years later in North America to eventually win the Oscar for Best Foreign Film, LA STRADA or THE ROAD is one of Fellini's films with the strongest narrative.  The story follows the adventures of a not-too-bright but faithful wife (Mrs. Fellini, Guilletta Masina) as she tags along her variety show performer, Zampano (Anthony Quinn in a completely different role) husband.  Zampano claims her as his wife though they never go any formal ceremony.  Masina's simple performance is just super as she makes the movie.  Masina demonstrates strength amidst vulnerability in a quiet yet sad demonstration of loyalty and duty.  Still, Fellini's trademark is all present – made even more prominent since the film includes actors from a real circus.
(Screenings at Bell Lightbox: Sat Jul 9th 5 pm and Jul 30th 415pm)