05
Aug
2011
Details

Category: Movie Reviews
Written by Gilbert Seah
Hollywood biggies opening are RISE OF THE PLANET OF THE APES and THE CHANGE UP.
Also opening are Viva Riva! From the Congo and the rather intriguing THE DEVIL'S DOUBLE with Dominic Cooper.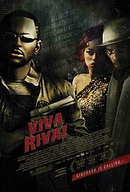 Film Reviews:-
THE CHANGE UP (USA 2011) **
Directed by David Dobkin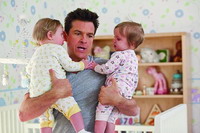 Yet another body switch movie, the comedy genre I normally detest.  This time around the switch occurs between two highly differing males, no doubt to cash in on the box-office potential of recent successes of male oriented comedies like THE HANGOVER.
One can tell that the movie is going to be bad when the film opens with baby poo jokes.  Then when the humour comes and is funnier before the switch occurs, one can anticipate that the film is in trouble.
The problem lies mostly in the film's tried formula.  The awkwardness of being different person in a different body is exaggerated to the highest degree.  Director David Dobkin's film also delves right into the vulgar and crude (especially with the f word) in its desperation for laughs.
The story revolves around two best friends with different lives and personalities.  Growing up together, Mitch (Ryan Reynolds) and Dave (Jason Bateman) were inseparable, but as the years have passed they''ve slowly drifted apart. While Dave is an overworked lawyer, husband and father of three, Mitch has remained a single, quasi-employed man-child who has never met a responsibility he liked.  Following a drunken night out together, Mitch and Dave''s worlds are turned upside down when they wake up in each other''s bodies.  And thus the story goes.
There are a few segments that are genuinely funny (the babies getting in trouble when left alone; the pregnant pcik-up) but the script tends to be focussed on a message that it wants to get across to the audience.  The audience came to see a comedy so forget any clichéd messages!
As for Bateman and Reynolds as leads, Bateman fares the better actor.  He manages to show seriousness and humour in his desperation as well as a maturity in his role and in his character.  Reynolds, on the other hand, comes off as plain annoying, as he plays off his good looks, a ploy that works against him pretty fast.  In fact, Bateman is the only reason the film is watchable.
Director Dobkin has not been known for good comedies.  His I NOW PRONOUNCE YOU CHUCK AND LARRY and THE WEDDING CRASHERS were so-so.  If I PRONOUNCE YOU CHUCK AND LARRY offended with gay jokes, THE CHANGE UP would with its one anti-Semite joke.
As the film progresses, all the clichés fall into place in all boring predictability.  The two has to reverse the body switch (which occurred peeing in a fountain now missing) and who would not guess that the fountain is now relocated where there are loads of people around?
Of all the well known body switch movies such as BIG, FREAKY FRIDAY (including the remake), VICE VERSA, 18 AGAIN and ALL OF ME (my only favourite), THE CHANGE UP lies near the rock bottom in terms of inventiveness, originality but mostly (lack of) humour.
ELI BULLI: COOKING IN PROGRESS (Germany 2010) *
Directed by Gereon Wetzel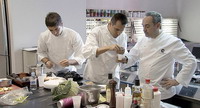 The second food documentary in two years after last year's hit KINGS OF PASTRY, ELI BULLI, ELI BULLI: COOKING IN PROGRESS is unfortunately an uninteresting boring piece.  I have not seen the first but the second assumes the chef's talent and mastery a given.
Documentaries are often as interesting as their subjects.  Despite Eli Bulli's assumed talent, director Gereon Wetzel makes no attempt to show the man in a good light.  In the film, he comes across as arrogant, selfish and self-centred, a terrible boss and a snob.  With this kind of character as a subject, the audience would hardly care whether the restaurant fails or succeeds or whether the man comes up with a new successful menu, which is the man's aim and the film's purpose to show.
The premise is this to show the audience what happens every year with Bulli.  Every October, the renowned Chef Ferran Adrià closes his restaurant on Spain's Catalonia Coast for seven months in order to immerse himself and his staff in his unique food "deconstruction" process, subjecting his ingredients to rigorous testing in order to find the perfect way to prepare them. is a compelling glimpse into the artistic process of a culinary genius.  Wetzel's camera documents the details and tests undergone by chef and staff as they experiment, prepare, cook and document the results of their construction cooking process.  But often, these are only fairly interesting.  Showing preparation on screen without the full results of the cooked dish is hardly intriguing fare.  More interesting is how this man mistreats his staff and acts as a spoilt brat wanting anything he wants at any particular time, sometimes for no apparent reason.
When Chef Ferran Adrià finally opens his new restaurant with his new menu, he briefs his new staff of how perfect everything has to be and how all have to be on their toes.  One can only hope his venture fails so that this man may learn some other important lessons in life.
THE FUTURE (USA/Germany 2011) *1/2
Directed by Miranda July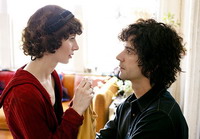 THE FUTURE is the kind of new age comedy drama that tries to be too smart for its own good.  Like films of this nature, it contains quirky characters that no one really cares about and goes about in a funny sort of way that makes no sense or reason.
The premise of the film is what happens when a couple decides to adopt a  cat. Their perspective on life changes radically, literally altering the course of time and space and testing their faith in each other and themselves.  The film is narrated at times by the cat in a childish scratchy voice.  Honestly, do we need this?
The couple, Jason (Hamish Linklater) and Sophie (Miranda July) looks very good together.  He cares (from the events) for her and she loves him.  But the script calls for things to change.  When Jason buys a picture, Sophie discovers a phone number at the back of the drawing and calls it.  The number belongs to the artist, Marshall (David Warshofsky), and older gentleman with whom she begins an affair.  This makes absolutely no sense, as he is older, not really attractive and has nothing to offer her.  Meanwhile, Jason who still loves her and would do anything for her is given the boot.  So, after a while, the audience could not care less about these annoying characters any longer.  Who cares if they get back together or not?  Never mind Sophie spends 5 minutes wriggling around in a tight body suit or buries Marshall's kid in the ground.  Then the cat dies, and one wonders what the purpose is of this whole seeming waste of time exercise.
At one point in the movie, Jason says to Sophie: "You're so weird!  You should see yourself!"  Perhaps director Miranda July should sit back and should herself see the kind of film that she has turned out.
RISE OF THE PLANET OF THE APES (USA 2011) ***1/2
Directed by Rupert Wyatt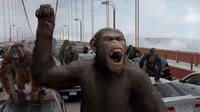 The sequel to the recent PLANET OF THE APES, RISE OF THE PLANET OF THE APES surprisingly has nothing to do with that film.  In fact, it stands pretty much on its own as an independent story, which would lead to the start of that film.
The story is quite simple.  It chronicles the rise of the apes over human beings leading to the planet taken over which would lead to the PLANET OF THE APES movie. That said, one would expect a mediocre story and film with little excitement.  But director Rupert Wyatt and his special effects team have delivered quite the surprise.  Knowing the film's limitations, Wyatt takes his film to a different level, moving the plot at a good pace and keeping emotions running at a high level. This is one film that has the audience cheering for the chimps and hating human beings.  Quite a feat!
It all starts when scientist Will Rodman develops a cure for Alzheimer's.  Testing it on a chimp, Caesar (Andy Sirkis) and his father (John Lithgow), the syrum cures the father but develops incredible intelligence in Caesar.  But Caesar is captured in a violent episode helping the father and locked up with other chimps.  Ill-treatment of the primates develops into Caesar leading a revolt.  At the same time, a virus spreads around the world killing off human beings like flies.  Though the premise sounds hard to believe, Wyatt makes all this credible to the audience.
The CGI team of AVATAR and LORD OF THE RINGS delivers an extraordinary CGI animated Caesar that is unbelievably realistic.  His antics around the house and playpen are smooth.  This more than half makes the movie.  Wyatt (a Brit) has assembled quite the Brit team that includes Tom Felton (HOAARY POTTER'S DRACO), Brian Cox and of course Serkis as Caesar.  But to his credit, he has achieved a marvelous job at putting together a resulting exciting sci-fi film based on otherwise limited material.
VIVA RIVA! (Congo 2011) ***
Directed by Djo Tunda Wa Munga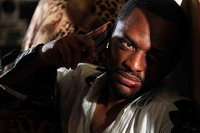 First Congo cinema or the only Congo cinema?  VIVA RIVA! is interesting for the very fact that it is the first film from the Congo to make distribution in North America.  It must therefore be quite a good film.  That, no doubt it is!
The film is a crime thriller that is filled with betrayals, beatings, shootouts and plenty of hot-blooded sweaty sex.
The setting is the DRC capital of Kinshasa, a bustling city that's in the throes of
a fuel shortage. After ten years away, a devilish charmer named Riva (Patsha
Bay) has arrived back in town with a truckload of gas stolen from his Angolan
boss.  Rolling in cash, he's ready to party.  But Riva's troubles begin at a dance
club, where he spots Nora (a stunning Manie Malone) undulating to the music.  No
matter that Nora belongs to a gangster (Diplome Amekindra).  Riva must have her.
She warns him of the danger of touching her but this only results in him presenting her with a diamond ring.  The love affair is steamy enough, the main reason being her firm tits, but given the character of Riva, the audience is satisfied!
But what makes this film tick is the background of the action.  Set in a place unfamiliar to western audiences, Kinshasa (perhaps last seen by filmgoers in When We Were Kings) with some dialogue in Lingala (a language rarely heard in North America), the setting proves more interesting than the plot.  This is a good thing.  Munga also fuels the film with intriguing characters not only like Riva but with a supporting cat that includes Riva's party buddy (Alex Herabo) with a loving wife but mostly a lesbian army officer (Marlene Longage), a wise street kid and a corrupt Catholic priest.                      
The fast moving VIVA RIVA! takes his cue from European and American action films and marks Munga's impressive debut as director.  VIVA RIVA! Went on to win six 2011 Africa Movie Academy Awards (including best film and best director), as well as MTV's 2011 Best African Movie award.  This is a good chance to catch a glimpse of maybe the future of Congolese cinema!
BEST BETS OF THE WEEK: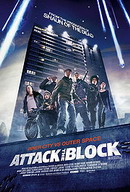 Best Film Opening This Week:  Rise of the Planet of the Apes
Best Film Playing: Attack the Block
Best Comedy: Bridesmaids
Best Family: Harry Potter and the Deathly Hallows Part 2
Best Documentary: Project Nim
Best Foreign: Potiche
Avoid: Eli Bulli: Cooking in Progress