26
Aug
2011
Details

Category: Movie Reviews
Written by Gilbert Seah
Opening this week are THE GUARD, OUR IDIOT BROTHER and the awesome doc CHASING MADOFF.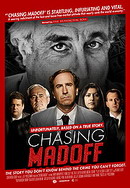 And DON'T BE AFRAID OF THE DARK is there to scare audiences.
CHASING MADOFF (Canada/USA 2011) ****
Directed by Jeff Prosserman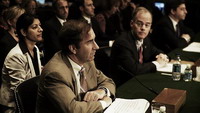 If a documentary is as interesting as its subject, then the doc CHASING MADOFF should have enough material to interest a lot of people as its subject is Bernie Madoff, the man who stole close to $18 billion. 
  As the title implies CHASING MADOFF takes a look at how one investigator, Harry Markopolos spent ten years trying to expose Bernie Madoff''s massive Ponzi scheme that scammed an estimated $18 billion from investors.  If this film is about one man, it is actually about Markopolos rather than Madoff.  The only time the audience sees Madoff is in archive footage. 
   The film includes interviews with Harry Markopolos and fellow investigators Frank Casey, Neil Chelo, Michael Ocrant, and Gaytri Kachroo over how they pursued and exposed Bernie Madoff and his elaborate Ponzi scheme for bilking investors out of $50 billion.  The frustration and work involved is documented and displayed fully so that the audience themselves can get angry at how useless the FCC is in examining Markoplos case.  The scene where the FCC is scolded in court is repeated more than once is evident that Posserman is an angry documentary maker.
But the film goes all out to praise Markopolos as a dauntless hero, which he humbly denies he is.  "I am just doing my job."  But those cheated out of home and livelihood from Madoff's scheme must surely be thankful to Markoplos.  Again, Presserman repeats interviews with the many who have lost everything to make his point. 
The film works more like a detective story than a story about Bernie Madoff the man.  One wishes more information be given about Madoff and how he came across the idea or how he expanded his Ponzi scheme.  Still, Prosserman's aim for his film is something else, which is to document the chase and arrest of Madoff, while igniting the fury of the audience for the government officials who had the responsibility to look after the country's investments but did not do their job.  This job Prosserman more than succeeds.  When the narrator reveals than Madoff will be imprisoned for a lifetime and a half and that Madoff's son committed suicide on the father's first anniversary of his arrest, the audience can only feel too pleased!
THE DEBT (USA 2010) **
Directed by John Madden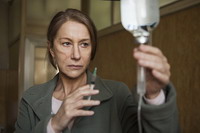 THE DEBT is a remake of the Israeli film HA-HOV (never released in North America) which has the premise of bringing a Nazi criminal to justice.  The criminal in question is Dr. Vogel who has murdered and maimed hundreds of children in his medical experiments during World War II.
In 1966, Dr. Vogel (Jesper Christensen) is practising normal medicine in East Berlin.  The espionage thriller begins in 1997, as shocking news reaches retired Mossad secret agents Rachel (Helen Mirren) and Stephan (Tom Wilkinson) about their former colleague David (Ciarán Hinds). All three have been venerated for decades by their country because of the mission that they undertook back in 1966, when the trio (portrayed, respectively, by Jessica Chastain from the recent TREE OF LIFE and THE HELP, Marton Csokas, and Sam Worthington tracked down Nazi war criminal Vogel  in East Berlin. Things went terribly wrong.  The trio kidnapped Dr. Vogel who eventually escaped.  They claimed he was shot by Rachel while escaping.  Now, after a book has been published by Rachel's daughter, the real Dr. Vogel comes forth to say that he is still alive.  Agent Rachel is forced to pay the debt of the lie by having to kill him.
All this sounds a bit much in plot for the simple premise.  The film, for one shifts too often, uncomfortably between 1997 and 1966.  The script by 3 writers Jane Goldman, Matthew Vaughn and Peter Straughan has too many unnecessary distractions to the plot.  One might excuse the love relationship between Rachel and David and the enmity between David and Stephan for Rachel's affections that piques interest into the film, but the Rachel and the daughter relationship, rekindling of past affairs and the Rachel's claustrophobic outbursts could have been dispensed with.
The actors all speak with Israeli accents, something that makes one feel weird, after seeing Mirren, Worthington, Wilkinson and Hinds in countless other movies.
With the ultra violent and dramatic confrontations towards the ending of the film, THE DEBT loses all credibility as an authentic case in history, something that the film tries so hard to establish throughout.
DON'T BE AFRAID OF THE DARK (USA 2011) **1/2
Directed by Troy Nixey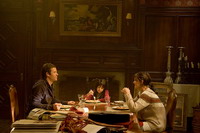 A remake of the ABC TV horror movie of the same name, DON'T BE AFRAID OF THE DARK is interesting primarily because it is co-written by Guillermo del Toro who directed the highly critically acclaimed PAN'S LABYRINTH.
The story of DON'T BE AFRAID OF THE DARK bears noticeable similarities with PAN'S LABYRINTH.  Both have little girls as the character that propels the narrative and both films contain unusual bouts of sheer violence.
The film is centred on young Sally (Bailee Madison), her father, Alex (Guy Pearce) and his girlfriend, Kim (Katie Holmes) when they move into their new residence, Blackwood Manor.  Sally is haunted by "voices" that plead for her to set them free in a sealed up basement.  Sally''s curiosity consumes her when she opens a door in a fire place keeping them and frees a group of little, demonic monsters (that looks like the monsters in GREMLINS) who are very "hungry" and "want her" and thus, want to claim her as one of their own. Nobody believes Sally and she is left to her own devices to save herself till Kim comes to her aid.
This is the typical ghost story filled with the usual clichés.  Sally is left to her father by her mother and she doesn't take it too kindly to Kim who, of course, tries so hard to win her approval.  Needless to say, the monsters drive the two to form a bond.
The atmosphere created by director Nixey is sufficiently creepy and scary and the sets, particularly the look of Blackwood Manor is menacing.  But Nixey moves the film at a snail's pace.  The introduction to the monsters at the start takes a while, for example.  "You rang? Mr Blackwood?" asks the maid.  "Come Down!  He replies.  She takes her time to descend the stairs in the basement, candle in hand to meet her fate!
As far as performances go, Australian Jack Thomson steals the show as the old caretaker who gets severely done over by the creatures.  Guy Pearce looks as if he could do with an appointment at the hair grooming salon.
Ultimately, the excessive violence and scares cannot hide the fact that there is nothing new to this ghost story or to the plot of a new family trying to bond.  It does not help that the film ends with the monsters still hiding which in movie terms means the possibility of s sequel.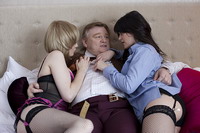 THE GUARD (singular for Gardia or Police in Ireland) refers to street smart no-nonsense long time unorthodox Irish small time policeman Sgt. Gerry Boyle (Brendan Gleeson) stationed in Galway County.  Sgt Boyle dislikes anyone from the big city of Dublin or anyone that poses a threat to his comfy ways.
So, Boyle is forced to join forces with an US FBI agent, Wendell Everett (Don Cheadle) to take on an international drug- smuggling gang.  He is the least bit interested until a fellow officer is killed and he takes an interest to help the widow.  Never mind that the officer is gay or that he married so that the wife could get an immigration visa.
Though themed as a cop drug bust action comedy, McDonagh's film is mostly comedy than action, playing on Boyle idiosyncratic ways.  Hardly a drop of blood is seen on screen and most of the killings are done with the violence off camera.  Gleeson has played a similar role of unlikely buddy in one of his first Irish films I WENT DOWN and this is a role he is exceptionally good at.  He makes the movie.  Mark Strong also makes both a funny and scary villain.
The concept is the opposite of that from IN THE HEAT OF THE NIGHT.  Where Sidney Poitier is the homicidal expert sent to aid local cop racist Rod Steiger and is the key to solving the case, it is the complete opposite here.  Everett is still the fish out of water but it is Boyle that solves the case, racist and uncooperative that he may be at the start.  McDonagh plays each character off each other extremely well.
McDonagh almost falls prey to a clichéd ending but pulls his film back with restraint.  THE GUARD proves that an entertaining inventive film can still be made out of worn material.
OUR IDIOT BROTHER (USA 2010) ***1/2
Directed by Jesse Peretz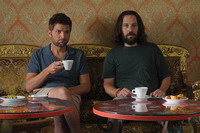 Love that caption in the ad: "Everybody has one!"  When I went to the press screening, I joked to the publicist that they finally made a movie about my family.
Jokes aside, OUR IDIOT BROTHER (original title MY IDIOT BROTHER) is a serious film dealing with down to earth familial issues despite its humorous light tone.  It is hard to dislike such a film, also because the script eventually displays all the good that is in human beings with everything working out at the end.  And with three sisters and their idiot brother, this means 4 happy endings.  There is hardly one dislikeable character (except for idiot's ex) in the entire movie.
Ned (Rudd) is a well-meaning idealist who has just been released from prison.  In succession, he disrupts the lives and homes of his three sisters: career-driven Miranda (Elizabeth Banks), who is about to get her big break in journalism; bisexual hipster Natalie (Zooey Deschanel), whose lies are preventing her from moving forward with her responsible girlfriend Cindy (Rashida Jones); and Liz (Emily Mortimer), who is too concerned with being the perfect mother to notice that her marriage is falling apart.[ and that her husband, Dylan (Steve Coogan) is having an affair.
The film begins with Ned (Paul Rudd barely recognisable for his bearded look) entrapped for selling weed to a cop.  The entrapment is executed in such a humorous and congenial way that its is hard to dislike the cop.  Released from jail, Ned finds that his girlfriend has found another guy, and he has to rely on his three sisters for food and lodging.
Rudd delivers a winning performance as a loser.  To play an instigator of trouble without being annoying is indeed an art.  The most irritating actors presently at work today Jack Black and Zach Galifianakis should take lessons from Rudd.
Director Peretz does not go for the easy laughs, not that the film lacks humour.  The hunour is mostly derived from keen observations of human behaviour, as in the scenes that show how easy it is for someone to blurt out a secret.  The confrontational scenes are also taken down a notch in dramatization.  The result is a film with a lot of heart.
The film's happy ending comes through not for any twists in the plot but for the good nature of people.  The sisters are forgiving and all's well that's ends well.  The audience would be more than satisfied.
BEST BETS OF THE WEEK:
Best Film Opening This Week:  The Guard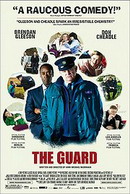 Best Film Playing: Attack the Block
Best Comedy: Bridesmaids
Best Family: Harry Potter and the Deathly Hallows Part 2
Best Documentary: Chasing Madoff
Best Foreign: Sarah's Key (Elle S'appelait Sarah)
Avoid: The Change Up