25
Sep
2011
Details

Category: Movie Reviews
Written by Adele Ambrose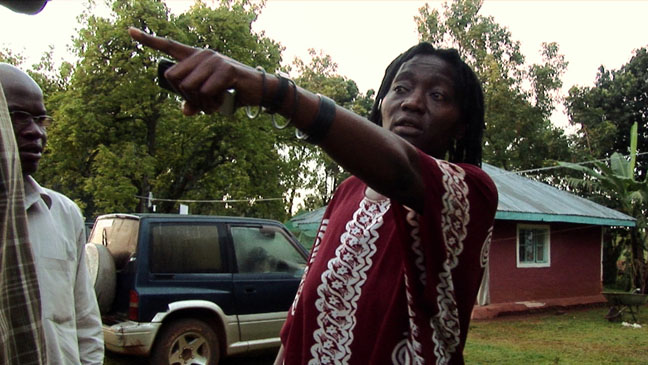 Have you ever pondered what motivates Barack Obama? At TIFF this year, through the documentary "Education of Auma Obama" we are given perhaps a glimpse of the inner-workings of the man through the eyes of his family. By Following Auma Obama, we are introduced to the story of Barack''s Kenyan ancestors.
If you admire the President, you'll adore Auma. Throughout the documentary, director Branwen Okpako weaves an intimate portrait of the President's father, grandfather and older sister, Auma. Through home videos, interviews and archives we are introduced to Auma''s life and struggles as a daughter, step-daughter, activist and lately as the President's eldest sister.
Auma is a vibrant, charming and wickedly intelligent Kenyan and the film works because rather than focusing solely on the exploits of her famous sibling, his election is instead used as a backdrop to tell the story of Auma and their father's dreams, idealism and tragedies. Branwen also highlights the strength of his legacy through the triumphs of his offspring which in seemingly uncanny coincidence have ended up agitating for the very changes that he did not live to see fulfilled.
In the following interview Branwen gives her thoughts on Auma and the film.
Why Auma Obama?
Branwen Okpako: All the films I make are about people I know. I went to school with Auma and I was sure if I pursued an intimate portrait of her you'd get to know him [Barack], get to know the family, that was the first idea, the first impulse.
So, I went to Nairobi just to talk to Auma. At that time, at the beginning of 2008 when her brother was beginning to talk about running for the Presidency, she was getting a lot of attention from the media. Auma was being very careful about who she talked to andnd here''s an old friend coming along saying, "I want to put your life on the big screen," so she was reticent at first.
I got to observe her working, I got to talk to her a lot and I realized it was the perfect opportunity to tell our story.
When we were in film school together 20 years ago we''d always talked about as black women, as filmmakers; what do we want?
We don''t see ourselves correctly portrayed, it's like were invisible. I knew this was something she cared about and so I was kind of confident that she would take that slant.
What distinguishes her from the other Obamas?
Branwen Okpako: I think the most important thing that makes her stand out is that she's a woman, and her perspective and her approach to life is the feminine side of a very masculine phenomena -- in the sense of politics, in the sense of moving on the world stage.
Through telling her story you get to hear about these huge issues -- but from a female perspective. As you see in the film she's somebody who's extremely courageous, who has distinguished herself throughout her life, in a personal way, but also in a political way as well she's a very interesting person not only because of her brother, or her father. She played a pivotal role in both their lives because she brought them together.
What do you want us to take away from this film?
Branwen Okpako: Just after Barack wins the Presidency the press at his Grandmother's homestead in Kenya immediately inquires about the changes she would now want and her response was, "We have a good life." I think there's something in this everybody can take a little bit out of, the satisfaction with one''s own life and the pride in one's life, not to be hankering after other things that one doesn't have, but to really look at what you have and where you are and be satisfied with that.
Do you think that they share similar viewpoints on the world?
Branwen Okpako: What she says in the film is that when they met, what she most enjoyed, was the fact that they had something in common, that they both understood and wanted the same thing. That was the first time in her life she'd met someone in her family who felt the same way, who understood why she was so driven, why she was so politically active, why she was running in this direction because he was trying to do the same thing. I think it was very important the way they found each other.
Did you want Barack's input in this project?
Branwen Okpako: I did initially when I started, I was always trying to call and they said you know he's running for office, it was a very busy time of his life. So, any obstacle you're confronted with in the creative process you make it part of the process, you make it a part of what the film is going to be. So I decided to limit the (focus) to the women in the family, just to have mostly voices of women, the only men in it are the European men who represent the European mentality and the European system. They are showing what kind of conflict she (Auma) was facing when she was in Europe and what she had to contented with. The so called positive-racist attitudes she had to deal with and the way she re-acted, very cool headed, never getting angry, always going to the rational, always going to the arguments to get people to see things differently.
In this way she and her brother are very similar. Interestingly, what we also see in the film is someone working on a grass roots level with young people, and somebody working on almost a symbolic level (Barack), because by the time you get to that stage you're basically a symbol of something so that's why I said to myself not having him in the film is actually realistic, he's a symbol of so many things and a hope, and if that symbol can inspire people to get active and get moving, that''s his role in the film.
If Auma had Barack''s access or his upbringing would she be President?
Branwen Okpako: If you ask her she will say that's not what she wants to do, she doesn't want to be politician. She knows the limits of that. She wants to do what she's doing. But she's in a very privileged position to do that, because she's got this family, she's got this background, she's got this education, that's why I named the film, "The Education of Auma Obama". The film is not just about the education that she has obtained through her hard-work, but it is also about the education she is giving at the same time.