Opening this week is the action comedy, TOWER HEIST in which Eddie Murphy delivers quite the tour-de-force comedic performance.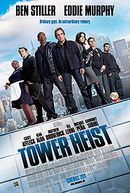 In Toronto, TIFF Bell Lightbox presents Hitchcock's icy blondes. An excellent retro of his films with Grace Kelly, Tippi Hedren, Doris Day, Kim Novak, Janet Leigh and Eva Marie Saint is not to be missed!
BILLY BISHOP GOES TO WAR (Canada 2011) ***
Directed by Barbara Willis-Sweete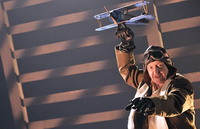 Shown on U.S. television but released in Canada theatrically, BILLY BISHOP GOES TO WAR is the famous Canadian musical 2-man play that premiered in Vancouver in 1978 and played also in London West End and Broadway.
The play was written and directed by John Gray and Eric Peterson and performed by the duo with Gray at the piano and Peterson as Billy Bishop.  At first, Peterson looks a bit old and haggard, but once he starts to perform, WOW! 
    He plays no less that 18 different characters including one in drag.  He sings, dramatizes, recites, cries and imitates accurately sounds of the planes in battle.  The play tells of Billy Bishop, a First World War War flying ace born in Owen Sound, Ontario. He grew up a fighter, though not much of a team player; his preference for more solitary pursuits was perhaps a sign of things to come. At fifteen he built his first airplane out of cardboard, wood and string. (His sister pulled him safely out of the wreckage.) At seventeen he entered the Royal Military College of Canada, where he was deemed a "convicted liar, a cheat and the worst student — the bottom of the barrel."   The audience learns all this through a spritely monologue.  Nonetheless, he would soon reach the top of his military vocation. Over the course of the war, Bishop shot down seventy-two enemy planes, ultimately becoming the Royal Flying Corps' most honoured member.
This is a chance for cinema audiences to experience the classic play.  The story is both sad and funny but always amusing and touching.  The music and songs range from melancholy to cabaret.  The depictions of the air battles are surprisingly thrilling.  Through Bishop, Peterson reveals the horrors and effects of war on a human being.  The props on stage include a camera that rolls war footage.  And Eric Peterson's performance is a marvel.
---
Director: Aki Kaurismaki
Cast: Andre Wilms, Kati Oitinen, Jean-Pierre Leaud, Jean- Pierre Darroussin
Country: Finland
Year: 2011
Score: *****
MPAA Rating:
---
LE HAVRE (Finland 2011) ***** Top 10
Directed by Aki Kaurismaki
LE HAVRE is the name of the Normandie port in Northern France.  Dirty, lost in time and decrepit, the port is the perfect venue of a Kaurismaki movie.  Kaurismaki's characters are similar losers, determined often to etch a better living but always kind souls with not a mean bone in their bodies.
In LENINGRAD COWBOYS GO AMERICA, the band leaves Russia to find fame and fortune in the U.S.  In DRIFTING CLOUDS, the work redundant protagonist opens a restaurant.  But in LE HAVRE, aging bohemian artist Marcel Marx (André Wilms) seems to have given up on life.  He spends the rest of his days working as a shoeshine man.  His loving wife (Kati Outinen) is diagnosed with cancer.  When the hospital doctor assures her that there is always hope and miracles do happen, her answer is:  But not in my neighbourhood.
But things take a turn when Marcel befriends Idrissa, a young African immigrant hoping to make his way to England in a shipping container with other illegals. Marcel is determined to extend a helping hand to the wide-eyed boy, but the law, in the form of Inspector Monet (Jean- Pierre Darroussin), is equally determined to stand in his way.  An intricate dance of hide-and-seek ensues.
But the good deed results in something like manna falling from heaven.  The boulanger helps Marcel shield the boy as does the brasserie owner.  The neighbours, who were at each others throats now unite with a common purpose.  They even donate their earnings to help the boy unite with his mother.  Surprsingly, Inspector Monet turns out not to be that bad a guy after all. 
Karausmaki's film takes a while to get its footing.  But once there, LE HAVRE is pure Kaurismaki pleasure.  Audiences familiar with his deadpan style humour will not be disappointed as the humour abounds from start to finish.  For example, one character donating money says that he will offer the money he had saved for his daughter's bicycle as she can wait.  As she is only two week old!
LE HAVRE is a film that shows that there is always a little good to be found in everyone.  The only character that is totally bad is the honest neighbour (played by Jean Pierre Leaud (from I HIRED A CONTRACT KILLER and the Antoine Daniel in the Truffaut films) who rats to the cops on Idrissa.  But it is this apparent not too pretty little city and its inhabitants that are the shining stars of this movie.  Yes, and miracles do happen in this neighbourhood.

Kausrismaki injects his spill on the immigrant issue.  But his is one of concerned with humanity.  He is not outraged by lost jobs or unrest caused by the issue but rather the re of families and the fact that every human being deserves a right to a better life.  LE HAVRE is the best feel good little movie of the year and Kaurismaki's most disciplined and best film to date!
TOWER HEIST (USA 2011) ****
Directed by Brett Ratner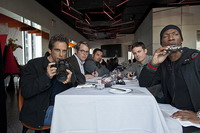 The plot of what happens to the employees of a luxury Central Park condominium could be taken right out of today's headlines.  Penthouse billionaire, Arthur Shaw (Alan Alda) has zipped them all of their life saving investments.  The only difference is that here, the employees get their money back.
Josh Kovacs (Ben Stiller) is the building manager who runs a tight ship, brown-nosing Shaw all the way – until Shaw is arrested for fraud and embezzlement.  Josh recruits an assortment of employees to rob Shaw of $22 million which he believes is in a safe on a condo.  Trouble is that Shaw is under house arrest in his condo guarded by the FBI led by Agent Claire (Tea Leoni).
Ratner's film works as an action comedy.  The action is the heist.  Though the heist gets a bit ridiculous towards the end, with a car transported outside the condo three floors and down the elevator after, all is forgivable given that the laughs keep coming.
Eddie Murphy plays a cheap crook by the name of Slide, who Josh hires believing him to be good at safe cracking.  He also trains the sorry gang.  The film takes a full half hour to set up the plot and characters.  It works as the film is full of humanity in the form of real life characters with real problems.  Odessa (Gabourey Sidibe from PRECIOUS who is surprisingly funny) is a cleaning lady trying to etch a decent living, just arrived from Jamaica.  Charlie's (Casey Affleck) wife is about to have a baby.  Long time doorman, Lester (Stephen Henderson) is about to retire and attempts suicide when he discovers he has lost ell his money.  All these are characters that the audience can relate to.  And the ensemble cast is extremely hilarious playing well against each other's characters. But when Eddie Murphy appears after ¾ hour, he completely steals the show, showing his genius at fast talking comedy.  The film is a laugh-out loud laugh per minute.
The Arthur Shaw character is right out of the Bernie Madoff headlines where Madoff swindled innocent investors out of their life savings.  The film highs include the segment where Shaw is jailed and when he gets his prized car smashed by Josh.
For good measure, the story includes the respected human elements of honour and chivalry.  Josh sacrifices himself for the good of his employees.  It is difficult to dislike a fast paced good intentioned film like this one with real human characters And with action and laughs emerging fast and furious.  TOWER HEIST, the best heist caper in a long time is a real treat!
THE WAY (USA 2010 ***
Directed by Emilio Estevez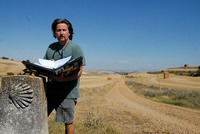 A father and son effort between Martin Sheen and Emilio Estevez (what happened to Charlie?), THE WAY is a well-intentioned film supposed to bring goodness and happy feelings to those watching it – though occasionally too manipulatively.  The film promotes pilgrimage and honours Camino de Santiago in Galicia, Spain.
Tom (Sheen) is an American doctor who goes to France following the death of his adult son (Estevez, who shows up as an apparition several spots throughout the film).  Retrieving his son's ashes, in a combination of grief and homage to his son, Tom decides to walk the same ancient spiritual trail where his son died in order to understand his son better. While walking The Camino (also called the Way of St. James), Tom meets others from around the world (three in particular).  The three are spiritually broken and looking for greater meaning in their lives.
Of course, Tom is the one in the film who is always right.  His cause is the most worthy since it is one involving death.  The causes of the other 3 like Jack's (James Nesbitt) to write a travel book, Joost's (Yorick van Wageningen) to lose weight and Sarah's (Deborah Kara Unger) to give up smoking are less worthy.  The three serve to irritate and annoy Tom as well as provide the audience with drama and a bit of comedy to the pilgrimage.
All this works well in Estevez's low budget little film.  A subplot involving the local gypsies (a boy stealing Tom's backpack and forced to return it to save the gypsy's honour) serves the film even better.
Estevez's film looks authentic enough.  The actors really did walk the walk.  The segment in which Tom dives into a river with really strong currents to retrieve his backpack is particularly chilling.
The film was originally suggested as a documentary with real characters going on their pilgrimages.  But Estevez wanted something bigger which resulted in fictionalized characters.  Still, the difference between "the life we live and the life we choose" comes clear as the message in this entertaining little film.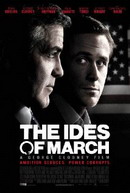 BEST BETS OF THE WEEK:
Best Film Opening This Week:  Tower Heist
Best Film Playing: The Ides of March
Best Comedy: Tower Heist
Best Documentary: Revenge of the Electric Car
Best Foreign: Poetry, Cell 211 and The Skin I Live In
Avoid:  Abduction