18
Nov
2011
Details

Category: Movie Reviews
Written by Gilbert Seah
The big movie opening this week is TWILIGHT SAGA: BREAKING DAWN which will surely be numero Uno at the box-office this weekend.  No press screenings were held and reviews so far have been far from flattering.  So see this at your own risk.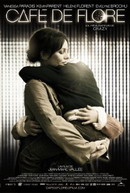 Also making their debut are HAPPY FEET TWO, THE DESCENDENTS, CAFÉ DE FLORE  and Lars Von Trier's MELANHOLIA at the TIFF Bell Lightbox.
CAFÉ DE FLORE (Canada 2011) ***1/2
Directed by Jean-Marc Vallée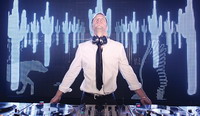 Quebecois director Vallée (C.R.A.Z.Y. and YOUNG VICTORIA) returns to Montreal, Quebec in his latest feature on love and pain.  Because of the film's structure, CAFÉ DE FLORE (The title coming from a jazz song), CAFÉ DE FLORE is in many ways the most ambitious of Vallée's films. 
The two protagonists are worlds apart.  The first is an almost 40, sexy man in perfect health.  Antoine (Kevin Parent) is a successful DJ with two beautiful girls.  He is in love with his sexy girlfriend Rose (Evelyne Brochu).  He is happy, has everything going for him and has the lucidity to realize it.  The other is Laurent, a sad boy with Down's syndrome.  In contrast, he has nothing going for him and he does not, as the titles say, the lucidity to realize it.  Vallée weaves the two narratives together, intercutting the stories and intersecting the paths of Antoine and Laurent at the end of the film. 
Both stories share the common denominator of obstructed love.  Antoine's ex-wife Carole (Hélène Florent) will not let him go, harbouring a secret belief that Antoine will return to her.  To make matters worse, their eldest daughter torments her father by blaring her parents' defining love song at every opportunity.  Laurent falls in love with a girl in his school, also with Down's but the mother, Jacqueline (Vanessa Paradis) separates them, preventing them from seeing each other.  Vallée uses strong images to demonstrate the strong love shared by both Laurent (two hugging each other, unable to be separated) and Antoine (the sex scenes).  The stories are compelling and Vallée proves himself a strong storyteller.
But the film is not one with a happy ending or an easily credulous one.  The film needs the audience believe in past lives and the effectiveness of a medium.  Though Vallée barely pills this feat off, the difficult film suffers from the lack of a happy ending as in YOUNG VICTORIA or C.R.A.Z.Y.
But one has to hand it to Vallée for trying hard in an otherwise still entertaining film about love in unfamiliar situations. 
THE DESCENDENTS (USA 2011) ****
Directed by Christopher Payne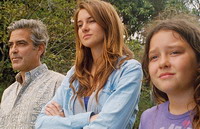 A land baron, Matt King (George Clooney) tries to re-connect with his two daughters, Alex (Shailene Woodley) and Scottie (Amara Miller) after his wife suffers a boating accident.  Matt is also the trustee in which the decision on whether to sell a large portion of Hawaiin land to potential developers is his sole decision.  The family wants the money.
The script blends the land deal story with the family drama.  Matt learns of his wife's digression and together with his daughters cope with the death.  But a twist in the plot involves a quarrel between Alex and her mother prior to the accident, when she learns that the mother was having an affair with Brian Speer (Matthew Lillard).
So, the drama in the film unfolds on many different levels.  Clooney is especially good in the role  of the confused father, the clueless cheated husband and the overworked attorney.  His antics are both hilarious, sad, pitiful and admirable all at the same time, making the role of Matt, one of Clooney's best performances to date.
Payne's film flows smoothly as his other films like SIDEWAYS and ABOUT SCHIMDT.  Like those two films, he deals well (he co-wrote the script) with odd but real life characters dealing with their own unique problems.
The film pays tribute to the Hawaiin people.  The soundtrack is filled with neat and pleasant Hawaiin melodies.  One scene takes place in a local bar with Hawaiin singers yodelling.  "This place rocks!" quips Sid, Alex's friend.
The film's best written character is an incidental supporting character called named, who Matt's elder daughter, Alex invites over to join the family in their outing.  She is not in love with him, but he is just dragged along for the hell of it.  Sid appears none so bright, a character that boats that he always has weed, but Nick Krause who plays him steals every scene he is in.  There is one good conversation scene that occurs at night when Matt enters Sid's room to check if he is sleeping with his daughter. When Matt says that Sid is far from being smart, Sid replies that he thinks he is pretty smart: "After all, I have good hygene, I am President of the Chess Club and I can cook!"  The excellent script, co-written by Payne later shows Sid's resilience when he takes Scottie and Alex out of their mother's hospital room to the cafeteria giving Matt freedom to speak to Speer's wife alone in the room.
THE DESCENDENTS together with ELECTION marks two of Payne's best films.  THE DECENDENTS is good solid entertainment about family (though not really a family picture) with a good message for good measure.
HAPPY FEET TWO (USA 2011) ***
Directed by George Miller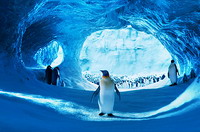 HAPPY FEET TWO returns in 3D once again with dancing penguins doing Hollywood song and dance numbers.
Miller, who also directed the original HAPPY FEET sticks to the same formula.  Why change something that works?  Most of the cast is intact including Elijah Wood as Mumble and Robin Williams, Ramon's.  Mumble's mate Gloria is voiced by Pink, replacing Britanny Murphy while Hank Azaria does a beautiful job as the strange flying penguin.
But the best addition to the cast is the two hyper active Krills, Bill and Will voiced by Brad Pitt and Matt Damon respectively.  Will and Bill decide to escape their dull lives only to discover that they are the bottom of the food chain and are food fodder for the other species.
The song and dance numbers are cheery enough and the penguins breaking into dance is always delightful.  The CGI effects showing thousands and thousands of penguins stranded on the iceberg make quite the sight.  The icy white landscape is as stunning as the real thing.
But Miller's film tends to be a tad preachy.  It is all good to care for the environment and everyone is already aware of the disasters facing wildlife, especially in Antarctica without having the same point grinded into ones heads time and again.  If that is not enough, the additional message of all species living in total harmony is also ground in.
MARGIN CALL (USA 2011) ***** Top 10
Directed by J.C. Chandor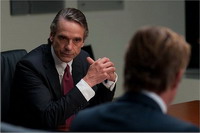 MARGIN CALL is the fiction equivalent to the documentary INSIDE JOB.  Both films document the 2008 financial spiralling fallout of the investment industry with this film emphasizing the effect on a company's employees.
MARGIN CALL begins with the downsizing of a large unnamed brokerage house in the financial industry.  Just let-go employee Eric Dale (Stanley Stucci) hands his man under him, Peter Sullivan (Zachery Quinto) a memory stick warning him to be careful of the included information.  That night, Peter puts the figures together from Eric's data to make a horrible realistic discovery.  The firm is about to go broke and the only way out is a sort of fire sale in which the company sells as much as possible to cut losses before the world discovers what is happening.  A hint too, that this will affect other firms that will spiral the total financial industry into a chaos not unlike the Black Monday of 1987.  Peter's words to Seth, his colleague that night: "These people walking around have no clue what is about to happen!"  Peter calls Seth (Penn Badgley) and his boss's boss Till (Paul Bettany) into the office that night.  Together with Till's boss Sam (Kevin Spacey) and an assortment of other nasty executives, they fire more people but not before getting the most of them by using them to sell as much the next day.
All the action takes place within a 24 hour time frame.  The film feels as if it moves even faster.  The film centres round the Kevin Spacey character while devoting sufficient important time to the other characters to make a solid impact on the story.
Director Chandor also creates the madness of the dirty world of corporate businesses.  While no human being escapes unscathed, he offers each character their way out.
MARGIN CALL benefits from a great script that pits the frenzied financial bosses scurrying to cut losses within a 24-hour period.  The dramatic set-ups are more than impressive (take the one in which a sniffling trader Seth exits a toilet stall to meet his superior, Jared (Simon Baker) shaving in front of a mirror, forced into the conversation with the man he know us just about to fire him) matched only by the over-the-top speeches delivered by many of the executive characters (Sam's last rallying speech, John's speech on what the company is all about).  But the best segment has just fired Eric Dale confess to his boss, Will of how he once built a bridge.  He goes in and on with his calculations ending on the enormous total number of hours of human time travelling saved by his bridge.  The best thing is that the audience has no idea what this bridge story has to do with the rest of the film until Will replies that there are some people who enjoy their long drive home.
The beauty of this film's characterizations is that no single character is totally bad.  Even the nastiest (John offers Sam a lifetime job; Jared holds back his nastiness in the final proceedings) have a good streak.  Each is also offered their valid points of view over the financial crisis.
Chandor's first full length feature proves his prowess of juggling a superior script with top notch performances all round.  Coupled with a topic right out of today's headlines, MARGIN CALL should be a hit with both critics and audiences alike.
MELANCHOLIA (Den/Swe/Fr/Germ 2010) ***
Directed by Lars Von Trier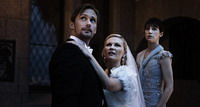 Lars Von Trier's end of the world epic is told from the point of view of a wedding of a couple very much in love.  The last time Von Trier did wedding was the start of BREAKING THE WAVES.  MELANCHOLIA moves at a poetic pace with Trier providing stunning images of the surroundings of nature and of the lush human ceremonies.  
The focus is on Justine (Kirsten Dunst, who won the Cannes Award for Best Actress for her performance in this film), an ad executive who's just married her colleague Michael (Alexander Skarsgård). They show up hours late for the reception, infuriating Justine's sister Claire (Charlotte Gainsbourg) and her rich husband John (Kiefer Sutherland), who are paying for the event and hosting it on their obscenely lavish estate. But the dysfunctional wedding has over anxious sister an always upset John creating constant tension.  If not, mother (Charlotte Rampling in another of her super bitch roles) is creating dissention with her against marriage speeches.  And while the wedding ceremonies take place, the planet Melancholia is about to collide with the Planet Earth.  The end of the world could also be looked upon metaphorically.  
Von Trier treats the material with utter seriousness, coupled with a classical music score to emphasize his commitment.  But the film works in an odd way and the audience is kept fully compelled with whatever tale Von Trier wishes to tell. 
And does the world really come to an end?  Von Trier delivers a nice twust at the end as well.  Bit the best of Von Trier's work but perhaps ironically, the most beautifully made.
BEST BETS OF THE WEEK: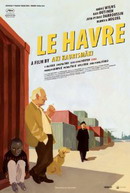 Best Film Opening This Week:  Margin Call
Best Film Playing: Le Havre
Best Comedy: Tower Heist  
 Best Family: Happy Feet Two
Best Documentary: Revenge of the Electric Car
Best Foreign: Le Havre
Avoid:  Abduction