02
Dec
2011
Details

Category: Movie Reviews
Written by Gilbert Seah
No big films opening this week.  But the 3 smaller ones MY PERETROIKA, SHAME and TOMBOY are also worthy films worth their debut.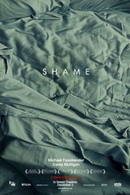 Also playing at the Cinematheque are the Hitchcock and Nicholas Ray films.
MY PERESTROIKA (USA/UK/Russia 2011) ***
Directed by Robin Hessman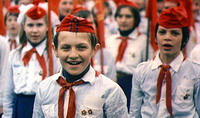 No big films opening this week.  But the 3 smaller ones MY PERETROIKA, SHAME and TOMBOY are also worthy films worth their debut.
Also playing at the Cinematheque are the Hitchcock and Nicholas Ray films.
MY PERESTROIKA (USA/UK/Russia 2011) ***
Directed by Robin Hessman
MY PERESTROIKA is a rare personal/political documentary that has won awards and critical acclaim at festivals and theatrical engagements in over 80 U.S. markets.   This is real personal drama as subjects share their lives in the now Soviet .
The subjects are 5 previous schoolmates from Moscow.  Educated behind the Iron Curtain when the Cold War was at its height, the Soviet is not the same Soviet it is today, or later when the educated schoolmates return to Moscow.  First there is persestroika or re-structure, followed by Glasnost or openness.  Everything, particularly their perception of their Russia has changed.
Director Hessman focuses on this aspect of his subjects' surprise.  His subjects include:
BORYA grew up in an intellectual Moscow family and learned at a young age how to deal with the consequences of having a Jewish name (Meyerson). As a teenager in the USSR, he and his friends were intent on subverting the system. Now he teaches history in Moscow's School #57 and manages all the school trips. He lives with his wife Lyuba and their son, Mark, in the apartment in which he grew up in a residential neighborhood of Moscow.
LYUBA was a self-described conformist growing up in the Soviet – even saluting when the Soviet national anthem played on TV.  She is also now a history teacher with her husband, Borya. She has an enormous course-load and teaches classes six days a week – from pre-schoolers to high school seniors.
RUSLAN was one of Borya's best friends growing up. They got in trouble together in school all the time. A free spirit, Ruslan is a former punk rock star from the band NAIV who now occasionally gives banjo lessons and busks in the underground passages in Moscow. He is divorced from his second wife, but tries to spend time with their 8-year-old son, Nikita.
OLGA was the prettiest girl in their class. She now is a single mom who lives with her sister, nephew and son in their childhood apartment, right around the corner from Borya and Lyuba. Olga works for a company that rents out billiard tables to pubs, clubs and casinos all over Moscow. She often saves up money for international travel. She'd like to go on a safari in Kenya next.
ANDREI has just opened his 17th store of expensive men's dress shirts and ties. He is the only one of the classmates who moved out of his childhood home. His family lives in a new development of large, luxury condos. Andrei's son studies abroad in France. Andrei is often frustrated by Russia's inability to be more like the West.
Hessman leaves judgment out of the way.  She does not discuss politics but rather display the changes on hand.  The old footage of a never seen Russia is a pleasure to view on screen, as well as the new, with punk bands performing in the town square.  She lets her subjects have their say resulting in a fresh take on the subject.  The result is a fresh, realistic and often funny look at people's lives, their expectations and adaptations in a world that has often gone mad.
SHAME (UK 2011) ***
Directed by Steve McQueen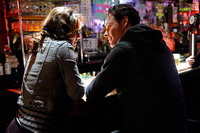 After one of the most anticipated films after his tremendous successful debut HUNGER, writer/director Steve McQueen tackles the subject of sexual obsession.
Brandon (Michael Fassbender from HUNGER and A DANGEROUS METHOD) is a successful executive working in Ney York City.  From the hour he is wakes up, sex is foremost on his mind.  From his prancing around naked in his posh apartment to his attempts at picking up in the subway en route to work, Brandon is on the prowl.  He hides it quite well from his boss, David (James Badge Dale) who is in pretty much in the same boat.
McQueen shoots his subject and his world clean and polished.  The sheets are clean, the lovers good-looking and nastiness is kept to a minimum.  The audience is the voyeur and McQueen shows that everyone around Brandon is also somewhat pre-occupied with sex.
I find the character of McQueen totally believable.  I have friends who have nothing but sex on their minds and watch porn most of their free time.  They work so feed these desires, and so I find the character of McQueen not too disturbing as the only main harm he does is to himself and perhaps a bit to the girls he picks up – and they should be careful who they end up with.
But all good things do not last.  In the story, Brandon's wayward sister, Sissy (Carey Mulligan), suddenly shows up to stay at his place indefinitely.  Brandon finds his privacy threatened, especially when she discovers his dirty magazines, porn sites on his lap top and catches him spanking the monkey in the bathroom.  He gets in trouble at work when his boss confronts him that his hard drive is filled with very, very dirty material.
Though McQueen's film looks amazing with great production values, the fact that the film has a loose narrative with Brandon roaming around most of the film aimlessly leaves an unsatisfactory feel.  McQueen's film's lack of a message and the slightly ambiguous ending do not help the film either.
TOMBOY (France 2011) ***
Directed by Celine Sciamma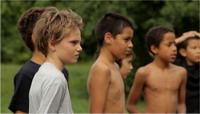 TOMBOY tells of the pleasant story of Laure (Zoe Heran) who poses as a boy for convenience when her family moves to a new town.  Her new friends believe her to be male and with reason too.  Laure dresses and acts like one and introduces herself as Mikael.
Director Sciamma's film is an easy film to watch.  She steers her characters out of situations that can turn too dramatic and fills her story with likable and tolerable characters.  Most of the incidents happen at play which reduces the tension as well.  Te story, as a result lacks a strong narrative.  There is no real reason for Laure to pretend to be a boy.  The apparent reason that comes across is Laure's desire to join in the boy games (soccer, swimming, fighting) which she is proficient at.  The parents can obviously tell Laure dresses more masculine but never chide her.  When Laure's younger sister confesses that Laure also pretended to be a boy in the last town and fought to protect her, the audience never sees the information as a major problem or important.
Director Sciamma's film focuses more on the children than the adults.  The film works well with the film displaying a good children's point of view on the situation at hand.  The audience also rallies with the heroine, wishing her to keep her secret intact.  But one knows that the truth will out in the end.  The film takes a more serious turn during the final 30 minutes.
The prize performance belongs to young Malonn Levana, Laure's sister, whose character displays an intelligence of what is really going on and plays along at the same time.  Heran is natural in both gender bending roles.
TOMBOY turned out to be an audience favourite at many lesbian and gay film festivals around the world.  The film ends with a funny uplifting note which helps as well.
BEST BETS OF THE WEEK:
Best Film Opening This Week:  Tomboy
Best Film Playing: Margin Call
Best Comedy: Tower Heist
Best Family: Arthur Christmas
Best Documentary: My Perestroika
Best Foreign: The Skin I Live In (Almodovar)
Avoid:  Abduction