10
Feb
2012
Details

Category: Movie Reviews
Written by Gilbert Seah
Opening this week is the sequel to Journey to the Centre of the Earth, JOURNEY 2: MYSTERIOUS ISLAND in 3D.
Best bet is my personal favourite film of the year WE NEED TO TALK ABPOU KEVIN.
JOURNEY 2: THE MYSTERIOUS ISLAND (USA 2012) **
Directed by Brad Peyton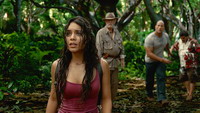 After the 2008 success of JOURNEY TO THE CENTRE OF THE EARTH, it is only reasonable that as sequel to be made to bank in on the good fortune of the original.  The 3D JOURNEY 2 is all right, but that is the best that can be said about this film so lazily made.
The original Sean Anderson (Josh Hutcherson) character is present in the sequel.  Most of the original cast including Brendan Fraser are gone.  The hunk is replaced by 'Rock' Dwayne Johnson, whose muscles are so huge one wonders how he can find shirts to fit.  Johnson plays mom's new beau.  Sean cannot stand his new step-dad (Hank the hunk), so the film goes into adventure step-father/son bonding mode during the trip.  The premise of the film is Sean's search for his missing grandfather (Michael Caine) which leads to Hank and Sean to travel to the mysterious island led by guides Gabato (Luiz Guizman) and daughter, Kailani (Vanessa Hudgens).
Gabato provides the humour for the movie as Kailani does the the romantic interest.
If  all this sound boring, it is and all standard fare.   The script by Brian and Mark Gunn is too lazy to explain the reasons the creatures on the island are extra large (or super small) in size or why the island is sinking so rapidly.  Or why the Nautilus is all ready for the travellers to escape the island with it.  Other characters like Sean's mother conveniently disappear at the start of the movie and re-appear at then end when the son and hank return.
This is the typical 3D movie where lots of objects (rocks and lava stones) are thrown out of the screen at the audience.   Nothing imaginative here or are there any plot or character developments.
Running only at 94 minutes, director Peyton quickly runs out of material.  JOURNEY 2 may be fun to watch for the littler ones, but it is an overall boring 3D film that never surprises and hardly entertains.  The film ends with a possible trip to the moon, Jules Verne style.  Give me a break!!!
LES NEIGES DU KILIMANDJARO (The Snows of Kilimanjaro)
(France 2011) ***1/2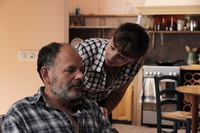 Directed by Robert Guédiguian
Writer/director Robert Guédiguian and his wife, Arian Ascride, now both in their 50's and both born and bred in Marseilles in the south of France have been making films together since the beginning of their time together.  The films are almost always set in their native Marseilles and so is their latest film, despite the film's title.
LES NEIGES DU KILIMANDJARO is Guédiguian's softest and most heart-felt film.  Has the director gone mushy in his old age?  Upon careful examination, his film, despite its sappy theme, displays a maturity in terms of the script's outlook in the social and political context, besides being entertaining as well.  The film is as unpredictable and surprising as its characters.  Besides allowing allowance to think during his film, he also offers the audience the opportunity to feel and emote without having the music dicate how they should feel.  And behind all that is a terribly romantic picture, probably reflecting the bond between husband and wife, director and actress!  Ascride still looks incredible, despite her age and she oozes of charm especially in the dance scene with her character's sister.
The film has an excellent storyline.  Not surprising since Guédiguian adapted his script after being inspired by Victor Hugo poem 'How Good are the Poor'  LES NEIGES DU KILIMANDJARO is an engaging drama set in the director's home turf L'Estaque, a shore side district of Marseilles, with a backdrop of cranes, sea and boats.  The protagonist is 50ish Michel (the always excellent Jean-Pierre Darroussin); freshly unemployed because, as a crew boss and a socialist, he thought his name should also go into the hat when the company held a draw for downsizing.  Now Michel and his wife (Ariane Ascaride) are planning a trip to Kilimanjaro.  But then the couple are robbed and beaten.  They are shocked when they find out who did it – and why.  From here, the film takes unexpected turns that are complex and intriguing.  Yet what transpires might be what decent people would do in similar circumstances.  Guédiguian believes in the goodness of the human race and the film shows it.
The atmosphere of L'Estaque is both realistically and beautifully captured on film.  The audience is able to experience the way of life of the neighborhood, from the friendly brasseries to the empty docks and inviting beaches of L'Estaque.
The best thing about Guédiguian's film is his revelation of his characters.  A supporting character, Denise (Marilyne Canto) is one who is totally shaken by the robbery.  She is unable to function, trying to understand what makes humans violent and do terrible things to innocent people.  The film also questions the logic of how hard working people have sacrificed all for the youth to have a better life and conditions.  The fact that Michel tries to play fair by putting his own name in the hat says a lot of his character.
The film begins as a family drama of what happens when a husband suddenly loses his job.  Unlike Laurent Cantet's TIME OUT in which the lead character hides his employment from his family, this film takes a complete different route.  It shows adaptation in both a different way and in a different light.  Despite some sappiness, LES NEIGES DU KILIMANDJARO emerges as one of Guédiguian's better films.
NORWEGIAN WOOD (Japan 2011) **
Directed by Tran Anh Hung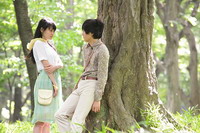 NORWEGIANWOOD, directed by Vietnamese sensation of SCENT OF GREEN PAPAYA Tran Anh Hung, is a Japanese drama about youth, love and loss based on the popular Japanese novel of the same name by Haruki Murakami.
The film is set in the Tokyo of the 1960's where political unrest forms the background of the film's story.  The characters seem detached from what is going on around them.  One could argue that this could be the fault of director Anh Hung being non-Japanese and not dedicated enough to Japanese causes but to be fair to her, the characters may be too caught up in their world to worry about what goes on around them.
Anh Hung's film leaves lots of unanswered questions.  As I have not read the book, I wonder whether it is the book's fault that it does not delve into the origin of many of the characters problems.  The central character is Toru Watanabe (popular young Japanese actor Kenichi Matsuyama).  He hangs around his best friend Kizuki (Kengo Kora) who is seeing Naoki (Rinko Kikuchi). Without reason and into 10 minutes from the film's start, Kizuki gases himself in the garage and dies from carbon monoxide inhalation.  Coping with the loss, Watanabe moves to Tokyo while girlfriend Naoko spirals into a deep depression bordering on madness.
Besides the reason of the suicide being unexplained, most of what occurs is explained by voiceover than shown by incidents.  Voiceover tells of Watanabe's move because he wants to forget as well as his and Naoko's chance meeting in a remote forest near Kyoto.  (How convenient!)
Though the film stretches to 133 minutes, the only other main incident is Watanabe' meeting with a totally different girl, Midori (Kiko Mizuhara) who falls in love with him.  The rest of the film's running time is spent primarily on Wanatabe's contemplation on which girl he should love (or sleep with) rather than what he should do to carry on with his life.  All this might be more interesting if director Hung paid more attention to her characters rather than shooting the surroundings like the green hills, river and waterfalls though these do look stunning.  Her film is beautifully shot at the expense of her characters becoming detached.
NORWEGIAN WOOD is the title of the song that reminds Watanabe of Naoki.  This is assumed and not deliberately stated in the film.  One can only wish that director Anh Tran would have brought an intriguing female or cultural perspective on NORWEGIAN WOOD, basically a male oriented study but sadly she did not.
WE NEED TO TALK ABOUT KEVIN (UK 2011) *****
Directed by Lynne Ramsay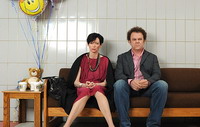 Controversial film based on a teen killing (Kevin kills several schoolmates in a locked gym) that received both boo's at Cannes and rave reviews finds director Lynne Ramsay (RATCATCHER) in top form with a female's point of view on a family disaster.
As the title implies, WE NEED TO TALK ABOUT KEVIN, but husband (John C. Reilly) and wife Eva (Tilda Swinton) never do.  Kevin is a problem boy from baby to teen (Ezra Miller).  Crying at the top of his lungs most of the time as a toddler, refusing to be toilet trained as an infant or cooperative in learning or eating as a child, Kevin grows up too smart tormenting mother and baby sister.
Ramsay hints at the likely causes for Kevin's odd behaviour such as Eva engaging in a bright Italian festival red tomato festival while pregnant or hitting the kid or failing to show patience or love.  Or is it just giving birth to this demon child.  Ramsay shoots her film in bright red colours in a non-chronological order which renders her film ever more disturbing.
The film begins with blowing white curtains followed by Eva at the tomato festival.  Then her house is sprayed with red paint and there is a shot (flashback) of her and her daughter with an eye patch (it is revealed later that Kevin has blinded his little sister) and Kevin before she leaves the house to find work at the neighbourhood travel agency.
Swinton (nominated for several awards including the BFTA and Oscar for Best Actress) is superb as is Ezra Miller as the boy who not only bears an uncanny resemblance to Swinton in looks but also looks angelically innocent despite the devilish deeds.  The host of Swinton's face transforming to Ezra's in the water of the bath tub is a master move by Ramsay.  The film feels at time like an art film, like a grown up ROSEMARY'S BABY of a horror film.  Though cinematically artistic looking, Ramsay keeps the suspense and audience anticipation up several notches.
The very few sweet moments in the film include a forgiving scene in which  one victim in a wheelchair asks Eva how she is doing, thus not blaming her for the son's deeds.
Ramsay cannot resist a scene in which a pair of Seven Day Adventists visit Eva's home and asks her what she thinks of the after life?  "I will be going straight to hell," is her obvious (hilarious to the audience) reply.
The film will not be difficult to like because of its subject matter but it is without doubt that Ramsay has delivered quite a masterwork.  When Eva asks her son why, when visiting him in prison, his answer only serves to shake the audience up even more.  WE NEED TO TALK ABOUT KEVIN, which I have seen twice, is my personal BEST movie of the past year!
BEST BETS of the WEEK: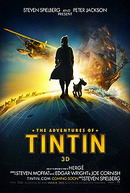 Best Film Opening: We Need to Talk about Kevin
Best Film Playing: We Need to Talk about Kevin
Best Action:  Mission Impossible 4: Ghost Protocol
Best Drama: Tinker, Tailor, Soldier, Spy
Best Foreign: A Separation
Best Comedy: The Artist
Best Family: The Adventures of Tin Tin
Best Documentary: Pina

Avoid: Sherlock Holmes and THE INNKEEPERS