11
Feb
2012
Details

Category: Movie Reviews
Written by Adele Ambrose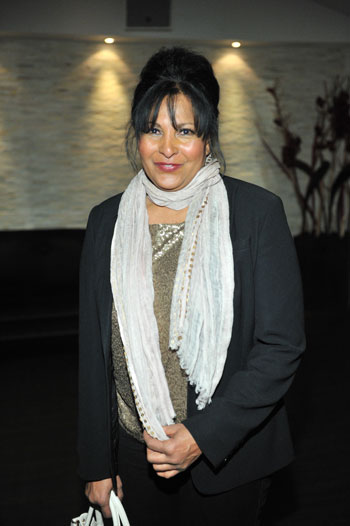 Witty, vivacious, trailblazer, icon. Words can't fully describe the unique individual that is Pam Grier,
known for her work in cult classics like Foxy Brown and Coffy, to the critically acclaimed Jackie Brown, where she played strong, fearless dynamos on screen, Pam also happens to exude this fearlessness in her everyday life.
Tragedies early in her life, which she ultimately triumphed over, she readily admits has coloured her artistic choices. She is a woman who now refuses to be victimized and she plays that role with gusto.
It is clear Pam learned early to be self-reliant and tough, but toughness does not mean un-feminine and Pam embodies this duality perfectly as the sexy lady / badass.
With a career that spans over thirty years Pam has consistently played confident, sassy, outspoken heroines, so its hard to imagine her as painfully introverted, practically considered autistic at one point. This and many other insights are thrown out to an audience of Pam Grier acolytes at the Varsity cinema.
In toronto for the CFC's black history month celebration, Pam, candidly spoke about her early struggles and her memoir entitled FOXY. "Writing is an arduous process its not something that's easily done, plus I had to revisit accounts in my life that were very tragic and I didn't know if I could finish it, and yet I committed to finishing it, because if I don't sell this book, people will lose their jobs at the publishing house and my philosophy as a black panther with that sensibility of empowerment and self-fulfillment, is that if I work other people work and that's really critical because they work and open doors for other people."
Pam's memoir is a stirring account of growing as young Afro-American in a racially divisive world, chronicling her families struggles as well as her life as survivor of sexual assault. It also gives us a voyeuristic look at the tenuous yet exhilarating life of black actresses in hollywood in that era.
In her conversation with Host Sharon Lewis, she is fiery, surprisingly funny and insightful. She is unafraid to open about her special brand of feminism/activism, her love of men and her horses. Yes, she houses a horse refuge on her ranch home in colorado.
When she speaks of her horse refuge we are also exposed to her tender side, you sense that they have given her as much as she has given them, it's a beautiful moment.
When pressed on what inspired her iconic roles, we find out that the women in Coffy and Foxy, were inspired by her Mother and Aunt, women who happen to be beautiful, used to Guns and not afraid to fire to them. She also let it slip that her life story will soon be on the big screen as well as a Coffy re-make, thrilled would be an understatement when describing the audience''s reaction to this news.
Pam could simply be seen as a great actress from another era, an exclamation point, in the ever evolving history of black cinema but her strength of character both on and off screen will not allow us to simply acknowledge her. She demands to be more than a memory. Pam's legacy and work is a constant reminder to her fans to believe in one's self and challenge the system, challenge sexism, challenge discrimination. Pam demands that we be fierce in our love for her and her work and fierce in our own lives. This is living foxy baby.