09
Mar
2012
Details

Category: Movie Reviews
Written by Gilbert Seah
Opening this week are A THOUSAND WORDS, FRIENDS WITH KIDS and JOHN CARTER.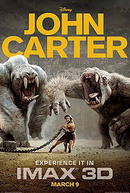 Retro of Hayao Mizayaki's Japanese animation from Ghibli Studios begin at TIFF Bell Lightbox.
FRIENDS WITH KIDS (USA 2012) *
Directed by Jennifer Westfeldt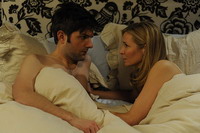 Two best friends, Julie (Jennifer Westfeldt) and Jason (Adam Scott) decide to have a child together while keeping their relationship platonic, so they can avoid the toll kids can take on romantic relationships. 
  Jason and Julie's best friends, two other couples (Joe Hamm and Kristen Wigg; Maya Rudoplh and Chris O'Dowd) have children but their love fall apart, so Jason and Julie intend to find love after having their child.  If this sounds really stupid, so is this film. 
   Any idiot (including myself) can easily guess the outcome this lame premise of a movie.  Julie and Jason both realize that they both love each other after having a kid, hook up as a couple and live happily ever after.
Writer/director Westfeldt's script is typical unimaginative chick flick shlock. The guys are all goofy and silly while the females appear the brighter of the sexes.  The audience need not have to see the male lead cry, as Jason does at the end of the film, a sort of female fantasy often seen in films with scripts penned by a female. 
One knows exactly where the film is headed from the very start when the 3 couples meet for dinner.  They talk as smug as possible, making conversation about things such as different levels of sex (sex on above) which makes absolutely no sense at all.  Most of the dialogue is interrupted when each couple turn up.  The whole exercise seems an ego trip for Jennifer Westfeldt.  But the bottom line is than none of what occurs is remotely funny. 
There is a long spill by Julie trying to convince why having a baby this way works.  This only serves to prove that the idea does not really work, or work for the premise of a movie either.  There is an odd close up of Jason's face when Julie talks about meeting the man of her dreams after having the baby, as if director Westfeldt is unsure the audience knows where the film is heading. 
The rest of the film is comprised of predictable comedic set-ups.  As expected, there is the awkward love making scene between Jason and Julie, the baby delivery scene by Julie, and the scene where the in-laws meet providing verbal jabs of how odd it is to have a baby using this route.   The trouble is that these set-ups are neither hilarious nor amusing but both boring and tedious.  A kindergarten junior could have come up with a more inventive script during kid's film camp. 
How Westfledt got the job and this movie made is well beyond me.  She must have got something (the only thing) right with the movie. 
The only good thing going for it is its 3 BRIDSEMAIDS stars Chris O'Dowd, Kristen Wiig and Maya Rudolph but even then, these 3 cannot save the movie.
I would rate FRIENDS WITH KIDS as the worst film to hit the theatres this year.   At least the other bad films were just awful.  This one is both boring and awful.
JOHN CARTER (USA 2012) **
Directed by Andrew Stanton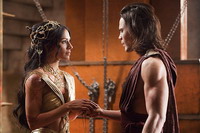 John Carter was the lead character in the first novel by Edgar Rice Burroughs (TARZAN), set on a fictionalized version of Mars known to its inhabitants as Barsoom.  Earth has another name given by the Martians.  (How original!)
The lead character is a dullish, boorish John Carter (Taylor Kitsch).  Transplanted to Mars (the film explains how later on very unconvincingly), Carter a war veteran finds himself a prisoner to creatures living in isolated Kingdoms that fight each other.  Carter encounters a princess (Lynn Collins) in need of a savior.  But all Carter wants to do is return home.
The film contains an impressive cast of international actors such as Willem Defoe, Ciaran Hinds, Thomas Hayden Church, mark Strong and Dominic West.  But they are largely waster, not given much real acting to do besides them being hardly recognizable.  Though Kitsch has garnered acting honours from his hit TV series 'Friday Night Lights', he remains largely wooden here.
For a $250 million production, the sets and film's look is amazing.  The 3D depth is well observed especially when the landscape contains largely of desert, far spaces and sand.   But for an action packed flick, JOHN CARTER lacks the excitement that goes with big budgeted actioneers.  The best example can be seen in the canyon escape scene.  Instead of a massive fight, Carter and gang escape by jumping off the canyon to a raft far down below in full view of the attackers.
Despite the fact that CARTER originated in the comic books before STAR WARS and the Japanese anime, Hayao Miyazaaki's NAUSICAA IN THE VALLEY OF THE WIND (Kingdoms in a dilapidated planet warring against each other), JOHN CARTER ;looks like a copy from these these films.  It is as if the creature that befriends Carter is a cousin of Jar Jar Binks in PHANTOM MENACE.
Apart from the grandiose looking airships and predator cities in Barsoon, JOHN CARTER is all looks and little action.  The film also lacks a strong story and narrative, so unless one is a total JOHN CARTER fan, this whole enterprise may appear boring or as just an ok film.  Even the romance is kept at a minimum.  On the other hand, JOHN CARTER diehards will, I am sure will watch this film more than twice.  For sequel, JOHN CARTER must make back the huge $250 million production tag which is not a sure thing.
SALMON FISHING IN THE YEMEN (UK 2011) **
Directed by Lasse Hallstrom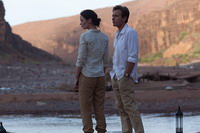 SALMON FISHING IN THE YEMEN is likely the weirdest title of a movie this year, but the film is really about setting up salmon fishing in Yemen.  It is based on the satire novel by Paul Torday.
But all the political satire has been stripped away in this Hollywood style of a film.  SALMON FISHING IN THE YEMEN turns out to be a romantic comedy, a sort of predictable crowd pleaser with the theme of faith tied in.  One would have expected better from the Oscar winning writer, Simon Beaufoy of SLUMDOG MILLIANAIRE.
The protagonist is the lovelorn fisheries expert Alfred Jones (Ewan McGregor).  His marriage is in shambles with a wife (Rachel Stirling) who goes through the motions when having sex and who eventually leaves 6-months for a job overseas.  It is not unsurprising then that Fred falls for colleague Harriet (Emily Brunt) who helps him set up a fishing project in Yemen spearheaded by a rich shiek (Amr Waked) who believes it good for his people.  The only lively character in this piece is the Prime Minister's over zealous press secretary, Patricia Maxwell played by Kristen Scott Thomas whose efficiency, sarcasm and bitchiness should have rubbed off into the film.
Naturally, Harriet has another lover, Robert (Tom Mison) a soldier lost in action when sent to Afghanistan, forming the obstacle to the lover story.  But he turns up alive but the story still leads to a sappy predictable ending.
Hallstrom's film pushes the faith theme too much.  When a salmon finally jumps out of the water, signifying that faith is not dead, one would expect the audience to moan instead of cheer.  Though a British production, SALMON FISHING IN THE YEMEN feels like typical Hollywood schlock.
SILENT HOUSE (USA/France 2011) **
Directed by Chris Kentis, Laura Lau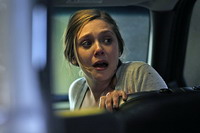 SILENT HOUSE is based on a true story.  It is actually based on another film directed by Gustavo Hernandez of the same title which tells the true story of an event set in the 40's in a village in Uruguay.
These days a horror film must contain some novelty to drag fans to the theatre.  For THE BLAIR WICTH PROJECT and PARANORMAL ACTIVITY, the hand held documentary look worked well to bring in millions for the filmmakers.  Th TWILIGHT films used teen angst and romance for identical financial purposes.  In SILEN HOUSE, husband and wife team uses real time and a one-take gimmick to tell their story.  The result is a more artsy film.  SILEN HOUSE has an artsy look but still, the film lacks a strong story.  What the film has is basically a one idea premise for a 90 minute film which is not sufficient to hold today's audiences.  To reveal this idea is to state the film's spoiler explicitly which this reviewer will not do.  But the directors play with this idea quite well.
The film's protagonist is Sarah (Elizabeth Olsen of the recent MARTHA, MARCY, MAY MARLENE), who has to survive a stalker alone in the SILENT HOUSE of the film's title.  The fim begins with her, sitting by the lake by the house.  She enters the house.  The film is playful in that it introduces her father, her uncle (Eric Sheffer Stevens) and a past playmate (Julia Taylor Ross) and then make them leave one by one so that Sarah is eventually alone again.
The film's long takes take a toll on lead actress Olsen who has both look good and act well with the camera constantly on her. Olsen more than succeeds in these categories and she creates a good solid screen presence as well.  She also creates a sympathetic heroine that the audience feels for, which is very important considering the film's storyline.
But at 82 minutes, the film ends abruptly indicating that more material is required to satisfy audiences in a horror film.
A THOUSAND WORDS (USA 2012) **
Directed by Brian Robbins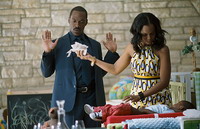 Eddie Murphy's latest feature shows how difficult it is to make a good solid comedy.  God- Murphy tries, as can be seen by the strain in his face as the camera often cruelly provides the close-ups.  This is likely the reason the film, made in 2008 was put on the Studio shelf till now.
Murphy plays Jack McCall, a fast-talking literary agent, who can close any deal, any time, any way. He has set his sights on New Age guru Dr. Sinja (Cliff Curtis) for his own selfish purposes, which is to make money.   In truth, Jack thinks all this is in his own words: new age bullsh*t crap!  But Dr. Sinja is on to him, and Jack''s life comes unglued after a magical Bodhi tree mysteriously appears in his backyard. With every word Jack speaks, a leaf falls from the tree and he realizes that when the last leaf falls, both he and the tree are toast.  Words have never failed Jack McCall, but now he has got to stop talking and conjure up some outrageous ways to communicate or he''s a goner.
Of course Jack has marital problems as he is not spending enough time with his son or paying attention to the missus (Kerry Washington).  But this is a weak premise for a comedy which one knows will turn mushy in the end with its predictable family message.  And boy, does this film turn sentimental to no end.  But if the laughs keep coming, all may be forgiven.  But the comedic set-ups do not work and most are too complicated to be hilarious.  The best example is the segment in which Jack, trying not to speak, using the office cuddly toys that utter single words to continue a business conversation over the telephone.  Ok, all this is a bit funny, but not too funny and the whole exercise is stretched far too long.  Poor Murphy must be given points for trying so hard or discredit for not giving up the ridiculous scene.
Clarke Duke in the supporting role of Jack's apprentice comes across more annoying than funny.  Murphy carries the whole comedy on his entire shoulders with no other actor carrying the burden.
Murphy has been much funnier is supporting roles as he was in TOWER HEIST and as donkey in the SHREK animated films.  I guess it is back to donkey in the future for Murphy in SHREK FOREVER AND EVERAFTER.
BEST BETS OF THE WEEK:
Best Film Opening: (nil)
Best Film Playing: We Need to Talk About Kevin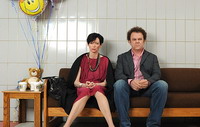 Best Action: Mission Impossible 4: Ghost Protocol
Best Drama: Tinker, Tailor, Soldier, Spy
Best Foreign: Once Upon a Time in Anatolia
Best Comedy: The Artist
Best Family: The Adventures of Tin Tin
Best Documentary: Pina

Avoid: Friends with Kids