14
Mar
2012
Details

Category: Movie Reviews
Written by Gilbert Seah
Opening this week are 21 JUMP STREET, KING OF DEVIL'S ISLAND, BEING FLYNN and the Ferrell comedy CASA DE MI PADRE.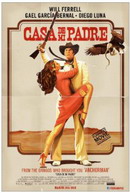 BEING ELMO: A PUYPPETEERS'S JOURNEY (USA 2011) ***
Directed by Constance Marks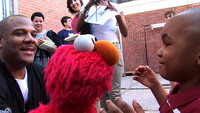 Elmo of Sesame Street needs no introduction.  The craze that followed the toy "Tickle me Elmo" speaks for itself.
Elmo's creator or puppeteer of the time is a black teen of 17 from Baltimore named Kevin Clash.  This is his story and his rise to success showcasing the hard work and talent that comes with it.  Director Marks follows Kevin Clash for a few years, shooting and documenting his life before and after joining the Muppets and attaining fame. One can complain that this is a rather simple subject with not much research or trouble required for the do to be made.  This is true as there is no controversial issue or war torn abuses to be uncovered.  Still, it is hard to dislike a film about a young man's dreams coming true.
Narrated by Whoopi Goldberg,BEING ELMO is an at times captivating documentary about Kevin Clash – the voice, hand and heart behind a furry red monster named Elmo.  As a kid growing up in '70s Baltimore, Clash had different aspirations from his classmates – he wanted to be a puppeteer.  More specifically, he wanted to be
part of Jim Henson's team, the creative force responsible for delivering the magic of Sesame Street.  His family was supportive – in spite of the fact that Clash cut up his father's coat because he thought its fur trim would make a good "monkey."  On the other hand, he was teased at school for "playing with dolls:"  But that changed when Kevin got a gig on a local children's TV show, which paved his way to Captain Kangaroo and eventually Sesame Street, where a fellow puppeteer told Kevin to see what he could do with Elmo.
Marks uses archival footage, including Clash's first visit as a teenage to the
Sesame Street studio, where he learned the secret behind the Henson stitch (a way of sewing an apparently seamless puppet).  It also features contemporary interviews with Rosie O'Donnell (who relates an anecdote about the "Tickle Me Elmo" craze in the '90s) and Henson associates Frank Oz, Cheryl Henson et al.
The film assumes that the audience is as fascinated with the Muppets as Kevin is.  For those who do not give a damn, BEING ELMO would be taken as film too full of its subject.
The film gets a bit sentimental towards the end with the death of Jim Henson.
BEING FLYNN (USA 2010) **
Directed by Paul Weitz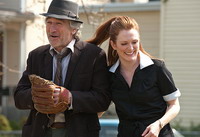 Writer/director Paul Weitz's (ABOUT A BOY, AMERICAN PIE) latest film is a serious family drama centering on a son and father relationship.
The son Nick (Paul Dano) has not met or seen his father at all.  Then one day out of the blue, Nick receives a telephone call from his dad, Jonathan (Robert de Niro) asking him to show up at his place to help him move.  It turns out that his father is an aspiring writer, who believes his works are masterpieces.
Things get from bad to worse for Jonathan who ends up homeless in a shelter.  It turns out that Nick happens to be working there and Nick attempts to reach out to his father.  But this turns out more difficult than expected as Jonathan often gets loud and abusive.
BEING FLYNN is a brave movie.  Weitz capture the grim atmosphere of the Boston homeless shelter and what it takes to work there.  It turns out that Nick is not angel, dabbling occasionally in drugs like cocaine.  Just as his dad eventually gets kicked out of the shelter for sneaking alcohol in.
BEING FLYN is a highly depressing film.  Weitz does his utmost to add in bits of humour but the grimness is still ever present.  No one really likes to see a depressing film about the homeless and about people that don't shave or clean.
De Niro is totally believable as the dishevelled homeless father, also in jail once for being a con man.  But he is unable to bring out the likeable part of his character.  Young upcoming actor Paul Dano does well.  He has fared well playing opposite difficult actors like Daniel Day Lewis in THERE WILL BE BLOOD and now opposite De Niro.  Instead of going more over the top than Day Lewis in BLOOD, his character here requires him to do the opposite.
BEING FYLNN at least ends happily.  But the most of the latest developments occur too quickly in the last 10 minutes of the film giving the feeling that Weitz has inserted a cop-put happy ending in which Nick gets it all together.  Nick undergoes an education and before one knows it, is teaching a class of students.  Not only that, but he has published his father's manuscript (MEMOIRS OF A MORON) as a book.
The ambitious BEING FLYNN eventually fizzles out as a solid family drama.  Everyone from De Niro to director Weitz appear to be trying too hard.
CASA DE MI PADRE (USA 2011) ****
Directed by Matt Piedmont
CASA DE MI PADRE (HOUSE OF MY FATHER) is a Spanish-language American comedy film starring Will Ferrell with a screenplay written by Andrew Steele. The film has been described to be in the style of an "overly dramatic 'telenovela'  and tells the story of Armando Alvarez, who must save his father''s ranch from a powerful drug lord.
If the premise sounds like a one-joke movie, it is.  But surprise, surprise!  It works.  CASA DE MI PADRE is will Ferrell's funniest film to date and this year's best comedy to hit the screens so far.  Never mind the unfunny and unimpressive trailer.
Ferrell plays Armando Alvarez (Will Ferrell).  Armando, the not so bright of the two sons, who has lived and worked on his father''s ranch in Mexico his entire life. As the ranch encounters financial difficulties, Armando''s younger brother Raul (Diego Luna) shows up with his new fiancée, Sonia (Genesis Rodriguez). It seems that Raul''s success as an international businessman means the ranch''s troubles are over as he pledges to settle all debts his father has incurred. But when Armando falls for Sonia, and Raul''s business dealings turn out to be less than legit, all hell breaks loose as they find themselves in a war with Mexico''s most feared drug lord, the mighty Onza (Gael Garcia Bernal).
CASA DE MI PADRE is over the top and cast and crew go all out at it.  The beginning song is performed by Christina Aguilera.  Mexican hottie Gael Garcia Bernal adds to the fun.  For example, in his death scene (not a spoiler as the villain is of course, expected to get his comeuppance), instead of falling down, he leaps to fall down in a spectacular death segment performance.
The film looks as if it is the love project of Ferrell.  Farrell learnt Spanish for a month for the making of this movie, but he looks totally fluent with it.  But one can clearly see that a lot of care and effort has gone into the making of this terrific laugh out loud comedy that is incredibly silly but delivers an effective comedy with an abnormally high hit miss ratio.  The best example of the type of humour is evident in a scene where the father tells Armando: "If you are smart, you would know that you are dumb!"  The debate of the U.S. versus Mexico is also notably funny.
The film is shot in Mexicoscope.  Make sure you stay right to the end for the end credits.  There is one great original joke involving the end credits with an actor celebrity (TIMBERWOLF) known as Dan Haggerty playing himself.
JEFF, WHO LIVES AT HOME (USA 2011) **
Directed by the Duplass Brothers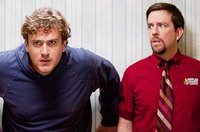 The Duplass brothers deliver what they are consistently good at – low budget, little comedies (THE PUFFY CHAIR, CYRUS, BAGHEAD), and JEFF, WHO LIVES AT HOME is no exception, though not as good as their other films.
The adjective small also describes the scope of their film, which is that it accomplishes little in terms of everything.  JEFF, WHO LIVES AT HOME centres of Jeff (Jason Segel) and the story concerns the strained relationship between him and his married brother, Pat (Ed Helms).  They do not particularly like each other, Pat thinking Jeff crazy that he follows what he thinks are signs and Jeff believing that Pat is too strict in his life style.  Pat forces Jeff to help him when he thinks his wife, Linda (Judy Greer) is cheating on him.  The film works fine with this simple plot that delivers a message and the occasional laugh.
But the script is too convenient and manipulative, dishing out problems and solutions.  It is as if the Duplass Vrothers thought of the solution before hand and added in the problem after.  Segel and Susan Sarandon (as the mother) adds some prestige to the Brothers' little film.  Segel is always constantly funny and sufficiently charming in any film as Sarandon is wonderful.  But JEFF, WHO LIVES AT HOME remains still too restricted a little film.
KING OF DEVIL'S ISLAND (Norway/Fr/Pol/Swe 2010) *****
Directed by Marius Holst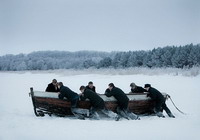 Films about prison conditions usually knock the hell out of audiences.  This one, set in a juvenile prison does more, as audiences will be more compassionate as they can see that the inmates are nothing more than just kids needing a break.
KING OF DEVIL'S ISLAND has been a major hit in its homeland Norway, winning the equivalent of the Norwegian Oscar for best film and Best Actor for Stellan Skarsgard as the institution head known to the boys as Mr. Governor.  He leads the boys to believe that the Bastov, as the place is called is much better than a prison for adult criminals.  His hypocritical aim is to bring out the good Christian boy in each one of them.  But the Bastov is likely a more cruel (torture exists) and harsh place.  Besteyreren (the Governor) is a nasty, corrupt and cowardly man, embezzling government funds to improve the boys and island's conditions for his own personal usage.  So the main head warden notices which allows him to blackmail Besteyreren to continue his stay at Bastov despite his sex abuses with a boy.
This is a nasty story, but sadly a true one.  Director Holst makes the best of the occasionally brilliant script by Lars Saabye Christensen and Dennis Magnusson.  Two things identify the script as exceptional.  For one the incidents are unpredictable and the characters are developed as the film progresses.  Besteyreren looks as if he undergoes a change of heart.  On closer examination, maybe he does or maybe he does not, but one cannot never tell guess in a script like this one.
The film is set in the dead of a cold Norwegian winter, though there is quite a lot of daylight in the film.  But the skies, at least are always grey.  Bastov is located in the Oslo fjord.  So the cold, ice, darkness and snow add to the grimness of the story reflecting Bastov's poor conditions.  The film contains parts that are so scary and awful to see.  But Holst clearly makes his point.  A few touching moments such as the attempted rescue of a drowning inmate from the sea also balances the horror.
The poetic story of a seaman at sea and the harpooning of a whale effectively contrasts the story of the lives of the film's lead characters.
But protagonist of the story is a 7-year old new inmate called Erling (Benjamin Helsted) who has his own agenda of an escape back to a normal life.  His introduction to the place gives the audience their introduction as well, but Erling is not the bad murderer he seems to be.  The film soars when Erling finally leads the boys to an unexpected revolt but not necessary leading to a good ending.
The boys cannot beat the army that is eventually called in.  But they have maintained their dignity.  Or maybe a few will escape, in this unpredictable, surprisingly moving prison tale of redemption of human dignity.
PAYBACK (Canada 2011) **
Directed by Jennifer Baichawal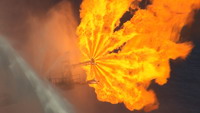 Based on Canada's visionary Margaret Atwood's novel PAYBACK: DEBT AND THE SHADOW SIDE OF WEALTH, the new documentary, PAYBACK from the NFB (National Film Board of Canada) is a study of debt in various forms.
PAYBACK is directed by Jennifer Baichawal who did MAUFACTURING LANDSCAPES, a contemplative doc about environment and landscapes.  Though PAYBACK contains elements of her first film such as environments disasters, PAYBACK somehow seems detached and lacking a whole mostly because the 4 main stories regarding debt/creditor relationships are so varied.
PAYBACK contains 4 really different stories. One involves two feuding families in Albania with a land dispute.  A fight results in a miscarriage and the film discusses the Albanian custom in dealing with feuds of this nature.  Another deals with the mistreated tomato farm workers in Florida and their owners.  The workers are often beaten and forced to stay in dilapidated housing.  Another, the big one shows footage of the BP oil spill in the Gulf of Mexico with deal fish, birds and destroyed environment.  And finally, it is the infamous fight between Conrad Black and the U.S. justice system.
Baichawal includes interviews with Atwood, Black and others like Raj Patel, Louise Arbour and Karen Armstrong.  Who are the last three?  Damned if I know.  The film doesn't provide titles who they are, but the press kit claims them to be 'thinkers'.
PAYBACK is interesting but the film really does not contain anything audiences do not already know.  Some debt can be resolved but not by money as the poster claims.  The Albanian family feud is still going on as the film ends.  Those who find this episode interesting might want to catch the upcoming film THE FORGIVENESS OF BLOOD (opening end of March) which is a fictitious film on an Albanian blood feud.  However, the tomato workers and owners appear to have come to an initial settlement.
21 JUMP STREET (USA 2012) ***1/2
Directed by Phil Lord and Chris Miller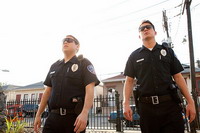 Though based on the hit 1987 TV series and based on a similar premise, the new 21 JUMP STREET action comedy can be watched on its own.  But those familiar with the series will be in for an unexpected surprise near the film's end that will drive their adrenaline up sky high. 
21 JUMP STREET delivers action, lots and lots of laugh-out loud humour in a buddy cop movie that is surprisingly funny.  So, ignore its lame looking trailer.  A pair of underachieving cops, Schmidt (Jonah Hill) and Jenko (Channing Tatum) is sent back to a local high school to blend in and bring down a synthetic drug ring.  They look young enough.  Aimed at a younger audience, the high jinx involves blending back to the high school crowd while still solving the drug case.  They meet Eric, (James Franco's younger brother Dave), the dealer but they have yet to find the supplier.  Or Captain Dickson (Ice Cube) will go livid and fire them off the force.
Be forewarned that 21 JUMP STREET is a very silly film.  But that does not mean it cannot turn out to be an entertaining comedy.  The film proves that comedy is all in the timing (apparent from the camera shots, the great chemistry of the two leads and real comedic timing) and plot has sometimes very to do (though it helps) with the making of a funny comedy.  The part of the story involving Schmidt finding that he now blends in to a total new environment in his old school (where he was a total reject before) is an interesting take but not developed.
The story begins with the two at Police Academy.  Schmidt is flunking the physical while Jenko the theory part of the training.  They become friends to help each other out.  Both graduate and become partners.  It is good to see human beings help each other out (I was in the military and some camaraderie does exist) and the film contains a little charm here.  The two do not fare too well in the field which leads them to being assigned the high school/drug case. 
The script by Michael occasionally falls into clichéd territory.  Schmidt falls for Molly (Brie Larson) and the two buddies have a falling out before becoming brothers in the force again.  The extended car chase sequence succeeds in being both exciting and funny.
Hunk Tatum turns out to be quite adept at comedy.  But the real prize goes to foul mouth Ice Cube who turns out to be the funniest comic as Captain Dickson.  Tatum and Hill work extremely well together, their characters rubbing off on each other.
The film ends with the possibility of a sequel with the pair of misfits going undercover in a college.  Judging from this film, the graduation to college would be something to look forward to.
BEST BETS OF THE WEEK:
Best Film Opening: King of Devil's Island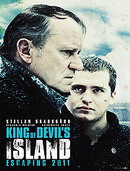 Best Film Playing: We Need to Talk About Kevin
Best Action: Mission Impossible 4: Ghost Protocol
Best Drama: Tinker, Tailor, Soldier, Spy
Best Foreign: Once Upon a Time in Anatolia and King of Devil's Island
Best Comedy: Casa de mi Padre
Best Family: Dr Seuss' The Lorax
Best Documentary: Pina

Avoid: Friends with Kids