06
Apr
2012
Details

Category: Movie Reviews
Written by Gilbert Seah
Youth movies take the spotlight at this week's openings.  The controversial rating BULLY scored a NR rating in the U.S. and a PG rating in Canada.
AMERICAN RE sees the sex oriented boys 13 years later while THE MOTH DIARIES is a gothic horror set in a girl's boarding school.
AMERICAN RE (USA 2012) ***
Directed by Jon Hurwitz and Hayden Schlossberg
In the 4th of the AMERICAN PIE series, the entire original troupe is assembled for a 13th re, thus creating the mischievous boyish shenanigans that made the original so famous.
The re is the 13th (why not 10th or 15th which makes more sense?) and takes place in East Great Falls, the falls only seen in a sign touting the tourists.   In one long-overdue weekend, the gang discovers what have changed, who have not and that time and distance cannot break the bonds of friendship.  The first film occurred during the summer 1999 when four small-town Michigan boys began a quest to lose their virginity.  While the other PIE sequels had a raison d'etre (the second the anniversary, the third a gathering to recall sexual conquests and the other the wedding of Jim and Michelle), this one had no real reason except for a random 13th re.  But comedies like this one need no purpose to emerge, just like one like this requires no real story to be hilarious.  In fact, whenever the script tends to make sense, the film turns bland and unfunny.   The best moments occur when the group, do their thing improvised and just goofing around.
So it does not help that the main story involves Jim (Jason Biggs) and Michelle (Alyson Hannigan) married trying to bring the sexual spark back into their married lives.  The subplot of Oz (Chris Klein) and Heather (Mena Suvari) getting together again with Oz giving up his L.A. job make no sense either. The funniest bits have the gang secretly sneaking Kara (Ali Cobrin) up to her bedroom or having Stifler (Seann William Scott) just walking around the office hassling his co-workers.
The typical gags are present (poop, cum and gross-out jokes) and the pie comes up in conversation as expected.  What have been seen in the other AMERICAN PIE films are duplicated in some way or other in this movie.  This is not necessarily a bad thing, as audiences who enjoyed those 4 films will enjoy this one as well.  This one has enough laugh-out loud jokes, and the troupe is just as funny as ever.  Extra credit goes to William Scott as Stifer who steals every scene he is in.  Being in the recent GOON, William Scott has proven that he is one of the most versatile actors and he is a just too much (in a good way) to watch.  Others try just as hard, including Biggs as in his frontal nudity scene, which should be remembered as much as his pie fu**ing.
AMERICAN RE has a few original characters like Sherman (Chris Owen) just pop up for token sake, just as most of the girl's dialogue is present just to support the male dialogue.  But this is a naughty boy's film and naughty boys should be sufficiently entertained.
BULLY (USA 2011) ***
Directed by Lee Hirsch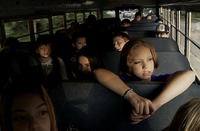 It's a tough world for kids in term of bullying.  There is always one kid on the block tougher and bigger.  BULLY tackles the problem with bullying outlying certain solutions by focusing on 56 victims.
This movie is a documentary not to be confused with Larry Clark's 2001 fictitious BULLY (based on a true story) in which one of their own murders a bully.
The big hype of the new doc on bullying is the R rating the film obtained from the MPAA implying that children under the age of 17 cannot see the film without an adult accompaniment.  The Weinstein Company has decided to release the film unrated, which means that certain theatre owners may not want to screen this film in their theatres.  (Is this some other sort of bullying?)
BULLY documents 5 children how are bullied and what each does (if anything) to deal with their traumatisers.  One, Ja'Maya, unable to take it anymore, steals her mother's gun and brings it to the school bus and threatens to shoot her bullies.  Another, Alex just takes it, slowly believing that his tormentors are also his friends and that if they are gone, he would have no one else.  Two commit suicide.
Hirsch tugs at the heart strings ever too often.  The words of the deceased victim's father are often drilled into the audience.  The funeral ceremony is also detailed, a little too much.
More effective however, are the heated debate that goes on during the school meetings between school administration and the parents regarding bullying.  But the most moving speeches come from the children who stand up at these meetings and speak up.
To give Hirsch, his film appears to be an all out crusade against bullying.  At the film's end after the credits, there are sites listed where those traumatized can seek help.  Judging from the film's response since distribution, various communities have also taken up the challenge to reduce bullying.  But as the film has revealed, there is no simple solution.  And what happens to bullying in the workplace?  The apparent solution seems to be on the adults to make the environment safe for kids (or susceptible victims) but it is also on the onus of the bullied that they learn to take care of themselves by either defending themselves or letting the authorities know of the problems.
FIGHTVILLE (USA 2011) ***
Directed by Michael Tucker and Petra Epperlein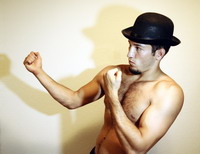 Brutal. Bloody. Beautiful. FIGHTVILLE throws you into the cage with some of the Ultimate Fighting Championship competitors to reveal the raw power and focused determination it takes to emerge a champion.  But Before the UFC, it is the MMA.
FIGHTVILLE looks the real world and hardship behind mixed martial arts.
Directors Michael Tucker and Petra Epperlein (GUNNER PALACE and HOW TO HOLD A FLAG) focus on 4 subjects to tell their story.
One is Gil "The Thrill" Guillory has quickly become the hottest MMM promoter in the South.  With the help of his family (including his 3-year-old daughter who hands out flyers), he runs USA-MMA, a minor league that offers a chance to rise up to a major league like the UFC.  Pros make $500 to show and $500 to win.  Amateurs come for the experience, yet most never earn a cent. Through Gil, the business side of the MMA is revealed.  The training side is shown through "Crazy" Tim Credeur, who trains fighters at the Gladiators Academy that sits in a strip mall outside Lafayette.  As a Jiu-Jitsu Black Belt and UFC veteran, Tim believes that fighting isn't a sport, it's a rite.  Before you go into the cage with Tim in your corner, you must be determined to train 40 hours a week.
For the film's excitement the fights of two hopefuls Albert Stainbeck and Dustin "The Diamond" Poirier are focused.  The film works like a ROCKY type film, complete with a climax where Dustin takes to the ring in a championship match.
The film's cinematography is by cinematography by Tucker (aka Mike "The Truth" Tucker.) and this review written by Gilbert "The Film Critic" Seah.
LOVERS IN A DANGEROUS TIME (Canada 2009) **
Directed by Mark Hug and May Charters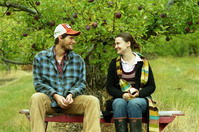 Written, directed and starring Mark Hug and May Charters, LOVE IN A DANGEROUS TIME is a small budget ok made little romance that is stuck in smallville just as its two leads are stuck in small town mentality.
Allison (May Charters) returns to the small town of Creston, British Columbia from Toronto for her 10 year high school re.  She meets childhood friend Todd (Mark Hug) and they start a little love affair.  Allison is taken to be a success by the school as she left Creston for Toronto with a good job teaching gifted kids.  But unknown to everyone, she was fired and is now trying to, in her own words, get her s*** together.  Todd is no success either, living with his dad, working small jobs and unsuccessful as a hockey player, unlike his brother (Mark Weibe) who gets signed up for the major league – another excuse to add in sibling rivalry as a subplot.
Audiences have seen all these events occur in one form or other in other films.  Finally, Allison lands a job in Toronto and the question becomes whether she should stay or leave.  All this would be more exciting if the film had more life into it.  It does not help that the soundtrack with original songs by JBM features very low beat music.  Of course, the Bruce Cockburn hit LOVERS IN A DANGEROUS TIME is heard a few times over the soundtrack, but one wonders what dangerous times the film is referring to.
Todd and Alyson try to return to their youth for the perfect escape, but in Alyson's words, they need to grow up.  Apparently they do by the last reel but the circumstances leading to this maturity is not convincing.
THE MOTH DIARIES (USA 2011) ***
Directed by Mary Harron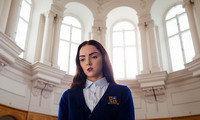 THE MOTH DIARIES is a meticulously plotted gothic horror tale by of AMERICAN PSYCHO director Mary Harron.
The two films are similar in many ways, allowing Harron to fine tune her abilities.  Both deal with being the theme of acceptance (be it business or social), contain a possibly mentally shaken lead and deals with well groomed beautiful people.  THE MOTH DIARIES, however, allow ample opportunity for suspense and audience anticipation, both of which have been well utilized by Harron.
Based on the novel of the same name by Rachel Kline, this teenage horror story concerns Rebecca (Sarah Bolger), a young girl haunted by her father''s suicide.  She begins her journey at an elite girls'' boarding school.  But before long, Rebecca''s close friendship with the popular and sunny Lucy (Sarah Gadon) and her sense of safety, are shattered by the arrival of the dark and mysterious Ernessa (Lily Cole).  Lucy quickly falls under the glamourous Ernessa''s spell and becomes emotionally and physically consumed by their intense friendship.  Rebecca, her overtures of concern and friendship rejected by Lucy, is lost and confused.   Rebecca starts to suspect that Ernessa is a vampire, but, despite the suspicious deaths that begin to occur and Lucy''s wasting away, her fears are treated by her schoolmates and teacher, Mr. Davies (Scott Speedman) as simple girlish jealousy. As the bodies of young girls start to pile up and the line between reality and the supernatural starts to blur.
Harron whets the audience's appetite very early into the story.  Blood, sex and death – these three elements are emphasized in a class on vampire in the literature class taught by Mr. Davies.  The idea of whether Ernessa really walked through the window or perhaps looked like it due to the light is played with.  And the popular notion in which the heroine has seen all the signs that no one else has (or believes her) comes up throughout the movie.  But the trouble with all this is than Harron's film does not match all the anticipation created.
Bo doubt the evil vampire is destroyed and the heroine saves the day with an acceptable happy ending.  But the climax contains no adrenaline flowing excitement but a mere execution of a deed.  Though the atmosphere is effectually created, audiences used to the typical Hollywood style type film will surely be let down.  Otherwise, all else is fine.
The cast is good and Lily Cole shines as the evil one.  Srarh Gadon looks sufficiently undernourished and hagged after falling under Ernessa's spell.
Still one wishes for some change in pacing in the film.
THE VANISHING SPRING LIGHT (China/Canada 2010) ***
Directed by Xun Yu (Fish)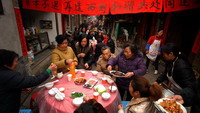 Supposedly the first of a 4-part series (wonder what the other 3 are about), THE VANISHING SPRING LIGHT deals with one traditional family that has continued the ancient Chinese way of life despite China's modernizations.  Director Xun Tu's camera gives the audience a paranomic view of the city of Dujiangyan in southwest china and its surroundings before settling on the inhabitants in West Street.  The subject of the doc is a flail old woman known to resident as Grandma Jiang.  In the midst of Xun's film, Jiang suffers a stroke and has to lie in bed till her eventual death.  The film ends with her detailed funeral ceremony showing the old customs of the passing in death.  Jiang's family is also involved in the documentary, notably her 4 daughters and only son.  Though the film moves at a pace equivalent to real time, one cannot help for feel sorry for the old and those who stick to the old ways.  Xun uses Jiang's family's tale, of loss and sorrow to mirror the effects of the threat of progress and change.
THE SALT OF LIFE (Italy 2011) ***
Directed by Gianni Di Gregorio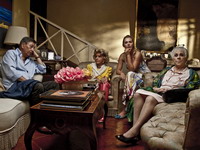 THE SALT OF LIFE is a bittersweet little Italian movie about old age in which nothing really happens.  It is curious why a film like this get released when other foreign hits (say France's major commercial hit INTOCHABLES) remain untouched.
THE SALT OF LIFE, written, directed and starring Gianni Di Gregorio (MID-AUGUST LUNCH) traces the daily routines and aspirations of an early 50-year old retiree, Gianni (played by Di Gregorio).  When asked about his retirement, his reply is that it is not his wish but the retirement was forced upon him.
During these days, he does nothing for himself but pine for the beautiful ladies around him.  And there are plenty of them around, from his mother's helper, to his neighbour and also his daughter.  But he does not make a move.  Does he qualify then as a cowardly, dirty old man?
But the retiree is depicted as a well-meaning old codger.  He is always available to help his mother (Valeria di Franciscis Bendoni) out with silly things, running errands for his wife (Elisabetta Piccolomini) or walking his neighbour's dog.  So, the film naturally turns out to be an amicable little piece that is entirely watchable and strangely entertaining.
Despite the film's rather copout and eventless ending, THE SALT OF LIFE could also be looked upon as a lesson in life on what to (or not what to do) in the twilight years when one still has all the faculties functioning.  At least this writer/director has kept active in the film field.
BEST BETS OF THE WEEK:
Best Film Opening: Bully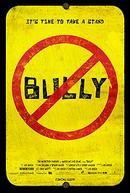 Best Film Playing: We Need to Talk About Kevin
Best Action: Mission Impossible 4: Ghost Protocol
Best Drama: Tinker, Tailor, Soldier, Spy
Best Foreign: A Separation
Best Comedy: Casa de mi Padre
Best Family: Dr Seuss' The Lorax
Best Documentary: The Guantanamo Trap